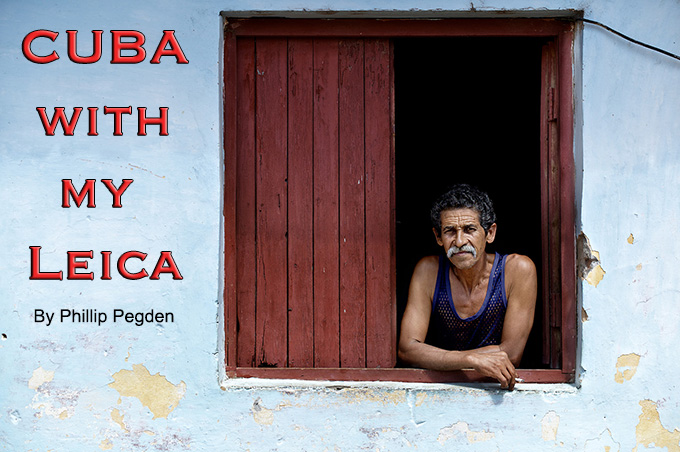 Cuba with my M9 and 50 Lux by Phillip Pegden
Dear Steve,
I've been an avid reader of your site for quite some time now – I love the mix of gear and general photography articles, and now check in each day. It's like tuning in to the morning radio show.
I got sucked into the world of Leica over a decade ago. At that time I had a Canon EOS1 body plus the classic trinity of f2.8 zoom lens. I'm not sure how I stumbled into Leica, but I do clearly remember the day I was standing in a photography shop fondling an M6 and second hand 35mm Cron. Sometime later all the Canon kit had been listed on eBay – I found the rangefinder shooting style suited me better and I felt my photography had improved. Fewer options focused me on my subjects and composition. And from there I never looked back, swapping the M6 for an M8, then last year finding a nice second-hand grey M9 to upgrade the M8.
By that time I had a brace of lenses – the original 35mm Cron, plus a 50mm Summilux, an 18mm Elmar and a 75mm Cron. But I was beginning to feel that I was swapping lens too often – had my focus drifted too much from my subjects again? Thus on a holiday to Cuba with my wife I decided to experiment: safe in the knowledge that I had all my glass with me I opted just to only use the 50mm. Sometime later the 18mm and 75mm had been listed on eBay – I just couldn't part with my original 35mm Cron though! So now I mainly shoot only with the 50mm – I love the simplicity never feeling I miss any shots, rather I find others. I would really encourage others to try a single focal length over an extended time.
Well that's quite enough talking from me – I leave you with some of those images from Cuba. Keep up the good work.
Phil