A blast from the past, Photographically by Sebastian 
Hi Steve
I started getting into photography when I was finishing grad school in Toronto. I had gotten myself a Canon G10 (because I wanted a more serious camera, little did I know what a $ sink it would lead to!) and when revising my thesis for the Nth time again got too much, I'd go out and walk around the city snapping away at scenes that took my interest.
And 5 years later I am still shooting street. I take a walk after work to a more distant subway station to get some exercise and also to take street photos where and when I can.
A few months ago I started helping with a project at the company to choose art work for the new office. One of the person on the committee had researched the history of his Victorian era house and found out how the plot of land went from an indian treaty to the first settler owner to the first owner of the house. Along with that he got historic photos of his street and even his house. He presented some historic photos of Toronto as suggestion for office art. And looking at them sparked a thought in my head: what existed back in the early history of Toronto that's still recognizable today? What history we walk past everyday without even knowing or thinking about them?
So I went online myself and started looking for photos. After comparing some of these with Google Street View I choose a few and went off to reproduce the photograph. A little bit of photoshop and the results are below with notes about the original. All historic photos are public domain.
Cheers
Sebastian
This is the flatiron building in Toronto. The original is from 1888. Every year they do a doors open event where buildings open themselves to the public and the flatiron is alway popular. Few knows that there has been a similar building there for centuries. Of special note is that the buildings on the left exists today basically unchanged (listed buildings) since 1888 while the right hand side has all been replaced. New pic taken using an e-m5 with the 12-50.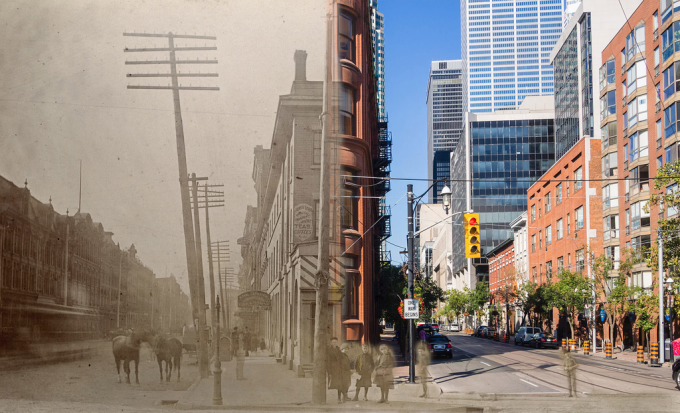 –
This is a view north up Bay St towards the old city hall (clock tower) which today is a court house. Buildings are all gone now and has been replaced by tall buildings housing all the major Canadian banks. Original photo from 1930s. New photo taken with E-m5 with 25 1.4.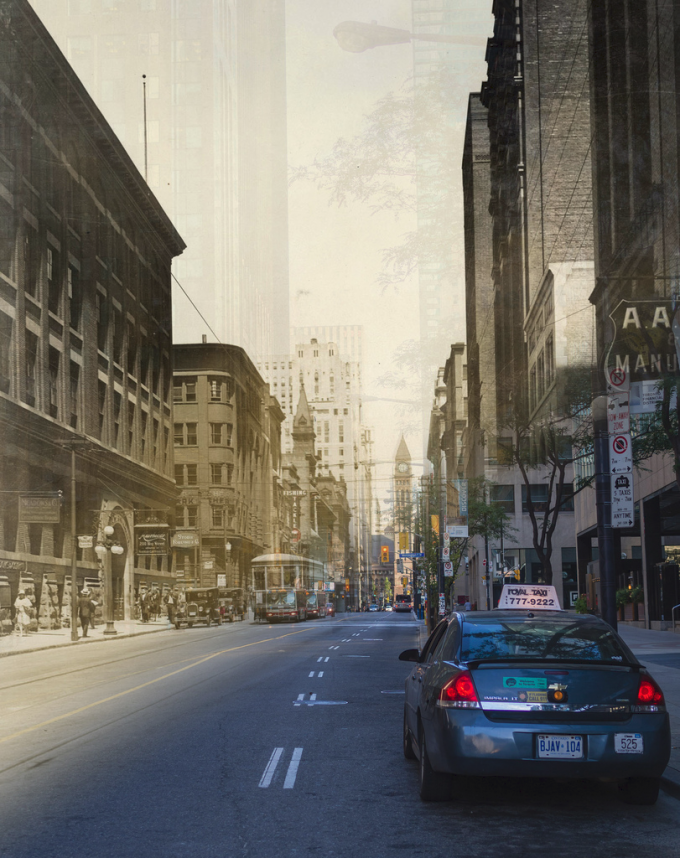 –
St. Lawrence Market. The area was declared a market block in 1803 and there has been some sort of market there since then. Original photo from 1898, New pic with e-m5 and 25 f1.4