Nikon pushing on with the 1 system? It seems so!
Nikon has announced the soon to be released the video and photo light for the Nikon 1 system (and some coolpix models), the LD-1000. It is available in black or white and can be pre-ordered at Amazon HERE
. Looks like a cool little device that will screw into the bottom of the camera where the tripod mount is. The design is pretty slick if I do say so and these will be shipping at the end of October. The video capability of the V1 and V2 is quite good so having a light like this could be useful to those who want to light up the scene.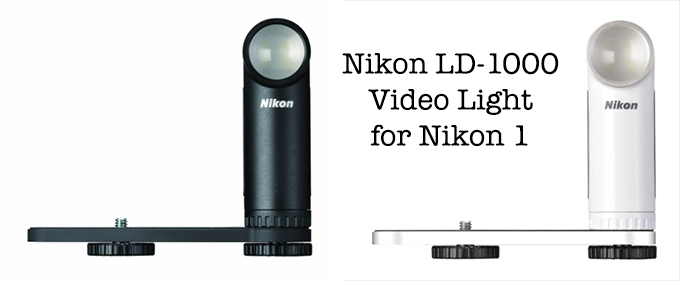 I was hearing some inside info a couple of months back about a Nikon V3 and then shortly after the internet was all abuzz with rumors of the Nikon 1 demise due to the fact that the cameras did not do as well as Nikon expected. In the past three months Nikon has released the 32 1.2 lens and this video light not to mention the newer 6.7-13 Zoom lens. The 32 1.2 is constantly out of stock and every time Amazon or B&H restock it, they are gone within 3 days. I have been keeping my eye on these things as I am one who really hopes Nikon comes through with a kick ass V3 using the latest 1″ sensor tech (which is quite amazing). This will bring the 1 system and these new lenses and accessories to a new level IMO.
The V1 and V2 cameras are already  kings in the usability world with speed, great color, metering and AWB. I love the V1 and own two of them. I can imagine that a V3 with the latest tech will be much better than the V1 and V2. But Nikon needs to release it and it is my feeling that they will. Hope so!