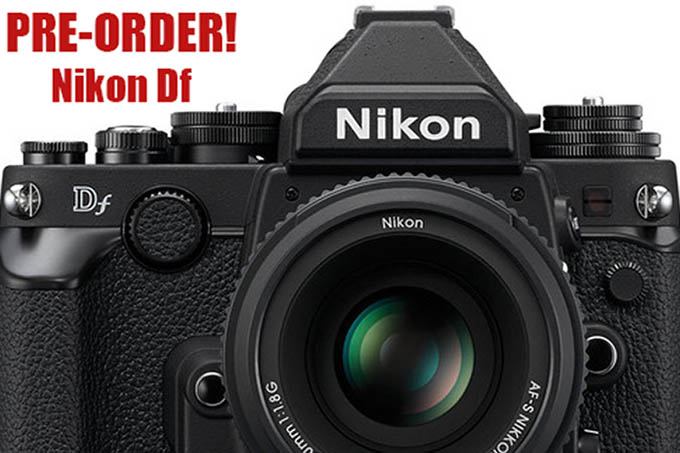 Nikon Df is here! Pre-order with Special Edition Lens now – $2996.95
LInks below to pre-order at B&H Photo or Amazon…
B&H Photo: Pre-Order in Silver with Special Edition 50 1.8 Lens  – $2996.95 – or – Order the chrome body only for $2746.95
B&H Photo: Pre-Order in Black with Special Edition 50 1.8 Lens – $2996.95 – or – Order the Black Body Only for $2746.95
Amazon Nikon Df Pre-Order Links are HERE!
The Nikon Df has landed! Many will call this a "real" Photographers camera. I can see why. It is designed and built for one thing and one thing only. To take images. Housing the old D4's sensor, it should be pretty incredible and in a cool retro (but somewhat cluttered top plate) design I think it will speak to many shooters out there who want a full frame body, a nice design and a camera that can shoot almost any Nikon F mount lens ever made.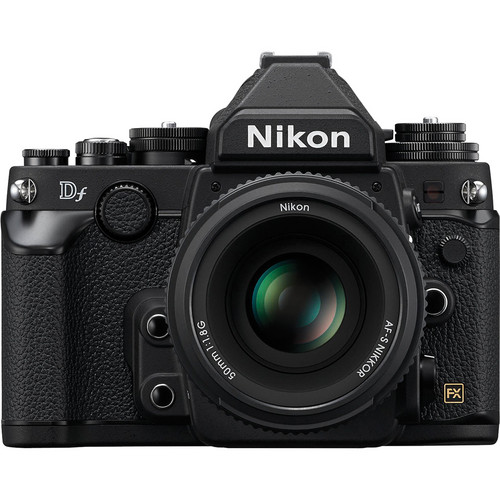 Yes my friends this is a DSLR shaped like a classic F Nikon from back in the day (only thicker) but with some modern full frame 16MP flair. Long story short, this is basically a Nikon D4 in a smaller more classic looking form and while I wish the special edition 50 1.8 lens had a manual aperture dial I do love the way the camera looks. Much better to me than a D700 or D800 or even D4 in the looks dept. It will be a little smaller than those cameras as well, harnessing the power of full frame in a smaller than normal DSLR body and with the shape of an old classic Nikon. It has been a crazy past few months with incredible camera after camera being released and this one looks like it will be a TANK..I just hope it lives up to the old classic in build, feel and operation. I also wish it were thinner but it is just not possible it seems.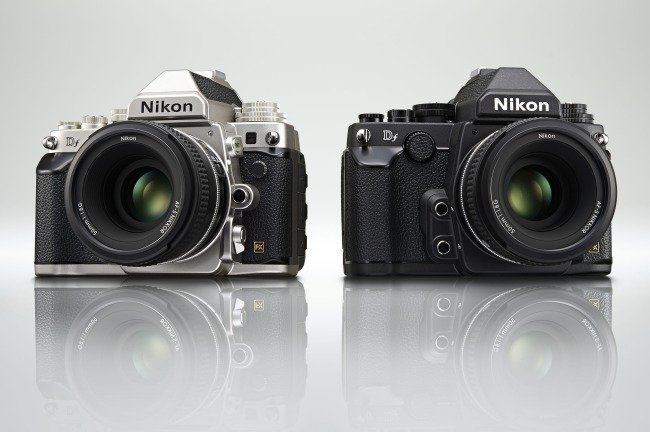 For those who were asking me, It has a normal optical viewfinder and it is NOT a mirror less camera. It is in fact a DSLR. All of the guts of the DSLR but the style of a modern classic with reduced size (though mount modern Nikon DSLR lenses on it and it will be a monster).
This will accept any modern Nikon lens as well as classic old school manual focus lenses (which is how I would shoot it). This body is not "revolutionary" but it is pretty nice looking if you like retro styled cameras. It is back to basics. No video, no extra gimmicks – just a camera, some controls, a lens and a shutter. THAT is what I love about this concept and idea. But again, it is larger than a Sony A7, larger than a Leica M, but smaller than a Nikon D700 or D800, etc. I am going to guess it will be a pretty solid performer. Great IQ (D4 Sensor), solid build, should be speedy and no-nonsense. Control your camera with dials and shoot. The 50 is a perfect focal length for this kind of camera.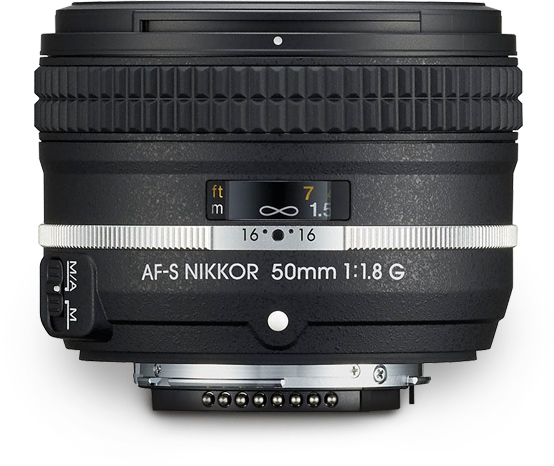 The cost? $2996.95 in black or silver with a 50 1.8 Special Edition lens. If you want it without the lens, $2746.95, so I HIGHLY recommend going with the Special Edition lens kit if this is something someone might be wanting. It is expensive, but then again, so is the D4, the D800 and even used D700's are not that cheap. I predicted this would come in at $2800 so I was very close. 🙂
I pre-ordered mine the 1st minute it was up. WHY when I have a Sony A7r on pre-order, own an E-M1 and have an RX10 on hand as well? Yes, I have plenty of cameras but sometimes I have to buy them so I can review them when I have no contact for a review sample. This is the case here and I really want to do a huge real world review on this guy so I had to order it. Not sure if I will keep it after that but if it is amazing, I will.  It just looks so thick, I am not sure.
The cool thing about pre-orders is that you do not get charged until your item ships (B&H does an authorization, Amazon does not), so you can pre-order and if you change your mind in a week, you can cancel without any issues. Very very easy to do. So my order is in and I will be getting the black body with Lens. As soon as I get it, I will do a thorough long real world use review. I am not a DSLR guy, but this one I am a little excited about testing and it may…just…stick. So I will be reviewing the new Sony A7 and A7r, the Nikon Df and who knows what else come December 🙂 
So we shall see. But for those who want to get one early, like I said, Pre-Ordering is THE WAY to go these days. You get a place in line (and this line started gathering orders at 3:01 AM Eastern Time on the 5th of November) and it is expected to ship around the end of the month, Nov 28th. If you change your mind between now and then, it is easy to cancel the order. If you do really want it, then by pre-ordering you will be one of the few who get it early, on release day. Even if you did not like it after getting it you could easily sell it 🙂 I think this will sell well, and will not be in stock for a while. Just how it goes these days. So long story short, pre-ordering is the way to go if you have ANY interest in it. If not, then wait it out and see how it goes as it will be available later on. Same goes with ANY camera announcement that will be a hot seller.
For a great match to this camera…AS IN..what I would buy…go with THIS lens 😉
B&H Photo has their pre-order links up NOW, so check them out below.
B&H Photo: Pre-Order in Silver with Special Edition 50 1.8 Lens  – $2996.95 – or – Order the chrome body only for $2746.95
B&H Photo: Pre-Order in Black with Special Edition 50 1.8 Lens – $2996.95 – or – Order the Black Body Only for $2746.95
Amazon Nikon Df Pre-Order Links are HERE!
Many will say this is an overpriced D610 squeezed into a retro body at a huge premium. Others will say it has a 2-year-old sensor from the D4 (which will be a dream for low light shooting but offer less resolution..but this one is not about resolution, it is about getting out there and SHOOTING and enjoying the process without stress, worry or pixel peeping. Just like the old days. This will be great for those who own a few or many old Nikon lenses. But those who want full frame POW in a small body, the Sony A7 and A7r are the ones to beat.
But a D4 is HUGE..a MONSTER..HEAVY and CUMBERSOME and has  the SAME SENSOR. It is $6000. This is less than HALF that price for the same IQ, smaller size, cooler style and no gimmiks. This camera is the same cost as a D800 yet it is smaller, totally different style and has a different vibe and mojo. If I had to pick a full frame DSLR camera, it would be the Df just due to the size and style. So for me, the cost is high but to get D4 IQ in this package, it is what I expected it to cost.
I predicted $2800 a couple of days ago, and that is exactly what it is. No surprise to me. It will sell very well.
From Nikon on the new Df…
Reignite your passion for photography with this thrilling blend of classic and modern. On the outside, it's classic Nikon — our thinnest, lightest FX-format body with an elegant mechanical operation system inspired by the legendary F, F3 and FM/FE series film cameras. On the inside, it's flagship Nikon D-SLR—the advanced 16.2-MP FX-format image sensor and EXPEED 3 processing engine from the D4, our ultra-fast 39-point AF system, an ultra-high resolution LCD display and even Wi-Fi® photo sharing (with optional adapter). Embrace a more personal shooting style that results in some of your most inspiring photos yet.
..on the new 50 1.8 Limited Edition Lens
Classically styled, lightweight and fast f/1.8 FX-format prime lens.
With its updated classic exterior design and feel, outstanding NIKKOR optics and advanced Nikon lens technologies, the AF-S NIKKOR 50mm f/1.8G Special Edition is the perfect match for the Nikon Df and anyone who appreciates the feel of a classic lens. Its fast f/1.8 maximum aperture renders beautifully blurred backgrounds and maximizes low-light performance, and it's 50mm normal perspective is ideal for everyday shooting. And despite its classic styling, the AF-S NIKKOR 50mm f/1.8G Special Edition is a fully modern NIKKOR lens with Nikon's advanced technologies, like Silent Wave Motor (SWM) for ultra-fast, nearly silent auto focusing with seamless manual override. Well suited for travel and everyday applications, the AF-S NIKKOR 50mm f/1.8G Special Edition will be your go-to lens for great shots.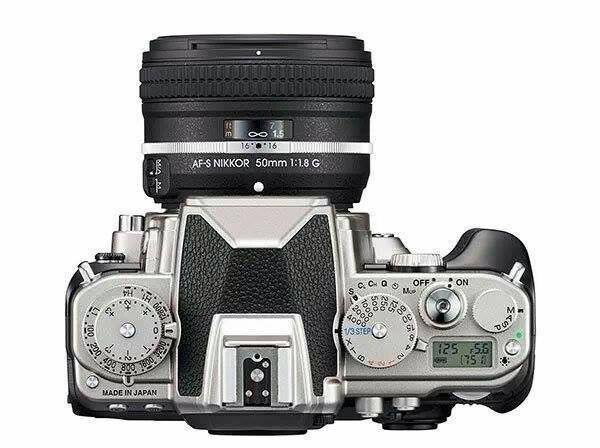 SPECS:
Type
Single-lens reflex digital camera
Lens mount
Nikon F mount (with AF coupling and AF contacts)
Effective angle of view
Nikon FX format
Effective pixels
16.2 million
Image sensor
36.0 x 23.9 mm CMOS sensor
Total pixels
16.6 million
Dust-reduction system
Image sensor cleaning, Image Dust Off reference data (optional Capture NX 2 software required)
Storage
Image size (pixels)
FX format (36×24): 4,928 x 3,280 [L], 3,696 x 2,456 [M], 2,464 x 1,640 [S]
DX format (24×16): 3,200 x 2,128 [L], 2,400 x 1,592 [M], 1,600 x 1,064 [S]
File format
NEF (RAW): 12 or 14 bit, lossless compressed, compressed, or uncompressed
TIFF (RGB)
JPEG: JPEG-Baseline compliant with fine (approx. 1:4), normal (approx. 1:8) or basic (approx. 1:16) compression (Size priority); Optimal quality compression available
NEF (RAW)+JPEG: Single photograph recorded in both NEF (RAW) and JPEG formats
Picture Control System
Standard, Neutral, Vivid, Monochrome, Portrait, Landscape; selected Picture Control can be modified; storage for custom Picture Controls
Media
SD (Secure Digital) and UHS-I compliant SDHC and SDXC memory cards
File system
DCF (Design Rule for Camera File System) 2.0, DPOF (Digital Print Order Format), Exif (Exchangeable Image File Format for Digital Still Cameras) 2.3, PictBridge
Viewfinder
Eye-level pentaprism single-lens reflex viewfinder
Frame coverage
FX (36×24): Approx. 100% horizontal and 100% vertical
DX (24×16): Approx. 97% horizontal and 97% vertical
Magnification
Approx. 0.7x (50 mm f/1.4 lens at infinity, -1.0 m-1)
Eyepoint
15 mm (-1.0 m-1; from center surface of viewfinder eyepiece lens)
Diopter adjustment
-3 to +1 m-1
Focusing screen
Type B BriteView Clear Matte Mark VIII screen with AF area brackets (framing grid can be displayed)
Reflex mirror
Quick return
Depth-of-field preview
Pressing Pv button stops lens aperture down to value selected by user (exposure modes A and M) or by camera (exposure modes P and S)
Lens aperture
Instant return, electronically controlled
Lens
Compatible lenses
Compatible with AF NIKKOR lenses, including type G, E, and D lenses (some restrictions apply to PC lenses) and DX lenses (using DX 24 x 16 1.5x image area), AI-P NIKKOR lenses and non-CPU lenses. IX NIKKOR lenses and lenses for the F3AF cannot be used. The electronic rangefinder can be used with lenses that have a maximum aperture of f/5.6 or faster (the electronic rangefinder supports the center 7 focus points with lenses that have a maximum aperture of f/8 or faster and the center 33 focus points with lenses that have a maximum aperture of f/7.1 or faster)
Shutter Type
Electronically controlled vertical-travel focal-plane shutter
Speed
1/4,000 to 4 s in steps of 1 EV (1/4,000 s to 30 s in steps of 1/3 EV with main command dial), X200 (with shutter-speed dial only), bulb, time
Flash sync speed
X=1/200 s; synchronizes with shutter at 1/250 s or slower
Release
Release modes
S (single frame), CL (continuous low speed), CH (continuous high speed), Q (quiet shutter-release), (self-timer), MUP (mirror up)
Frame advance rate
1 to 5 fps (CL) or 5.5 fps (CH)
Self-timer
2 s, 5 s, 10 s, 20 s; 1 to 9 exposures at intervals of 0.5, 1, 2 or 3 s
Exposure Metering
TTL exposure metering using 2,016-pixel RGB sensor
Metering method
Matrix: 3D color matrix metering II (type G, E and D lenses); color matrix metering II (other CPU lenses); color matrix metering available with non-CPU lenses if user provides lens data
Center-weighted: Weight of 75% given to 12-mm circle in center of frame; diameter of circle can be changed to 8, 15 or 20 mm, or weighting can be based on average of entire frame (non-CPU lenses use 12-mm circle)
Spot: Meters 4-mm circle (about 1.5% of frame) centered on selected focus point (on center focus point when non-CPU lens is used)
Range
(ISO 100, f/1.4 lens, 20°C/68°F)
Matrix or center-weighted metering: 0 to 20 EV
Spot metering: 2 to 20 EV
Exposure meter coupling
Combined CPU and AI (collapsible metering coupling lever)
Exposure modes
Programmed auto with flexible program (P); shutter-priority auto (S); aperture-priority auto (A); manual (M)
Exposure compensation
-3 to +3 EV in increments of 1/3 EV
Exposure bracketing
2 to 5 frames in steps of 1/3, 2/3, 1, 2 or 3 EV
Flash bracketing
2 to 5 frames in steps of 1/3, 2/3, 1, 2 or 3 EV
Exposure lock
Luminosity locked at detected value with AE-L/AF-L button
ISO sensitivity
(Recommended Exposure Index)
ISO 100 to 12800 in steps of 1/3 EV; can also be set to approx. 0.3, 0.7 or 1 EV (ISO 50 equivalent) below ISO 100 or to approx. 0.3, 0.7, 1, 2, 3 or 4 EV (ISO 204800 equivalent) above ISO 12800; auto ISO sensitivity control available
Active D-Lighting
Can be selected from Auto, Extra high +2/+1, High, Normal, Low, or Off
ADL bracketing
2 frames using selected value for one frame or 3 to 5 frames using preset values for all frames
Focus
Autofocus
Nikon Multi-CAM 4800 autofocus sensor module with TTL phase detection, fine-tuning, and 39 focus points (including 9 cross-type sensors; the center 33 points are available at apertures slower than f/5.6 and faster than f/8, while the center 7 focus points are available at f/8)
Detection range
-1 to +19 EV (ISO 100, 20°C/68°F)
Lens servo
Autofocus (AF): Single-servo AF (AF-S); continuous-servo AF (AF-C); predictive focus tracking activated automatically according to subject status
Manual focus (M): Electronic rangefinder can be used
Focus point
Can be selected from 39 or 11 focus points
AF-area modes
Single-point AF, 9-, 21- or 39-point dynamic-area AF, 3D-tracking, auto-area AF
Focus lock
Focus can be locked by pressing shutter-release button halfway (single-servo AF) or by pressing AE-L/AF-L button
Flash
Flash control
TTL: i-TTL flash control using 2,016-pixel RGB sensor is available with SB-910, SB-900, SB-800, SB-700, SB-600, SB-400 or SB-300; i-TTL balanced fill-flash for digital SLR is used with matrix and center-weighted metering, standard i-TTL flash for digital SLR with spot metering
Flash modes
Front-curtain sync, slow sync, rear-curtain sync, red-eye reduction, red-eye reduction with slow sync, slow rear-curtain sync, Auto FP High-Speed Sync supported
Flash compensation
-3 to +1 EV in increments of 1/3
Flash-ready indicator
Lights when optional flash unit is fully charged; flashes after flash is fired at full output
Accessory shoe
ISO 518 hot-shoe with sync and data contacts and safety lock
Nikon Creative Lighting
System (CLS)
Advanced Wireless Lighting supported with SB-910, SB-900, SB-800 or SB-700 as a master flash and SB-600 or SB-R200 as remotes, or SU-800 as commander; Auto FP High-Speed Sync and modeling illumination supported with all CLS-compatible flash units except SB-400 and SB-300; Flash Color Information Communication and FV lock supported with all CLS-compatible flash units
Sync terminal
ISO 519 sync terminal with locking thread
White balance
Auto (2 types), incandescent, fluorescent (7 types), direct sunlight, flash, cloudy, shade, preset manual (up to 4 values can be stored, spot white balance measurement available during live view), choose color temperature (2,500 K to 10,000 K); all with fine-tuning
White balance bracketing
2 to 3 frames in steps of 1, 2 or 3
Live View
Lens servo
Autofocus (AF): Single-servo AF (AF-S); full-time servo AF (AF-F)
Manual focus (M)
AF-area modes
Face-priority AF, wide-area AF, normal-area AF, subject-tracking AF
Autofocus
Contrast-detect AF anywhere in frame (camera selects focus point automatically when face-priority AF or subject-tracking AF is selected)
Monitor
8-cm (3.2-in.), approx. 921k-dot (VGA), low-temperature polysilicon TFT LCD with approx. 170° viewing angle, approx. 100% frame coverage, and brightness control
Playback
Full-frame and thumbnail (4, 9 or 72 images or calendar) playback with playback zoom, photo slide shows, histogram display, highlights, photo information, location data display, and auto image rotation
Interface
USB
Hi-Speed USB
HDMI output
Type C mini-pin HDMI connector
Dimensions / weight
(W x H x D)
Approx. 143.5 x 110 x 66.5 mm/ 5.6 x 4.3 x 2.6 in.
Weight
Approx. 765 g/1 lb 11 oz with battery and memory card but without body cap; approx. 710 g/1 lb 9 oz (camera body only)
Operating environment
Temperature: 0 to 40°C/32 to 104°F; humidity: 85% or less (no condensation)
Accessories
Supplied accessories
(may differ by country or area)
EN-EL14a Rechargeable Li-ion Battery, MH-24 Battery Charger, DK-26 Eyepiece Cap, String for eyepiece cap, UC-E6 USB Cable, AN-DC9 Camera Strap, BF-1B Body Cap, BS-1 Accessory Shoe Cover, ViewNX 2 CD-ROM