The Leica T (Type 701) Unibody Digital Camera Review
If Apple made a digital camera, this would be it!
Se my Leica M 240 review HERE, or my Leica X-Vario Review HERE
by Steve Huff
The Leica T Video Overview 
The Leica T Becomes A Reality
Note: This review was done using a pre-production camera with firmware that is not yet final!
Thursday April 24th 2014, 6 AM: A few weeks back I published a story about a rumored Leica camera that I thought for sure was a fake camera photoshop job.  You can see the post here but I was not so nice with my words about the rumored camera as the images, which I thought were faked. It looked so much like a Sony NEX copy that I though Leica would never release such a thing. But as it appears, those images were indeed real and let me just state right now..IMAGES CAN BE DECEIVING and were in the case of the new Leica T.
The Leica T, some window light, an M adapter and 50 Cron. F/2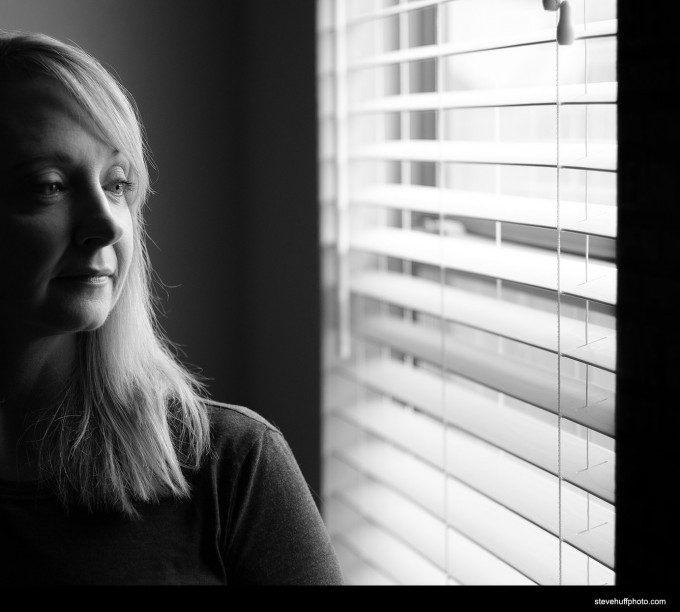 The Leica T is now a reality and yes, I have had the pleasure to shoot with one for the past 8 or 9 days and I will go on record to state that this is in no way like a Sony NEX, no way like a Fuji X and no way like a Micro 4/3 Olympus or Panasonic. It is indeed a REAL Leica digital, inside and out but a NEW Leica experience. So yes my friends, those images you saw were the real deal but until you really see what the new T is all about, AND hold one AND shoot with one, you will have no idea how super cool and fantastic it really is. No, it is not an M or anything like an M but it is something unique all in itself. Of course the Leica haters will never agree or get it or understand it, but that is OK as there are cameras made today for everyone's tastes. If you have interest in this all new Leica system then read on my friends as I am about to tell you in 11,000 words and one 32 minute video more than you may want to know about the new T 😉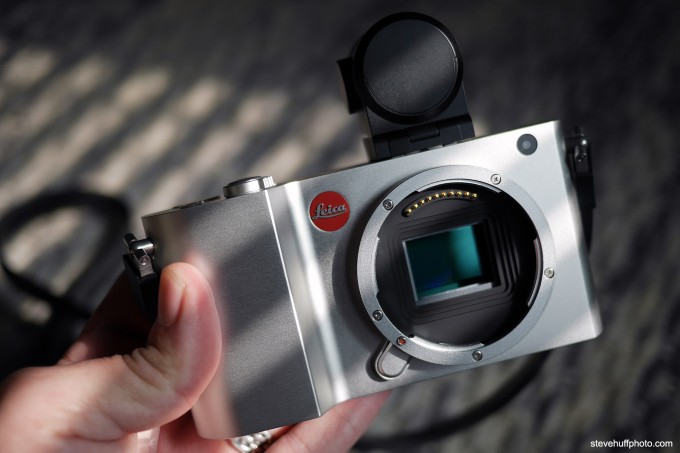 Steve, do you want to try out the new Leica T?
When Leica contacted me and asked if I would like to be one of the very few to use and review the new Leica T camera system before the official launch I said "YES YES YES"! Besides, I was intrigued by the new T, mainly because I wanted to see what the real story was..the real deal if  you will.
If they were going to show me a $3500 plastic camera that was a bad copy of a NEX-7 I was going to tell them that they were screwed. In fact, if they were going to show me a run of the mill all metal $3500 camera I was more than ready to say "Leica, you are screwed"! So I wanted to see what it was all about to clear the air.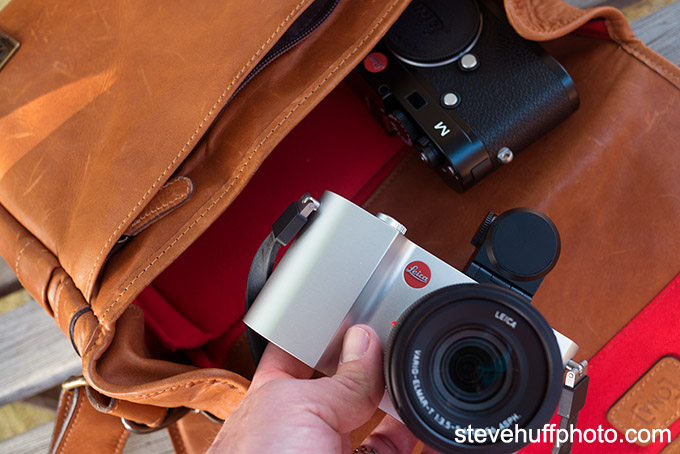 Before sending me the camera for review Leica invited me to New York City to preview it for an hour or so and to explain exactly what it was and why it was. I can say that what I saw/held and fired off shots with really surprised me as in build, in feel, in operation, fun factor and quality it was superb. It was indeed a Leica through and through. Though this time Leica has gone in a different direction than they normally do..a move to the future and a move to be different from the competition. Not only different from their previous cameras but different from what any other camera company has been doing. Not a huge departure from a typical APS-C mirrorless but enough of a difference to make it interesting.
Finally… Leica decided to deliver a German-made HIGH QUALITY interchangeable lens body camera that is a bit different and more unique from anything else out there with a very high level of "pride of ownership". The Leica T is created from a solid block of Aluminum..a "Unibody" … much like the sweet Apple designs (macbook pro) that are currently on the market. But not only is the build and design up there with the best (if not the best) of APS-C cameras, the Leica T has a few tricks up its sleeve that will set it apart from other APS-C cameras out there today. There was a surprise that the rumor sites were not allowed to leak early on and it all had to do with the BACK of the camera (which ended up leaking 24 hours before launch anyway)
Oh, for those wondering..this is NOT an M mount camera but it CAN mount and use M mount lenses (with the new Leica M adapter that is an optional accessory) and it works very well in this way. More on this later.
My 1st Look at the T in NYC
Each and every T is made from a block JUST like the one you see below. Pretty cool.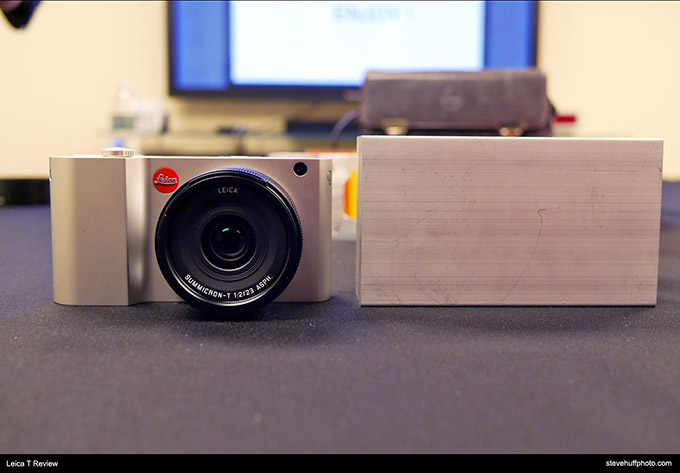 I eventually flew to NYC for less than 20 hours just to take a quick sneak peek at the new T and as soon as I sat down in the meeting room Stefan Daniel from Leica handed me a solid brick of Aluminum and said "This is our new camera". I chuckled..ha ha ha.. He said "No, THIS IS our new camera"! He then cued up a video showing how this camera body is made from a solid chunk of aluminum and just how labor intensive it is to make each and every T body. In fact, one of the video clips they cued up on the big screen was 45 minutes in length showing the hand polishing process that is painstakingly done by one gloved hand man for each and every T body made. It was actually 45 minutes of a close up of two hands and a T body being painstakingly polished. The exact way each and every body is polished, which tells me that these cameras are not a mass-produced piece of plastic..far from it.
Each T body is made with great care and attention to detail and each body takes a long time to create and assemble from the block chopping for each camera body to the polishing to the electronics to the assembly, inspection and testing. They just do not make them like this anywhere else.
"Oh boy, this may be expensive" I said to myself.
FYI: The Leica T is a 16.5MP CMOS APS-C sensor camera using the same exact sensor as the Leica X-Vario (which is an amazingly good sensor for IQ though not the greatest for super high ISO) with an all new processor.
The new touchscreen system is an absolute JOY to use. Simple, smooth, fast and very intuitive. I have not seen anything like it in ANY other camera. This is a forward move for Leica, and IMO, a good one for this camera. The surprise is that there are NO buttons or dials on the back. It is 100% touch for the settings and menu. BTW, this is nothing like those Samsung Android cameras…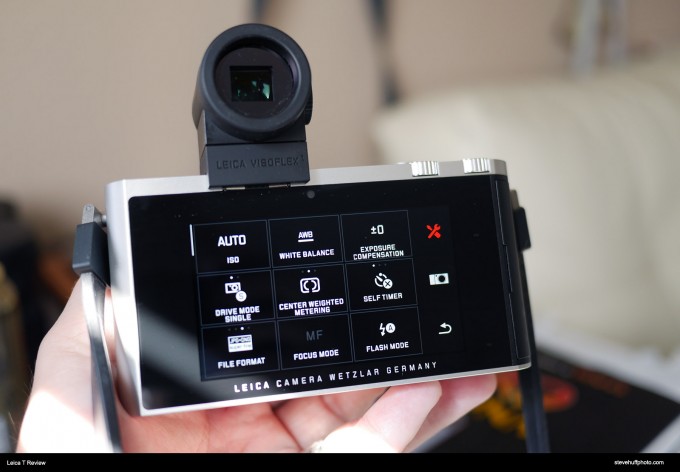 After an hour or so of asking questions, shooting with it and checking out the new M adapter made specifically for the T (with electronics to tell the T what lens is attached) I was intrigued. The new touch screen on the back takes up the ENTIRE back of the camera. It is a super clean design. No buttons, no mess. All touch screen and I can say that it works beautifully. Smooth, silky and everything takes one touch to change. It was much faster using this intuitive touchscreen than any button based menu system I have used. Impressive. For playback just swipe up anytime and your images pop up on the screen. Swipe to scroll through them, pinch to expand, etc. Very "iPad" like. (example of this is in my video at the top of this article)
Leica asked me if I would like to do a full review of the T before launch so I could have a review ready for launch day. I of course told them that I would be thrilled to review it and give it a full real world workout and then post my initial review on launch day.
While not perfect and not a "Dream Leica"  (would need an integrated EVF for this), I like this T system much better than the X-Vario for many reasons, one of them being that it will accept Leica M lenses, and it will perform exceptionally well with them. In fact, as already mentioned, Leica has even designed an all new ($395) adapter with electronics to take advantage of this feature.
Being an interchangeable lens camera, the T will have all new lenses made for it which most of them will be made in Japan (though they will not be made by Panasonic..this was confirmed with Stefan Daniel himself while I was in NYC. Could they be made in the same factory? Possibly, I do not know). The two launch lenses look and feel fantastic though not up to the build of the legendary M lenses (to be fair though, they are much less expensive than the M lenses and are not M lenses as they have AF)  and the performance appeared to be stunning from what I saw from them in NYC on the LCD. While the lenses do not come cheap, they are true Leica lenses through and through, only made in Japan to save you on the purchase price. Full Auto Focus of course while keeping the design and lenses SMALL, which is something that Sony has a hard time doing for some reason.
The 18-56 Zoom is as sharp as can be. This was taken in HARSH mid day 98 degree sun. These two guys were betting on horses… and losing. Still they were enjoying themselves and chatting away.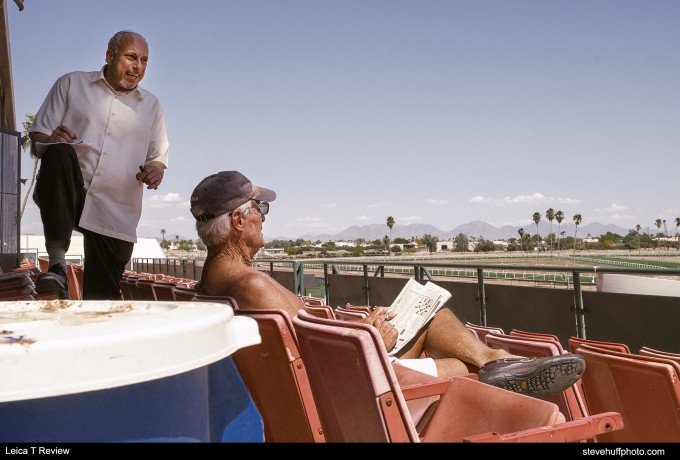 The Leica T is an all NEW system camera
The Leica T will start shipping at the end of May 2014 and there will not be a kit lens option, it will be sold as a body only. The camera will ship alongside two launch lenses, a very nice 18-56 f/3.5-f/5.6 zoom (giving a 28-85 equivalent) and a 23mm f/2 (35 summicron f/2 equivalent). Both lenses coming in at just under $1700 and $1900 respectively, which yes, is on the pricey side, especially for the zoom. But when I told them I thought the zoom was priced too high (and people will complain) Leica was quick to tell me that the performance of both of these new lenses is what makes them so special.
Still, to pricey for a system that is supposed to be more affordable imo.
I was told they are indeed REAL Leica lenses and in optical quality they are up there with the best of them. (though it does appear the camera does corrections on the zoom. Almost every mirrorless camera does this today from Fuji to Sony to Olympus, but since Leica was quick to tell me of the amazing optics of the new lenses it is sort of odd that they would need correction)
The zoom is incredibly sharp from corner to corner with no distortion or issues that I could find (besides the slow aperture speed) in JPEGS or RAW's processed by ACR. This lens is similar to the one built-in to the Leica X-Vario which is an IQ monster but because it had a bad launch and is lacking in some areas (like no interchangeable lenses) it was not the hottest seller in the Leica lineup. In fact, the lens is the same quality as the X-Vario lens while being a little faster and smaller. The lens uses German made Leica  glass but is made in Japan.  Again, the lens offers the same exact quality as the X-Vario lens. No better, no less.
With the T, Leica is hoping to change this.
The Leica T with the 18-56 zoom – RICH colors seem to be a specialty of the T (click image for better version)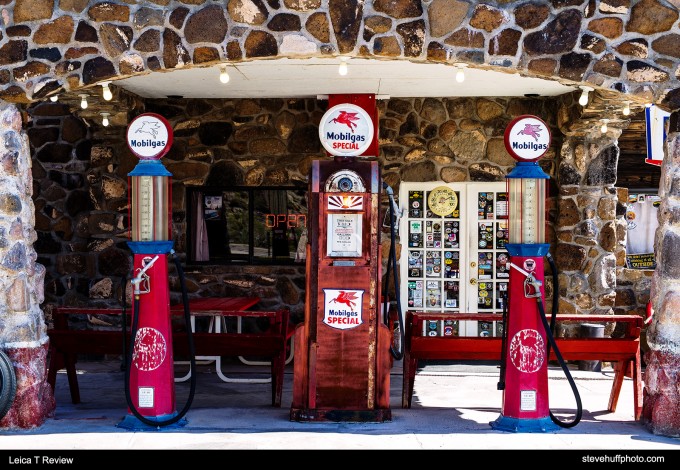 Why Leica designed the Leica T System, and how they will compete.
Leica users are a very unique breed. Some buy Leica for the red dot but not me. As a Leica M user I am one who use their cameras not for the name, but for the craftmaship, the quality, the simple operation, the pride of owning a real hand-made and solid camera as well as the results. I am very passionate about my cameras and the act of recording memories, slices of life. I have always enjoyed using Leica cameras to do just that. I also own other cameras but I always get the most joy from a Leica when they are done correctly.
The image quality is always fantastic but the lenses and user experience is usually high off the charts. I am talking about REAL Leica cameras NOT the rebadged Panasonic models. The M system has been a dream of many photographers for years and years and usually those who dive in and go all in with an M system usually love it to death, and miss it dearly when it is gone.
The only problem with the M system is the very high COST of acquiring a full set up with just 2-3 lenses. It is quite ridiculous actually.
Leica is a small company and they make small batches of amazingly well made cameras and lenses but in no way do they push nearly as much product out of those factory doors as a Nikon, Canon or even Sony and Olympus. The reason is because the market is quite a bit smaller for Leica due to the cost involved in acquiring a full-fledged system (meaning, not as many people buy Leica as Canon/Nikon/Sony). Let's face it, spending $10k for an M with one lens is NOT something that many of us would take lightly, no matter how good it is.
For many years now Leica users and wannabe Leica users have been asking for a more affordable alternative to the M, one with the ability to use those delicious M lenses. The T answers this. Users also want new more affordable lenses. The T answers this as well, sort of. Previously Leica has tried to fill this gap with the X cameras but they always fell a but short as they could NOT take M lenses or any lens besides the built-in lens that came with the camera!
The T with the legendary 50 Summicron at f/2 using the Leica M adapter
In 2014 Leica now has a new much larger and more efficient factory and with the new capabilities in manufacturing they have decided to produce the new more affordable German-made Leica T system and go forward with the Leica philosophy without losing sight of what that is.
The fact is that the Leica T is now the "affordable" Leica system that will give you the "NEW" Leica experience while keeping many of the charms and features intact that we all love about Leica. Mainly, SIMPLICITY, QUALITY and FUN FACTOR. 
The Zoom lens really is fantastic.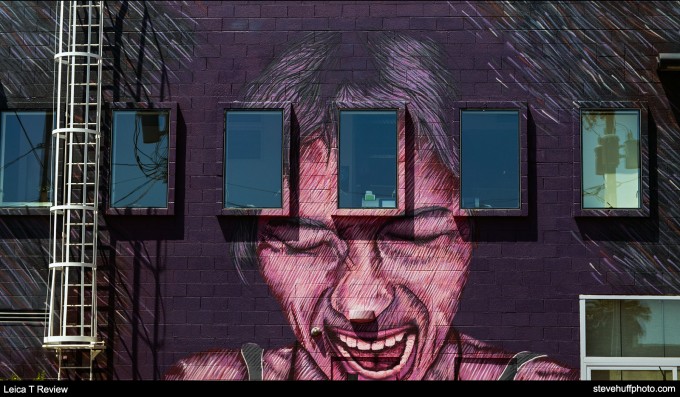 Those words above are very important for me when I choose and use a camera. It has to be simple. It has to have superb quality. It has to be fun and inspiring to use. For me, the Leica X-Vario failed in a couple of these areas and the X2 also came up a bit short while being crippled by the fixed lens, and I said so in my review of that camera. So will the new T be able to win me over? That is the question I wanted the answer to, and thankfully, I was about to find out.
After I was shown the new Leica T camera in NYC I was asked "How much do you think this will cost, body only"..my answer was "$3499".
I thought for sure it would range in between $3000 and $3500 as this is LEICA we are talking about and Leica is NEVER cheap or affordable AND this guy is made from a solid brick of Aluminum and hand polished. After showing me the insanely labor intensive process for making just one single T body, I figured it could have been even more than $3500! But after my guess of $3499, I was told the answer of how much a T will set you back.
**$1850**
Yes, the Leica T will sell for $1850, body only. You choose what launch lens you want and buy it separately. The Zoom or the Summicron or even maybe (depending on the thickness of your wallet) an M Lens or two using the new adapter. I have NOT tested the new Summicron, only the zoom and a 21 Super Elmar M lens along with a 50 Summicron M lens. Both did well but I preferred the Zoom to the 21 Super Elmar. 
Again, using the M adapter with the 50 Summicron at f/2  – Get the true Leica look using M lenses.RICH IQ and color/depth from the sensor. Beautiful. Click image for larger view!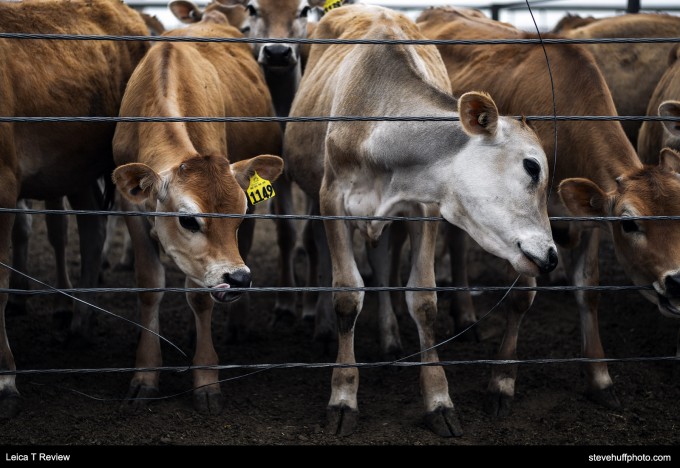 Now before anyone gets in an uproar for me calling this the "affordable" Leica keep in mind that this is a REAL Leica, made in Germany and that adds value no matter what your thoughts on Leica are.
For a real made in Germany Leica, $1900 is very reasonable when going by the history over the past 10-15 years. Look at the cost of an M7 or MP or M-E or M240. Even the X2 is $2000. The D-Lux and C models are made by Panasonic, not Leica and this is why they are more affordable.
As for the new T, it has an amazing build, heft and feel. The build surpasses just about any other APS-C mirrorless camera I have used. When I say this I am referring to the feel of the dials, the solidness of the body, the smooth sound of the shutter and the little details like the battery system that is just like a mini Leica S battery system. It has a pop up flash that is as smooth as butter and the main thing is that it is incredibly simple to use, even without reading a word of the manual.  It's all in the details my friends. If you want quality, it is right here. No muss, no fuss.
The Leica T, from a build and construction standpoint is amazing. A real Leica that will last many years. When you add to that the new touchscreen navigation (no buttons on the back at all) that works amazingly well and smooth, the fact that the IQ is equal to and can even surpass the cumbersome X-Vario and the fact that you can use Leica M lenses or the new Line of lenses then you have a home run for Leica fans and for those who were never able to get into a Leica M due to financial reasons.
Will this give you the IQ or feel of an M? Not really, though it can get very close when using M lenses. With the new system lenses you will get X-Vario IQ and beyond because now you will not be stuck with one slow zoom, it will only be one of your options 😉 Yes! You now have OPTIONS, which is GOOD.
The T is a serious IQ machine. With the 50 cron.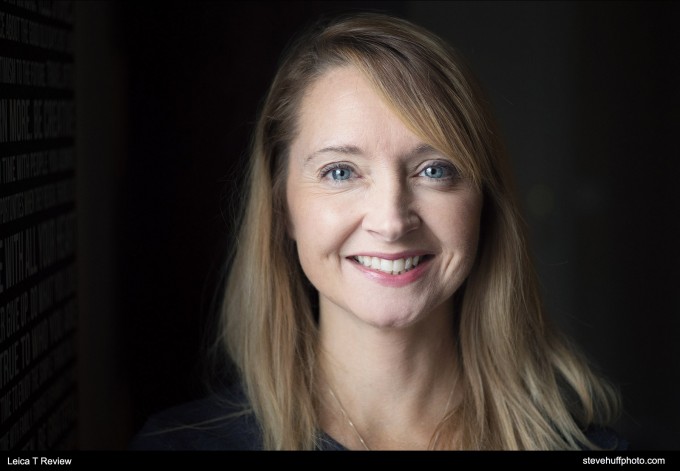 The IQ is technically the best I have seen from any APS-C format sensor camera BUT more enjoyable to use than the X-Vario (IMO) and other APS-C cameras (for me). The speed of the AF is the best I have seen from a Leica and while not blinding and blazingly fast it is actually pretty snappy and quick when using the zoom (though it can hunt a little in low light with said zoom lens). The new lenses announced are just as sharp and beautiful in IQ as the M lenses with a bit of lower quality construction to save you money.
$1900 for the body is fair, especially for M shooters wanting a backup. But beware! The T system CAN and DOES get expensive when you start to add-on the accessories like the Visoflex EVF, the Adapter, and the two new lenses. In fact, a fully pimped out T system will set you back close to $7k with EVF, both Leica lenses, Adpapter for the M lenses and the slick leather camera case and cool leather bag. Yep, around $7 grand for the whole kit and caboodle, which is the cost of one M body by itself without a lens (which will not give you that much more in the IQ department, but it is an M) or the cost of a Fuji X-T1 with several lenses.
Bu of course one does not need to buy it all, that $7k estimate is if you wanted EVERYTHING with the new T to start off.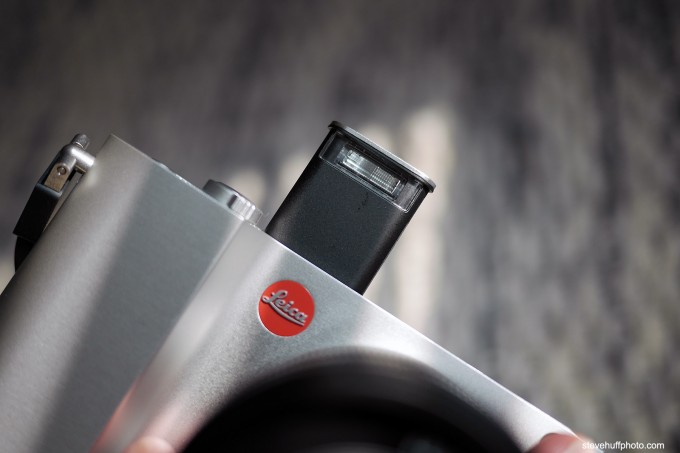 This T is a mini-fied M type futuristic body with a grip, takes lenses, has a dedicated M mount adapter so the M lenses can communicate with the camera and a unique swivel external all new EVF (Visoflex) with built-in GPS. The touch screen (which does NOT swivel) is a move forward for Leica and I would not doubt that this new touchscreen navigation and control system, if successful and liked, will make its way to the next M camera in a couple of years…my crystal ball says 2016. Leica is moving ahead to the future and while almost any camera today can give you superb results, a camera is so much more than IQ and results. Everything with the T oozes quality, even the way the strap system works.
I have said a million times that a camera MUST inspire and MUST do everything else right to be able to bond with it, and when you bond with a camera it is then that you can LEARN and GROW. Joy of use goes a long way today and many cameras fall short of this. So how does the new Leica T do in this area?
Easter Eggs – The 50 Summicron wide open at f/2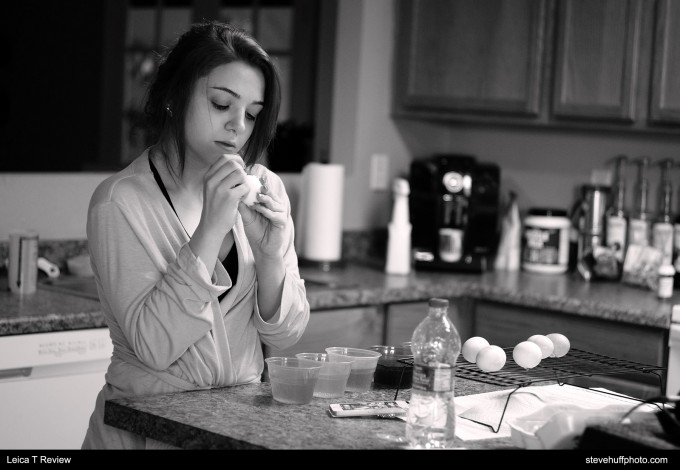 OK, let's get this Leica party started..
The Leica T arrives to my house
After I arrived back home from previewing the Leica T in NYC it was only a matter of 3-4 days before a pre-production model was delivered by Fed Ex to my house. I was told by Leica that I had it for 7 days (they previously told me two days, which would have been almost impossible).  I was a bit worried that I would not be able to do a full and complete review in only 7 days (usually takes me 2 weeks) but I knew if I worked my ass off I could, and with a new Leica in hand of course I was ready to do just that. Besides, I do not consider this stuff work at all as I love it of course! How lucky am I? (very)
Inside the shipping box was the silver camera body, the 18-56 f/3.5-f/5.6 zoom lens, a battery charger and Leica M adapter. No manual, no specs, no instructions, no info..nada. I was hoping for a box but nope, just bare bones. In a way this was a good thing because it gave me a chance to see just how simple this camera is to use. With two control dials, a shutter and movie button, there was not much to figure out besides the new touchscreen navigation/menu/setting system.
After 2 minutes I had the touch menu down and was easily changing settings, setting up profiles and all was good in the world. Even using the M adapter and some M lenses proved to be effortless. Everything was simple and logical. No confusion. No special settings. No oddball menu configuration needed to set up the adapter. It just worked.
The Leica T houses the same sensor as the X-Vario, which is a good thing and a bad thing. For one, the sensor does have a very nice quality to it as you can see in my X-Vario Review HERE. Great color, sharpness, and that Leica IQ bite to the images. The one weak spot with this sensor is that it is not quite up to the levels of the newest cameras for high ISO. ISO 3200 is about as high as I would use even though I did go up to 6400 for one of the shots in this review (which you can see below)
ISO 6400 in a dark mining tunnel. In reality we could see nothing but the man in the back. Using the slow zoom the camera chose ISO 6400 in Auto Mode and the view in the EVF was grainy, so I assumed the image was going to be awful. But what I saw on my screen surprised me. ISO 6400 shot in the dark was actually usable with good color.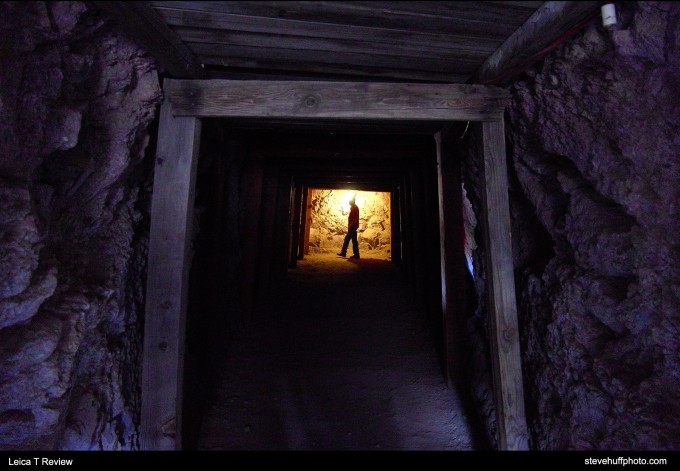 BELOW: ISO 1250, converted to B&W using Alien Skin. Notice how detail is kept and the grain does not look offensive in the slightest? Yep, just how I like it. I can not stand it when a camera adds smearing NR to the files.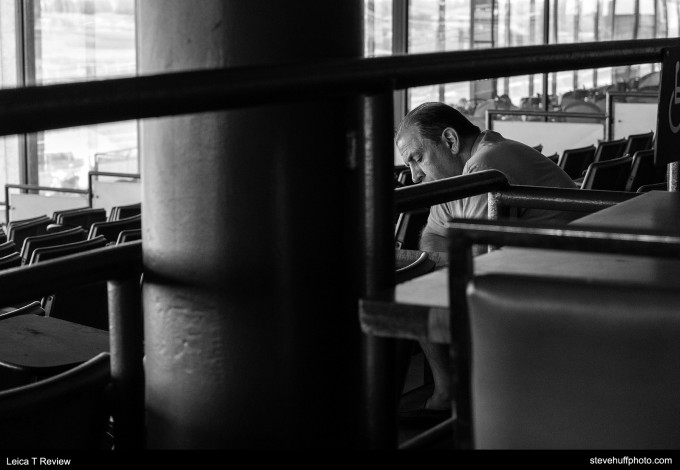 Speed Demon?
(Speed, handling and response)
The Leica T is NOT a speed demon if you compare it to something like an Olympus E-M1… as you may expect. Then again, no camera I have used matches the E-M1 for speed and response besides the E-M10! Not even the Canon 6D or Fuji X-T1 beat the E-M1 for me in speed. So comparing the T to the E-M1 showed me that the T is slower than the E-M1 in AF speed. Of course..I knew that before I tested. I can tell you that the T just about matches other mirrorless cameras for AF speed and beats the older Fuji's by a mile (all before X100s and X-T1). This is a good accomplishment coming from Leica, the king of the manual focus lenses. AF speed is good, no question.
The fact is, Leica has never been about making cameras for sports or fast action shooting. Nope, Leica, for me at least, has always been about shooting LIFE. Always have been, and I think always will be. With Leica you can strap the camera up, take it out to the streets or anywhere you go and you can capture life as it happens. This is how I have always used my Leica cameras as they somehow inspire me to go out there and capture things that I do not normally capture as well with other cameras. It is a strange thing and could be mental but if it is  mental then I am happy that there is a camera that does this for me 😉
As for the build, feel and presentation, it is superb. As I said earlier, do not let the images of the body fool you. The camera is actually gorgeous in design and build. It is as solid as it can possibly be with a nice feel if not a teeny bit on the small side. If you have larger hands you may want to add a case for extra grip. But yes, this camera is small, but it is VERY sexy in the flesh. When you hold it you will realize right then and there that this is indeed a REAL Leica and not one of those Panasonic re-badged cameras.
The battery of the Leica T works like it does on the megabuck S system camera.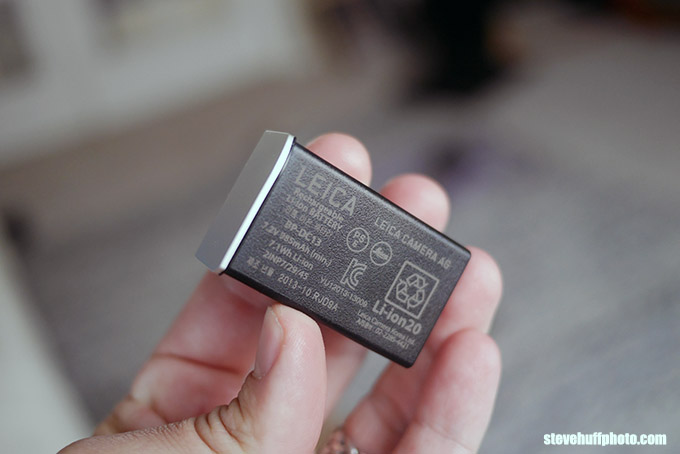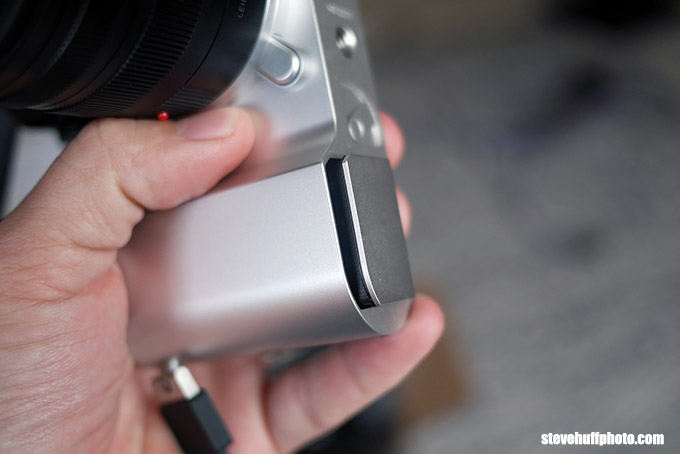 The battery is pretty cool as well and works just like it does with the S System. It clicks in and out and the battery cover is attached to the battery. It keeps the camera sleek. With minimal dials and buttons the camera looks a tad futuristic. Funny coming from a company who has always clung to their classic history and design. For example, the Leica X2 looks like a teeny M in design. The X-Vario also looks like an M in design. The T is going off in an all new area for Leica and while it may appear to look like a Sony NEX, it is quite a bit different but cut from the same cloth as a few other mirror less designs. The difference is apparent though when shooting with and actually using the T as the whole user experience is all Leica.
As for getting back to the speed, the T is more responsive and faster to auto focus than the Leica X1, X2 and X-Vario. It is the fastest German-made Leica to date, and for me it is about the equivalent of Sony NEX or E-M5, a little bit faster than the Sony A7. So while not up there with an E-M1 it is very close to everything else when using the 18-56 Zoom (the only native lens I had to try).
No problem catching this racing horse with the T and the 18-56 zoom. Click for larger!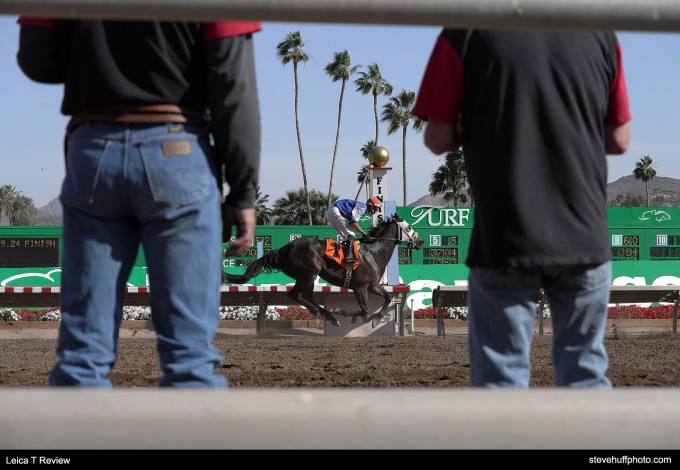 –
As always, Debby is ready with a smile to help me along in my reviews! Once again, the kit zoom. EXIF is embedded.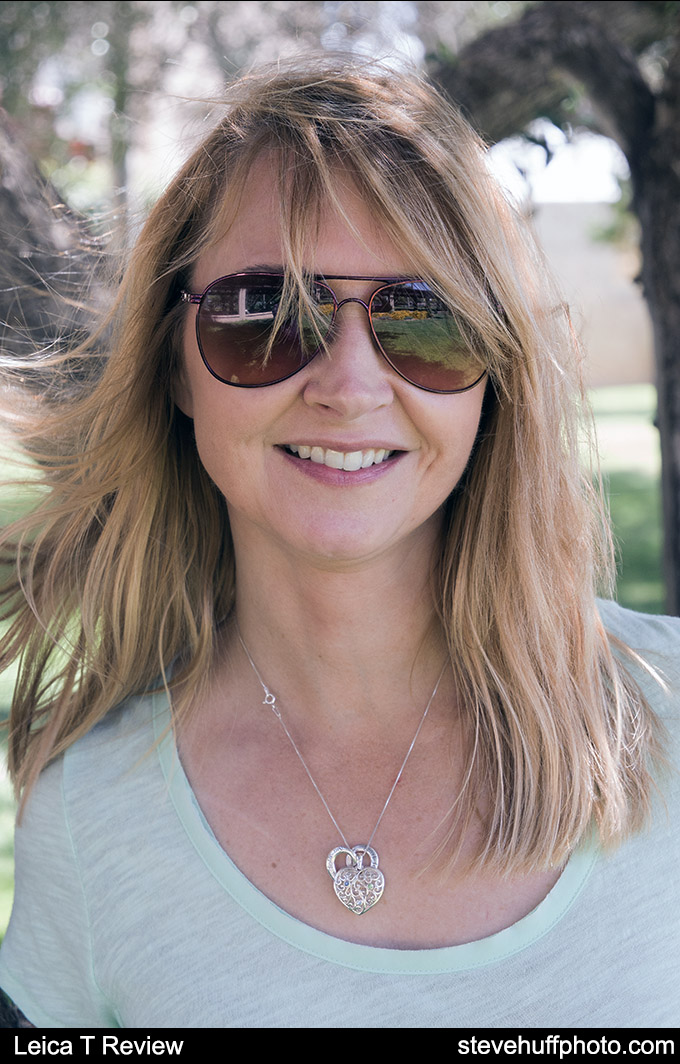 Think of the Leica T as a souped up X-Vario with interchangeable lenses in an easier to hold form factor with a bigger "cool" factor and more fun to use.
From the strap system that is much like what you see on a few fancy limited edition Leicas (which is proprietary) to the battery (which is also proprietary) to the oddball shaped external EVF (which is a Leica made EVF this time from what I can tell), the Leica T is a very cool camera system that surprised me by just how well made and unique that it is in its design and usability. It is something "special" that we do not get from other cameras in this category and you know this when you use it and especially after spending some quality time with it.
With the zoom lens the camera has a biting sharpness and great micro contrast that makes images POP with color and depth. This is a direct from RAW file, just resized.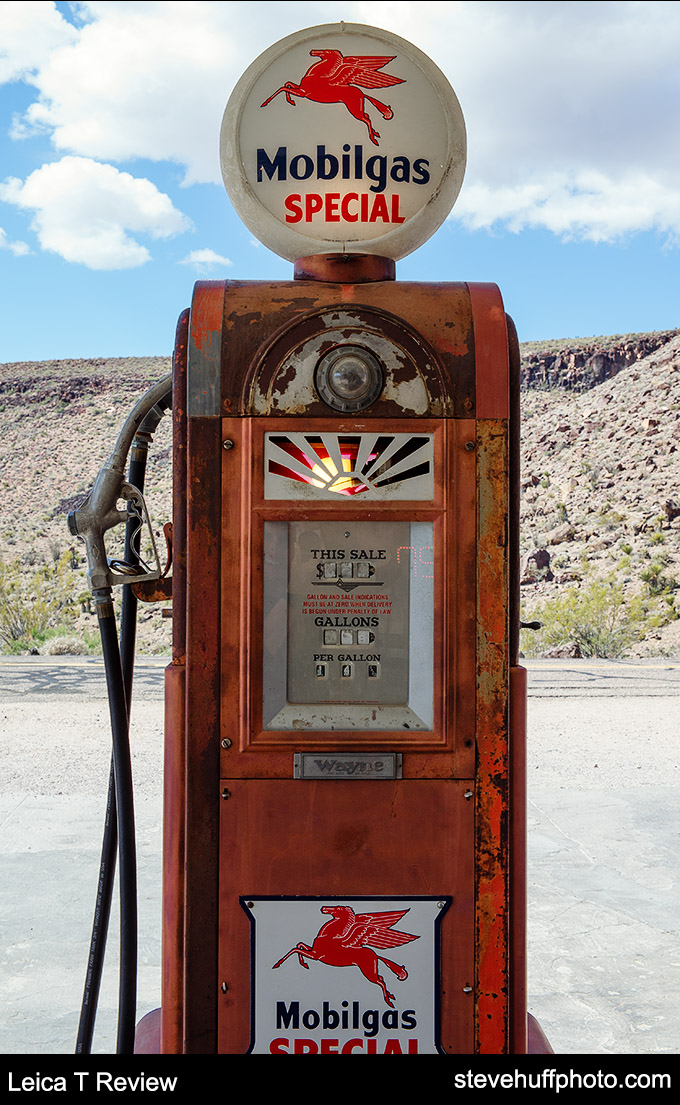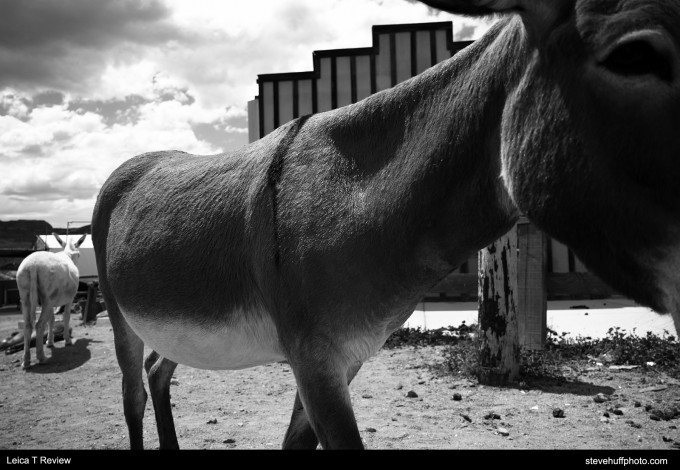 My time shooting with the T
When the T arrived I immediately charged the battery and attached it over my body for the next 7 days. I took it with me when I left the house or went anywhere. I took it to Turf Paradise, the horse track in Phoenix. I brought it with me in the 98 degree sun when I drove four hours to visit Oatman, AZ to see the burrows that roam the town freely. I had it with me around town and around the house. In use it always was 100% solid and never gave me one issue. I did not miss shots from any oddball problem and it never froze up, never mis focused and never ran out of battery.
I was expecting issues as this was not a production camera or final firmware but the T kept on trucking and gave me no issues. I shot some video just to test it and while this is no pro video shooting machine, the footage looked nice enough.
Using M lenses was a joy for me, very easy to shoot and focus.
The cool thing about the T is the fact that it is very fun to use due to the massive touchscreen LCD on the back. It all makes sense and you will not need any manual with this when you crack it open and power it on. It is all right there. You can customize the camera menu with your favorite settings just by dragging an icon to the camera graphic. You can delete a photo by dragging it to the trash. Change ISO with the thumb dial up top or a touch box on the back. Many will not enjoy the touchscreen though as you do need it to change exposure compensation. One weakness of the TS that I found.
Auto ISO is a breeze as you can set up your max ISO and min shutter speed. Everything you need to be able to take fantastic photos is there and nothing more. As I said, the key thing about a real Leica cameras is SIMPLICITY. The T is SIMPLE to use.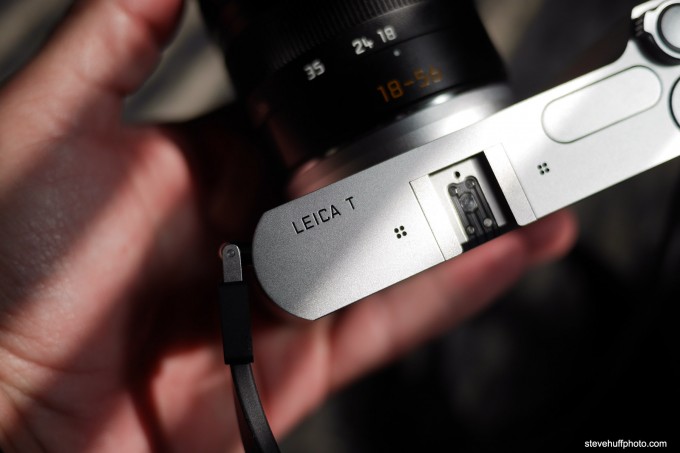 The $1700 18-56 Zoom Lens
When Leica sent me the T for review they did not include the ONE LENS I wanted to really shoot with, the new 23 mm f/2 Summicron (which gives us a 35mm equivalent). Instead they sent me the slow ass zoom which reminds me very much of the zoom on the X-Vario. It's sharp, it's crisp, it has amazing color rendering, corner to corner sharpness even wide open..sounds perfect right? Well, NO it is not perfect because it is damn slow in the aperture dept!
With an aperture of f/3.5 to f/5.6 it is yet another slow zoom lens from Leica.
But with that said, if you do not need the speed then this lens is the best little zoom I have shot with. It offers a 28-85 equivalent in a very small and well made package. This zoom is smaller than Fujis 18-55 zoom and smaller than the Sony Zooms and performs better. It is a nice size and part of that reason is because it is a slower aperture zoom. For daylight and mid-light use, this zoom rocks. It does indeed come with a lens hood, which I never did end up using at all and I had no issues with flare.
Here is the Leica 18-56 Zoom next to the 50 Summicron f/2. The cron is a SMALL lens so you can see that the zoom is not much larger.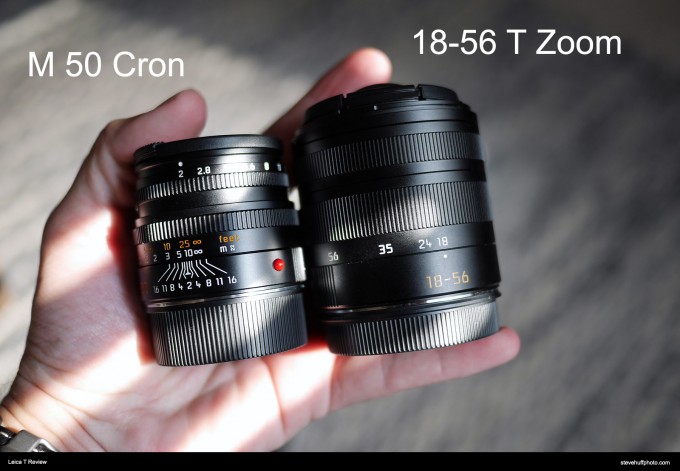 With the IQ so good coming from this lens it is up to you to decide if you want it. I dismissed it at first but the more I shot with it the more I realized just how versatile it is. This one has something about the way it renders the images that I really enjoy. That Leica crispness and color is just there in every shot.
It does not do well in low light though (due to the slow aperture) but if you had the zoom and the 23 f/2 Summicron you would be set. I think Leica did not make the lens an f/2.8 zoom because they wanted to keep the size small and not look ridiculous on the camera. An f/2.8 version would be quite a bit larger while keeping the same quality. But Leica, where is the 50mm equivalent?
In any case, the lens is not some optical tour de force. It is in fact a lens that needs software corrections which are all done in camera and by ACR or Lightroom when processing RAW. Almost all lenses and mirrorless cameras todays provide corrections to lenses, even the mighty Sony RX1, without the corrections these lenses would have barrel distortions and vignetting. So software correction is necessary.
The Leica M 240 provides corrections as does the Fuji's, Sony's, Olympus and Panasonics of the world. No big deal but at the price of $1700+, the lens really should not need it.
The 18-56 zoomed out to 56mm – click for larger and better version to see the perfection in this lens It is quite special. Leica knows glass.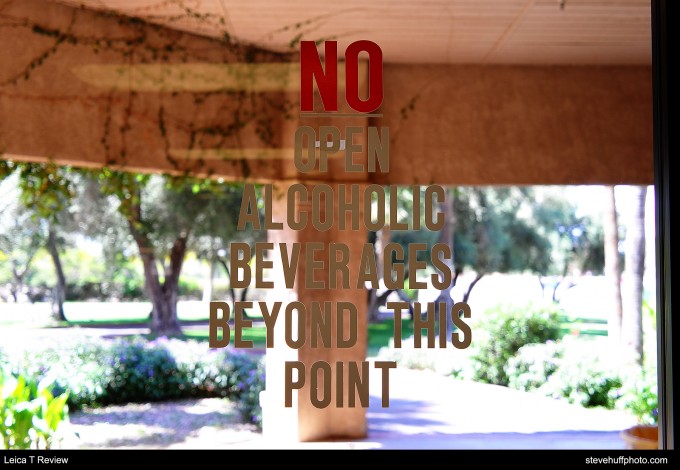 The cost of the zoom lens is also very expensive at $1700. I feel (or wish) it should be around $999-$1200 but then again, that would not be very Leica like would it? IN MY OPINION, after using everything out there it offers superb performance that beats the Fuji, Sony, Oly lenses in this zoom range when shooting in daylight but suffers in low light due to the slow aperture, and some of those other zooms are faster at f/2.8 and thus, better for lower light. This Leica zoom has the same X-Vario weakness, aperture speed. The cool thing is that this time we can take this lens off when the lights get dim and put a faster lens on unlike the X-Vario experience.
The Visoflex Electronic Viewfinder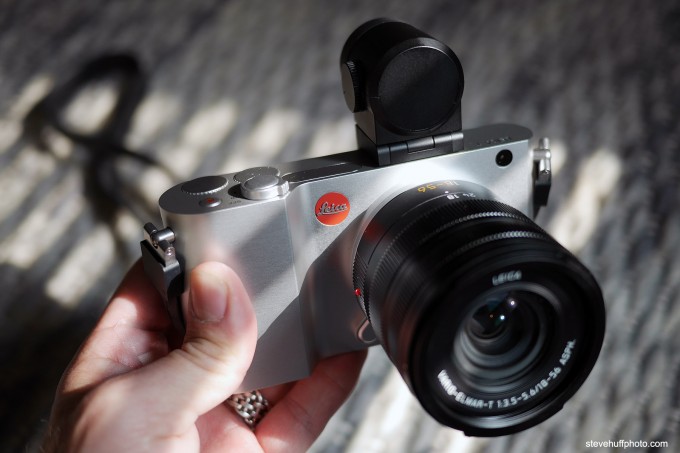 The new external EVF from Leica is quite unique. It looks like one of those submarine periscopes when mounted on the camera. It is an oddball design but I like it, which some of you may not. But I always like oddball things.
Here is the kicker..as I write this review the camera or anything associated with it has NOT been announced yet. It will when this review goes live on April 24th at 6AM (and by the time you are reading it you will know all about this camera and accessories as Leica will have spilled the official beans on it). But right now, for me, I have no idea on the specs of the EVF!  All I know is that it has GPS built into it and will sell for $600 or so. I do not know the resolution or specs, when I do (which will be the same time you do) I will update this section. (2.3 million dots)
In use it is a joy to use and while I would MUCH rather have it built-in to the camera (When will you get this one right Leica?) the new Visoflex offered a nice experience. It is sharp enough to manually focus M glass without using magnification, at least for me. You can choose 3X or 6X magnification when manually focusing an M lens though.
In low light the EVF gets a little muddy like mostly all other EVF's on the market but still works great and is easy to frame with. It is not as huge as the new EVF in the Fuji X-T1 or Olympus E-M1 but it is not small either. I'd say it is maybe the 3rd or 4th best EVF I have shot with 😉 For $600 I was hoping it would be up there with the best in size but it is not. Still, this is Leica and it is a bit better than the last EVF offering that was an Olympus EVF-2 in disguise (or so it seems).
BTW, this EVF is IMPOSSIBLE to ever be used on the M 240 as it will l NOT fit. Impossible. So the rumors saying that this was a new EVF that could also be used on the M 240, that is wrong and false 100%. I tried it, does not fit, at all. Not possible. Besides, if Leica releases a new EVF for the M 240 I expect it would be better than this one. Then again, I imagine the next M will have a built in hybrid style EVF/RF.
Using a Leica M 21 and 50mm with the T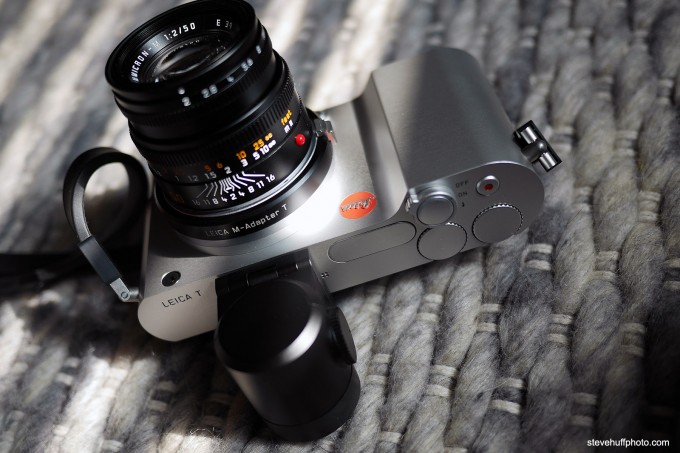 Just look how bad ass the T looks above with the 50 Summicron and EVF attached! Remember that the body as you see it in NO WAY feels cheap. It is SOLID and you can feel it when you hold it. You feel METAL. Polished metal. The Unibody design is a treat for the eyes and the hands. As for using M lenses on the T..
THIS is where I found the T to be pretty special. With the new fancy and expensive $395 adapter from Leica I was able to mount M lenses to the camera and use them without any issues. The adapter will read the 6-bit code from the lens and communicate this information with the camera. This way, the T will know what lens is on the mount, which is very cool.
On hand I had a Leica 21 Super Elmar and a 50 Summicron and both performed flawlessly without any issues whatsoever. The 21 performed great without any colored edges or softness or issues. Yes, this is an APS-C sensor so it is not as demanding as full frame but many of you will remember that even on Sony NEX APS-C cameras there are issues with many wide angle Leica lenses. On the Leica T the 21 did great and the 50 gave me results that looked just like I would expect with the full 50 Summicron character shining through. Crisp, bright, 3 Dimensional, sharp and with superb color or B&W conversion. Take a look at the images below for some quick samples. The 1st image is with the 21 wide open and the following two were with the 50 wide open. Click them for larger!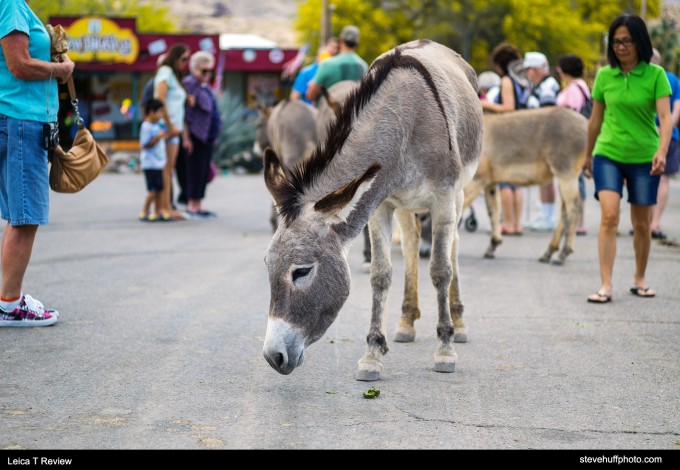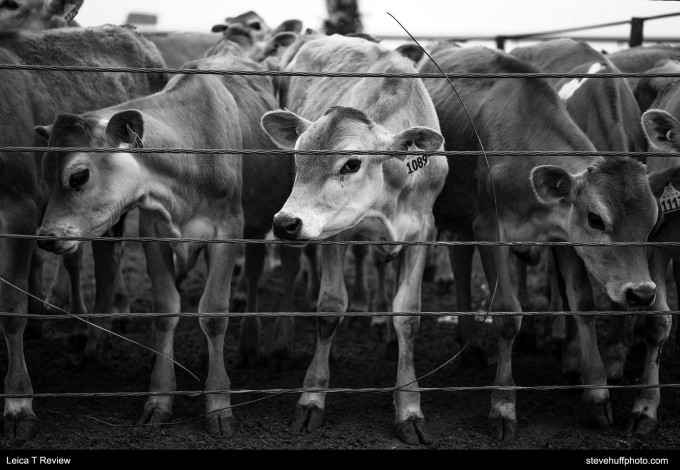 Things that could have been better with the T?
Many will say "Why didn't they make the T with an M mount! This would have been a TRUE Mini M"! Well, yes it would have but then we would have been stuck with only VERY expensive lenses and no new more affordable versatile zooms and primes. Leica wanted to create a body that was under $2000 with a new mount for which they could provide a new line of lenses for. AUTO FOCUS lenses that are made in Japan but using Leica glass and design. Again, the lenses are not made by Panasonic (according to Stefan Daniel) and are supposedly true Leica lenses but made for the new T mount in a more affordable manner. This way many more can get into a Leica system and later on they can add M lenses if they desire. But still, an M mount T would have been cool for many of us who own a ton of Leica glass.
So do I wish this T was an M mount? Nope. Due to the fact that it has a new mount it opens up possibilities, like the new Zoom for example. Auto Focus, etc. Besides, M lenses can be easily added via an adapter and the adapter seems to be a perfect match for the camera and M glass, so in a way, for the cost of the adapter you get a T mount and M mount camera. Leica made the right choice which means we get more choice.
Which leads me to the M adapter.  It is $395 and does have electronics that will read the 6-bit code of the M lens (provided it is 6-bit coded) and tell the T which lens is attached. Is this for corrections? Maybe, Leica did not say but the two M lenses I shot on the T worked fantastic.
High ISO. This could have been better on the T because at 3200 and 6400 we do get some grit and noise but it is not much worse than current cameras and slightly bests my E-M1 so for me not a huge deal as I have had zero limitations shooting an E-M1 in any light. Up to ISO 3200 is good but I'd stay up to ISO 1600 to be safe if you are allergic to noise. The good thing about Leica is that they do not apply that nasty noise reduction like most cameras so the results stay sharp with noise. Just how I prefer it. Still, the high ISO should have been better. No real excuse for this one.
Weather Sealing? They could have added some weather sealing for peace of mind. The T is not sealed but a Leica at $1900..I would not expect it to be sealed. Remember, this is Leica.
EVF Visoflex cost. This could have been a couple hundred less. As it is it is 1/3 the cost of the camera body itself. It does have a built in GPS but for $600 I would expect the worlds best EVF experience, and this is around the 3rd or 4th best. For Leica to make this a true drool worthy camera they should have put in a built-in EVF. How many times does this need to be said?
No image stabilization? Should have been in the camera, period. 
Slight lag after taking a photo in single shot mode. When you shoot a frame the LCD displays the image which seems to make the camera lag for a brief moment. If you want to shoot one shot after another, choose continuous mode because in single shot mode you will have a very brief moment between shots due to the display pulling up the image. This could also be a quirk of the pre-production model and not so final firmware. Nothing major and did not affect me shooting but just wanted to mention it. Also, C mode worked great when shooting at the horse track. I was surprised at how speedy a Leica could be 😉
More lenses at launch. As it is we have TWO lenses at launch (more to come). The 18-56 f/3.5-f/5.6 for $1700 and the 23 f/2 Summicron at nearly $2000. So we have the slow zoom, which suffers from the X Vario syndrome (need good light for good results) and we have the 35 Summicron equivalent, which is good but where is the 50 f1.4 equiv or even a 50 Summicron equiv? I asked about future lenses and they said there were more coming but I have no idea of when. Lenses make a system, so it is a good thing that we can adapt the M lenses to the T and Leica knows this. One cool thing is that many old vintage lenses can also be adapted and they can be found cheap in some cases.
Other than that the T is a pretty polished and solid product. If it had a built-in EVF it would have taken a superb camera and made it even better, almost perfect for a Leica IC camera. As it is, I still enjoy it and the EVF experience as it is, well, it is very nice and is all we get.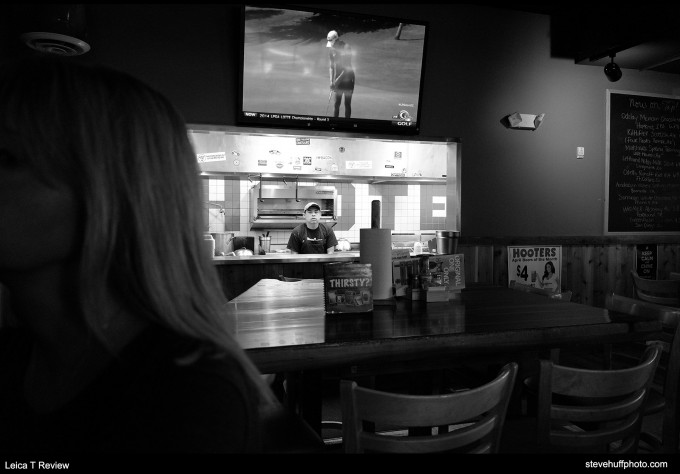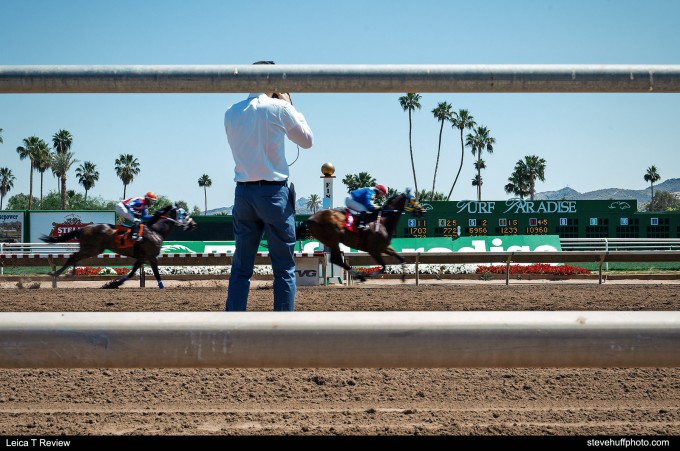 Accessories for the T
The T will be shipping with some accessories that will be available at launch (or should be). Below is a quick list of the ones I have seen in person:
A system camera bag. Leather and even fits an iPad mini. I saw this in NYC and really liked it. Would fit a T, two lenses, a charger and an iPad mini.

The M Adapter. Electronic contacts to recognize what M lens is attached to the T. A premium adapter that works well. A must for M users.

The Visoflex Electronic Viewfinder. Has built-in GPS and looks like a periscope and at $600 it is not cheap.

Leather half case. I saw this as well. It is grey and fit the camera very well.

Various rubber and colored straps

Colored camera "shells" to protect the body while looking cool in colors such as orange, yellow, etc.
So the accessories above are the ones I know of and I think they should all be available when the camera ships at the end of May 2014.
The T in NYC with the leather half case, 35 Lux and the EVF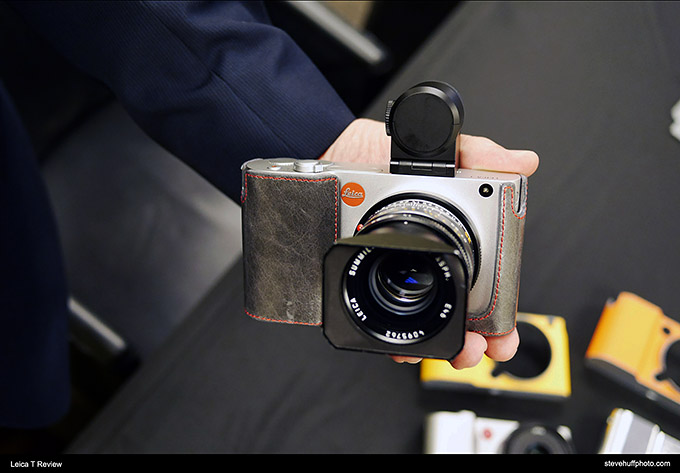 Miscellaneous things about the T
The T is a unique camera. With the build, the feel, the unique experience of the touch screen and the "apple like" design and cool factor the T is a very nice camera.
The Leica T App to connect via WiFi is now available at the App store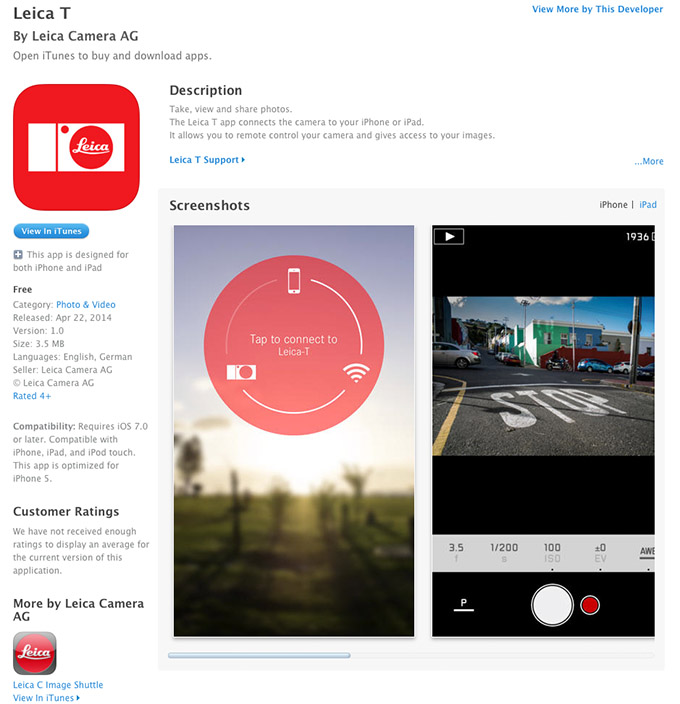 BUILT IN 16GB MEMORY – Other things about the T include the fact that it has 16 GB of built-in memory. If you forget or run out of SD card space no worries, just use the built-in memory. 16GB is quite a bit and this was cool of Leica to add this. All camera should have this feature!
Built in WIFI – Leica has an app that you can use to control the camera with the WiFi feature. I have not tested this yet but will soon!
HD video – The T has 720 or 1080P video. While not the best camera for shooting video it is the best video on a Leica to date.
It comes with a real plug-in charger not just a USB cable.
It comes with a very different kind of strap. It is made of rubber. It grips your shoulder. It attaches in a unique way. 😉
No AA filter so this is one reason why the images are so crisp.
As I said earlier..if Apple made a digital camera, this would be it.
This little burro was standing away from all of the others just baking in the sun. 18-56 Zoom. Click for larger to see the sharpness and color.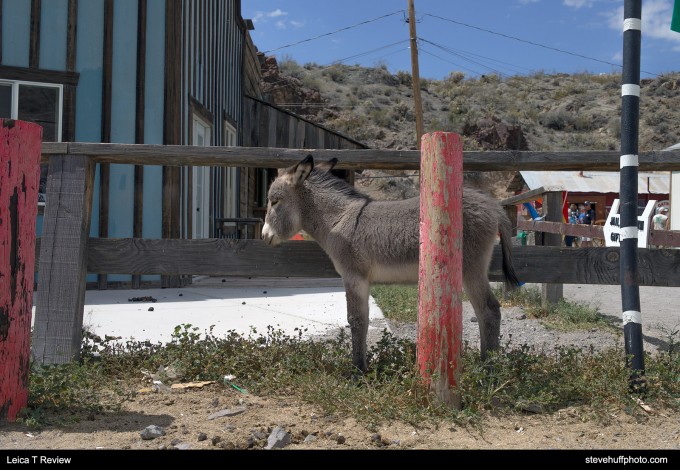 Leica Promo Video for the T
Leica has produced some interesting promo videos for the T which you can view below.
ISO CROPS
Below is a simple test shot with ISO crops at 100, 800, 1600, 3200, 6400 and 12,800. What is nice about the T is that Leica does not add detail busting noise reduction, so while you see some noise at 3200 and up it is not offensive and your images retain detail. What you see below are direct OOC JPEG crops.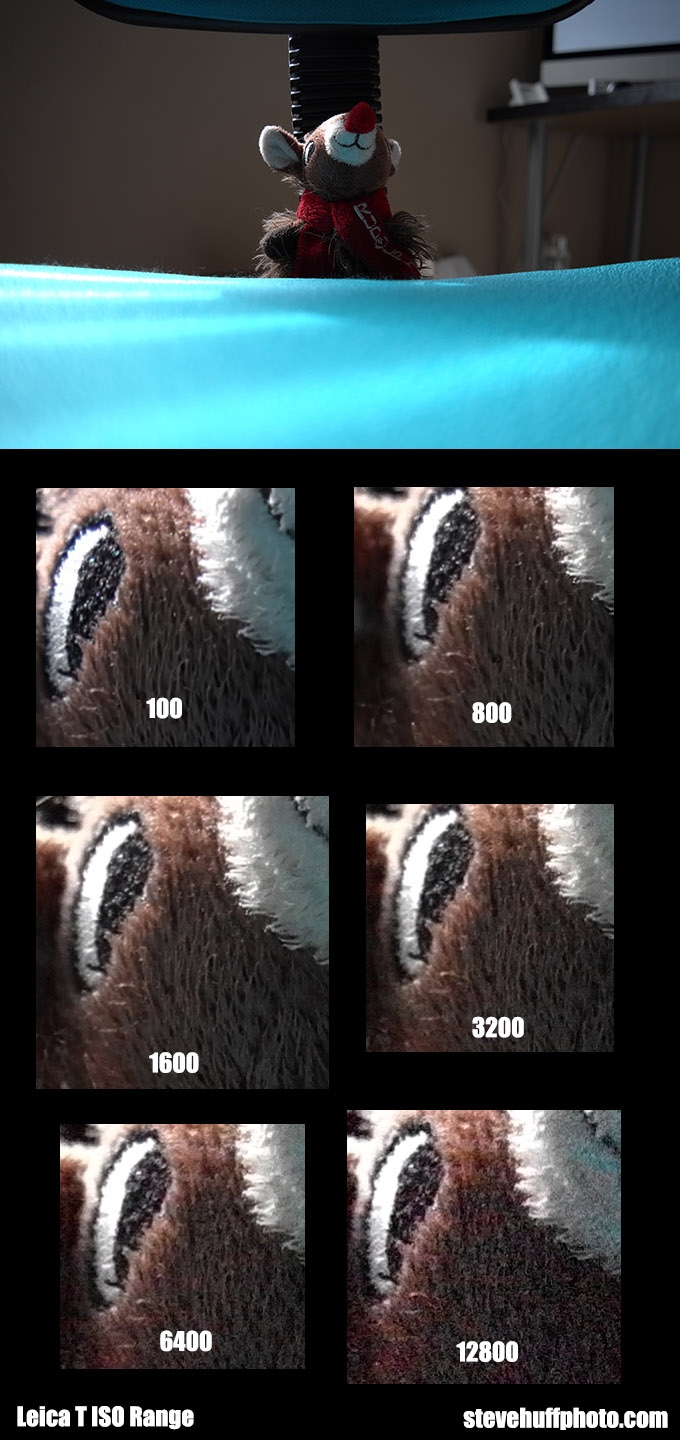 PROS and CONS of the Leica T
PROS
Beautiful Design
Beautiful Build, best of the mirror less APS-C lot
Made in the new Leica factory in Germany by Leica!
New line of lenses with AF, more to come
Superb Leica IQ – sharpness, detail micro contrast and color
Can shoot M lenses with the new Leica adapter!
No AA filter!
Left thumb dial is easily configurable by touch
EVF has GPS inside and is a good EVF for Leica
WiFi inside for use with new Leica App
New touchscreen interface is super slick and works EXTREMELY WELL
LCD is large and gorgeous
Best HD movie of any Leica to date (Still doesn't compete with Sony/Panny)
Best AF speed of any German made Leica to date. (Doesn't compete with Oly E-M1/E-M10)
Good JPEG quality out of camera
Files have the Leica look in color and look/feel (follows the X IQ tradition)
Never had an AF miss, always locked on even if it had to hunt for a bit to do so
$1900 for the body is a good price for what you are getting..a REAL Leica
16 GB of built in memory in case you forget or lose your SD card!
Cost is high but value and pride of ownership is high
Cool pop up flash activated by the power dial
Clever accessories to make this a true "system" camera
CONS
Wish it had a built-in EVF!!
NO IS in the camera or lenses!
Camera does do software corrections for lenses as all cameras do these days.
Fastest shutter speed is 1/4000th not 1/8000th
Can not use studio lights and EVF at the same time
No swivel LCD
ISO 3200 and up could be a little better
No real image stabilization
Camera is not a fast action shooter!
Very Slight lag in single shot mode between shots, could be firmware/pre-prod camera issue
AF with Zoom can hunt a little in low light!
Lenses are overpriced
Some may not like proprietary strap and battery
Cost of EVF is $600 and smaller than competing EVF's from Fuji/Olympus
Slower (around one second) startup, LCD does not tilt (but EVF does)
18-56 Zoom!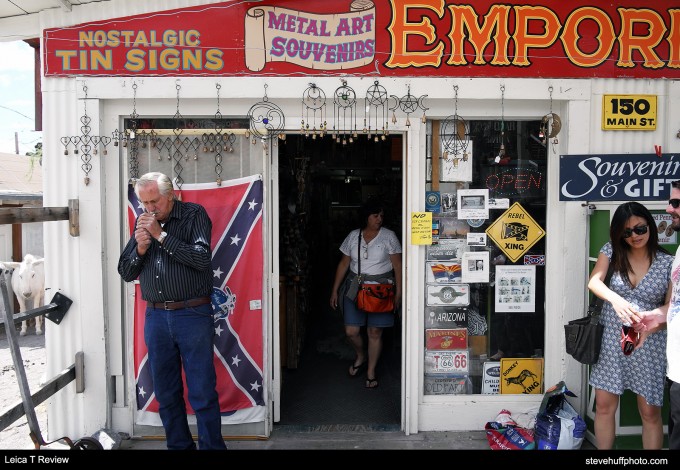 Full Size files from RAW
Below are three full size 16MP files from RAW. To download them RIGHT click on them and open in a new tab or window. All three were shot with the 18-53 Zoom, and EXIF is embedded. You can see just how share this lens is, in fact, it does not even know what the word "soft" means 😉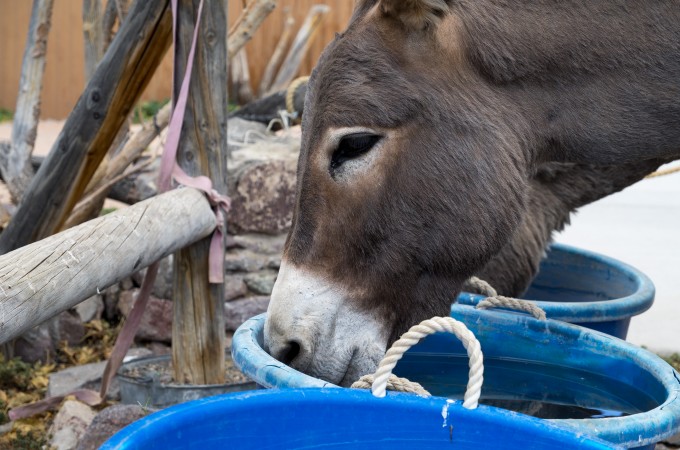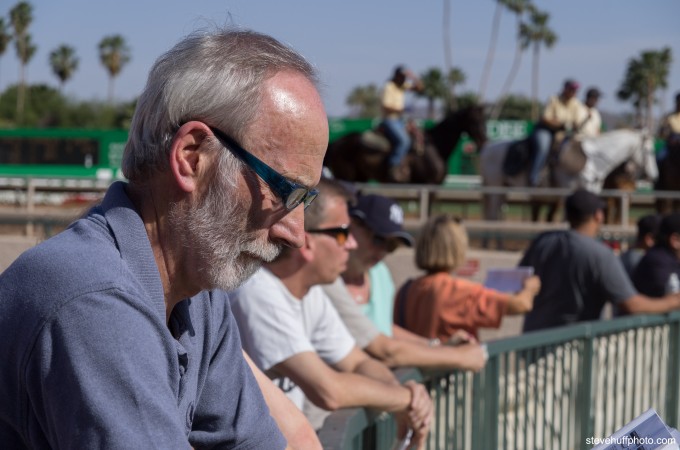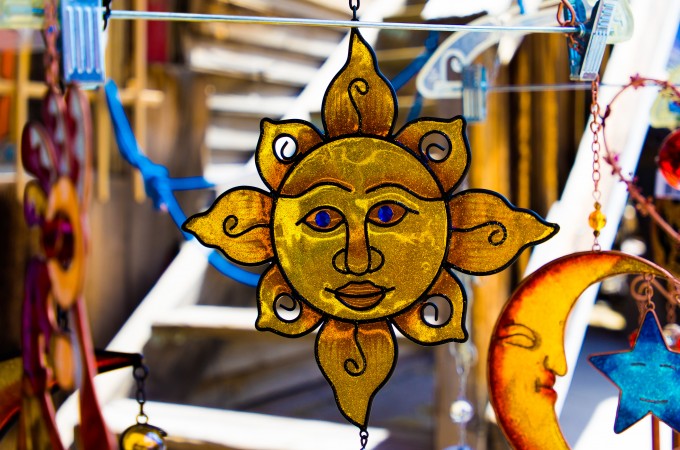 Leica T Q&A
Just a few questions and answers for those who are curious. If you have any questions about the T, email me HERE and ask. If I know the answer, I will add it to this section.
Q: Is the Leica T only available in Silver?
A: Leica will release it in black later on, could be a while (I now hear July). BUT I have seen the black and the silver and the silver is the way to go 100% IMO. The black is a bit dull in person, at least the one I saw. Still, some will always want black so it is coming, just not at launch. 
–
Q: Are the new lenses going to be made in Silver as well?
A: Nope, Leica tried it and they said they did not like them in silver as they looked cheaper and larger. So black only.
–
Q: Why wouldn't I just buy a Fuji X-T1 and 3-4 lenses instead?
A: The Fuji X-T1 is nice. Best Fuji X to date (my review) but the Fuji is a different kind of camera. First of all, I much prefer the IQ and rendering of the T's sensor as I just do not like the X-Trans look, my personal thing. Second, the T is made and built to a much higher standard and feels "right" than any other mirror less APS-C camera.  Third: It all depends on what you like. If you want a Leica then you will get the T. If you want a Fuji, you will get a Fuji. Both are fantastic as are mostly ALL cameras today. Even Stefan Daniel talked with me about this when he saw a Panasonic GX7 around my body. He said "that is a great camera and most of them are today". When I asked him how Leica would compete with the likes of Fuji, Sony, Olympus he said something along the line of "It is about the experience and the fun factor..the joy of using the camera as well as the image quality..the build and design". He is correct and is the same thing I always say..maybe he is a regular reader of my blog 🙂 In any case, the T will offer a little bit more of a slower experience but one with amazing IQ possibilities and using M lenses is fantastic on the T.  Strangely enough, The Fuji is more of a "Photographers Camera" though, an area that Leica has always excelled at. Many will prefer the Fuji, plain and simple. At any cost. But if you want the best M lens solution for APS-C, the T is it. 
–
Q: Should I buy the T or the M 240?
A: Totally different cameras and IMO, they compliment each other. Just as the M Monochrom and a T would. The M is tops for me in joy of use and overall pride of ownership. It inspires me like no other camera. It is just so damn expensive when you start adding lenses to it. The T can get you close to the M IQ for much less cash, and when you have more cash you can add an M lens or two. But one is a rangefinder. Both are a live view camera but the T is the superior live view camera. Both are very unique in their own way and both are 100% simple in operation without anything to be confused about. Both offer stellar IQ. I think many M users will pick up the T as a backup/2nd body. Others will want to save money and buy a T. But the M is a different experience, which is what makes it the most unique digital camera today. The T offers some of that flavor but in a much different way. I enjoy both and the IQ is stellar from both.
–
Q: Will the T work for indoor low light shooting such as my kids running around?
A: Well, depends on what lens you have on. Using the 18-56 zoom will not do it for you at all. I'd be using a fast M lens, even a Voigtlander 35 1.2 (that you can buy HERE) or 21 1.8 (review here). The camera is not a super fast AF camera when the light gets low. Also, the new 23 mm f/2 summicron looks great. I was able to shoot with it in NYC for a few frames and it seems to AF faster than the zoom and offer real 35 summicron IQ. That would be the best bet for indoor as you will get a wider angle and some speed. But I have yet to test it in the real world. Still, that would be the main lens for me with the T.
–
Q: Is the JPEG quality usable and are there different color modes?
A: Yes, the JPEG quality is pretty crisp and clean, just as it is with the X2 and X-Vario. When shooting JPEG you can choose between standard, natural, vivid, B&W or High Contrast B&W. Vivid is super saturated with high contrast (too much IMO) where Natural is the opposite with washed out colors and low contrast. Shooting RAW though is always best!
–
Q: Are you sure that Panasonic does not make the Leica T lenses?
A: All I am sure about when it comes to who makes the T lenses is what Stefan Daniel, one of the head honchos over at Leica has told me. When I asked him face to face, eyeball to eyeball "Does Panasonic make the T lenses"? He said "No, Panasonic DOES NOT make the T lenses". So that is all I know. I am relaying the info from Leica to me to you. Now if they do make them then that makes Stefan Daniel a liar..a fibber. Not me 🙂 I think they look mighty similar to Panasonic lenses but why would they lie about it? Panasonic makes amazing lenses, and even has a partnership with Leica, so if I were Leica I would choose Panasonic to make the T lenses. So no one knows. All we really know is that no one knows 😉 The rumors that you see that say Panasonic or Sigma makes the lenses, that is all nonsense..as no one knows. I go by factual info, which is all I can say is what Leica themselves told me. Who really makes them? No idea but they are indeed quality.
–
Q: Will the T and the 23 Summicron be better than a Sony RX1 in image quality?
A: No. Not in my opinion. The Sony will give you much much better low light performance, more shallow DOF possibilities, feel just as good in the hand and offer a much lower price. The T and 23 will come in at $4500 with EVF. The Sony, $3300 with EVF. A $1200 difference yet the Sony will offer better overall IQ and the full frame feel. What the Sony can not do is change lenses, so if you are happy with only 35mm the Sony wins in IQ and low light use all day long.  The RX1 is a special camera with very special IQ but not everyone gets along with the 35mm focal length that you are indeed stuck with on the RX1. 
–
Q: How about your highly regarded E-M1 vs the T?
A: This one is  tough. I love the E-m1, it is my #2 or #3 fave camera of all time. ALL TIME. I have many M 4/3 lenses and have shot with the E-M1 for almost a year. Owned it and loved it. In my business I have to move cameras in and out as I can not afford to keep them all. When new models come the old models have to go so I can afford to review the latest and greatest. My rule is to keep my #1 camera super long term, and that is always my Leica M. (unless someone else releases a killer digital RF..a real RF that is). The #2 and #3 all have to be phased out at some point, usually within 6-12 months. 
But the E-M1 is much more versatile than the T and has so many amazing lenses available you just can not go wrong with an E-M1. Speed, quality, build, features. It is all there. IQ is fantastic with the E-M1 but will not give you the T look just as the T will not give thou the Oly look. 
All depends on what you want. If you want speed, versatility and weatherproof rock solid build, and do NOT mind the smaller sensor go with the E-M1. If you want to use Leica M lenses, have amazing IQ and color along with a very cool design and body go with the T. IQ from the T wins for Micro contrast and color but not by much. I am not pushing aside my E-M1 because I like the T better, I am pushing my E-M1 aside for the T as I HAVE TO. It is my job to use the latest so I can report more on them. The only way to do that is to BUY them.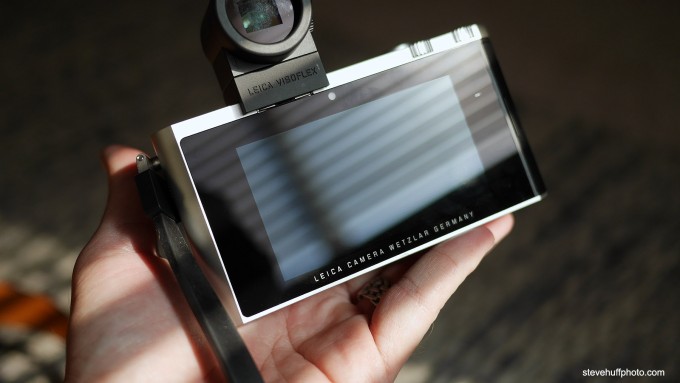 My Bottom Line Conclusion
So after only one week of using and shooting the Leica T I have come to the conclusion that while not perfect (no camera is), the Leica T is a fabulous mirrorless solution from Leica. No, there is not a built-in EVF and YES the EVF that is available is not as nice as the latest from Fuji or Olympus and will set you back a cool crisp $600, but at least it is there as an option. I have said it a few times in this review and I will say it again. One thing to ALWAYS remember is that THIS IS LEICA..a real German-made Leica will NEVER EVER be cheap my friends, always know that and do not complain about the price as you know damn well it will never be low-cost. Never. Not today, not in 20 years.
While it will never be cheap, it will also never be garbage or deliver shoddy or bad IQ or have crappy build. Leica will always give top build and design and top quality glass and superb image quality. Period. They may release a product here and there that is a bit odd but when they create something special it is exciting and worthwhile.
In my week-long use I never had any frustrations or moments of anger/swearing at the camera. It never locked up and never gave me an issue, and I was even using what I was told to be a pre-production camera.
The build is as good as it gets in this class of camera and the feel and smoothness of operation was an absolute JOY. The shutter sounds fantastic and is quiet with a solid muted thud. The battery life will get you anywhere between 300-500 shots and the video is the best I have seen on a Leica to date (though I would not use this as a pro video tool).
With new lenses as well as the ability to use Leica M lenses with a Leica made adapter, this camera is one that may be appealing to those looking for a backup to their expensive M. The IQ is not far off from the M, only losing some of that full frame creaminess yet gaining amazing corner to corner sharpness when using the native or M lenses. A give and take.
The T has it all while only letting us down a little bit in AF speed and high ISO performance when compared to other newer cameras. This camera will not AF as fast as an Olympus E-M1 but will be comparable to a Sony A7 or NEX or other mirrorless cameras. The viewfinder is a bit much in the $$ department but does include built-in GPS (yes, in the EVF) and it does indeed have a very cool and unique design, at least in my opinion. One guy who saw the camera while I was out shooting said the EVF was the most interesting thing about the camera and made it look "super cool". The camera also has WiFi capability and an App to control the camera. (I will report more on that as I test it).
There is 16GB of memory inside the camera in case you lose or forget your SD card! This camera is all about the details and simplicity. Again, Apple like.
Again, the 18-56 Zoom in action in Oatman AZ with the burrows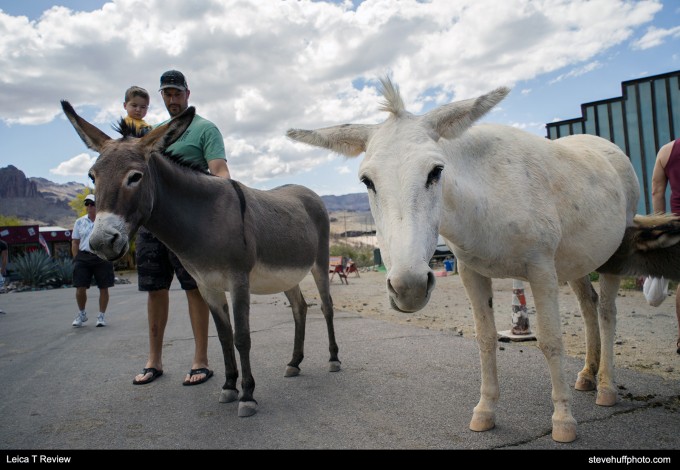 As for image quality, this camera rocks it. The color is up there with the best I have seen from ANY APS-C or below camera and for me beats the Fuji's, the Sony's and even Micro 4/3 for color and richness and crisp details. Detail wise, it is as good as it gets with biting sharpness and micro contrast that helps the images to pop and is second to none. Still, it is a very different look than what you get from a Sony, Fuji or Olympus. One you may or may not be drawn to.
When shooting M glass in manual focus you are one thumb dial move away from focus assist where you can magnify the screen 3X to 6X, and this is all doable while never taking  your eye from the EVF. It is a bit different from other cameras in the way that it works but very effective. The dials are solid and metal. They feel great.
The new touchscreen interface on the back is the "surprise" from Leica as this was kept a secret until the last few days, even on the so-called "leaks" at the rumor sites. I loved it and had ZERO issues using it. In fact, it was so intuitive I started to easily prefer this to any other cameras menu system! No D-Pad, no dials, no buttons to bitch and moan about. Just a very cool Apple like interface that took me 1-2 minutes to learn. Very cool and unlike anything out there and NOTHING at all  like the glitchy android based Samsungs. Leica is actually leading the way in this department which is amazing to say as Leica usually lags behind, lol. Odd huh?
All in all this is a superb camera for those who enjoy Leica or those who always wanted to try Leica. It is unlike any other camera I have shot with in recent years. It is nothing like using a Fuji, Sony or Olympus. It is a Leica and by that I mean it is better for slower pace shooting, as I said, shooting the every day life events. It is superb in its build, in its operation and while it does not have the fastest AF it is perfectly usable and the main thing is that it delivers in the image quality and simplicity department just like a Leica should.
I applaud Leica for  taking this chance and while the T will not be everyone's cup of tea, for me, it was a hugely satisfying experience, especially when reviewing the images, many of which were taken in very harsh lighting here in Phoenix, AZ which usually causes havoc with some cameras and certain sensors.
It's not perfect, not even close but it's very "LeicApple" and for $1900, a good buy for someone who wants a real deal Leica. Others will scoff at the cost and that is OK as that is also a Leica thing to do for many.
The fact is that any camera today will deliver superb IQ and quality but if you want something different, something unique, something fun, something simple and enjoyable that also delivers the best APS-C IQ while allowing you to use the best lenses made today then take a look at the T.
You may just fall in love. So C'mon Leica, get to work on rolling out more fantastic glass for this system and in 3 years release a T2 with a built in EVF!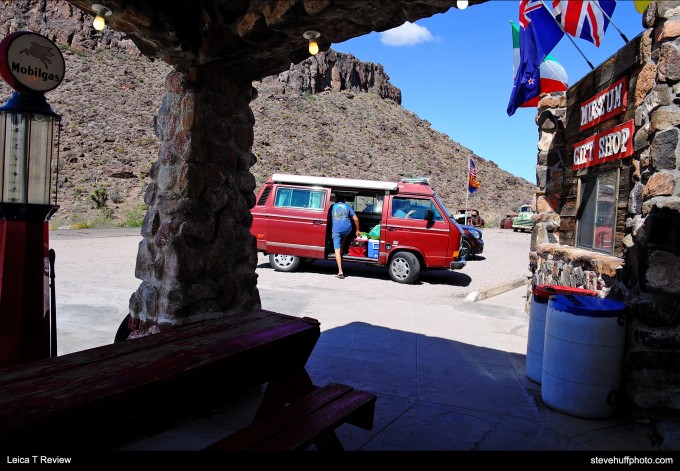 WHERE TO BUY THE LEICA T
The Leica T is NOW for sale/pre-order at all Leica dealers. It is scheduled to start shipping the 3rd or 4th week of May 2014. I think this one will be popular, even with the M shooters wanting a backup. If you own an M of any kind from an M8 to M240 then the T may interest you as a camera you can take with you to more places, that is smaller, that is just as beautiful. A Camera that can take your M lenses and shoot very well with them. For the M lens experience you will need to spend more cash of course and break out the dough for the Visoflex and M Adapter, both of which will set you back another $1200 but for those with an extensive M lens collection, $1200 is a small investment to be able to use them on yet another Leica body.
The world of Leica is costly, we all know this. It is what it is. If you want something hand-made, something unique, something different and something that is special then it is the way to go 😉 You can buy this camera and all accessories at the recommended dealers listed below who all get my #1 Approval for being world-class Leica dealers! It also helps me out when you use the dealers below as they support this web site each and every day, so I like to give back to them. Without them, I would not be here. 
Ken Hansen – Email him at khpny19@aol.com – Ken is a legend in the Leica community and will take care of you with old school service and charm. Amazing guy. This web site would not be here today if it was not for Ken, seriously.  I owe him a ton and he is the best I have ever experienced when it comes to buying gear.
PopFlash.com – Tony over at PopFlash is another Leica dealer that can hook you up with Leica as well as Fuji, Olympus and more! He is well-known in the Leica world and has been for many years.
The Pro Shop for Photographers – These guys are awesome as well, a Leica dream team. Located in Florida these guys run a Leica shop and also sell just about every other brand you can think of. 561-253-2606
B&H Photo – You can pre-order the Leica T by clicking HERE
Amazon – You can pre-order the Leica T by Clicking HERE
Leica Store Miami – Pre-order HERE!
For M mount lenses on the cheap be sure to take a look at CameraQuest for the Voigtlander M lenses. These will also work on the T.
–
The color that comes from the T is just like the X-Vario and X2. The files are crisp, colorful and have POP. This is with the zoom at 18mm.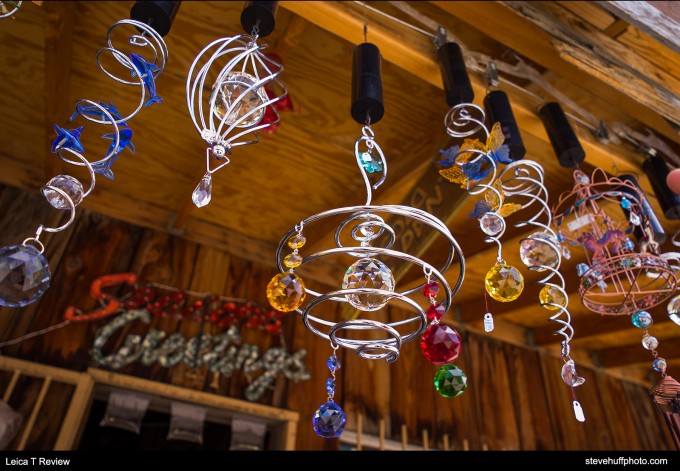 PLEASE! I NEED YOUR HELP TO KEEP THIS WEBSITE RUNNING, IT IS SO EASY AND FREEE for you to HELP OUT!
Hello to all! For the past 5 years I have been running this website and it has grown to beyond my wildest dreams. Some days this very website has over 200,000 visitors and because of this I need and use superfast web servers to host the site. Running this site costs quite a bit of cash every single month and on top of that, I work full-time 60+ hours a week on it each and every single day of the week (I received 200-300 emails a DAY). Because of this, I need YOUR help to cover my costs for this free information that is provided on a daily basis.
To help out it is simple. 
If you ever decide to make a purchase from B&H Photo or Amazon
, for ANYTHING, even diapers..you can help me without spending a penny to do so. If you use my links to make your purchase (when you click a link here and it takes you to B&H or Amazon, that is using my links as once there you can buy anything and I will get a teeny small credit) you will in turn be helping this site to keep on going and keep on growing.
Not only do I spend money on fast hosting but I also spend it on cameras to buy to review, lenses to review, bags to review, gas and travel, and a slew of other things. You would be amazed at what it costs me just to maintain this website. Many times I give away these items in contests to help give back you all of YOU.
So all I ask is that if you find the free info on this website useful AND you ever need to make a purchase at B&H Photo or Amazon, just use the links below. You can even bookmark the Amazon link and use it anytime you buy something. It costs you nothing extra but will provide me and this site with a dollar or two to keep on trucking along.
AMAZON LINK (you can bookmark this one)
B&H PHOTO LINK – (not bookmark able) Can also use my search bar on the right side or links within reviews, anytime.
You can also follow me on Facebook, Twitter, Google + or YouTube. 😉
One other way to help is by donation. If you want to donate to this site, any amount you choose, even $5, you can do so using the paypal link HERE and enter in your donation amount. All donations help to keep this site going and growing!
 I do not charge any member fees so your donations go a long way to keeping this site loaded with useful content. Thank you!
A few more images from the T..ENJOY!