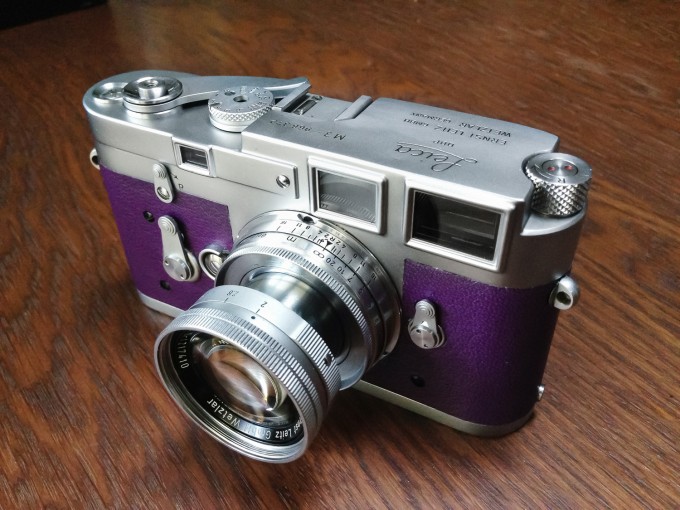 An engaging Leica M3
by Dave Lewis
Hi Steve,
I've been a long time reader of your site, but I've not as yet taken the opportunity to contribute. My name is Dave Lewis, I'm 27 years old and I'm a keen photography obsessive with a growing pile of gear (GAS attack) and an even larger mountain of unedited images! Work for my company (I'm a miniatures designer, sculptor and photographer for tabletop games) has taken up most of my time for the last 5 years.
However, this week my life took a major (awesome!) turn and I thought you might be interested in a different sort of story for your blog. To cut a long story short, a little while ago I hatched this crazy plan to propose to my girlfriend of 7 years by hiding the ring inside the film chamber of a Leica M3.
Leica M3, 50mm Summicron collapsible at f2, 1/15th, Fuji Acros 100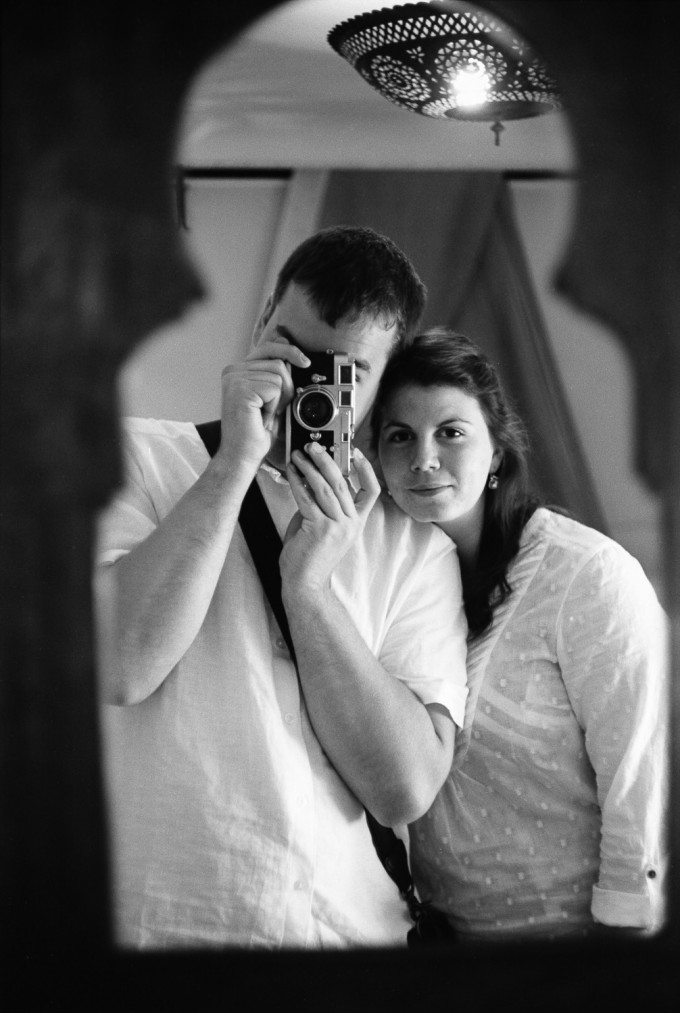 Why an M3 you might ask? Well, I've been fortunate enough to own and use a ridiculous number of cameras in the 9 years I've been what you might call a 'serious' photographer. The laundry list is a bit disgraceful really, but here it goes: Canon 400D, 40D, 5DMkII, Zeiss Contax IIIa, Super Ikonta C, Super Ikonta IV, Contarex Bullseye, Contax-T, Leica 1A, iiif, iiib, M3, M4-2, M9-P, Kiev IV, FED-1, Zorki 4k, Minolta SRT-101b, Minox B, Rolleiflex Old Standard (two of these), Rolleiflex 2.8E, Fuji G690BL, Ensign Selfix 820, Sinar F and a home-made 4×5. Worryingly, this isn't the full list and I won't even get into lenses!
Having used all these cameras and more, I have to say that in my opinion, nothing can really hold a torch to the mighty M3 for the purpose I had in mind. The M3 is wonderfully simple, eternal in both life and design and somehow 'zen' in a way that few cameras can match. Out of all those tools I've been lucky enough to own, it's always the M3 that makes me smile most. I think it will never be beaten as a film camera for what it's good at (obviously it's a bit of a non-starter for action and wildlife). The viewfinder is wonderfully large and utterly clean, the build quality easily surpassing even today's MP (whatever Leica will try to tell you), the smoothness of operation and connection with the user is something every photographer should experience. An all-time classic which the world will not see the like of again, modern economics being what they are.
Digital was instantly ignored in my selection process. I love my M9-P (having put over 35,000 frames through it), but it will almost certainly not last the next 5 years, let alone a lifetime. It's a wonderful workhorse and has more soul than any other digital camera I've used. However, digital rot kills anything with a screen and even today a 60-year-old M3 can be serviced and used like it has just left the showroom. I intended this camera to be an eternal companion for the love of my life in the same way that a diamond ring is, going with us whenever we get some time to escape work and experience the world.
So, having decided on the M3, what would I do next? My first thought is that I didn't want this to be just any M3. It had to be her M3 and unique, with more than just my choice of object shaping it. I'd always been interested in doing a custom job on a camera and this seemed the perfect moment to try it. I build and design intricate miniatures for a living and I've been obsessed with making things my entire life, so this seemed do-able to me. My plan was to re-cover the camera with purple kid leather. Bex (that's her, by the way) has always been a fan of purple (it was even her nickname at one stage), so it was the obvious choice.
My first port of call was Camera Leather. It's a site I'd been aware of for years, although online reports were mixed. I thought I'd try them out on one of my own cameras first to test the waters. A red Kiev-4 seemed like it would be fun, and my Leica iiib needs a new covering anyway, so I ordered both. After almost 100 days and numerous emails I'm still waiting for them, so needless to say I abandoned this route. I gather that the guy who runs the site is somewhat overwhelmed – just don't order from them if you're in a hurry!
In the end (and with purple being such an unusual colour) I realised I'd need to do the job myself. No matter, I'd enjoy it and it would be much more romantic this way! I did a lot of reading online about leather types; a perilous quest since it's very easy to buy the wrong thing. It needs to be full-grain (not composite) leather, top-grain and properly treated to ensure longevity. It also needs to be pared down to a maximum of 0.8mm thick for a Leica – any thicker and it would protrude, disrupting mechanisms such as the self-timer and catching on things. Sourcing the right shade of purple goat skin was a real nightmare and in the end I bought an entire hide from J Hewit and Sons – we can use the rest for other projects in future.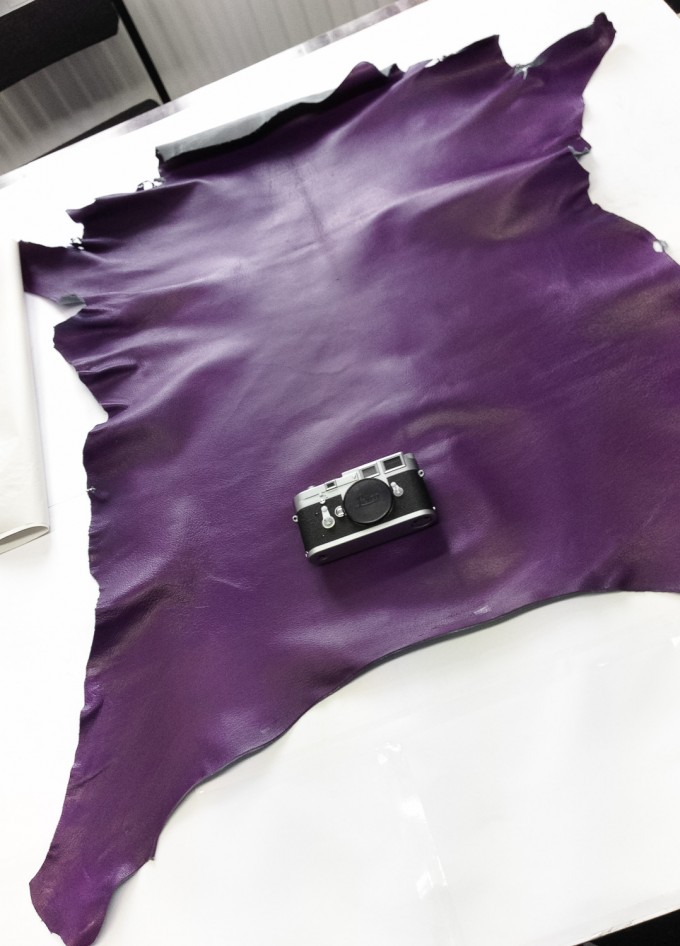 So, I now needed to get the camera! I wanted the camera to be as clean and unblemished as possible. This presents a major difficulty with the M3, as in its time it was NOT the shelf queen that many modern Leicas (sadly) are. It was a peerless professional workhorse of a camera that practically defined photojournalism for 10 years. This means that of all post-war (non-collector) Leicas, the M3 is the hardest to find in good condition, despite it being their most popular ever M series model. I'd been watching the stock lists of local dealers for months (London is privileged to have many good ones). I eventually found what I was looking for at Red Dot Cameras. I've bought things from them before and they've never let me down. The shop is the most extensive Leica treasure trove I know of in the UK – well worth a visit for fans of the brand!
I left the shop with a clean 1959 single-stroke M3 and a 50mm Summicron collapsible lens. I have one of these myself and I think it's the perfect companion to the M3. It matches the camera in build quality and finish and can be collapsed when not in use. This is important for a camera that's supposed to be compact – it will fit into many more cases and bags with a collapsible lens! While not the sharpest optic in the world for digital, it's superb on film and wide open lends an appealing glow and excellent bokeh – great for portraits!
I got the camera back to the workshop and got started. The first stage in the job was to remove the original vulcanite covering. This M3 had a few covering chips already, which made me feel slightly better about what I was about to do (I don't think I could have done it with a pristine example!) A lot of information can be found online about how to do this. Some paint strippers will help with careful application, although here in the UK it's hard to get the strong stuff needed, and perhaps it's best avoided anyway. I opted for the painstaking, slow but sure-fire method of chipping it away with a scalpel. Once all the vulcanite had been removed, I scraped off most of the residue under the covering, leaving a smooth surface for the new one to adhere to.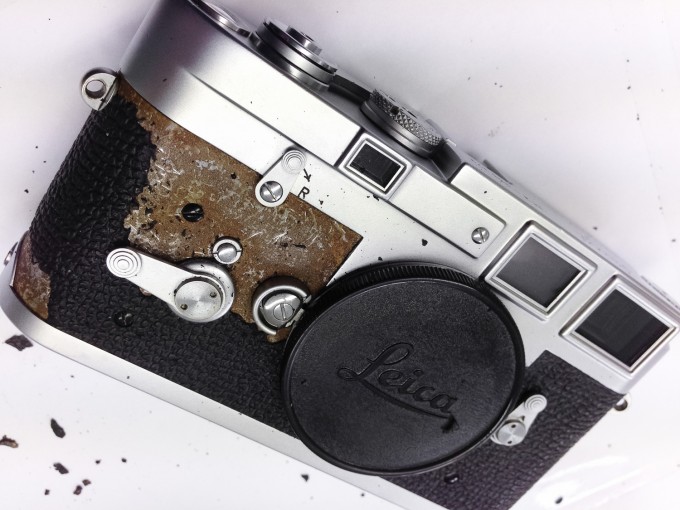 The next stage was to make a pattern (guide) for the cutting for the new cover. The best way to do this is with paper and a certain amount of measured guesswork. It may take a few attempts, but the aim in the end is to achieve a perfect fit with paper before moving to the leather.
Once I'd done this, it was time to attack the hide. The best leather is to be found either side of the spine at the back, so that's where I cut the parts from. It also leaves a large unblemished area to use for other projects at another time. Although Hewit's did their best, I needed to pare (thin) down the leather a little more to get it to the desired thickness. Emery cloth and more elbow grease did the business here.
Once done, I used the paper guide and a VERY sharp scalpel to cut the panels. The M3 needs one for the rear door and two for the sides. You could do the sides as a single piece, but it's much easier to do it with two and small join under the lens. Getting the exact fit with the leather required a lot of trial and adjustment. I needed to re-cut a whole panel at one stage as I didn't take into account the radius of the curved side (since the leather is thicker than the paper it will lose a mm or so as it curves round – best cut it too large and work down!). The last part was to use a black permanent marker to darken the edges of the suede – they were a light blue here and didn't look good where they showed a bit.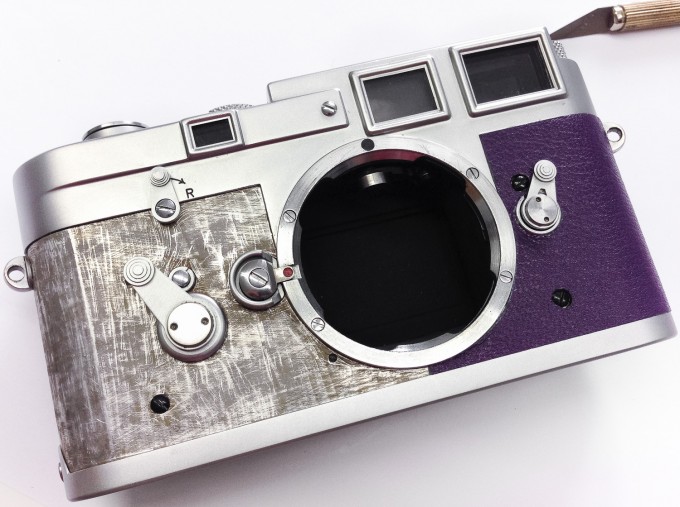 Once I'd got the fit right it was time to glue on the panels. Contact glue works well for this (Evo Stik Timebond is good in the UK). I took my time and was exceedingly careful – you can't afford to make a mistake with contact glue! Once adhered, I worked on the edges with super glue (generally to be avoided but seals frayed edges well when used VERY sparingly). After a total of over 10 hours work, the M3 was done!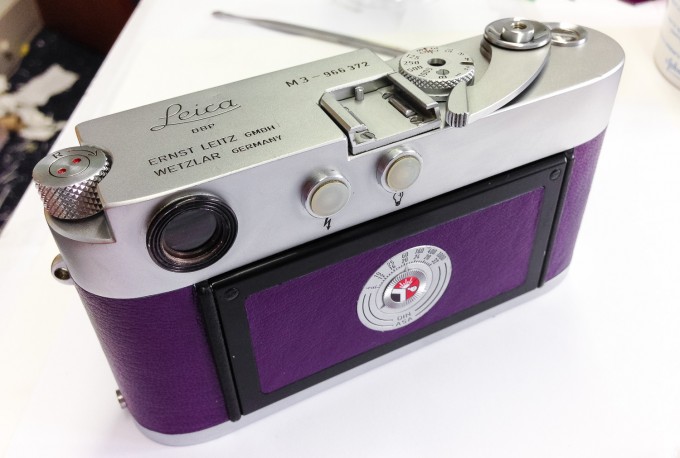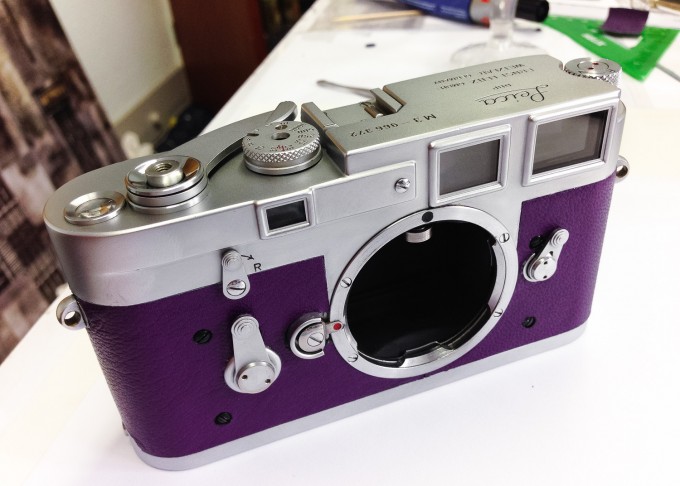 Lastly, I needed to give some thought to accessories. A Billingham Airline Stowaway bag in black, a small mountain of film (Acros 100, Ektar 100, Tri-X 400 and Portra 400) and custom-made box fitted the bill. I also managed to trace a matching purple strap from Artisan and Artist. This was a special edition and I could only find one in Spain and Miami. I ordered it from Spain and it dispatched promptly although the Spanish postal service let me down (it arrived today, a little too late). No matter, hardly the most crucial thing! Lastly, I gave the camera a full clean and got the lens serviced so it would focus like new.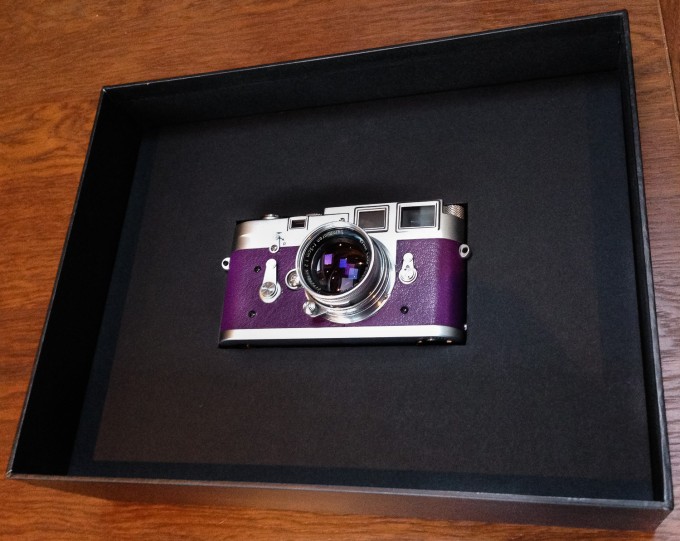 I won't go into the other details (like the ring, obviously – a whole different minefield!), this is a photography website so I'll confine myself to camera stuff. Suffice to say I got a beautiful diamond solitaire ring from Hatton Garden (THE place to go in London) and placed it in a leather pouch in the film chamber of the M3 before sealing the box. I cooked Bex the best meal I could manage and presented her with my gift. I'd been utterly top-secret through this whole escapade and she had absolutely no idea! In short, she found the ring, I proposed and she said YES!
Next week, we're off the US for our first holiday as fiancé and fiancée and the purple M3, my own M3 and M9-P will be coming with us. I'm a very happy man indeed, and lucky to have such a wonderful soul mate who will (no small thing!) put up with my photography obsessions!
Leica M3, 50mm Summicron collapsible at f2, 1/1000th, Fuji Acros 100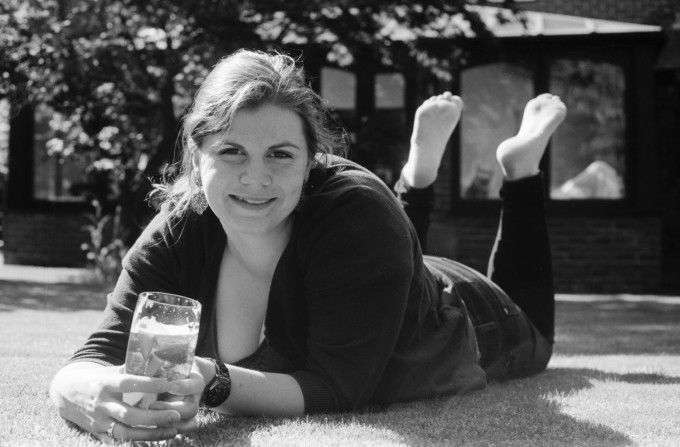 Thanks for reading, and good luck in love and life to you all.
– Dave Lewis (a very happy man from England!)
If you'd like to see any of my commercial work, it can be found on my company website (all the imagery is my work – both the designs and the photography) www.hawkwargames.com
If you'd like to see any of my personal work, it can be found on my photography website (most images here are a few years old – I've been too busy to update it recently but there's lots on there!) www.aperture2image.co.uk