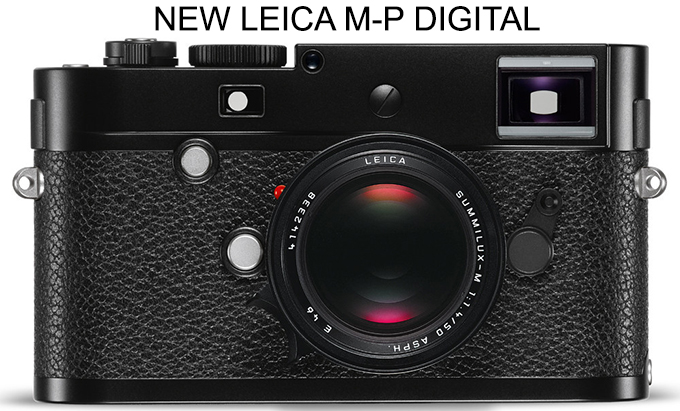 New Digital Leica M-P with new features over M 240
So a new version of the Leica M 240 was just announced and is now faster in operation. Leica says it is more discreet with MP styling (which has always been my favorite color/style) and faster due to a 2 GB RAM buffer.
So here are the features of the new $7995 Leica M-P model, which is basically an enhanced M 240. As far as the sensor, some info says it is a new sensor and others say it is the same sensor as the 240. Sounds to me like Leica is using marketing slang to make some think it is a new sensor as they are calling it the Leica MAX and using words like "Newly Developed".  I think it is the same exact sensor.
The M-P also has the Sapphire scratch resistant glass just like the old M9-P. The 2GB RAM buffer is twice as large as the one in the M 240 (1GB) so you will be able to fire off more shots in a row with the M-P.
The M9-P was the most attractive digital Leica ever IMO and I am happy to see the P version of the M 240 as it just looks so much nicer and discreet than the standard version with the huge red dot. The newest Sexiest digital camera in the world IMO.
Here are the specs:
Outstanding image quality thanks to newly developed LEICA MAX CMOS Sensor
Extended applications with Live View and electronic viewfinder
Simple, high-precision focusing thanks to Live View focus and focus peaking
Digital fullframe for Leica R lenses, with the Leica R-Adapter M
"Leica Look" videos with Full HD video capture (1080p)
Enhanced sensitivity range up to ISO 6400
3″ display with 920,000 pixels, Scratch resistant display-cover made of sapphire glass
Long-lasting readiness to capture due to a large double sized image buffer of 2GB
Splash protected body
Extremely long battery life
Manual viewfinder frame selection with the tradition 'frame selector'
Pure look without the Leica Logo and "M" lettering on the front side
You can pre-order the new Leica M-P from any of the recommended dealers below:
Ken Hansen: Email him at khpny19@aol.com and tell him I sent ya!
PopFlash.com – They are also accepting pre-orders!
LeicaStoreMiami.com  – direct link the the new M-P is HERE
The Pro Shop – You can call them at 561-253-2606 or visit their site HERE. Tell them I sent you!
and of course B&H Photo has them up for pre-order as well!