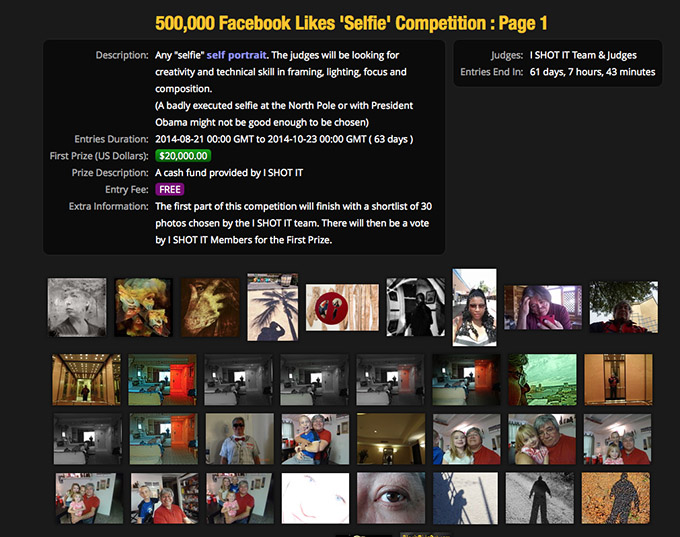 Win $20,000 by submitting your selfie. Yes, $20,000! Enter FREE!
Hey guys! Happy Friday! I have some amazing news for you today, and yes, I have spoken about the incredible contests lever at I SHOT IT for a couple of years now it seems. But this one is for EVERYONE. It is FREE to enter, it is SIMPLE to shoot a photo for it and hey, YOU NEVER KNOW! When I would mention the big prize contests here in the past for I SHOT IT, 90% of the time the winner came from HERE, from seeing my post about it. One guy won $25k and a Leica Monochrom. Amazing. For the premium contests at I SHOT IT there is a small fee for entry, but IMO it is well worth it for the chance to win the amazing cash and camera prizes. This time though, anyone and everyone will want and should enter as the prize is there for the taking, just for entering a SELFIE of yourself. Yes, a selfie.
I SHOT IT is celebrating receiving over 500,000 Facebook Likes. Yes, half a million FB likes. Because of this milestone they are offering a $20,000 prize for the best Selfie.
To check it out and enter this contest, just click HERE. 
Here is what they say about your entry: Any "selfie" self-portrait. The judges will be looking for creativity and technical skill in framing, lighting, focus and composition. (A badly executed selfie at the North Pole or with President Obama might not be good enough to be chosen) The judges will narrow down the entries to 30 and then the I SHOT IT members will vote for the winner. $20k guys…just for entering a creative well executed selfie. Be creative, use your mind and get something that no one else is doing in regards to light, framing, etc. Man, I already have 10 ideas but since they are a supporter of this site I can not and would never enter. Still, I am excited to see how many of you guys enter and what you will enter.
If you enter, link in the comments to your entry so we can see it!