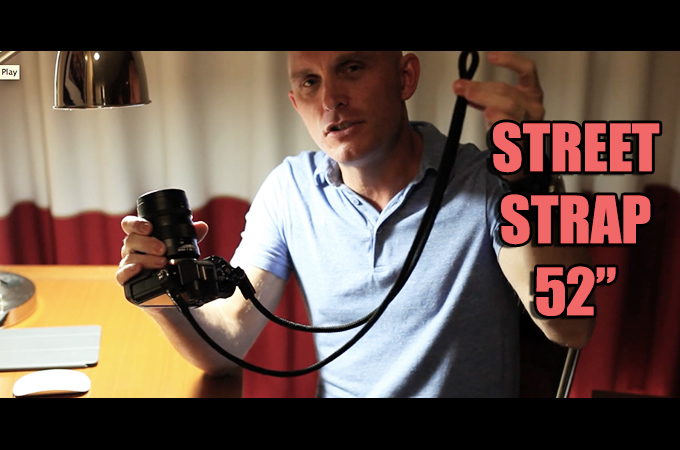 The new 52″ Street Strap. A quick look video!
Some of you may remember the Street Strap. It has been out for a while and I took a look at it when it was released. You can read that HERE. 
About one month ago myself and a few local guys to Phoenix AZ met up to check out the new LONGER version of the street strap which adds more comfort when carrying your camera. It is amazing what a little length can do to a strap. One of my pet peeves with straps is that many of them are just too short. I never ever wear my camera around my shoulder, I wear it around my body for added security and comfort. If a strap is too short this is impossible and feels and looks ridiculous, so the new Street Strap is now 52″ which adds 6″ to the length. Just enough to make it perfect.
The street strap is not made of fancy exotic materials. It is basic, simple and understated. All black and matches well with just about any camera. I have two of the new long ones attached to my cameras and have been using them for a month straight without one single issue.
The positives of this strap? Comfort. Simplicity. Length. It just works. 🙂
The negatives? Well, if you are looking for fancy and exotic, this is not it. No gator skins here 🙂
Take a look at the video below to see it in action. Links to purchase at Amazon after the video.
Where to order?
You can order the new 52″ Street Strap at Amazon HERE. If you like the shorter straps, the original 46″ strap can be found HERE.