Pre-Order the Leica M-P 240 "Safari" Edition
Leica is at it again and this time they have created a special edition Leica M-P Type 240 giving it the Safari treatment! I remember the M8.2 Safari Edition and today we have the latest and greatest M in the famous Olive color. This one comes with a 35 Summicron lens with round hood, a genuine leather strap and even a leather SD card holder. This is a limited run and will set you back a cool $10,000 or $1000 LESS than a standard M 240 and 35 cron, and you do not even get the extras with the standard version. So this is actually a bit of a 'deal' for a unique M 240.
Again, Normal price of a Leica M-P 240 and 35 cron? $11,000! So for this SE set you are saving $1000 and getting extras such as the strap, wallet for your SD cards and the unique round hood for the 35 Summicron. Not bad as usually these special editions are coming in at $2-$4k MORE than the standard pricing.
From the PopFlash.com website:
Leica Camera presents the Leica M-P Set 'SAFARI'. This set comprises of the Leica M-P (Typ 240) Safari edition, Leica Summicron-M 35mm/f2 ASPH with round metal lens hood, a full grain cowhide carrying strap and matching SD & business card holder.
Leica's safari/olive edition cameras date back to 1960 with the Leica M1 'Olive'. Made initially for the military, the safari/olive cameras' unique color stands out. Over the years, a handful of safari/olive editions were produced. Many of these limited edition cameras are highly prized collectibles.
The Leica M-P Set 'SAFARI' has an olive lacquered top cover, leatherette and bottom plate. The shutter speed dial, the On/Off switch, the release button, the hot shoe and some other details have a silver finish. The engraving on the top cover is reminiscent of the first safari camera in 1960 and has the classic Leica logo inscribed on one line and the wording 'WETZLAR GERMANY' on the second line. The 35mm/f2 ASPH has a silver chrome finish with a matching classic round metal lens hood. This set comes in a new packaging including a presentation box.
For the record, used M8.2 Safari kits go for anywhere between $7-$9k, and it also sold for $10k when new. So if you buy this, use it for several years you may only lose $1-$2k when and if you ever sell it. Not bad for 5 years of use. That is the lowest depreciation I have seen with any digital camera gear.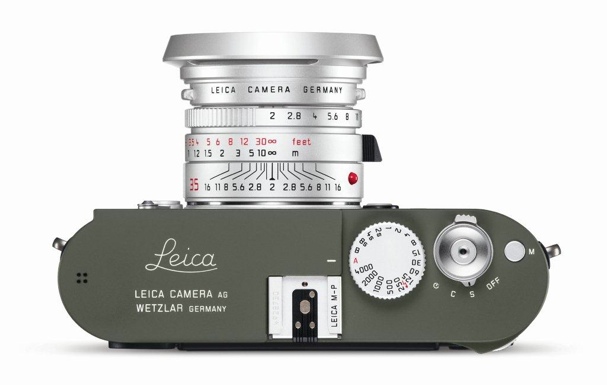 You can preorder the new M-P 240 Safari Set at PopFlash.com HERE. 
You can also order it though Ken Hansen (khpny19@aol.com), The Pro Shop, or Leica Store Miami. 
There will only be 1500 sets made.