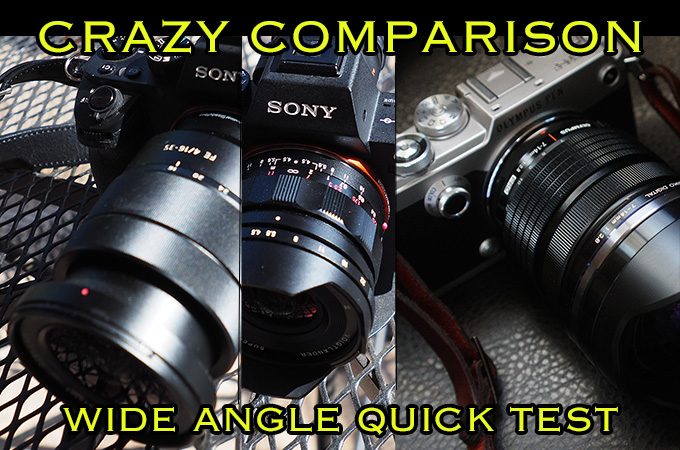 Crazy Comparison! Voigtlander 15 E Mount, Sony 16-35, Olympus 7-14!
Hey guys! Happy Friday! This has been a hectic week for me, so there have been fewer posts this week but have no fear, a CRAZY COMPARISON is here to kick off your weekend! Hehe. Since I have a serious combo of wide angle lenses here I figured I's step out in my backyard this morning (while still in my Pajamas) and take a few side by side shots with these lenses.
The new Voigtlander 15 f/4.5 for E mount is here, the Sony/Zeiss 16-35 has been with me since it was launched (I use this lens often for video) and the Olympus PEN-F and 7-14 happened to be in front of me as well. So why not take them out in the back and see how they stack up with some real world silly snapshots? This is not a scientific hardcore test, it is for fun.
All images are from RAW, none have any post processing and yes, I am barefoot because it's already hot here in Phoenix, with temps already hitting triple digits earlier in the week..so no socks for me 😉
When going out my thought was that the Olympus would provide the sharpest of the images due  to the Micro 4/3 sensor which is small compared to a full frame like we have in the Sony, and we all know that ultra wides and full frame cameras are still nowhere near perfect at the edges. After this test it just solidifies my belief that Olympus and Panasonic have a great thing going with Micro 4/3. The only weaknesses it has over the mighty Sony is low light, where the Sony just kills the Olympus (or Panasonic) and for SHALLOW DEPTH OF FIELD, which is MUCH easier to obtain on a full frame camera. Other than that, the little PEN-F is still impressing me.
So let's get to these silly shots..
1st Up, around 8:50 AM in the corner of my backyard. Wanted to look at the edges a bit as I was seeing the Voigtlander, upon close inspection had some soft edges. You can click on the images below to see them larger with full 100% crops. I noticed the Voigtlander underexposes a bit when using the A7RII meter (as we all do). It's also softer in the edges than the Sony/Zeiss 16-35. The Olympus, here, IMO is the best in the corners and the overall image/color/vibrance but less res of course than the full frame Sony beast.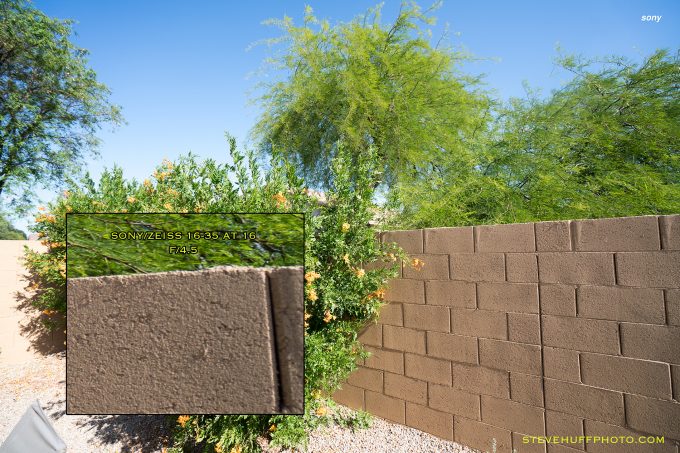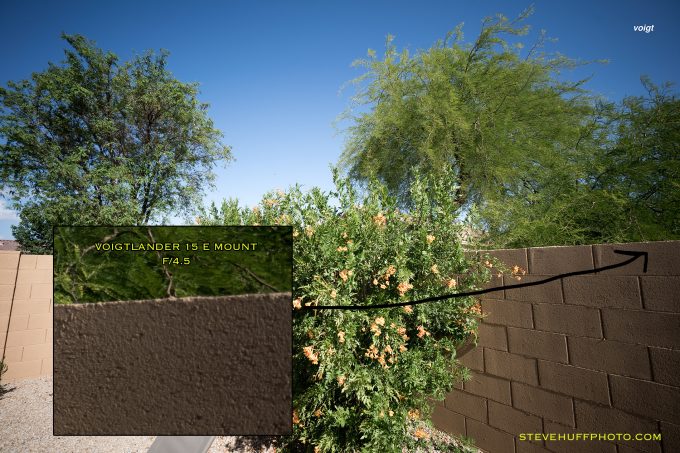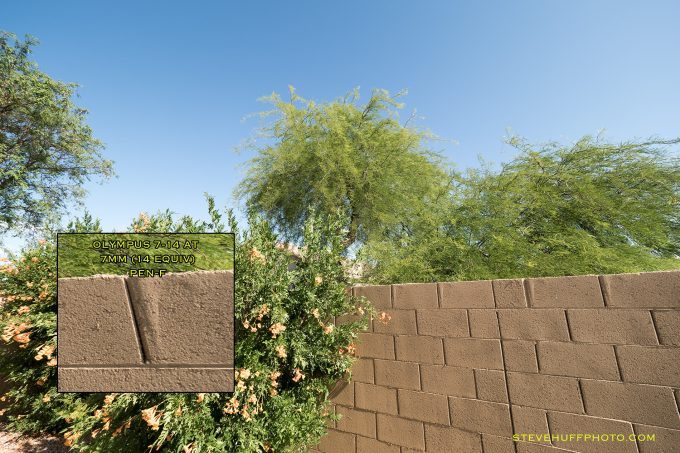 –
Yep, my bare feet..it's HOT in Phoenix AZ this time of year. View at your own risk but if you want to take that dare, click the images for larger versions. Again, the Olympus, to me, did the best but also, less resolution. That Olympus 7-14 is a stunner and the best built of the three as well.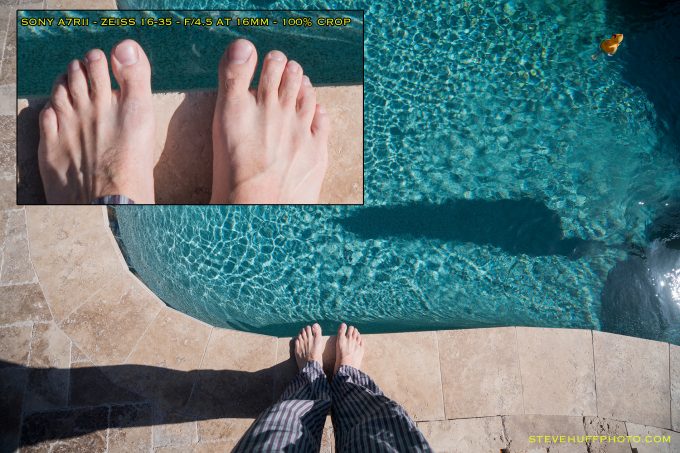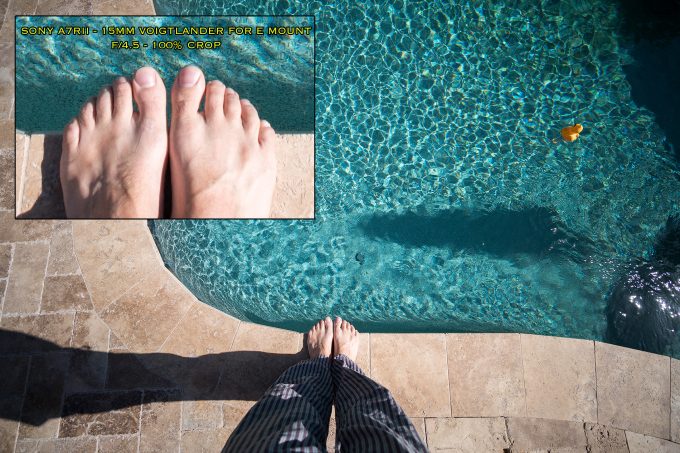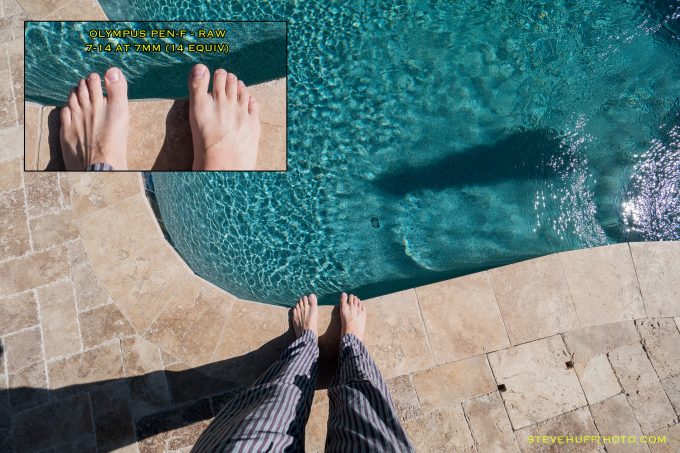 Let's look at some prices of these kits:
The Sony A7RII is $3198 at Amazon.  For me, it has been well worth it as it is my #1 goto. I have a few Sony cameras, a couple of Olympus, a couple Leica and today my lens collection is quite large. I used to sell off lenses as I stopped using them, then I realized I usually regretted selling them. But the Sony A7RII is my most used camera for all of my shooting. Olympus comes next with the PEN-F and then the Leica SL. That's my gear list as of now.
The Sony/Zeiss 16-35 F/4 comes in at $1248 at Amazon.  So add this to the A7RII and we are looking at $4450. That's a ton of cash for a camera and one F/4 wide angle lens, but again, this combo has given me LOADS of use for video work where I needed Auto Focus.
The Voigtlander 15 f/4.5 for E mount is $799 at CameraQuest.com – It's much smaller than the Sony, and lighter. It is manual focus but it zooms in as soon as you turn the focus dial, making manual focus a breeze. This lens and an A7RII comes in at around $4000. Quite pricey still.
The Olympus PEN-F comes in at $1199 at Amazon.  For $2,000 less than an A7RII you will have a smaller, sleeker and just as capable camera in most light. Sure, it's not full frame and you will suffer in low light or when you want massive bokeh blow out, but other than that these Micro 4/3 cameras are quiet stunning.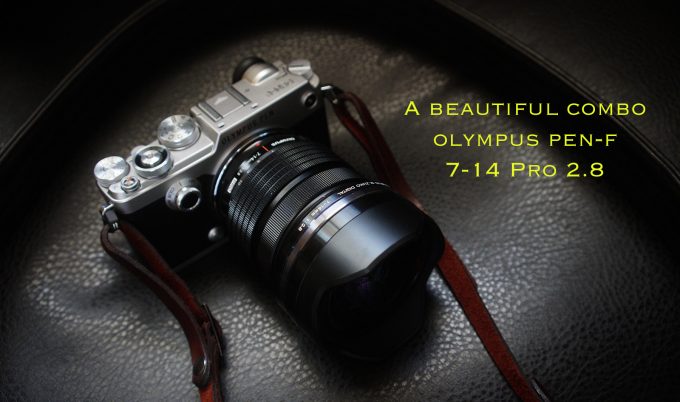 The Olympus 7-14 is an f/2.8 lens, and in their PRO line. It is STUNNING. It comes in at $1199, same as the PEN-F.  Cost of this lens and the PEN-F? $2400, almost half of the Sony/Zeiss setup. STILL expensive when you consider most use a cel phone and a wide angle lens adapter for these types of things these days 🙂
I love them all and feel lucky to have tools to choose from these days and I feel lucky to be a camera nerd. 🙂 Today we have the best digital solutions we have ever had.
Let's do one more comparison…
Looking at this we can see what we know, that smaller sensors can do wide angle with less issues..click them for larger. I prefer the Olympus here for tonality, and the way the image is presented. THOUGH the Olympus was the only one to flare here.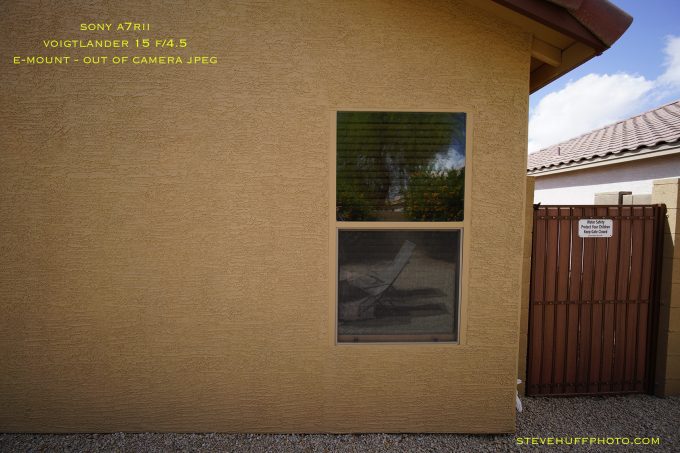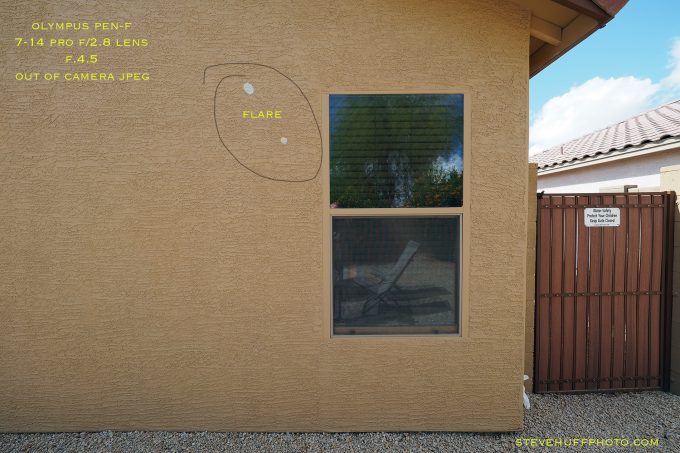 At the end of the day, in this world of cel phone cameras and less and less of the world interested in megabuck cameras, I feel the entire higher end digital market is going the way of the true enthusiast. There are many of us that would NEVER use our phone as our main camera just as there are many who would never buy a $4000 setup to take some snaps of their dogs or kids. Sure, I use my iPhone on occasion, when I do not have my real camera. But never have I taken an iPhone shot and said "WOW, this looks like my Leica and Noctilux"! Hehehe. I see cameras and lenses such as the ones discussed here for the ENTHUSIAST, like me. We love well made gear, we love a camera that fits our hand like a glove and we love a REAL camera that does what we want it to. So these cameras and lenses are still going strong even though I get emails daily asking me to review cel phones, yes I do.
I love them all, and they all have their strengths, like the bodies and lenses above. I still prefer my Sony 16-35 over the new Voigtlander for E mount though. The Voigtlander is underexposing on occasion, does have some slightly soft corners (as does the Zeiss) and is not as vibrant as what I get from the Sony/Zeiss 16-35 (My review of that lens is HERE). With that said, the Voigtlander is a joy to use, is smaller and lighter and less expensive. I could be happy with either for wide angle use. Then we have the little PEN and the 7-14 which I feel is giving me the best IQ for my tastes (with ultra wide – but the least resolution due to the smaller sensor)! I am going to have to start using it more 😉
What do you guys use as your wide angle solution in the 15mm range?
REFERENCE: Sony 16-35 Review, Sony A7RII Review, Olympus PEN-F Review, Olympus 7-14 Review, 1st look Voigtlander.