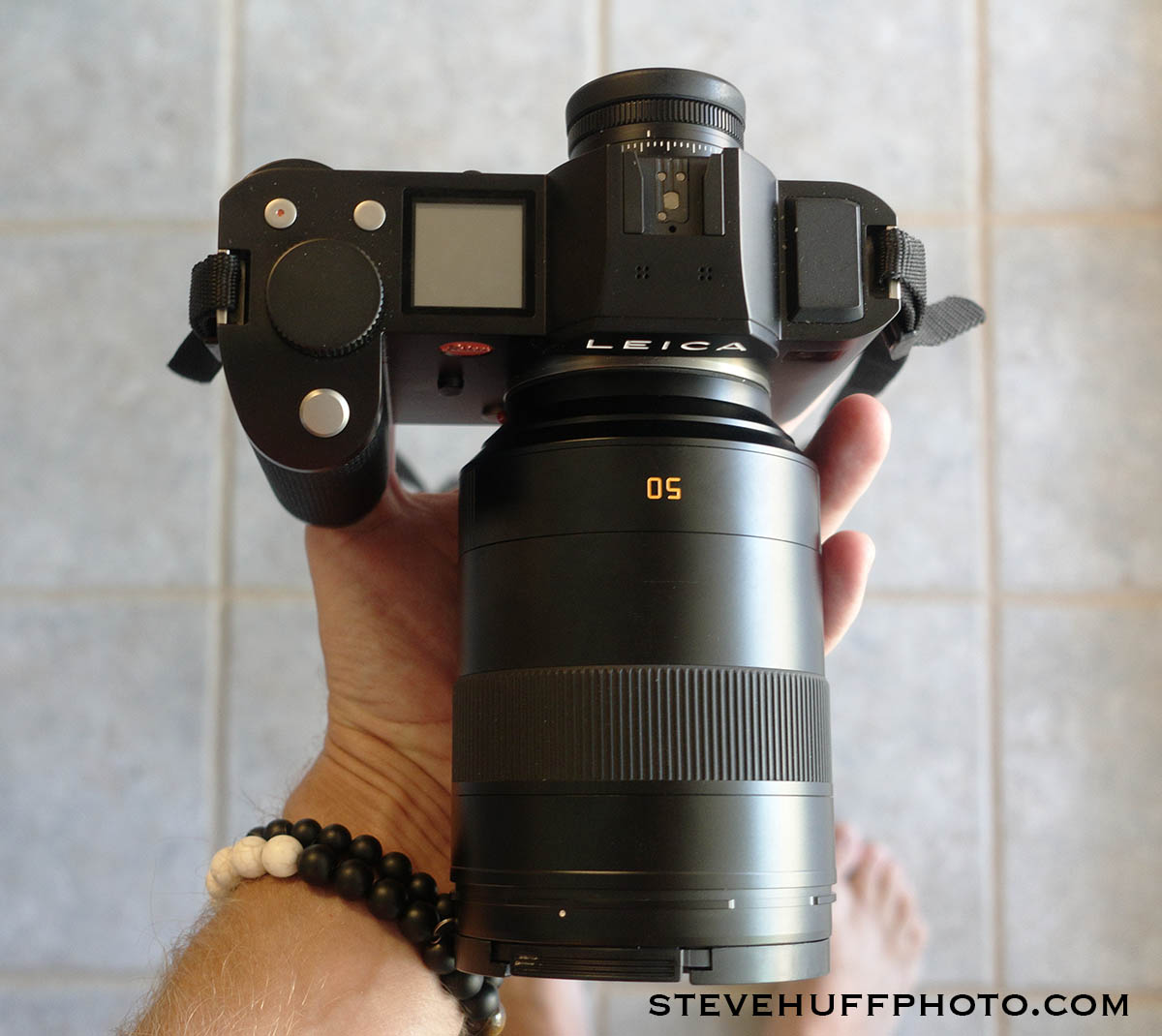 The MONSTER Leica 50 Summilux ASPH f/1.4 SL Lens is Here.
By Steve Huff
Happy Friday! Once again, the weekend is here and this weekend Debby and I will be hitting the road for a road trip to test the Leica SL and Leica 50 Summilux ASPH f/1.4 SL lens. The Auto Focus version for the SL. Now this lens is quite the departure from the 50 Lux for M mount, as it is about 5X the size (Not scientific there, just a guesstimate). Sure, the size is huge, the weight is more but it is using the latest and greatest optics from Leica and Auto Focus. So for those who just can not do Manual Focus, and you want that Summilux look and feel, this is it right here.
What surprised me is the price. The little M 50 Summilux ASPH, as tiny as it is comes in at around $4k and this one is $5300. So not a ton more. Knowing Leica I expected this lens to come in at $7k. But I have it in hand, and it feels nice and is slightly shorter than the 24-90 Zoom, which is an amazing lens. It has the same stoutness of that 24-90 though, so it is not thinner, but appears to be exactly the same width.
THE SL AND THE 50 LUX ASPH 1.4 (review next week)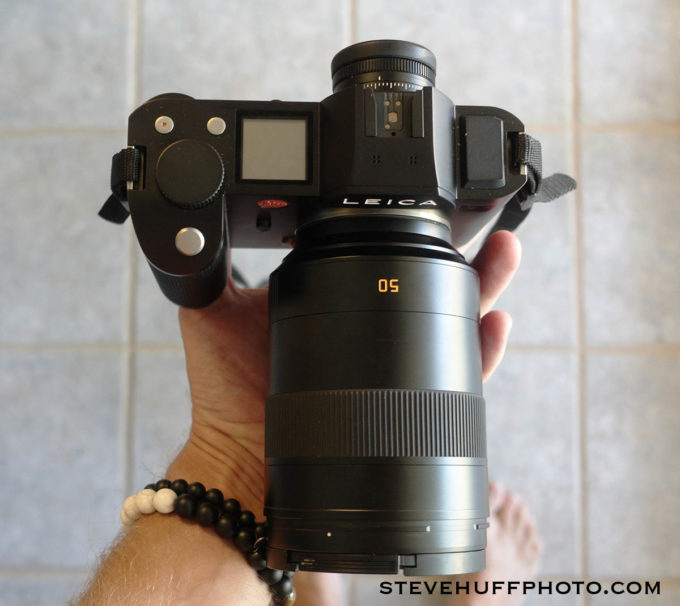 So before those chime in and say "I thought mirrorless was supposed to have smaller lenses". Well, yes, you are correct! The promise of mirrorless was smaller body, and lenses. In the case of almost every mirrorless camera released, even the Sony A9, this is true. In the case of the Leica SL, not so much if you use the native AF lenses. In the case of the SL, the body itself is smaller and thinner and amazing in feel than any pro DSLR which are larger, fatter and bulkier. It also has a much better VF experience IMO with the worlds best EVF. But these Leica SL lenses with AF are large indeed. To me, that is a weakness but at the same time, depending on your needs and wants, it could be OK as the optics of these lenses are AMAZING and some of the best I have ever seen from any manufacturer. So if you desire the best quality and AF, you have to go large here with the SL. With a Sony A9 there are MANY tiny lens options.
But the huge beauty with mirrorless for me is the fact that I can use almost any lens on them. On the SL I can use any tiny M mount lens, from vintage to new. I can use Canon glass, Nikon glass and use whatever lens I desire with the right adapter. I can use the lenses from the T as well, natively and with AF and those are much smaller though meant for APS-C so using them on an SL will revert to a crop mode.
THE SL AND 50 F/3.5 HELIAR (more from this combo here)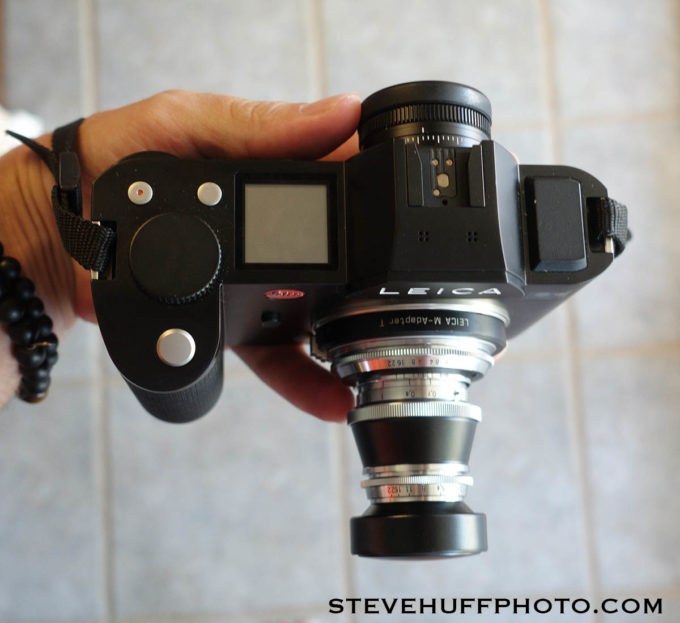 But at the end of the day, it is about versatility with lenses. You do not have that with a DSLR. With a Nikon D850 I can not use my M lenses, or Canon lenses, or T lenses or SL lenses.
So for me, I prefer mirrorless even when it comes in just slightly smaller than a DSLR, as it has the versatility and the EVF of which I enjoy.
So with that out of the way, what do I think about this lens at 1st glance? Besides the size, it is extremely well made and built. Solid as a rock, and gorgeous. If I had the cash I would buy one just to have a 50 Lux AF for my SL but alas, no go in the budget but I do get to use this one for a while and use it I will!
A CRAZY COMPARISON! $530 vs $5300
My 1st curiosity was to test it against the little amazing Voigtlander Heliar 50 f/3.5 with both at f/3.5. The $5300 Leica using the latest and greatest and exotic optics and the little $530 voigtlander which funny enough comes in about exactly 10X cheaper, and is an old design. One would think that the little Voigtlander would be blown away in the dust in color, bokeh and sharpness. Well, I just ran out to my yard to a quick comparison on my old Rusty Can ; )
1st shot, both at f/3.5 so the DOF should be the same yet the Leica's looks more shallow. There are color differences as well but slight. Bokeh? You decided..
You must click the image to see the crop at 100%
This one is the SL with Leica 50 Lux ASPH SL at f/3.5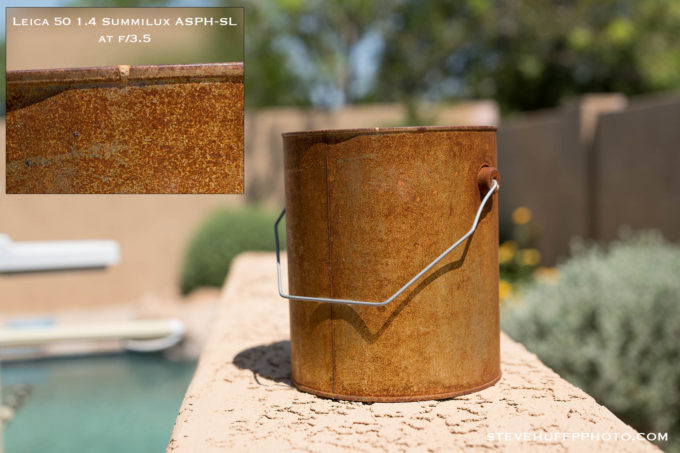 –
Now one with the SL and Voigtlander 50 f/3.5 at f/3.5. Again you must click it to see the full crop.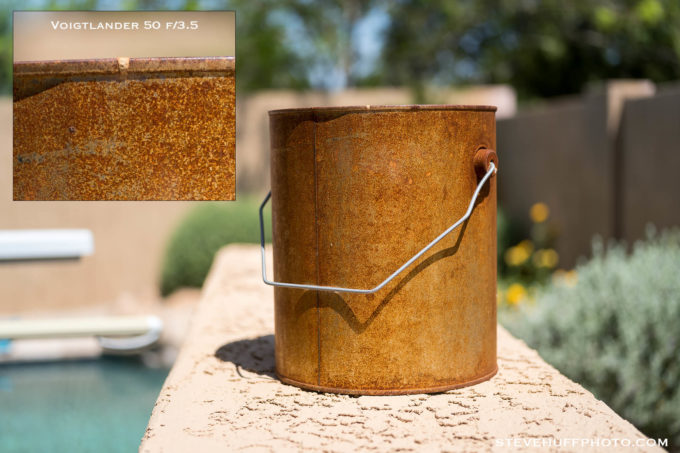 –
And for kicks, the SL and Leica 50 Lux at 1.4, wide open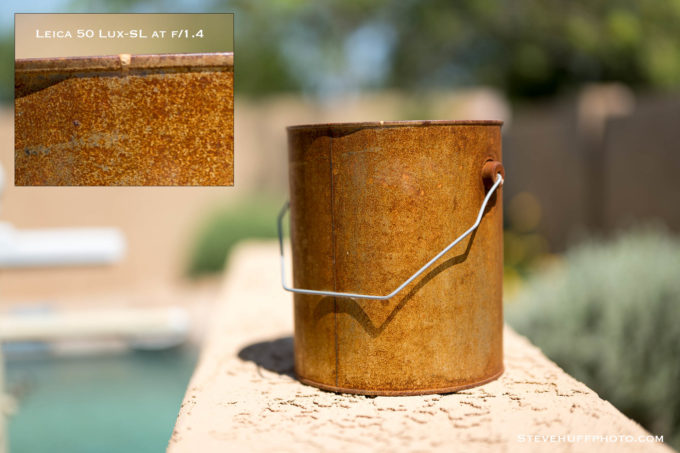 –
My review will be coming next week with a video and written review right here on these pages so stay tuned. But what are YOUR thoughts on this lens? From what I have seen around the internet, it produces GORGEOUS color and bokeh, and with AF and a fast 1.4 aperture it seems to be a great option for those with an SL who want a 50 Lux. Now we have two options, the small MF version and the larger AF version. Stay tuned!
Steve