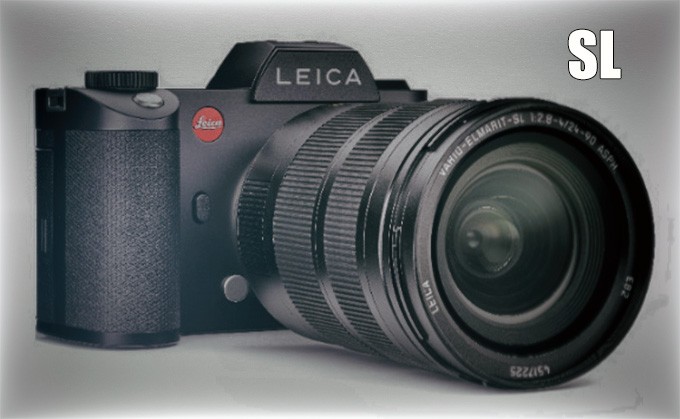 The New Leica SL Announced. My thoughts. 
UPDATE: I received an SL and ate these words as it is beautiful and in a class of its own. It really is. See my 1st look report HERE for the real scoop. 
Hmm. Is it just me or does the new Leica SL seem to be taking aim at the Sony A7 series? Yes, the A7 series that has indeed hurt Leica M sales starting 3 years ago or so.  The new SL, at least from the front,  looks spookily like a larger (and it is larger and 1/2 lb heavier with battery) A7 series body, is full frame and is a new system from Leica that has new lenses as well as fast Auto Focus (for new native lenses) and an adapter allowing you to use M lenses. Oh, $7500 body only or $12,500 k with a 24-90 f/2.80f/4 zoom. Yes. Really.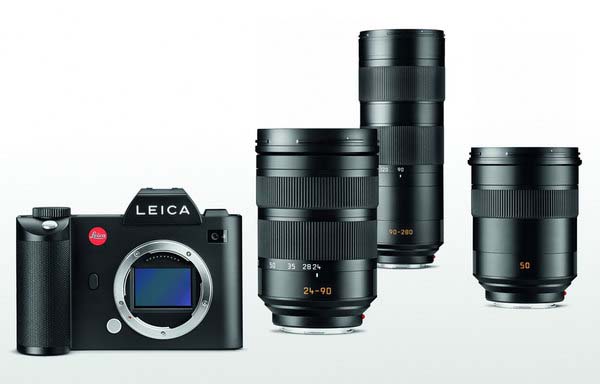 My #1 issue is that if you take away the Leica logo and red dot and you have what looks strikingly like an A7 series body, FROM THE FRONT anyway. It's no secret that Leica has been hurt by Sony over the past 2-3 years. When you can get an A7RII for less than half the cost of an M, yet have better specs, features and abilities then something has to happen. I was just shooting my A7RII at ISO 80,000 the other night and it did it with ease. With yet another new Leica CEO on board it seems like Leica is really trying to survive and push ahead in this ever evolving tech market. But they may be too late  to the party with this one, and at this price.
As for specs, well, it can not match the latest Sony A7RII specs nor can it really complete with the A7RII  but Leica is charging MUCH more for the SL than Sony is the A7RII. Since this is nothing really original like an M or T or S I do not understand how Leica could release this for $7500k (without a lens) and think it will sell well as it has none of the MoJo or mystique (on paper and in looks) that I expect from Leica.
Now I love Leica as much as the next guy, and every review I release (Leica T, Leica Q, Leica M) I get accused of being a Leica fanboy. After the buzz wears off, 2-3 weeks later I get accused of being a Sony fanboy or Olympus fanboy. But at the end of the day I use what works for me, and I also appreciate a well made camera that gives you an emotional connection as well as a fantastic photo experience. I am picky, so I use what I feel is the best for ME and will only review and write about cameras that I feel are really good or special.

In the past, most Leica cameras have done this for me..The M8, M9, M 240, Leica Q and yes, even the T and of course the original X1 and X2 were also faves of mine. The X-Vario was a fail (IMO) as was the new larger X as it was more of a repeat of the X2, just larger. The Q was a step in the right direction I feel with the included EVF and super sensor. So what about the new SL?
Yes, so now we have the Leica SL which I assumed would have a killer Leica retro or vintage design. Instead they might have said "Let's copy the Sony A7 body design since this is the company who is hurting our sales and selling way more cameras than us". The body will  be more than 2X the cost of the almost perfect Sony A7RII which has better specs, and an amazing sensor as well as crazy low light abilities that almost reach the A7S ISO abilities (and now loads of lenses to choose from). The Leica SL lenses, two of which are slower variable aperture zooms and one fast prime (50 Summilux 1.4) are HUGE when compared to lenses for the M. Auto focus adds bulk and size (and cost) and these lenses have the same styling cues as the T and it may be a while before we have a wide selection of glass for this system. It took Sony 3 years to do this, and that is with Sony's budget. How long will it take Leica? Longer, even if the SL is successful.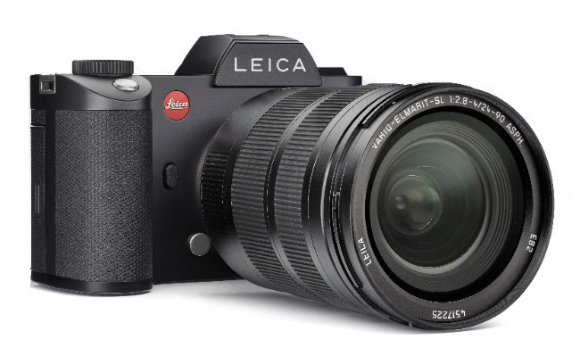 As with the Q, the SL has 24 MP.
I am a bit let down this time from Leica. Their big announcement and teases over the past month have been building this up to be some sort of beautiful new vintage retro inspired camera system. I am sure it is beautiful and feels amazing in the hand, but at the price I am not sure what is separating it from the 100% awesome Sony A7RII. I mean, I do not see the SL beating the A7RII. IQ. maybe it will or maybe not but I will bet $1000 that the SL will not even get close to the high ISO capability of the A7RII. It will also not beat the RII in features, video, IS (Sony has 5 Axis), lens availability, and not even speed. So what are we left with? The name and red dot. I see this as a $3000-$3500 camera body so I feel Leica will have a tough time finding wide appeal here at the prices of $7500-$12,500. Sure, you can adapt T, M or even S lenses to the SL (thought the T lenses are not full frame and the S lenses will be cropped) but you can adapt more lenses to the Sony cameras these days. Nikon, Canon, Leica, whatever.
**Oh, and please excuse my rambling..as I am doing just that..rambling to myself and then writing it down here**
The SL will have to have a totally unique image quality signature (like the Leica M9 did) for me to understand it. Since I have not yet shot with one yet, I have no clue as to how it performs. If it offers something very special, then I may be sold on it after all. No way to tell until I give it a go. I do know that the design, specs and info have me feeling a bit "blah" this time. It's large, and the lenses appear to be even larger than the Sony offerings.
This one may just be for the Leica die hards but one other note…if Leica can make wide angle M lenses play perfectly well with the SL, as in NO ISSUES at all, they may have something. The Sony A7RII does amazing with Leica glass but if you are being critical, using wide angle lenses like a 15-28 will give you softer corners/edges. It is a non issue with longer lenses or fast primes and glass but if the SL can use a Leica 21 M lens with perfect corner to corner details and sharpness then they will sell more to M customers who want perfection with their M glass, to those who want a faster EVF camera than the M 240 to manually focus their M glass. Seeing that the M can not even give perfect results with some M glass, I do not have high hopes for the SL but maybe Leica has a trick up its sleeve.
So as for me, for the 2nd time in Leica history I am mixed on this. Just as with the X Vario, something about the SL doesn't sit right with me. I think it is because it just look like a copy of the successful Sony A7 series. While it is in no way a Sony A7 body inside, they should have made the effort to make an original design. I mean, this is premium and it is "cost no object" Leica. We should get something unique for our big money we have to shell out for this.
If I can get a hold of one I will do my normal full review, but chances of Leica sending me one for review after this post is very slim. I may just rent one when the rental houses get these in. If it is something special I will then buy one for a long term review. If not, looks like I will be waiting for the next M, which I know I will love as the M series is in my blood 😉 In fact, I still recommend the M 240 to anyone who asks. It's a lovely camera and while it can't beat the latest offerings in the full frame world for IQ, it beats them for usability, pride of ownership and that emotional connection you can achieve with an M.
Bottom line? The SL is $7500 for the body only. The 24-90 f/2.8-f/4 long zoom is $5k. Yes, $5k for a slow aperture zoom that is very large. The camera has no Image Stabilization, maxes out at ISO 50,000 (which I suspect will be very grainy at 50k), is somewhat un-Leica like being large and bulky though it has a great EVF and supposedly blazing AF. You can use T or M lenses, even S lenses (though the S lenses will be cropped) and they managed to create this out of a solid block of Aluminum much like the T. So for the SL and 24-90 f/2.8-f/4 zoom, you will be shelling out $12,500. Ouch.
What do you think of the SL from Leica? Will you buy one? Leave your comments below and tell Leica what you think of this release. DO you love it and want it or does it not float your boat? They do read the comments here when I write about their cameras and lenses so join and and talk about it!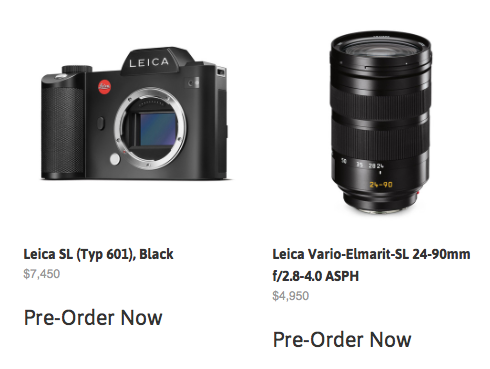 So you want to order one? Here is how.
For those of you excited by this new SL, and you want one (or even an M), I highly suggest emailing legendary Leica dealer KEN HANSEN. He has been my #1 Leica guy forever now and is as good as it gets, period. You can email him at khpny19@aol.com  You can also pick up an SL when they are in stock at PopFlash.com. Also check out LeicaStoreMiami.com  Of course, B&H Photo also has the SL up for pre order! 
Steve
SPECS:
4.4 MP EVF at 60 FPS – largest, fastest & highest resolution EVF on the market.
Burst rate of 11 FPS at full resolution 24 MP DNG
Fastest AF of any full-frame system camera
24 MP CMOS sensor
ISO ranging from 50 to 50,000
Supports Leica T and SL mount lenses and R, M, S and Cine lenses via adapter
Fastest SD standard (UHS2) with a secondary (UHS1) back up SD card slot
4k Video at 30 FPS (Super 35), 1080HD at 120 FPS (FF) (10 bit via HDMI out)
Weather sealed to protect from spray water and dust
Shutter speed from 30 min (bulb) to 1/8000s
Ultrasonic sensor cleaning
Latest generation of Leica professional user interface with hybrid touch operation
Integrated WiFi and GPS module
Remote control, viewing and sharing App for iOS & Android
Made in Germany and milled from solid blocks of aluminum
Two year warranty