Experiences with the new LAOWA 12mm f/2.8 ZERO-D
by Dierk Topp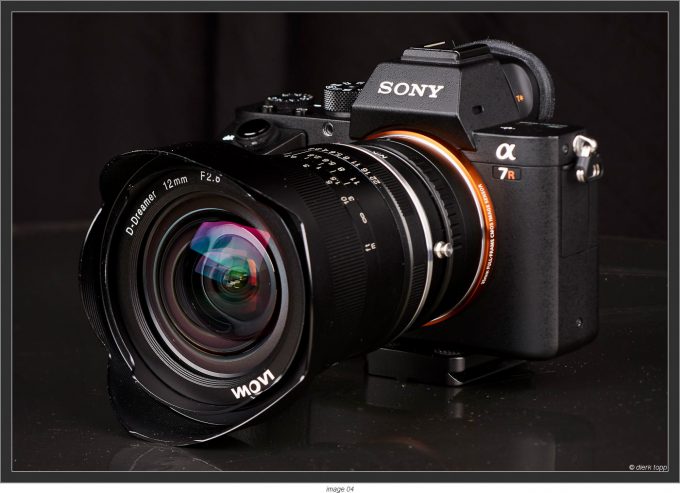 Last year in November I posted a report about the LAOWA 15mm f/4 Wide-Angled 1:1 Macro Lens here at your site and I sent the link to Venus Optics, that produces the LAOWA lenses.
A few weeks ago I got a mail from Venus Optics. They asked me, if I would like to test the upcoming LAOWA 12mm f/2.8 – of corse I did 🙂
About two weeks ago I got this pre production lens and planned to shoot some test shots around my home and to go to Hamburg and shoot in the new Haven City and the old Speicherstadt.
Let me start with a few very important information:
This lens is a full frame format lens, you can not compare it with any 12mm lens for APS-C or smaller sensors
It is a DSLR lens, that means, that it has a longer flange distance than for example lenses for Sony E-mount
It is a pre production lens, that will be optimized for final production
The images in this post are made with the Sony A7RII with 42 MPixel high-resolution sensor, please keep that in mind, when looking at 1:1 images
The lens has a Nikon mount, I had to use an adapter, which can cause problems with wide angle lenses, therefore I don't show any crops of corners and CA
Venus Optics started a Kickstarter project for this lens (link at the end of this post)
This 12mm lens with f/2.8 and shortest distance of 18cm is very unique. and the distortion is very low.
I don't know all lenses, I only know the CV 12mm, which I have, and the Canon 11-24 mm very expensive lens
I do this for my private fun and have no connections to Venus Optics and don't get anything from them
this is not a review or a test, I just like to take pictures and to use interesting gear
I know, my English is not perfect, sorry
Venus Optics writes:
LAOWA 12mm f/2.8 ZERO-D is currently the World's Widest f/2.8 Rectilinear Lens for Full Frame cameras. Currently available in Canon EF, Nikon AI, Sony A, Pentax K and Sony E mounts.
My first impressions:
It is heavy!
This pre production lens is 709 gr. but the production lens will be 609 gr. Stiil heavy but 100 gr. less. What did I expect? It is a super wide DSLR lens with f/2.8.
It is small!
At least compared with other DSLR wide angle lenses. I know, what I am talking about, I had the Nikkor 14-24mm and that was about 1 kg. and huge.
It is a compact piece of technology
My second impression:
I did some test shots with my Metabons Nikon F to Sony E adapter (must be the first version) – one side of the images was horrible!
I have another small and cheap adapter Nik-G to Sony E and I tried this one – much better, but not perfect. I used this one for all my shots in this post.
For the pixel peepers: if you find any problems in the corners, it could and probably will be the adapter and not the lens!
You find image numbers under the images, that will make it easier for comments of specific images. The images contain full EXIF (at least during the upload)
What is 12mm on full frame?
To give you a feeling of the different wide and super wide angles I did separate shots with the following lenses:
Voigtlander Heliar-Hyper Wide 10mm f/5.6 Aspherical
LAOWA 12mm f/2.8 ZERO-D
LAOWA 15mm f/4 Wide-Angled 1:1 Macro
Sony 16-35mm Vario-Tessar T FE F4 ZA OSS
On flickr I used the Voigtlander Heliar-Ultra Wide 12mm f/5.6 Aspherical with M Mount for some comparing shots to the 12mm LAOWA too.
For the following images the camera was set on a tripod controlled with external bubble level.  I shot separate images with the following focal lengths: 10 – 12 – 15 – 17/8 – 24mm (some with 17mm, I did not get the exact 18 mm on the zoom).  The images were combined on one photograph. The base image is the 10mm shot. All other images are layers and resized to roughly match the size and part of the first 10mm image and positioned on top of the 10mm. Looking at the floor at the right side you see that I used real images, not calculated frames for the focal lengths as you find on other sites.
This is the result (you find these and the other images in higher resolution in my flickr album, link at the end)
(it is the lobby of my home building, the print on the wall is a stitched 3×3 images of my Leica M9)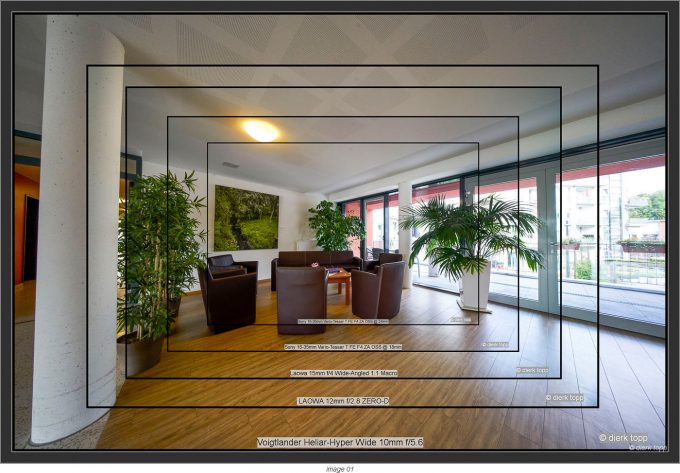 On the second image I wanted to show, how the perspective changes, when you (have to) choose a longer focal length and use a higher distance to the object. I tried to keep the same part of the location in the image: the flower pot at the right side and the corner of the aisle at the left side. On the 5th image it looks like a wider lens, as you see the column, that has been behind me on the other images. The last image is the same as the #01 above.
Uff – difficult to explain, I hope I could make it clear 🙂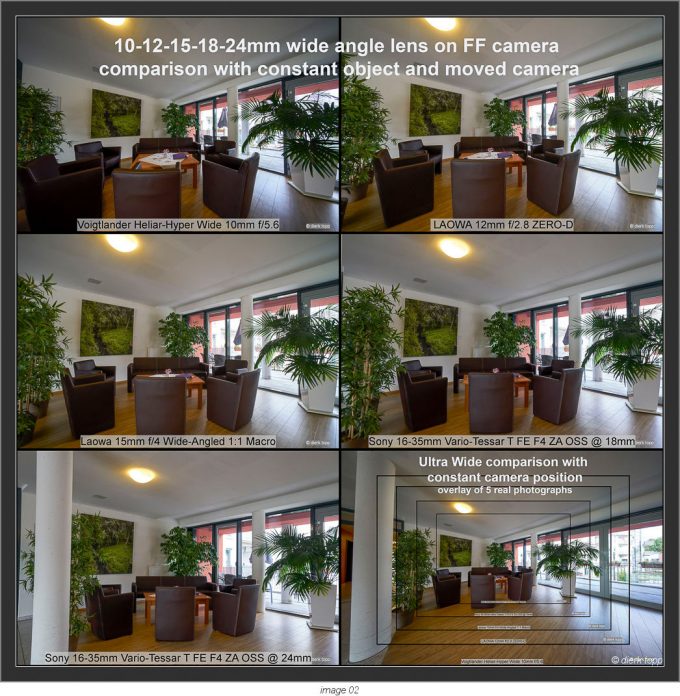 This is the same principle as the image #01, but outside…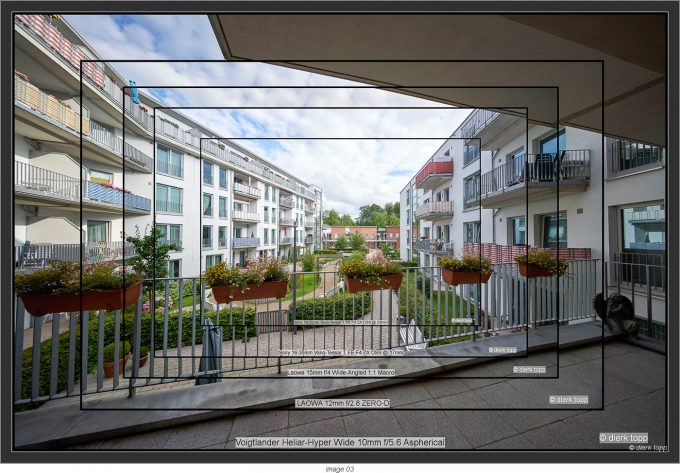 –
For comparison of the sizes the Voigtlander 5.6/12mm M mount with Novoflex adapter, LAOWA 12mm f/2.8 prototype Nikon mount and adapter, Voigtlander 5.6/10mm E mount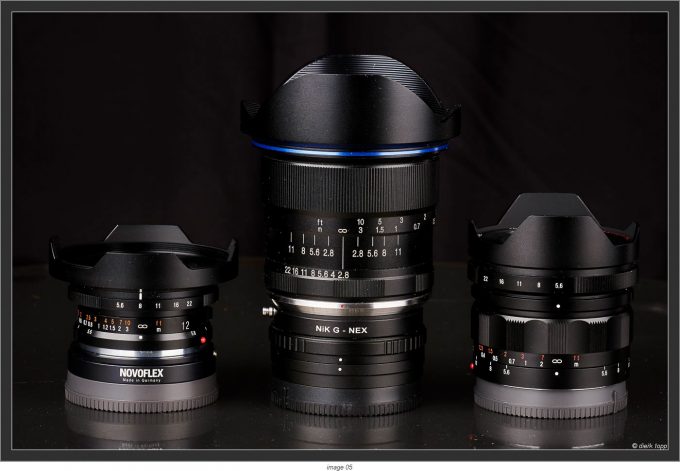 The lens is called Zero distortion (at infinity focus)
For a test I shot this wall, it was about 6 to 7 meters away. I did not notice, that I could have used the window for a perfect positioning of 90° to the wall, it is not perfect on 90°.
the image is a screen shot of Lightroom 5 with the photograph and a grid overlay. It is not the real image, not the real pixels!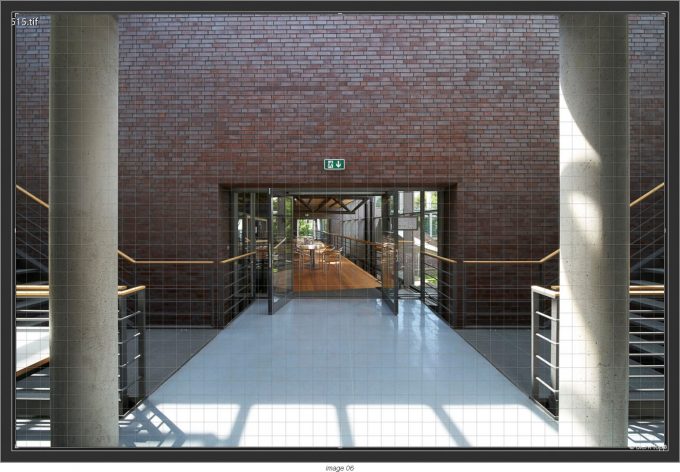 Full resolution test shots for closer inspection and comparison of the three lenses of image 05
For comparison of my ultra wide lenses I shot test images of our building. The building is shaped like an U and I took these images from the second floor to the other side of the building. Camera on tripod and vertical and horizontal controlled with external bubble level. You find all images of this series in a separate flickr album with full resolution (link at the end, remember: it is a 42 MPixel image!).
When shooting wide angle lenses standing on the ground you always have the problem, that the foreground is too close and you can not judge the IQ of the lower corners and as you see here the sky is in the upper corners and also no IQ inspection (you can not get all :-). The advantage from the second flor is, that at least the foreground is far away for closer inspection.
one example of these images (more in the flickr album)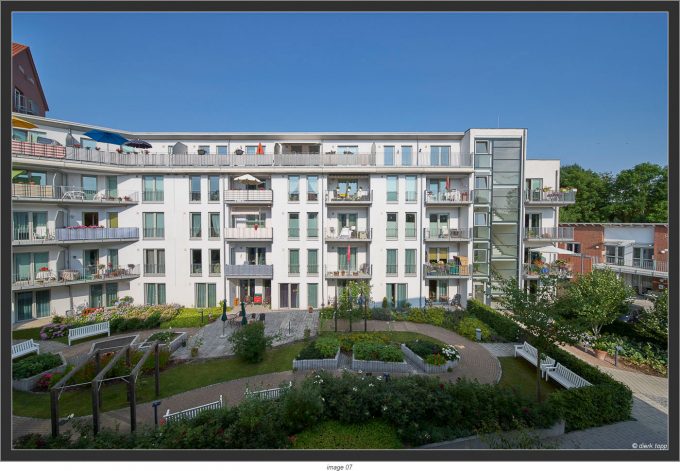 No more boring test images!
I took the following images in an old manor house (in German Gutshaus).
As said, shooting very wide lenses with the camera in horizontal position you get too much foreground and have to crop it for a nicer view getting a panorama in most cases. See the IR shot image 31 at the end of this post.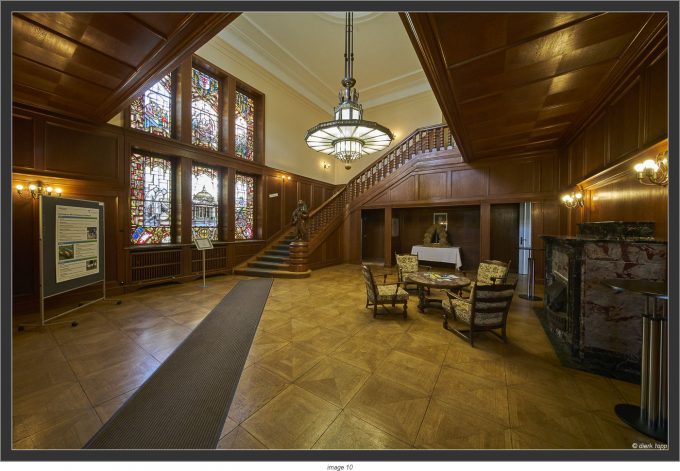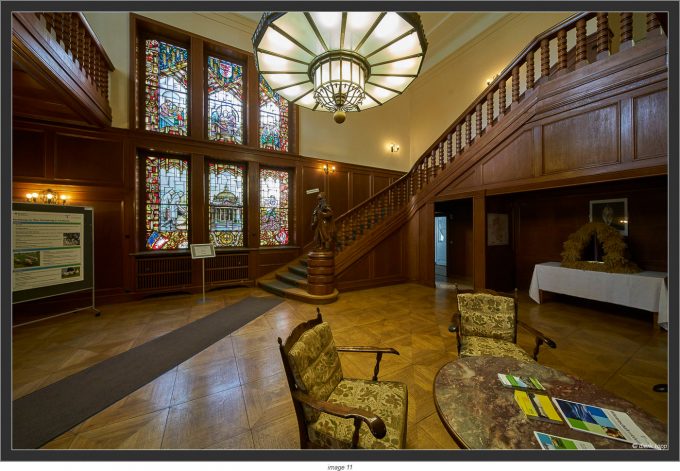 –
All following images hand held, some horizontal corrections done in LR5
Hamburg, the new HafenCity
I arrived by subway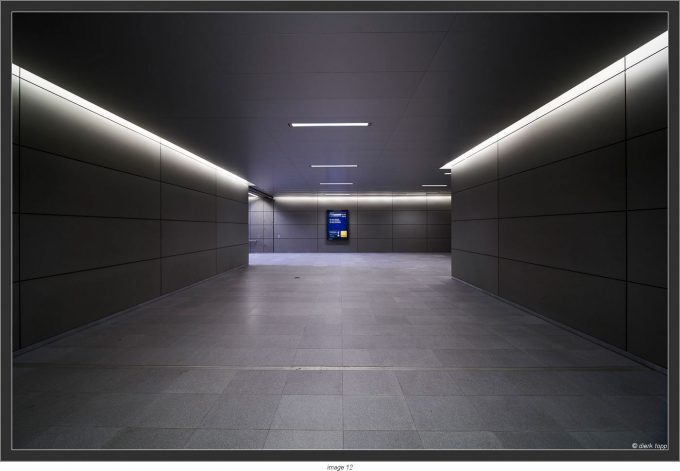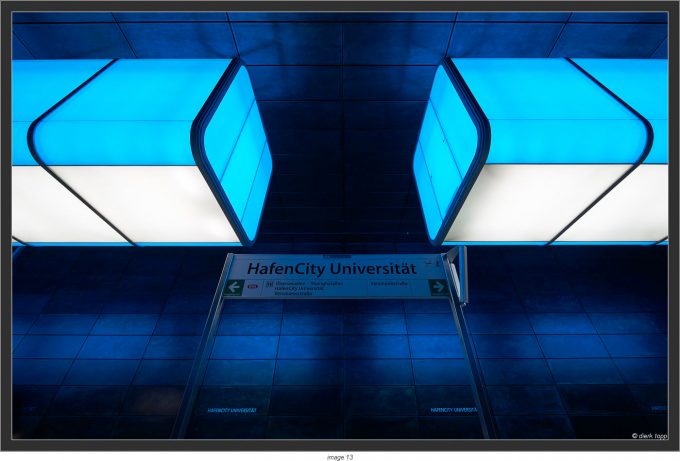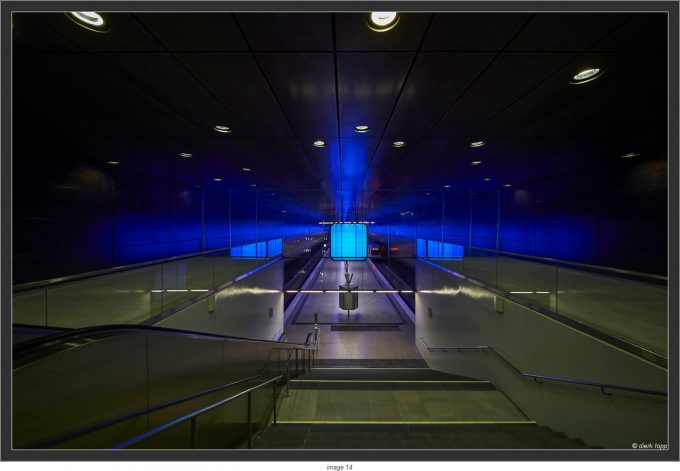 –
Around the new Elbphilharmonie in the harbor of Hamburg
on this one I would crop the foreground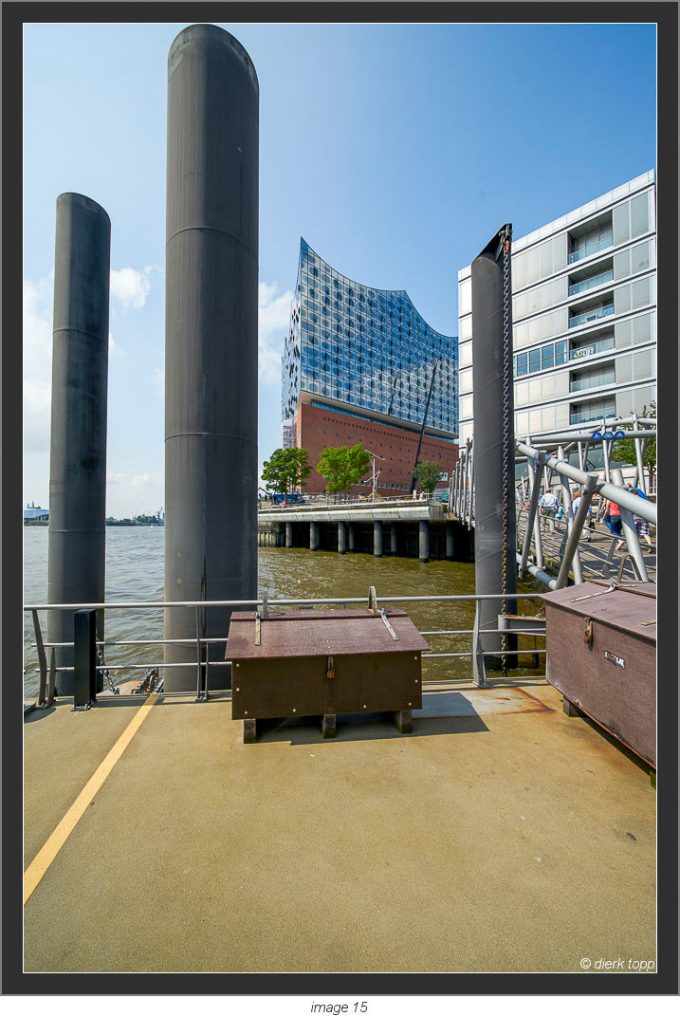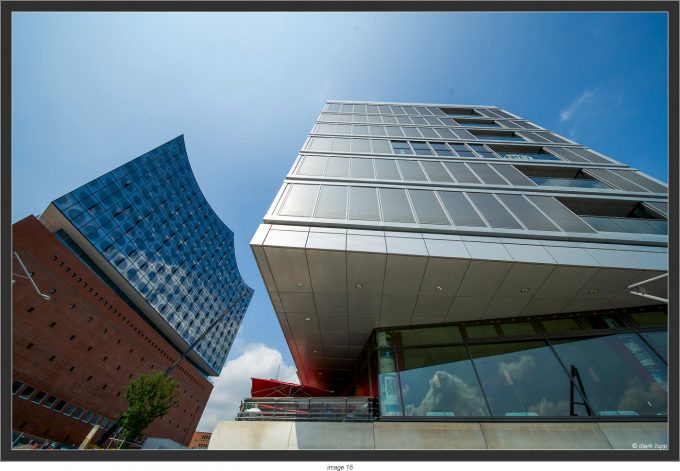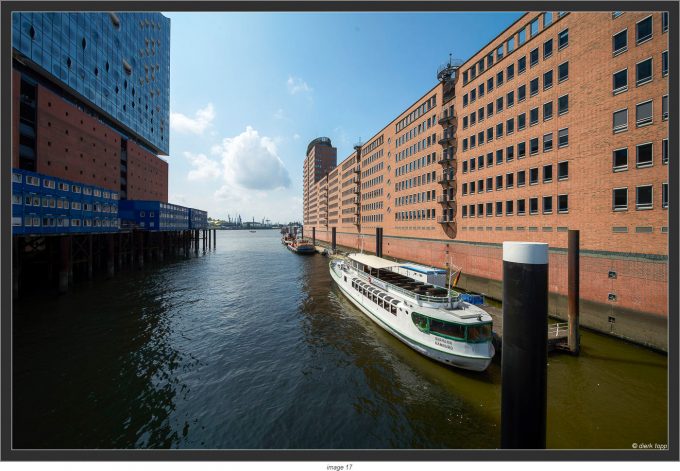 –
Next to the old Speicherstadt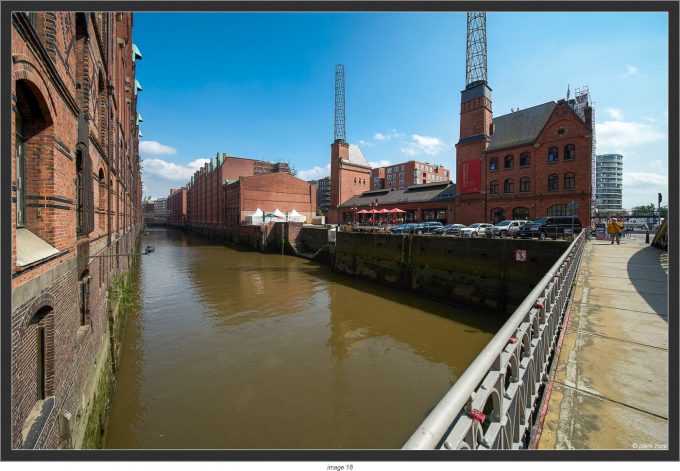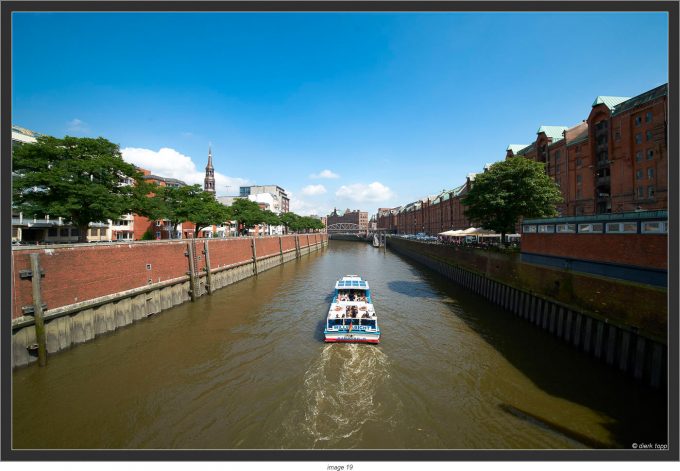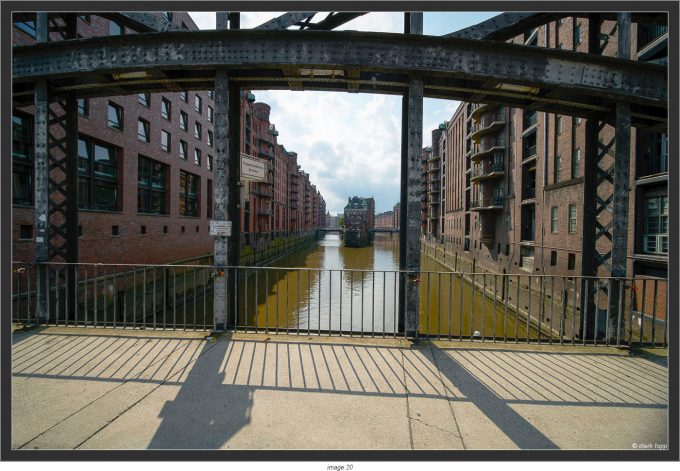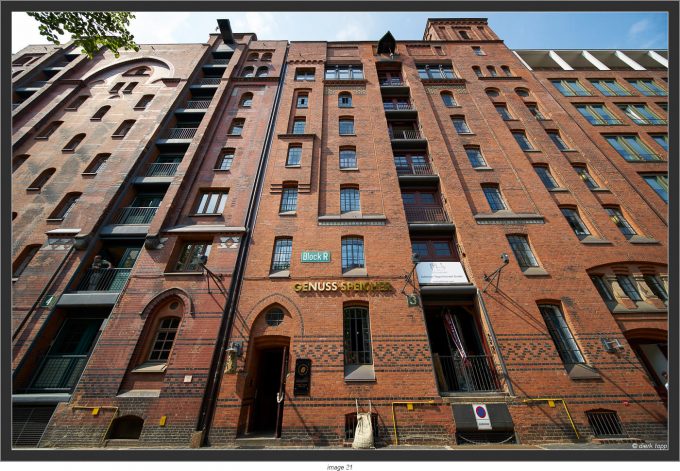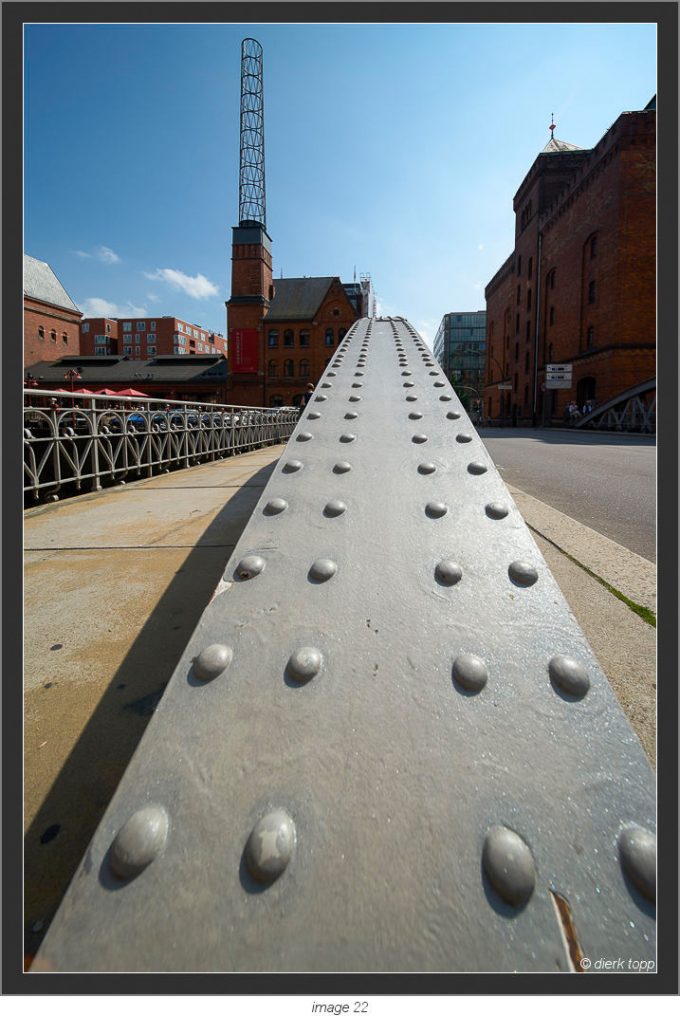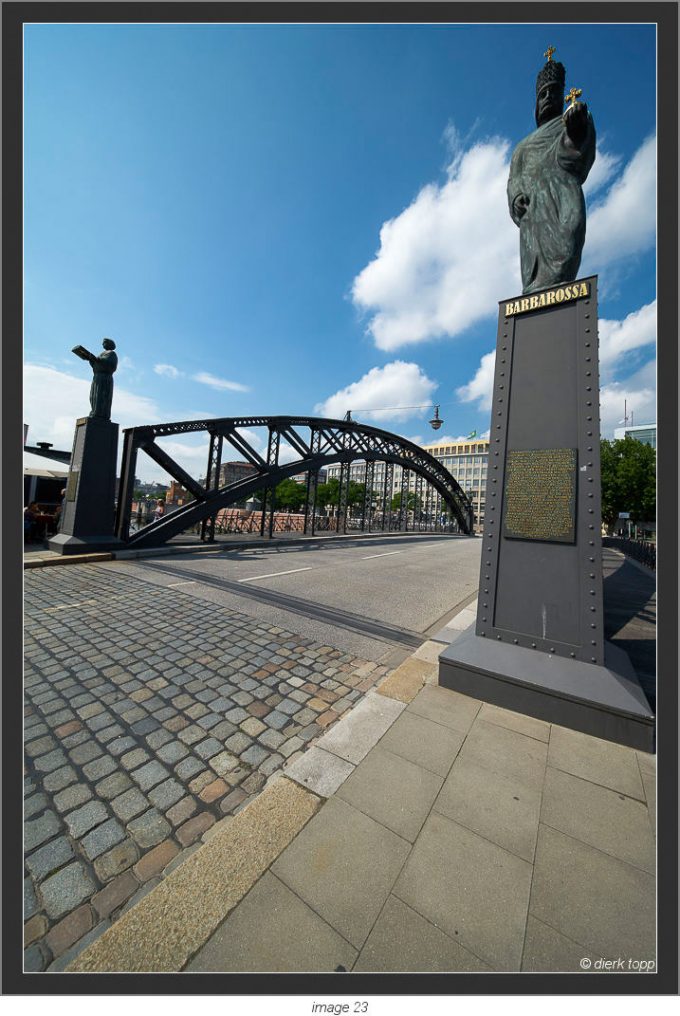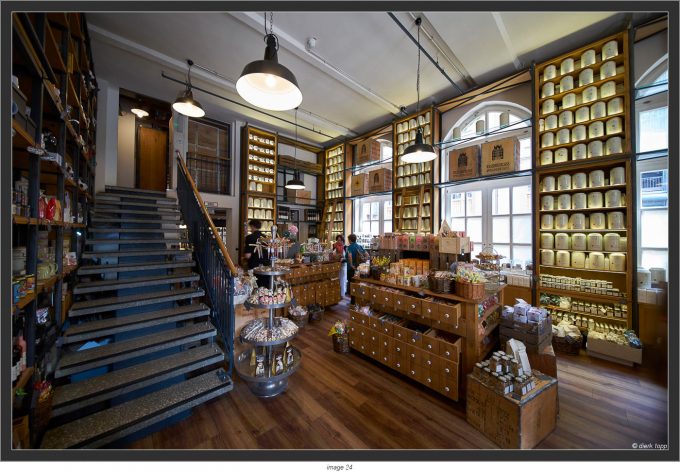 –
the new HafenCity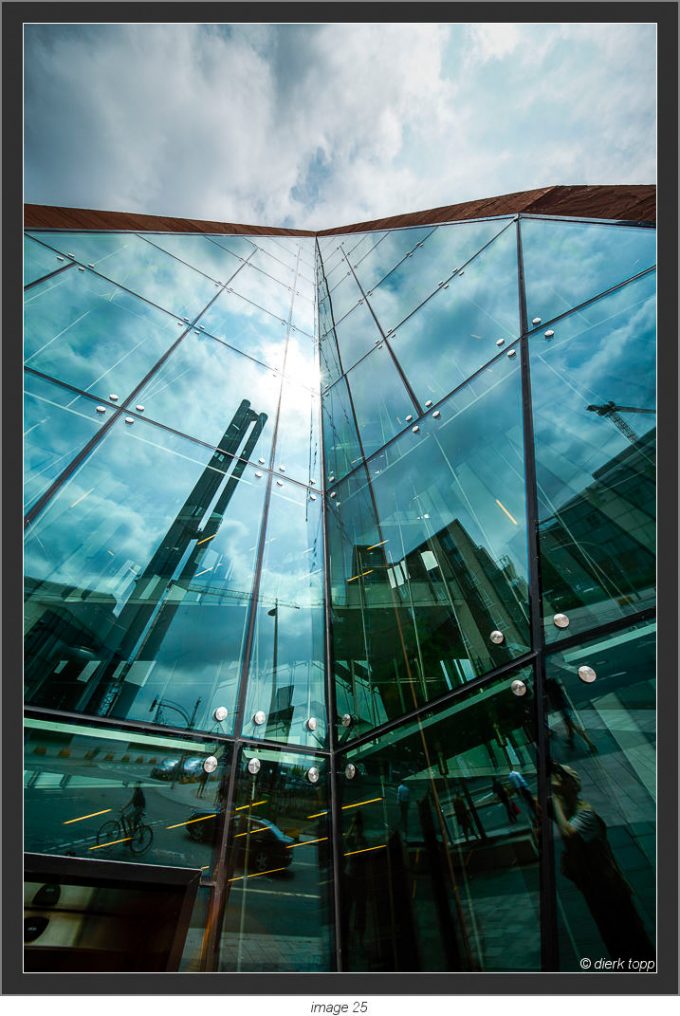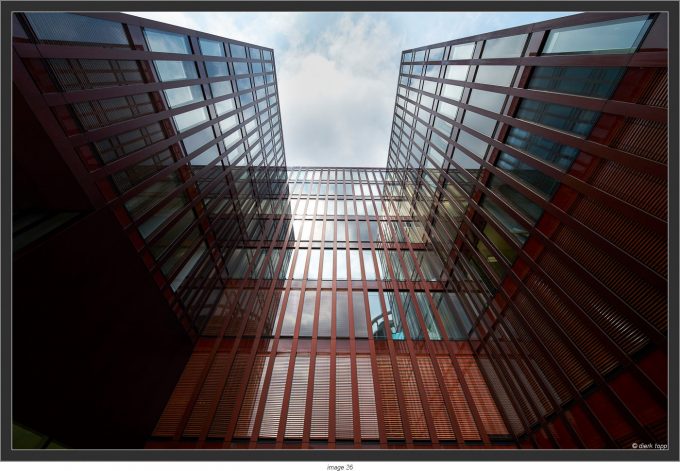 =
the old Chilehaus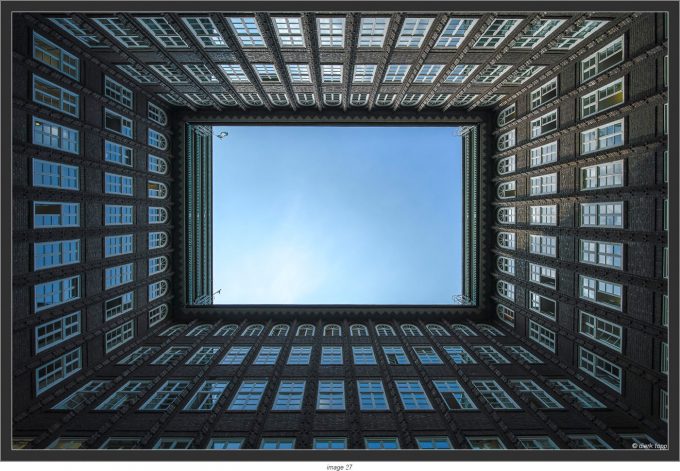 A few special purpose shots
a small cafe in our neighborhood
camera hand-held on mono pod and positioned under the ceiling, IR remote release (do you find my foot 🙂 )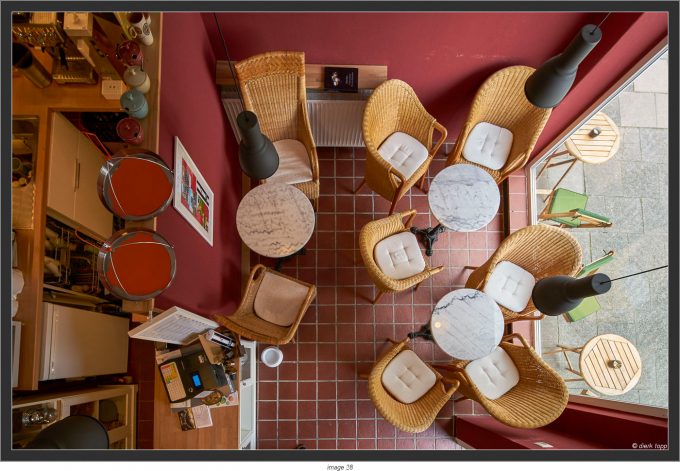 –
I tried the closest distance, camera set on f/2.8 and 18cm, this is from the sensor! The sharp part of the flower has been about 6cm from the front lens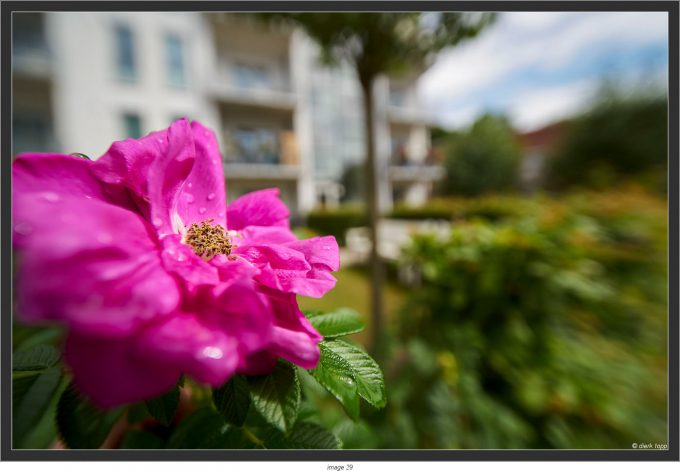 –
A night shot hand held (1/15 sec. on ISO 6400), foreground cropped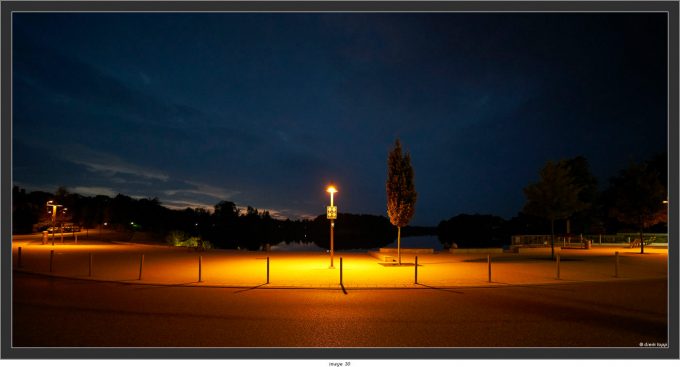 –
The last three pictures are infrared pictures taken with my 720nm infrared converted Sony A7R (36 MPixel)
LINKS/REFERENCE
The full resolution test images in this flickr album
https://www.flickr.com/photos/dierktopp/albums/72157671449943775
All other normal live images in this album
https://www.flickr.com/photos/dierktopp/albums/72157670639163860
The Venus Optics Kickstarter for this 12mm LAOWA lens
https://www.kickstarter.com/projects/laowa/ultra-wide-angle-lens-with-zero-distortion-laowa-1?token=4a7d80aa
…and all my other images on flickr
https://www.flickr.com/photos/dierktopp/
My Personal Conclusion
If I would still have a DSLR this definitely would be my lens! There may be other 12mm FF lenses out, but I did not find one.
If you use a DSLR AND a FF mirrorless, this could be for you too. Especially with the coming 17mm shift adapter. If you want to use it as a normal 12mm lens you should select a perfect adapter, the super wide will show the problems.
If you, like me, use only mirrorless there are other lighter and smaller options, for example the coming 12mm Voigtlander.
I am glad, that companies like Venus Optics are so creative and take the risk to develop interesting and niche lenses, that other big companies don't offer. And I am glad, that I had the chance to try to use this very new lens!
I hope, you found the info and images useful and may enjoy looking at some of them 🙂
dierk