The Sunwayfoto XB-44 Ballhead Review
By Robert Falcone – His website is here.
What a great past 2 weeks it has been in my world of photographic subjects, and it was perfect timing to put the Sunwayfoto XB-44 Low-Profile, High Performance Ballhead through its paces!
A quick recap of those events are: a very late blooming of a beautiful Lily shot in HDR, The Majestic and Powerful Tahquamenon Falls in Michigan's Upper Peninsula, and the current Supermoon, not seen since 1948!
Sunwayfoto has been manufacturing photographic support equipment for many years, and their product line is a very compete one. This review is focusing on one of their Flagship Ballheads' the low-profile XB-44. It is the SMALLER one in the XB series, but still extremely strong (40kg load), ROCK SOLID and SILKY SMOOTH! It is an Ellipsoidal, Progressive design, so as the ball is tilted it 'tightens' up a bit to reduce camera flop while maintaining total control.
As an owner of other Sunwayfoto gear, I have come accustomed to and appreciate their packaging. Like their products, the packaging is all business, no frills, very strong and protective!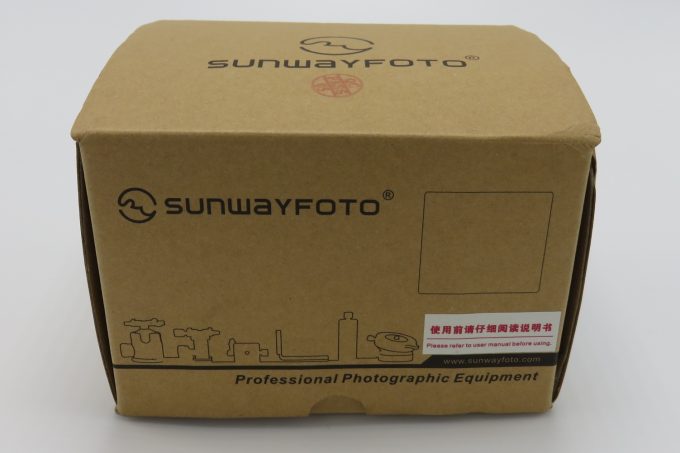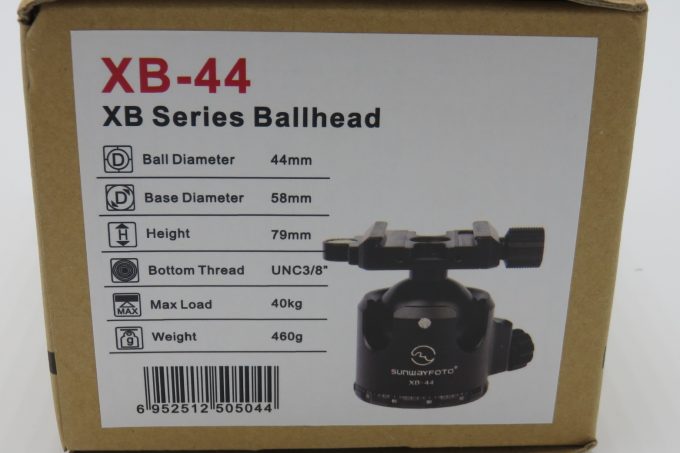 The contents are protected in egg foam on all sides: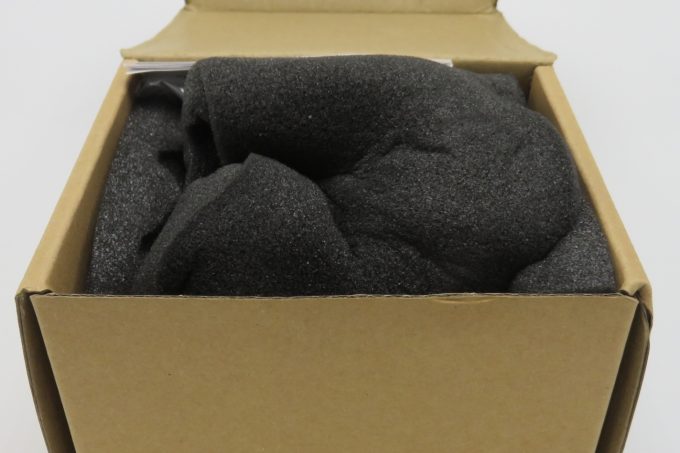 Speaking of contents, in addition to the Ballhead, included are a cleaning cloth, tools, ¼ to 3/8 tripod mount adapter and manual. Also on the box are the product picture specifications, which is very handy indeed.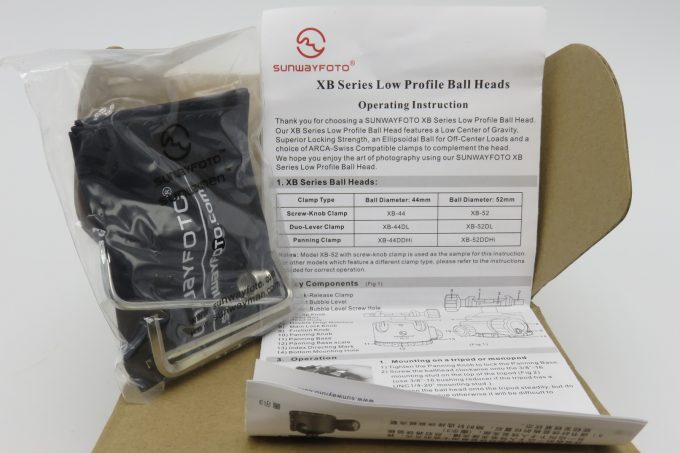 This Ballhead is one of the newer generation of low profile ones, and low it is! This helps keep center of gravity to a bare minimum, especially when the camera is tilted into the Drop Notch. By the way, this head, as do some others in Sunwayfoto's lineup, has two Drop Notches, which is quite a convenience. Normally, I like to have my Ballheads controls in front of me, so the large knob which handles tension and tension lock is on my right hand side, the pan lock directly in front of me, and the clamp lock above the pan lock or to the left, depending on weather I am using a camera mounting plate or a lens mounting plate. This gives me a tilt slot to my left for portrait shots, and directly in front of me for a low frontal tilting shot. The control knobs are simple and well laid out: The large knob is the Main Lock Knob, the little wheel on the front of it is the Friction Control Knob, the smaller knob to the left is the Panning Knob, and above is the Clamp Knob. Also on the Ballhead is a Panning Base Scale and Index Mark.
A few pictures of the Ballhead: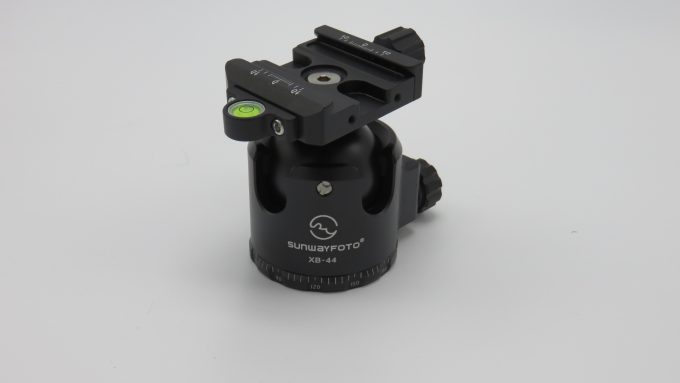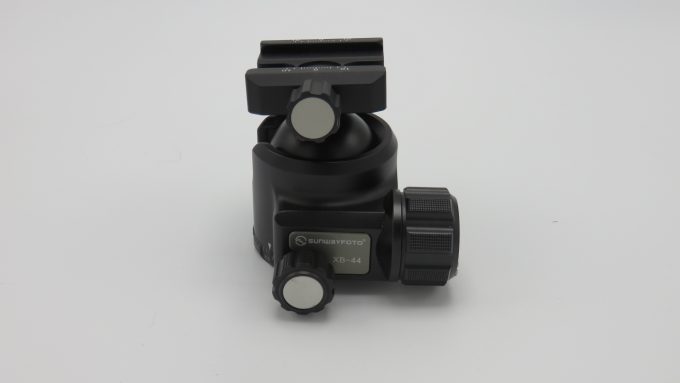 Here are some size comparisons to its larger brother, the XB-52. The XB-52 is on my 4 series studio tripod.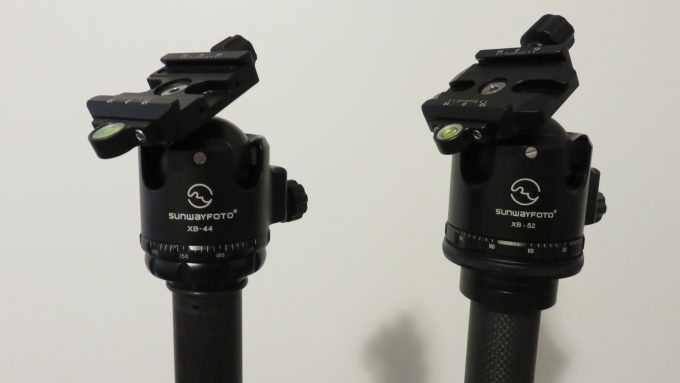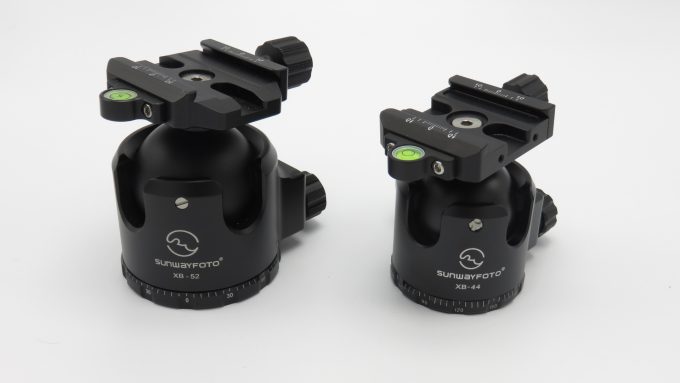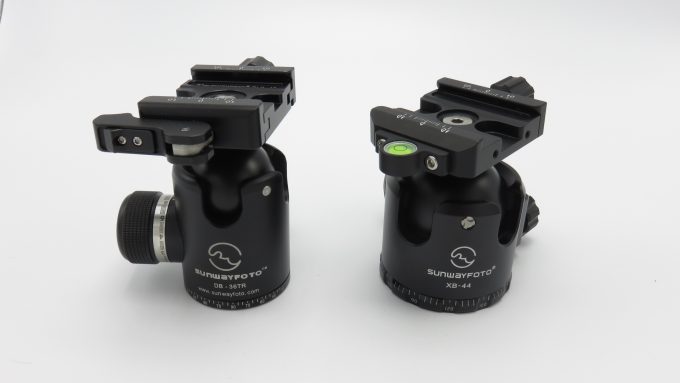 Next, we compare the XB-44 to a few traditional Ballheads in Sunwayfoto's lineup, the DB-36TR and the FB-28. Note the XB-44 is much shorter than the DB-36TR, but has a much larger ball diameter AND over twice the load capacity! Also, in comparison to the FB-28 it is about the same height, but the ball dwarfs in in size and has almost four times the capacity!
Here it is mounted on the T1A10 Table Top Tripod, perfect for product shots: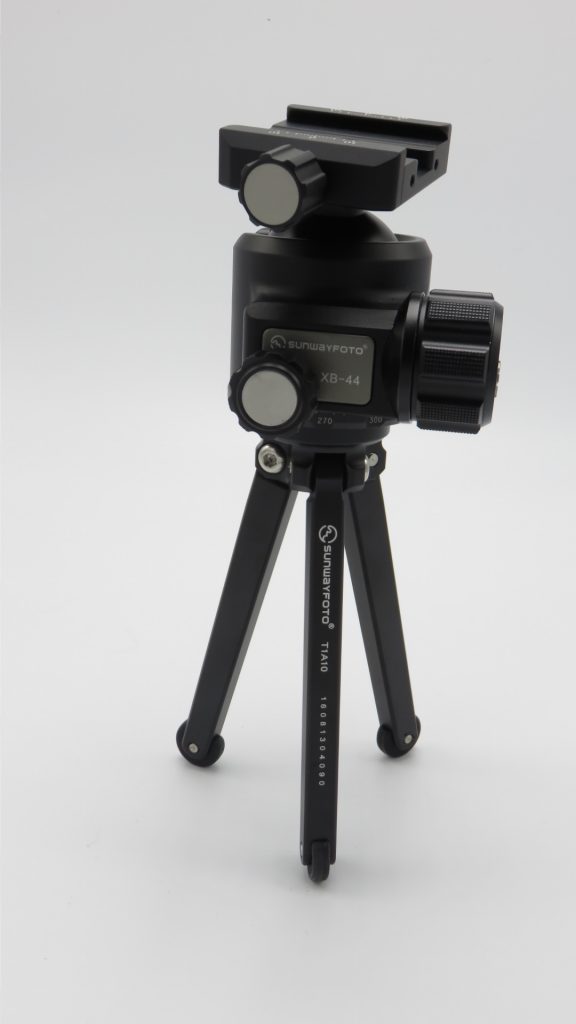 Now, let's look at the measurements of XB-44's specifications to check Sunwayfoto's production tolerances. Weight is listed as 460g, which, at almost half a kilo might seem a bit high. However, once you hold this instrument and use it you will appreciate what its solid build provides you. Silky smooth controls, and as near perfect performance a Ballhead can provide! The elliptical ball's diameter is listed as 44mm (hence the 44 in the name!), the base diameter is listed as 58mm and height is 79mm. It comes standard with a 50mm Arca Swiss Compatible Clamp with an Offset Bubble Level. The opening ranges from 34mm closed to 38mm wide open. This covers all of the Arca Compatible plates I can think of. My own Sunwayfoto plates work fine, as do my ProMediaGear Lens Plates and Camera L-Brackets. Here are my real world measurements of the above: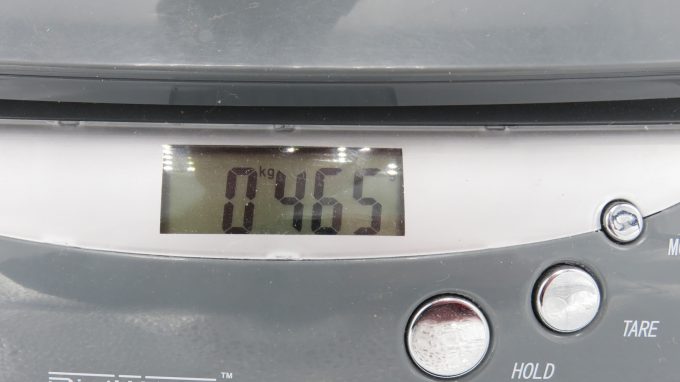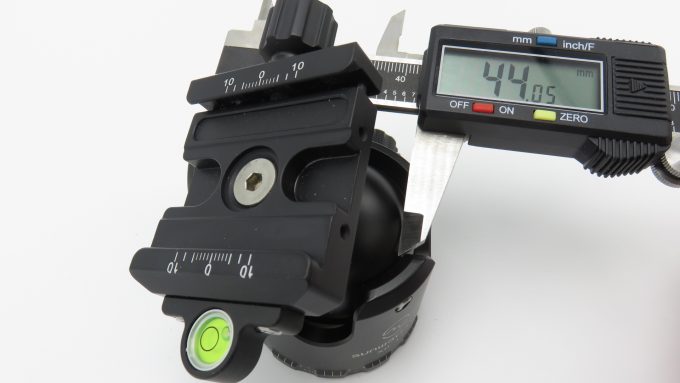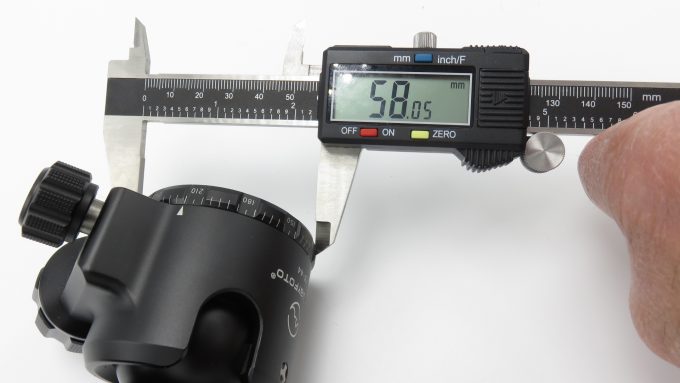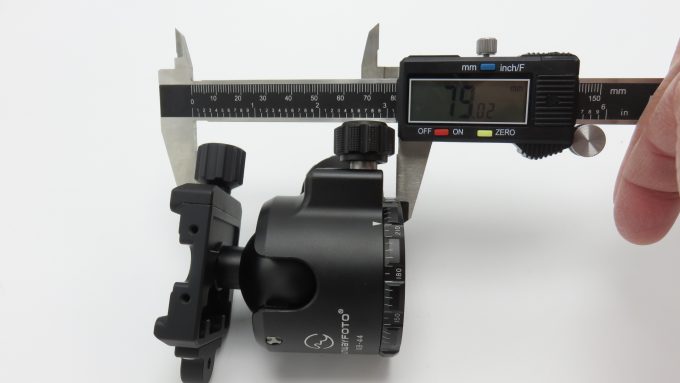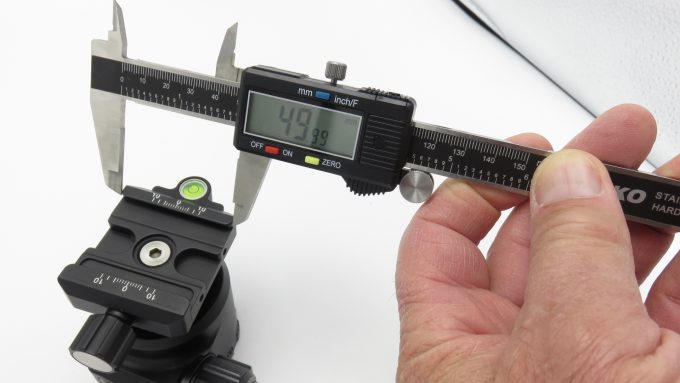 I would have to say that Sunwayfoto's Manufacturing tolerances are spot on. The small variances are probably due to my sub $100 Digital Scale and Caliper. I have done the same with my other Sunwayfoto Ballheads shown here and they are just as perfect in measurement.
Here is my test setup, the Sunwayfoto XB-44 mounted on my Carbon Fiber Series 4 Travel Tripod.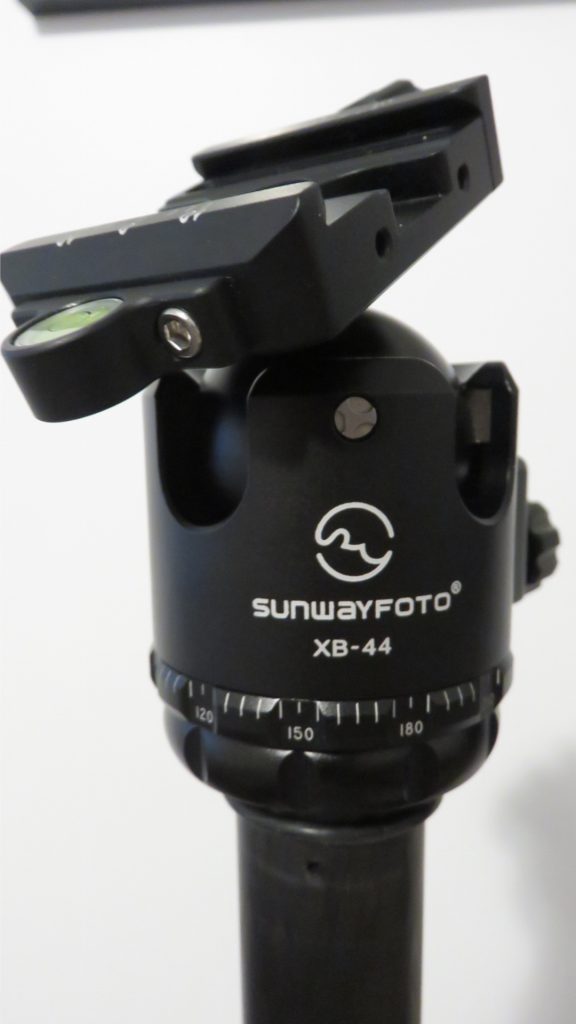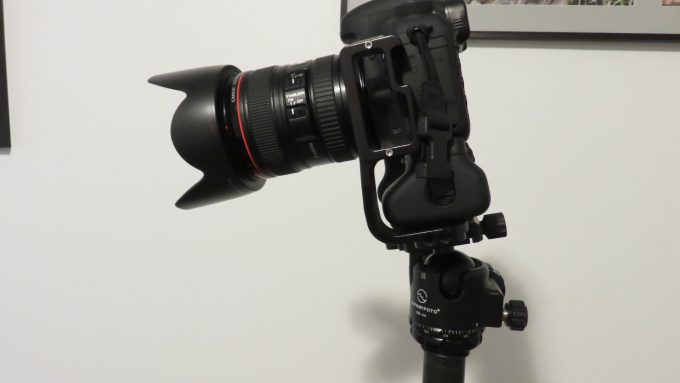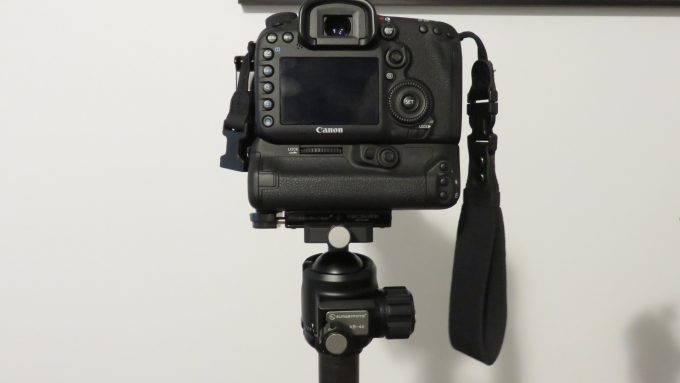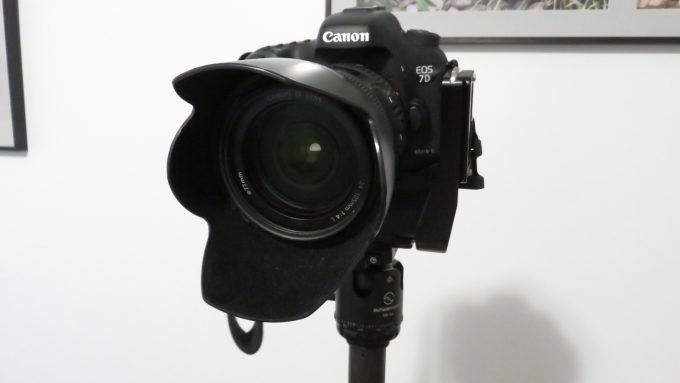 Yes, a traveler that is a Series 4! I get and use heavy duty equipment, as the rigidity and build quality pays off in the long run! My Camera is the Canon 7D MarkII DSLR with Canon BG-E16 Battery Grip. Yes a REAL Canon Battery Grip! Lenses vary depending upon which shot I took. The Lily was shot with the Canon EF 70-200 f2.8 L IS II. The waterfall was shot with the Canon EF 24-105 f4 L IS. The moon shots were with the Canon EF 600mm f4 L IS.
As I mentioned earlier, my field testing couldn't have come at a better time, as some great events just seemed to fall into place.
First up is an HDR shot of the aforementioned Lily. If you are not familiar with HDR photography, the camera takes a series of (in this case) 3 shots at different exposure settings, baseline plus and minus 2 stops to make sure all shadows and highlights are properly exposed. This was shot with my Canon EF 70-200 f2.8 L IS II lens and my Canon 7D Mark II body. They were mounted on my Series 4 Carbon Fiber Traveler Tripod/Sunwayfoto XB-44 combo. The Canon 7D MarkII not only performs the HDR process IN CAMERA, but also will join all 3 pictures into one. No post processing needed!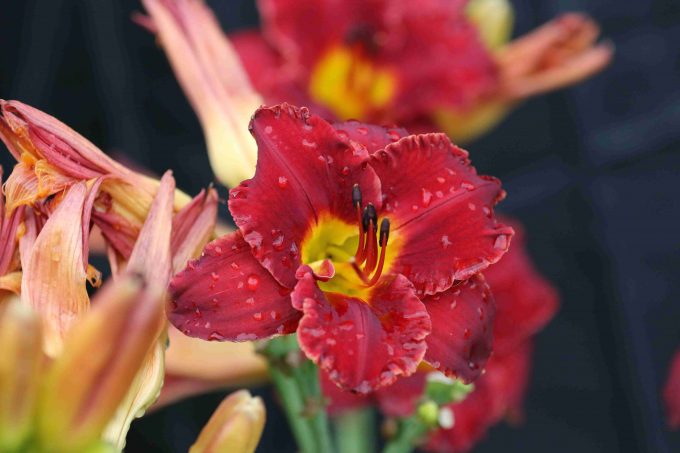 This procedure requires a ROCK SOLID Ballhead, as ANY slight movement will show up as a blur when the 3 frames are merged together. Beautiful!
Next up was a visit to Michigan's Upper Peninsula where one of my stops was to visit and photograph the Tahquamenon Falls in Paradise, Michigan. There are two falls, the Upper and Lower. The Upper Falls (pictured) are one of the largest east of the Mississippi, has a drop of over 50 feet, over 200 feet across and a water flow of over 50,000 gallons per second. WOW! Water Falls, Rivers, Streams and waves are fun subjects to photograph.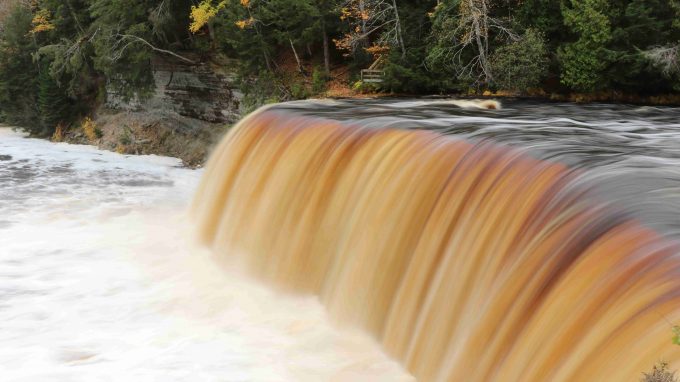 Do you freeze the action, or smooth out the water flow? Opting for the second requires again a very sturdy Tripod/Ballhead combo. Again the Sunwayfoto XB-44 was mounted on my Series 4 traveler Carbon Fiber Tripod. Shot with my Canon 7D MarkII, Canon EF 24-105 f4 L IS lens. Exposure settings to smooth out the water flow were as follows: ISO 100, f22, 3 seconds and an ND64 filter. For a 3 second exposure, your support equipment MUST be up to the task. Notice the tree in lower right foreground and trees in the background are in crisp focus! To further add torture, NO mirror lockup or shutter remote were used. This accomplishment is a testament to the Sunwayfoto's XB-44's Superior Build Quality.
Finally, my field testing concluded with the current Astronomical Event of the Supermoon. Our Moon is this week closer to the Earth than it has been since 1948! I have been waiting a lifetime (and more) for an event like this to photograph, and have shot quite a lot of it. Below is my favorite. It was shot with the following equipment/settings: Series 4 Carbon Fiber Travel Tripod, Sunwayfoto XB-44 Ballhead, Canon 7D MarkII, Canon EF 600mm f4 IS lens, ISO 400, f8 and 1/250 second shutter speed. This shot was when the Supermoon was straight overhead to minimize any distortion created by our atmosphere when happens shooting towards the horizon. This was at 2:24 am.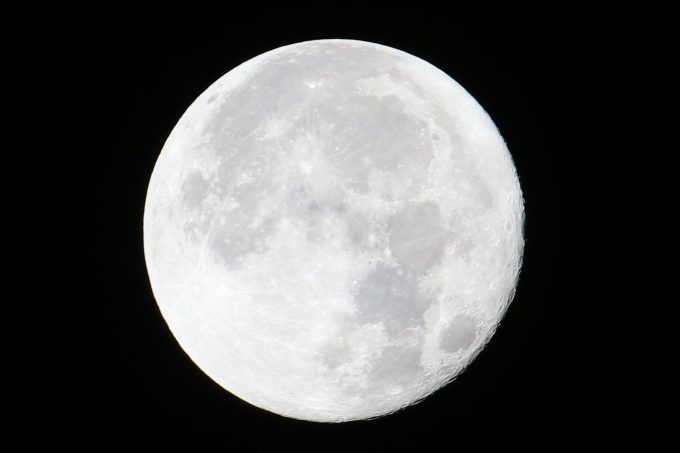 In conclusion all I can say about the Sunwayfoto XB-44 Low Profile Ballhead is totally positive. My experience with this Ballhead showed off its Excellent Build Quality, Extremely Tight Tolerances as well as Precise and Silky Smooth Controls and Operation. During the unpacking, weighing, measurements and field testing I found absolutely NO NEGATIVES or IMPERFECTIONS. This is an off the shelf normal production unit. Over my many years as a Professional Photographer and Videographer I have owned numerous Ballheads from different manufacturers, many of which are name brands, including the 'Big Boys'. The Sunwayfoto products easily compete and in many ways exceed the competition. This is no easy feat; however they have and continue to pull it off all at a very competitive price point.
The Sunwayfoto XB-44 is available at B&H Photo HERE.