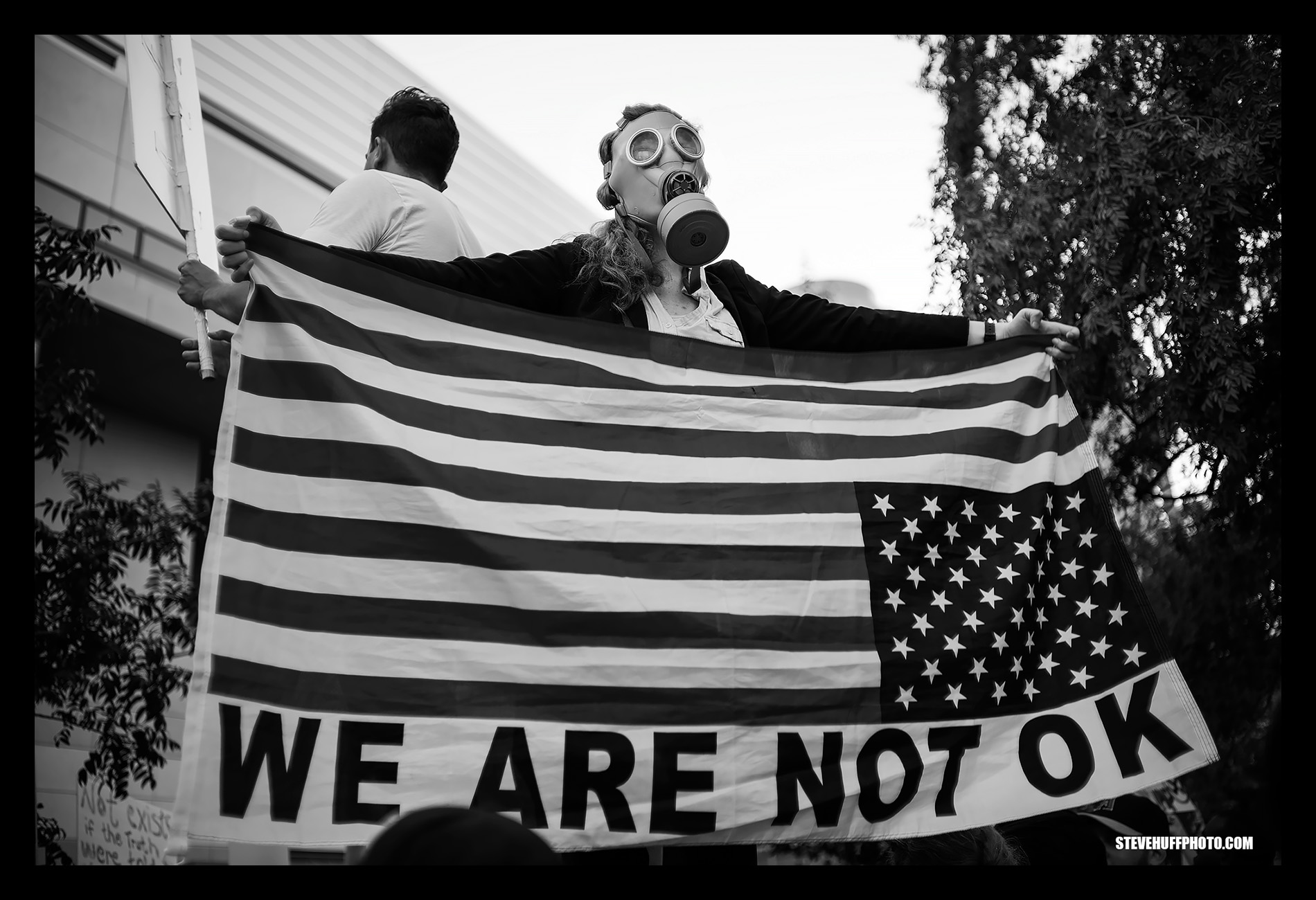 The Leica SL at a President Trump Protest in Phoenix AZ 08/22/17
By Steve Huff
Note: This is NOT a political post. I suggest watching the 8 minute video below to see what MY message is. Anytime there is an event like a protest, of any kind, I go to capture the moments as I did here, here and here in the past. Thank you! If you leave a dumb comment or hate filled comment then you did not watch the video and hear the words and reason why I was there. Hate comments will not be tolerated on this site, EVER. Thank you. 
With the USA divided today more than ever, and me living in Phoenix AZ I had an opportunity to head downtown yesterday to where President trump was holding a rally for his supporters. Of course, with that will come protestors and photo opportunities to capture slices of history that one day we can look back upon to show our kids and their kids the times of today, 2017.
Before I get into some text and photos, take a look at this video I made with a walk through of the protests and some photos I snapped…and remember, I am not here to stir up ay political noise, just photojournalism as that is one of my passions in life.
8 Minutes of the Trump Protest in Phoenix AZ 8/23/17
When we saw on the news that hundreds, if not thousands were heading downtown to attend the Trump rally, and to oppose it, I looked over at Debby and my friend Mike who was hanging out with us and said "WE HAVE TO GO". Protests such as these can at times be friendly, or they can be dangerous as we have learned from the tragic event in Charlottesville just over a week ago. We can vent our frustrations, on both side, and we can stand up for what we as American citizens believe in. It's a prime situation for photos, and at times, those photos can be emotional, powerful or neutral. All depends on the situation, people and emotions that come out.
Leica SL, Voigtlander 35 1.2 Ii at f/1.2 – click for larger and much better version! OH, the middle one was with the A9 and 35 1.2!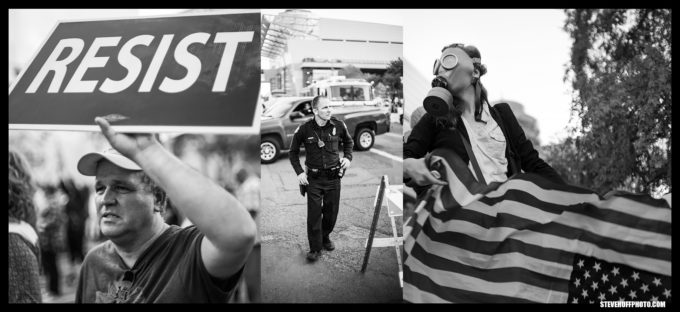 I knew by heading downtown we would be facing traffic, crowds and sweat due to the 105 degree temps in Phoenix but hey, when you get the motivation to pick up your camera and shoot, you gotta do it. So away we went, and it took us about 45 minutes to get there, and 10 more minutes to find a parking spot. Once we did, we walked a few blocks to the convention center where the Trump supporters were shuffling in. We were told that if we were not going in, we needed to move a few blocks back to where the protesters were. So right there I applauded the Phoenix police who kept the protestors away from those entering the center. By doing so, it avoided potential issues that we have seen in the past.
The SL is so easy to use with manual lenses..it's almost addictive. The 35 at 1.2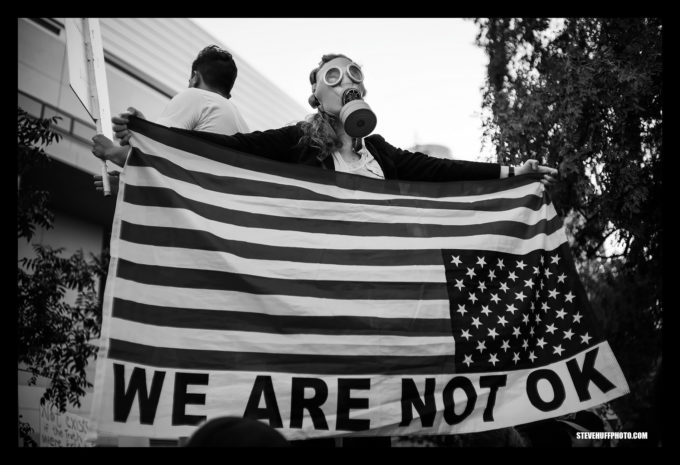 So we walked back and found the protestors ground zero. It was basically across the street from the center but we had to take the long way. Streets were blocked (good) and those speaking their mind with signs ablaze were doing do respectfully with chants of all kinds. Immediately I knew that my 35mm f/1.2 lens I brought along would be too long for most shots as it was TIGHT. There were thousands there to protest and no Trump supporters to be seen as they were all headed into the convention center.
As for me, I have my beliefs though I will not make this political. It's not my Job as a photographer to force my beliefs on to anyone, so all I will say is what I said in the video above. As Americans, we should all love one another. We all live on this earth and we all have to co-exist so I am about love, kindness and peace for all. I do not do hate, which is why I do not even protest. So my message to the world is BE KIND TO ALL.
Again, click it for larger. All shot wide open or at 1.4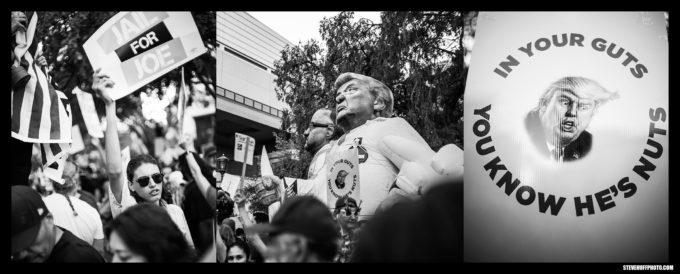 As we walked around the crowd, I was snapping photos with my Leica SL and once again, that 35 f/1.2 Voigtlander Nokton VII. But this time, using it in daylight I noticed my copy had some slight softness that a previous copy did not have. My images were not "popping" like my old one, so I am sending it back for an exchange but even so, some of the photos came out good. I decided, as I normally do with these kind of photos, to go for Black & White. There is just something so classic about shooting demonstrations and protests in this way. Maybe it is from growing up looking at so many photos over the years done this way, or maybe it is just because it feels right..something classic about it. So I shot all in color, but when I arrived home I converted them to momocnrom with Alien Skin Exposure. Quick, Simple, Easy.
Click image for larger.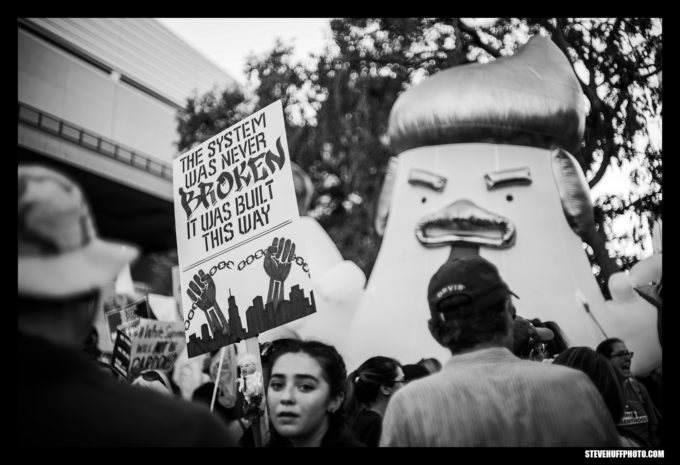 This Phoenix protest, while we were there was peaceful and even with the huge crowd outside, the people stayed in the areas designated for them, and did not take to the streets. But then again, we were there for only an hour, and wanted to leave before the traffic got crazy. The highways were closed off before Trump even started to speak, to keep them open for him when the was done. So when we left, the protests were peaceful, and no one was fighting, anywhere.

We left and my only regret was not bringing a lens in the 24mm range as 35 was a tad tight in most spots and the 12 I had with me was too wide. Even with that, the SL and Voigtlander did great. That lens does indeed provide a unique look..creamy, dreamy, and fantastic bokeh. Getting out to shoot can be invigorating and in Phoenix there is usually not much to shoot, especially when compared to places like New York, Chicago and other big cities. But sometimes, you can find things to photograph and in times like these, I find it important to document so I can one day show my grandkids about these times in the USA. People are passionate, and that is a good thing. I will be doing more shooting with the Sony A9 and other cameras here real soon, just been on a Leica SL kick here lately ; ) MUCH more to come. Be sure to subscribe to my Youtube channel HERE if you enjoy my latest videos. Debby and I will be taking to the road for a new adventure this weekend!
If you want to see more on the Leica SL, see my review HERE, and you can check it out at B&H Photo here. 
You can also check out the Voigtlander 35 1.1II lens HERE.