Leica Monochrom Detail Capabilities and more..take a look
Really? More on the Monochrom?
The Leica Monochrom has been written about many times on this site not only from me, but from many other owners who wanted to share their experiences with the camera. For those who do not want to read any more about it, then close your browser now 🙂 For those asking for the Fuji X20 and Nikon A coverage..hold on..they are coming as well 🙂 For those wanting more on this B&W only camera from the worlds most expensive 35mm camera brand, read on 🙂 Also check out my continually updated sample gallery.
I have recently had a reunion with the Monochrom after selling off my 1st one and yes, it is now back in my hands. Even though my main camera is the Leica M 240 and Sony RX1 and both can do a convincing B&W, the Monochrom does indeed have something about it that I can not put my finger on. Is it mental? Is it silly? Is it an illusion? Well, it could be but not really. The fact is that there is something in the MM files that are different from the M files and especially the M9 files. To make it simple, more micro contrast, more details, and it seems like more shades of grey which all come together to give a bit of a different rendering over what the M gives me with B&W. I love my M 240 with a passion and have used it every single day since it arrived. I have been using it more than I used my old M9 and it is a beautiful camera (just like the M9 is still a beautiful camera).
But the Monochrom is different. It is a specialty tool that does one thing and when a tool is designed to do one thing it usually does that one thing VERY well. 
Is it Better? Most would say "different". The MM does do better in low light (than the M9 and M) past ISO 3200 and all the way up to 10,000 and if you are a street shooter, the MM is probably the worlds best street shooting digital camera. If you are into fine art B&W, the MM is the worlds best digital 35mm for B&W. If you want to take B&W portraits with amazing silkyness and unique B&W qualities, the MM is the worlds best B&W 35mm digital. If you want to capture the most detail you can possibly capture, to the point that you simply can not capture anymore, the MM is the worlds best digital 35mm B&W dedicated (Nikon D800E is up there as well).
Little Man – Monochrom and Leica 50 Summitar from the 1940s. BTW, this shot is not Photoshopped. The kid has makeup on his face as we were at a Zombie event. He was mad at his parents for some reason and had just been crying. I thought he looked like an older man in a boys body and asked his parents if I could take his picture. They said yes, so I did. But the dark spots on his face are from his makeup, not photoshop 🙂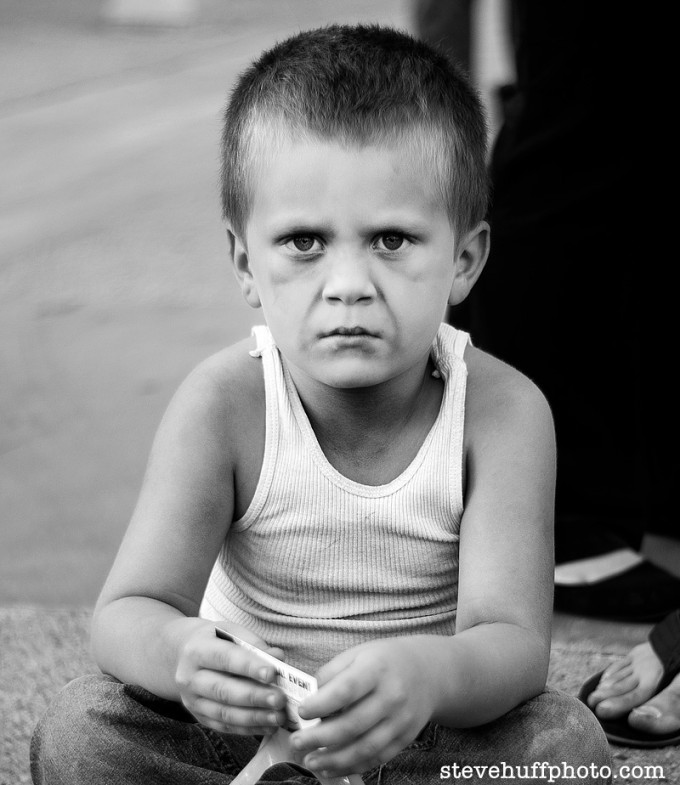 ReVisiting the MM
I attached one of my external hard drives I use for travel and  was going over some older shots I took with the Monochrom (in addition to a couple of new ones) and I was flabbergasted when I opened one of the files up in 100% full size. I spent a good 15 minutes scrolling around and looking at the detail in the photo. The windows, the curtains inside each window, the clothes hanging out to dry. Wow.
*The original file was exposed incorrectly and the house was too dark and I ended up running a Silver Efex Preset through it and it instantly came to life. It also added noise but it doesn't matter as it looks great.
Many have said "The Monochrom can not look like film" and this is mostly true but these files from the MM are superb and I feel they surpass film. Ive shot thousands of frames with Tri-X and it can be gorgeous but it can also be not so gorgeous. As with any form of photography, it is really all about the light. If we shoot in bad light with film, the results will be flat. If we shoot in bad light with digital, results will be flat. I know there are many film lovers and die hards but for me, I just do not have the time to shoot film and I prefer not to deal with the limitations. We are in an age of "no limitations" and "no compromise" when it comes to photography. Most cameras made today, even $300 models can do amazing in the right hands. Technology has come a log way but a camera like the Monochrom is for the few who prefer a tool that will make them think, work and LEARN.
With the MM you do one thing and one thing only. Shoot B&W photos. You can not fall back on color, you can not shoot video, you can not use an EVF. You simply aim, compose, expose and fire.
I know I have recently done some side by sides with the Leica M but have not yet seen the level of detail from the M that I see in the image below. My crops in my last test were close but for super fine detail it does not beat the MM.
For detail freaks the MM does not disappoint. For those  that do not care, just about any camera can do the job and even the Olympus OM-D E-M5 does a convincing B&W.
Details…
The image below was shot with a 35 Lux FLE and you can see the distortion (that I did not correct) but what is blowing me away is the detail. THIS is the detail everyone speaks of when they praise the Monochrom. I have a 27″ display and it looks amazing when viewing details at 100%. Remember, the noise was added when I ran it through Silver Efex.
Click the image below to see the full size file.

Click it and take a look at the amazing detail at 100% – you can even see me in the doorway reflection 🙂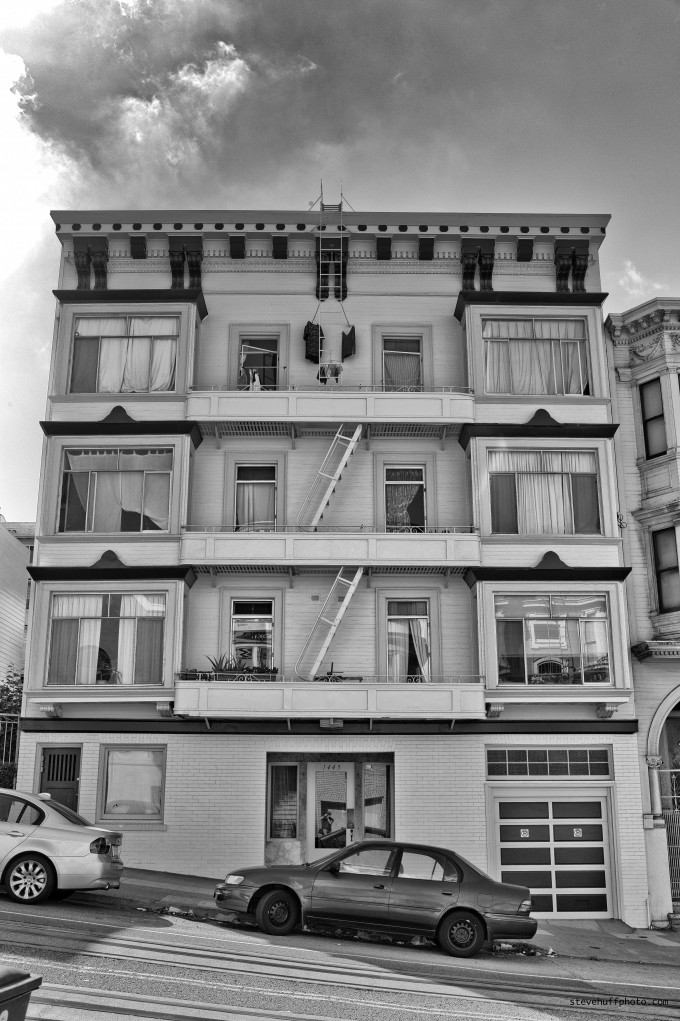 or you can click on the 100% crop below to see the detail at 100%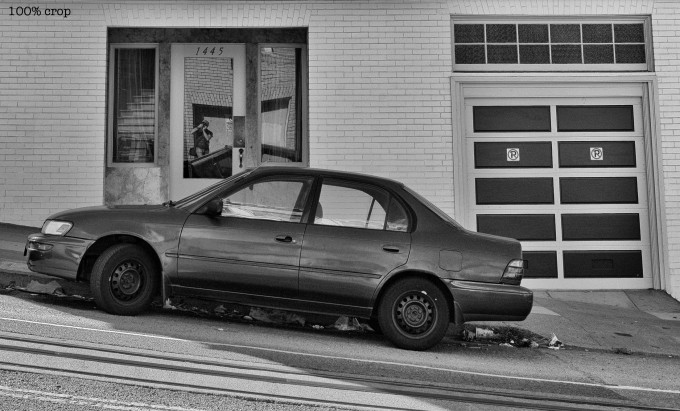 –
High ISO
I was out with my fiancée last night and brought the Monochrom with the Zeiss 50 Planar along. ISO 6400, f/2 – click it for larger. No PP, this is direct from camera..at 6400 in a very low light room.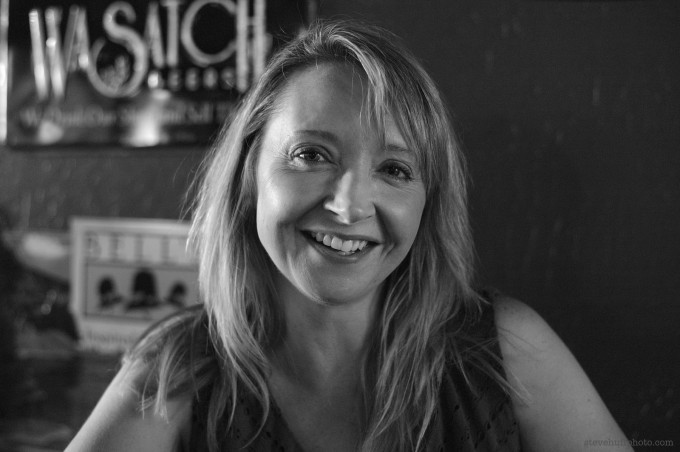 –
One more quick snap direct from the RAW file. Shot a Hummingbird while taking a walk in full AZ sun with the Ziess planar and the 100% crop is embedded when you click the image…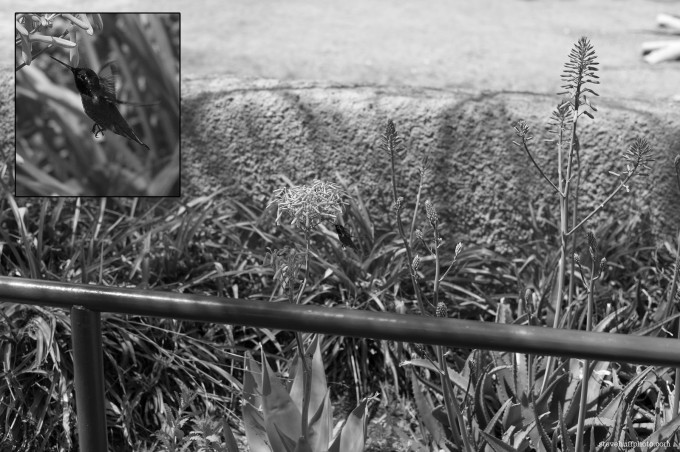 –
I have to say that after testing the Zeiss Planar 50 on the M and MM…I have come to the conclusion that it is one of the best 50's available in regards to IQ that you can buy for these cameras if you love detail, pop, smoother Bokeh than a standard summicron and VERY rich colors. I will have a new look at the Zeiss 50 Zm on the M and MM soon. At under $900 it is a deal if you can swing for a Leica lens after spending so much on the body. It is not equal in build  to the Leica cron but IQ in many ways surpasses it. For $2100 or the cost of a 50 Summicron you could pick up the Ziess PLanar f/2 and Zeiss Sonnar f/1.5. I feel the Planar does best on the M and the Sonnar does best on the MM. Both are stunning lenses.
Finally a shot at night with a 35 Lux FLE at ISO 1000. Click it and take a look at the detail. I originally underexposed so had to bring out some shadow detail which brought out more noise.
But this was shot around midnight in San Francisco.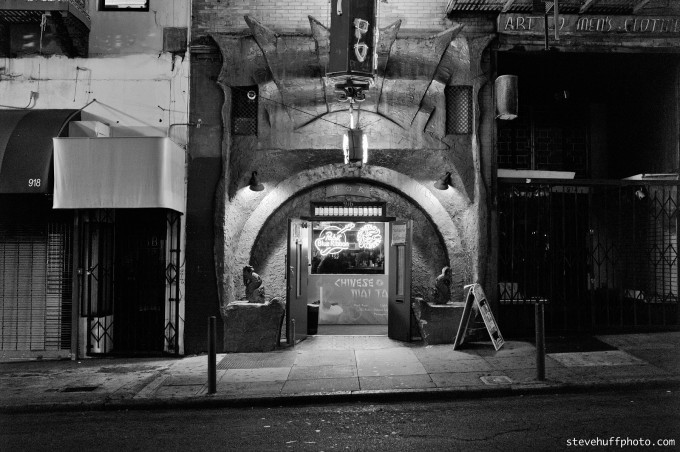 The Monochrom is camera that has brought with it excitement, controversy, anger, hatred and passion/love. Some adore it, some hate it, some act like anyone who owns one is not right in the head for spending that kind of cash on one. One thing remains constant. Those who do own it seem to be VERY passionate about it. More so than any other camera I have seen. I have spoken with many MM owners and they all tell me it is a camera that will stay with them until they or it dies. That says a lot. It even works extremely well with classic and cheaper lenses.
Do you need this camera to shoot decent Black & White? Absolutely not! Like I mentioned earlier cameras like the OM-D E-M5 do great as well. So does 90% of other digitals on the market. The Mono is for  those who want a tool that will help them grow, give them no other options and also give them the worlds best B&W output in the 35mm digital world.
Steve