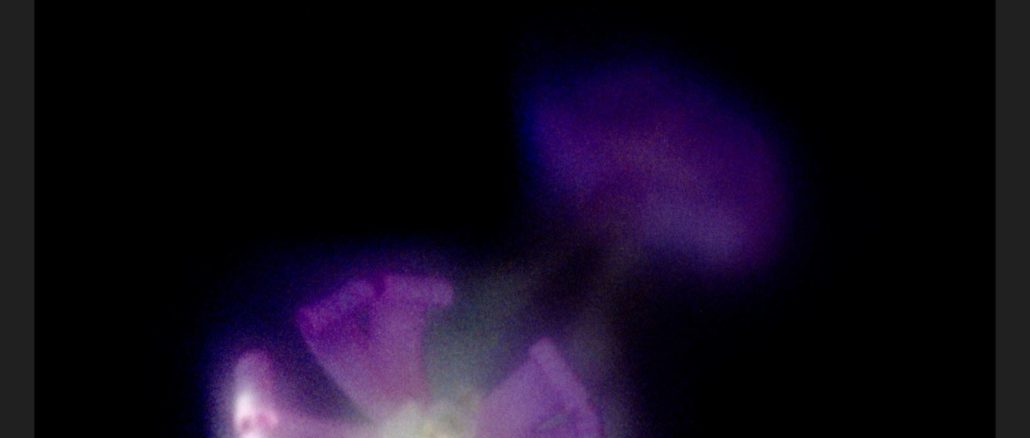 Flower photography at the Costa Blanca, Spain
With film, Canon F1 New and an oooold Petzval lens!
By Dirk Dom
Hi!
My true passion is flower photography. About three years ago I adapted a 100+ year old Petzval lens (about 150mm focal length and f/5.6) to my digital Olympus PEN and my 1980's Canon F1 by putting it on an FD extension tube through a bronze tube which I machined. I photograph flowers with it. I use more FD extension tubes (50, 20 and 12mm) to get closer. The combo weighs about five pounds!
I switched back to film five years ago; the results are (to me) beautiful and often totally unexpected in texture, grain and colors. Film is also vastly cheaper than digital: I use great camera's which I buy at maybe 5% of what they initially cost.
The Petzval is a very difficult and annoying lens. It has a mind of its own. It's very soft focus and often I just can't get it focused. What I see in the Canon F1's viewfinder isn't at all what I get on my negative. This has been extremely frustrating, and three times already, I 've almost sold this lens. But the results I sometimes get make me keep on photographing with it. Maybe I'll be able to control it in a few years.
I shoot Fuji Superia 800 color negative film for its texture, colors and grain. At f/5.6 and 1/1000 I overexpose about three stops in the sun, but color negative film easily handles that. It just doesn't burn out.
This two week stay there weren't many flowers yet because the weather had been cold. I went on long walks, ten to nineteen miles a day. I took about 180 flower photographs, five films, $55 including developing. I had 15 keepers.
Now, here 's some results!
There are millions of flowers and hundreds of millions of flower shots. So boooring!!! I didn't really bother with ordinary compositions. This is one is an exception, with it's nice composition and colors.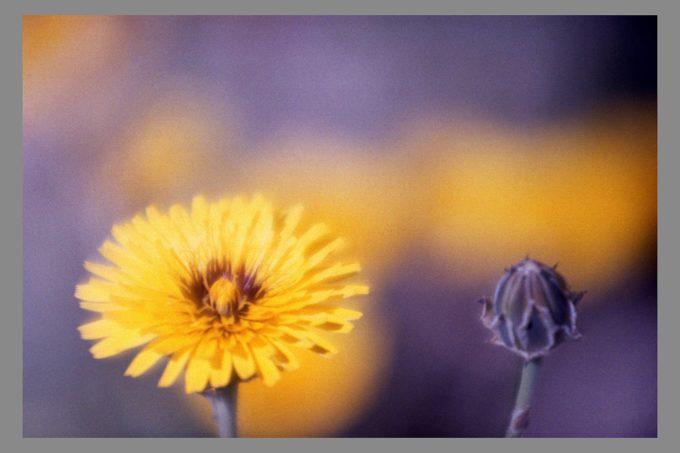 –
Thyme. A great mess of 3/8th inch flowers. I've been photographing it for years but just can't get a decent shot as beautiful compositions are impossible. This is a nice one.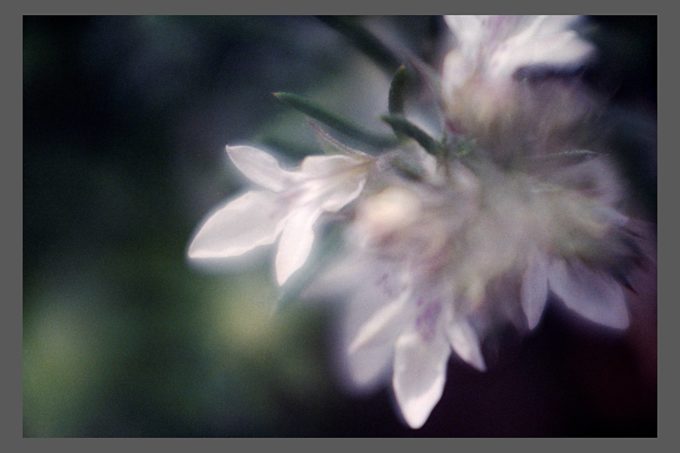 –
Lavender, against the sky, backlit, later in the day. See how film captures the golden light?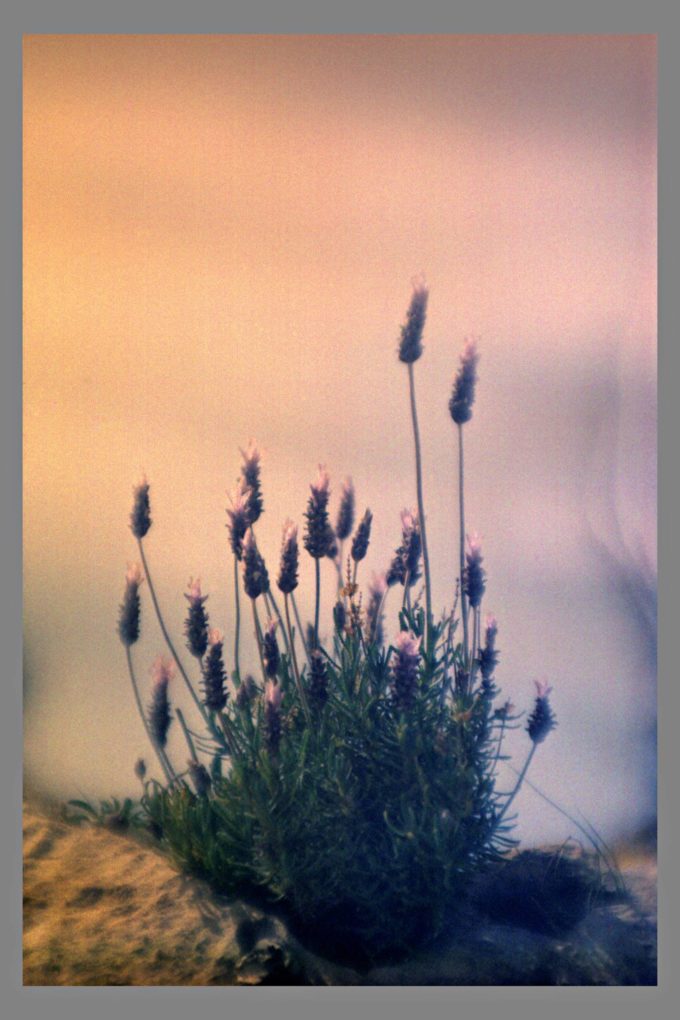 –
I only shoot wild flowers. This little one showed up in my parent's garden about five years ago and has been multiplying, behind the flowers there is a spot of sun. This shot was so delicate and low contrast I had to restart post processing seven times to get it right and not destroy it.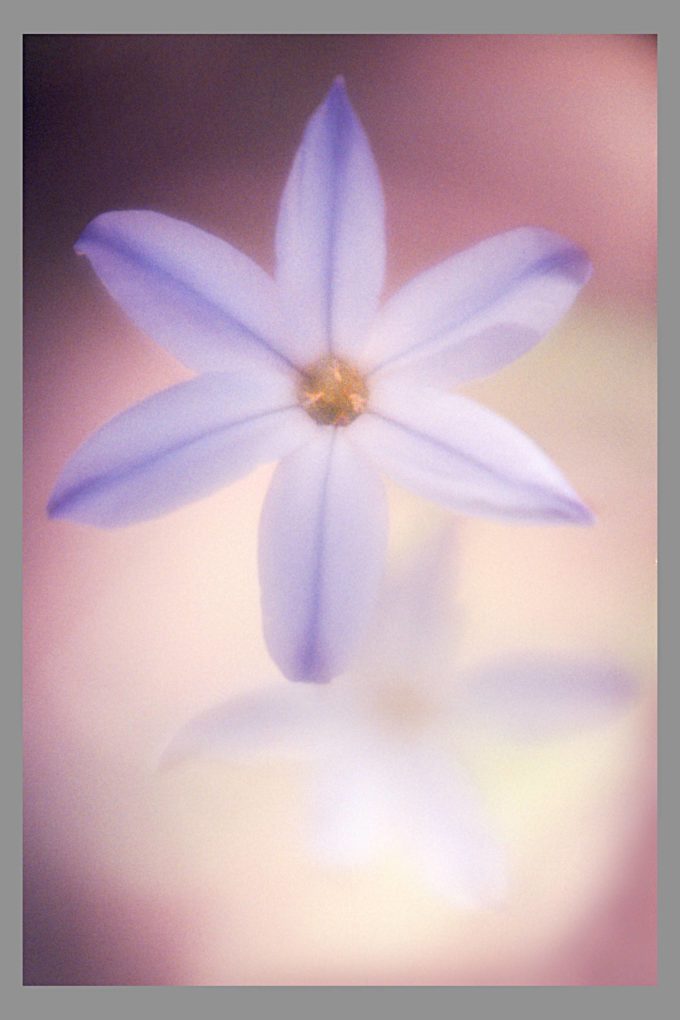 –
With the Canon Speedfinder, which swivels up 90 degrees, I can shoot at ground level and see the viewfinder image. It shows the entire image from 2 ½ inch eye distance.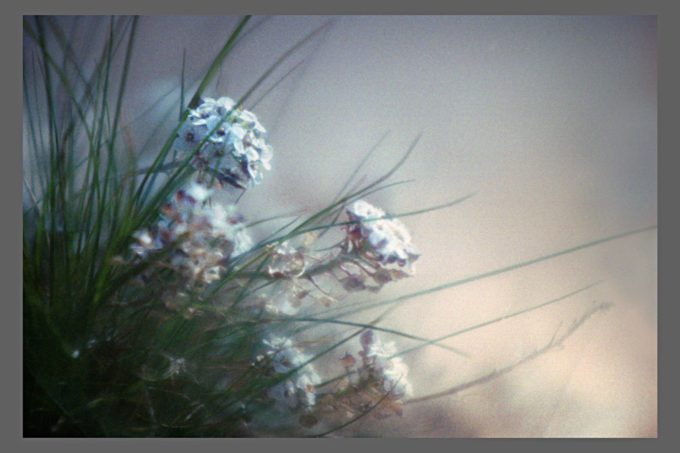 –
Taken angled upwards from ground level.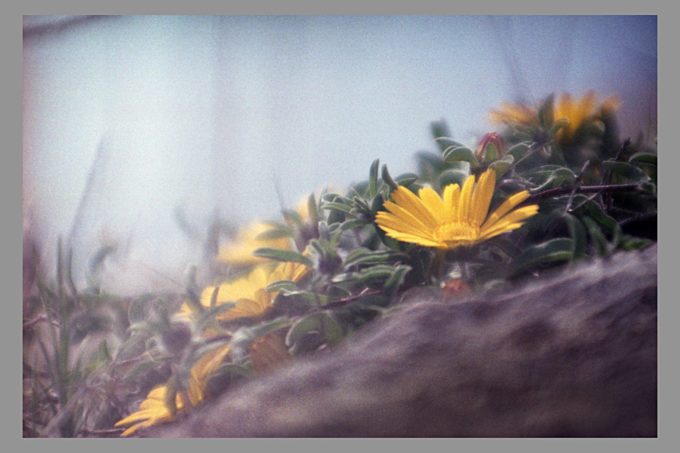 –
A  little leaf of grass ends in ½ inch of red. It caught my eye and I wasted a shot on it. To my surprise it came out nice! What I saw in the viewfinder was totally unlike what I got on film.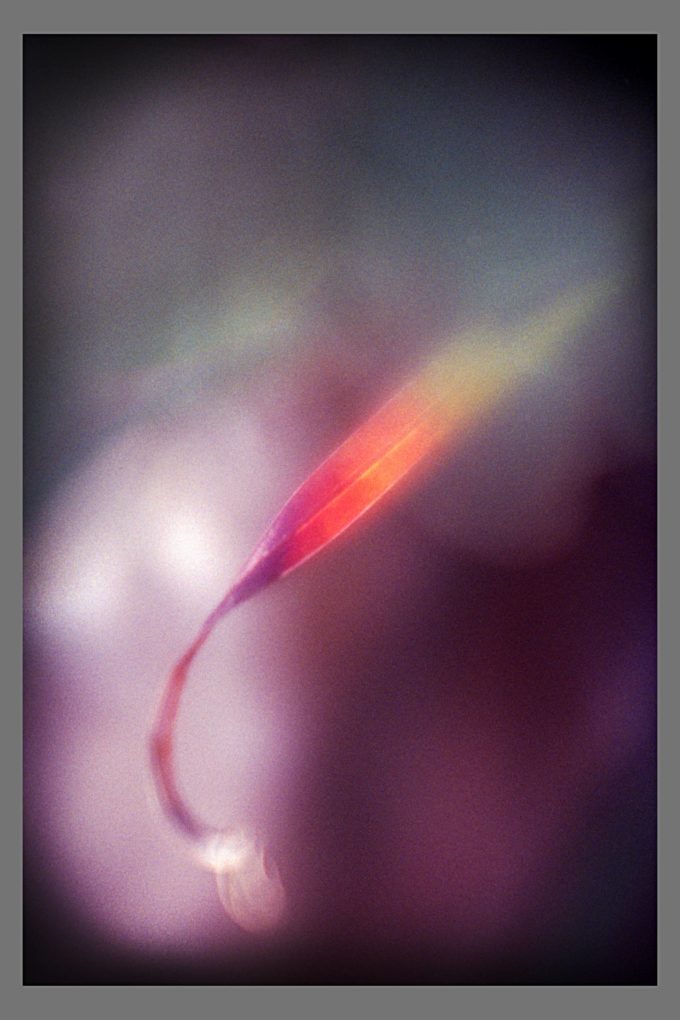 –
Buttercups, very ordinary flowers which I just love.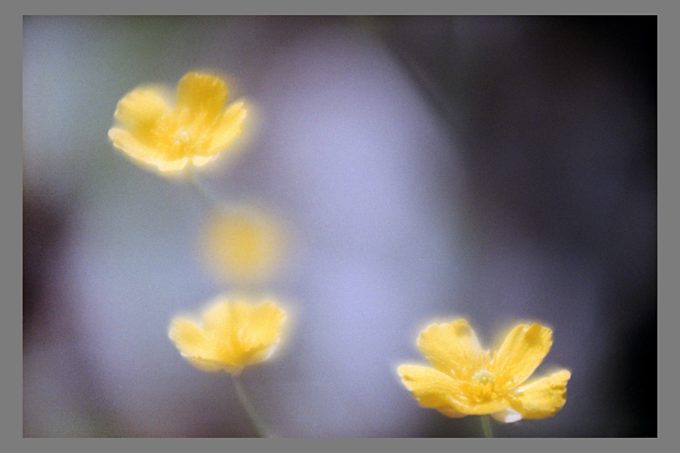 –
Sun Roses, another favorite flower of mine. Difficult to get them into a nice composition because they are always so close together. This shot perhaps isn't real beautiful, but I like it because it shows such a variety of colors and textures. Film renders shadow blue!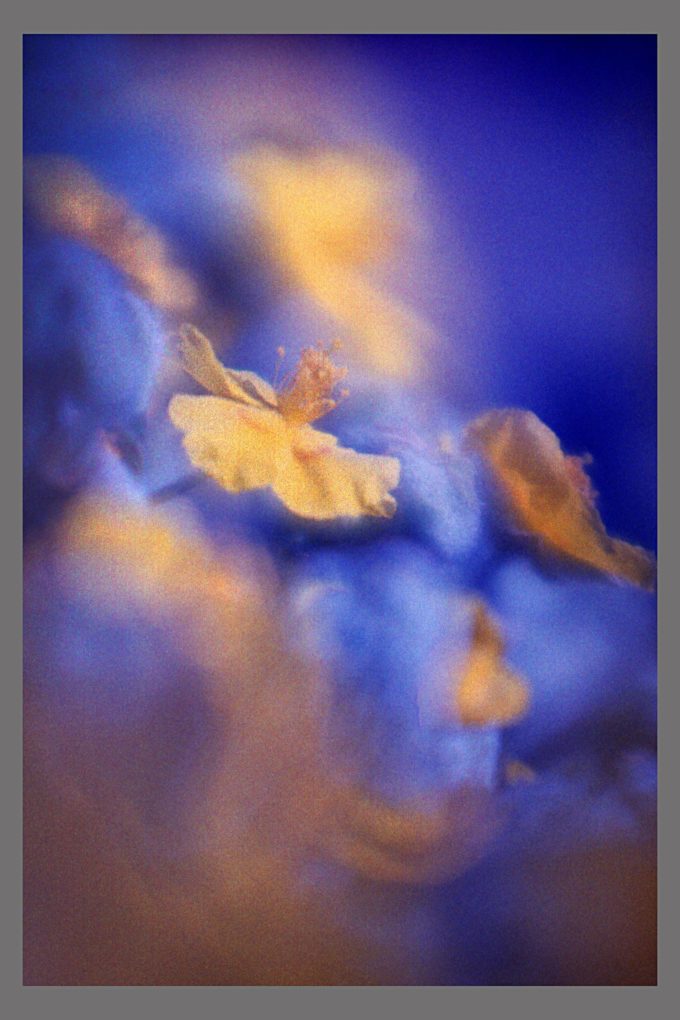 –
Garlic.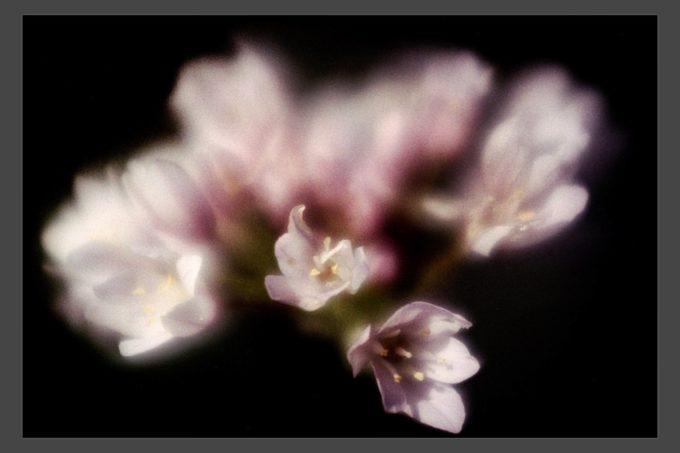 –
This little flower was in deep shade, lit by a small ray of sun.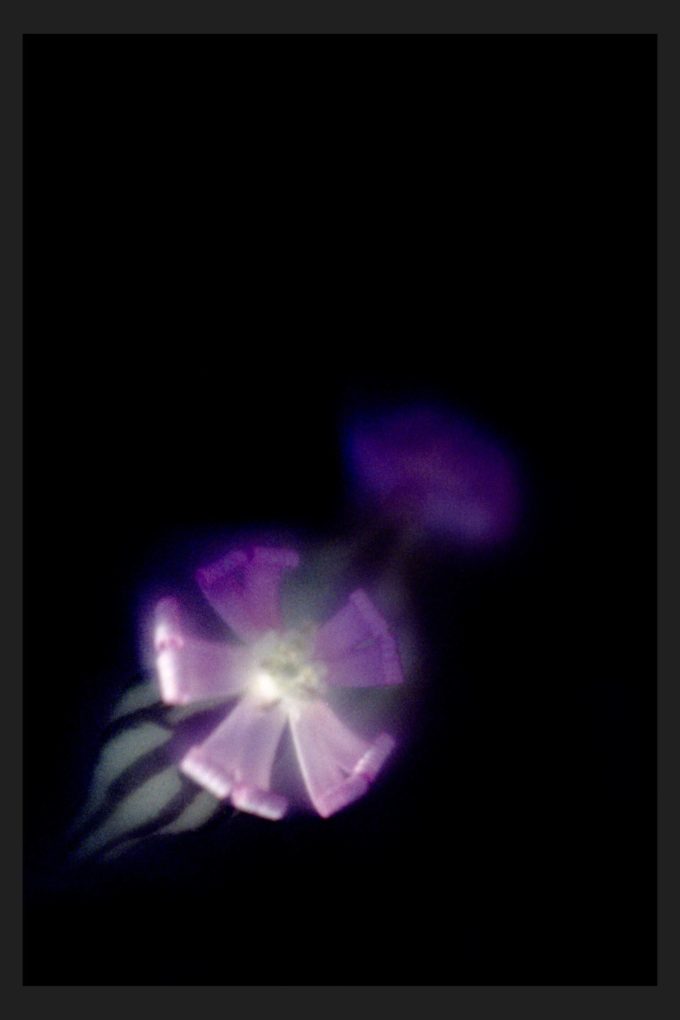 –
Dry flowers from the year before are often fascinating.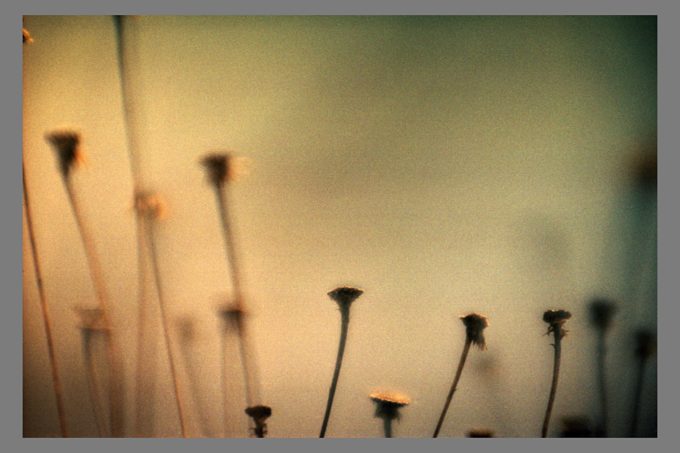 –
This is a typical Petzval one: The unsharp dry flower in front came out totally unexpectedly.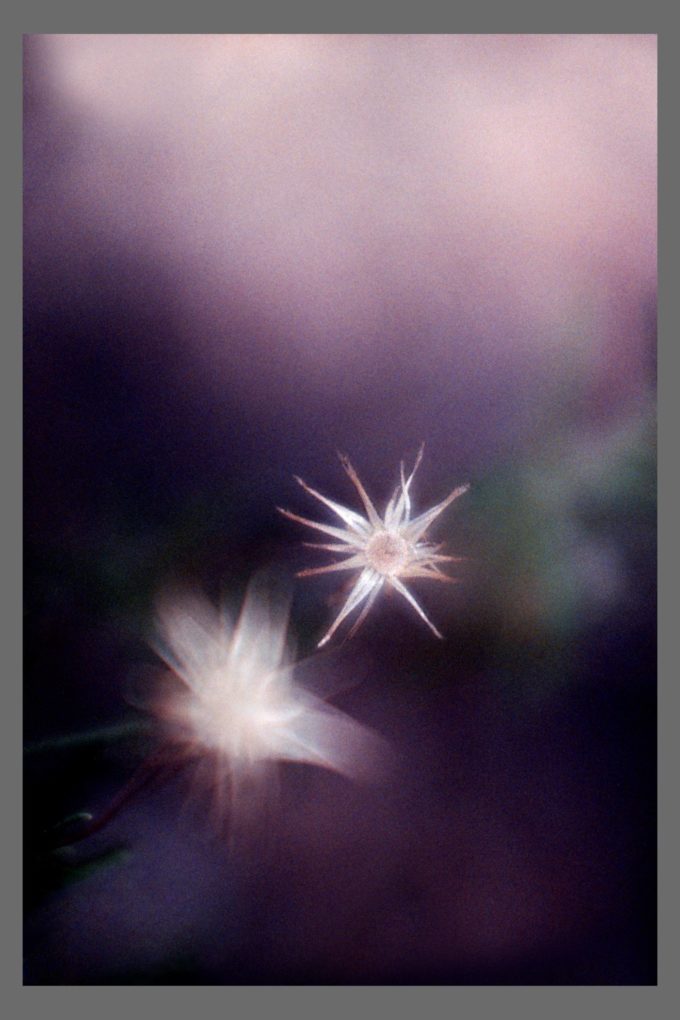 –
This Spurge (Dutch: wolfsmelk) shot came out as a complete surprise. I took it on a building lot with a mess of weeds, you 'd not look at it or think about going on it because there was nothing beautiful. This photograph shows how nicely blue film renders shade.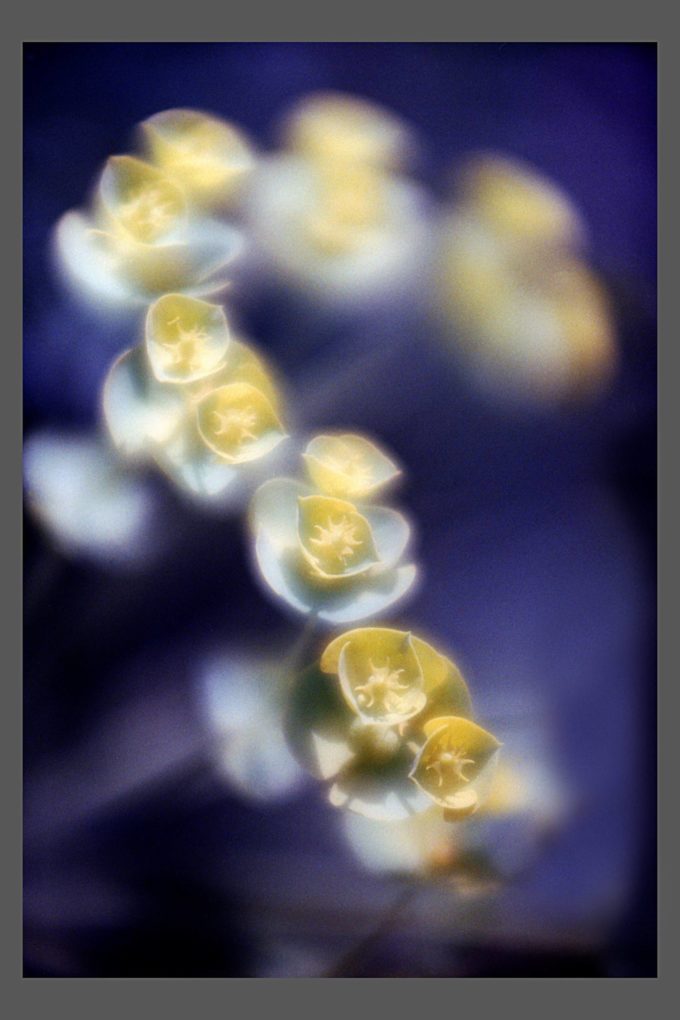 –
Well, these were the good photographs.
I realize that these may look kitschy, but this is what I love photographing.
Scanning the negatives after I get the film back is perhaps the most pleasant part of it: Then I see all the potential opening up!
Hope you enjoyed it,
And…
Waste some film!!!
Dirk.