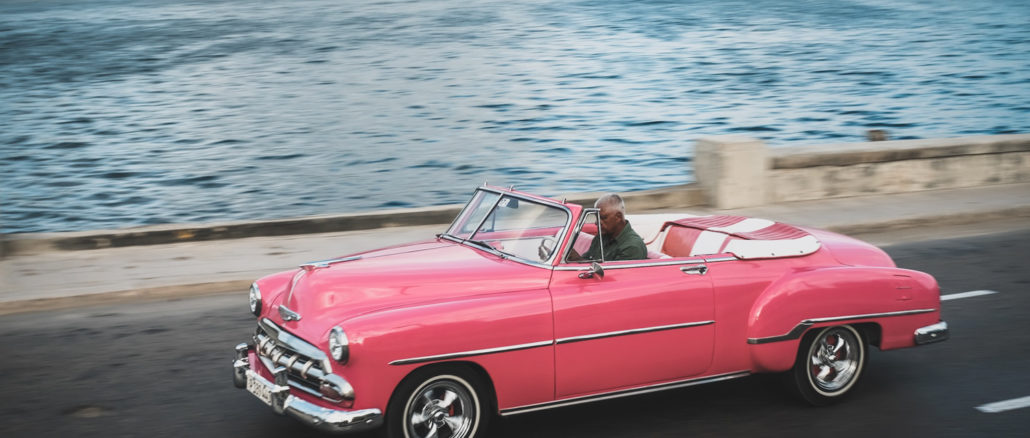 Cuba often gives tourists the impression of traveling back in time, a feeling mostly created by the number of antique 1940's and 1950's cars. How is it that so many vintage American classics ended up in a country that our own government warns us about visiting?
Before the Cuban Revolution, the USA owned huge shares in the industries of Cuba. There was quite a bit of trade going on between both countries, mostly thanks to the relationship between the US government and Batista, Cuba's dictator-like president. Many US-built cars drove the streets of Havana carrying around wealthy American tourists. Even though most metrics indicated that Cuba's economy was thriving, the Cubans themselves were suffering. Income inequalities were growing and the ones who benefited the most from this thriving economy were wealthy American businessmen and a few Cubans in power. The country was ripe for a revolution.
The Cuban Revolution happened in the late 50's and the US started implementing a massive trade embargo, prohibiting the import of new US cars and parts to Cuba. Castro's newly established communist government didn't have the funds to import quantities of cars from Europe and Asia, and the Ladas from the Soviet Union kept breaking down. Making things worse, Castro's oppressive administration prohibited Cubans from buying their own vehicles; the cars had to be assigned.
After the Special Period when the USSR collapsed and Cuba's economy all but disappeared, the government reopened its borders to tourism. The old rusted-through US cars started showing up again as tourists loved riding them. Since then, Cubans have been able to keep these vintage cars running with amazing ingenuity. They've fixed them up with bondo-like concoctions (often made of boiled yogurt containers), components from other cars, self-made parts and engines from other diesel cars, trucks, tractors and boats. Yes, the majority of these cars are indeed rust-buckets held together with twine, prayers and duct tape. Well, except for the duct tape since it can't be purchased in Cuba. However, the cars do show well from the outside and the nicer ones are usually used for taxis.
Osmany, our host in Cienfuegos told us that getting simple parts such as standard nuts and bolts for his totaled Chevy Bel Air was a real challenge. He ends up adapting parts from Jeeps, Ladas and other homemade components. The engine for his car is a rebuilt Mercedes diesel engine. The restoration will take him years and when done, he plans on using the car as a taxi.
Cubans predominantly get to where they need to go by hitchhiking (their main mode of transportation), taking buses, riding bicycles, horse carts and walking. Hitchhikers gather on highways and wave pesos at passing vehicles in hopes of getting picked up. There is even a government system for organized hitchhiking: officials wearing yellow uniforms, "amarillos," stop vehicles and match passengers with similar destination.
While Cuba appears to have nice looking vintage cars, most of these are barely holding together and the nicer ones are reserved for tourists. The current administration has loosened its grip and is now authorizing Cubans to own and run private businesses. Even though Cuba looks like its falling apart, its economy is improving and more people have access to modern comforts, including vehicles.
The country is changing, slowly yes, but surely even though it will be a while before Starbucks and McDonald's deface Cuban cities. With these changes comes the import of foreign cars. The US trade embargo is still in place, but other countries manufacture affordable cars. The streets of Havana are starting to flow with more Asian and European vehicles. The rusted US classics most likely won't outlast these modern foreign cars but hopefully tourism will be enough to keep them on the roads a little longer.