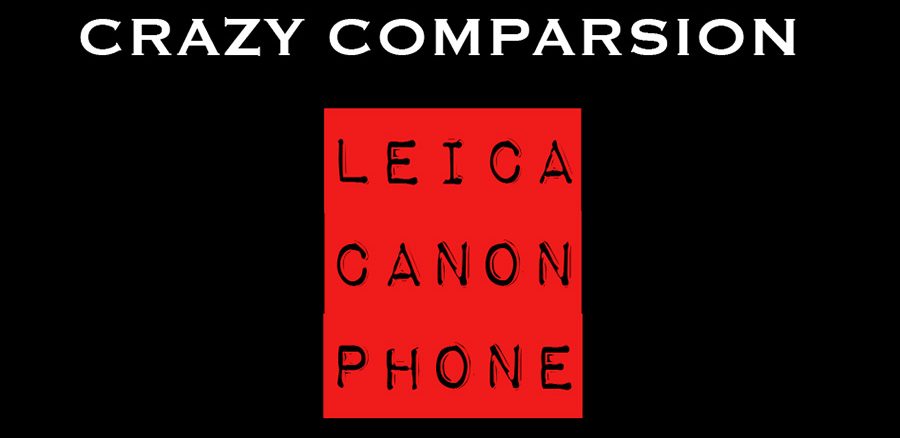 Crazy Comparison! Leica Q2 vs iPhone XS vs Canon EOS-R
By Steve Huff
Man, it's been a long time since I have done one of these silly crazy comparison posts…a LONG time! I used to do these every few weeks and today I was inspired to take out the Q2, iPhone Xs and Canon EOS-R (which has been my workhorse for video and photo for the last several months). Since the Q2 has an in camera crop mode I decided to shoot it at the 35mm crop for two reasons. One, because I had a Canon 35 f/1.8 RF lens on the EOS-R and  also because I thought it could be cool to show the difference in DOF between a cropped 35mm frame of a 28mm lens vs a true 35mm lens on full frame.
The Leica Q2 has a 28mm lens, but can be cropped in camera to 35. 50 or 75mm. By the time you hit 75mm you are down to 7MP of resolution but it could be useful for some. Many have asked "Why crop in camera"? I say "why not"? If you want more reach the cool thing is you can press a button without taking your eye from the EVF and crop in to one of the three extra focal length crops. This allows you to frame the shot within the camera as well. You lose megapixels of course, and you will not have the depth of field of a 35, 50 or 75mm lens but it will give you more reach if you need it in a pinch.
Now, as I said in my 1st look of the Q2, when I open the RAW files I have no option to get the full frame file if I shoot in crop mode. If I shoot in 35mm crop, my RAW files are given to me cropped. But I use Bridge and ACR/Photoshop. Yea, I am an OG in this regard. I have my reasons but this is how I always worked and still do. So in Bridge, you have no option for the full frame 28mm file that I can see when opening the RAW files, if you shot in a crop mode. There may be a way to do it, but I have not seen it so my RAW files are cropped. In Lightroom you can of course bring in the full 28mm frame even if you shot it in a crop mode.
My EOS-R has been my workhorse mainly for video since the day it was released. I recently added a Canon C100 II for some video work, and have a slew of video related cameras for that purpose alone. I have also used the EOS-R for photo work and have found it is actually like a slightly better 5DMKIV. Better shadow detail even though it is supposed to be the same sensor. Swivel LCD. Smaller. EVF. It's not as good as the 1dXII in IQ or low light though. Even so, I have been shooting it with the 16-35, 24 1.4, 50 1.2 and 35 1.8 RF lens. Never a hiccup or issue.
The iPhone Xs...I just upgraded to this phone and decided to see how the portrait mode would do with everyday bland shots, to compare against these two photo cameras.
As always, these are JUST for FUN. As always, I shot each lens wide open (on the cameras) and let the phone do its full auto thing. This is not a test to match DOF, it is a test to see what comes out of each camera, and more specifically what comes out of the Q2 in 35mm mode vs a 35mm lens on the full frame EOS-R.
See which shots you prefer. These are right out of camera. Some from RAW, and a couple of JPEGs as well. BTW, I also shot the Q2 at one of my low light concert locations this past weekend and it did not do well in low light. The JPEGs were pretty mushy and it couldn't seem to handle the lower light as well as the Canon EOS-R (which is not a low light champ itself). I will have more in my full review of the Q2 but so far, think of it as a higher res Q1 with a better battery and EVF and more resolution.
On to the comparisons!
Click the images for larger and full crops! 
These are right form camera and with the Q2 and EOS-R they are from RAW. The Leica Q shot at f1/.7 wide open and the Canon at f1.8. The Leica was shot in 35mm crop mode. The iPhone Xs shot is right from the phone. 
Image set #2
Same as above in regards to settings, click them for much better view..which do you prefer?
Full size files
These are not marked but image #1 is Leica, #2 is Canon and #3 is the iPhone. These are FULL size out of camera images. Click them for full size. You can see the more shallow DOF on the Canon as it is using a real 35mm lens where the Leica is cropping into a 28mm lens. 
More…
1st shot is from the Leica, 2nd from the Canon and third from the phone. Wide open, and same settings but these are JPEGS. 
and more…
1st image in each series is from the Leica Q2, 2nd from the EOS-R. Click them for larger. 
So there you go. Just a few random shots to try and show the differences in these cameras. Which do YOU prefer? Now of course all of these are different when shooting. The Leica is simple and almost feels like shooting an M in many ways. The Canon feels like shooting a Canon, almost DSLR like with an EVF and the iPhone is as basic as it gets. The Leica offers and all in one solution, the Canon IC lenses and the phone is well, another all in one solution. I will also be testing the Leica Q2 side by side with the Sony RX1RII this week. Probably taking a drive up to Sedona to do so. Should be fun ; ) Stay tuned…