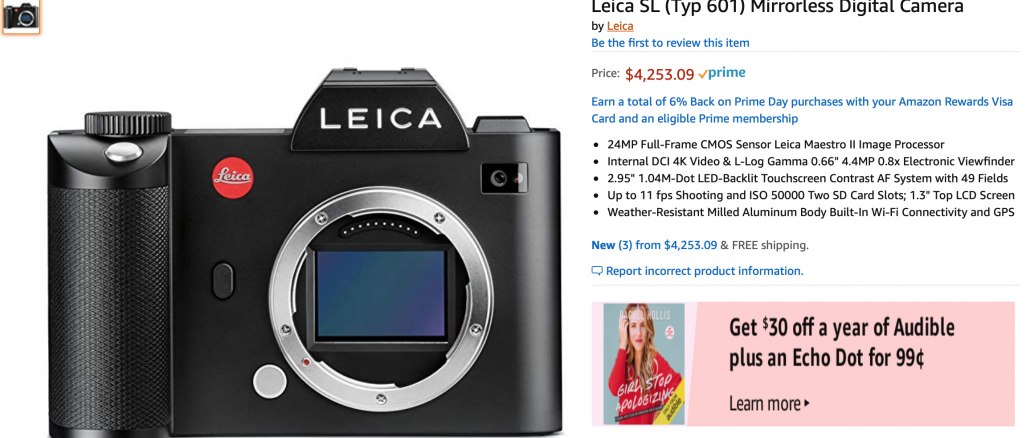 Amazing Deal on a new Leica SL! $4250 and five in stock AMAZON PRIME.
You all know I love the Leica SL. Even today it is a superior camera to most mirrorless out there when it comes to build, beauty, simplicity and even IQ. The colors and depth that comes from this sensor is beautiful and the way I shoot the SL is with small M mount lenses. Yep, the Panasonic S1 is out and I own one but the SL, believe it or not, still gets use from me as I find the IQ different from the S1 especially in the color dept (I prefer the SL colors).
The SL started out at $7500k when it was launched. Then it was recently reduced to $5995 but with some searching I was able to find five in stock at Amazon for $4253.09. Odd price number and I would normally be skeptical but these are listed with Amazon prime, and I have ordered from this seller before.
I have never seen the SL brand new for less money than this. Used, yes. New, no. So if you have still been thinking of the SL, this is as good as it gets for a brand new in box camera. B&H Photo still has them listed for $5995.
You can check out the special price at Amazon HERE.
Will there be an SL2 soon? Maybe. Probably. Yes, I think so. Soon.
But will it lose the charm, simplicity, and design of the original? My guess is yes. My guess is that it may also jump to 47MP and that Leica may kill off the 24MP version. I also feel the new one will cost much more, possibly back to the $7500 of the original release price. The original still works as well today as it did at launch and the SL is still a very serious camera with amazing image quality. Some of my fave images that I have captured over the last 20 years have been with the SL.