To qoute my favorite cartoon character Popeye, I have to say that "I've had all I can stands, and I cant stands no more!" Yes, I have had it with certain people who are stuck in the stone age and think that software like Photoshop is the end of photography. Yes, I am going to rant here because quite frankly, my wife could care less. She will not listen to my photography rants so you guys get to hear it! You may not agree with what I say but it doesn't matter. No, it doesn't. As a matter of fact, it doesnt even matter if you read this. I just have to write it to get it out of my system.
It all started with this image my son. It was a quick snapshot, on my front porch during a rainstorm. I used the M9 and Noctilux F1 at f2. When I saw the original I was surprised at the way it rendered the image and I liked it. I cropped it to square format, desaturated it and sharpened the eyes. THAT IS IT! Why did I sharpen the eyes? Well, first of all, because I could! Also because I was having fun with photoshop and thought it would enhance that evil ass look he had on his face 🙂
Well, it did just that and it made my son look sinister. Since he can be a monster at times I thought hey, I like this! Plus in print this image had some crazy 3D pop and depth. I posted this image here and on a popular photo forum. It struck a nerve with some poeple on that forum and I was told all kinds of stuff like I over processed it, I should not have sharpened the eyes, I should not have softened the skin or blurred it. HUH?? I DID NOT SOFTEN THE SKIN, I DID NOT BLUR IT and the eyes…whatever. I will stop before I say something I regret.
The fact is that this was a family snapshot. I had fun with it, and yes, the look of the eyes was INTENTIONAL! It was not a paid shoot, it was not for a client, and I sharpened the eyes BECAUSE IT IS MY IMAGE and I LIKED IT! I do not care if ANYONE else likes the image. PERIOD.
That is part of the BEAUTY that comes with digital photography. You can experiment with things like this quickly and easily. You can also learn quite a bit about processing and that is always a good thing. To continue with the story, this guy on the forum tells me I need to STOP doing ANY processing for a year. He says my photography will improve and he even dared me to do so. Is this guy nuts? If I did that my photography would suffer! No contrast, no color, no white balance fixes? Ummm, sorry but I will pass. This is the guy who thought I did extensive PP on the image of my son but I will say it again. I desaturated. I sharpened the eyes.
IMO, 99% of all digital images from higher end DSLRs and cameras need some sort of tweaking. Some need a light contrast boost. Some need a slight color fix and many need a white balance fix. Not to do these things is just lazy and simply crazy! I do this to ALL of my images and do not consider these things "post processing". This is the benefit of shooting in RAW! To easily adjust or fix an image that needs it. No image is perfect out of the camera. PERIOD. Even with film this is true, but with digital it is VERY true. How many of us have a PERFECT Digital camera that nails color or white balance EVERY time? If you have one, let me know so I can buy one ASAP!
I am getting so tired of so called "purists" claiming that doing things such as contrast adjust, desaturation or a little sharpening is ruining photography. What it sounds like to me is that those people do not want to take the time and sit down and learn some software. Adjusting your image during RAW conversion is easy and works wonders for an image that is not perfect out of the box. Examples? SURE!
I was invited by Seal to shoot his show last April in Chicago. I brought my M8 and a Nikon D90 with the slow ass kit zoom lens. The M8 shots needed very little processing. For example, here is one right out of the camera, from the M8: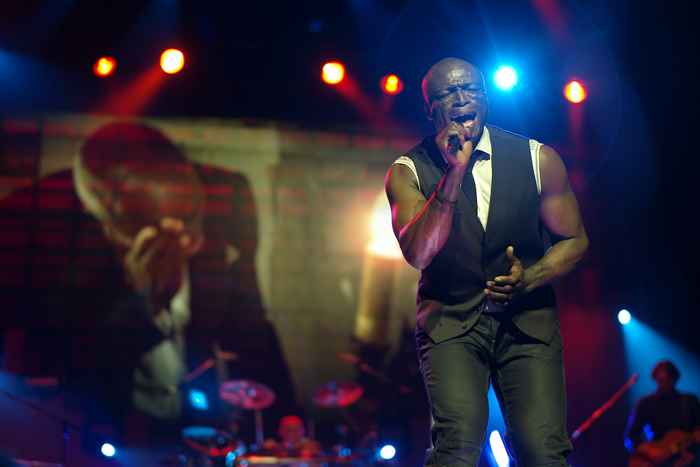 But it needed a little help with contrast and color balance, so I did some adjustments from WITHIN the RAW converter: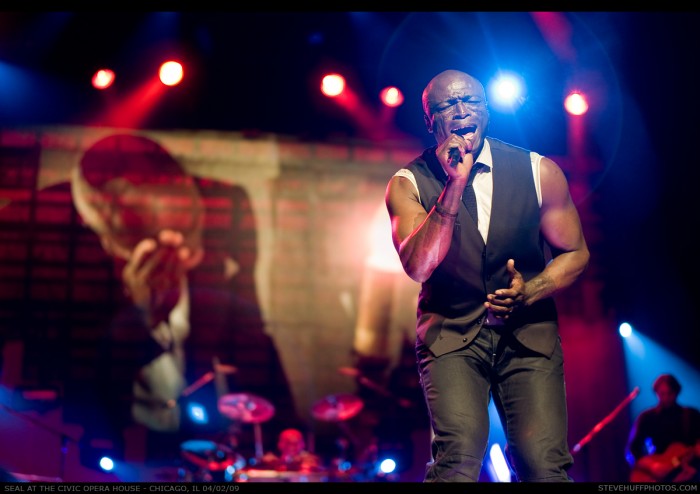 So, in this case if I would have just used the out of camera image (as joe purist on the forum suggested)  it would not have been all it could be. I mean, look at the original. It has a color cast and just does not look right! If I were to take the advice of the guy in the forum, I would have used that top image and been ridiculed due to the out of whack color! BTW, here is another that I extensively processed: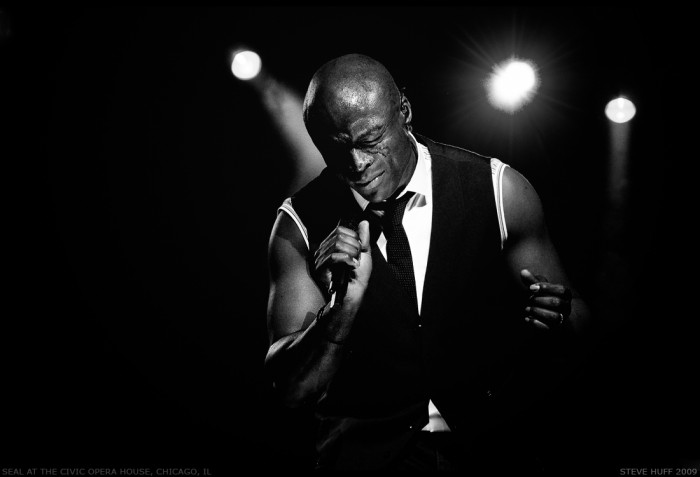 Yes, I did quite a bit to this one and guess what? It made the tour book. Without the PP it would have been a bit lackluster. In this image I converted to B&W, adjusted exposure, did some dodge and burn and even removed some of the spotlights and It works.
I could go on and on but in todays "digital" world, post processing is something we should ALL learn and implement in our photos. Me, I like to have fun with it and experiment on my snapshots. It is a learning experience for me. I get to mess with the non important images and see what I like and dislike. In my paid work I take care to get it right and not overdo it, but for someone to tell me I should not do ANY PP in my photos, that is ridiculous. They are MY photos and I can do whatever I wish with them! Besides, to blab your mouth like that and not even show any of your own work, well, what can I say. End of story.
So "Mr. forum poster/Joe Purist", wether or not YOU do any tweaking to your photos is up to you, but to ridicule me and tell me I will be a better photographer if I did not do ANY image editing whatsoever is nonsense and shows me you have no clue what you are talking about.
[ad#Small Wide Banner White Embed]
Yes, sometimes, very rarely, my processing can be over the top and I will be the first to admit it. With that said, one image that I did some CRAZY post processing to actually won a 1st place ribbon at a photo cometition/exhibit. No, its not even close to the out of camera original, but it sure does look "interesting" and it got people talking and wondering how I did it. If I did not do the PP here, it would not have even been entered into that competition. The color, exposure, and light have all been tweaked to give it this look. Nothing was added or taken out but it was "enhanced" with a 5 minute photoshop job. This is probably one of my more "processed" shots ever. Mr. Joe Purist on the forum would say this had the "rolled in chocolate" look.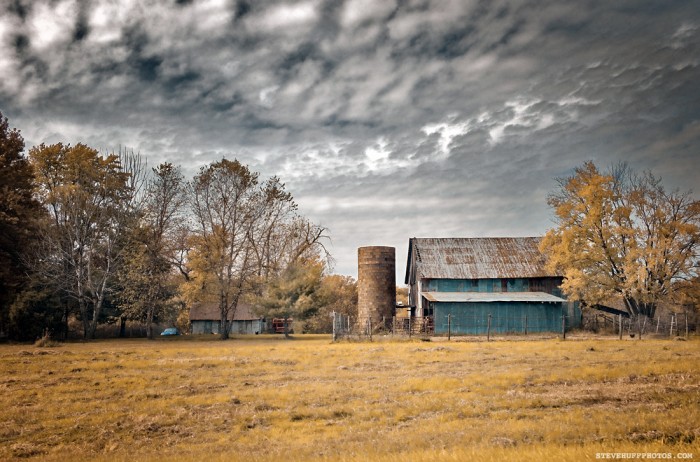 Also, another I recently shot of an old empty hostpital in Clay County brought me some exposure. When I posted this to my facebook I got an email saying the local newspaper wanted to do a story on me. Yet another example of crazy processing that HELPED me tremendously!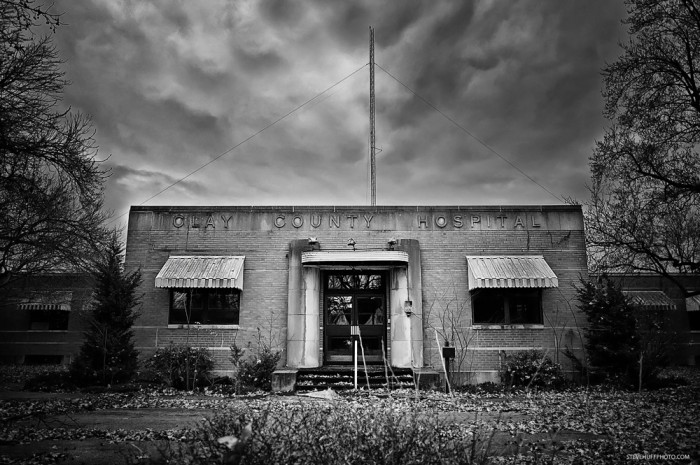 So I do not expect everyone to like my photos, but what IS important is that I like them and that I feel good about them. Everyone should feel like that about their photo work. Everyone has their own tastes, but what some of us forget is that we now have the tools available to enhance our images to get them to where we want them to be. Even when I do extensive PP like the two samples above I do not EVER add anything to the image that was not already there. I just do contrast, sharpness, color and sometimes add some fill light. Thats it. Sometimes its nothing, sometimes its minor and sometimes I go nuts. It all depends on what I want to accomplish.
As I near the end of my rant I feel much more relaxed. Writing can be good therapy! BTW, for the images in the reviews you see on this website I do not do any of the "extensive PP" that I do on some of my personal images. I convert them from RAW and inside the RAW converter I adjust contrast, color balance or exposure (if needed). That is it.
With that I will end this as UPS just delivered a Leica Noctilux F0.95 lens and I have to get to work! But to answer the question, "To PP or not to PP" – I say if you consider adjusting things like contrast, levels and color balance PP, then by all means YES as all digital images can benefit from this and that is a FACT. Now, if you are shooting just family vacation shots with a point and shoot then I would not mess with any PP. What I am talking about here is for crazy enthusiasts like me who shoot with DSLR's and cameras that are not optimized for pleasing out of camera results.
Here are a few of my personal images from the past two weeks that are pretty much straight from camera. When I say "straight from camera" I mean all I did was maybe fix exposure/color or contrast in the RAW conversion. NO outside PP was done in photoshop, and 90% of what I shoot is done in this way.