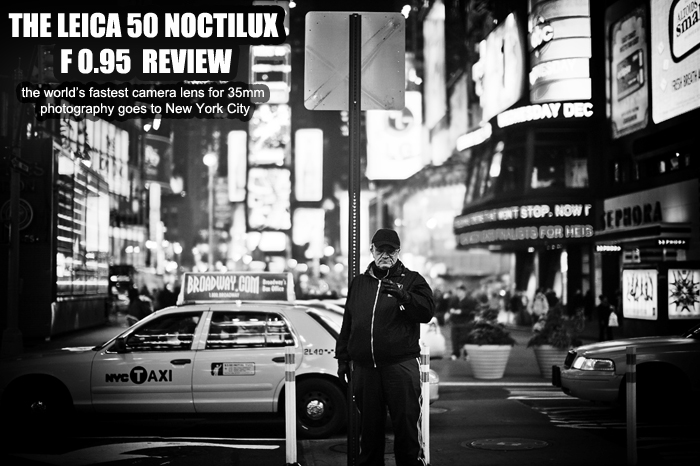 The Leica Noctilux 0.95 Review: Disclaimer and Thanks: I am truly excited to write about this Noctilux. The original F1 version is one of my favorite lenses EVER, for any camera system. When I had the opportunity to review the new Leica 0.95 Noctilux, on my Leica M9 no less, I was ECSTATIC! So I just wanted to say Thank You to Leica for letting me try it out. This review is a bit longer than my others because when I am excited about a certain camera or lens, I tend to include a ton of images (and there are MANY in this review), as well as write until my brain hurts. So without further ado, here is the Leica Noctilux .95 review, which is what I consider to be a "lifetime" lens. Truly, one of a kind.
"face in the crowd" – Noctilux 0.95 at 0.95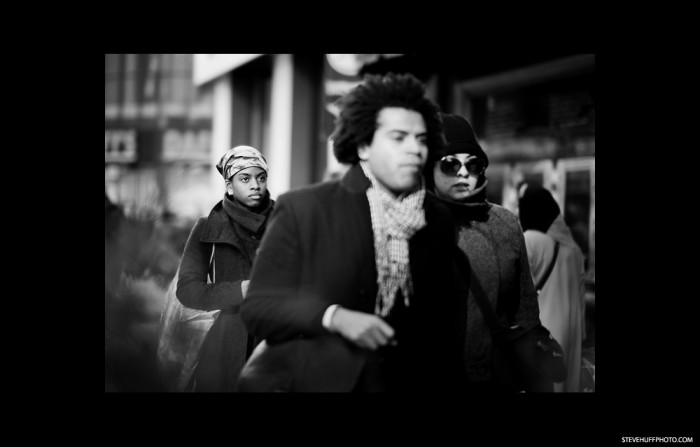 Man, I am BEAT! Over the past 48 hours, I have had very little sleep and have walked about 8 miles. For me, that is quite a bit of walking, as I am no marathon man. I also gained 1/4 inch on my biceps! Why, you ask? Well, it is because I have been walking throughout New York City with the Leica M9 and the big ol' Leica Noctilux 0.95 lens attached! Yes, this is a BIG lens. It is a HEAVY lens. It is a very expensive lens. But it also happens to be one of the most beautifully built and nicest feeling lenses I have ever touched.
When this lens was announced by Leica, I had a range of emotions. First, I was like "YES!!!, this is amazing..F0.95″ and then I said ,"Shit! No way I could EVER afford to lay out $10,000 on a lens." After that sticker shock, I put it out of my head. I tried to ignore it. Then, one day I was talking with Seal (singer/songwriter/photographer), who said he had the Noctilux .95 and it was GORGEOUS. As a matter of fact, he also sent me some samples that he snapped from his hotel room. They were just test shots of some lamps, but I could tell from those that at F0.95 it appeared this new Noctilux had the character of a 50 Summilux ASPH rather than the old Noctilux. Very sharp, with very smooth bokeh. To see that post at the old site, click here to open it in a new window. Keep in mind, it is one of my very early posts, on the old site, and on a very slow server.
THE NOCTILUX F0.95 LENS ARRIVES – MY FIRST IMPRESSIONS
Anyway, let me rewind to about a week ago. UPS dropped off a huge box from Leica and inside was a loaner Noctilux 0.95 lens. They wanted me to try it out and see what I thought of it. They also knew I was a HUGE, HUGE fan of the classic Noctilux and recently purchased a used one from Ken Hansen. So for me, this new version had HUGE shoes to fill. I also knew that I had a challenge ahead of me because in my reviews I like to provide plenty of real world photos to show you how the lens will behave in the real world. I do not rely on test charts or newspaper text (though in this review I do a couple of side-by- sides). I get out there and shoot my ass off and evaluate the lens or camera by how it performed during real use.
What was really cool is that I just so happened to be taking a New York trip and the lens arrived just before I had  to leave. PERFECT! While most photographers say that this lens is not  a street shooting lens, I LOVE challenges and wanted to see if I could come away with some cool shots of the hustle and bustle of NYC while shooting a Noctilux WIDE OPEN at .95. Day and Night.
But, before my wife and I left for the Big Apple,  I took some images of the new Noctilux next to the old classic F1 version to show you the size and weight, side-by-side with the old one. Oh, and in case some of you reading this are not aware, this lens is an all MANUAL lens. Manual focus, manual aperture, etc.
OLD AND NEW – CLASSIC F1 ON THE LEFT, NEW 0.95 ON THE RIGHT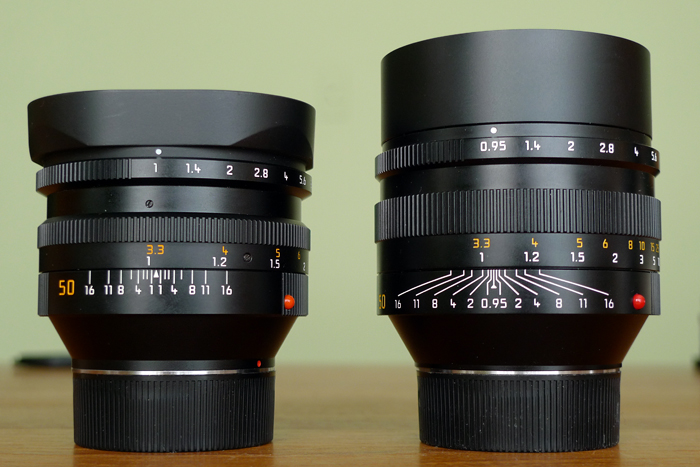 WITH HOODS EXTENDED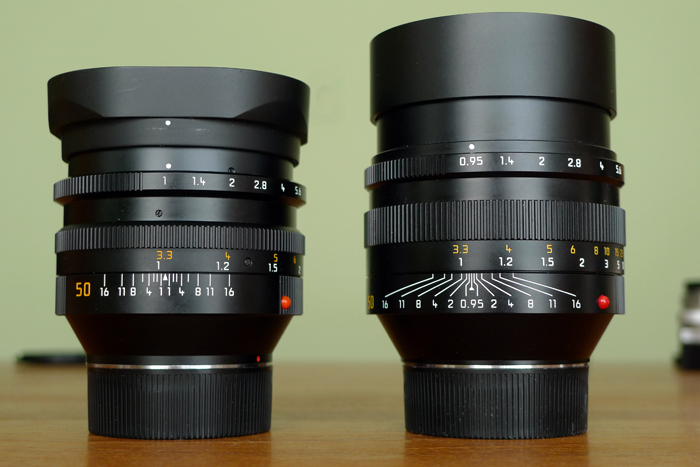 As you can see, the new version is not only taller, it is wider. It is also quite a bit heavier. Take a look at the scale shot. This is something I now do with all lens reviews so you can see the weight of the lens, as there have been times I wanted to know how heavy a lens is. These guys are some heavy lenses for a Leica M mount lens. Usually they are TINY, but these guys are monsters in comparison. The new Noctilux is almost 5 oz. more than the old version. Doesn't sound like much, but in use, it is. The new one feels much more solid and heavy on the camera. It is the most dense and solid lens I have ever shot with. It makes the Zeiss 50 Planar look like a cheap plastic toy.

TOP VIEW: LEFT – old noct – RIGHT – new noct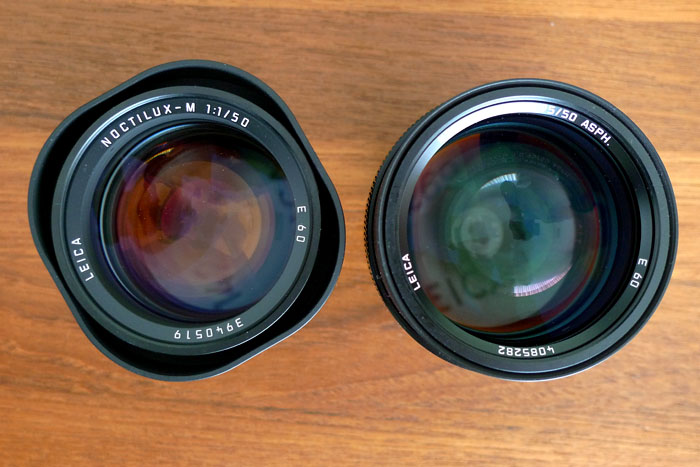 Also, something I do with every review these days is my YOUTUBE video review. This is a short overview of the lens and shows you what it looks like, feels like, and has some of my 1st impressions upon holding the lens in my hand. I will also show you how silky smooth the new version's aperture ring is.
So as far as build, quality, and feel, the new Noctilux ASPH is AMAZING and beats the old one in all areas of build. When I switch to the old F1 version after shooting the 0.95 version for a while, the old one feels LIGHT and SMALL on the camera. In use, this new Noctilux is a beast of a lens. It's very front-heavy and pulls the camera down if its strapped to your body. After hours of use, it can get heavy and I am not so sure an M9 and Noctilux .95 is any lighter than say a Nikon D700 and 50 1.4. I shot this lens for 6 hours straight while in NYC, side-by-side with the old Noctilux. I wanted to see if the "character" of the new lens stayed true to the old F1 version, which many own for its unique capabilities.
The Noctilux in 2014, better than ever on a Sony A7II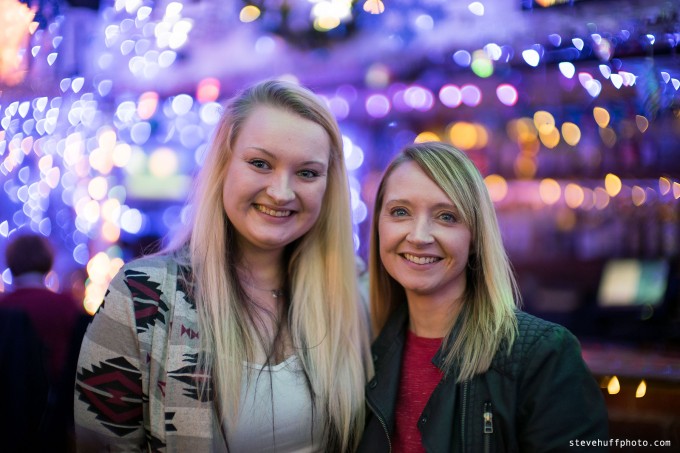 SOME OF MY NOCTILUX HISTORY
Leica released the first Noctilux F1 lens in 1976 and it has now been through 5 versions, including the new one. The early versions of the lens had a screw-in hood and the 4th version, the one I own, is the 4th version with the pop-up, built-in hood and it is 6-bit coded. The optical formula of the F1 version has stayed the same throughout its life cycle, though some think its coatings have been improved in the later versions. Most of the F1 Noctilux lenses were made in Canada, including mine. The new 0.95 version is made in Germany and now has ASPHERICAL elements. Before the launch of the new version, Leica packaged up the last 100 F1 versions and put them in a humidor and sold them off with white gloves…all for a cool $15,000. These days, used F1 versions go for anywhere from $4400 to $7000, depending on version, condition, and whether or not it is 6-bit coded.
The old F1 Noct is a unique and much "lusted after" lens, but many who have owned the F1 version of the lens have sold it due to its size, weight, and long focus throw. To many, the Noctilux is a "specialty" lens. To others, they shoot it everyday and make it a part of their style. Me, I feel the Noct could easily be used as an everyday lens (though it's more of a challenge at times), but the classic version does vignette on the M9 from F1-F4 and it is slow to focus. Still, at F5.6, it is as sharp as any 50 I have shot with.
I bought my first Noctilux f1 in 2003 for $2995 NEW from B&H PHOTO. I ended up selling it to fund a 50 Lux ASPH, as the size and focus throw of the Noct started to bug me. Then, right after I sold it, I regretted doing so. For years I kicked myself in the ass for letting that lens go, especially now that I see them for $6995. A few weeks ago, Leica dealer Ken Hansen told me he had a mint used one for a great price, so I sold my 50 Lux Pre ASPH and 35 cron to fund it. That was either a HUGE mistake or a genius decision. It could be a mistake because I may get sick of the weight of the Noctilux and end up selling it again. It could be genius as I got a killer deal on it and I can probably sell it later for more than I paid. Only time will tell, but for now I am loving the lens.
SOME SIDE BY SIDES – OLD vs NEW NOCTILUX…
I told you guys that this would be a long review, but let's get to the meat and potatoes of it all. You now know that the 0.95 lens is bigger,  heavier, and faster than the old version. BUT, how does it compare side-by-side? The big thing for me with the 0.95 was to see if it retained any of that special Noctilux character. The swirly bokeh and soft glow wide open is something that I enjoy with the F1 Noctilux, so let's see some samples…
Below is an image I shot of my Christmas tree with the 0.95 Noctilux at 0.95. This is wide open, baby… and it shows. Look at the way it renders. Amazing! I focused on the santa and shot each image with the camera on a tripod.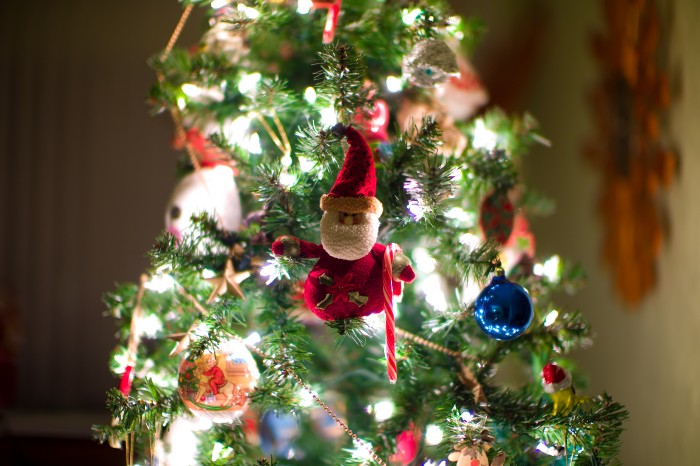 and a 100% crop: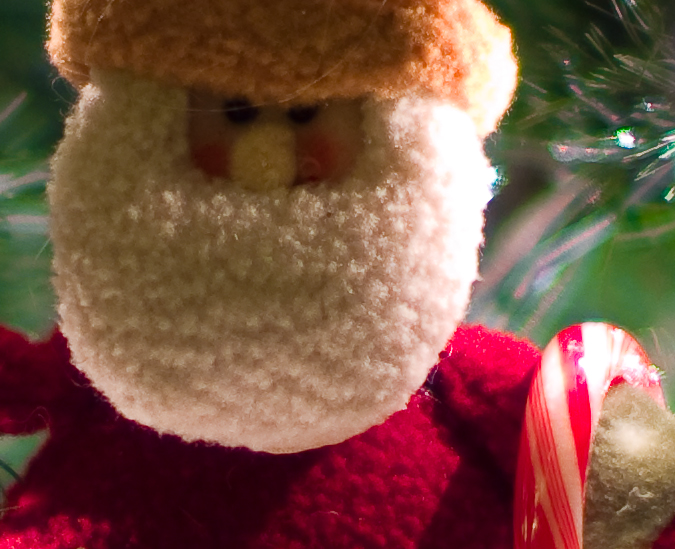 Now the F1 version, shot at F1: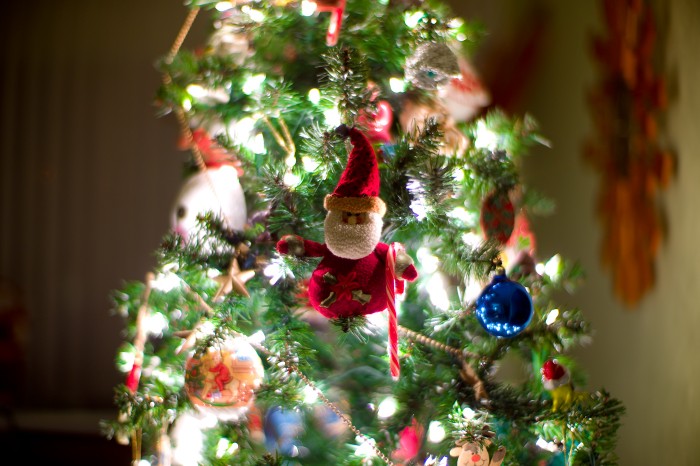 Well, look at that! Magic to my eyes. To me, both versions look very special, but to be honest the 0.95 version has more shine, more brilliance, is sharper, and has less vignetting. Here is a 100% crop from the F1 shots focus point, the santa head: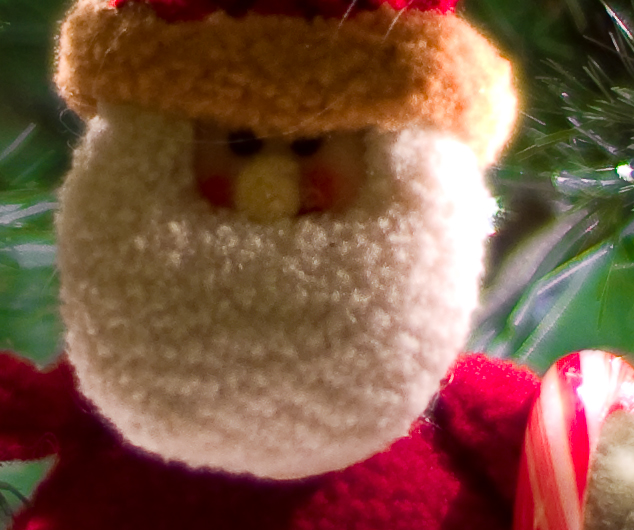 It is immediately apparent that the new version at 0.95 is sharper than the old one at F1. YES, this F1 shot is IN FOCUS and is the way the old lens renders. It has a softness about it at F1. Some like this, some hate it. The new lens is also a corrected lens. It is a more "perfect" lens, much like the Leica 50 Summilux ASPH. In many ways it reminds me of a larger, heavier, faster 50 1.4 ASPH. Here are two more crops from the two images above to show you more of how each lens works away from the center: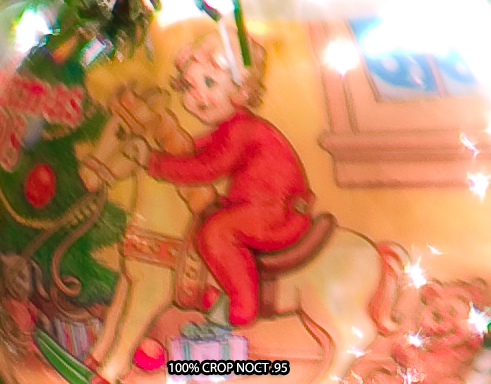 Again, the new Noctilux is sharper and more contrasty. So, that is that. In all honesty, I feel the new lens is  a marvel of engineering. How Leica made a freaking 0.95 lens as sharp as their 50 Summilux ASPH (at the focus point)  at 1.4 tells me they are masters of glass design. Wow.
LET THERE BE LIGHT..and BOKEH!
Another reason some people fall in love with the classic Noctilux is for the way it renders out of focus background light points. Some lenses render these in a nasty, ugly way, but the Noctilux is known for its beauty and style with big oval blobs of light. I wanted to test this for myself, so I set up a tripod on my sleeping cat (who used to be a stray BTW, look at her now). It was dark in the house, so I plugged in some Christmas lights behind the cat to see how each lens would render these wide open.
LEICA NOCTILUX 0.95 AT 0.95 ON THE M9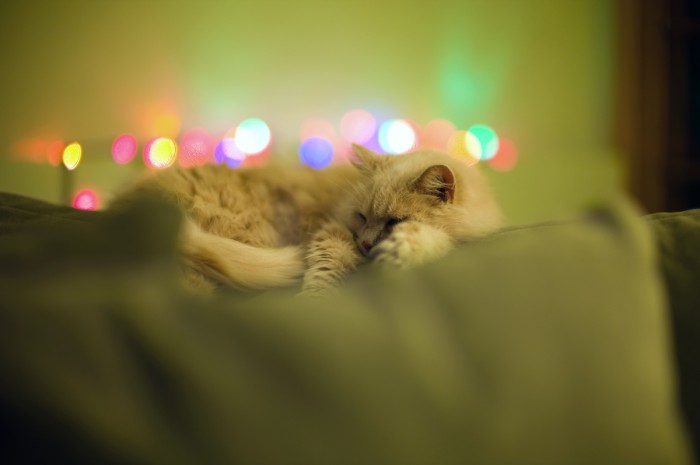 LEICA NOCTILUX CLASSIC F1 AT F1 ON THE M9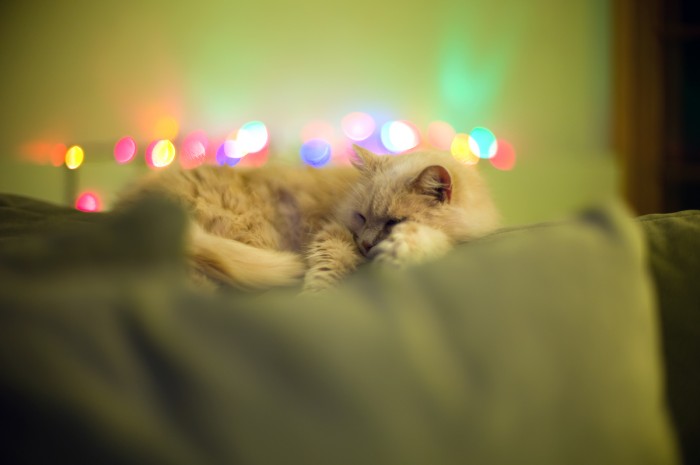 You can click on the images above for larger versions. What do you see and which do you prefer? I see that the new version renders the lights in an even more pleasing "rounder" way. I also see more shallow depth of field due to the huge 0.95 aperture, as well as a bit more contrast. One thing for sure is that BOTH lenses are beautiful. At this point (which was my 1st night with the lens),  I was thinking. "Hmmm. Yea, this new $10k monster is the best built and fastest lens I have ever laid my hands on, but is it worth the $10,000 cost"? Seeing that the Leica Noctilux 0.95 is THE FASTEST LENS IN PRODUCTION TODAY FOR THE 35MM FORMAT, I guess you can say it is. It is a niche item, a specialty lens to some shooters. This is a lens you would buy for its unique look and amazing speed, BUT it also serves well as an all-purpose 50 if its all you have. While I will never buy it at $10k, many will and many have.
So here I am, almost 2000 words into this review and I have yet to post my real world photos with this lens. I told you this could be a long one 🙂 I wanted to show those simple test shots above because it clearly demonstrates the advantage of the 0.95 version over the old one. It is sharper, has more contrast, is faster, and built to a higher standard. I also noticed during my time with it that the color is also MUCH better. My old Nocti has a yellow cast to the images and this new one is warmer, richer, and more correct. I am not going to post more side-by-sides, as I need the space for the photos, but take my word, the new lens renders VERY MUCH like the Leica Summilux 50 ASPH, which is considered the best 50mm lens in the world (well, until now). What does that mean? It means PERFECTION in sharpness, contrast, color, and brilliance, but with the ability to shoot in the dark with its 0.95 aperture.
But many of you want to know if it retains that special magic of the F1 Noctilux. When wide open at 0.95, it does indeed have some of that magical quality of the F1 version. Let's be honest here. If you buy this lens, you are buying it for the 0.95 aperture, and this lens is simply AMAZING when shot wide open, if you like that sharp, but still somewhat dreamy and creamy look.
SOME REAL WORLD SAMPLES WITH THE NEW 0.95 NOCTILUX
When I went to New York to test this lens, I told my wife I wanted to shoot it wide open 98% of the time. Again, if I wanted an F2 lens, I would buy a Summilux or Summicron. This lens will set you back $10,000 mainly for its speed…that magical 0.95 aperture. Who would buy this to shoot it at F2, F4, or F8? NOT ME. While it can shoot at those apertures without breaking a sweat, this lens (just like the classic version), begs to be shot wide open. Past 0.95, it behaves almost EXACTLY like a 50 Summilux ASPH, maybe even with better color and contrast. Yes, this lens is just about perfect in regards to image quality.
So now that I have shown some test shots and crops, I want to show you some REAL images. What this lens is made for. REAL photography! While many reviewers stick to the scientific testing methods, I STRONGLY feel a lens should be reviewed by actually USING it for what it is made to be used for! Also, leica made this lens for us to have a 0.95 aperture, and this is how I intended to shoot it!
Here are some shots and ALL are wide open. I did shoot a few at F1.4 and F2 during the day, as my M9 is limited to 1/4000th of a second. Some have been converted to B&W with Silver Efex Pro, but as far as the images, they are all straight from the RAW converter, Adobe Camera Raw. No further Post processing was done to these. Just contrast, WB, and exposure from within Camera Raw. Any "effects" you see are due to the lens and that glorious 0.95 aperture. So what you see, is what you get.
One of the first shots in NYC. Shot wide open at 0.95 and converted to B&W with Silver Efex Pro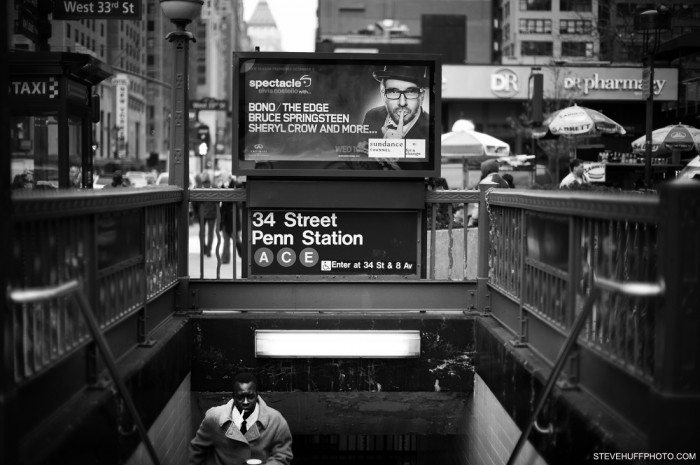 While the focus throw is long with the new Noctilux, it seems faster than the old version. Focusing seemed smoother as well. As a matter of fact, EVERYTHING on the new version in regards to "in use action" was better. Right after the above image, I told my wife to stand on the steps. I took one while she smiled but liked this one better. She did not know I snapped this one, and these type of images are always better IMO 🙂 This one was shot at 1.4.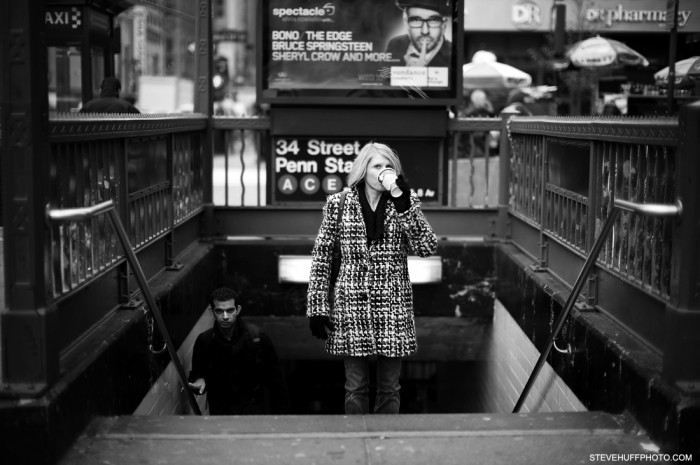 This was the start of our day on the streets of NYC and it was in the 30's. I realized this would also be a good test of how well the lens acts in cold weather for extended periods of time. While it was not bitter cold, I did notice my classic F1 noct started to get stiff with its focus. The new 0.95 stayed smooth and silky all day long.
One more from later in the day at a different location, but this time at F2.8
Noctilux F0.95 at 2.8 on the M9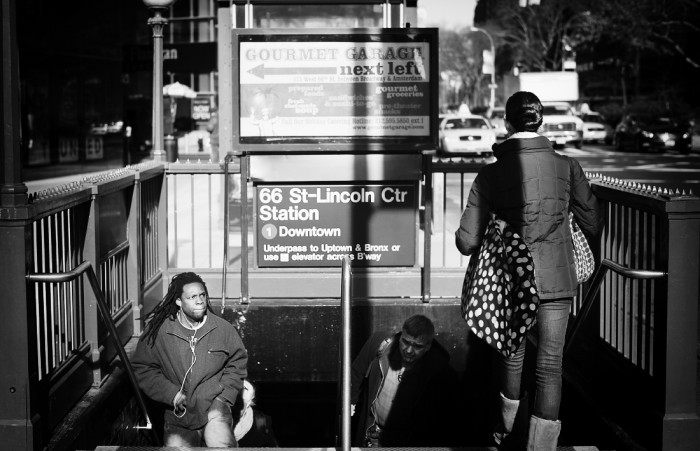 As we walked the streets, I realized that it is pretty challenging to shoot at F0.95, with a long focus throw lens while my subjects were in motion. But, it was not impossible, just challenging.
COMING/GOING – M9 – LEICA NOCTILUX F0.95 AT 0.95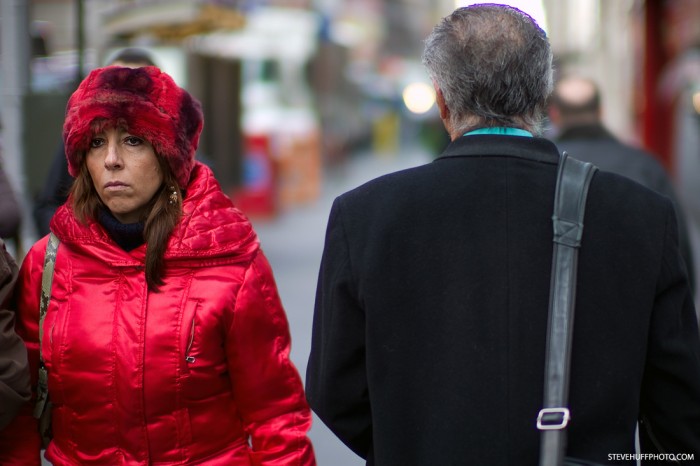 I was shocked at how I nailed the image above with focus wide open. I was starting to have fun with this and realized it was possible to get some great street shots with a Noct! I did see some purple fringing/CA in the shot above. Can you see it? It's in the mans hair. This happens with almost ANY fast lens on a digital camera in super high contrast situations. I have seen it in Nikon, Canon, and high-end Leica glass. Its more of a "digital" thing and is not something I worry about. I can say that this is the only shot out of 300 that showed this effect.
As we walked by the many bakeries and delis, I saw this couple hugging, kissing, smiling, and looking like they were madly in love. I stepped up and shot this image of them. They looked at me after I snapped and smiled. Such a nice reaction, as I was worried they may get angry. See, I am not that experienced with street shooting. I have done a bit in Chicago, but only once or twice. Back then, I used a wide angle, but this time it was the Noct. A lens that people told me would not work for street, especially wide open. So I had everything working against me. Limited street experience and shooting with a F 0.95 lens, wide open plus being worried I would get a bad reaction. But, all went very well.
TRUE LOVE – M9 – LEICA NOCTILUX 0.95 at 0.95 – CONVERTED TO B&W WITH SILVER EFEX PRO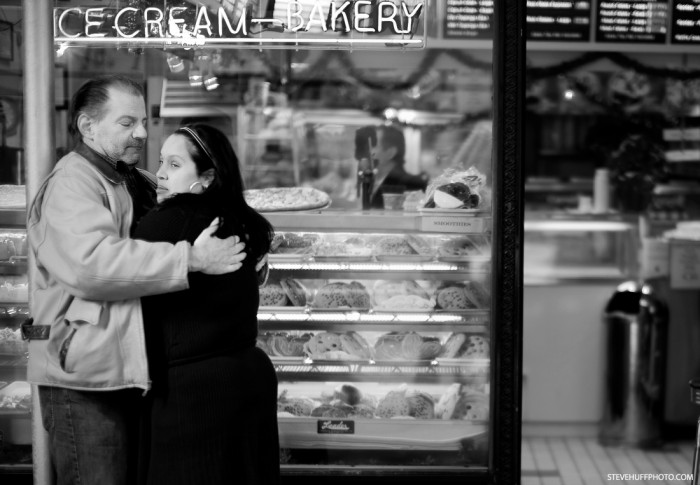 Many will say YEA, it's easy to stop, compose, and focus, but keep in mind the image above was NOT posed. They had no idea I was taking an image until after I took it. I used the Noct wide open and as the day progressed, I was getting much quicker, but my focus was not always spot on due to me trying to be fast. Here is one I shot while walking. I did not even stop. I saw this man lighting his cigarette, lifted the cam, did a quick and dirty focus, and shot. He never even noticed me. This is what is so cool about the M cameras. Once you get the hang of focusing, you can just lift, focus, and shoot…and you can do it very quickly. Try getting this same image with a DSLR and F2.8 lens. It won't happen as it will never look like this.
"lighting up" – 0.95 Noctilux at F0.95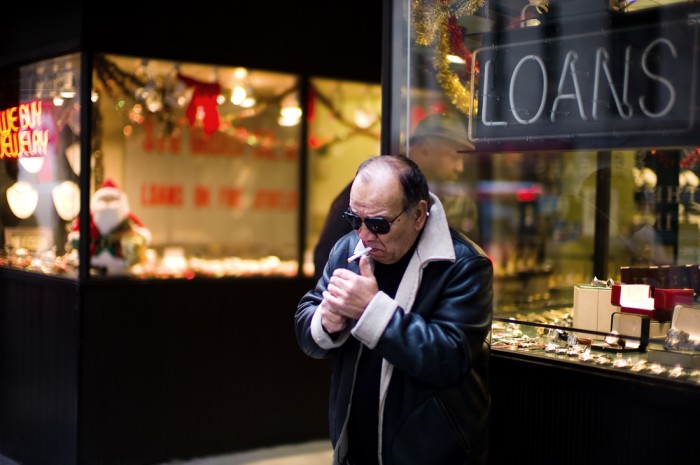 I was a little off with the focus in this one, but its still a good shot IMO. I was trying to capture the hustle and bustle of the streets and the people in the city. While most tourists were snapping the Empire State Building or the lights of Times Square with their big Nikons or Canons, I blended in with my M and even with this Noctilux. Nobody really noticed me. Here are a few more from NYC with this combo. ALL WIDE OPEN AT 0.95!
"steps" – 0.95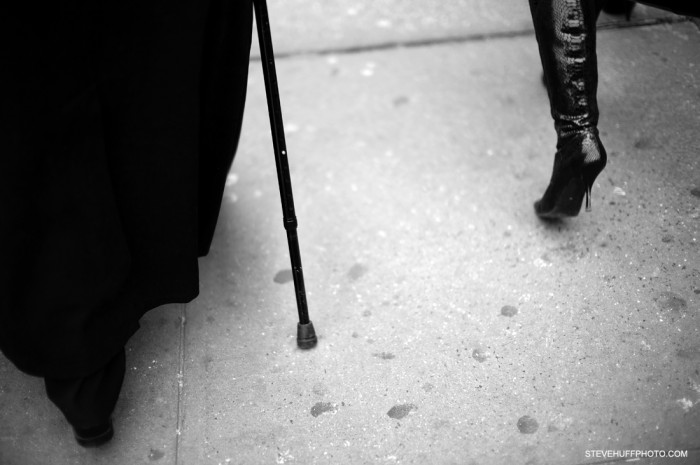 "charmin man" – 0.95 – ISO 640
"traffic man" – 0.95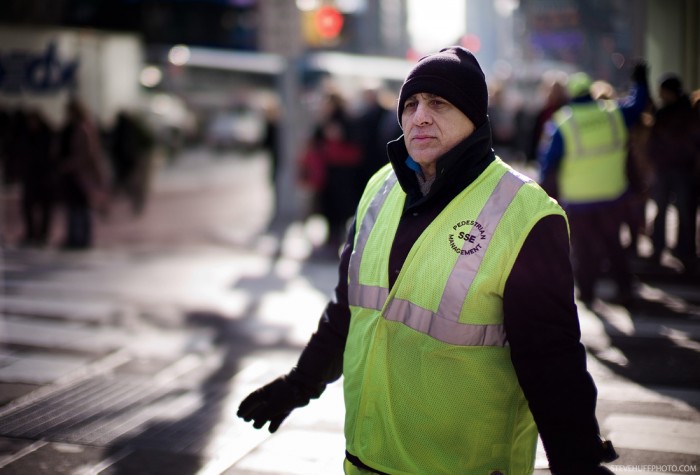 "spare change"? – 0.95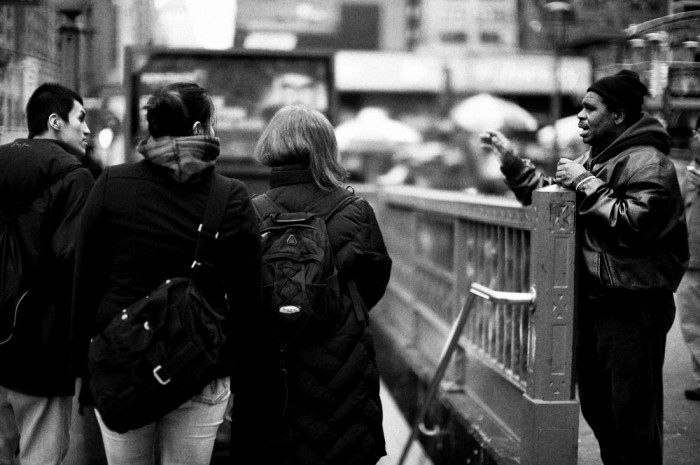 "evil eye" – 0.95 – cropped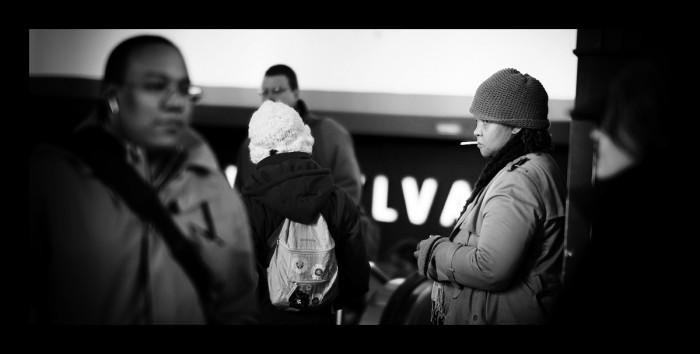 I was having a blast in NYC with my wife and the M9/Noct combo. I also switched the new version and old version out throughout the days and will post some of my F1 shots later in this review. But while shooting with the 0.95, I had no issues with focus AT ALL. The lens was easy and smooth to change focus, though a few times the aperture did change as the dial is so smooth it moved over due to me shooting with gloves. Maybe it could have a little more friction, but it feels so nice as it is. Just be careful using it with gloves!
SOME BEAUTIFUL BOKEH
One thing the Noctilux has plenty of is BOKEH. That beautiful background blur that some lenses get so right while others get so WRONG. I have seen some lenses with absolute NASTY background blur  (the old version nikon 50 1.4 comes to mind) when wide open. The Noctilux has the most gorgeous out of focus rendering I have ever seen. EVER. PERIOD. END OF STORY. As the hours passed in NYC, I was starting to think of ways to fund this lens. I knew there was just NO WAY possible to do this, so I considered punching myself in the eye and calling Leica to tell them I was robbed! Ha ha, just kidding.
2014: Another on the Sony A7II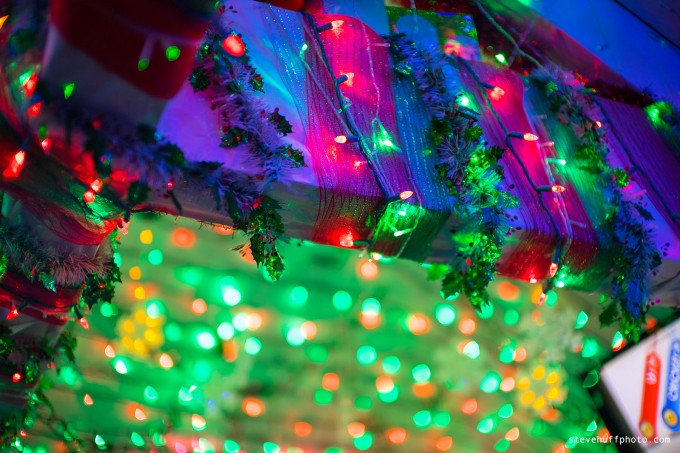 The only other lens I have ever used that had some magic like this is the Canon 85LII 1.2. That is a must have lens for any Canon shooter, but it's even bigger and heavier than the Noctilux 0.95 and is not as good (though it is 1/5th the price). Yes, I have shot with it extensively and it is my favorite Canon lens, especially on the 5DII. But, this Noctilux is simply PERFECTION in lens design.
Seriously though, this lens was proving itself to me and I saw what a masterpiece it really is. The limitation to what it can do was ME. Put this lens in better hands and it will be even more impressive. When I would switch to the F1 version I would notice the softer look, more vignetting, and different color. Still, I have a soft spot for the old one and its more classical approach. But either lens will pump out the special and magical BOKEH. Here are some delicious, bokehlicious images…all at 0.95
ISO 160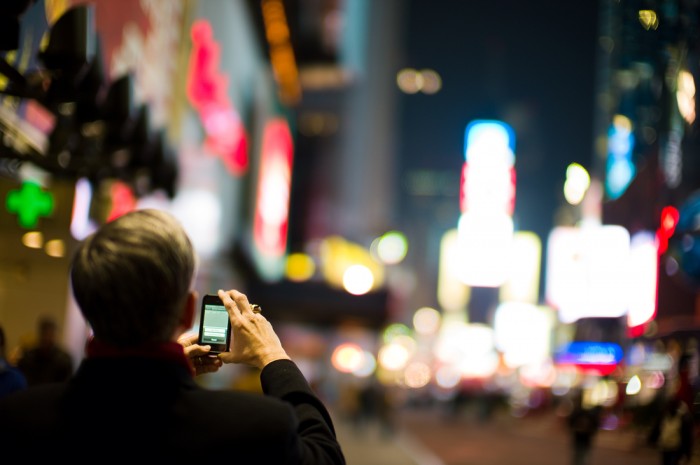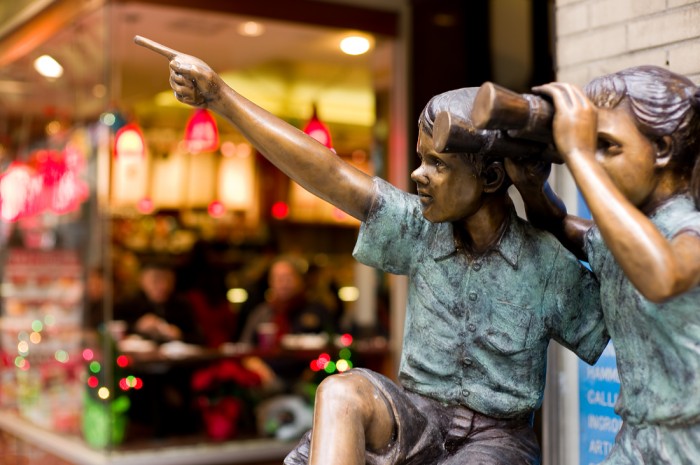 So yes, the new Noctilux retains the magical Bokeh of the original, but it presents the images in a "cleaner" way. They are sharper and crisper and they also have much less vignetting. For comparison, here is one from the classic F1 noct…
Noctilux F1 at F1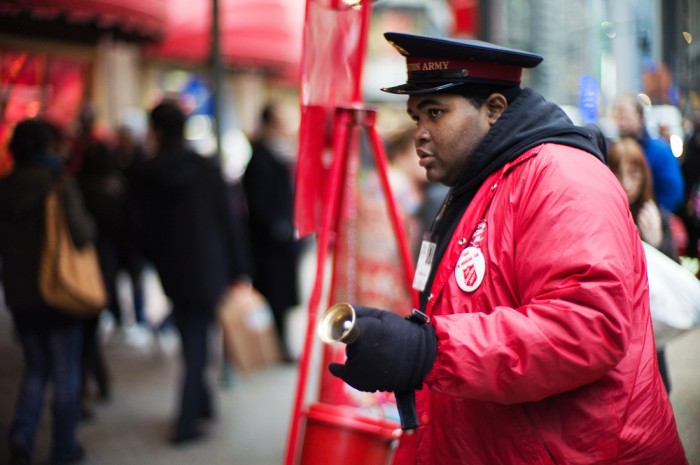 Ahhh, these warm my heart. The classic renders in a "rounder" and gentler way. It is not as brilliant or perfect and some will say a that it is a little duller. The colors are also more muted, but hey, I am not complaining. I love the classic Noct for all of its imperfections, as well as its beauty and charm. It is a legend and today sells used for pretty big money. I have seen a new-old-stock Noctilux F1 sell recently  for $7000. The new one can be had for $10k. So the question to those that are thinking of buying this lens for the first time is wether they want the softer, less contrasty vignetting F1 version, or the new 0.95 that is pretty much perfect.
The new one would set you back $3-$4k more than a new old stock or used F1. It all comes down to what you need and want, but again, the 50 Noctilux 0.95 can be used as an everyday lens, though it is HEAVY on the M9. It's perfect at all apertures and it does not seem to flare as easily as the old one. The color, contrast, and sharpness is about as good as it gets and wide open, it performs better than I ever dreamed. Man, maybe I can sell my car? Ha ha..
Mina in Central Park – 0.95 – the lighting was VERY flat but the lens did great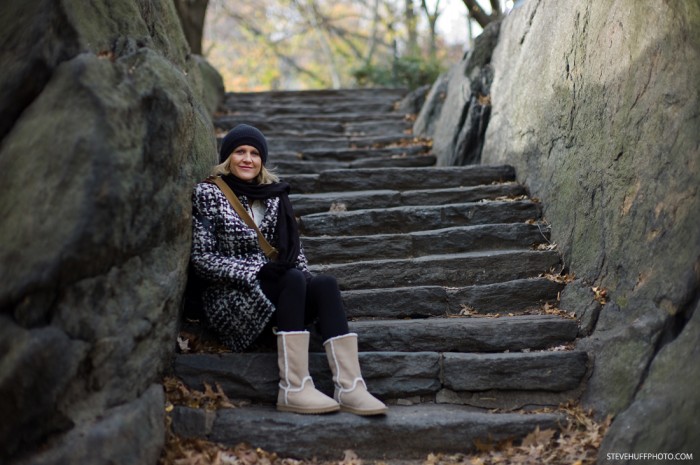 BUT, one thing to be careful with is DEPTH OF FIELD! At its closest distance of 3.3 feet, and when shooting at F 0.95 you have to be aware of the depth of field! It is so thin, you will easily get some OOF results. Here is an image I shot with the Noctilux 0.95 wide open. The guy in the middle was leaning back a bit so his head is out of focus. I should have set the camera to F2 and a higher ISO so this image was lost due to my mistake. Be careful at 0.95!
Depth of field is very thin at 0.95! Watch your focus!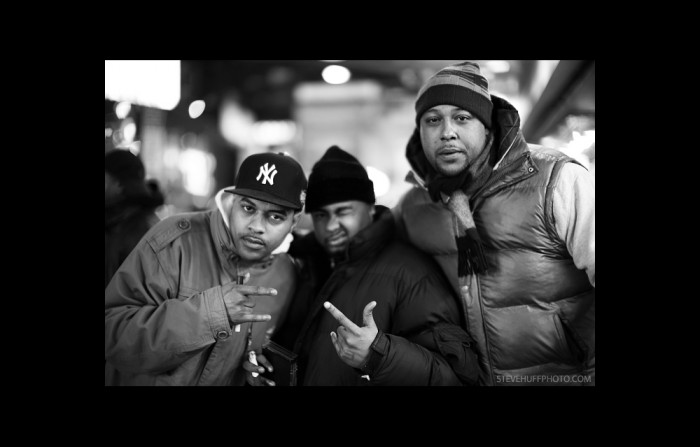 This would have been a GREAT shot if it was at F2 or if the middle guy was more forward.
UPDATE 2011 – I was able to shoot this lens on tour with Seal for 4 weeks and it gave me some of the most gorgeous images I have ever taken…
On Tour With Seal with the M9 and Noctilux ASPH…the images speak for themselves.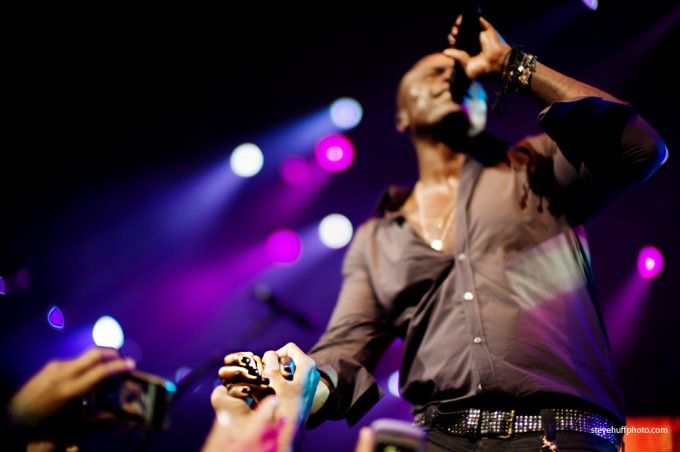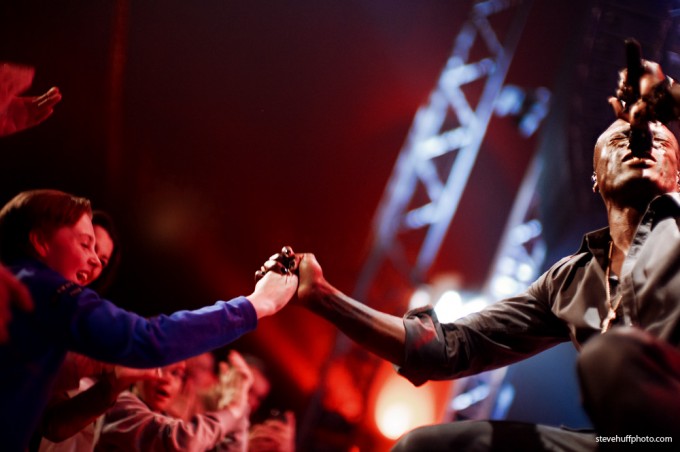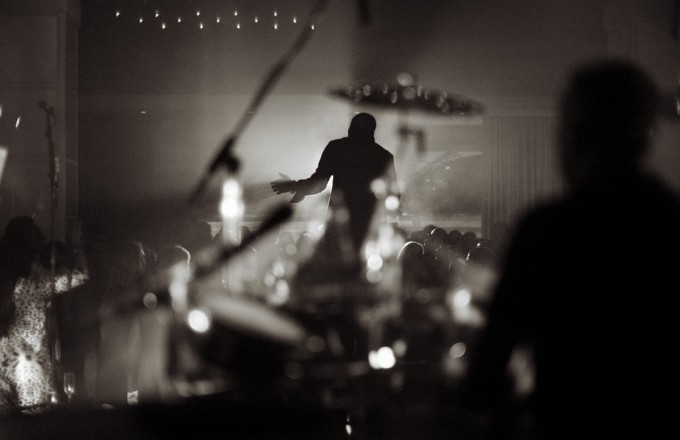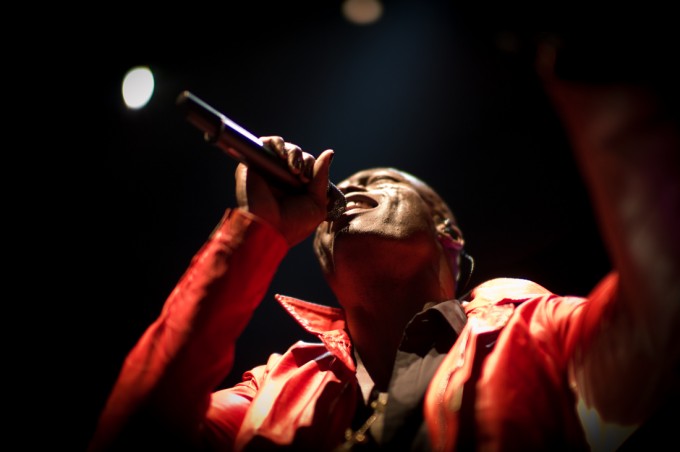 MY BOTTOM LINE CONCLUSION
If I were a rich man, I would own both. I would buy the 0.95 for its build, feel, faster focus, and amazing color and brilliance. I would also buy the F1 version for its more dreamlike feel and softer glow. Both are superb lenses and seeing that I can not afford the new one, I am more than happy with the old Nocti. If I were semi-rich, I would just buy the new version or possibly a 50 Lux ASPH and older Noct. But the new version… It's all I could ever want in a 50mm lens. The ultimate 50 and one I could keep until the end of my days. If I were a middle class kind of guy, I would buy the old one (and I did), as it's also a great, very unique lens. Damn, I love both and honestly do not think I could give my "new" old Noct up for a new one. 🙂
UPDATE: I now own the new Noctilux ASPH 0.95 and will NEVER give it up. It is the most magical lens I have ever owned and after shooting it extensively can say that it is a massive improvement over the old Noctilux. Think of it as a Summilux ASPH 50 on Steroids. Better color, better bokeh, and more magic.
There are some drawbacks though, so here is my pro and con list for the 0.95 Noctilux:
PROS:
It is probably the best built lens I have ever held in my hands
It is the fastest aperture lens made today for the 35mm format
It is an improvement over the legendary F1 version and now has Aspherical glass.
It is amazingly sharp, even wide open. After 1.4, it behaves much like a 50 Summilux ASPH, maybe even with better color/contrast
It seems easier and faster to focus over the old F1 version
Its image quality is simply AMAZING
Its BOKEH is GORGEOUS!
CONS:
It's big and heavy and in that regard, kind of makes the M feel as heavy as a DSLR
It's expensive. At $10,000 and soon to be raised even higher in 2010, it is not a lens for everyone (Now $10,495 as of 2011)
It is not as easy or as fast to focus as the 50 Lux ASPH
Its closest focusing distance is 3.3 feet. This is the main "bummer" with the old and new Noctilux.
It does lose some of the dreamy qualities of the F1 version, but to some this is a PLUS
To me, this lens will always be a "dream lens." If there was ever a perfect lens to me, it would be this F0.95 Noctilux. It is highly improved over the old version, but it does in fact lose some of the "character" of that lens (really, the imperfections of the F1 version have been fixed). It is perfect in almost every way when it comes to image quality. I have no complaints in that regard. It may just be the best 50mm lens in the world, on any system. PERIOD. If you have the funds and are in the market for a super-fast 50 for your M, this is your lens. Just be aware of the weight and size before you buy. With that said, I find it hard to believe that ANYONE wanting a fast lens with shallow depth of field effects would be unhappy with the performance of this lens. To me, it is one reason to own an M9.
If you are interested in this lens, you can go to B&H Photo as they usually have it in stock. As of this writing, they are "accepting orders" which means you order now, and they ship it within a week or two. B&H only accepts orders when they know they have stock coming in. Ken Hansen also sells it and I believe he has 2 or 3 in stock right now. Just tell him I sent you if you e-mail him about pricing or availability. I also saw a couple of original Noctilux F1 at Amazon
for sale, NEW IN BOX if that one floats your boat. Of course they also sell the new 0.95 version
at Amazon as well.
2014: Sony A7II with the magical Noctilux!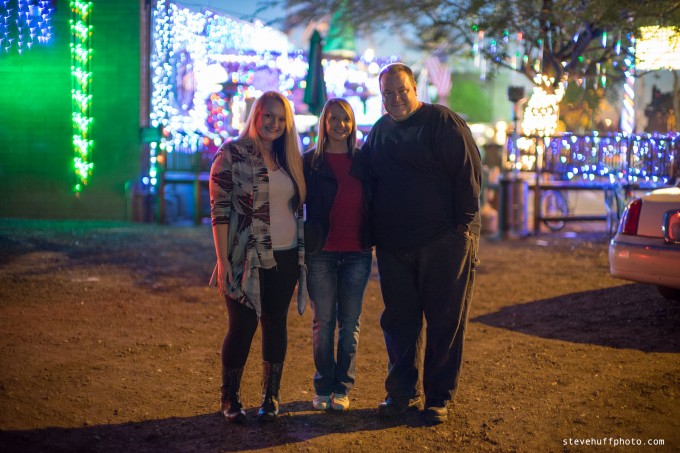 On a side note, while in NYC, me and the wife toured B&H Photo and we were AMAZED at not only the size of the store, but also at all of the high-end merchandise they have on display. They have a huge, professional and customer oriented operation and it was a pleasure to take the tour. After buying from them for 14 years or so, I finally got to see their "superstore" and it is indeed pretty super. Makes me even more thrilled to have them as a sponsor of this site.
Remember, anytime you follow my links here and buy from B&H or AMAZON
this helps to keep my site going. If it was not for these links, there would be no way to fund this site, so I thank you in advance if you visit these links!
If you enjoyed this review, feel free to leave a comment at the bottom of this page and also be sure to join me on twitter or facebook! Also, you can subscribe to my feed at the upper right of any page and be notified of when new reviews are posted! With that, I will leave you with a MANY more images from this amazing lens, as well as a few from the F1 version near the bottom.
THIS FIRST GROUP ARE ALL FROM THE 0.95 NOCTILUX WIDE OPEN, UNLESS OTHERWISE NOTED
As I walked by this scene I lifted the camera as I walked and guessed focus. It turned out this person was homeless and the woman on the left was about to help out while the woman on the right was passing by.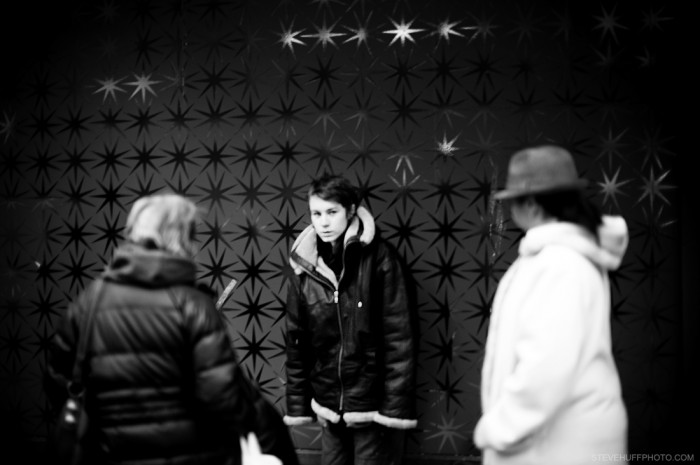 This image is one I really like, though I am not exactly sure why.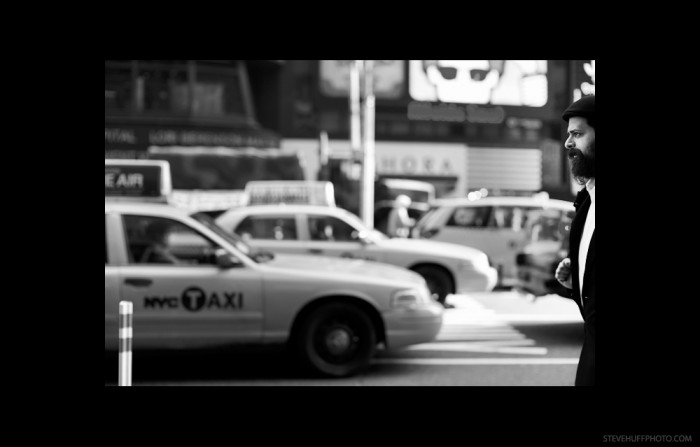 My wife Mina in Central Park at f4. See, I did get one shot at F4!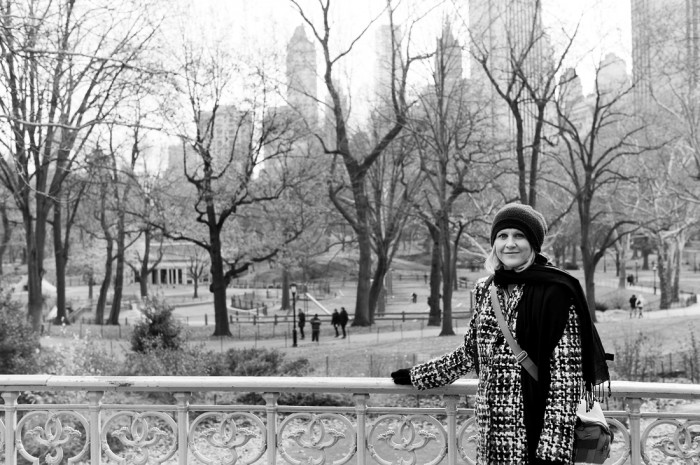 This guy was selling "Obama Condoms" and the guy on the left was scolding him about something. I could not hear what they were saying but did manage to grab a few shots. Here is one of them. Wide open at night in Times Square.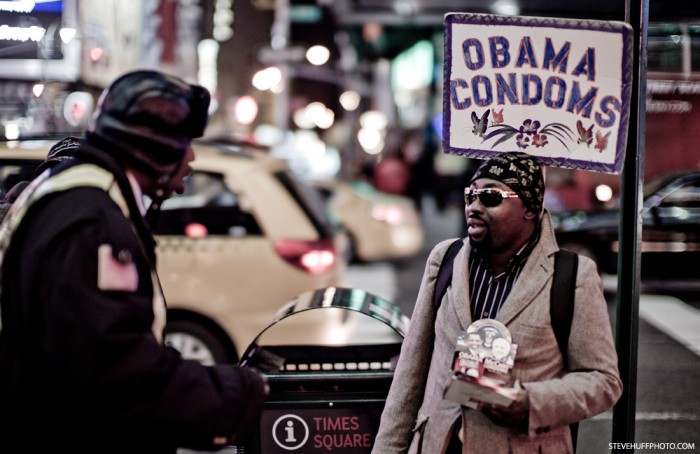 I spotted this guy texting and when I grabbed this shot he was eyeballing a woman walking by. If I had a wider lens I could have gotten the woman in the frame as well.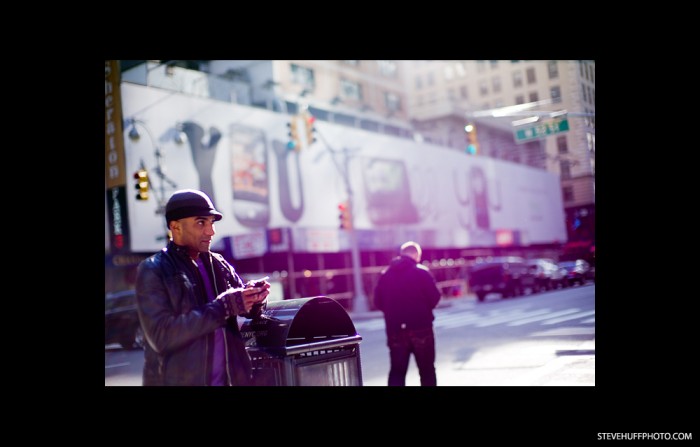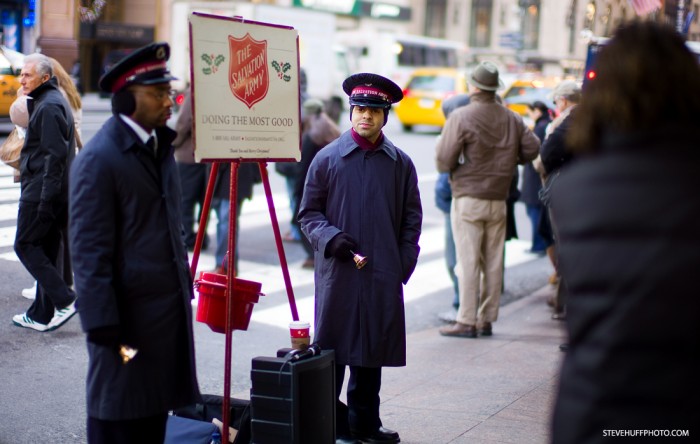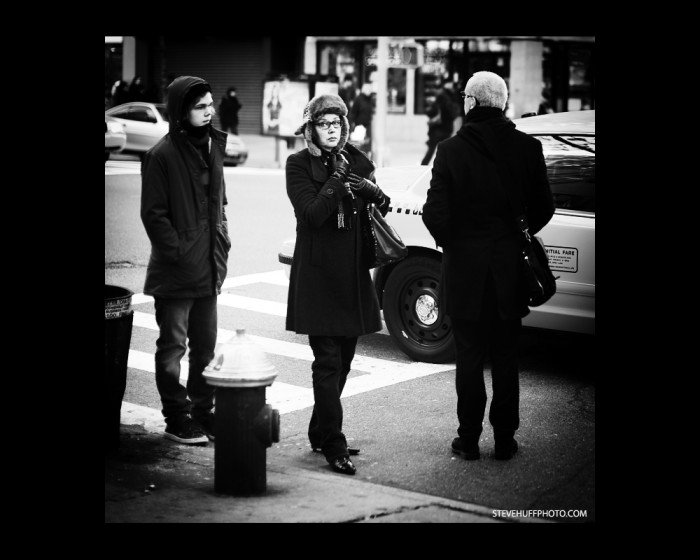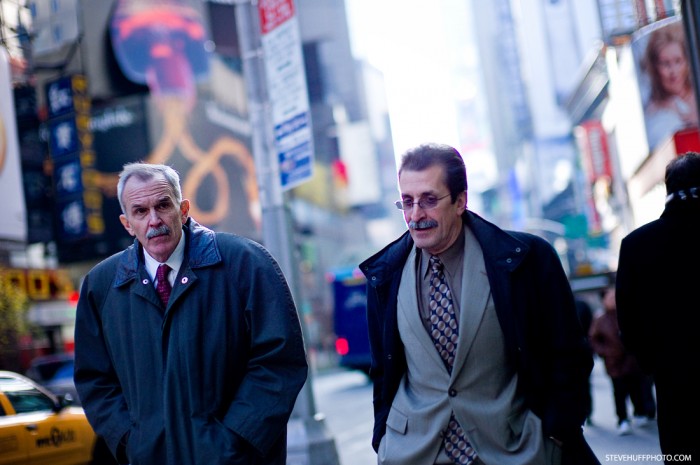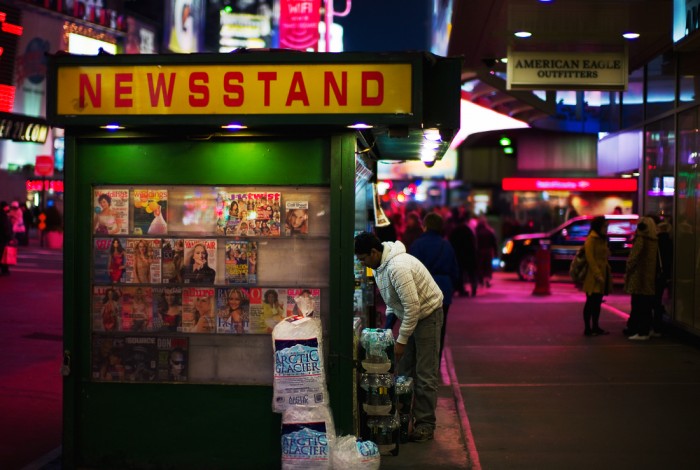 and now, a few with the classic F1 during my NYC trip, all at f1:
Inside of Macy's and looking down one of the old wooden escalators at F1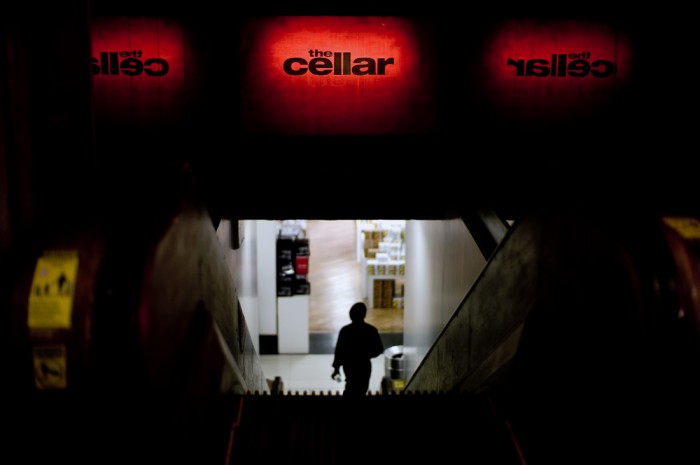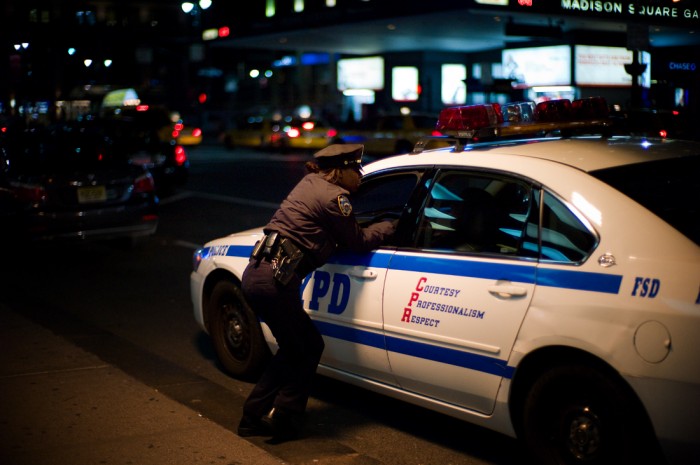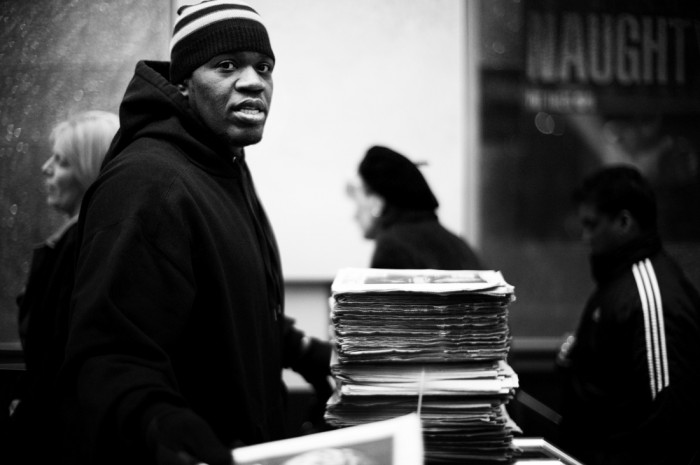 In the image below you can clearly see the vignetting of the F1 version, but I do not have any issues with it and in fact like it.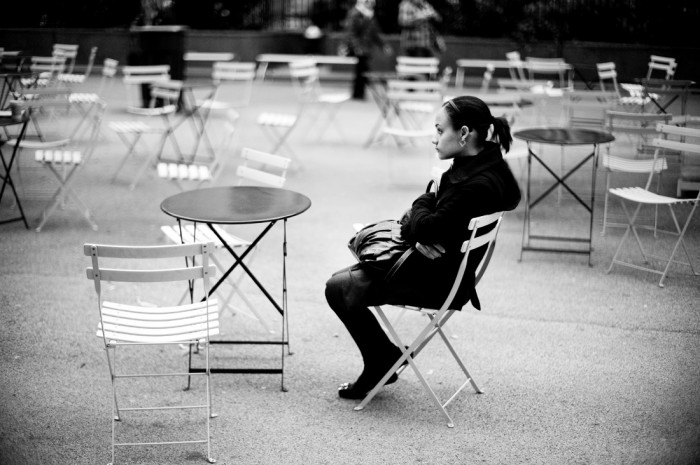 HELP SUPPORT THIS SITE TO KEEP IT GOING AND GROWING!
Remember, anytime you follow my links here and buy from B&H or AMAZON,
this helps to keep my site going. If it was not for these links, there would be no way to fund this site, so I thank you in advance if you visit these links. I thank you more if you make a purchase! I have nifty search bars at the upper right of each page so you easily search for something at either store! I currently spend 14 hours a day working on this site and the only way that I can pay for it is with your help, so thank you!
If you enjoyed this article/review, feel free to leave a comment at the bottom of this page and also be sure to join me on twitter or facebook! Also, you can subscribe to my feed at my subscribe page HERE and read these posts in your browser or news reader!  Thanks so much for visiting my site!