Some Leica Q&A – Switching from a DSLR to Leica Rangefinder – Your e-mails answered!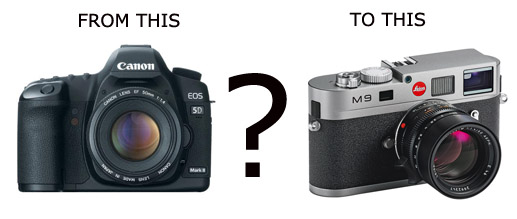 My inbox has been getting jammed lately with many questions from those who have never shot with a rangefinder and are thinking of switching from their DSLR to a Leica M rangefinder camera. I am also getting questions about lenses for the Leica M9 but I will do a post in the morning about that. For now, I would like to share an E-Mail I received from a reader who had quite a few questions about the "big switch". Since his questions were the same type that I have been getting lately I asked him if I could use his actual e-mail to me for this post where I will answer his questions the best that I can, with my own opinions. Here is the e-mail from Mr. George Lanae:
"Steve,
I am going to switch from a DSLR to a range finder and am hoping that you are willing to give me your opinion on several matters. But first let me give you some background. I have really enjoyed your web site, particularly the reviews. Although I will say that you are responsible for me not getting to bed until the wee hours of the morning because I can't tear myself away. HA. I love your non-technical writing style and the passion that you express for photography and Leica.
I have dabbled in photography for close to 40 years starting out with the Pentax Spotmatic and three Pentax lenses (28/50/90). I loved this old SLR film camera, which served me well for many years and gave me memorable moments and pictures. I kept it for many years until I decided to try Canon SLR's, but it was hard giving the Pentax up.
Unfortunately, I have never felt the same about Canon products albeit they are generally very good. Most recently, I have owned the 20D and 5D and was contemplating either the 5DMKII or 1DMKIV. However, I just couldn't get comfortable with wanting to continue with Canon and making the investment. And I have 8 good Canon lenses: 24-70L, 24-105L, 100-400L, 70-300 DO, 16-35L, 85IIL, 100 F2.8, and 70-200L.
But for all the reasons you like the range finder and not DSLR cameras, I feel the same. I don't know how many times that I have missed a picture opportunity because I elected to leave my equipment home for convenience purposes. Plus, I have never really been able to bond with my Canon equipment. To someone who does not appreciate cameras and lenses, this may be hard to understand. However, like you I want a camera that is my friend and a friend that I want with me all the time. I want to enjoy my passion all the time not selectively because my equipment is cumbersome.
When I discovered the M9 and began to research it, it was almost love at first sight. And the Leica look is distinctive and so beautiful. With my Canon equipment, I sort of felt like I had to do everything–landscape, wildlife, portrait, etc–but now I am feeling that I would like to be more selective and introspective–to slow down and do more composing and thinking about what I want to shoot. At this point in my life, I see limiting my photography a good thing, so what I will give up with a DSLR doesn't bother me at all. Sure, there may be that occasion but no big deal. However, I really like the idea of a small camera that forces me to compose my picture more and presents in some respects a simple approach to photography than the plethora of bells and whistles that are so characteristic of DSLR's. I know that you really liked the video component of the Canon 5DMKII, but it was a turn off for me. I just have no interest in video, so including it in an already bulky camera, albeit less bulky than the 1D series, turned me off.
So, I've decided to sell all of my Canon equipment and go for it with the M9 (silver) and two lenses: 28mm cron in silver, and 50mm lux in silver. I want to dedicate my photography to the capabilities of these two lenses including street and portrait photography and landscape. I have the passion for photography but am certainly an amateur with a lot still to learn.
Here are my questions:
1. With the M9, do you think that I have made the right choice of lenses? I prefer an M lens and am willing to make the investment.
YES. You chose two WONDERFUL lenses. The 28 Summicron on the M9 is gorgeous. The 50 Lux ASPH is pretty much a must own but it is VERY hard if not impossible to find right now. This would be an amazing two lens kit giving you a semi wide and a nice general purpose 50. I can not image anyone being disappointed in this setup. Tomorrow morning I will be posting my lens recommendations for the M8 and M9 and these two are in that list.
2. Do you recommend a UV filter to protect the lenses? Do you recommend any other filters?
Yes I do. Though I am guilty of NOT using them, they really should be on the camera for protection. Some think putting a UV filter on may degrade the quality a little. If you think about it, you pay all of this money for the Leica glass, which is the best in the world. You then attach a somewhat cheap piece of glass over it. The filters can sometimes cause flare but most Leica users put one to protect the glass. You never know when you may drop one of these lenses. Better to be safe than sorry. But again, I do not use any.
3. Do I need a flash? With my Canon cameras, I liked to use a flash ( 580 EX) as filler, particularly with portraits, but if I don't need a flash (curious as to how often you use one), I don't feel strongly about getting one.
NO NO NO!!! I am a HUGE anti flash guy when it comes to a Leica M. I have NEVER used one and never will. The M9 and the two lenses you picked will not need a flash. Open those babies up and you will be amazed at what you can capture WITHOUT A FLASH!
4. For someone starting out with a digital range finder and two lenses, is there anything else that you would recommend? I have a tripod, Gitzo, and will keep it.
Hmmm. The only thing you will need is an extra battery and if you like to have a grip on your camera, the Leica grip can be useful. I do not use it but many swear by it. All I use is my M9, batteries, lenses and occasionally a tripod.
5. Although I have not sold my lenses ( I have sold my Canon 5D), should I order MY lenses before January given the anticipated price increases? And should I pre-order the M9 since it's probably still going to take awhile for me to get it?
Well, as you know I shop at B&H Photo. As you also may know they started taking pre-orders for the M9 on November 20th 2009. After 2 weeks they STOPPED taking pre-orders and from what I was told they already shipped most of the M9's that have been ordered but still have some to ship. They are a priority with them and they are shipping them as they get them in weekly. So they will not accept pre-orders until ALL of their other orders are filled. Most dealers have HUGE lists of 50-70 poeple still so it may not be so easy to get one until next year anyway. My suggestion for your best bet would be to check B&H daily and when they start accepting pre-orders again JUMP! You may be able to find an M9 at a smaller dealer as well in the meantime.
6. I may be able to sell some of my lenses locally to professionals and enthusiasts, but for lenses that I can't sell locally, what do you recommend: Should I put them on ebay or sell to B&H? I have sold cameras to B&H, but have never sold anything on ebay. You get a better selling price on ebay, but then again, you have shipping and ebay's cut and PayPals if you use them. I should mention that all of my lenses are in superb condition, like new.
I would e-bay them or use a photo forum such as getdpi.com as they have a great buy/sell section. As much as I like B&H for buying, if you sell to them you will not get what you could if you sold them yourself.
7. I wear glasses but have not had any problem with view finders. Do I need to do anything special with the M9. Most of the time I like to take my glasses off when I am shooting.
If you shoot without glasses it should not be an issue. If you shoot with them it may be a bit harder to see all of the framelines.
8. How do you transport your equipment when you have more than one lense? If I don't need one, I just soon not purchase a camera bag. And I'm only purchasing two lenses, one of which will be on the camera.
Well, I have a cool little billingham bag, THIS ONE to be exact. It holds my M9 and 2-3 lenses very nicely. You could get by without a bag but remember, if you want to carry both lenses and an extra battery its best to use a bag. You could throw a lens in your pocket but they could get scratched up. I would buy a bag. The one I linked to is small and nicely fits over your body.
9. Have you ever used a camera case? Again, not something that I want to purchase if it is unnecessary.
In the past I used a Leica brand lether half case but after a month or two I ended up selling it. Why? Well, it was a pain to always remove the camera to get at the memory card or battery. With that said, I think I may buy one again but when I do, it will be from Luigi at leicatime.com He makes THE BEST Leica M cases in the world.
10. What size and type Rocket Blower do you have for your Leica? What do you recommend?
I use and recommend this one. It is the large size and blows the most amount of air. It works very well for me to keep the dust down.
11. Are you familiar with Zagg Invisible Shield? If so, what do you think of putting it on the LCD display for protection? I use this product for my iphone and it works great–it has an adhesive back that you slide onto the display after applying a light spray of water. Supposedly, it is material used on helicopter blades for protection and is virtually impossible to scratch.
I am very familiar with it as I used it on my first Iphone. The cool thing is you can buy THIS ONE and it will fit the LCD perfectly. BTW, thanks for reminding me. I am going to buy one for my M9 🙂
I hope that you don't find my email an imposition and thanks ever so much for any help and advice that you have. My best.
George Lanae
PS: I plan to purchase my Leica camera and lenses from B&H and will do so from your site. By the way, besides photography, my other passion is writing. I published my first book last year about my daughter who has Down syndrome and am working on a second."
Here is the link to George's website, and here is a here is a link to his book at Amazon
.
I hope these questions and answers will help some of you who visit this site and are thinking about switching from a DSLR to a Rangefinder. Also, it is always best to handle an M before jumping in if you can. Not everyone gets along with manual focus but George seems to be a perfect candidate for an M9, plus he chose two GREAT lenses to start with. For me, that would be all I would ever need 🙂 Also, many shoot with a rangefinder and they keep a DSLR on the side for macro or telephoto. Two things an RF is not capable of. Me, I do neither so I am good with the M9 alone. 🙂