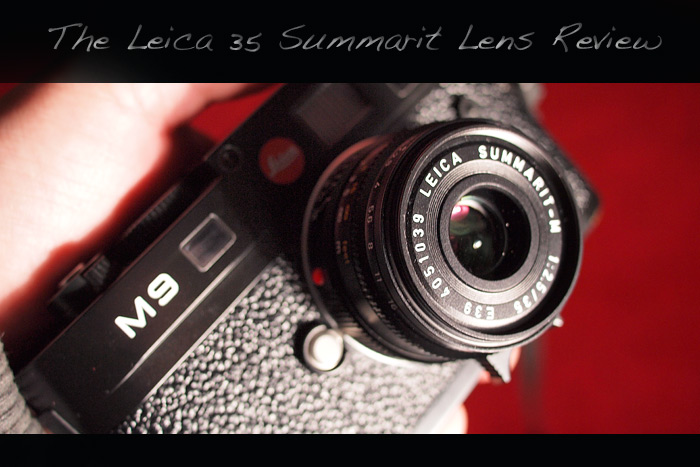 Leica 35 Summarit Lens Review – Since I live in the midwest and it just so happens to be January, I have been un-inspired lately to get out and look for things to photograph. On the days when it is not too cold, it is dark and grey. The days where there is some light peeking through the clouds it is too damn cold to go outside! I would rather be sitting in my house writing a review for the site with my toasty socks on and the heat cranked up! But I have been motivated. I recently took delivery of a new Leica lens from Ken Hansen and you know how that goes. Even if it is 10 degrees outside, when it is new lens day you go out and shoot. 😆
Leica m9 – 35 summarit at 2.5 – converted to B&W with Silver Efex Pro – (vignetting added to this shot)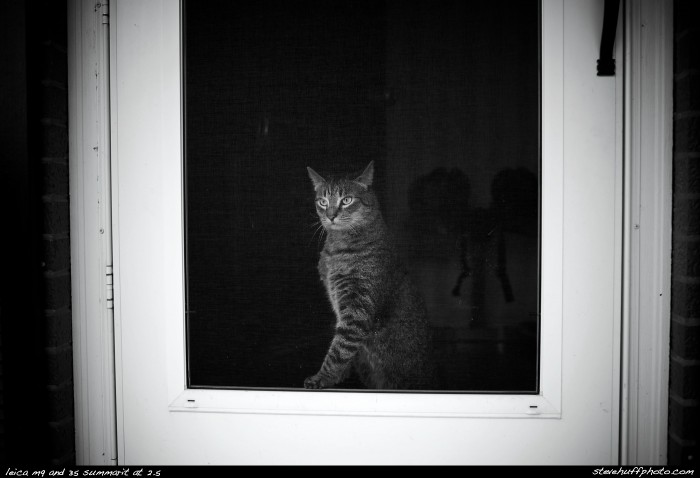 It's Small, Light and Affordable (for Leica)
The small and light Leica 35 Summarit was a lens I have always dismissed. I admit, I have always been a speed demon when it comes to lenses. If I could find a way to afford them, the Summilux lenses would always find their way to my camera bag. But…over the years as you get older and wiser things sometimes change. Even though I never thought of buying a 35 summarit, lately I started to think about the benefits of owning this little lens. Also, as money gets harder to come by it's always nice to have a less expensive option in Leica land. As long as the performance is there then why not spend less?
With that said, the 35 Summarit is one of the least expensive lenses in the Leica lens lineup. At $1695 it is the 2nd cheapest lens you can buy "new" from Leica. The 50 Summarit is the least expensive at $1395. For that reason, you would think that this would be the hottest selling lens for Leica. Cheap, small and a classic focal length that is a must own for any M shooter! But guess what? The summarit line is actually the slow sellers for Leica. I can only imagine that this is because some must think that due to the price that the performance is not there. Let me state right now that this is NOT TRUE. The Summarit line performs just as well as the summicrons and summilux's in regards to image quality! Again, its just the speed. The 75 summarit I used to own was an AMAZING performing lens at a fraction of the summicrons price.
Did I say this lens was small? Yep! This is the second benefit of this lens. WIthout the hood on (which is an extra accessory that cost $$$) this lens is tiny! So it's cheap (for Leica) and small, and a 35mm. Whats the catch? Why is it almost 1/2 the price of the Leica 35 summicron?
Well, a couple of years ago Leica released the "Summarit" line of lenses. They created these for all of the people who were just getting into Leica M shooting as a more affordable way to do so. Many Leica M buyers struggle with which lens to get and often times they settle for a Zeiss or Voigtlander lens due to the Leicas being so expensive. Not that Zeiss lenses are bad! Quite the opposite actually. But for many, when they buy their first Leica they want a Leica as their first lens. I understand it myself as I have usually always wanted to stay with Leica glass. I have shot with some fine Zeiss ZM lenses but still, at the end of the day I am a Leica guy. After all, there is nothing quite like a Leica lens on a Leica body. They are a perfect match! But let me state again, there are some amazing Zeiss ZM lenses and a few good Voigtlander lenses for the Leica M mount.
Here is the small and light 35 Summarit on the M9 with the optional hood attached: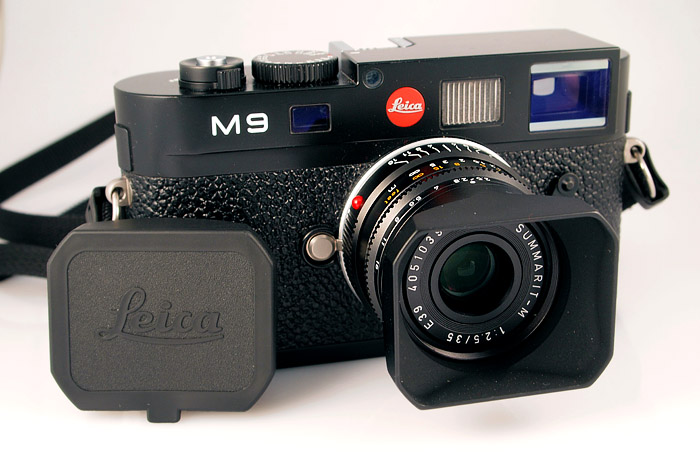 Here is the weight of the lens with and without the hood. The lens comes in at 6.9 OZ without and 7.6 with. For comparison, the 35 Summicron is 8 oz without hood and the 35 lux is 8.8 oz.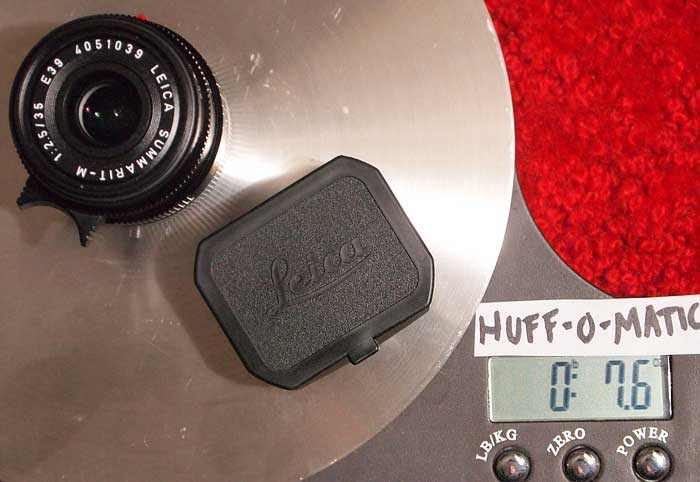 The main reason these lenses are less expensive than their Summicron and Summilux counterparts is due to SPEED. Yep, the entire Summarit line are F2.5 lenses. This means that they are not as fast as the F2 Summicrons or the F1.4 Summilux lenses. They are also said to not be made as well but from my experience,  all of the Summarits are made beautifully. They are not quite as heavy as the others, and the aperture rings may not be as smooth as the summilux lenses, but in my opinion they are superb in their build and feel. Here is a short youtube video I made on the 35 Summarit lens so you can actually see it. I shot the video with the Olympus E-P2 and 20 1.7 lens.
SO DOES THE IMAGE QUALITY KEEP WITH LEICA STANDARDS?
So what about image quality? We all know that the 35 Summicron ASPH is pretty much as perfect as a 35mm lens can get. We also know the 35 Summilux has some serious magic in its rendering and has that Leica look many of use crave. So where does the little 35 Summarit fit in as far as image quality goes? I have been shooting with one for a while now and I have to say that I find this lens to have a rendering which is sharp but sweet. This is not a clinical lens but it's also not a dreamy lens. For me, it is the perfect balance between being "too modern" and "too classical"! It's in between, and with it not being an Aspherical lens, it will not be too modern looking in its rendering or "Draw".
The bottom line as far as quality goes is that for $1695 you get a 35mm Leica lens that is 93.2% of the summicron. It's a half of a stop slower and maybe not as perfect, but it's also not as clinical. It's a little warmer than the summicron but not as warm as the Zeiss line. It's tiny, light, and beautiful on the Leica M9 body.
HOW ABOUT WITH THE OLYMPUS E-P2?
Since there is now an E-P2 is the house I bought a Novoflex M to M4/3 adapter and am now able to shoot M glass on the Olympus. No, this will not give you the magic qualities like you get from and M8 or M9 but it is fun to shoot these lenses on the Olympus. With the 35 summarit attached the little Oly feels solid and M like. Unfortunately the image quality is really no better than using the Panasonic 20 1.7. You do get better and richer color but you will not get that amazing bokeh and detail as the lens is limited by the m4/3 sensor. On the E-P2 the 35 Summarit becomes a 70 F2.5 as the m4/3 cameras have a 2X crop factor.
Would it be worth buying the adapter and this lens if you only have an m4/3 body? No. I suggest buying a Panasonic 20 1.7 instead. If you have a leica M body already then it is worth getting the adapter to have fun with your M lenses on the E-P2. It is just not worth spending $1600 for a lens that is limited by the camera you attach it to. Still, I do notice richer color with the Leica 35 Summarit when compared to the Panny 20 1.7. Also note, the minimum focus distance of the 35 Summarit is 0.9 meters, so you will not be able to get close like you can with the m4/3 lenses.
The 35 Summarit on the Olympus E-P2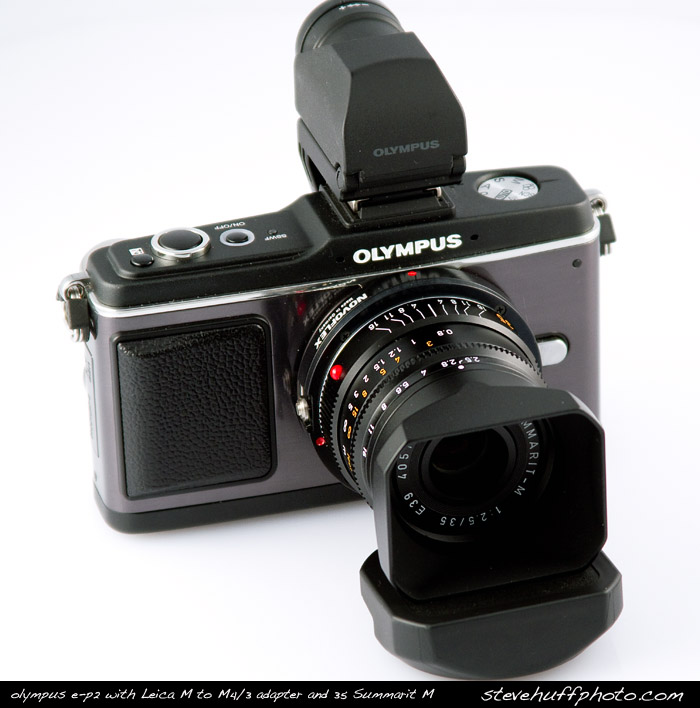 Olympus E-P2 with Novoflex M to m4/3 Adpapter – 35 Summarit at F2.5
BOKEH, COLOR AND DETAIL. DOES THIS LENS DELIVER?
I am finding that the 35 summarit on the M9 can really give you a blend of Leica magic, smooth bokeh, warm colors, and more detail that you may want in your digital files. I have been shooting this lens mainly wide open at 2.5 and it has been as sharp and detailed as any lens I have ever shot with. It is not any less sharp than the summicron at 2.5. Period. It may vignette just a slight bit wide open but most will not even notice this. It is so slight and I have only noticed it when shooting with a light sky in the background. I have also shot with it on the Olympus E-P2 with an adapter (see the above image) and it has performed well but on the E-P2 it becomes a 70mm equivalent and some of the magic is lost due to that crop and the limits of the m4/3 sensor. Oh yes…this lens SHINES on the M9 in a pretty big way!
Let's take  look at some images that will show you color and bokeh. I will even throw in a link to a full size original (or two) so you can see for yourself just how sharp this lens is on the M9:
This is a straight from camera image with the M9. No PP. Converted from RAW/DNG in Adobe Camera Raw 5.6. Click image for large 1800 PX wide version, or click HERE for full size.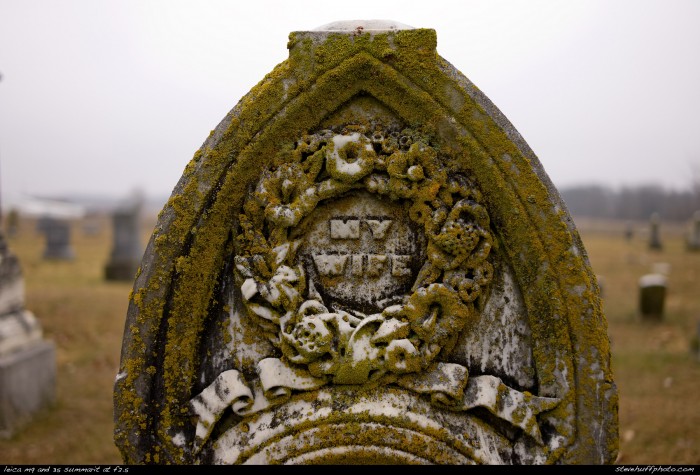 Wow! Will you look at that detail? If you clicked on to see the full size file you will see how sharp this lens is on the M9, and this image was shot at F2.5. Wide open. You can also see just how slight the vignetting if you look close enough, but again, most would probably not even see it. The lens obviously is sharpest in the center of the frame, but overall its damn good. Again, this lens does not give you a "clinical" presentation like the 35 Summicron. To me, this lens actually puts out a more pleasing look in some ways.
BUT WAIT, THERES MORE!
I am also going to throw in this image showing you how lovely the color, bokeh, AND detail are with this lens!
Another straight from camera RAW conversion. M9/F2.5 and ISO 160. Click image for 1800 Pixel wide version or HERE for the full size file.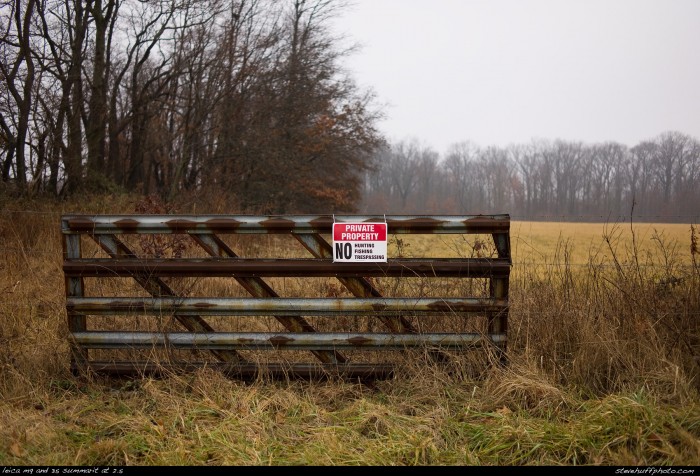 So what do you think? In my opinion (and I have shot with quite a bit of Leica glass) this lens delivers in all areas. Bokeh, color and sharpness/detail are all very good. If you are a regular to this site then you know how I shoot 99% of the time. WIDE OPEN! Yes, one of the reasons I love Leica so much is that their lenses are "no compromise" lenses. This means you can shoot wide open, stopped down…doesnt matter. You will get delicious contrast, sublime color and pleasant bokeh at all apetures (unless you are at F11, then no bokeh). As stated above, the lens does lose some of that biting sharp detail as you get away from the center of the frame (when wide open) but this is also what gives it the look it has. It's NOT a perfect ASPHERICAL lens.
Leica M9 with 35 Summarit at F2.5 – Processed in Photoshop CS4 – Click image for larger version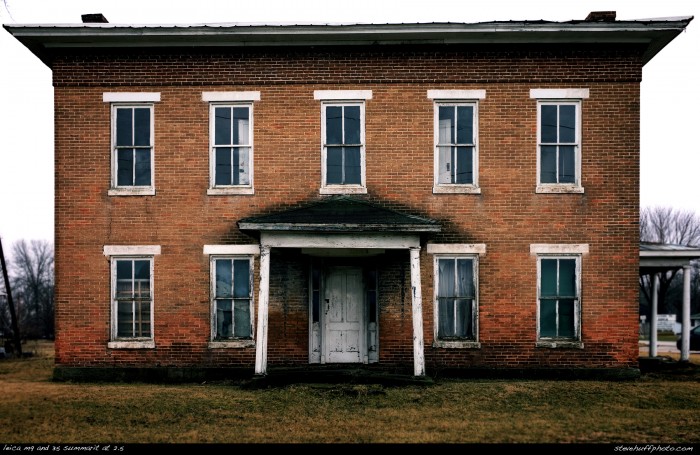 SO, IS THIS LENS GOOD ENOUGH FOR MY M9?
ABSO-FRIKKEN-LUTEY! This lens is a gem. It's the sleeper in the Leica lineup and also a bonafide bargain. This 35 will do whatever you ask of it. No, it may not be the best for low light and no, it will not give you creamy bokeh like the Summilux, BUT it is a fraction of the price of those other lenses, and it's also smaller! If money is tight, or even if it is not then I can easily recommend the 35 Summarit. On the M9 it's superb, and by the way I have also made it mine! After buying, selling, and trading so many lenses during my 3 month search for a 3 lens kit that I could keep without feeling too bad about the money, I have decided that the 35 Summarit will be my 35mm of choice for my M9. I also bought the hood which is the metal screw in type like the new 21 and 24 summilux's. It's just quite a bit smaller than the wide LUX monster hoods.
This lens will be the perfect choice for me when I go out and shoot for my "Rural Landscape" series of broken down homes, buildings and cars. Even at F2.5 it delivers the detail I need for this project. Here are a couple of processed images that I shot with this lens on the M9. Click any image for an 1800 Pixel wide version! All were shot at F2.5.
Here is an old abandoned house that I shot with the M9 and 35. This was converted from RAW and I did some selective sharpening and dodge/burn in CS4.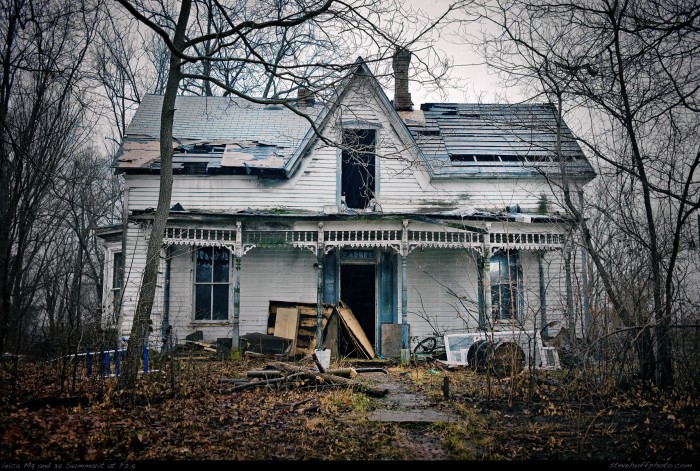 Another old abandoned house that is just sitting and rotting away. F2.5 with the little summarit. The M9/summarit combo is perfect for these types of images.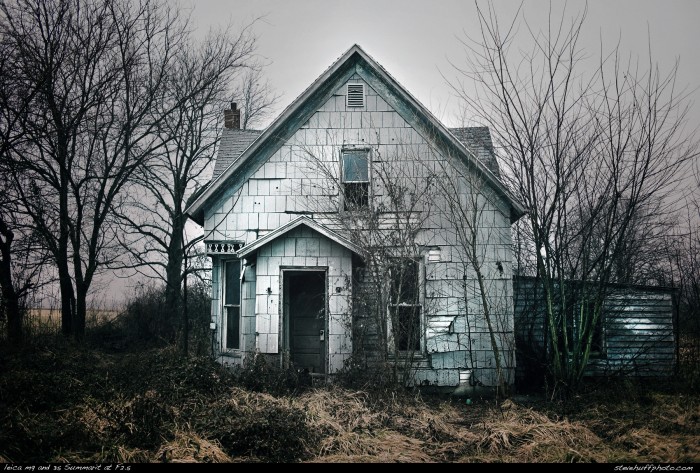 This is a new house I found this week while shooting the 35. Again, F2.5 on the M9. Any vignetting you see was added.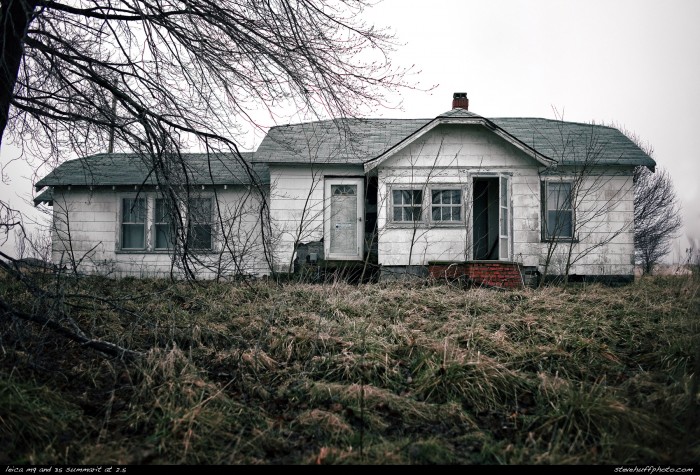 As I walked through a VERY old cemetery I saw this odd scene which appeared to be several headstones placed in a pile. Wide open at 2.5.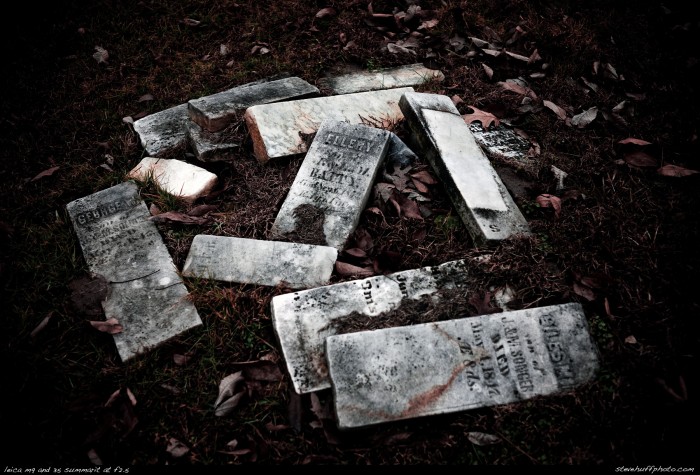 Yet another old house that I thought was abandoned. I was told by a neighbor that there was an 86 year old man who lives in this house and has for 40 years.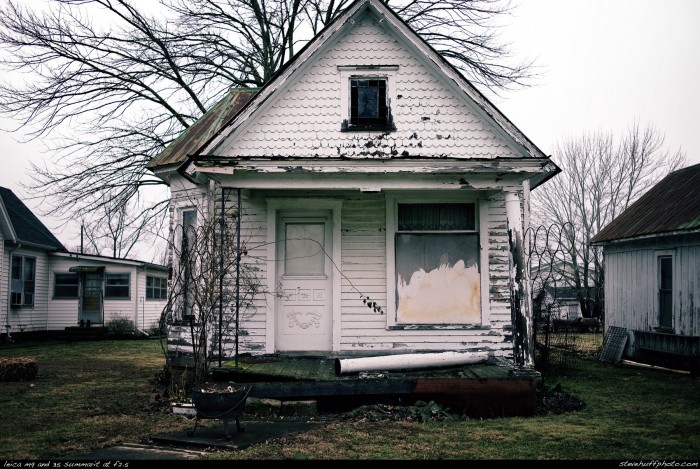 This lens has all of the qualities you could ask for in a Leica lens. Build, size, and image quality are up there with the rest of the Leica lenses, just in its own kind of "flavor" and i must admit, it is a flavor I really like. If you want speed, buy the 35 ummilux. If you want clinical perfection, buy the 35 Summicron. If you want to save some cash and have an all around super performing lens then buy the 35 Summarit. You can't go wrong with this one. It's a gem, and a keeper. If you feel the need for absolute perfection and more speed then the 35 Summicron is what you are after (see my review here) but expect to shell out $2995 for that one. OK! On to my Pro's and Con's list of the Leica 35 Summarit!
PROS AND CONS OF THE LEICA 35 SUMMARIT LENS
PRO'S:
It is small, light and well made.
The image quality is what you expect from Leica. Superb.
It's semi fast at 2.5, just a bit faster than a 2.8.
Bokeh is minimal, but nice.
A perfect match for the M9 and great as a starter lens.
One of the least expensive Leica lenses.
Super color when you have good light.
CONS:
Only comes with a fabric pouch, no leather case.
Hood is a $139 accessory. Yep, $139 for a metal screw in hood and cap. It's nice but not $139 nice.
Lens hood easily screws off when trying to unmount the lens. It does not lock in to place.
Ever so slightly vignettes at 2.5 but no one would notice it.
Not as solidly made as a 35 Summilux.
Some slight softness in the corners when wide open, but not enough to bother me.
Some CA in high contrast situations but this is more or less due to the digital sensor "bloom" and all lenses do it on the M9/M9 in certain situations.
Finally, has some slight barrel distortion. You can see this when shooting straight lines. The $4500 Summilux also has this, so not a major issue.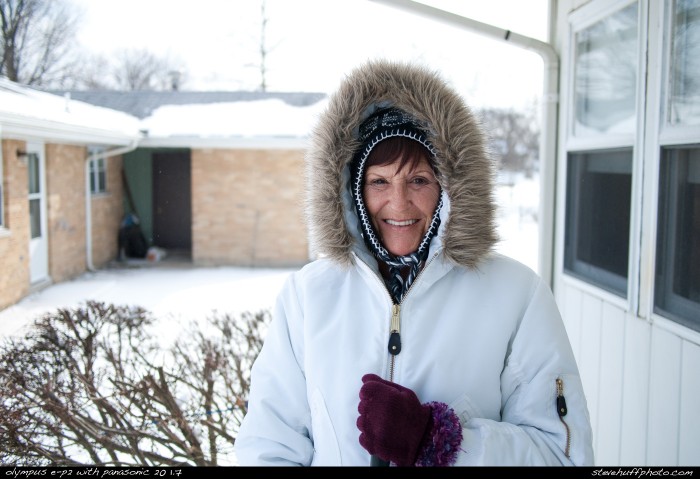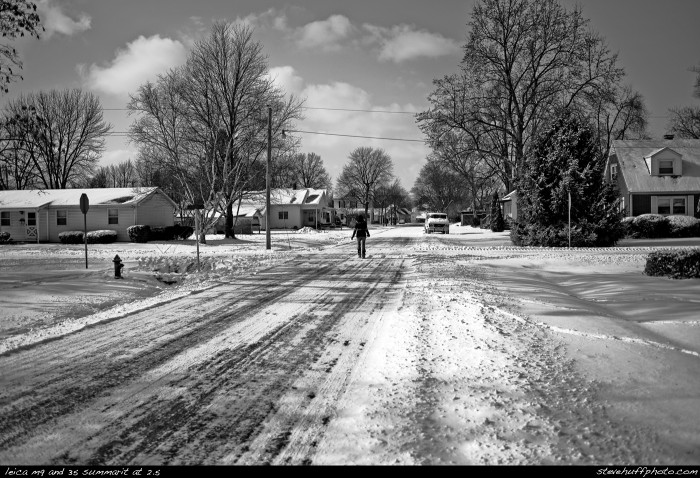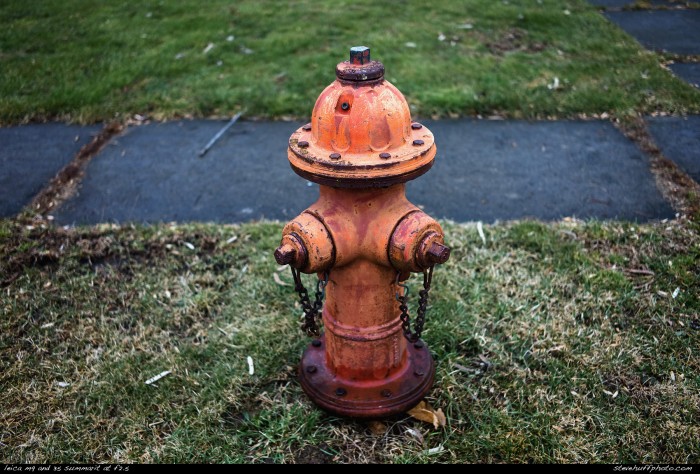 So there you go! I hope you have enjoyed this review as I had fun shooting for it and writing it. If you want to buy this lens for your M, you can get it at B&H Photo HERE, or you can go to Amazon and pick one up HERE ! Doing so will help me continue with this site!
My lens came from my friend Ken Hansen and he has the lens in stock at all times. You can e-mail him here.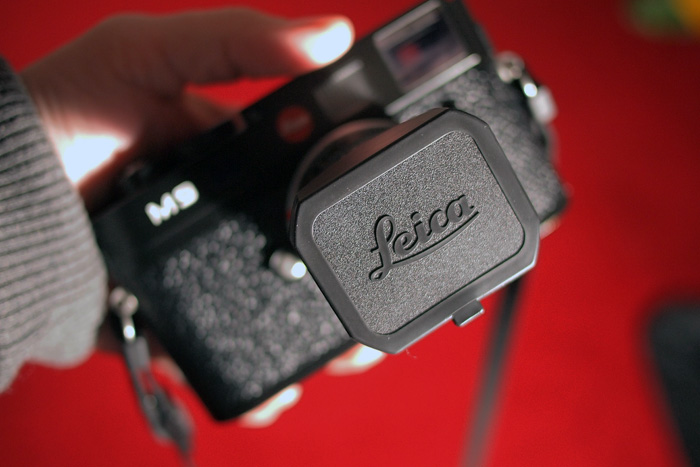 HELP SUPPORT THIS SITE TO KEEP IT GOING AND GROWING!
Remember, anytime you follow my links here and buy from B&H or AMAZON,
this helps to keep my site going. If it was not for these links, there would be no way to fund this site, so I thank you in advance if you visit these links. I thank you more if you make a purchase! I have nifty search bars at the upper right of each page so you easily search for something at either store! I currently spend 14 hours a day working on this site and the only way that I can pay for it is with your help, so thank you!
If you enjoyed this article/review, feel free to leave a comment at the bottom of this page and also be sure to join me on twitteror facebook! Also, you can subscribe to my feed at my subscribe page HERE and read these posts in your browser or news reader!  Thanks so much for visiting my site!