Last month I was contacted by Pbase Magazine about featuring my Homeless Project in their March issue. These images have been published before but this time I decided to re-visit and re-edit the masters which were all shot on Tri-X with a Leica MP and 50 Summicron. As I went through them I remembered how much I enjoyed photographing them and talking with these men and women about their lives, their family, and their urgent situations.
Many of you here may have seen these images before. I have had them at a gallery over at Pbase since 2006 and it has had quite a bit of exposure. Many images have been in newspaper articles, posted at homeless shelters, used for homeless aid web sites, as well as been exhibited here and there. Nothing major but I always enjoy spreading the word about the homeless situation in America not only with the images, but with the personal stories of those I photographed. For those new to the site, I do photograph things other than cats, barns and my son 🙂
These images are not considered "street photography" as everyone here knew they were being photographed. Also, I am not "exploiting" them. Instead of sneaking an image of them as I walked by them I approached them, offered my help, and ended up speaking with them for a while. I learned quite a bit with this project and I do plan to continue it someday soon. These were all shot in Phoenix AZ where there is a huge population of homeless individuals. Here are a just a few of the images that will be in the online magazine due out in March at pbase.com. The magazine will be a 4-5 page spread with the images and the stories of the homeless. I will update here when it is out 🙂 Today I am going to showcase "Rodney".
Rodney – November 19th 2006. I met Rodney as while walking into a Walgreens drug store. I saw this man limping and his head was bloody with fresh stitches sticking out from his wounds. I asked him if he was OK and he said "Yes" and we started up a conversation. After chatting with him for a minute or two we made our way to an alleyway…his home, where he had a couch that he slept on at night. He started to tell me his life story…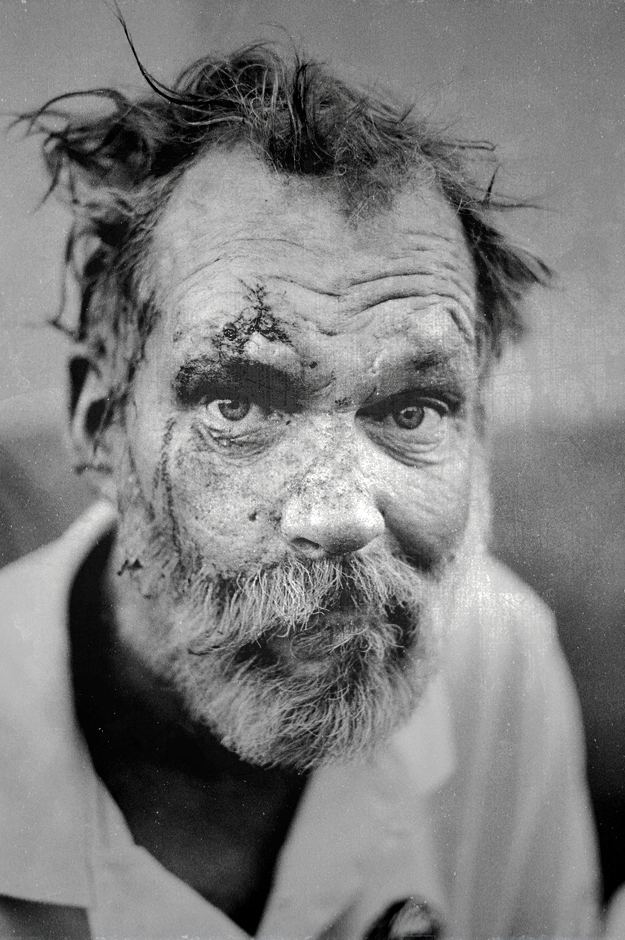 Sitting on the couch, he started to tell me how he just got out of the hospital because someone beat him and stole his belongings. I imagined it must be hell living on the streets. I imagined I was Rodney. My belongings consisting of a blanket, $10, and the clothes on my back. Then someone comes along and beats you bloody just to steal that blanket and $10. Sleeping in alleys and begging for food. Not a situation I would want to be in and it rally made me realize how lucky I am to have what I have. It also made me really sad to see there was a man in front of me spilling his guts to me about his past and present life. He was full of emotion and I felt his pain.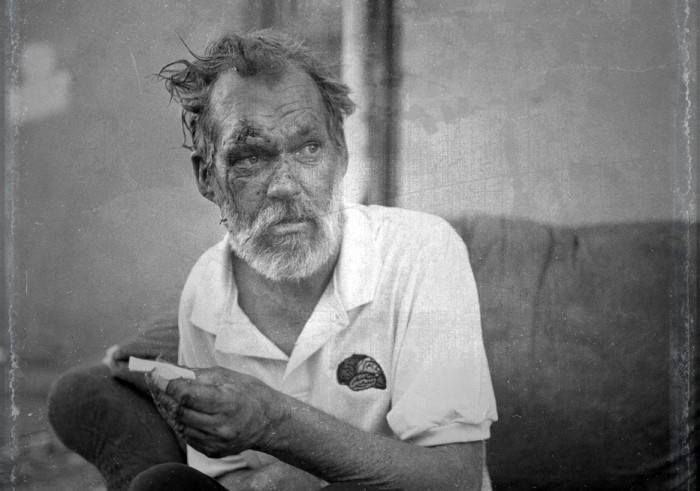 Rodney used to have a job, a family and a house. After losing his job, and then everything else (including losing his wife to cancer) he ended up on the streets. He managed to find his way to an assisted living home where he received a couple hundred dollars a month for necessities from the government. After getting beaten on the streets he no longer remembered where the home was and asked if I could help. Rodney was not drunk, or high. He seemed like a broken man who was sick of life and was teetering on the edge of suicide. He spoke about it and said that he wished the guy who beat him would have finished him off.  I realized that any of us could be like Rodney. One streak of bad luck, or even a tragedy could cause one to spiral downwards pretty fast.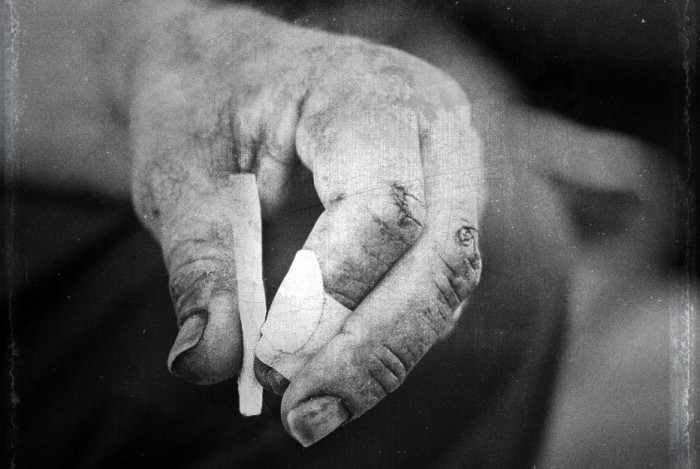 When I left Rodney I told him I would try to find information for him and I did eventually find out where he was staying but my attempts to find him again were unsuccessful. These were shot in 2006 and tonight Rodney may be out there on the streets, cold and hungry. He may have passed on and left this world behind. As I look back at the 7 or 8 images I snapped of him I remembered how much I enjoyed my time with him that day. I helped him out with some food, water, and a little bit of money. When I gave him these things his face lit up and he shook my hand with a smile. He was starving and he devoured the Mcdonalds value meal I handed to him within minutes.
The full article will feature images and stories of four of the individuals I met while working on this project. Look for it in March at Pbase.com. I hope to continue this project in 2010 but really would like to continue it with film. When I can score a MP or M7 I will get going once again. Can't wait.
All images shot with a Leica MP and 50 Summicron at F2.
[ad#Blog Square Embed Image]