TGIF…it's been a crazy week here and I know I posted some fun links on Monday but I wanted to get back on track and post my links on Friday again! Also, Q&A Wednesday will be back on Wednesday next week! I will have a couple of new reviews next week along with some cool posts, some awesome daily inspirations, and even maybe a surprise or two 🙂 For now, here are some links I would like to share…
50 Summitar Images & Ebay Deal!
One of the readers of this site sent me a link to her blog which features a bunch of images taken with the amazing and classic Leica 50 Summitar. I LOVE this lens and since my last review of it I noticed that most of the deals on e-bay have vanished. To check out the 50 Summitar images from Emily Godwin, click HERE.
Speaking of the 50 Summitar, One did just pop up on e-bay from a seller in New Zealand. Bid is up to .99 cents!
More M9…
For all of you seeking more M9 images and info, my friend Thorsten Overgaard has updated his Leica M9 pages with info and images from his recent New York trip/seminar. You can see that page here but be warned, if you do not have an M9 it will only add to the lust for one 🙂 Also, remember his extension course is there if you are interested in improving your photography!
The Leica X1…
More X1's have been shipping and they are now in the hands of quite a few photographers. Here is a site with some cool X1 images…
Miscelaneous…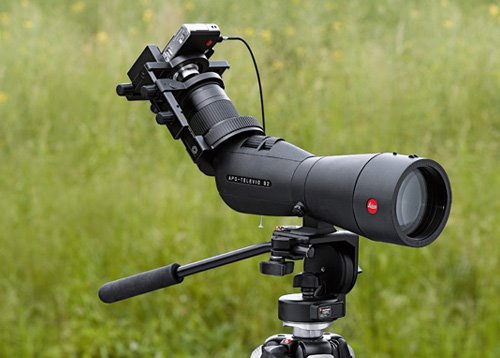 How about this? I may be able to get one of these setups in a couple of weeks for my long road trip from Chicago to Arizona (along with some other Leica goodies to review). I will be out in the desert for a few days and I think this would be pretty interesting to try out. You can see some images taken with the above set up at the Leica Birding Blog. Very cool stuff. The image above is from that blog and is a Leica D-Lux 4 attached to a Leica APO-Televid 82. What is cool is that you can get some amazing images AND video with this setup.
With my "wedding with an M9" post last week (see it here) I had a few e-mails from a few brides to be asking if I would shoot their wedding. I have not shot one in a while (yes, I have done weddings before as a pro) and the one I did last week was actually fun. I also had a few e-mails from some wedding pros who have ordered an M9 to add to their wedding kit. I think this is a great idea. If you are a DSLR shooter you can also get a few shots with the M9 as I think it excels for candids and personally, I work faster and more accurately with an M9 than a DSLR but this comes from daily rangefinder use. The point of  this post though is that if you are going to shoot a wedding, do not shoot them like this.
Fast Primes are bitchin'…
Someone who loves fast primes as much as I do!
The Ipad cometh!
Apple is now taking orders for the Ipad!
Hot cameras, lenses used deals.. IN STOCK….
Well, if you want one..go get it. Yep, the Leica S2 is IN STOCK at B&H photo. The last one they had sold out in a day or two. Let's see how long this one lasts.
B&H Photo just listed a Leica 21 Elmarit ASPH, used, in a 9 out of 10 condition. $2499 – Go get it. They also have the older non-asph version (which I prefer) for $1,899.
I saw the blue Olympus E-PL1 the other day and really liked its look and feel. If I were to buy one, I think I would get this color. The E-PL1 is the Olympus answer to the Panasonic GF1 and at only $599 it's a really great price for this camera. If you want to get in on m4/3, this may be the model to go with!
One other camera that has been raising alot of eyebrows recently is the Ricoh GXR. This interchangeable lens/sensor is a very unique camera system and there are some amazing possibilities with it in the future. I hope to be getting one of these for review in the next week or so and I may be keeping it if it is as good as I hear. I am looking for a new compact for my bag and it will be between the GXR, Leica X1 and Olympus E-PL1. Not sure which will win but I have a feeling the Ricoh may win me over with its build and versatilty. I have also seen rumors of a Leica M module which would allow you to mount your M lenses. That would be pretty freaking cool!
Amazon is selling the whole GXR line…
GXR Body – $549 At Amazon
Ricoh A12 50mm f/2.5 Macro GR Lens with APS-C 12.3 MP CMOS Sensor – $830
Ricoh VF-2 External Viewfinder for GXR Camera System – $257
[ad#Adsense Blog Sq Embed Image]
Hope you enjoyed the links! If you have a cool site, blog or just know of some cool links, feel free to submit them to me HERE!