Hello once again! I'm still out traveling and currently in Surprise, AZ at a friends house for a few days. The sun is shining, the temp is warm, and I just so happened to be driving around looking for some shots when I saw a big sign that said CLASSIC CAMERAS. After a quick U-Turn I was in the door!
The store was full of old classic cameras and it appeared there were hundreds of classics from Canon, Nikon, Minolta, Pentax, Contax and yes, Leica.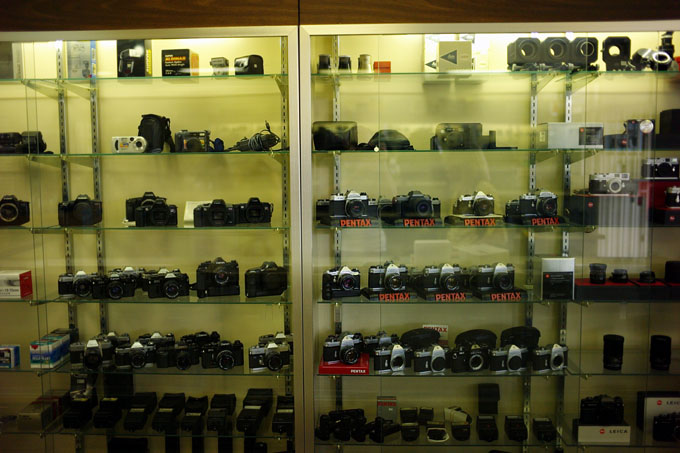 I spotted a mint M2, a couple of M3's and various lenses. When I asked if they had an M6 classic in chrome the salesman went to the back and came out with a white box that looked brand new. I opened it up and inside was an unused 10/10 condition chrome M6 classic. The box, manual, paperwork, and even the strap (still in box) all appeared as new/unused.
As soon as I held it I was hooked. The M6 classic is not as tall as the M6 TTL or M7 and it just fel so good in the hand. Small, sleek, thin and it was oozing Leica quality. It is a gorgeous camera and I have been looking for a nice used M6, M7 or MP and I knew that I would not be able to find one as nice as this, at this price. I also like the fact that the M6 is not full or electronics and can work fine without its batteries. The batteries inside the M6 are only there for the meter and it can be used without them if you know your stuff 🙂
After holding and inspecting this M6 I knew I wanted it. I had some extra cash from selling a few items lately and I was able to get a GREAT deal on this camera. Yes, now it is mine and it is loaded with some Portra 160 NC so I am excited to get out and shoot some film! I have the M7 here as well but I have to say I am preferring the M6. It just seems so pure.
I almost bought an M6TTL from Ken Hansen as he told me he had a few new in box (new old stock) from the last 500 produced. Due to the deal on this one I could not pass it up and I actually preferred the M6 classic to the TTL as it is the closest to the MP I have shot with or held.
Anyway, just wanted to share my excitement and say the M6 classic is a gorgeous camera and IMO, it looks and feels better than even a Leica M8 or M9. Of course with film you have the cost and expense of buying film, scanning, etc but in the end I think it is worth it. In the next few days I will be posting some scans from the M6 and M7 as well as my review of the super fun Olympus E-PL1.
I will not be home for another week so my posts may be minimal until then but the site will be updated every day this week and weekend.
I have had some people ask me why I would want an "old M6" when I had an M9? Well, there are MANY reasons to add a nice film camera to your digital kit. My reasons were because film not only has a totally different look, but when you shoot film you also shoot with a different mentality. You forget about chimping, white balance, ISO and sharpness. Basically, no more headaches. I am not saying film will replace digital for me as that will not happen but it is nice  to shoot film every now and then to get away from the digital headaches for a while. For my personal shooting I may just shoot this m6 and 50 cron for a few months and see how it goes. I will be sure to post my experiences and results along the way.
Thanks for looking and if anyone out there has an M6 post a comment and let me know how you like it! BTW, just saw that B&H has a 9 condition M6 classic in stock right now.
Steve