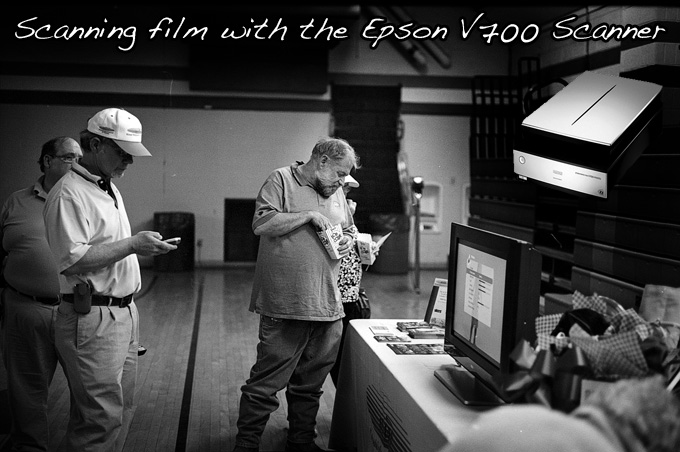 Happy Monday to all! But is there such a thing as a Happy Monday?!?!
Still been shooting film with a little digital thrown in but yes, I love my Leica MP 🙂 After a few days with it I can say that it is the nicest rangefinder I have shot with in regards to feel and use. Beautiful. I have also been surprised at the amount of email I have been getting telling me to keep shooting and talking about film! I guess these days most sites only concentrate on the ever changing world of digital but I have found that there are quite a few of you out there who either love shooting film or at least want to try it out.
The cool thing is that shooting film can almost be like digital but while giving you the soul and quality of analog. How so? Well, by SCANNING your film into your computer! It's easy and it's SLOW but it can be fun and rewarding as well. Sure, a digital M9 will give you crazy smooth files and high resolution but I have actually been preferring the look of film these days! After a while, looking at thousands and thousands of perfect and smooth digital files can get boring. So many digital images these days have no feeling, no soul. For some reason with film it seems easier to catch a "moment". Call me nuts, call me crazy but so far that is what I have been seeing. The M9 is still my favorite digital ever though 🙂
I always like to compare the film/digital difference to the look of video and film. Ever notice that when you shoot a home movie with a camcorder your video looks WAY different than a movie that was shot on film? It's not only about resolution, dynamic range, and color, but also about frame rate. Even if you freeze a frame of a movie shot on film and then took a frame from your video shot on a camcorder you can see that your camcorder frame looks generic and lifeless, while the film looks rich and has feeling. It's almost the same thing with film and digital photos. Film has its own look and digital has its own look. Is one better than the other? Well, yes and no. Digital will give you amazing detail and really smooth files. The Leica M9 is king here. If its all about resolution and sharpness then the M9 is your camera unless you need a DSLR.
BUT, film has a special quality that is different. Sure, it has more grain and yes it is true that it's not as sharp. Keep in mind I am only talking about 35mm film, not medium format. That will come later 🙂 But 35mm film can provide you with memories that "feel" good. I really do not know how to describe it but everything from the way you shoot with a film camera (especially a manual focus Leica or Leica equivalent) to the final result…it's all part of the film experience. Film slows me down. I am more careful with what I shoot (most of the time) and it may take me days to get through a roll of 36 exposures. With an M9 I may shoot 100 frames every day but end up having 98 of those images being absolute garbage.
It can be an enlightening experience shooting only a film camera with one lens for a while. It opens your brain more and helps your creativity. I thought that I would be running back to digital by now but I have been bitten and smitten by the film bug and see no end in sight. I still enjoy digital but for my personal shooting it's all film right now. For the website testing and reviews and any other "jobs" it will be both film and digital. It's very nice to have both in my bag.
STEVE! YOU SAID THIS WAS ABOUT SCANNING!!!
Oops! Got a bit off track there, sorry! Onto the scanner!
Today I wanted to put up a video showing you guys how I scan my film. It's not the greatest production in the world but it should give you an idea of how to scan film using one of these Epson flatbed scanners. I have had about 30-40 requests for info on how to scan film, so the 2 part video is a but further down the page. I am using the Epson V700 scanner here and it can be found AT B&H RIGHT NOW at a reduced price of $472. This is about $50-$60 cheaper than I paid just 2 weeks ago. WOW. At $472, this is a screaming deal.
The Epson V700 is an attractive scanner but pretty massive on your desk!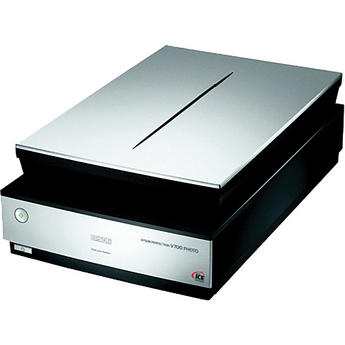 The V700 is a very nice upgrade from the V500 and comes with Epson Scan software as well as Silverfast SE, which I prefer in a HUGE way. If you want to go whole hog and get the best flatbed package you can get then Epson offers the V750 Pro which has coatings on the glass to help improve the quality AND it comes with the upgraded Silverfast AI which is great software and better than the SE version included with the V700. The V750 is $650 right now which is also a deal! I wish these prices were in effect two weeks ago as i would have bought the V750 instead just for the software.
The V700 is what I have though and I have to say that it is one hell of a scanner for the money. At $472, you will not find a better film scanner NEW. Using silverfast I have been getting GREAT results. One thing though is that while these scanners advertise 6400DPI I would not recommend scanning at 6400. I have spent the last two weeks scanning at all resolutions and experimenting with all of the settings. I have found that scanning at 2400 is the best bet with the V700. Anything higher and you just get bloated files that will not bring you better results. The image will get softer at higher DPI.
Here are the features of the V700:
Get professional quality results from virtually any photographic original with the Epson Perfection V700 Photo Scanner. With groundbreaking 6400 dpi resolution, this powerful scanner consistently delivers precision color and detail, whether scanning slides, negatives, or medium format film.
With a 4.0 Dmax, the V700 offers exceptional image quality, excellent shadow area detail, and remarkable tonal range. But the Epson Perfection V700 Photo goes one step further. With its Dual Lens System, this innovative product automatically selects from 2 lenses for the desired scan resolution, topping out at a remarkable 6400 dpi. It has a 8.5 x 11.7″ general scanning area, with a 8 x 10″ transparency area. The transparency adapter is built in to the lid of the flatbed.
With its Digital ICE Technologies, you can easily remove dust and scratches from film, and many types of surface defects from prints, minimizing costly retouching. The convenient included film holders let you batch scan multiple slides and negatives to increase productivity. Epson also includes the popular Adobe Photoshop Elements software.
Dual Lens System
Optimize each scan with the exclusive Dual Lens System from Epson which automatically selects from two lenses for desired scan resolution
Professional Quality Scans
The Epson Perfection V700 Photo scanner delivers unparalleled performance with 6400 dpi optical resolution. You'll also achieve remarkable tonal range and greater shadow detail because the scanner provides a 4.0 Dmax. There's an 8 x 10″ transparency scanning area, with the adapter built-in to the lid.
Automated Dust and Scratch Removal
The Epson Perfection V700 Photo scanner remove dust and scratches from film and many types of surface defects from prints minimizing costly and time consuming retouching thanks to the included Digital ICE Technologies
Batch Scanning Capability
Improve your overall productivity by using the Batch Scan feature – scan multiple slides, negatives and medium-format film. The included film holders further makes it easy to achieve greater productivity.
The Video
In the video below I show you how I load the scanner with 35mm film and then take you directly t o the software showing you a scan with Epson Scan as well as Silverfast SE. It is in two parts!
EPSON V700 – PART 1
EPSON V700 – PART 2
Here is the image I scanned in the video, both versions with a crop. You can see how much sharper Silverfast SE scans compared to the Epson Scan. Both were set to normal sharpening.
Here is the frame from the video. Look at the crops below. One from Silverfast SE and one from Epson Scan. WOW.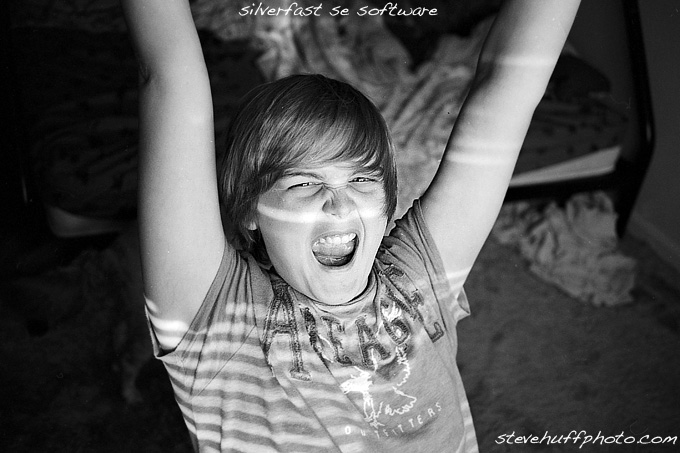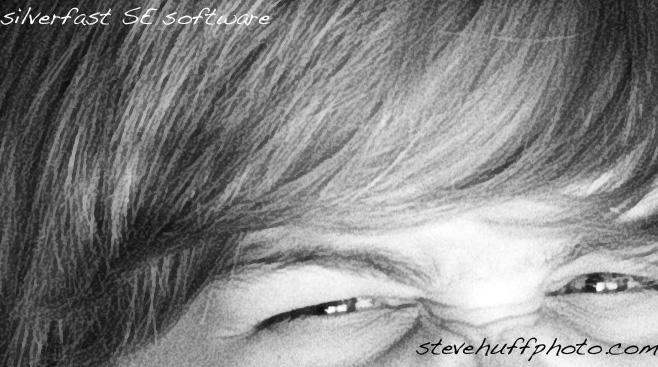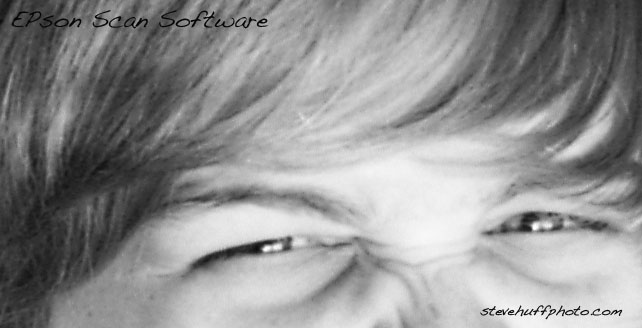 You can see why I am sticking with Silverfast for my scanning needs!
Here is the box that the V700 comes in along with a shot of the slide holder. You get a 35mm film holder, a slide holder and a Medium Format film holder. This scanner will scan all types of film.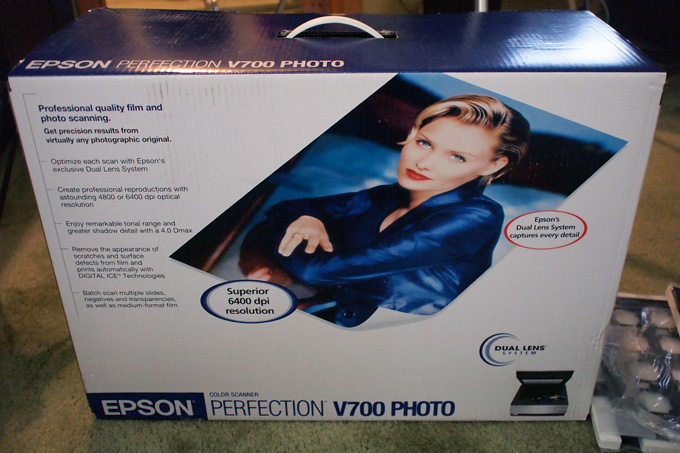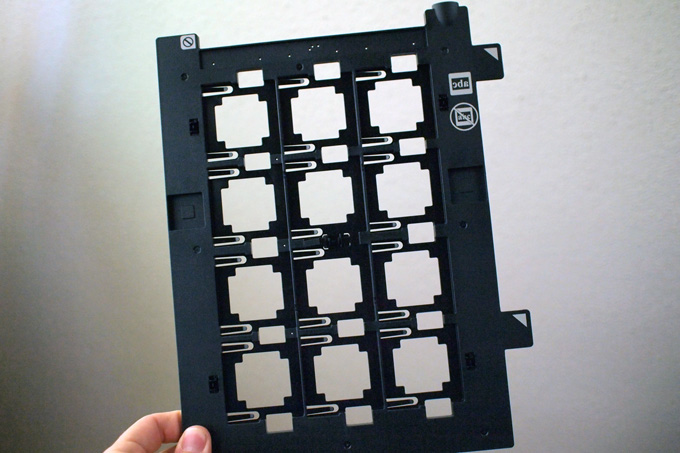 As mentioned in the video, it's so easy to shoot film and scan it. When you shoot a roll just take it up to your local drugstore and tell them you want the negatives only! This should only cost you a couple of dollars compared to $15 for prints and negatives. You can also tell them not to cut the negs so you can cut them yourself at home in to 6 frames each, perfect for the V700 or V750 scanner.
I hope you have enjoyed this rant AND video on scanning. Hopefully it shows how easy, but also how time consuming scanning can be. That is the only negative…the time it takes to scan but if you do use Epson Scan or Silverfast SE you can do a batch scan and set it and forget it! Come back later when all files are scanned and ready. So it really does not have to be that time consuming after all if you do it that way. Anyway, to those who are trying out film for the first time have fun with it and try different films for different looks! That is another beauty if film but I'll save that for a future article 🙂
These scanners have some instant rebates going on over at B&H Photo right now and you get can some great deals. Here are links to the V500 at $160.99, the V700 at $462 and V750 Pro at $659. You have to add them to your cart to see the lower prices.
Here are a few other images that I have recently scanned using this scanner:
THIS ONE IS FULL SIZE! SCANNED AT 3200 DPI. This has no more detail than the 2400DPI version but you can get large files if you want them 🙂 Click image for 5MB file.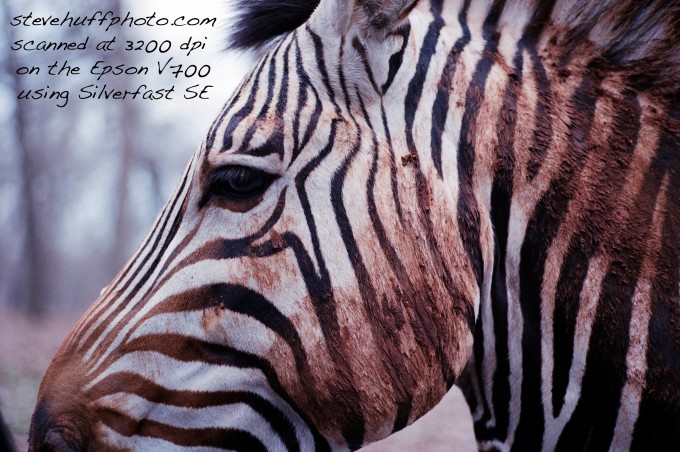 Below…MP – Ilford XP2 – 50 Cron at F2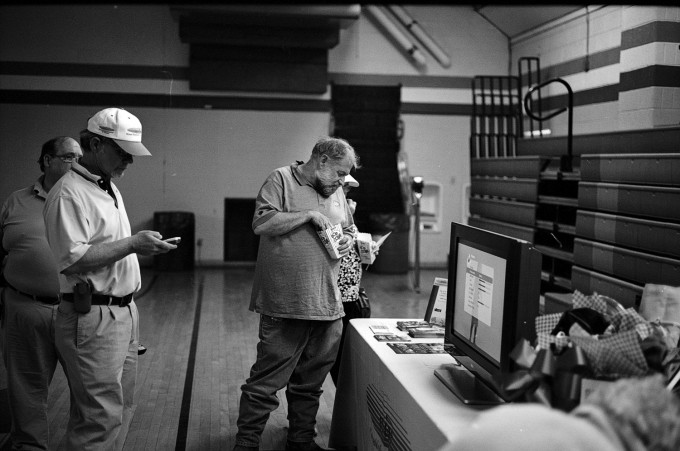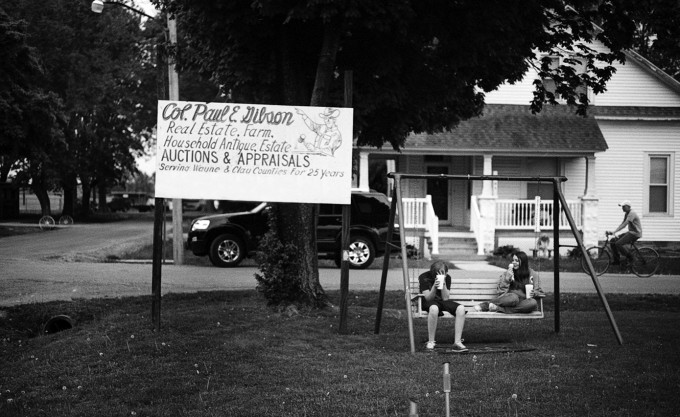 M6 – 50 Summitar – F2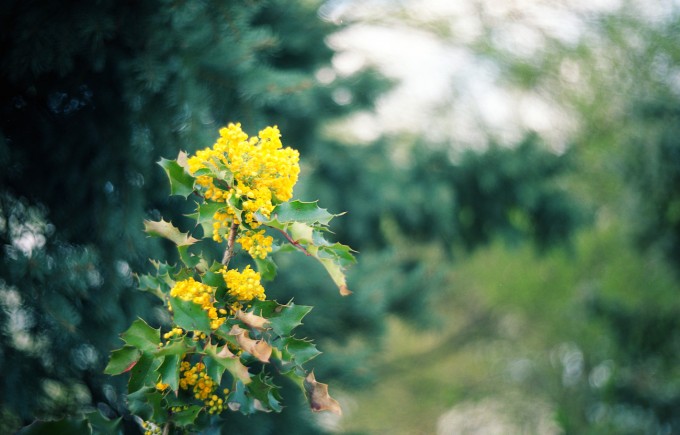 [ad#Adsense Blog Sq Embed Image]