A Trip With an Old Friend, The Leica M3
By Max Marinucci
I have recently gotten back from a short trip to South Korea, visiting family, and one of the major () decisions to make before leaving was…film or digital? As you may know, I would rather shoot film any time over anything digital but, when traveling, there are some conveniences (or inconveniences, depending on one's point of view) to be considered. The main hurdle was to possibly waste time at airport security to have film hand-checked or let it go through x-ray. Big deal..the decision was easy: my old friend, the mighty Leica M3, was taking the trip with me! Well, actually two M3 bodies and three lenses. I have recently bought another M3 body, as I want to have more flexibility by usually keeping a 90mm on one body at all times or go 50/35 without swapping.
The reasoning behind not traveling digital is simple for me: I feel like that with the M9 I would have had to bring my laptop with me to at least back up all the files every day and not risk losing anything and, more importantly, it would also mean that I would most likely find myself playing with files instead of enjoying my time and family. That's another major reason for me to shoot film when traveling: there is no wasted time while on vacation and I have a lot of fun while looking forward to developing a bunch of film when I get back home.
Security at the airports was an absolute breeze, with no questions asked, and/or issues of any sort. Fifteen rolls in a clear ziplock bag and off I went.
The Leica M3 – Yes, Leica's pride…and curse. How do you improve on a camera that was released in 1953 and still stands today as a pinnacle of design, functionality and craftsmanship? You really can't and that has, frankly, been Leica's problem until the release of the M9, which finally breathed some new life into the company. The M6, MP and M7 are wonderful cameras but, let's face it, aside from a meter, and the Aperture Priority setting in the M7, I can find more steps backwards than actual improvements. They are merely a follow-up to the M3 and dictated by the need to stay in business and feed the markets. That is the reality of it, no matter how you turn it.
One needs only to look through the M3 viewfinder to understand: a big, bright, .92 finder and the subject is clearly in sight, with no distracting frame lines or flaring of any sort. Composing through that is always an utmost pleasure. With the thick 50mm frame lines and the 90mm/135mm popping up when the lens is mounted, it is uncluttered, clean again, most of all, BRIGHT! The 35mm lenses do need a separate finder but I usually mount the wonderful Summicron or Summaron with the goggles. Looks great and retro and they are absolutely stupendous lenses, which perform spectacularly well, especially for street-shooting.
A solid piece of brass, it makes the M9 feel like a toy (dismount the lens, take the battery out of the M9 and you pretty much got a hollow piece of nothing) while giving you a sense of security: close to nothing can go wrong, no batteries, no electronics, no distractions, and it's you and the camera, free to take your vision to new heights. Talking about finders, do you want to know THE most annoying thing I can find about all the newer Ms? The finder windows, no matter how hard I try, constantly get dirty from fingerprints. Cannot avoid it and here is a perfect example where the M3 was a pinnacle of design and further "improvements" have actually failed.
In an attempt to give a more "modern" and updated look, newer models have the glass flush with the body. It is a stupid design flaw and most annoying, if you ask me. The Leica M3 has the finder glass slightly recessed with a tiny "lip" around it and I sincerely doubt it is there "just because". I basically have to go poke in there to get my finder dirty and trust me, it is annoying when trying to focus on something after eating french fries, or a donut, and your fingers have been wiped all over the camera.
Now, before all the gear-heads, Leica-haters jump on my throat, the usual disclaimer:
Gear means nothing! I shoot Leica because that's my choice and that is what I enjoy and two M3 bodies still cost far less than many of the new digital pieces of junk out there that are worthless within two months and are used to take mostly forgettable snapshots. Just remember: one can take thoughtless, worthless pictures with an M9 and .95 Noctilux ($18K worth of equipment) while others get published or sell prints with images from a Contax T2 and a roll of Tri-X ($300 worth of equipment).
Your vision, composition, paying attention to your surroundings, light, how geometry plays into your shots, a moment, interaction with a subject, is what makes or break a picture and it has nothing to do with the gear you have used to take it.
It is certainly true that different cameras will bring you to shoot differently (a Rolleiflex VS a Leica certainly does) but again that should not be relevant to what makes a successful image.
The lenses: well, this time I went with modern, as I wanted to bring something faster knowing that I would be shooting in a few low light situations. The weather in S. Korea has been absolutely horrendous and I knew I would be facing very hot, very hazy and very humid days with flat lighting. Knowing what I would be confronted with, I also wanted a little more contrast and sharpness so I brought the 35 and 50 Summilux asph and the great 90mm Elmarit. Having the flexibility of two bodies is really helpful, and I kept one with a 90mm on at most times and with a different film stock in each body. Everything performed beautifully, even with all the heat and humidity and it was nice to have that f1.4 for a few night shots with fast film.
Film: choices were simple: again, based on the fact that I would be mostly doing some street-shooting, maybe some portraiture and very little to no landscape, I grabbed a few rolls of Tri-X, TMax 400, TMax P3200 and a couple of Agfa APX 100 (my favorite 100ISO of all times but, as expected, only shot one roll, again due to weather and light condition). I have even brought a couple of rolls of Kodachrome but, again, the weather was so gloomy that it just didn't make any sense.
What about meters? Screw meters! Kidding aside, there is very little need for metering for street shooting, if you keep a few things in mind and have good memory from experience. I did bring a tiny Gossen Digisix just in case but used it very little.
On a dull, flat day, with a 400ISO film, f8 + 1/125, your golden most of the time. By judging the scene and light, I usually either open up 2-3 stops or go to slower shutter speeds, again depending on the situation.
50mm Summilux asph. Kodak Tri-X developed in HC110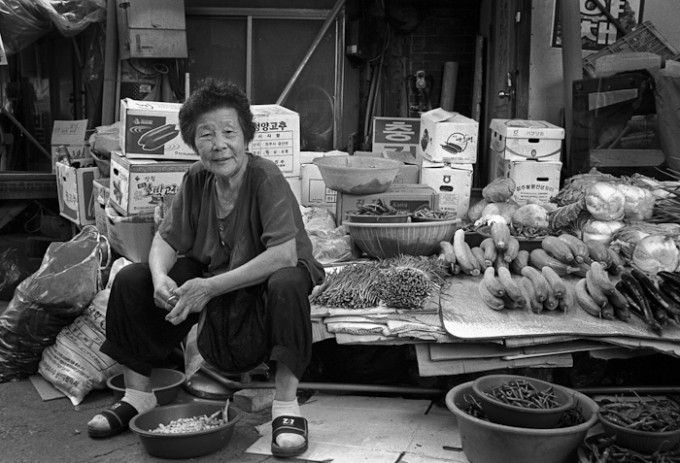 The place is Cheongju, a nice bustling, progressive city that is about 2-3 hours drive from Seoul and a population of about 615,000. The "Avenue Tunnel", a 5km long stretch of beautiful trees forming a tunnel leads to the entrance of this old city. Koreans are very proud people and their commitment is best summarized by this "Citizen's Character":
1.I will work to enhance the nation based on our beautiful tradition.
2.I will fulfill my social responsibility and hew out a career for myself.
3. I will become a polite and good citizen who puts public interests first.
4. I will try to live frugally and diligently in order to achieve an affluent society.
5. I will work with faith in and in cooperation with my local community for its betterment.
50mm Summilux asph. Agfa APX100 developed in Rodinal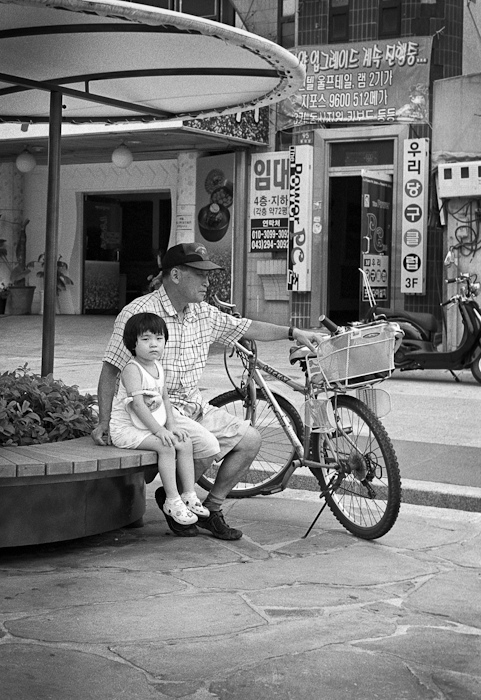 There are many old neighborhoods that retain the character of days gone by but much is unfortunately getting swallowed up in the "modernization" phase, which means nothing more than shopping malls, austere 20+ stories apartment buildings and very little consideration for heritage or any architectural direction that I can discern. Not having visited in four years, I couldn't help but notice quite a few more sprawling new areas complete with Dunkin Donuts, Pizza Hut and Baskin Robbins which, thankfully, still seem to be a mere fringe, with the masses viewing them, generally, as a sporadic "treat" (if you can imagine that) and not a way of life. The most attractive places for a photographer are the older corners of the city with their wonderful outdoor, covered markets filled with old timers, genuine people who have worked extremely hard throughout their lives. Many of them, and especially women, will show it with their arched back, sunburned, leathery skin, and hands that could crush a stone. The oppressive heat (95-100 degrees with a heat index of well over 100) never seemed to bother them. These fabulous markets, filled with all sorts of fresh produce, meats, fish, and other "delicacies" none of us would touch with a ten-foot pole (dried grubs didn't look so appetizing), represent a wonderful opportunity for candid street-shooting. Unfortunately, the downside at times is that, a westerner, especially in a smaller and non-cosmopolitan city, does stick out like a sore thumb and one needs to be mindful of that. Although I have received mostly smiles, a few people have given me a dirty look and likely told me to go screw myself in a language I did not understand, to which I simply smiled and politely waved goodbye.
50mm Summilux asph. Kodak Tri-X developed in HC110
Wandering through the streets, I did come across a few camera shops that were extremely well stocked with film and lots of old gear, including some sweet looking Leica M2s, M3s and IIIFs. I have even walked into a small shop where there was a guy behind the counter inverting a small tank, developing black & white film for a client. Film seems to be alive well there, although the bigger markets, a la CVS or Costco, only carry digital and the usual Kodak Ultramax etc.
There was also a lot of noise in the skies, as they had military exercises while I was there and Cheongju airport has a major air-force base. Crazy cool war jets were zipping around at low altitudes quite frequently and, although fun to watch and hear, I was hoping a new Korean War wouldn't start while I was there.
50mm Summilux asph. Kodak TMax400 developed in TMax developer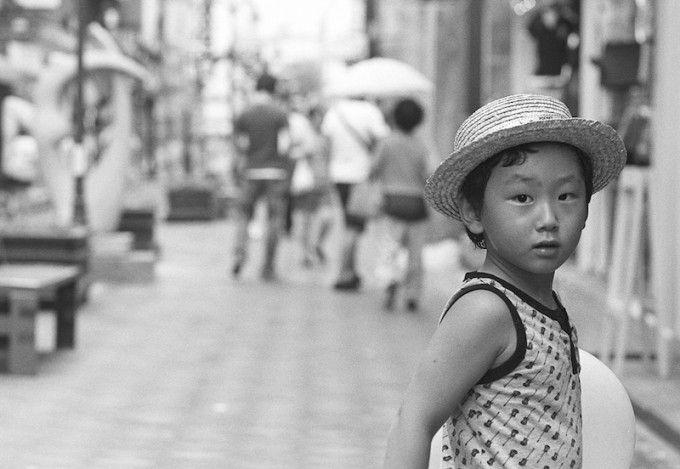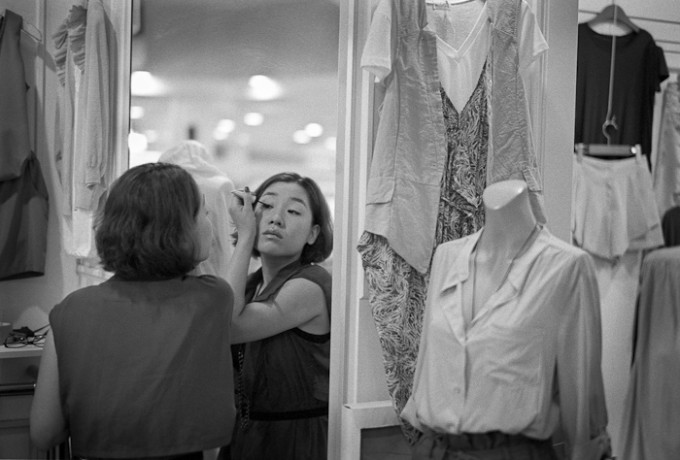 I came back home 10 days later, very tired after a 20 hours trip and with a nasty case of jetlag, but also 10 rolls of film to develop. All were developt in my go-to guys, Rodinal and HC110, with a little TMax and Iford DDX thrown in there as well, depending on what I had shot and the look I was looking for. Since sleeping certainly wasn't happening, I immediately got to work on them with the excitement of a little kid. That is the beauty of film, each and every time: when those rolls come out of the tank, it's like Christmas every day!
90mm Elmarit – Kodak Tri-X developed in HC110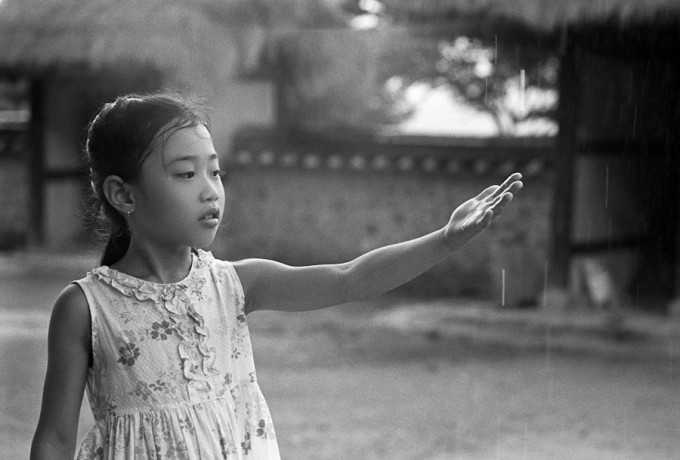 Hope you enjoy the following images and check out more @
http://www.flickr.com/photos/leicaman/sets/72157624615787177/
I NEED YOUR HELP!
Remember, anytime you follow my links here and buy from B&H or AMAZON,
this helps to keep my site going. If it was not for these links, there would be no way to fund this site, so I thank you in advance if you visit these links. I thank you more if you make a purchase! I have nifty search bars at the upper right of each page so you easily search for something at either store! I currently spend 10-14 hours a day working on this site and the only way that I can pay for it is with your help, so thank you! Currently my traffic has been increasing but my funds to pay for the site has been decreasing, so any help would be GREATLY appreciated!
If you enjoyed this article/review, feel free to leave a comment at the bottom of this page and also be sure to join me on twitter or facebook! Also, you can subscribe to my feed at my subscribe page HEREand read these posts in your browser or news reader!  Thanks so much for visiting my site, and check back often!
[ad#Adsense Blog Sq Embed Image]