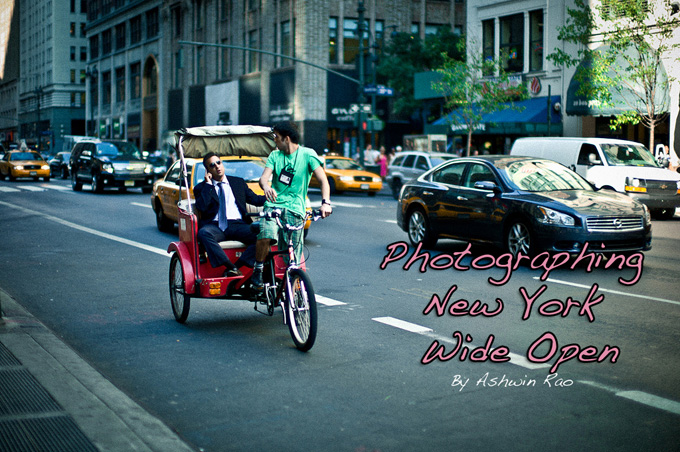 Photographing New York Wide Open
By Ashwin Rao
Hi there, my fellow Steve Huffsters. It's Ashwin, back after a long hiatus. I have been so busy taking photographs that I haven't had much of a chance to sit down and write an article to share with all of you. Along the way, I have had many ideas for articles to write, but this one just jumped into my head after returning from my recent trip to New York City, where I dedicated nearly 2 days to photography! As most of you know, Steve has organized a daylong New York City photo shoot in October, which will be AWESOME. Sadly, I cannot attend this work shop, but it doesn't mean that I can't participate in my own way….maybe through a bit of inspiration or a prequel of many great images that certainly come from that exciting day of photography….
A Light Moment During Chess, Central Park West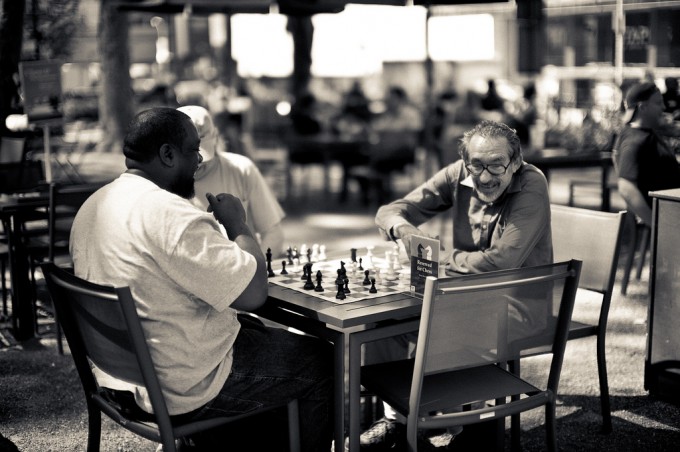 I have been privileged to own the Leica Noctilux 50 mm f/0.95 for a few months now, and I continue to be amazed by its capacities as a lens. The Noctilux f/0.95 has been reviewed by many photo sites, including Steve's wonderful review a few months back, and I must say that I have to agree with the primary sentiment: this is one heck of a lens This is an amazing lens to use wide open OR stopped down. It sure the heck should be, fore its exhorbitant price tag of more than $10,000. The New Noctilux is really comparable to the Leica Summilux 50 mm f/1.4 asph, who many, myself included, concur is the best 50 mm lens ever made. Truth be told, I sort of think of it as "Summilux on Steroids!" Yes, the rendering of the new Noctilux is very modern, clean, and well corrected, but in my eyes, the Noctilux f/0.95 has its own unique signature wide open that places it apart from any lens that has ever been made for 35 mm photography.
Spongebob and Elmo, friends?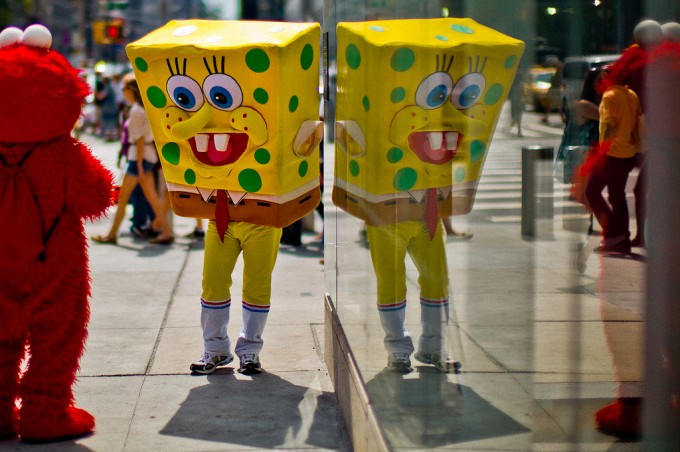 Yup, They Sure Are!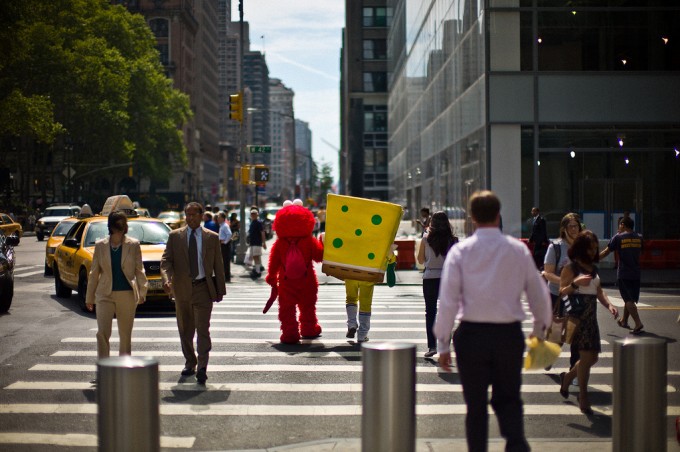 I have always been one to use the lenses that I buy, and I recently ported the Noctilux and Leica M9 to New York for a couple of days of photography. I decided to challenge myself in a new way. How about shooting the city wide open, during the day, during the night, all of the time!!! How would you do this, you might ask? After all, shooting an f/0.95 lens wide open during the daytime would require very fast shutter speeds, ever at low ISO's. The solution is a neutral density filter, so most of the daytime shots that you see here are composed with the Noctilux f/0.95 with a B + W 560 8x neutral density filter applied, which you can get here. In fact, a neutral density filter is really a must if you plan to use any Noctilux wide open during the day and take advantage of this series of lenses' unique ability to control depth of field. The only issue that I could see in applying a ND filter is that at times, the Noctilux with ND filter applied can produce some vignetting in your images. Nothing objectionable really, but something that would be worth taking note.
Heading to Work in Style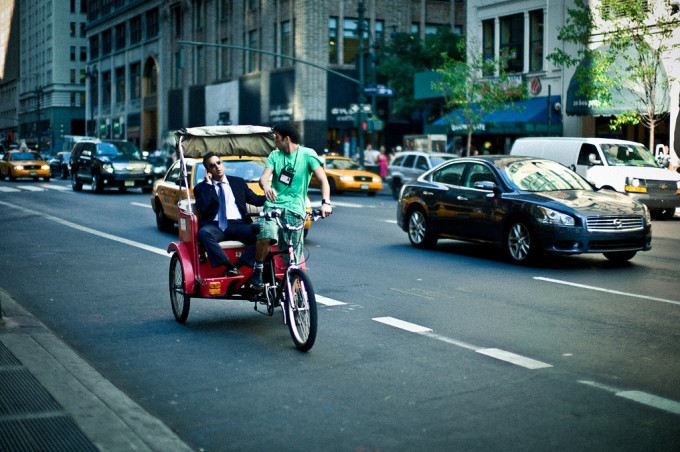 Taking a Break from Work, Catnap in Bryant Park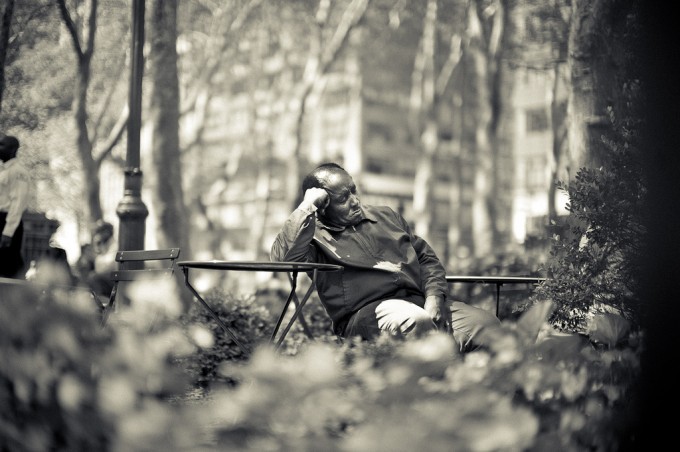 No Time off For this Guy, and He's Feeling It!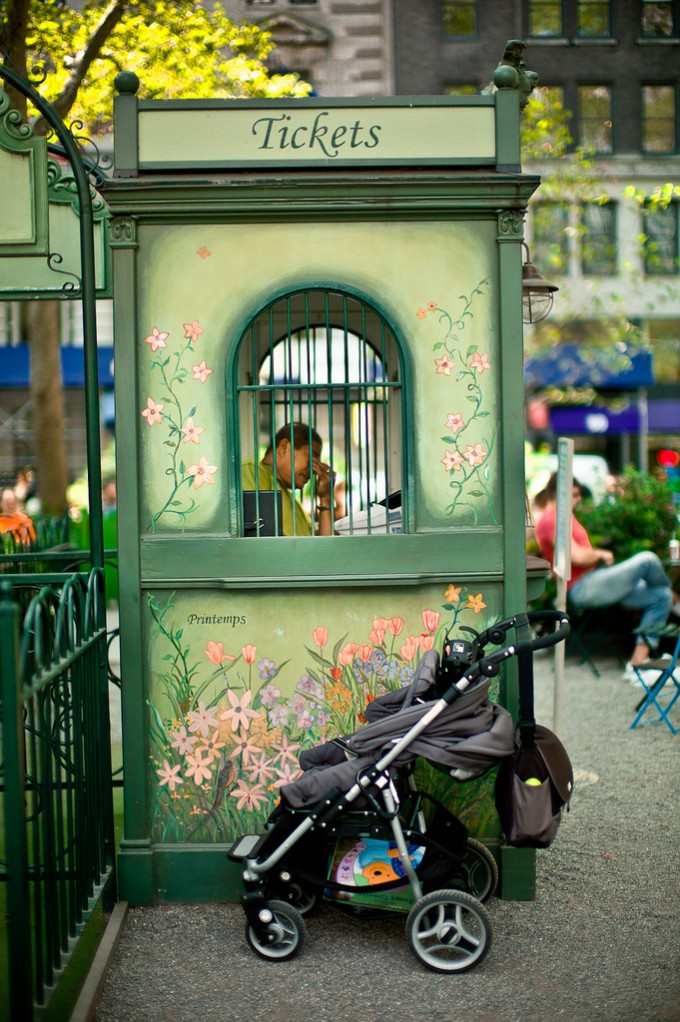 New York has so many photographic opportunities, and it's not a place that you can cover in a day or 2.. It is one of America's cultural meccas, and it is a city that has a palpable pulse, a huge diversity of culture, and endless opportunities for exploring your creative vision. During my stay in New York, I focused my efforts on exploring Manhattan. However, you would be equally enchanted by many of the other boroughs, including Brooklyn, the Bronx, and Queens. Some day, I will return to explore these areas and others, but for my 2 days, it was Manhattan, site of so many memorable places, including Times Square, the East Village, Central Park, Harlem, Grand Central Station, Madison Square Garden, the Empire State Building. Columbia University, Bleeker Street, Tribeca, Chelsea, and so much more. My strategy while here was to have my camera out, ready to shoot any opportunity, and capture life as I saw it in front of me. It was an exciting 2 days, filled with moments that were all parts tender, harsh, grand and intimate. I started my journey at Times Square, and set out on foot from there. I probably walked 60-70 blocks for each day of walking, making diverse trips to places such as B&H Photo & Video, Adorama Camera, the International Center for Photography, The New York Public Library, The Subway, Grand Central Terminal.
One of Many Characters in Times Square – Can You Help Find His Family?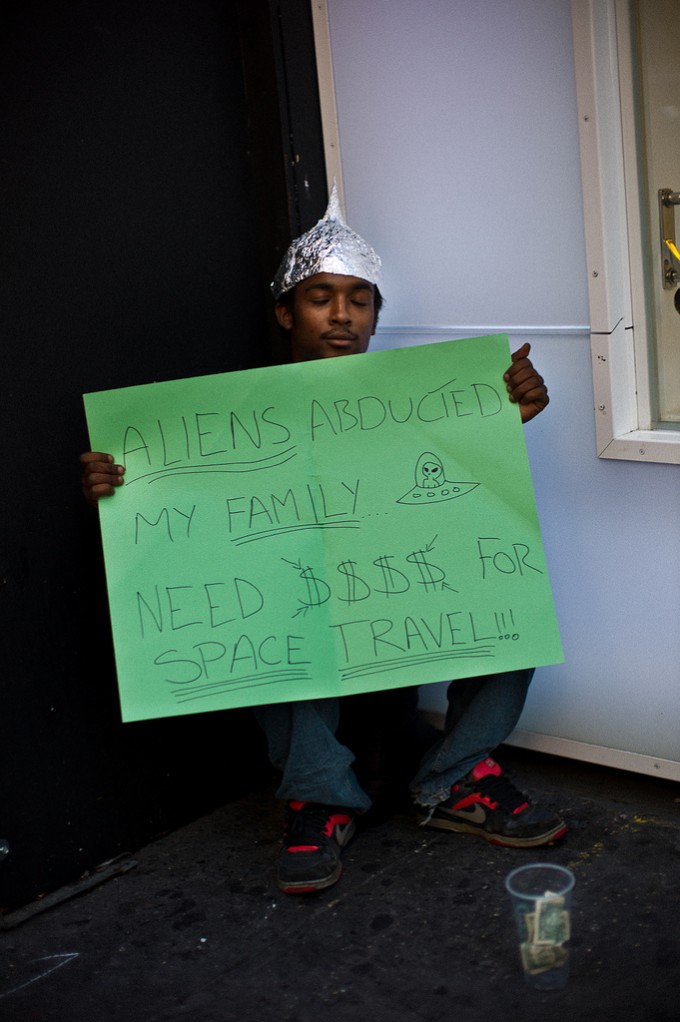 During my stroll, I was amazed by how the Noctilux can have an amazing control of depth of field. Even when subjects are not at close distance, the Noctilux f/0.95 can create crisp separation of the photographed subject from its background. Unlike the Noctilux f/1, which has a creamier and swirlier out-of-foucs rendering (i.e. bokeh), the modern Noctilux is far more well corrected and renders in-focus elements far more sharply. This leads to the sense that my subjects POP from their background. I have seen this occasionally from the 50 mm Summilux asph, but Noctilux, with it's f/0.95 aperture, can achieve this separation regularly.
Grand Central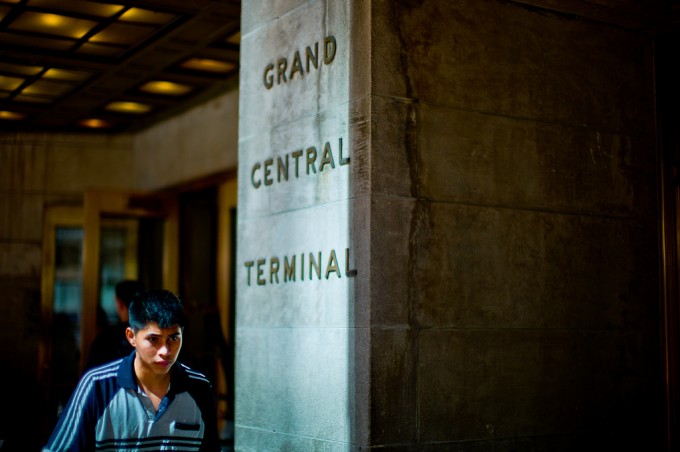 Achieving focus with the Noctilux can be a challenge at times. Even at medium distances, the focus plane that the lens provides at f0.95 is RAZOR thin. At close focus, the challenge becomes even more daunting. Thankfully, I have had a few months to get to know this lens, and I found focus to be consistent. I came home and discovered that the lionshare of my images were in fact properly focused, or at least, close enough. And in some cases, even the out-of-focus images had their charm ;).
Achieving focus (The Seated Figure with Sunglasses was my Focus Point)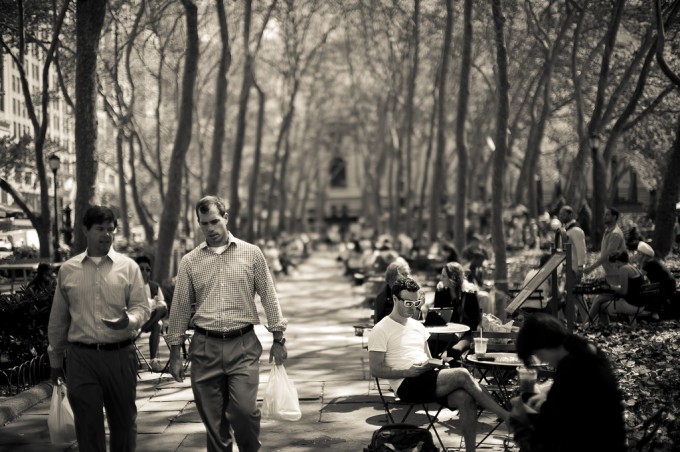 Bryant Park City Jugglers (this image is actually slightly out-of-focus, but I enjoyed it anyways)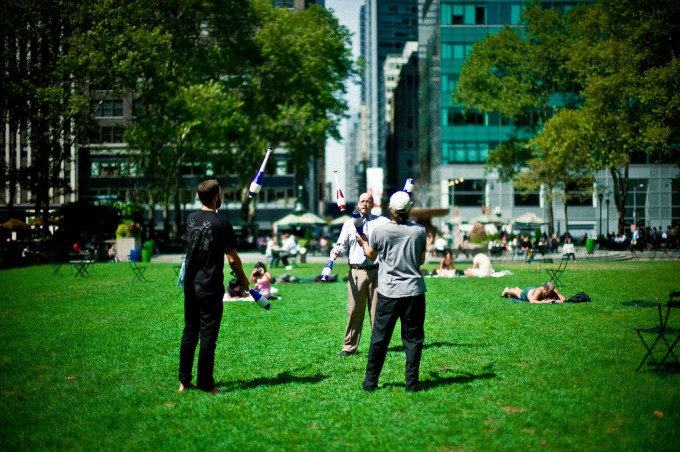 The Empire State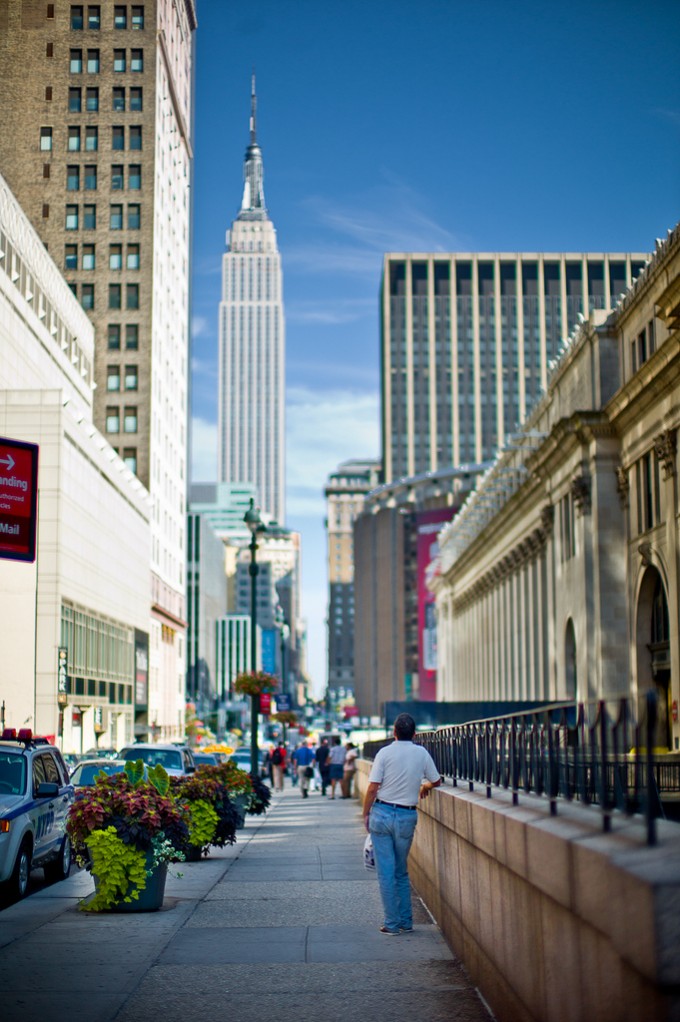 Combining the Noctilux's unique rendering with the wide and diverse palette of New York's Photographic opportunies, I returned home with a veritable gold mine of images, that I will be sorting through and sharing with you for months to come. This is one of the great things about daylong photo strolls. You come home with so many images that you have raw material to explore for many months. This means that in some ways, you can continue to explore the city from the confines of your own computer monitor for many months and continue to enjoy the images that the city provides you. For all of you October New York work shop folks, I am excited to see what you will come home with. I am equally sad that I won't be there with you. Hopefully, this article serves as inspiration to bring each and every one of you to visit New York. It's a magical place full of life, culture, and spirit. And it's a worthy stop for all of the photographers among you.
I will continue to add to my collection as I fiddle with images from these 2 days of shooting, which you can find here:
http://www.flickr.com/photos/ashwinrao1/sets/72157624932953750/
And of course, there's a selection at my blog:
http://photos-ash.blogspot.com
Until we meet again next, here are a few more images from NYC for you to enjoy!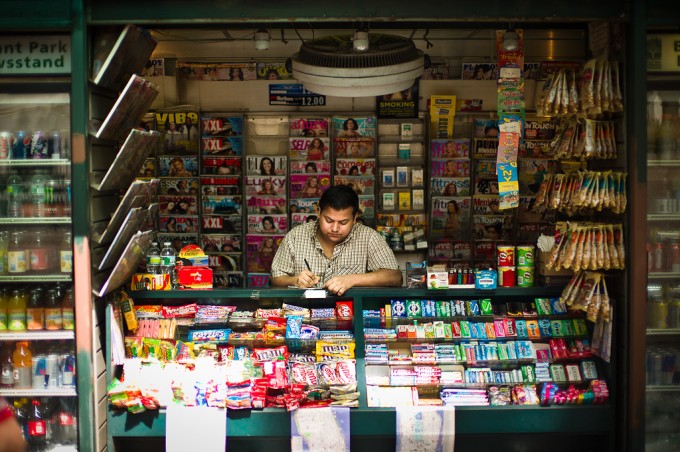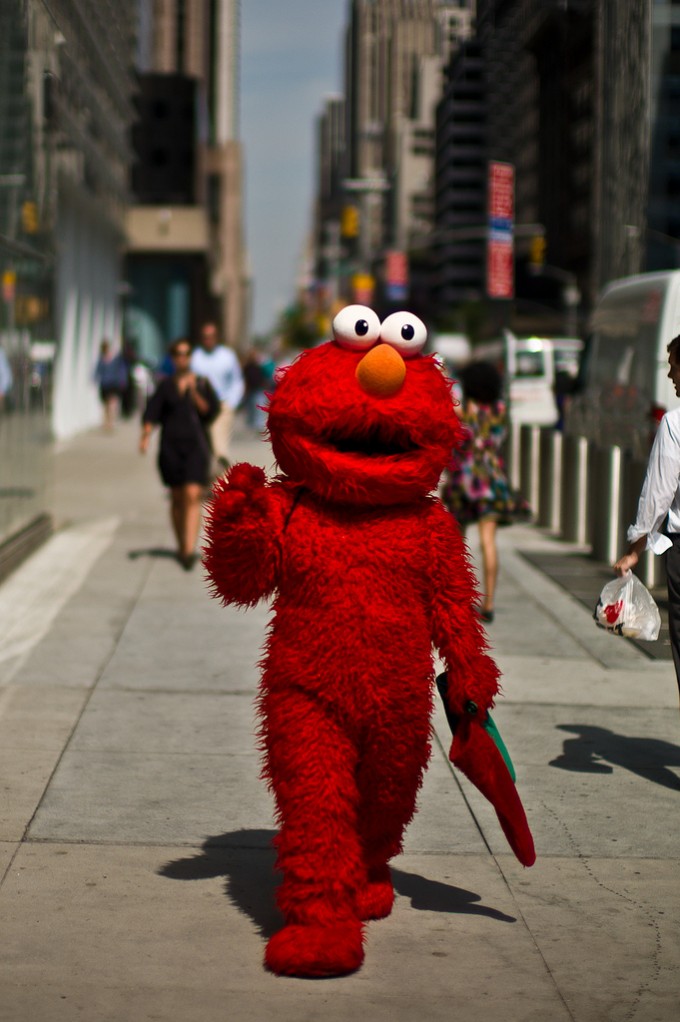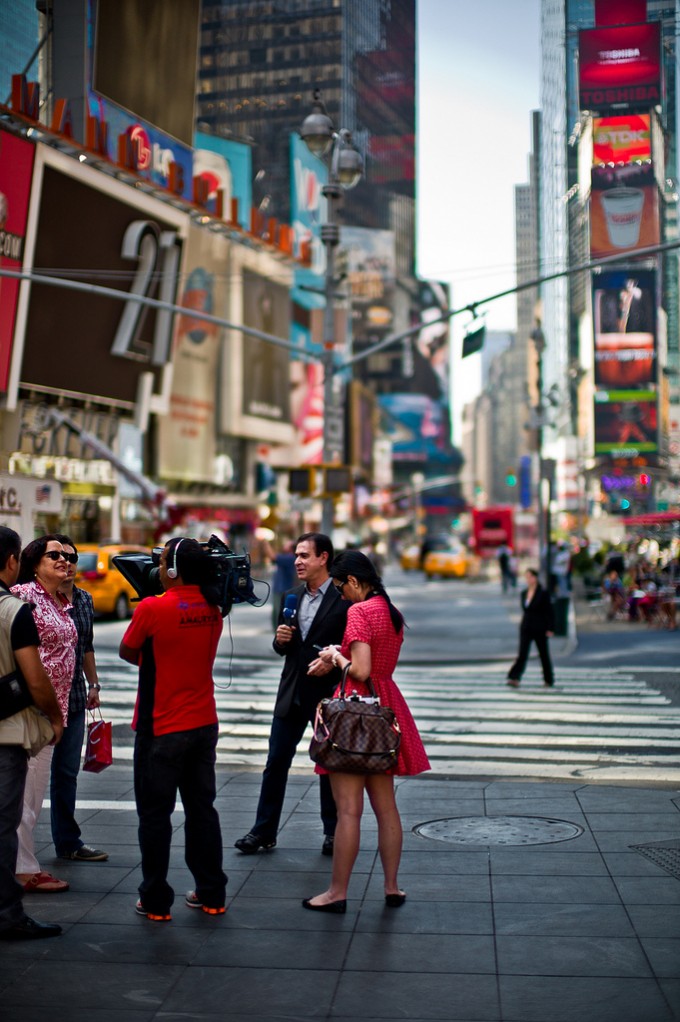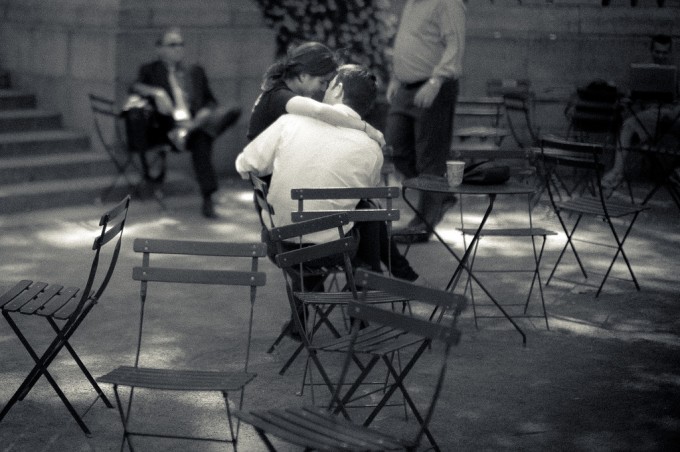 [ad#Adsense Blog Sq Embed Image]