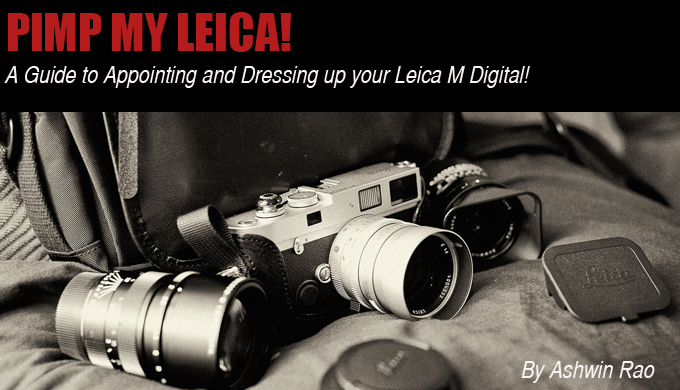 "Pimp My Leica"
A Guide to Appointing, Mod-ing, and Dressing up your Leica M Digital Camera to make it uniquely yours
By Ashwin Rao
"Part 1- Bags, Half Cases, and Hard Cases"
Hello everyone, it's Ashwin, back with you all to discuss how to customize your Leica M8 or M9 to suit your aesthetic and functional taste. Like cameras of other manufacture, there has been a burgeoning cottage industry geared toward custom-fitting Leica M cameras to one's taste and photographic peculiarities. In fact, given the cultural and aesthetic heritage that accompanies the Leica brand, many artisans have thrown their hats into the fray in designing customized bags, straps, cases, grips, and a variety of other accessories for the Leica M digital system. The Leica M system has always been accepting of this industry that has formed in and around the manufacture of its M-line of cameras, but it seems that the introduction of the Leica M8 and M9 have pushed the fold evermore. Thus, it is my goal to introduce you to some of the wonderful products that have been designed with M shooters in mind, and other products that can allow you to make that fancy Leica M8 or M9 your very own, individualized, shooting machine, both in terms of look and in use. So, let's get started, shall we?
Bags
All of you know that the first question a sales person will ask, after you decide on a camera, is what kind of bag you want? Well, when it comes to Leica, there are some very specific choices of camera bags that are meant to work well with Leica M cameras and the rangefinder system. Traditional SLR bags, manufactured by Lowepro, Tamrac, Crumpler, Tenba, ThinkTank, and the like, are typically designed with SLR's and their specialized ergonomics, and thus these bags are not often ideal fits for a rangefinder camera. Further, Leica shooters tend to be a unique breed in preferring camera bags that "don't look like camera bags", or bags that have a certain vintage look or quality about them, that goes in line with Leica M cameras, even the digital M8 and M9, looking like cameras of an era long past. That being said, Leica M digital cameras are very modern creations and deserve bags that will do the camera justice. In general, Leica and rangefinder shooters prefer bags with some degree of discretion, not only in terms of look, but also in terms of size. Bags for the Leica system, in general, should be small, discrete, and generally not too flashy (though there are exceptions to that rule). They should generally [resemt a classic or classy look that echoes the elegant lines of the M camera itself. Generally, bags for a Leica system should be capable of holding a camera, with lens attached, and 1-3 additional lenses. What bag you chose depends largely on what your kit is; that is, if you are a 1-camera-1-lens kind of shooter, then you'd probably want a bag that fits that system. If you have a larger kit (many of us own 3-4 lenses), many of us might desire a bag that fits this kit, or a couple of bags that fit different purposes (i.e. carrying your whole kit, vs travelling light). Of course, there are many opinions out there about what a bag should or shouldn't be, but this is just my opinion, and I think it is reflected in many shooters with whom I have discussed such topics over the past several years. With all of that said, let's go through a few of the manufacturers who design camera bags with Leica M cameras in mind.
Billingham – ( http://www.billingham.co.uk/pages/about.php )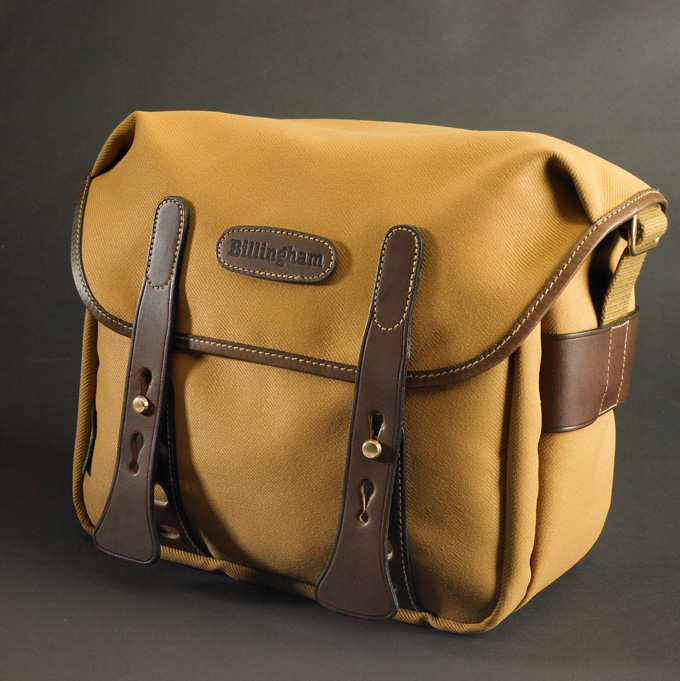 Billingham makes the quintessential Leia camera bag. Their bags tend to embody the classic camera bag look, with high quality fabic, leather appointments, with bags that favor latches over zippers (though not exclusively). Like many camera bags that I will discuss, Billingham bags are typically waterproof, but they do a great job shielding your cameras against the elements, as long as the elements are not too trying (i.e downpoars, blizzard conditions)….
Billingham bags tend to go well with casual and semi-formal wear. They look great whether you are wearing a pair of faded jeans, slacks, or more formal wear. The bags come in a variety of colors ranging from black, tan, to olive, and leather appointments and stitching tend to be of high quality.
The bags come with outstanding internal dividers with outstanding padding. Pockets and divider sizes are designed for rangefinder-sized lenses, so you won't have to reach far in to grab your lens of choice.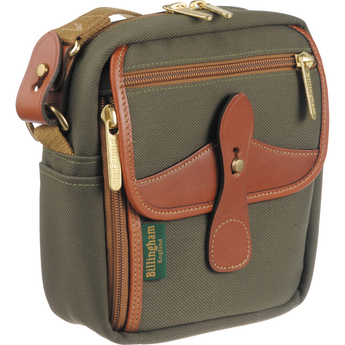 Billingham bags are a great place to start your Leica Bag journey, and you will likely find yourself entirely satisfied with the form and fit of these bags as a warthy companion for your Leica M kit.
Billingham bags tend to design their bags around functionality, that is allowing easy and rapid access to your cameras, while providing sturdy, weather resistant designs. Many of their bags have a overhanging flap, which latches and unlatches rapidly for access the the main compartment, which is designed to hold a body with attached lens and potentially other lens compartments.
Some models that bear particular mention are the Billingham "Hadley" line, the "Billingham for Leica" line, and the "Pola" line of compact camera bags. I started my Leica Journey with a "Billingham for Leica" bag, which was a great way to carry a camera with 3 additional lenses, and ultimately settled the wonderfully compact Billingham Pola Bag, which is an outstanding potion for a Leica M with 2 lenses.
B&H Photo sells the entire line of Billingham Bags – Check them out HERE
–
Artisan & Artist – (http://www.artisanandartist.com)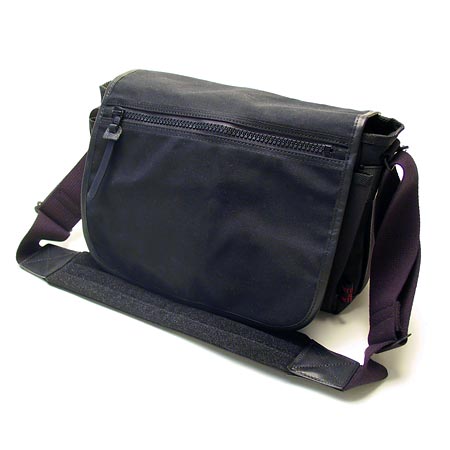 Artisan and Artist are another outstanding manufacturing company that designs products with the Leica brand in mind. This Japanese manufacturer has assumed a very "German" aesthetic to its product line, and A&A bags are very well build, having a slightly more modern look than their Billingham counterparts. A&A bags tend to have a "designer look" and may attract slightly more attention. They tend to display a bit more of the "urban chic" aesthetic, yet they are functionally outstanding in a manner quite similar to Billingham's products.
One issue that I have discovered in trying out A&A bags is that the internal padding and dividers are not as robust as some of the competitors in this segment. A&A bags use a red cloth based divider that's thinner/less firm that that employed by Billingham, and dividers can end up getting scrunched down when cameras are place and replaced in their housings.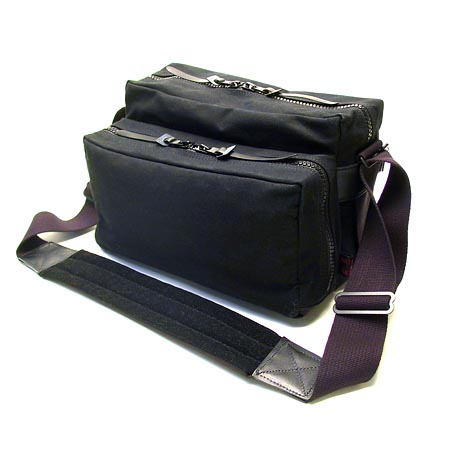 Artisan and Arist make several lovely bags for Leica cameras, that bear mentioning. "The Image Smith" Bag, "Oskar's One Day Bag,", "penn's Pad & Pencil Satchel", and "The Evans Walker" bag designs all are worthy companions for your Leica system, and I, in fact, own the low profile "Image Smith" as a way to carry a bulky kit of 1-2 cameras, and 5-6 lenses.
Dale Photo sells the Artisan & Artist line. They can be found HERE.
–
Fogg – (http://www.foggspecialistbags.com)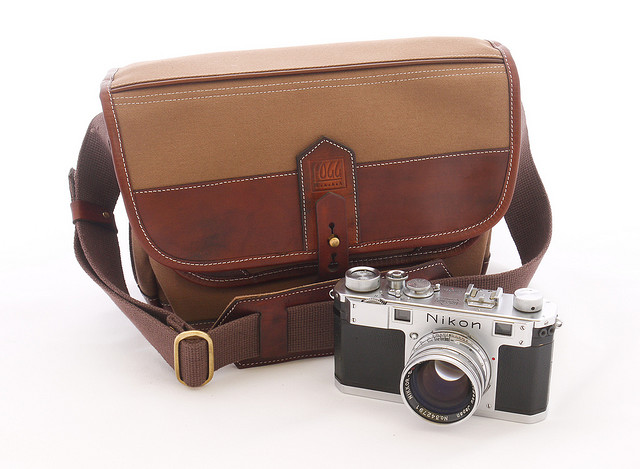 Above photo courtesy of Chiif
Fogg bags are the "Rolls Royce" of Leica bags. The Fogg brand was established by Nigel Fogg and Bee Berman in 1987. The company's designs immediately were met with critical acclaim, winning a design award from the "London Design Centre. These bags are costly, and often look the part, in terms of aesthetic and design elements. In fact, on their own website, they claim to intentionally disregard product pricing in preference to selecting the best materials for their products. These made beauties are sold by only a few vendors in the US, whie their manufacturing base is in France.
Fogg bags are crafted of high quality fabrics, higher quality leathers, and the finest attention to subtle details such as stitching, form, fit, and function. But their bags can cost $400-$500 and don't protect your cameras that much better than a Billingham, Artisan & Artist, or any number of more cost effective brands. However, some people would rather prefer driving a Rolls Royce to a Toyota.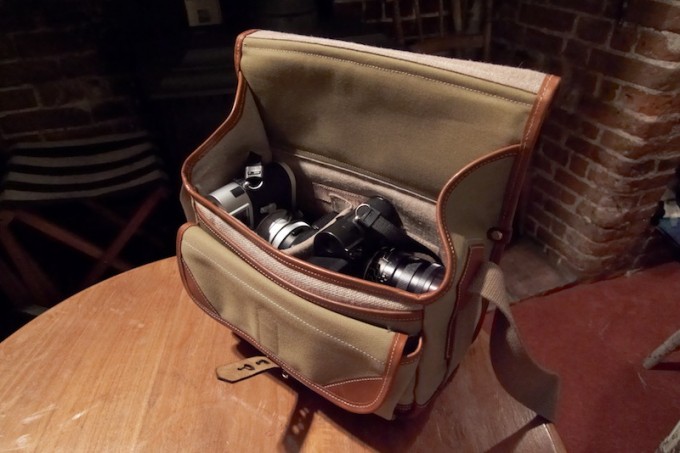 Photo courtesy of Jono Slack
The Fogg bag that best fit's the Leica aesthetic, in my opinion, is the "B-Laika", a lovely bag that includes padding within the fabric material and is a near-perfect match for a Leica M-camera with 1 attached lens, and an addition 3 lenses, with a side pocket to store memory cards, microfiber cloth, batteries, or other accessories.
–
Domke – (http://www.tiffen.com/products.html?tablename=domke )
Domke bags are very popular among both rangefinder and SLR shooters and represent a more affordable entry into accessorizing your M8/9 camera. The Domke name stems from its creator, Jim Domke, who was a photojournalist who turned his passionate "kitchen" project into a successful enterprise and line. Of camera bags. Domke bags are manufactured in the U.S. and emboy an aesthetic of rugged discretion that permeates their entire line. These bags are durable, weather resistant, and low key. Most bags are manufactured from a cotton canvas material, though some lines use ballistic nylon for improved weather resistance. Straps tend to have twin track s of a high friction rubber liner that improves gripability of the shoulder strap, so that it won't fall off your shoulder anytime soon. Domke bags embody a far more casual look than any of the camera bag lines I have discussed above. Many Leica shooters find Domke bags appealing for their workmanlike charm. Of particular note, for your consideration as a rangefinder shooter, are the F-series line of Domke bag, including the versatile F-3x, the F-803, and the smaller F5XA and F5XB designs.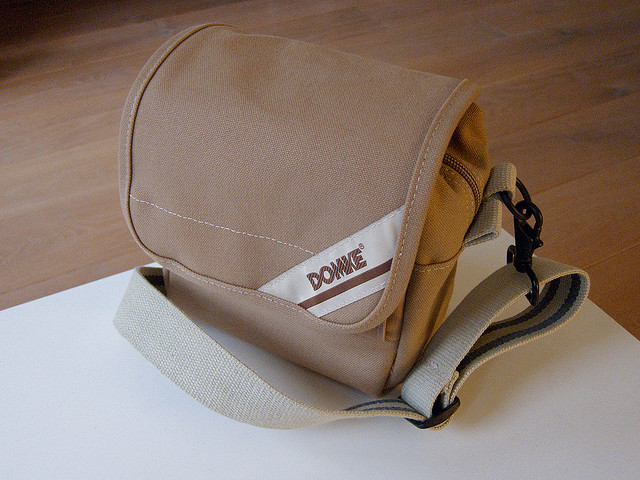 There are so many camera bags out there, and I simply don't have time to mention them all. However, let me list a few other brands for you to consider, and you can do your own research. Black Label Bags have long tempted me and appear to be a more robust copy of Artisan and Artist designs. Tom Binh bags are lovely bags, suiting multiple purposes, which can serve as discreet camera bags. While I stated up front that manufacturers such as Lowepro, Tenba, Tamrac, and Crumpler are geared towards SLR and ultracompact shooters, some of their lines of bags can be easily adapted to suit rangefinders, be it with a little creative modding or through the use of cushioned inserts (Billingham has several of these for sale to simply insert into an otherwise unassuming bag. There is really no right answer to what is the "best camera bag" for the Leica digital rangefinder system. I suggest that you try a few and see where you end up. Even these bags tend to hold their values, so you won't be out too much money for trying out a bag for a while.
I can tell you for certain, that chosing the right bag for you is more art than science. Many shooters go through many bags during their photographic adventures. The term "Bag Acquisition Syndrome", which correlates well with "Gear Acquisition Syndrome", is a well known phenomenon in the Leica photographer community. So prepare to lust for and own a variety of bags. I certainly have, and ultimately, I settled for a kit that includes 3 bags. You will find your own comfort zone as well. It just takes time.
B&H pHoto is a dealer for Domke Bags. They can be found HERE.
–
Hard Cases
Before moving on, I briefly wanted to mention hard cases, which are a way to store your precious Leica ware in a weather proof, climate proof shell that essentially hermetically seals your camera and lenses away from the elements. While stashed at home, my gear is generally stored in Pelican weatherproof cases. I take care to keep silicon packet inserts to absorb any stray moisture, but these Pelican cases do a great job at protecting my gear, not only in the field during more inclement weather circumstances, but also at home, where the elements can creep in to cause subtle damage to your gear.
Pelican cases (http://www.pelican.com/ ) represent some of the most popular hard weatherproof cases used in photography, but in truth, they are adaptable to a wide range of usees. Pelican cases usually come with foam inserts that you can customize to fit whatever size/shape lens and/or camera you chose, making these products quite adaptable. Their outer shells are made of a advanced, ultra high-impact copolymer resin which is both shock absorbing, protective, and low-profile. In fact, Pelican cases are a trusted product employed by polic, fire, and rescue professionals, so they are more than up to the task of protecting your fancy-pants camera gear ; ).
–
Half cases
Okay, now that we have moved past camera bags and hard cases for your Leica M8/9 system, let's move on to half cases. Leather half cases are among the most popular methods by which to dress up your Leica M body. A variety of artisans have produced their take on these half vases, which essentially wrap your M8 or M9 in a leather or similar shell, providing additional shock absorbing capacity, protection, and grip. Maybe more importantly, many photographers favor leather half-cases because they make the Leica M8 and M9 look oh-so-damn cool ; ).
1. The Luigi Half-Case (http:///www.leicatime.com )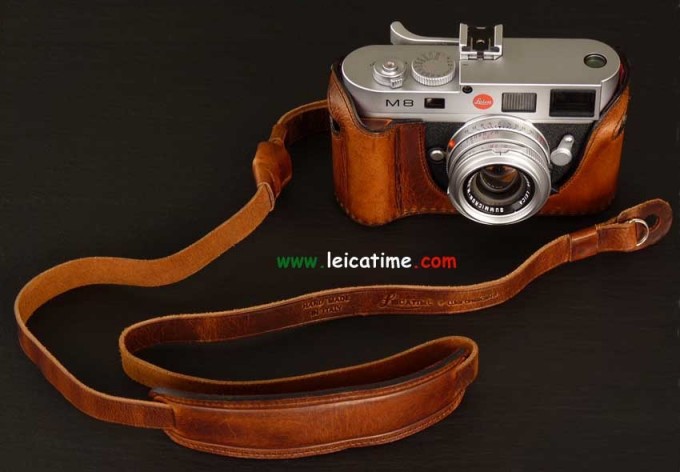 By far the most sought after brand of Leica Half case is the "Luigi case" branded half case, manufactured by Luigi Crescenzi in Italy (see http://www.leicatime.org). Luigi is possibly one of the three most famous Leica-centric artisans on the plan, along with Tom Abrahamsson (of RapidWinder fame) and Tim Isaac (the masterful creator of the Thumbs Up grip line, see below). He is a master leather worker, and he and his elves/minions/collaborators manufacture magic out of fine leather. I am not joking, and let me say it here. Luigi Half cases are a work of art in and of themselves.
Luigi manufactures all of his lovely cases in Italy. Most of his lines are hand-crafted and sewn, while he has now begun to offer machine stitched options, which are slightly cheaper and just as nice as the hand made versions (these versions look a bit less organic, due to the lack of imperfections that are part of the charm of Luigi cases). Regardless, imperfections or not, Luigi cases generally fit Leica M cameras like a glove. They are exceptionally well crafted, and will add to the charm of your camera. Some cases will include cut outs to accommodate a Thumbs up Grip. Others can be modified to include a grip that effectively replaces the Leica grip. Luigi's cases are quite customizable.
There are several issues with procuring a Luigi case, for which you should be made aware. Luigi's website, for all intents and purposes, is terrible…it's ridiculously hard to negotiat, crowded with text that's hard to understand, and with directions that are even harder to comprehend. The infinite customizability and Luigi's willingness to manufacture so many varieties of cases leads his site to be nearly non-navigable. It's really the worst site I have ever seen, in terms of user-friendliness, but I suspect Luigi keeps it that way on purpose.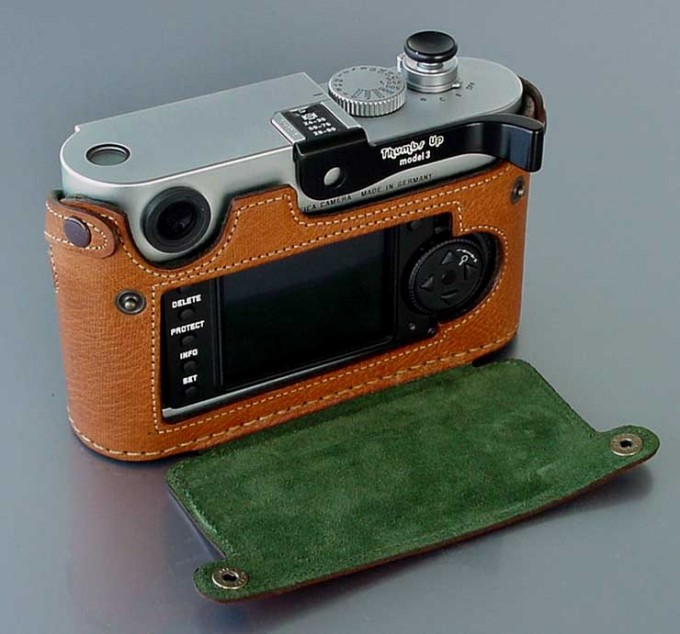 Here's the bottom line: Take a look at his site. Browse around and find the case that you want, in the color that you want it, with appropriate modifications. Then just email Luigi. Usually, he's pretty good about getting back to you, and if you wire him money via Paypal or bank transfer (they are quite expensive, I forgot to mention, usually $200-$350 USD), he'll get you one of these jewels within 2-3 weeks, and you will forever be thrilled. Luigi cases are that great. So Luigi, if you read this, I apologize for trashing your website, but your products make up for the site! I personally own 2 of Luigi's cases (both bought second hand, I couldn't deal with his site), and love both of them dearly. My camera will never be without one….
2. Leica "Eveready" half and full cases (http://en.leica-camera.com/photography/m_system/accessories/cases_and_straps/2221.html )
Leica itself manufactures Leither half and full cases, the latter which add a top cover that protects the top aspect of the camera. I personally have no use for the top case, but in the past, these have been quite popular to protect the Leica M and one attached lens (think Summicron-sized lens).
Leica's half case is well crafted, but the Leather used for these cases does not seem up to the standard of other manufacturers such as Luigi and A&A. Still, if you must have all things "Leica", these cases are worth a glance.
3. Artisan and Artist Half-Case (www.artisanandartist.com) – (From Steve: These are my personal favorite half cases for my Leica M's. Soft, supple, fit like a glove and not bulky)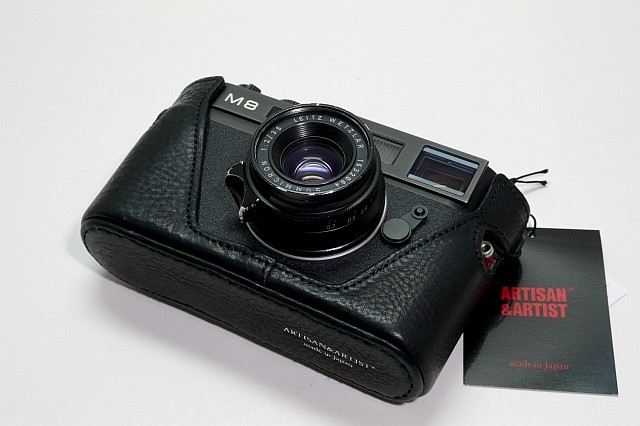 We talked about A&A's wonderful bag line, but Artisan and Artist also makes a variety of other products, including Half Cases. A&A use high quality leather, an their half cases are very well machined (I suspect that these are not hand made, but rather machine sewn). Their design element is somewhat different than Luigi cases, and their line is far more limited. A&A half cases do not include built-in grip options, and their fit seems to be better for Leica film cameras than Leica digital cameras, in my experience.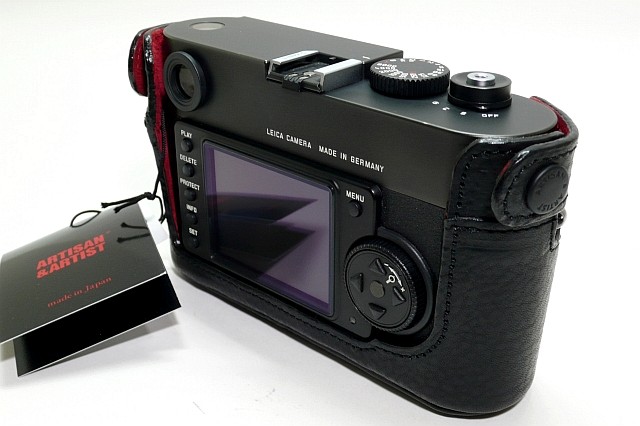 The major benefit of A&A half cases is that they are far easier to obtain than Luigi cases, and comparably well made, albeit missing some of the charm of Luigi's products.
Dale Photo sells the entire line of A&A Cases HERE.
–
4. Zhou Cases – (http://members.ebay.com/ws/eBayISAPI.dll?ViewUserPage&userid=jiozhou )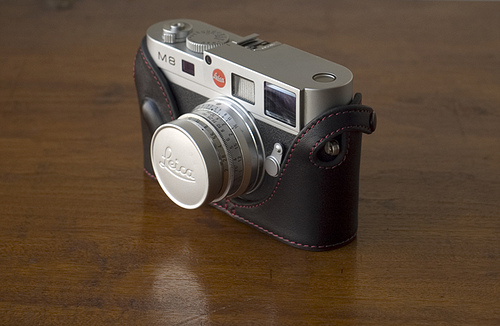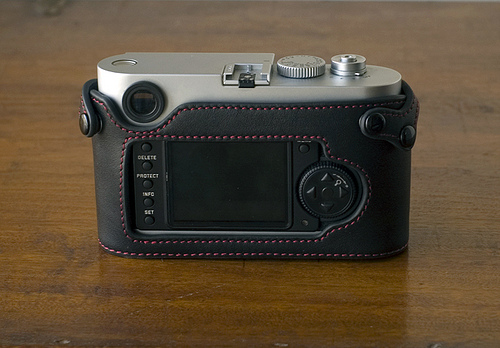 The final entry, of which I am aware, in the Leica half case repertoire, is the Zhou half case. I have never owned one of these, but I have seen several people who have and have been very satisfied. Zhou cases are manufactured in China by a younger guy who makes lovely case designs, similar in many ways to Luigi cases, but with a more machined look. These cases are not hand sewn, to my knowledge, and have a look of machined manufacture to me. The leather used in these cases appears to be of lower quality, more sythetic, than Luigi's line, but Zhou cases are far more affordable. Zhao himself sells these cases from his ebay store for a variety of rangefinder cameras for $60-$80, and thus these cases represent the best bang-for-the buck in terms of half case lines, with both nice product fit and finish at an affordable price. I think of these as the "Honda Accord" of half case designs, while A&A make the "Lexus" level of quality, and Luigi represents the "Maserati" line, in terms of quality. Once again, there's no right choice here, but rather what aesthetic appeals most to you.
Look forward to "Pimp My Leica, Part 2", subtitled, "Wrist Straps, Next Straps, Grips, Baseplates and Soft Shutter Releases"
After that, I will conclude with the article, "Pimp my Leica, Part 3", sub-titled, "How to Disguise your M9- Black Dots, Camera Leather, Screen Protectors, and Tape Jobs"
You can see more from Aswin Rao at his very own blog HERE!
[ad#Adsense Blog Sq Embed Image]
HELP ME TO KEEP THIS SITE GOING AND GROWING!! IT"S EASY TO HELP OUT!
Remember, anytime you follow my links here and buy from B&H or AMAZON,
this helps to keep my site going. If it was not for these links, there would be no way to fund this site, so I thank you in advance if you visit these links. I thank you more if you make a purchase! I have nifty search bars at the upper right of each page so you easily search for something at either store! I currently spend 10-14 hours a day working on this site and the only way that I can pay for it is with your help, so thank you! Currently my traffic has been increasing but my funds to pay for the site has been decreasing, so any help would be GREATLY appreciated!
Even if  you buy baby food, napkins or toothpicks at amazon it helps this site, and you do not pay anything extra by using the links here. Again, you pay nothing extra by using my links, it is just a way to help support this site, so again, I thank you in advance 

If you enjoyed this article/review, feel free to leave a comment at the bottom of this page and also be sure to join me on twitter or my new facebook fan page where you can win a cool photo prize that is given away on the 1st of every month! Also, you can subscribe to my feed at my subscribe page HERE and read these posts in your browser or news reader!
Also, the new forums are NOW OPEN on this site so get involved if you like! Thanks so much for visiting my site!