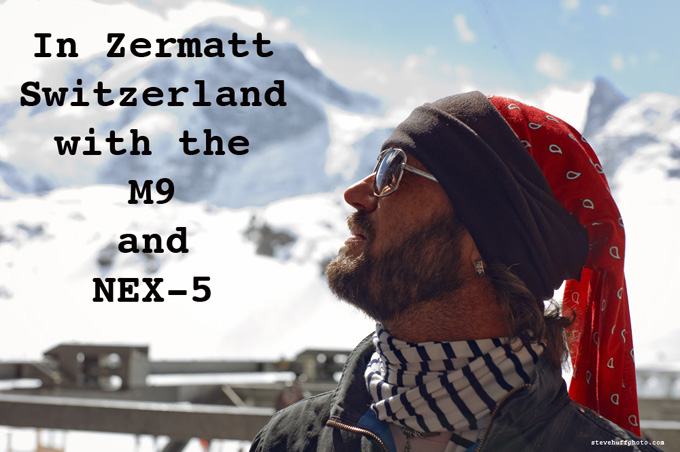 In Zermatt Switzerland with the Leica M9 and NEX-5
By Steve Huff
WOW. That's about all I can say right now. In the past 4 weeks I have been all over South America, spent a few days in Mexico City, MX, flew to Cape Town South Africa after sitting in the very cool Terminal 5 in Londons Heathrow Airport for a few hours. Then yesterday I flew in a freaking helicopter to Zermatt Switzerland, home of the Matterhorn Mountain! Yea, like the one at Disneyland but this is the real deal. Being on the road with Seal as tour photographer sure has its perks. Sure, it is exhausting at times, but days like this make it all worthwhile.
When we left Cape Town we were all just BEAT. Jet lagged out of our minds from the previous journey, many of us just dragged our feet at the airport..
Marcus Brown, Seals Bass player. Here he is after a day and a half with no sleep…waiting to board the plane to Geneva from South Africa which ended up being a 15 hour journey.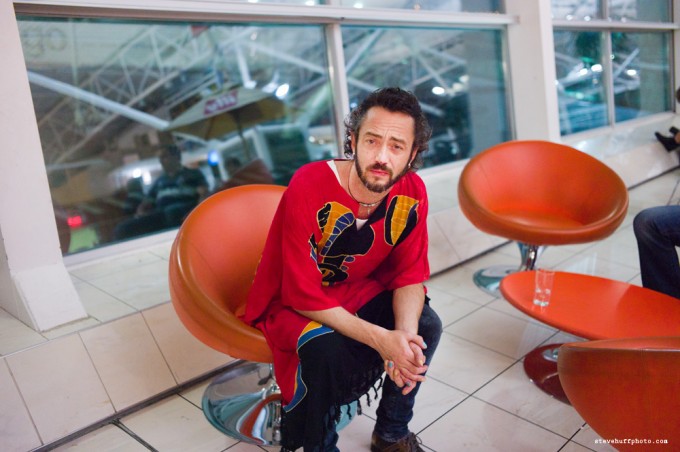 Once we landed in Geneva it was a three hour van ride to Zermatt for the band and crew but I was lucky enough to hitch a ride in the helicopter with Seal, his manager Ric, and a few others. My 1st time and it was really interesting. It's an all different experience than flying in an airplane obviously..almost like you are hanging by a wire and being pulled along. I brought along the Leica M9 and 28 Elmarit and the NEX-5 and 16mm lens for the ride.
Getting ready to board…NEX-5 and 16mm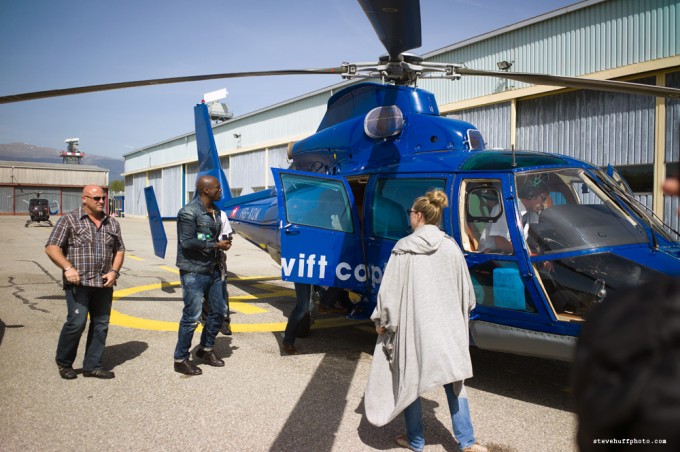 Me and Mike (Security) in the Helicopter…NEX-5 and 16mm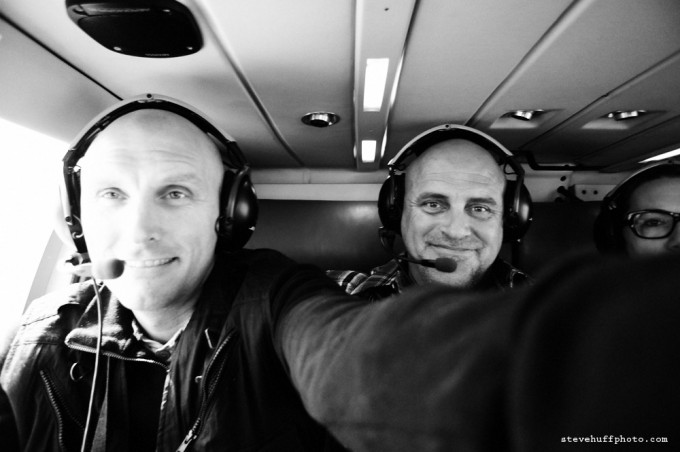 from the window as we flew over the mountains…Leica M9 and 28 Elmarit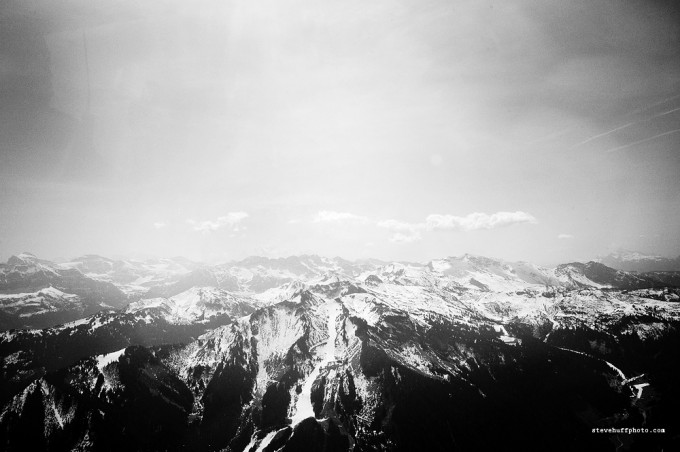 Ric, taken with the NEX-5 and 16mm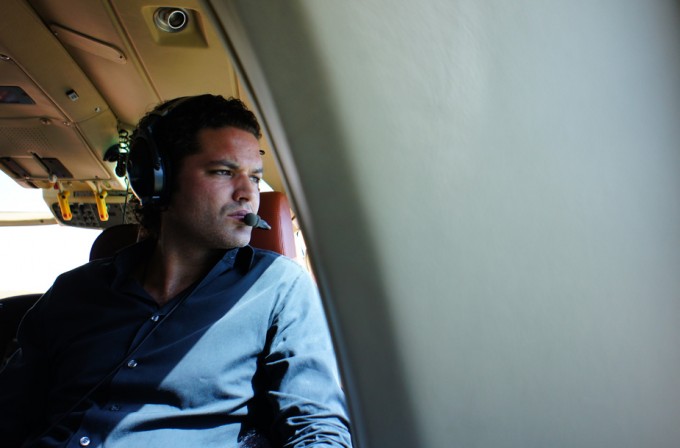 –
Upon landing in Zermatt I headed straight for my room and relaxed a bit with lunch and some TV. I couldn't call back home as it was still the middle of the night in Arizona so I waited for the rest of the crew to arrive, along with my bags. Once the gang all arrived we headed out for a walk around town for some sightseeing, some beer and some dinner. Everyone seemed to gather at this bar called the "Hexan Bar". There was a cool vibe going on and we had some beer, pizza and I ordered some of the guys a round of Absinth, which they (almost) made the proper way with water and sugar.
Absinth being prepared – M9 and 35 Cron, ISO 2500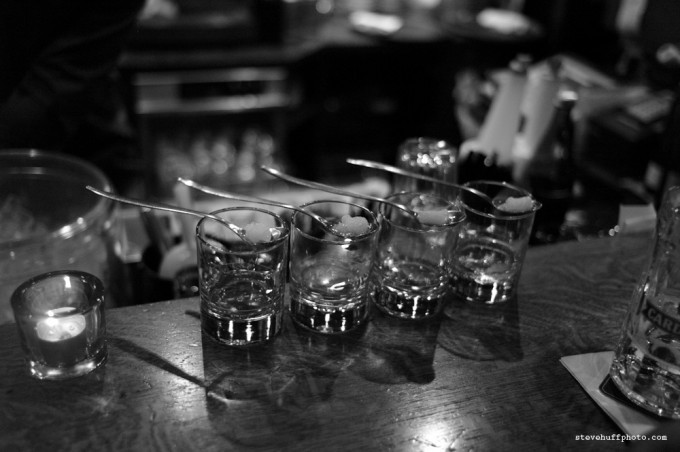 Mark and Marcus hanging out…M9, 35 Cron, F2, ISO 2500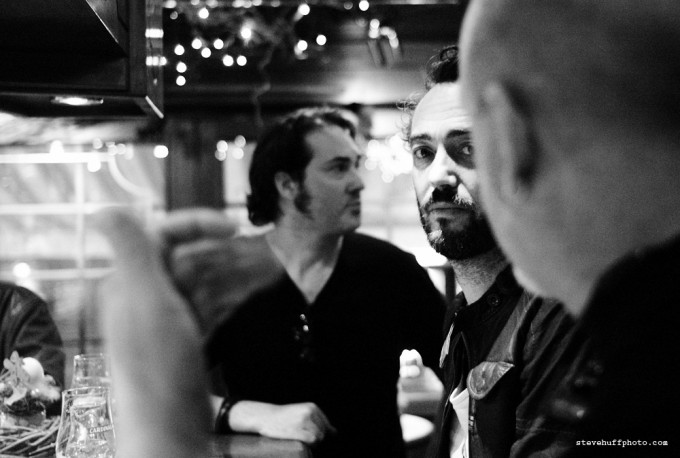 After a few drinks and with our bellies full we all went back to our rooms for some much needed rest. We had a big day ahead of us as a few of us were heading up to the Matterhorn Mountain to take some pictures. Seal went up to Ski but since I never had a pair of skis on in my entire life, I decided to play it safe and just do some sight-seeing.
Left to right – Mike, McBob, Marcus, Sid and Chris with the Matterhorn behind them in the distance. M9 and 50 Noctilux ASPH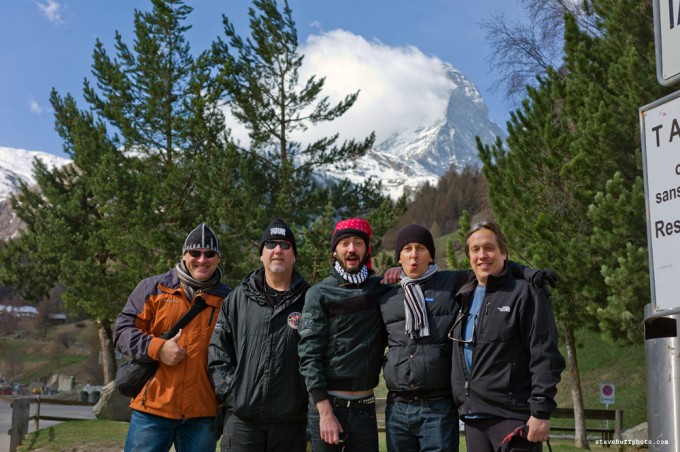 –
Sid – NEX-5 and 16mm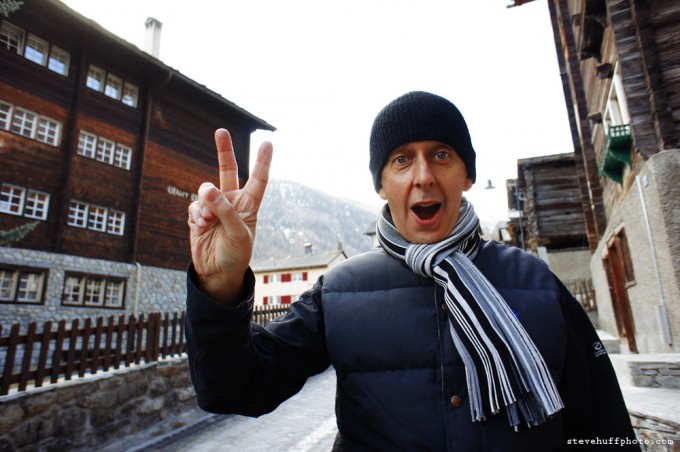 –
Planning out our route…NEX-5 and 16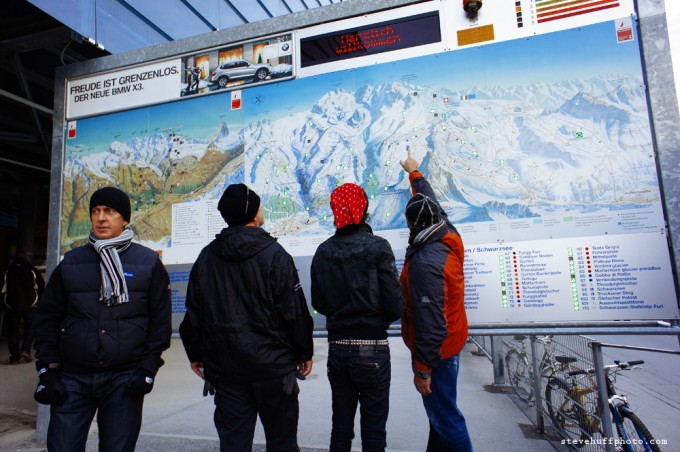 –
On the lift headed for the Mountain, which took just under an hour to get to – NEX-5 and 16mm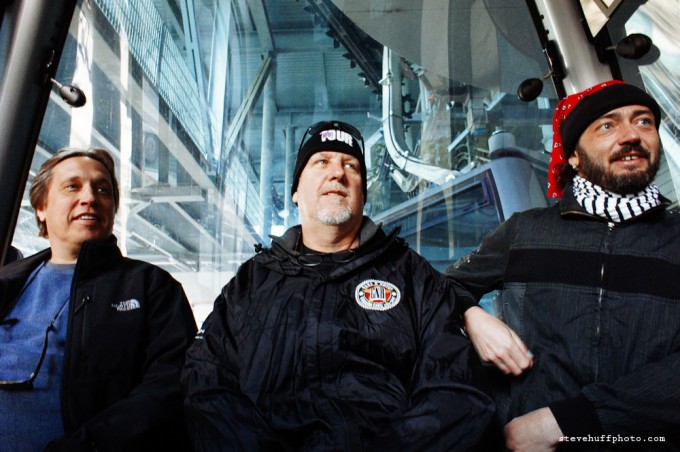 –
Me and Sid on the lift having a blast. NEX-5 and 16mm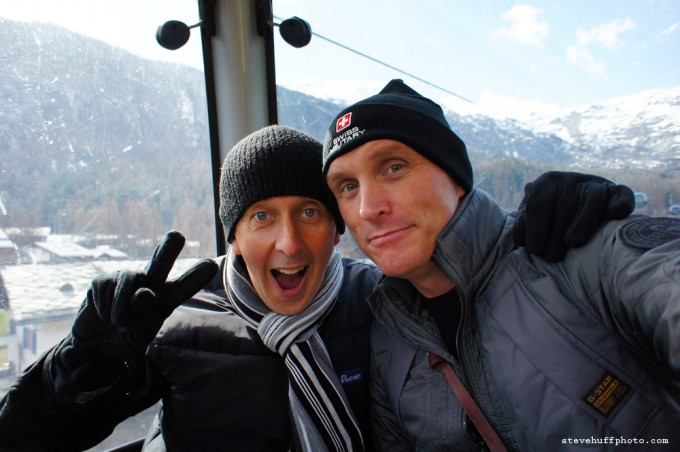 –
The little NEX with the 16mm is great for small spaces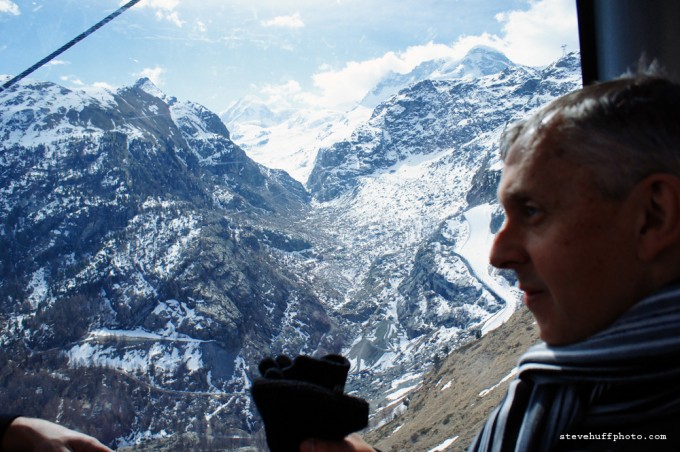 –
Marcus as we approach the mountain – M9 and 50 Noctilux ASPH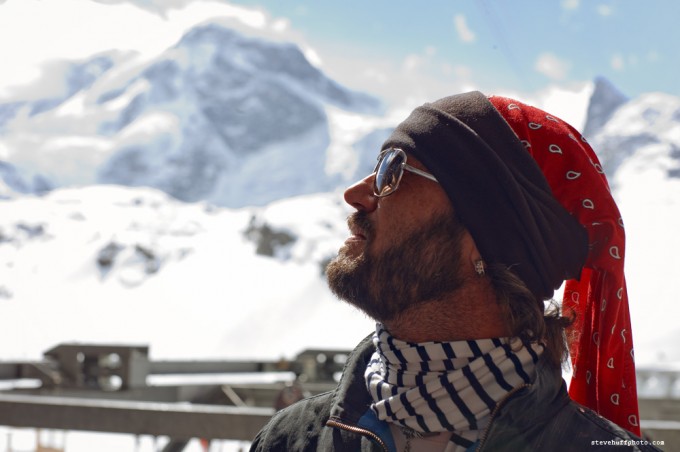 –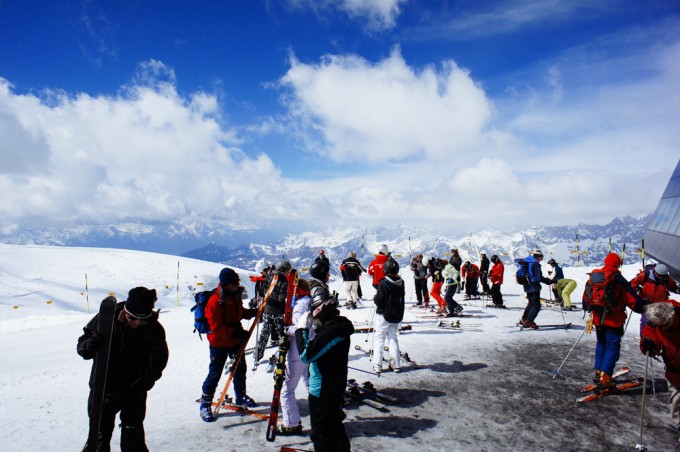 –
M9 and 50 Noct…The M9 files look much less digital with more DR (to my eye) than the ones from the NEX.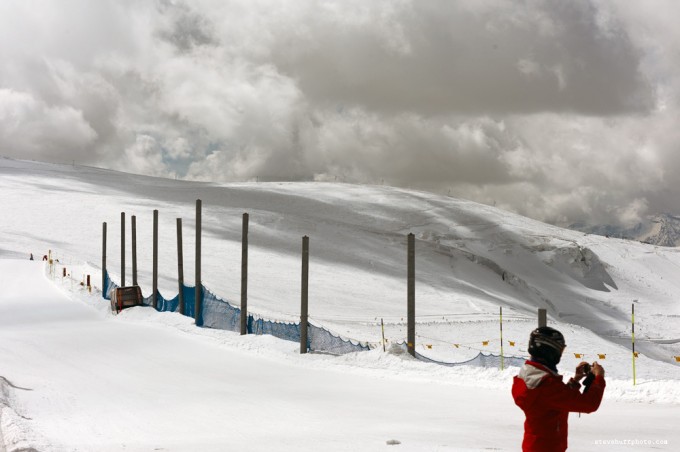 –
and another from the M9 and 50 Noct – WOW…this is what the Nocti was meant for. This was inside the glacier and it was extremely cold and the air was very thin. Some of us had a hard time catching our breath.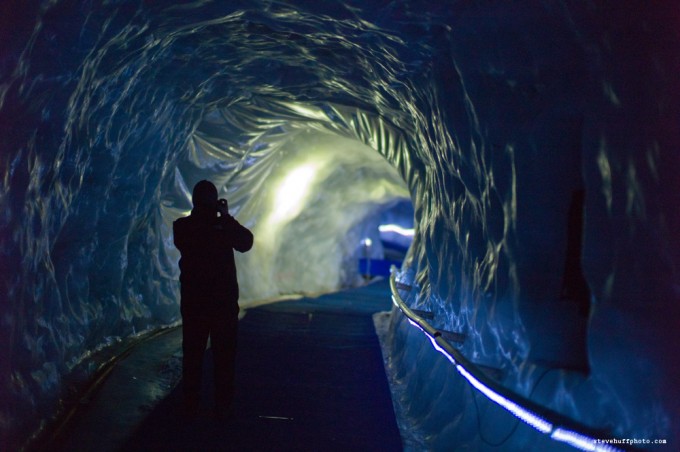 –
But how would the NEX-5 and 16mm do in the same tunnel? I used the twilight mode which works great in low light and helped bring out the mood and color. Not bad…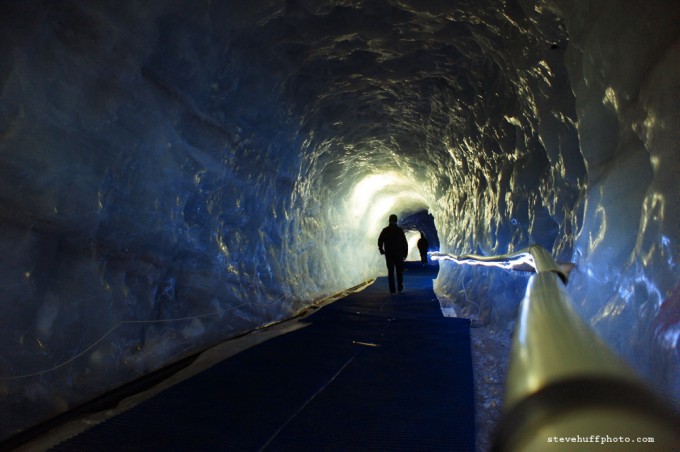 –
Sid in the Glacier Palace – NEX-5 and 16mm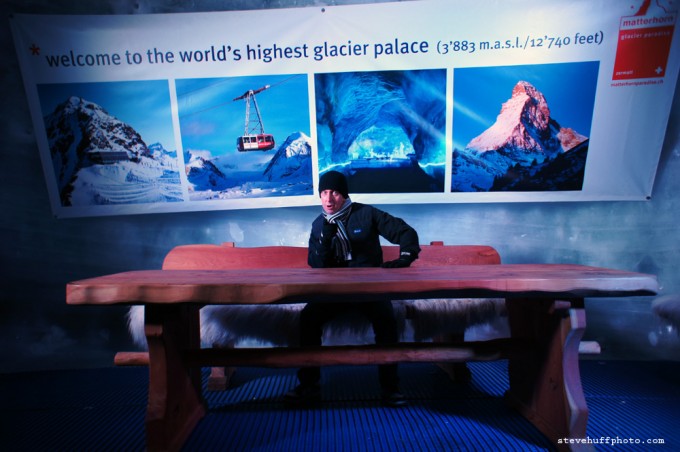 –
Mike in the Glacier Palace – M9 and Nocti ASPH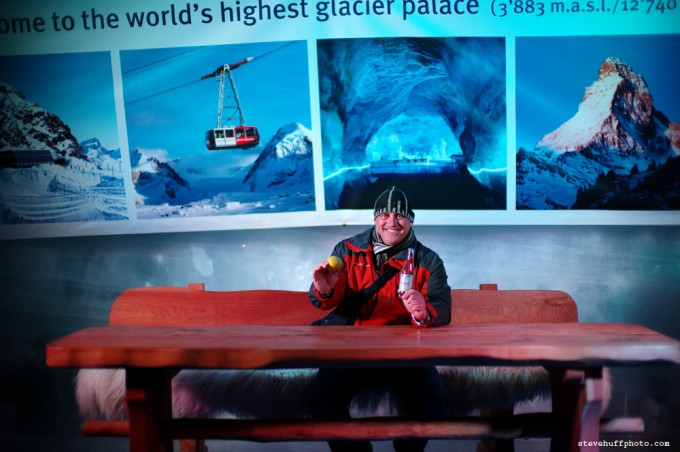 –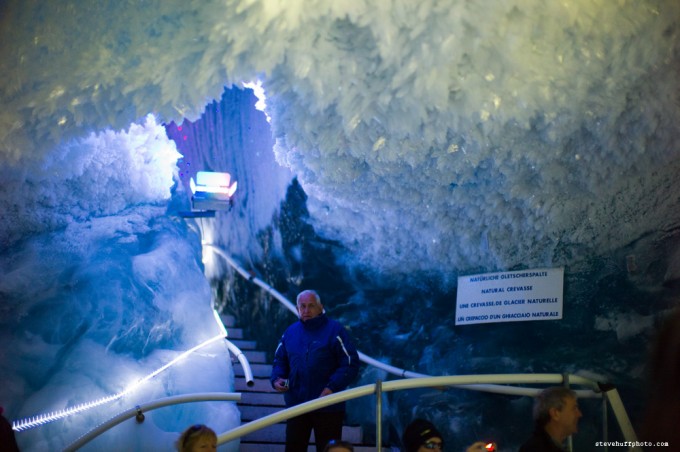 –
We were tired from the walking, the heavy breathing and also pretty hungry so we decided to head back down to the village for some lunch. I snapped a few more shots along the way…
M9 and Noctilux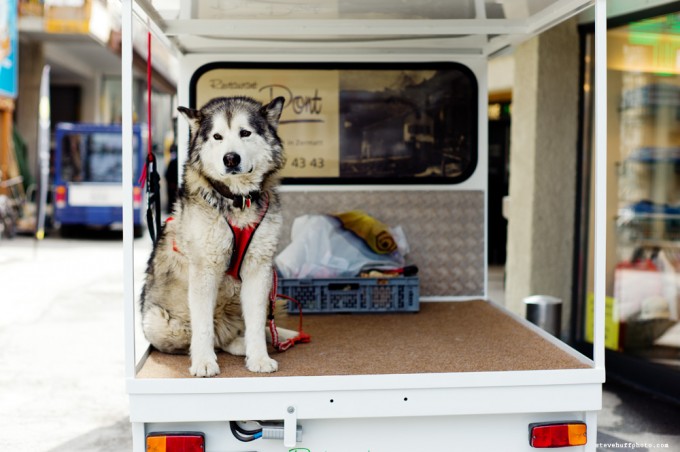 –
M9 and Noctilux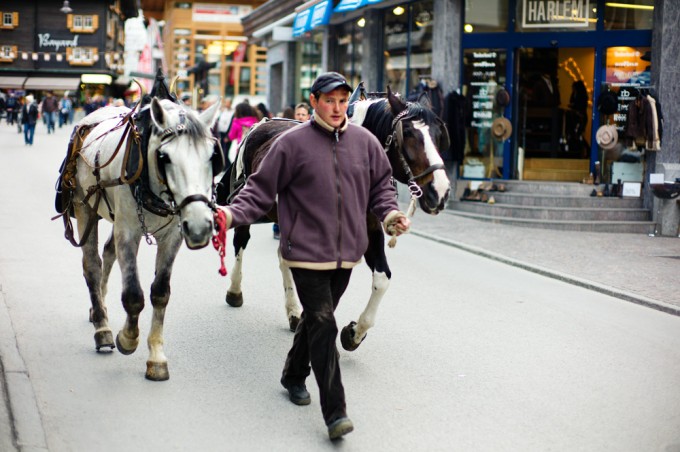 –
NEX-5 and 16mm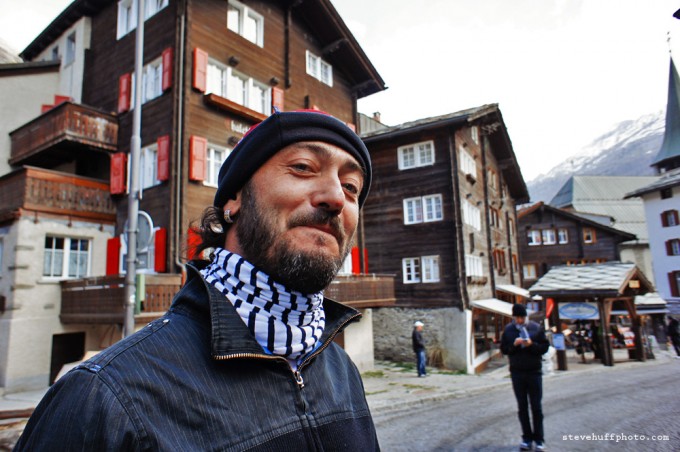 –
Cloud coverage all day so no really great shot of Matterhorn Mountain…M9/Noctilux ASPH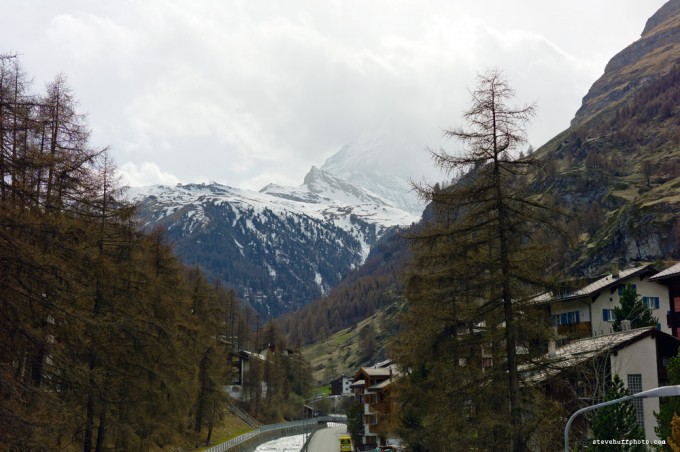 –
one more…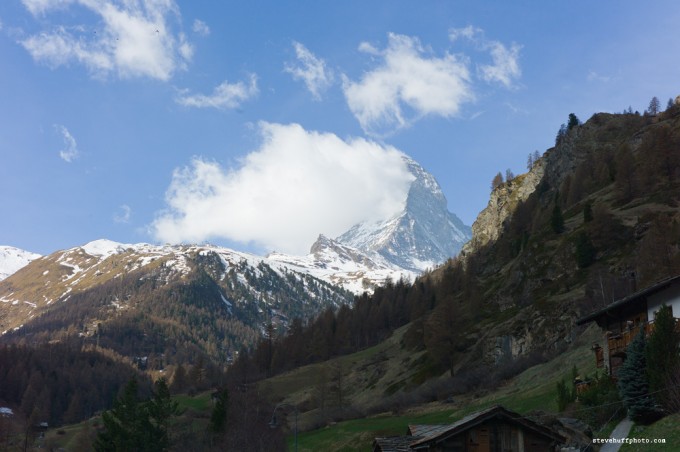 So far this little Ski town,  Zermatt, has been awesome but for me very hectic. It seems like I have been on the go since I stepped foot off of the helicopter, but hey, I'm not complaining! I have to see and do as much as I can while I am here because who knows if I will ever be here again, right? Tomorrow night is the show where Seal plays the "Zermatt Unplugged" festival and it should be a great night overall. We all leave to head back home at 4AM the night of the show so I'll soon be back home in AZ and will probably sleep for two days straight 🙂
Some of you have e-mailed me asking for me to post a full size file from the M9 and Nocti (even though this combo has been out for quite a while now). Today I snapped a shot from our cable car as we were heading up the mountain and for some reason, my focus issues that I had with the Noctilux were no longer there today! Maybe the cold Swiss air healed the lens, lol. Anyway, below is a full size image, just click on it to open it up in another window. I love the M9 files and the Dynamic Range which beat out the NEX-5 sensor in my experience of real world shooting.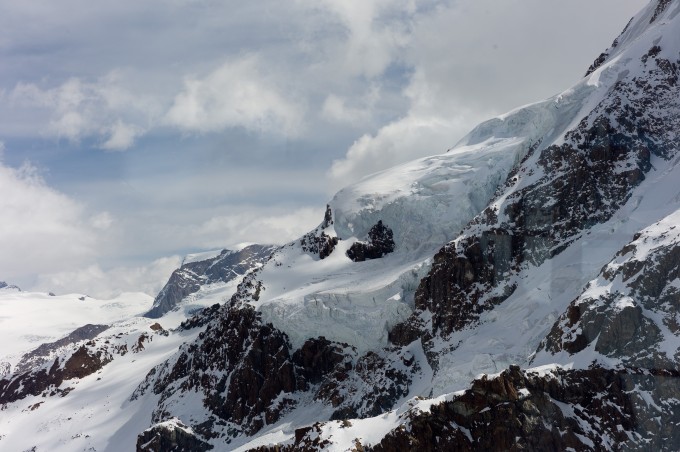 Also, here is a quick shot that I happened to take with each camera. One with the M9 and one with the NEX. I did not do this to make any kind of comparison but rather so I could have one with more compression (M9 and 50) since the 16 was so wide on the NEX. BUT one thing I notice is how much more richer the M9 files look, and hell, they should be since the camera costs 10X as much but I see many people who do not own an M9 and they say the NEX has better Dynamic Range than the M. Well, from everything I have shot with each camera I can easily say the DR of the M9 exceeds that of the NEX. I'm sure someone will come along telling me the numbers say differently, but I go by real world photos.
This shot was in the sun, taken about 20 seconds apart. First one with the NEX-5 and 16…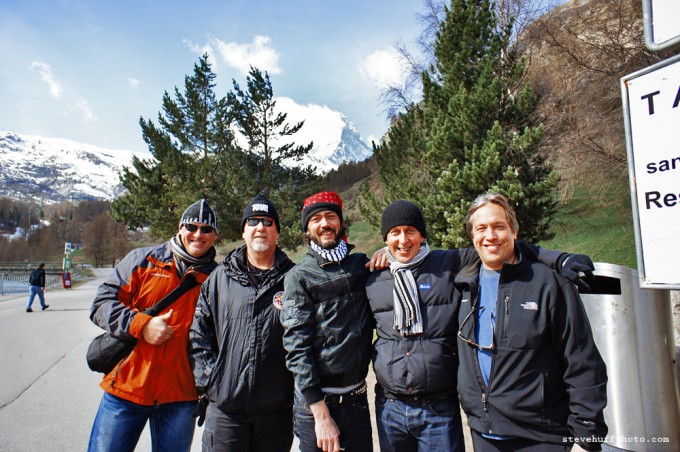 and as previously posted..the M9 version shot with the Noctilux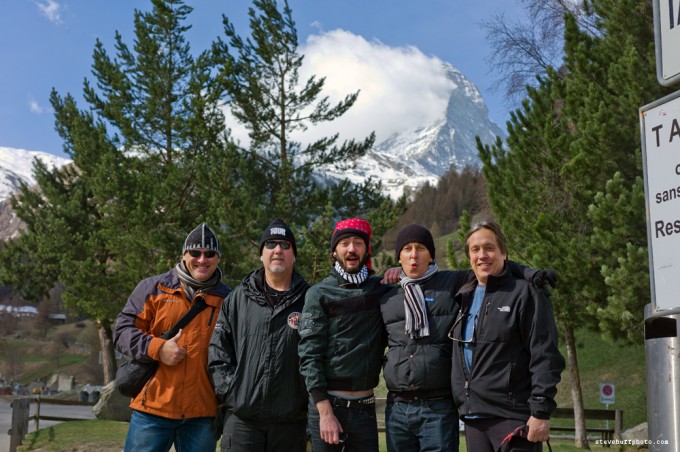 These are pretty much straight out of camera shots here. IMO, the NEX shot looks more digital, has more digital color and the highlights are blown in several areas. The M9 shot is smooth, rich, and it was a much more robust file. Yea, the M9 sensor still rocks. Believe me! For those looking for an M9 in stock, Ken Hansen has some in each color – you can email him here. Also, Dale Photo has them as well. B&H Photo, at the time of this writing is sold out of the M9.
Check back in the next couple of days for the Seal show report in Zermatt as well as some new Daily Inspirations and Guest articles!
Steve
[ad#Adsense Blog Sq Embed Image]
HELP ME TO KEEP THIS SITE GOING AND GROWING!! IT"S EASY TO HELP OUT!
Remember, anytime you follow my links here and buy from B&H or AMAZON,
this helps to keep my site going. If it was not for these links, there would be no way to fund this site, so I thank you in advance if you visit these links. I thank you more if you make a purchase! I have nifty search bars at the upper right of each page so you easily search for something at either store! I currently spend 10-14 hours a day working on this site and the only way that I can pay for it is with your help, so thank you! Currently my traffic has been increasing but my funds to pay for the site has been decreasing, so any help would be GREATLY appreciated!
Even if  you buy baby food, napkins or toothpicks at amazon it helps this site, and you do not pay anything extra by using the links here. Again, you pay nothing extra by using my links, it is just a way to help support this site, so again, I thank you in advance 

If you enjoyed this article/review, feel free to leave a comment at the bottom of this page and also be sure to join me on twitter or my new facebook fan page! Also, you can subscribe to my feed at my subscribe page HERE and read these posts in your browser or news reader!