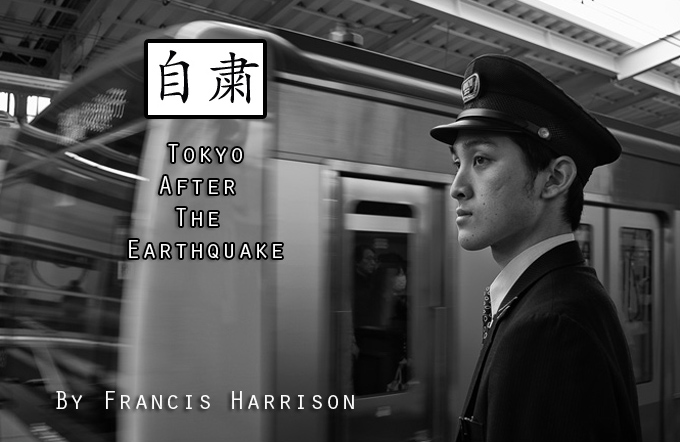 自粛 "JISHUKU": Tokyo after the earthquake
A photo essay
By Francis Harrison
"Jishuku" (自粛) refers to the general mood of self-restraint and self-denial which permeated Tokyo in the weeks that followed the Great East Japan Earthquake & Tsunami of March 11. Overnight all TV commercials were pulled, to be replaced by monochromatic public messages about breast cancer testing, helping old ladies across the road and fervent "Japan will rise again!" messages from pop idols and other personalities.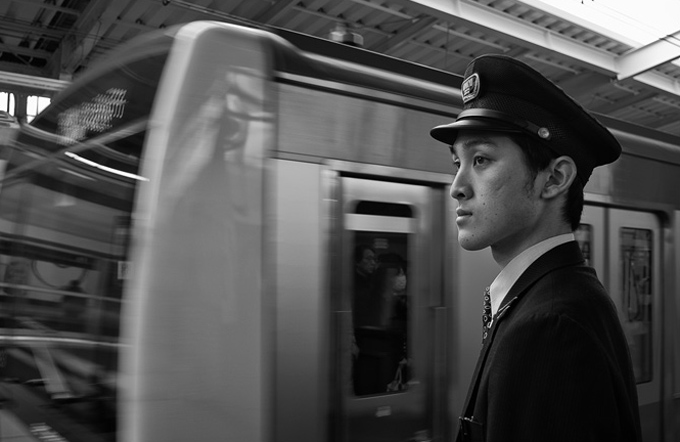 An Odakyu Railway guard strikes a stoic pose during morning rush hour. Devotion to duty is key to understanding the kind of everyday heroism on display by ordinary Japanese during these dark days.
–
Within five days 100,000 expats had fled the capital urged on by panicked messages from the embassies of France, China, the UK, India and finally the USA as well. This was the greatest exodus of gaijin since World War II. In just a few days, Tokyo went from a cosmopolitan metropolis to a provincial Japanese town.
What drove the panic of course was fear of radiation from the unfolding disaster at the Fukushima nuclear plant. In those first few weeks, no one knew for sure whether we were safe or not…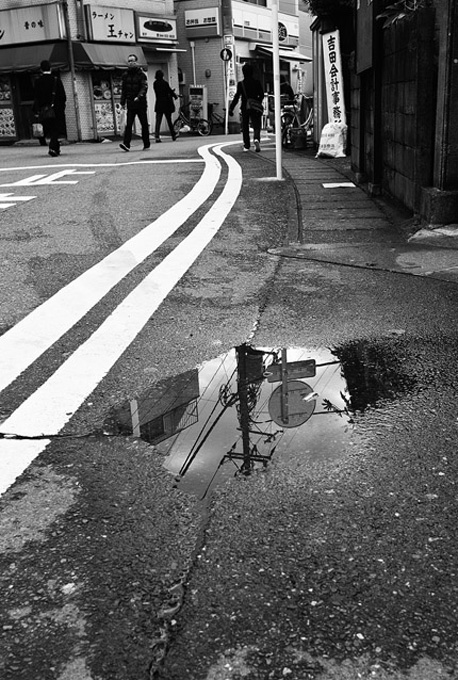 It rained hard the day before and we were told that radiation levels had doubled, carried by the rain.
–
Power outages also resulted from the nuclear fiasco up North. To avoid blackouts companies started turning off lights in offices during the day, plunging workers in near darkness at times. (It was also a way to save pennies…)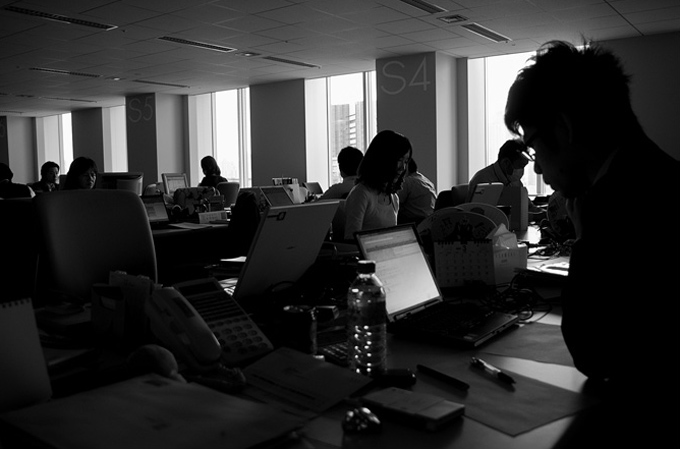 At my office in the Ginza, we work by the lights of our PC screen, squinting whenever we have to read a printed page.
As "Jishuku" gathered momentum, folks started to feel guilty about enjoying themselves or being seen to have a good time. By respect for the atrocious suffering of their fellow citizens in Tohoku, they avoided restaurants and bars, resulting in a severe strain on an already stressed economy.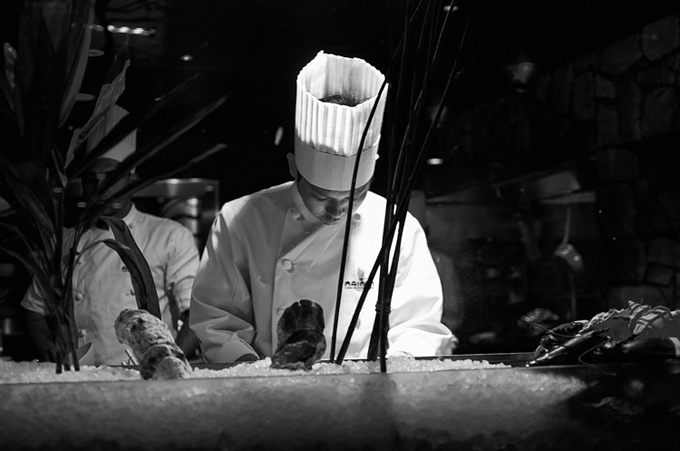 A chef meticulously prepares a window display in an empty fish restaurant in the Ginza.
–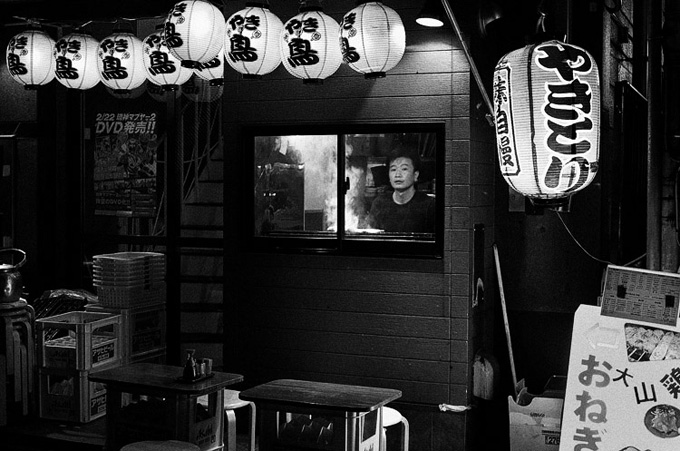 The loneliest bar in the world. (Yurakucho).
–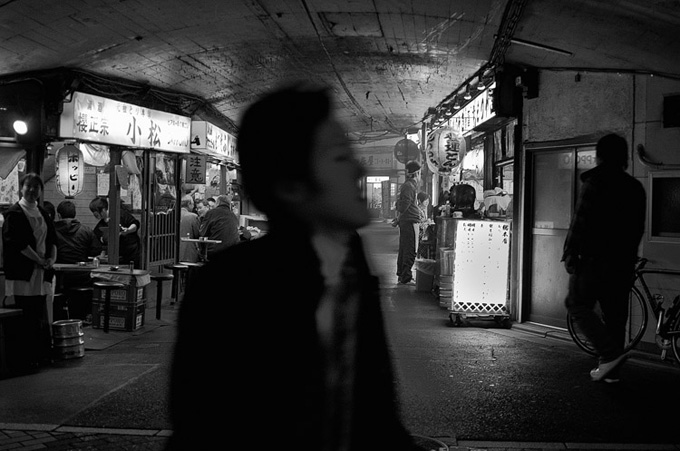 The bars and casual restaurants under the railway tracks in Yurakucho are usually bursting with happy customers.
–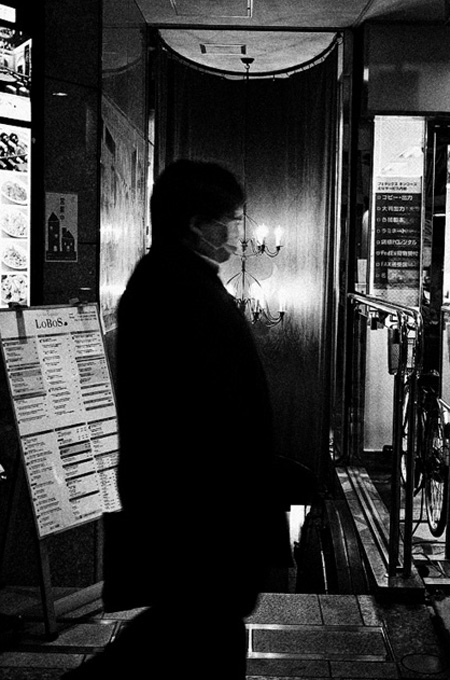 A masked punter walks by a basement night club in Yurakucho.
–
For a brief spell the regular preoccupations of the city's youth seemed to go by the board and it looked like nothing would be quite the same again.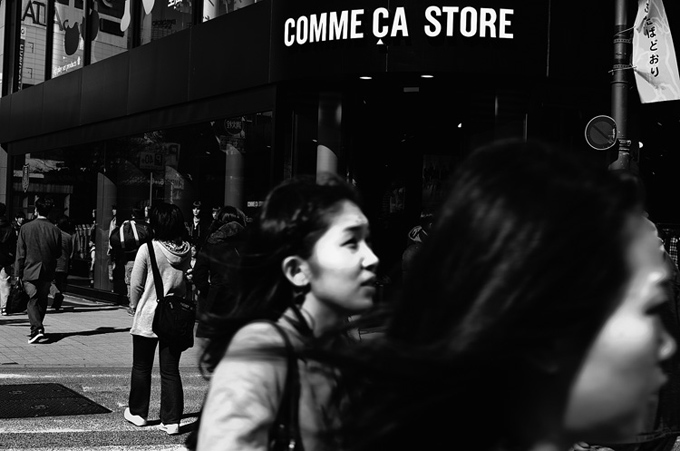 Young ladies drift past a no longer relevant billboard advertising a once popular fashion brand in Shinjuku.
–
The ultimate challenge to the gathering gloom of "Jishuku" was the looming sakura season. Traditionally "Hanami" or "sakura viewing parties" are a sacred rite in land of traditions. This year many debated whether it was even proper to celebrate those pink blossoms while so many thousands had died up North or were living without electricity in homeless shelters.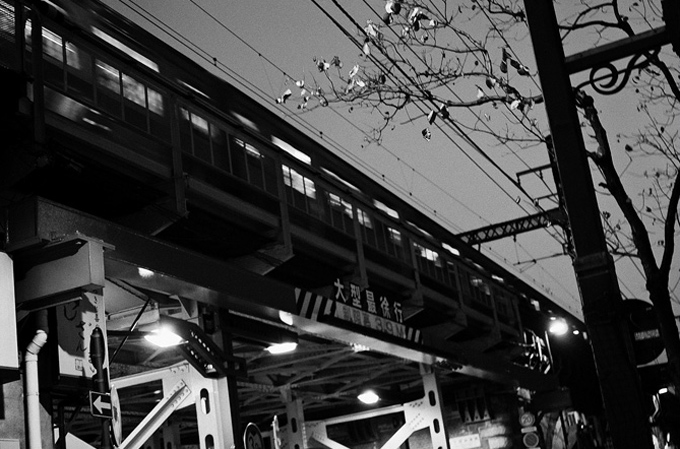 Shy cherry blossoms make a first appearance by the railway tracks in Yurakucho. The sakura were late this year as if they too observed some form of "Jishuku".
–
[ad#Adsense Blog Sq Embed Image]