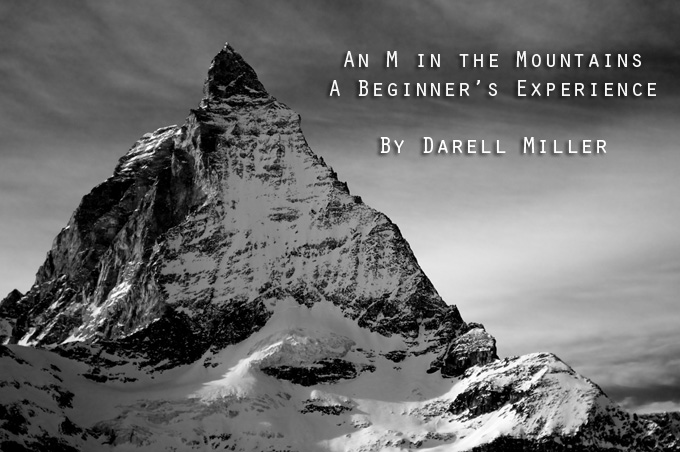 M in the Mountains – A Beginner's Experience
By Darell Miller
**All photos were shot with a vintage 1961 50 Summilux
I come alive in the mountains. The sense of silent power, crystal clear air, and hushed awe lifts all my senses. On a clear day the sky is a deep delirious blue that that you can almost drink in and just looking at it refreshes exhausted legs after a 2km thigh burning black diamond ski trail. Exhilarated and relaxed at the same time, I am in my element.
I have always longed to be able to capture some of that mountain magic I feel in my photographs but when using digital compacts had not really done anything more than point and shoot and failed. Things started to change last year when through an email conversation with Steve I took my first steps to serious considered photography I bought an Olympus EP2. Six months later after having used some M series lenses on the EP2 I signed up for Steve's meetup in NYC and managed to pickup a secondhand M8 through the Leica Forum. Now I really stared to learn about the elements that produce an image and actually have control over it. My photos from NY weren't fantastic but I was learning and loving the process. Now if i could just combine this with my great love of the mountains and skiing that would be great!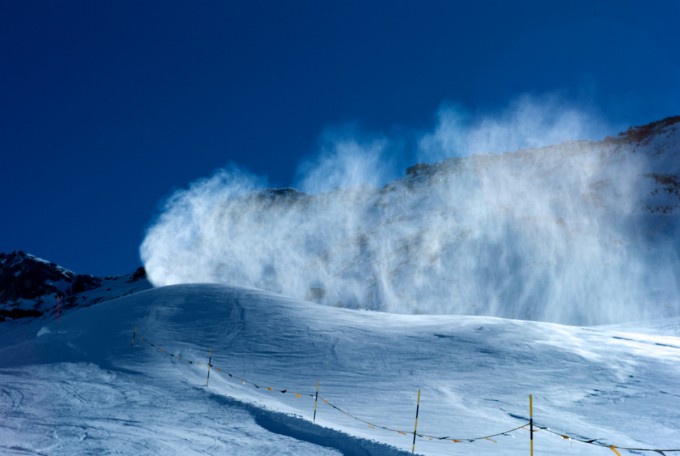 Sun, Snow & Wind
–
The problem was that I normally go skiing with my teenage son who isn't all that tolerant of my taking photos at the best of times, I slow everything up apparently, and not at all when there's skiing to be done. This combined with all the kit I have to carry in my backpack for the two of us when we are skiing meant that the best I could hope for was some quickly snatched shots on my EP2, which wasn't my aim. I was chatting about the problem with my friend Luke, a Canon user and a far better photographer than me, when he came up with a fantastic solution "How about a boy's skiing and photography weekend in Cervinia, Italy?" Well that didn't take much thinking about I can tell you! Once we had both obtained the vital green light from our wives it was full steam ahead.
Now came the vexed question of kit. Lenses were easy, my 28mm Voigtlander and my vintage 50mm Summilux were the obvious choices, but a Billingham Hadley Pro is hardly the ideal bag for skiing with. A backpack is more practical but makes it difficult to get at your camera quickly. Here Luke came up trumps again as he uses the Lowe Pro Slingshot as a light weight quick access bag for his Canon and a lens. This is a single strap backpack but with aside strap which holds the bag more firmly in place which can be unclipped from the sling in front of you. This means the whole bag can be swiveled around your body and opened up from the side entry zip with no chance of your camera falling out, even on a ski lift! If you are into active sports and want to take your M this is definitely a bag to consider. With an M8 and two lenses it still has room for a spare sweater in the main compartment, vital when the temperature gets down to -27 degrees Centigrade.
So one Friday evening in we found ourselves touching down in Turin in the north of Italy. For those who haven't been there Turin is one of the major industrial cities in Italy, the home to Fiat cars, and is located in a bowl literally surrounded by mountains. For a skier it would be heaven to work here as your are no more than an hour and half drive from some serious ski resorts. Oh and if you want to know what it looks like then just watch the original 1960's Italian Job movie as the whole robbery sequence is set in Turin, don't get me started on Mini Coopers.
Early Saturday morning we are up and ready to drive form our hotel to the slopes, and I mean early, the Moon hadn't even set yet and the Sun was barely peeking over the top of the surrounding mountains.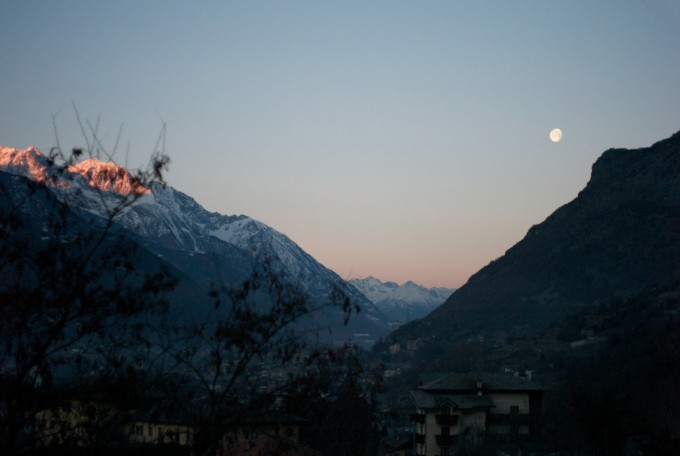 Early start for the slopes
–
Cervinia itself is right up on the Swiss/Italian border where you can ski down into the Swiss town of Zermatt and both resorts play host to one of the most iconic mountains in Europe, the Matterhorn. This really is mountain straight form your childhood imagination, especially when seen from the Swiss side. A perfect pyramid of rock, snow, and ice towering over everything else, it punctures the sky like an exclamation mark. Needless to say there were many attempts made to capture its extraordinary beauty and I hope I have done it some justice here and in the first photograph.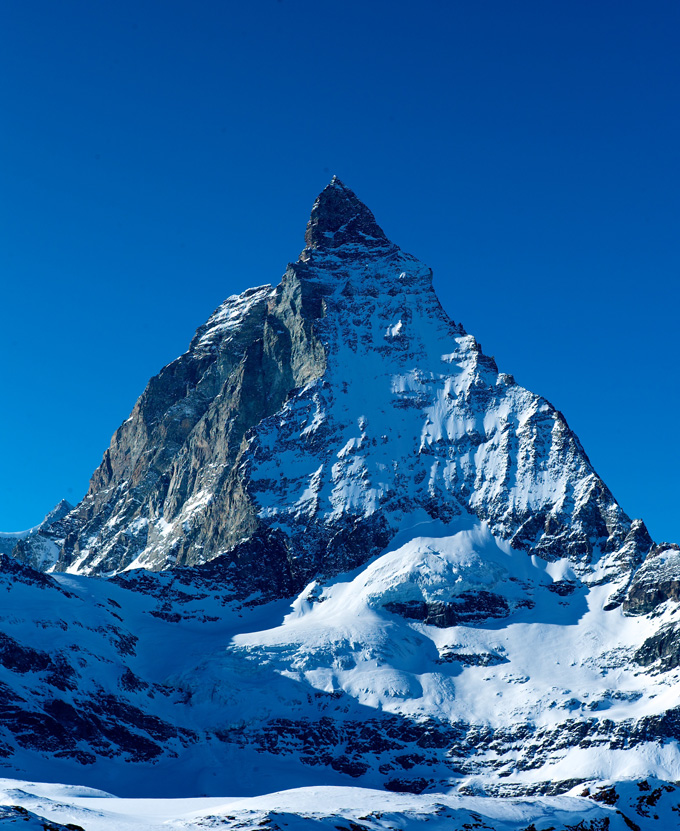 Majestic Matterhorn
–
Complementing the Matterhorn is the seemingly endless Aosta valley. A sinuous, winding corridor of snow clad peaks reaching down from the border with many wonderful ski resorts along its sides.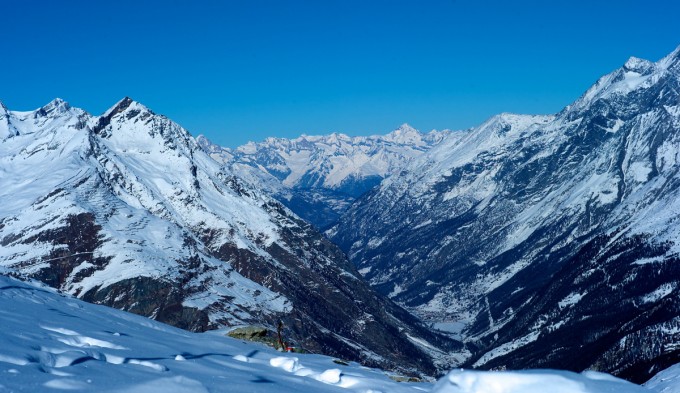 What followed was two and a half days of bitingly blue skies (it really did get down to -27 at one point!), fantastic skiing, great food and wine (well we were in Italy) and lots of photography. Here are a few more of my favourite shots from this amazing weekend.
–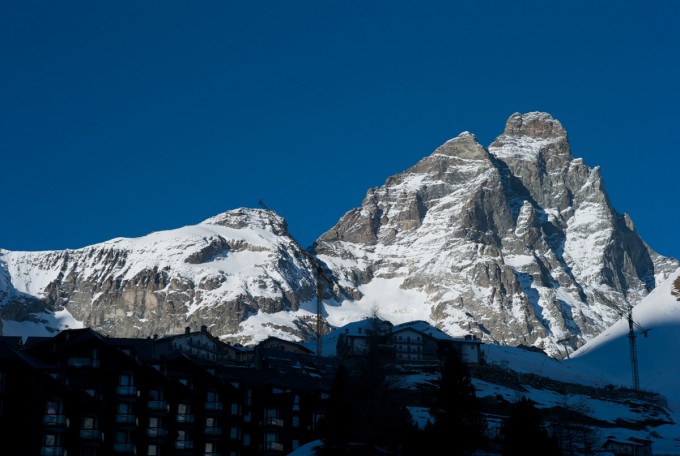 Matterhorn Towering over Cervinia
–
Last of the day's Sun
–
Luke and his Canon
–
Luke carving a turn in front of the Matterhorn
–
–
I thought I'd finish in the style of Steve's & Seal's M9 contest with two images that for me define why I love the mountains.  Thanks for reading.
Heaven is a place on Earth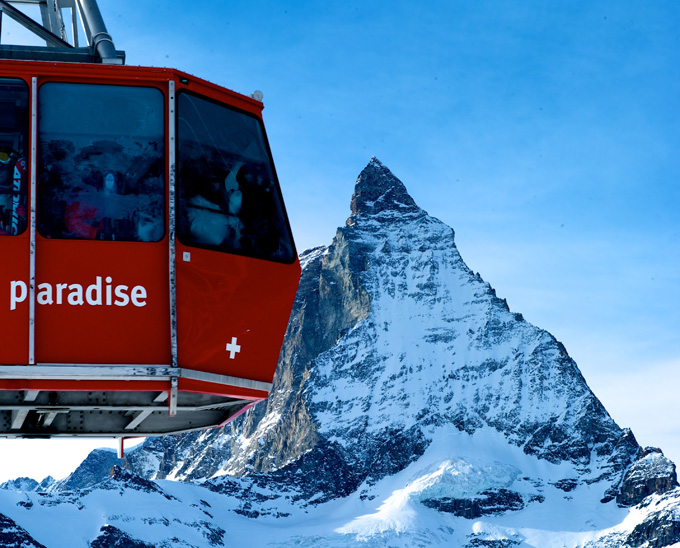 [ad#Adsense Blog Sq Embed Image]