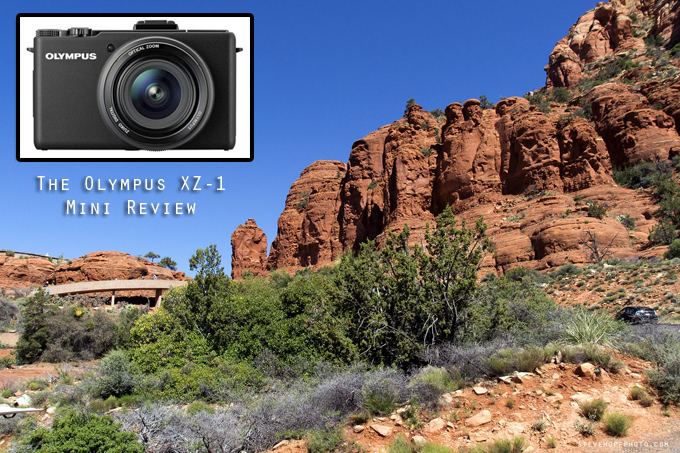 The Olympus XZ-1 Digital Camera Review
By Steve Huff
Ah yes, the Olympus XZ-1. I was supposed to have this review up last week but with all of the Fuji X100 and Leica X1 hoopla I had to push this one back because I did not have the time to go over the images I snapped with the camera until now. I have been toting along this little powerhouse of a compact for a couple of weeks now and I have to say that I am pretty impressed with the cameras capabilities. I will keep this review short and sweet, and it will focus on my real world use of the camera and NOT charts and resolution tests.
It will also be a VERY short review as there is no need to go on and on about the camera because it just does what it does, and it does it well.
Olympus released the XZ-1 with a mission in mind. That mission was to release a small compact camera that would not only have more features, better quality and a larger sensor than others in its class, it appears they also wanted to take on some of the super compacts like the Leica X1 and new Fuji X100. While I do not feel the XZ-1 is a replacement for something like an X100, it can at times give similar results if you are printing small or shooting for web display.
Yes, in many ways, this camera can almost approach the quality of the Fuji X100 and Leica X1, and it is a smaller sensor compact! Of course, in other ways, like noise, dynamic range, and total IQ, it is not up there with the super-compacts but it is an option over the cameras that are in the XZ-1's class, and dare I say, a better one? Maybe, maybe not. It all depends on what you are looking for in a compact-ish camera.
The fact is that 90% of us really do not NEED more camera than this! Most of you reading this are most likely hobbyists who shoot and post to the web. Others may have found this page through google while searching for their 1st high quality compact digital. If that is the case, the XZ-1 is one of the best compacts I have had the pleasure to shoot with (in the smaller sensor compacts) if not THE BEST. It is also a camera that is super easy to take with you anywhere. It fits easily into the front pocket of my cargo shorts.
The Red Rocks of Sedona, in Black & White! XZ-1 at f2.5 and ISO 100 – Noise in sky is from the B&W conversion.
First off, I know there are other cameras in this class that I already really enjoy. Which ones? The Leica D-Lux 5 and Panasonic LX-5 are at the top of my compact list along with the little Ricoh GRDIII (GRD review HERE). Those are cameras I really loved and raved about right here on this site. The D-Lux 5 was my top choice for a high quality compact camera but this may have just changed with the XZ-1 just because it does so much right, and so little wrong.
What makes this little Olympus special though is its all star cast of features. This little guy has everything you can imagine or wish for in a compact camera, even a little bit larger of a sensor for even better performance over the other small cameras.
Here are the official specs of the XZ-1
10 Megapixels
The 10 million pixels in the high-resolution CCD create superior image quality. Create poster-sized prints without losing a single detail.
Large, High-Sensitivity CCD
Providing the best image quality ever in a compact Olympus camera, the large 1/1.63-inch CCD enables greater dynamic range and smoother gradations from highlights to shadows.
4X iZuiko Zoom Lens
Based on the standards of Olympus DSLR lenses, the wide aperture of the iZuiko f1.8-2.5 allows a rich and vibrant range of photographic expression. It allows faster shutter speeds in low light – and it allows for a shallower depth of field than most compact point-and-shoot cameras.
HD Movie 720p
A simple, one-touch button allows you to record movies with amazing clarity in high-definition, right from your camera.
Accessory Port
The XZ-1 includes a port for accessories including the SEMA-1 Microphone adapter set and the VF-2 live-finder, a detachable electronic viewfinder. The viewfinder easily slides onto the camera's accessory port and hot shoe to provide 1.15x magnification for a 100% field of view. The VF-2 rotates up 90 degrees which is useful when shooting subjects from challenging angles. The external accessory port also allows for connection with the SEMA-1 external microphone adapter set for enhanced audio capture.
In-Camera Art Filters-Movie and Still Images
With six in-camera Art Filters (Pop Art, Soft Focus, Grainy Film, Pin Hole, Diorama and Dramatic Tone) you can explore your artistic side while taking both still shots and HD video. The Art Filters can be applied as you shoot, no additional software required.
New Easy-to-Use Live Guide Control
Seeing the results before you shoot can change the way you take a picture. Want more vivid or muted color in your shot? Want warmer or cooler hues? Want a brighter or darker subject, or a sharper or softer background? Or maybe you want to capture the fast-moving action of your subject with a little artistic blur, or perhaps freeze the action? Simply set the camera to iAuto, press OK to engage Live Guide, then press the up and down arrows on the back of the E-PL1 to easily slide through numerous photographic effects. Make adjustments and watch the LCD as the effects are made live — before the image is captured! Live Guide also features a Tips section on how to compose a shot or shoot kids, pets, flowers and more.
Dual Image Stabilization
Dual Image Stabilization combines Sensor-Shift Image Stabilization with high ISO sensitivity and fast shutter speeds so you can capture crisp, clear images even if the subject is moving.
In-Camera Panorama
Captures three images and stitches them together to create one amazing panoramic picture by simply pressing the shutter button and slowly panning across a panoramic scene.
AF Live View With AF Tracking
F Live View works as seamlessly as a point-and-shoot to display subjects, in focus, on the LCD the instant the shutter is pressed half way. AF Tracking locks your subject into focus right on the LCD, and constantly adjusts focus and brightness whether you or your subject is moving. With this mode, a simple push of the AF button and shutter release enables you to keep fast-moving and unpredictable subjects in focus.
Advanced Face Detection
Face Detection automatically focuses on your subjects' faces and optimizes exposure for sharp, brilliant portrait pictures.
TruePic V Image Processor
In addition to more detail, the image sensor, combined with the next-generation TruePic V Image Processor, delivers excellent dynamic range, accurate color fidelity and reduced noise, all the way up to 3200 ISO.
–
The XZ-1 at f/4 and only 1/50s. I must have had the ND filter on as this was a bright and harsh sunny day in AZ. Beautiful Oak Creek Canyon always provides for some nice landscapes. The XZ-1 did well here, and honestly, just about as good as the X1 and X100 did in this same scene. Hmmmm, that slightly larger image sensor seems to do the trick.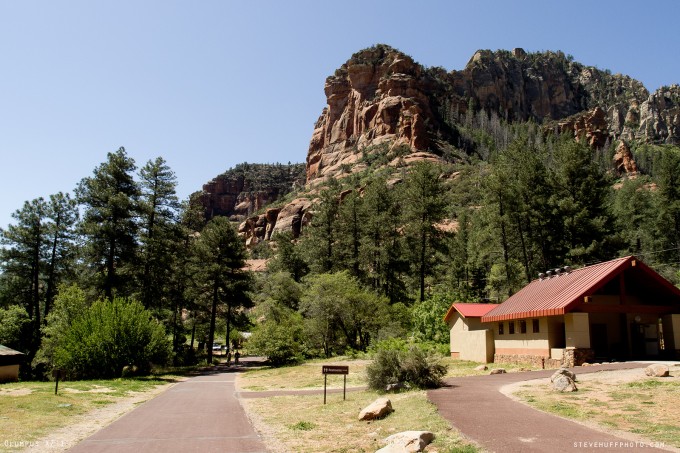 –
My quick and short review. What I like about this camera and my conclusion on the XZ-1 vs other compacts.
I decided to keep this review short and to the point as there are tons of other reviews out there already on the XZ-1, and loads of users who rave on and on about this camera. I'm a bit late to the game so I will basically just let you know my final conclusion, and what I like and dislike about the camera. More importantly, if I were in the market for a new compact-ish camera, would I choose the XZ-1 over the competition? If so, why?
The things I like about this little guy is that it is sleek, thin and built pretty well. It can take the Olympus EVF (one of the best EVF's to date) and the front dial on the lens controls your settings like Aperture, ISO, etc (ala Canon S95, which this camera does indeed beat for IQ).
The XZ-1 records 720P HD video and has built in image stabilization so you wont get the shakiness in your footage, AND YES, it works pretty good. There are two macro settings, macro and SUPER macro so you can get super close to your subject. The ART filters from the PEN series are here as well, even the new DRAMATIC TONE filter. My personal fave, the grainy B&W filter is also here which is just as good on the XZ-1 as it is in the PEN series.
The lens opens up to a fast f 1.8 and the camera has a built in ND filter just like the Fuji X100. This way, if you want to shoot at 1.8 in the sun, just flick on the ND and go for it!
The Auto Focus is pretty fast and accurate as well.
It has all of the formats such as 4:3, 3:2, 16:9 and 1:1 for  those square format junkies. Olympus seemed to want to be king of the compacts with this one, but os there anything I did not like?
YES.
I do not like that Olympus does not supply you with a dedicated battery charger. You have to plug the camera itself in to the outlet to charge the battery.
Also, the camera has no real grip. Sometimes it felt a little uncomfortable to hold while shooting when compared to other offerings.
Sometimes the images seemed a bit soft (at higher ISO) and the in camera noise reduction is a but too aggressive for my tastes. Sometimes the images can appear mushy when shooting higher ISO. I am not 100% convinced that the image quality beats the Leica D-Lux 5 but Olympus also gives you all the cool stuff that you do not get in the D-Lux. The art filters, 1.8 lens, control dial behind the lens barrel, ND filter, etc.
I also had an issue with the camera remembering my settings. I would set the center focus point when shooting but when the camera was turned off, and on again, it would "forget" that I had set it to center point only. Kind of irritating but not a deal breaker.
Finally, some are saying that they feel the XZ-1 is too large. Not quite a compact, and not quite a larger sensor camera. The fact is that the XZ-1 is thin, sleek, and somewhat tall. BUT it fits in my pocket no problem. I like the design and style personally.
I would say that the XZ-1 is a jack of all trades and master of most. It takes great video too, equal to the D-Lux 5 video quality.
In fact, the XZ-1 may be the most feature packed little compact camera EVER, and it is available in black or white for those that care about style as well as function. If you want a do it all easy to use camera that you can take with you anywhere, the XZ-1 may be the one you are looking for. If you do not want to mess with changing lenses and just want that ONE small camera that can do just about everything for you, this is the one folks.
Looking pretty snazzy in white!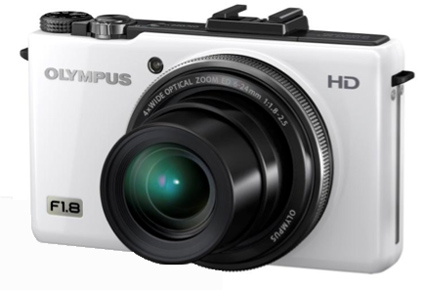 IMO, the quality and joy of use you get from it makes it an easy recommend. It was tough to take a bad shot with this camera, wether I was messing with the art filters or shooting in Aperture priority mode. It does come in at $499 though and at that price you are awfully close to the E-PL2 kit which sells for $599. If you do not care to go up in size, I would recommend the E-PL2 over the XZ-1 for its larger sensor and overall better Image Quality and responsiveness. You would lose the macro and super macro modes though. Always a give and take. One thing to keep in mind is that when shooting with smaller sensor cameras you will get more image noise in general and it will be tougher to blur out backgrounds for subject isolation. This is another area where something like an E-Pl2 would do better. Larger sensor usually means less noise, more DOF control. But with cameras like the XZ-1 it is the size that matters, and many of us just want SMALL with big performance. The XZ-1 DOES indeed deliver on this.
–
SO, which compact is the best bet?
Overall, if i were in the market TODAY for a compact-ish camera that delivered the goods, it would be between this XZ-1 and the D-Lux 5/LX-5. Personally, I am not a fan of the Canon S90 or S95. Sure they are small, but when I tried out the S95 I thought it was a bit over rated and I hated the feel and build. Everyone has their own tastes though, so the key is to buy a camera that YOU like with features you want. All I can say is, the XZ-1 is the new king of compacts. It was hard to NOT like this one as it just did so much right.
The lens is good, but I am not 100% if it can beat out the lens on the D-Lux 5/LX-5. It seems softer to me, but that doesn't stop this camera from producing great results. I applaud Olympus for releasing it! It could possibly be the compact of the year just as I think the Fuji X100 will be "Camera of the Year for 2011".
With all of that said, I will leave you with the images I managed to snap while I had the camera. I did not shoot that many as I was always shooting the X100 over the past two weeks!
As always, click on any one of them for a larger and better version.
If you want to buy the XZ-1, I highly recommend B&H photo, which is where this one came from. Many of you know that B&H is my main camera shop of choice and I have never had one bad experience with them in over 15+ years. Their Olympus XZ-1 page is here, and if you follow my link here to buy one, I will get a teeny credit that helps support and keep this website chugging along, so thank you!
Using the Dramatic Art Filter, you can see it adds "Drama" to the scene 🙂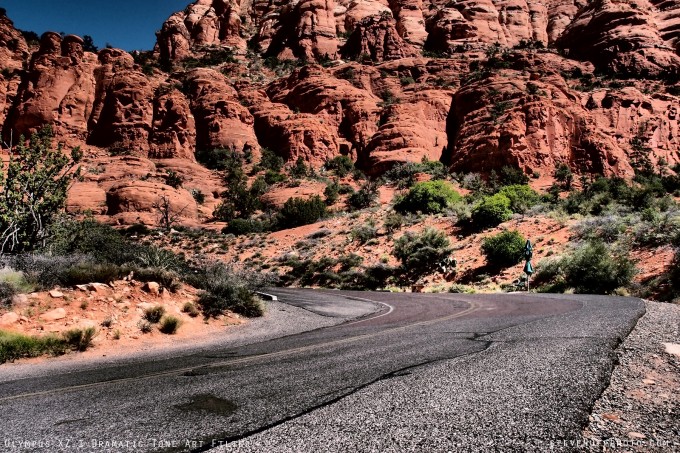 –
The Macro mode works well, as does the "Super Macro" mode. Up close, out of camera JPEG…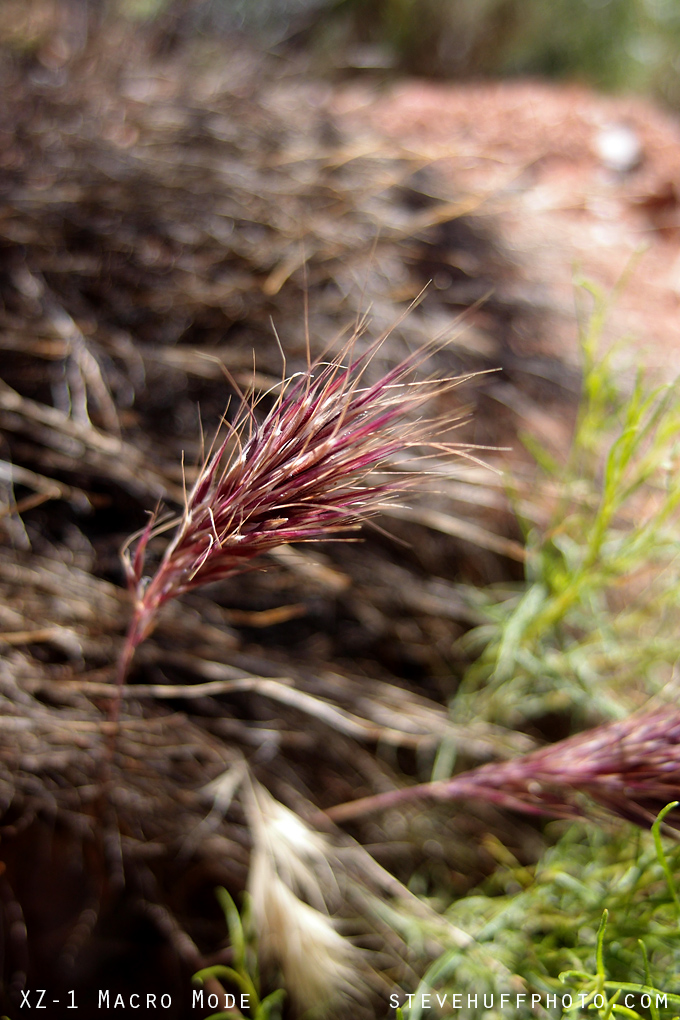 –
And you know me, I loved the grainy B&W filter on the PEN series, and I am happy to see Olympus add it to their compact XZ-1.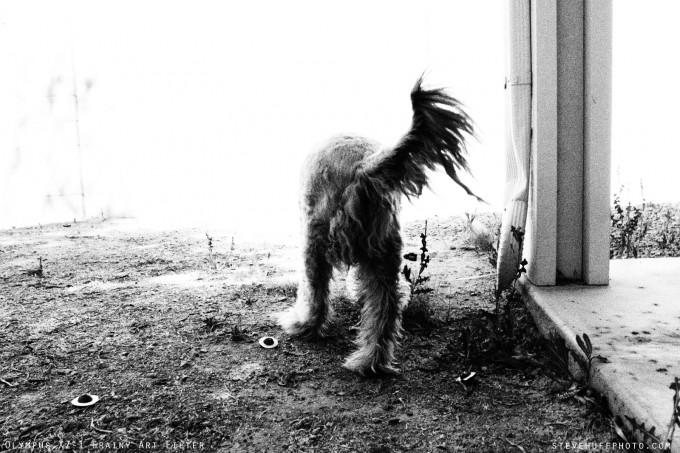 –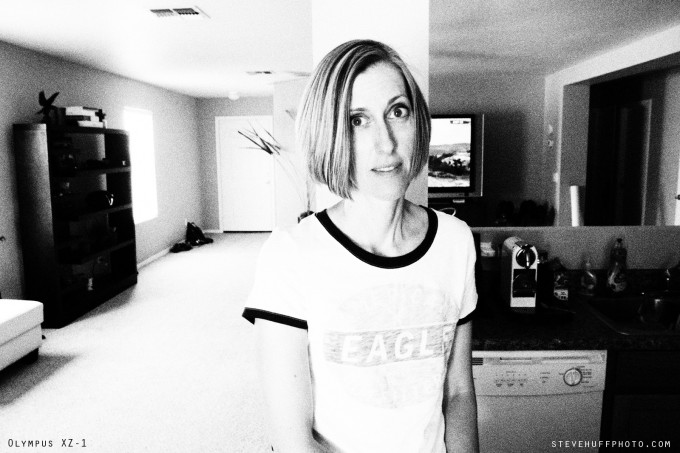 –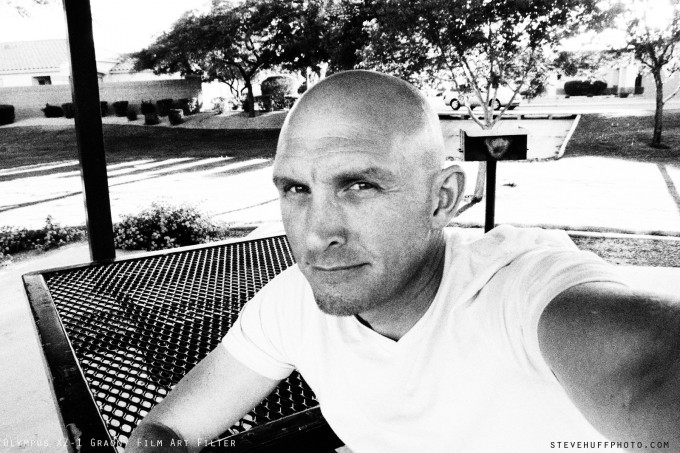 –
More Drama...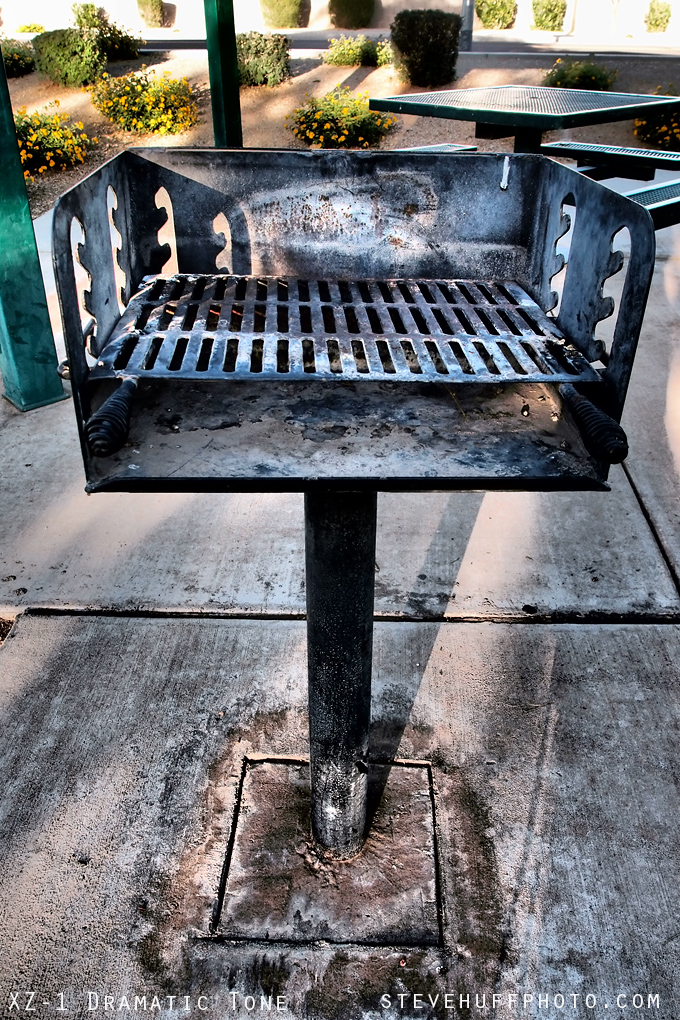 –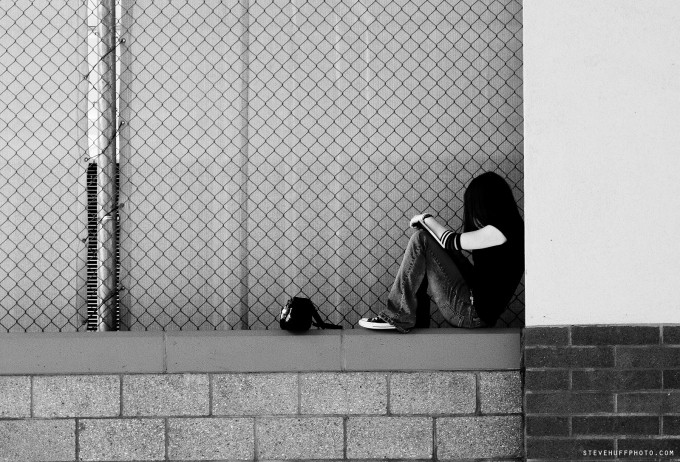 –
The Pinhole Art filter adds a vignette around the photo.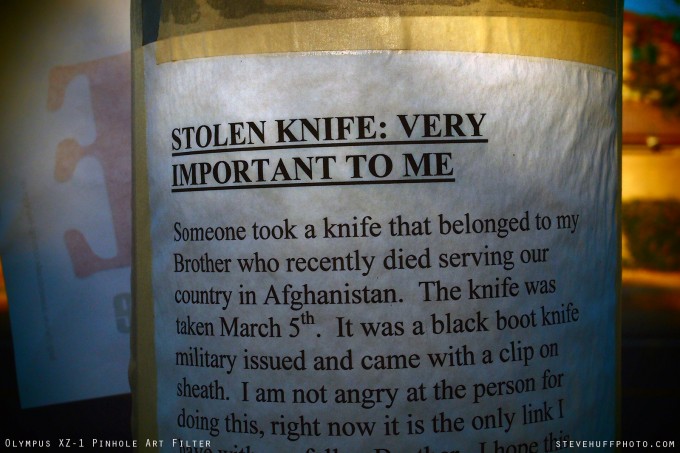 –
The color of the XZ-1 is really good. Typical Olympus style. Also, you can get some shallow DOF effects if you shoot up close and have the lens wide open.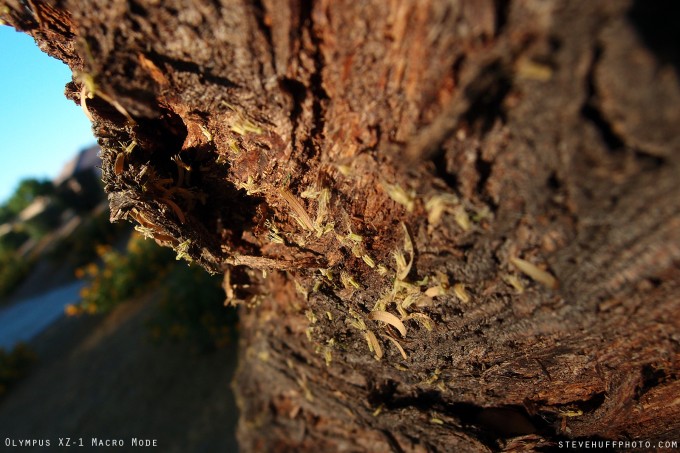 –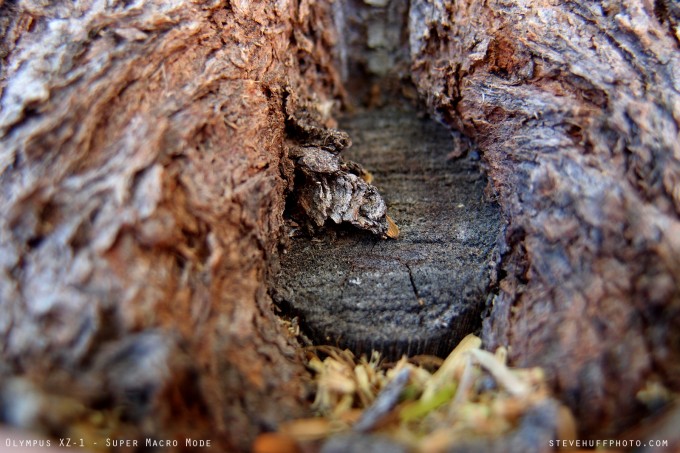 –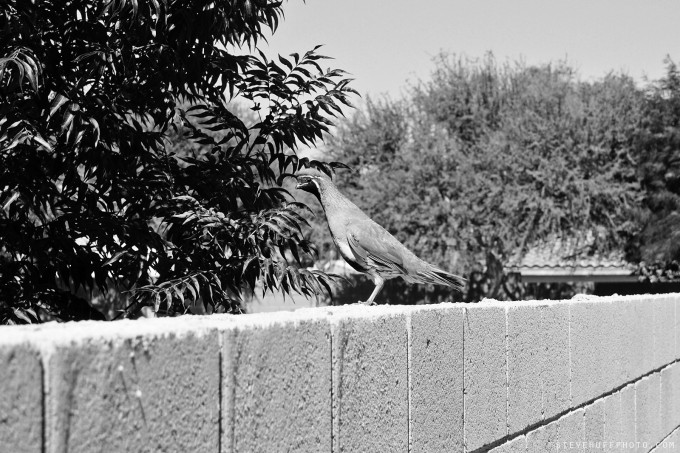 –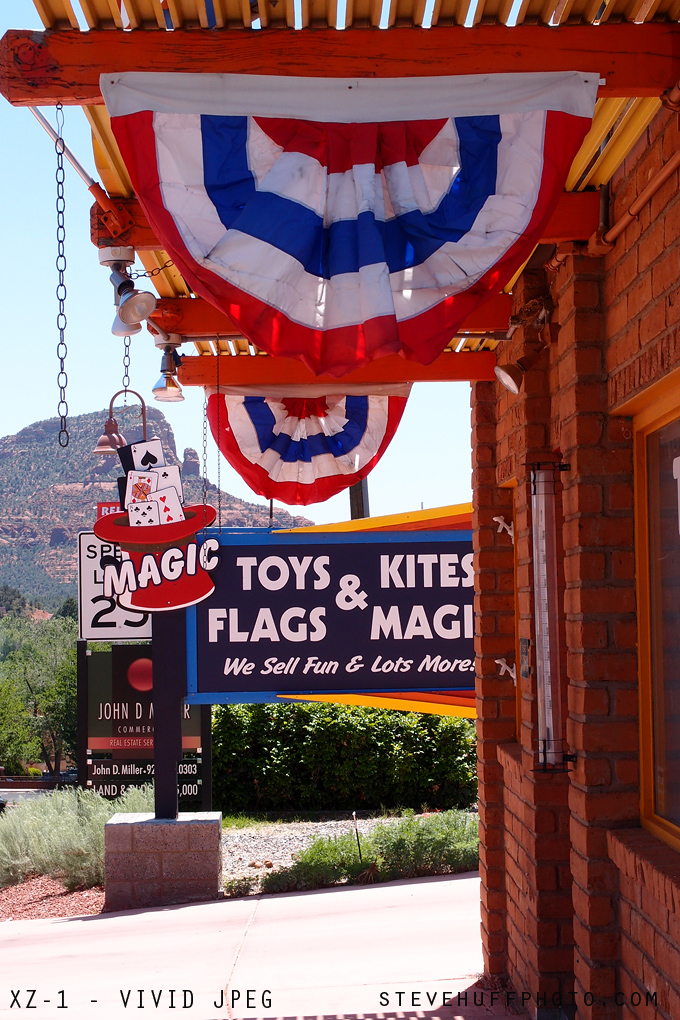 [ad#Adsense Blog Sq Embed Image]
I NEED YOUR HELP! YOU CAN HELP SUPPORT THIS SITE TO KEEP IT GOING AND GROWING!
Remember, anytime you follow my links here and buy from B&H or AMAZON,
this helps to keep my site going. If it was not for these links, there would be no way to fund this site, so I thank you in advance if you visit these links. I thank you more if you make a purchase! I have nifty search bars at the upper right of each page so you easily search for something at either store! I currently spend 10-14 hours a day working on this site and the only way that I can pay for it is with your help, so thank you! Currently my traffic has been increasing but my funds to pay for the site has been decreasing, so any help would be GREATLY appreciated!
Even if  you buy baby food, napkins or toothpicks at amazon it helps this site, and you do not pay anything extra by using the links here. Again, you pay nothing extra by using my links, it is just a way to help support this site, so again, I thank you in advance 

If you enjoyed this article/review, feel free to leave a comment at the bottom of this page and also be sure to join me on twitter or my new facebook fan page! Also, you can subscribe to my feed at my subscribe page HERE and read these posts in your browser or news reader! Also, the new forums are NOW OPEN on this site so get involved if you like! Thanks so much for visiting my site!