USER REPORT: Reviewing the X100 as a reporter camera
By Wijnand Wustrow
Much has already been written about the X100. But then, everybody uses a camera in their own way. For some people it might be the perfect camera, for others not. In that respect a first general observation can already be made: this camera is not for casual shooters. It is complicated. How does it handle for more experienced photographers?
–
From left to right, in chronological order, Nikon FM, Hexar AF, Canon EOS 5, Canon EOS 5D mark II, Fuji X100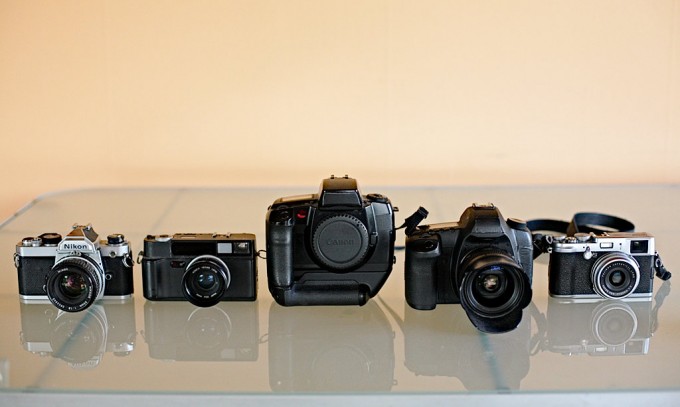 This picture illustrates where I come from. I started out with the Nikon FM and a 50mm 1.8. A fantastic camera in sturdiness, controllability, dimensions and weight, and usability. The FM served me well for over 15 years. As a reporter camera, though, I always felt it slowed me down, due to being completely manual.
Therefore I moved on to the Hexar AF. It's ability to quickly auto focus and it's ingenious exposure program coupled with its excellent 35mm lens made it a joy to use when shooting people and situations. After I went digital in 2007 I was desperately hoping for a digital equivalent.
Which never came.
I also bought the Canon Eos 5 to be able to use different lenses, such as 28mm, 50mm and 85mm.
That camera did bring a digital equivalent, so I settled on the Canon 5D and 5D mark II. A hunk of a camera, but cumbersome to carry around and large and loud enough to be easily noticed by the people you're trying to photograph. And scare them. I never really fell in love with that camera, but as a professional tool (I'm a wedding photographer) it sure gets the job done in all situations, quick, reliable, efficient.
Catching the bride catching a chewing gum, while grandma is preparing the bride's son in the next room. The picture illustrates the ability of the 5D to quickly respond to changing situations and get that decisive moment. Shot with the 5D mark II and 28mm 1.8 lens.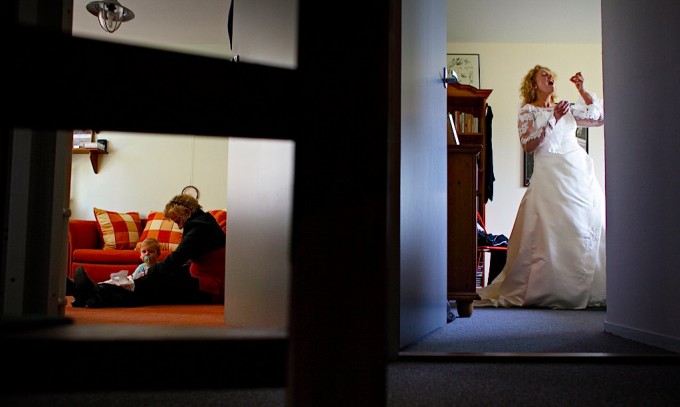 –
To avoid the weight and size of the 5D's I used a Canon Ixus for non-professional work. A great little camera and with some care capable of excellent results. But it is too limiting for me in low light and situations with a large dynamic range such as backlit scenes, two of my favourites.
–
Colleagues abound on the Italian island of Sicily. Shot with the Canon Ixus 860 on its widest 28mm-e setting.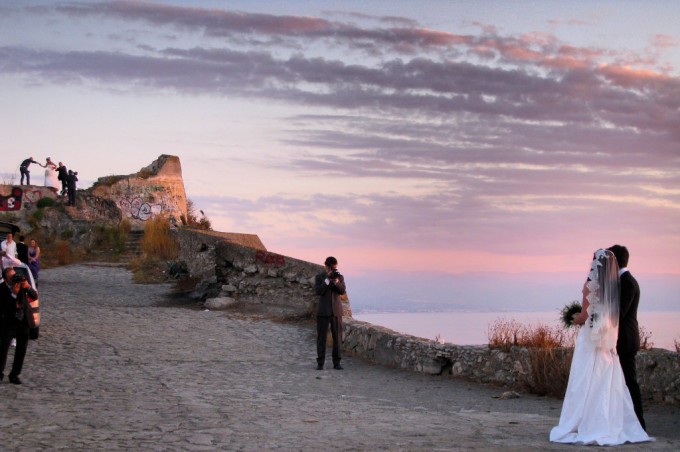 –
And then came the X100, finally the Hexar type of camera I was waiting for. Some might ask, why not the M9. Well, apart from the fact that I (note that I say I) cannot for the world justify the pricetag, I am a sucker for autofocus. I love it. It's one more thing out of the way of concentrating on pictures instead of technique.
Rain at the festival, the blue shelter matched this girl's blue eyes. The X100 sure handled the colours well!
–
Last week I used it for a holiday to Sardinia and a festival near Amsterdam ("Vurige Tongen festival" in Ruigoord). First conclusion: by the end of those two weeks, I still wasn't used to the camera. Getting to know the camera well enough to do 'decisive moment' type of photography takes a lot of work. I'm getting the hang of it, settling on a standard way of working:
–
– Jpg only, the camera does an excellent job on exposure, auto white balance and auto dynamic range and jpg-conversion,  so I felt more than confident to use jpg (Large Fine)
– ISO under the Fn button, so I can easily switch when changing indoors and outdoors which happens often when shooting a festival
– EVF in dark situations
– Also EVF when shooting at close distances, to avoid the parallax problems both with framing and the focus point missing the mark
– OVF in daylight, with a clear viewfinder (no projection of extra information such as histogram and horizon)
– The focus switch on Manual, using the AFL/AEL lock button to lock focus
– OVF power save on, I had no problems with AF being slower
– All sounds off
– Flash off
– I switch back and forth from program mode to aperture priority a lot and it is very annoying that you have to set the ISO for each when changing from one to the other.
Young girl in a hammock at the festival. Shot with the X100.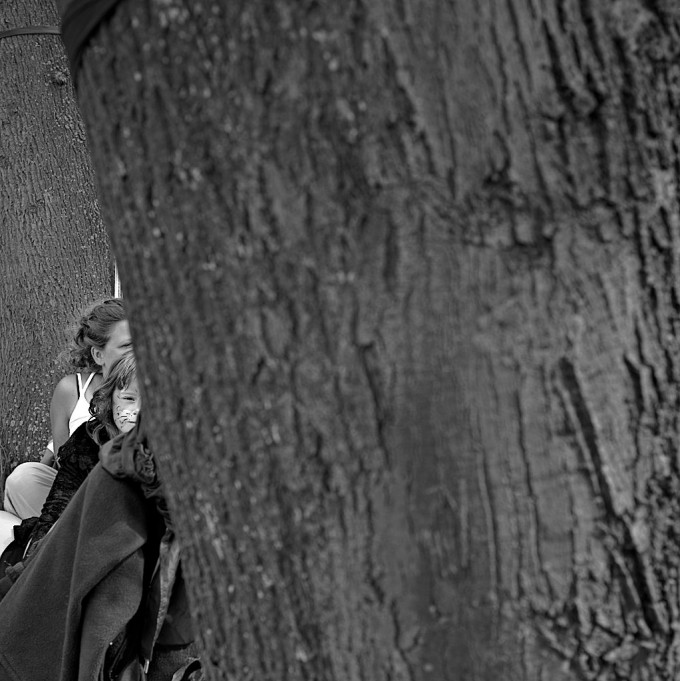 –
Will I use the X100 for professional work, wedding photography? Well, it has a lot going for it: it's silent, it's small and discrete, has excellent low light capabilities, an excellent lens which suits me well for the way I shoot weddings, nails the exposure and white balance reliably and is a lot easier to carry around all day than my 5D.
But for now I feel that the way I work during weddings is too demanding for this otherwise very capable camera. There are moments that are too fast changing for the X100 to handle. For example, I use the continuous auto focus quite often, and I found the continuous setting next to unusable on the X100. The X100 does 3 or 5 frames per second, but after 10 shots it locks up for a while to be able to process and write the files. This makes it impossible to get ready for what happens next.
On the coast of the Italian island of Sardinia. I find the rendering of the scene to be excellent, but I missed the boy jumping of the cliff with the X100
At weddings I only carry two camera's, one on each side. One has a 50mm lens attached and one a 28mm (with backup lenses in the trunk of the car). Apart from spare batteries and CF cards that's all; I like to travel light as it enables me to concentrate on taking pictures and move around easily, so I can photograph from different angles and anticipate quickly on what's happening and going to happen. For me adding another camera – the X100 – is not an option. The only option would be to replace both cameras with a X100 (and a backup), to travel even lighter.
Maybe, it just takes a bit more getting used to. I'll see. For now it does not give me the confidence to use it as a professional tool. But it sure as hell makes a fantastic carry everywhere camera, and I'm sure it will serve me well during trips and in less dynamic situations. And I suspect it will really shine doing theatre photography. My girlfriend studied theatre, so I do a bit of theatre photography, usually during live performances with the audience present. This is where the 5D was too loud during silent parts. At the festival I photographed a few poetry performances in difficult lighting situations and the results with the X100 were very convincing with no exposure compensation needed.
No troubles here with the sound of the flipping mirror of the 5D as the actor was quite loud.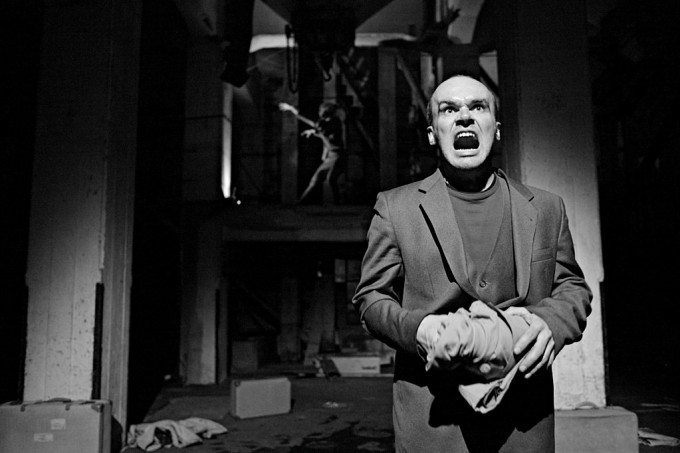 –
I really, really like this camera. The files it produces are excellent out of camera. I use Lightzone for cropping, contrast, dodging, burning, sharpening and small color corrections. I found the files to handle very well in Lightzone.
Bad lighting inside a food and drink stall at the festival. These files are usually very hard to get right when tweaked.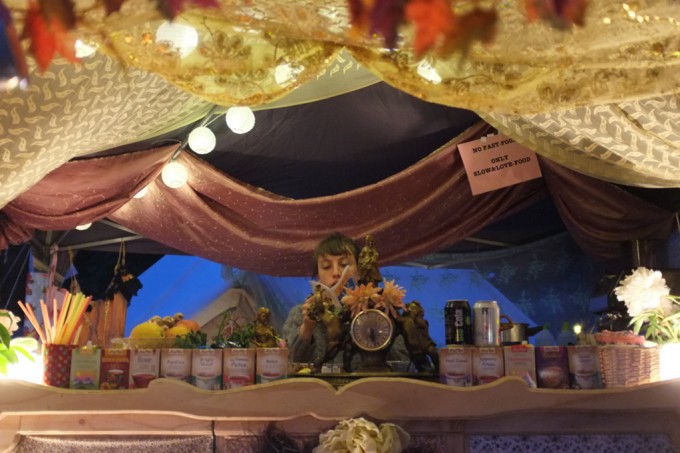 –
Of course no camera review can go without a dog picture. So here you go:
[ad#Adsense Blog Sq Embed Image]