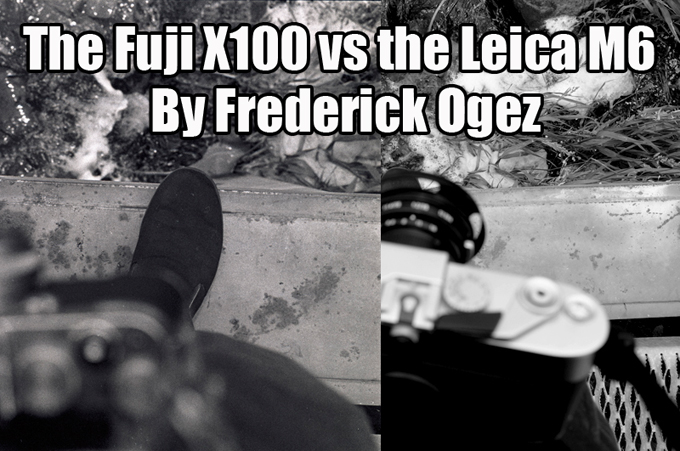 USER REPORT: The Fuji X100 vs the Leica M6? By Frederick Ogez
I can hear the angry comments already, "This is ridiculous! These two cameras were never intended to be matched against the likes of each other… A viewfinder camera with a fixed lens and an interchangeable lens rangefinder??!" And, "Not another FILM AGAINST DIGITAL article!" Before angrily slamming the laptop screen down, please read on!
Working at a small family owned since camera shop in Minnesota, I was recently able to bring a copy of the Fuji X100 home for testing, and a wild idea popped into my head, my primary camera being a Leica M6… "What if I pitted these two wonderful cameras against each other? What would I find I liked and disliked about each, which would I find I liked better as a small concealable walk-around camera?"
Alright, let's face it. These cameras can never really compete directly against the likes of each other. BUT let's also face another fact. A used Leica M6 can be purchased for about the same price as a new X100, of course throw in a piece of Leica glass and your talking a difference, but this is undoubtedly a decision many are considering at this interesting time in photographic history as many are again calling for a pure photographic experience. My decision was made. The Leica was loaded and the Fuji was charged…
My first goal was to get the Fuji set up in a way that best fit my shooting style. I turned in-finder image review to off, the rear LCD to remain off unless in playback, and the battery saving auto-off feature to completely off. I was beginning to feel at home already! Next I held the "display" key until the camera went into silent mode. My jaw dropped. Fuji's shutter actuation volume made my Leica sound like a revolver. Of course this is an exaggeration, but it is outstandingly quiet. If you are a fan of candid style photography, and would rather have your subjects remain in their natural state unknowing that you photographed them at all, you must try the Fuji in a shop. If it's a bit noisy in there, you may need to press playback to see if a photo was made at all. It's just that quiet, and much more so than a Leica M. I set out with both cameras strapped around my neck, photographing in my humble town of Forest Lake, MN. But so much for my suburbian Fargo accented small talk ey, let's get down to sharing real world opinions. That's what this here site is about der anyways don't-cha-know?
One thing I found out about the Fuji right away was that manual focusing was not going to be an option. The optical viewfinder is gorgeous and bright, in my opinion a far superior experience to using the electronic one (something I would hardly use) but it can be quite difficult to see the information in bright light! The frame line remained fairly easy to see, but exposure information was difficult if not impossible for me to see, and most disappointing was not being able to see the color of the focus box. This is inside the frame line, and where you place the portion of the frame you want the camera to focus on. It turns green when an accurate focus is attained. One thing I noticed was that indoors, the Fuji did have a very difficult time focusing in certain situations, and that little square would quite often be red, indicating an unattained focus, and I would have to half press the shutter again, sometimes having to recompose to an area of the subject with higher contrast. Now to address the Leica's finder…
A photographer friend of mine and I were once discussing this very topic, and he did say that when going out into the street he desired a finder that displayed shutter speed and aperture value, which of course my M6 does not show! I have blown this off as unnecessary. Pure necessities! Isn't that what a camera should be? Two dials, one for shutter, one for aperture and you're done. But I must admit, it was a welcome addition to be able to quickly fly from f/2 to f/8 or 1/1,000 to 1/30 and know exactly how far I had gone, all without taking my eye from the composition. I now realize that this can be invaluable in situations with varying light levels, and mean the difference between an intelligently exposed great photo, and a missed opportunity. That being said it seems that there is no experience quite like a manual focusing rangefinder experience. In darker situations where the Fuji sometimes took three tries for the auto focus to succeed, the Leica is easily focused in a fraction of a second with its consistently bright and easily viewable coincident rangefinder. For setting a zone of focus, the lenses are intricately engraved, giving you a precise and intuitive way of doing quick reportage style photography. This of course can be done with the Fuji, but to me the in viewfinder bar that indicates a distance from "here" to "here" on a LCD scale labeled either in meters or feet is simply less available, less intuitive and less clear then markings on the lens.
In the hand, both feel phenomenal. The Leica is significantly heavier, but this is expected from a camera that is designed to last a century (with incremental tune ups of course). Both (depending on attached lens) are very small, and even pocket-able, and both are quiet! But the Fuji is simply more quiet. Almost totally silent, and part of its silence is due to its lack needing to advance… Oh I almost forgot about that… The Leica is a film shooter!
Ok, I know I've mentioned the shutter many times already, but this is the last time. A quiet shutter doesn't just mean low volume, it means an incredibly gentle shutter. Now the analog Leica M shutter is one of the best available in this category as well, but the Fuji is able to be hand held like almost nothing else. I'm serious that in my time with it I've gotten perfectly sharp results at ¼ of a second, and believe one could go further and get acceptable results…It was very responsive as well, with no noticeable lag between fully depressing the shutter button, and the actuation occurring. Both were able to be swung to the eye, quickly adjusted according to the bright lines, and capture the decisive moment.
The Fuji was such an enjoyable camera to use, and for certain purposes is better than the comparably priced M6. During this test, I loaded the Leica with Kodak TriX, and set the Fuji to ISO 400. After scanning the negatives with a Plustek Opticfilm scanner, and processing the color files from the Fuji to B+W to my liking, I realized one thing. Digital is simply not film. Sure I can add grain and other effects to create a film like look in Photoshop, but the rendition is quite simply different! Famous Leica photographer Ralph Gibson was asked in an interview whether or not he used digital equipment alongside film loading cameras. He said he had tried using digital cameras, and that his close relationship with Leica allowed him the opportunity to test new products. He went on with his personal opinion between the two forms of capture… "Digital photography is about another kind of information…When I'm taking a photograph I imagine the light rays passing through my lens and penetrating the emulsion of my film. And when I'm developing my film I imagine the emulsion swelling and softening and the little particles of silver tarnishing…Digital imaging and photography share similar symbiosis.
I think it's a mutual coexistence situation. I don't think they even compare." He says some very strongly opinionated things besides these in the interview as well, but these are opinions none the less! I find some of his views quite harsh, as you can all see from this excerpt that he makes an implication that digital imaging is NOT photography! I must say that though I find much of his work beyond gorgeous, and his photographic mindset unique and wonderful, I do disagree with him there. But I do find it inarguable that an image created on film, is not like a digital image. They are just different, and each person is going to have a different opinion as to which one looks "better".
That being said, these cameras are both a joy to shoot! Fuji deserves acknowledgement for doing something so brave as the X100, and shooting it gives a rewarding feeling, reminiscent of a prior time. But a Leica M, is simply a Leica M. Simple, stunning, lovely, ready for generations of use. Chemicals do cost money, and processing adds up. How about a decent scanner as well? Not inexpensive in the least, and expense is the precise reason the M9 is not mentioned until this point in this discussion. But the texture, the grain, the form, the gradation of tonal values… all is different between the two, and this must be a huge deciding factor when looking at the Fuji, and a film loading rangefinder. Personally, the look of Tri-X is enough for me to justify the expense of the chemicals, and I really find the entire film process rewarding to a great degree. But I want to hear opinions of others! Thank you so much for reading, and I hope to hear many replies and much healthy discussion.
Thanks again Steve,
Fred
–
[ad#Adsense Blog Sq Embed Image]