ISO WARS: The Olympus E-P3 vs The Sony NEX-5!
When Olympus released the E-P1, the camera suffered from slow AF, poor high ISO performance and it always lost out to the Panasonic M4/3 camera (slightly) and other larger sensor cameras. The E-P2 did nothing to improve upon the high ISO but the AF did get a speed boost and the video control improved. With the new E-P3, Olympus claims better high ISO performance, and if you read my review you would have seen that I loved the AF speed boost, and just about everything else about the camera. But I did not really get into high ISO performance so much and I recieved a few e-mails asking me  to pit it against the Sony NEX-5 at 3200, 6400 and 12,800.
It was just over a year ago when I reviewed the Sony NEX-3 and 5 cameras. At that time, their high ISO capability was unheard of! 12,800 ISO in a small camera like that was a first, and everyone raved about the quality of low light shots, even me!
With its APS-C sized sensor (not quite full frame, but larger than the Micro 4/3 sensor) the Sony was able to do better at high ISO and low light than other small cameras and it competed with larger DSLR's. The E-P3 is here and still has the 4/3 size sensor of course, so I wanted to see how it would stand  up to the NEX, not only in noise, but in detail. I used the 12mm f/2 lens on the Olympus at f/3.5. On the Sony I shot with the higher end 18-200 at 18mm, f3.5.
I did a quick and dirty test, using the STEADYSHOT  of the 18-200 and the built in IS of the E-P3. I turned OFF the Noise Reduction on the E-P3 as you can. The Sony does not allow you to turn it off but it does let you switch it to "WEAK", so this is what I did. I wanted to let each camera give the most detail without letting Noise Reduction get in the way and smear it all up. I shot JPEGS as there is still no Lightroom or Photoshop support for the E-P3 RAW files.
The first comparison shot of a couple of books was taken in my living room, at night, with a very dim lamp shining in from my office. Here we go!
FIrst I will show you a couple of resized images from each camera – ISO 3200 and then ISO 12,800. After that I will show you the crops from each at 3200, 6400 and 12,800. You can click on the images for larger 1800 pixel wide versions.
The E-P3 at ISO 3200 – 12mm – f/3.5 – 12mm (24mm)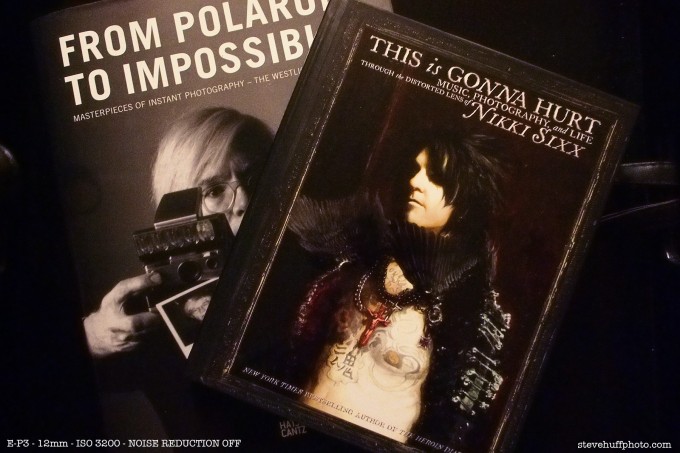 –
Sony NEX-5 – ISO 3200 – f/3.5 – 18mm (28mm)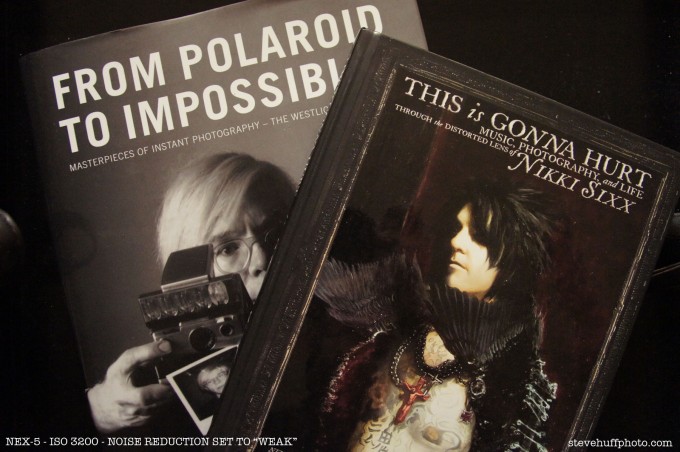 –
Ok, let's go to ISO 12,800
BELOW: E-P3 at ISO 12,800 – Click image for larger version – scroll down for 100% crops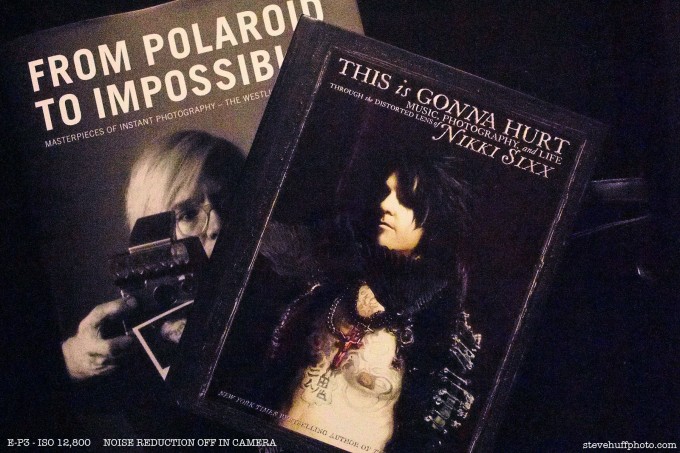 –
NEX-5 at ISO 12,800 – Click image for larger version – scroll down for 100% crops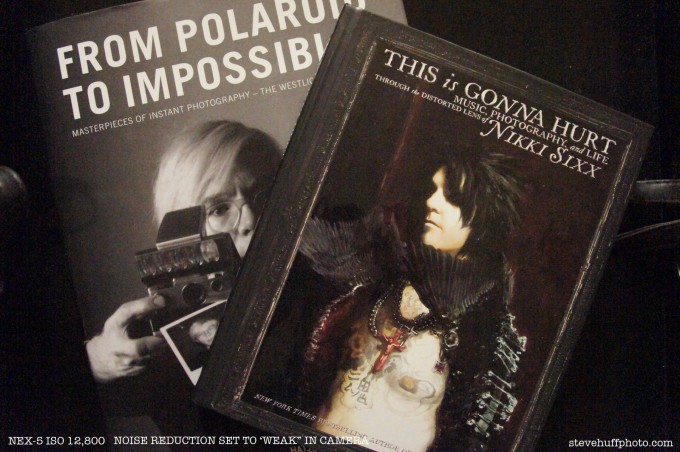 –
CROPS
E-P3 1st, NEX-5 2nd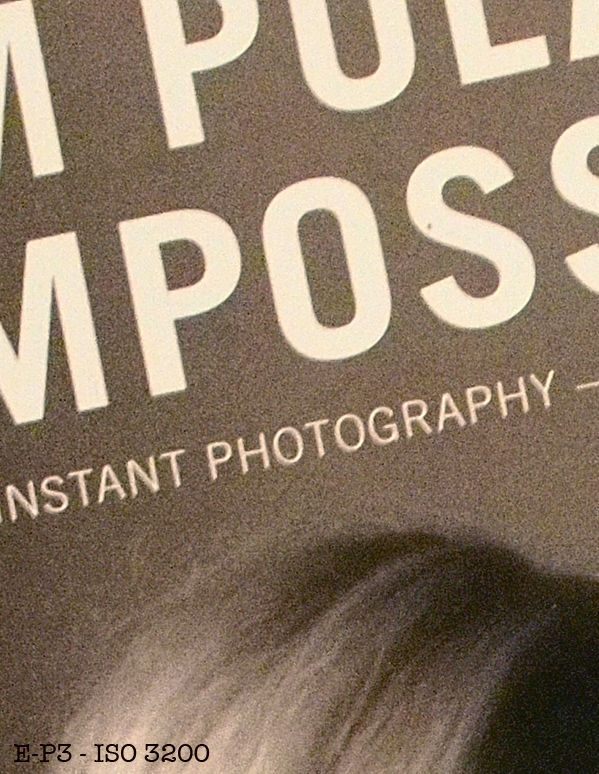 –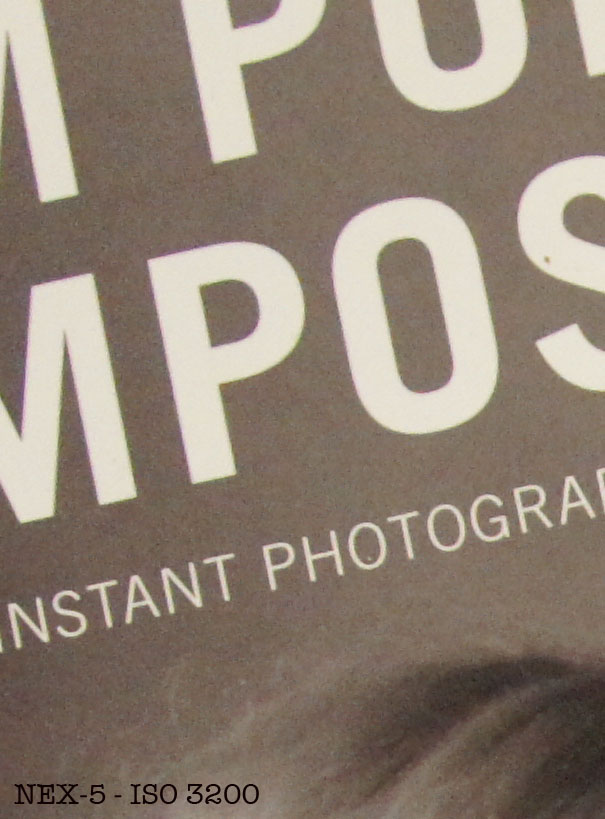 –
ISO 6400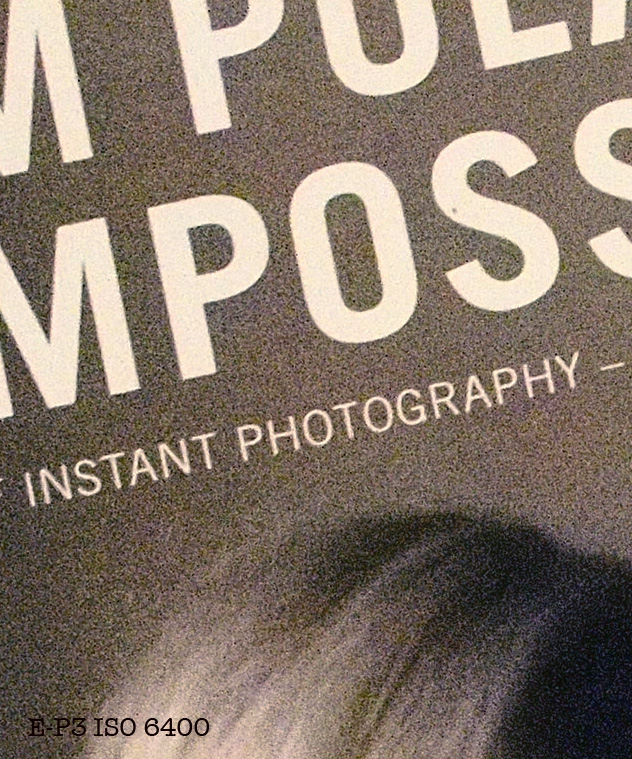 –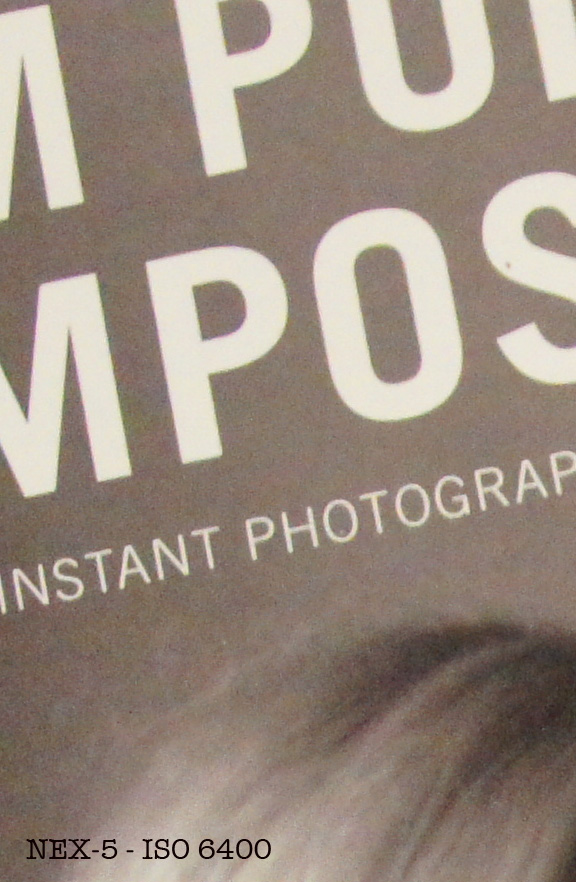 –
ISO 12,800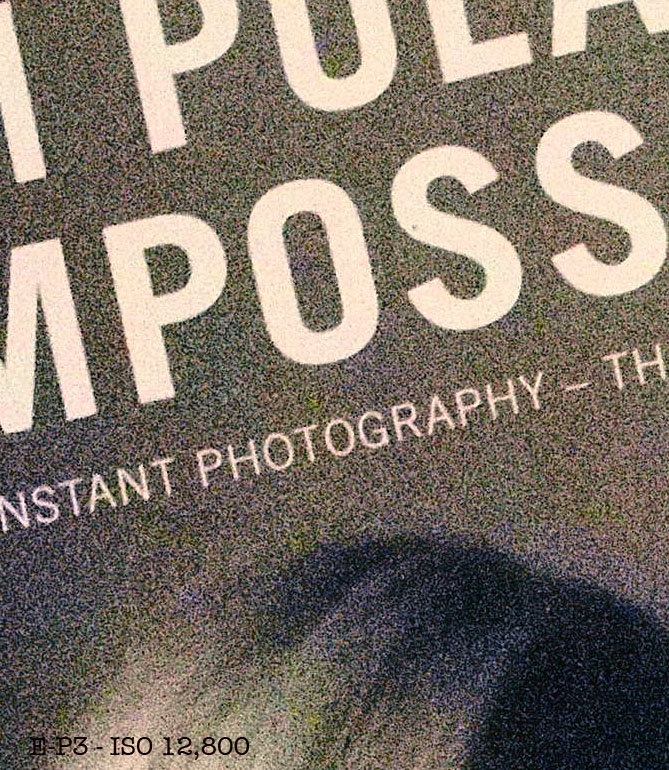 –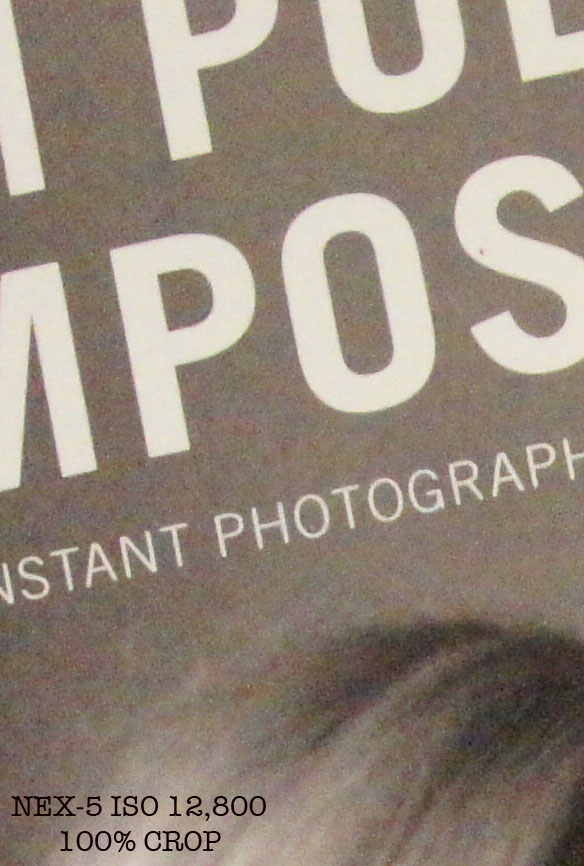 –
What happens if you convert the JPEGS to black and white?
First the E-P3 at ISO 12,800 – Click image for larger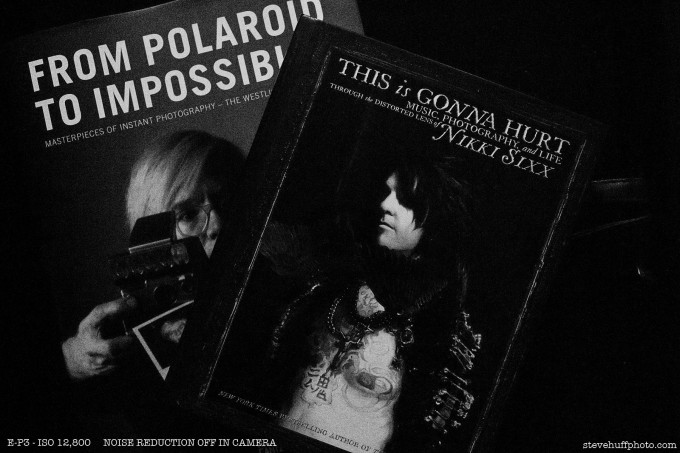 –
NEX-5 at ISO 12,800 – Click image for larger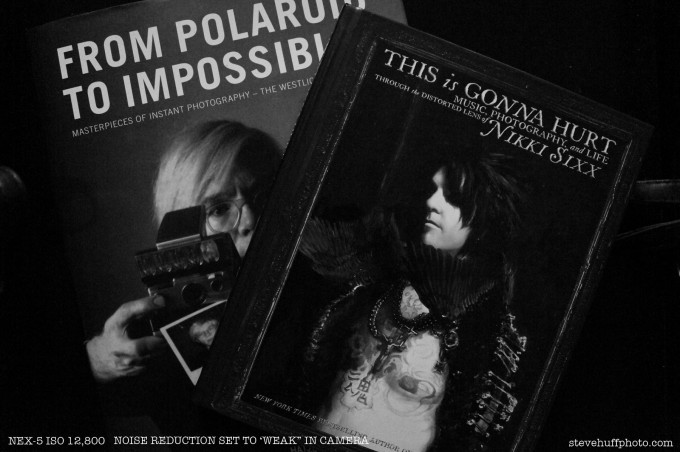 –
How about another subject with a little more light. I my Kitchen area…
The E-P3  – ISO 3200 – This time I had it set to F/2 though. MUST CLICK IMAGE FOR FULL 100% CROP VIEW!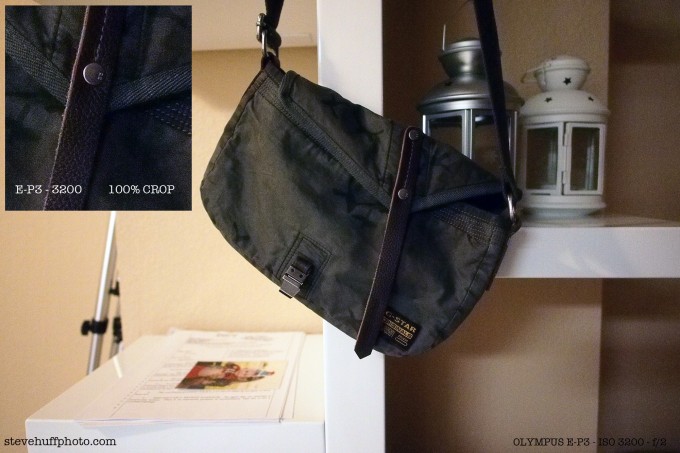 –
and the NEX – ISO 3200 – MUST CLICK IMAGE FOR FULL 100% CROP VIEW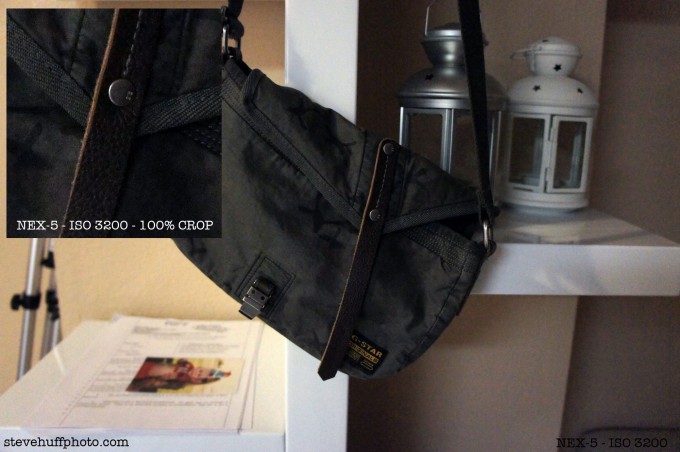 –
and one more…
Oranges
BELOW: E-P3 CROP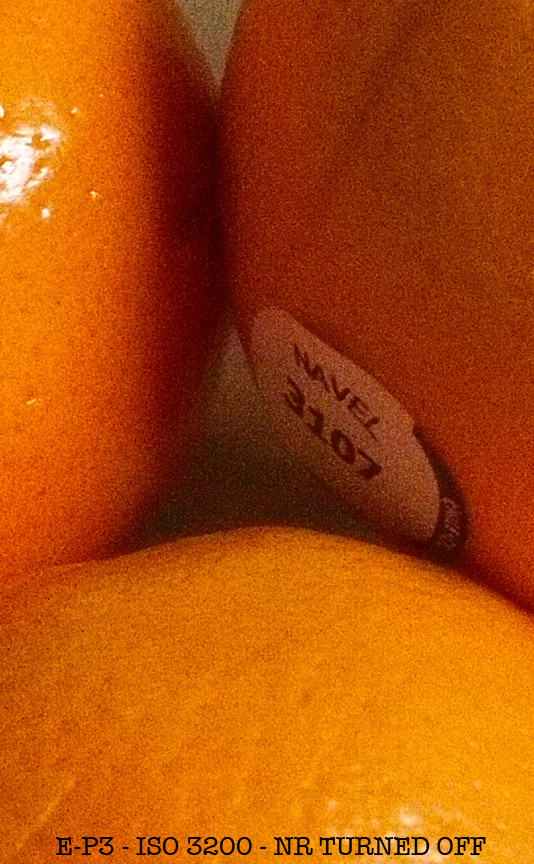 –
BELOW: NEX-5 CROP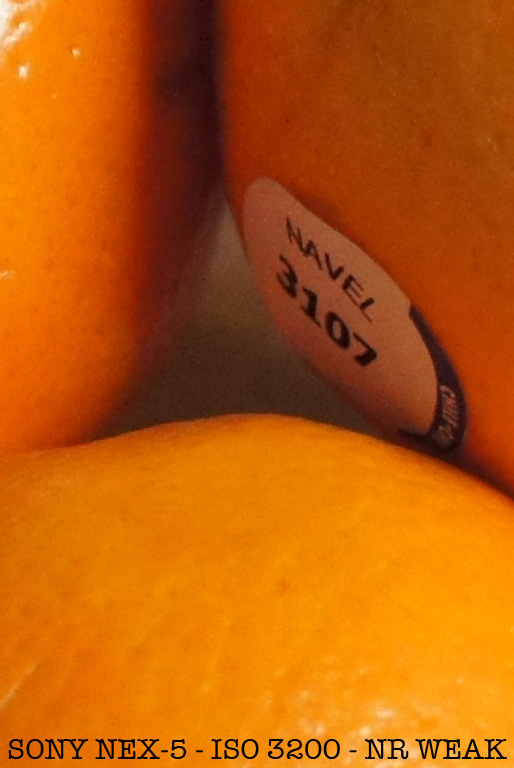 What I see in all of the images is that the Noise Reduction in the NEX is hindering the detail. Also, the Olympus 12mm lens is a sharper lens than the $799 Sony 18-200. I actually prefer the grit and grime of the E-P3 versions over the somewhat dull and mushy NEX versions. Olympus did a good job with the E-P3 and when NR is turned off there is still plenty of detail in the files, even at high ISO. Next test should be against the X100 🙂
Also, if you have been on the fence about the 12mm Olympus Lens. I HIGHLY recommend it. It is simply SUPERB. B&H sells it HERE.
HOW ABOUT MORE VIDEO SAMPLES WITH THE E-P3? Even a low light video that is pretty free of grain!
I'm still waiting for the "PRO PEN" with a built in EVF. Also, the rumored Sony NEX-7 with built in EVF should up the stakes yet again. Below are a couple of high ISO shots taken with the E-P3 this evening just to test it out. Enjoy!
ISO 6400 – spot metered on the can – in camera B&W JPEG (not the art filter grainy B&W, but MONOTONE color selection. Click for larger.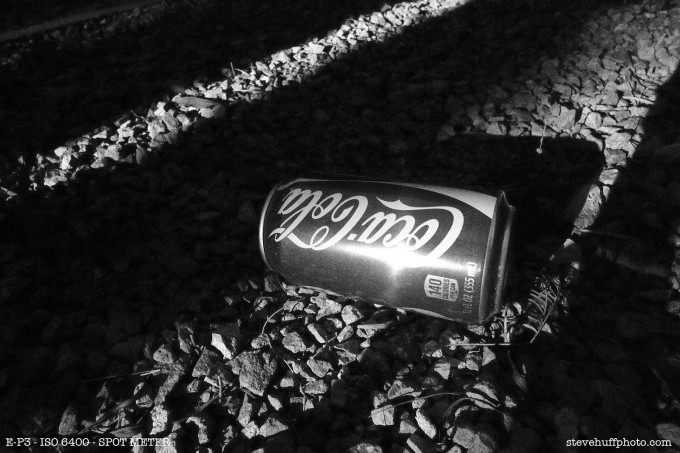 –
ISO 3200 – NIGHT – OOC JPEG, NO NR, NO PP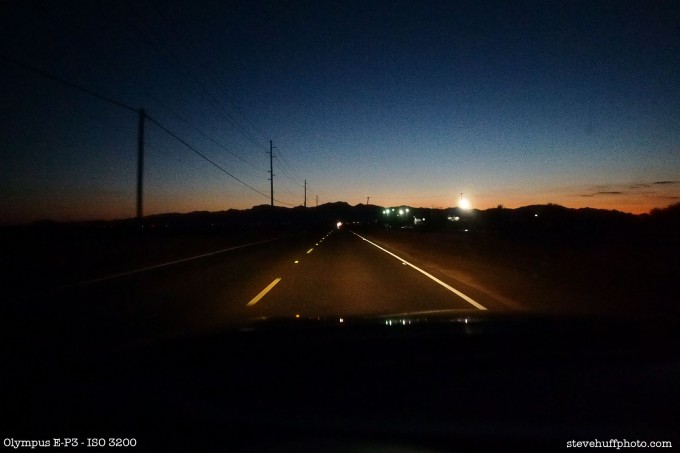 ISO 3200, night..f/2 – 12mm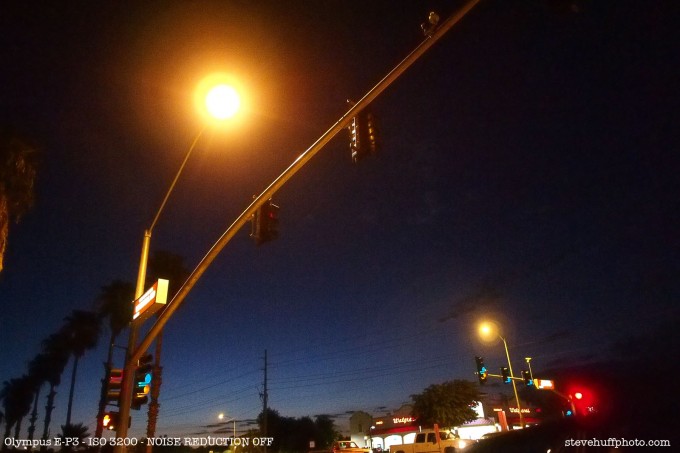 –
E-P3 – 12mm,  f/2 – ISO 6400, in camera B&W, NR OFF, evening, no lights on.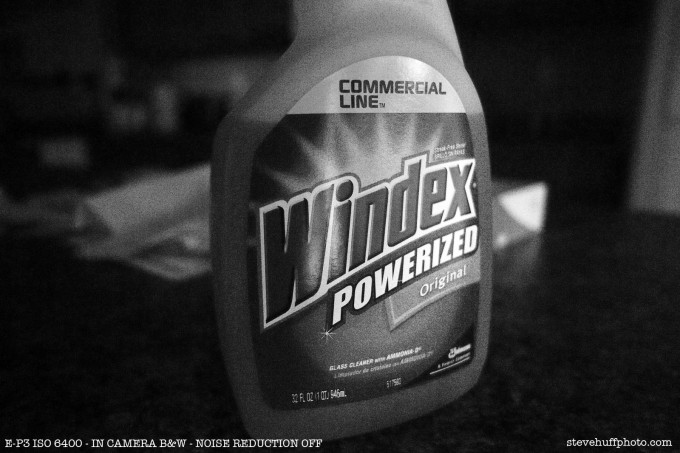 [ad#Adsense Blog Sq Embed Image]
HELP ME TO KEEP THIS SITE GOING AND GROWING!! IT'S EASY TO HELP OUT & I CAN USE ALL THE HELP I CAN GET!
Remember, anytime you follow my links here and buy from B&H or AMAZON,
 this helps to keep my site going. If it was not for these links, there would be no way to fund this site, so I thank you in advance if you visit these links. I thank you more if you make a purchase! I have nifty search bars at the upper right of each page so you easily search for something at either store! I currently spend 10-14 hours a day working on this site and the only way that I can pay for it is with your help, so thank you! Currently my traffic has been increasing but my funds to pay for the site has been decreasing, so any help would be GREATLY appreciated!
Even if  you buy baby food, napkins or toothpicks at amazon it helps this site, and you do not pay anything extra by using the links here. Again, you pay nothing extra by using my links, it is just a way to help support this site, so again, I thank you in advance 

If you enjoyed this article/review, feel free to leave a comment at the bottom of this page and also be sure to join me on twitter or my new facebook fan page! Also, you can subscribe to my feed at my subscribe page HERE and read these posts in your browser or news reader! Be sure and visit the all new forums on the site HERE.