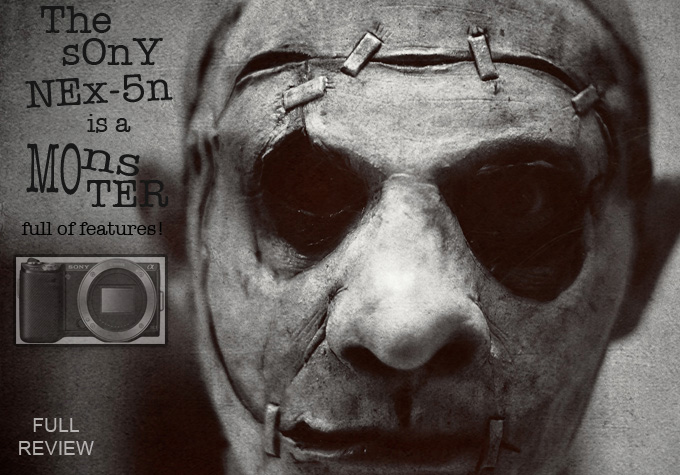 The Sony NEX-5N Digital Camera Review
It's a MONSTER full of features!
NOTE – EVERY image in this review was shot as a JPEG. At the time of this writing Adobe Photoshop/Lightroom does not support NEX-5n files. So every picture here was shot as a JPEG and all of the images here were shot with the 18-55 kit zoom, a few with the 16mm and some with a Leica lens via adapter. All Auto White Balance. Also, this is a long 7000 word real world review as I had quite a bit to say about the 5n. Enjoy and leave a comment below if you like!
Below: Video Overview
Ok, so the headline picture above is a break from the norm for my main title graphic but it DID grab your attention did it not? Haha. In fact that shot is a self portrait of yours truly taken with the NEX-5N and Leica 50 Summilux ASPH at 1.4. I was testing out my new $10 Halloween mask and was having some fun with the camera late one night. When I looked at the image and then looked at the specs of the NEX-5N it all made sense. There I was, looking like a monster and I shot this image with a camera that has so many features that it is an actual MONSTER of a tiny camera! A monster in the bang for the buck camera world. Yep, the Sony NEX-5N, after using it for a week or so has impressed me quite a bit with its abilities. This came at a time when I was almost ready to write off the whole NEX series after getting unsatisfactory color from my Old NEX-5 (after comparing with the Olympus E-P3).One thing is for sure,  these are Exciting times for us camera gear head nuts.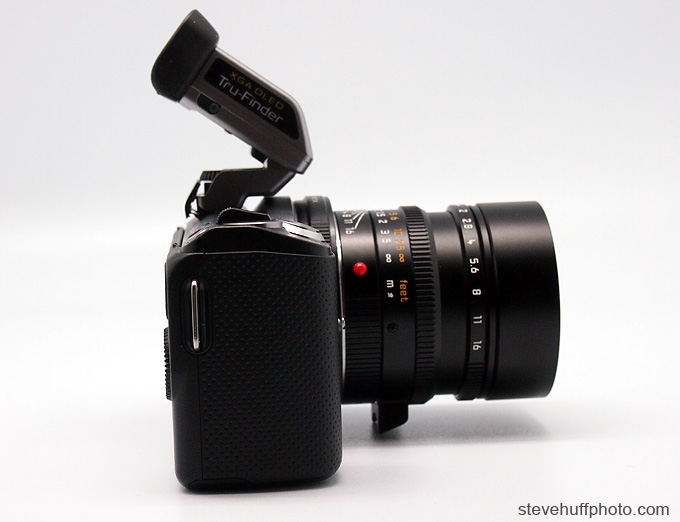 Now, without further ado, here is my MONSTER of a real world review!
Being a guy who loves photography AND the gear associated with it is a dangerous thing. A guy in my position gets to try out just about any camera gear I want. While I do not try everything (I AM only ONE guy and this site has a staff of ONE…ME) I do try what catches my eye. I am always aware of the new technology and new cameras. When I see one that gives me goosebumps I add it to my "MUST review list". I admit, the 5n did not really give me goosebumps when it was announced but I was intrigued by Sony's claims so I gave it a shot.
The NEX-5N and 18-55 Kit Zoom – out of camera JPEG – Vivid – ISO 2000 – Yes, 2000. Click for larger version.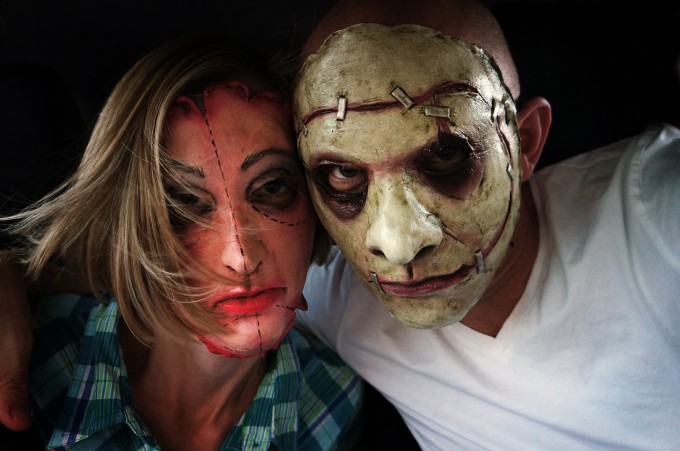 THE NEX SERIES TAKES THE NEX STEP TO GREATNESS
When the original Sony NEX-3 and NEX-5 were released there was a ton of hype not only from Sony, but from users as well. Sony had a ton of press on these cameras all because of the super slim design and large sensor. Sony were the 1st to take the APS-C sensor and pack it into a very TINY body that was capable of great performance. They also broke new ground with High ISO performance and I remember the NEX-3 and 5 were pretty special in this area. I did buy a NEX-5 when it was released and owned one up until a few weeks ago. I enjoyed the camera for about a year but when the new Olympus E-P3 came out with its new lenses and super fast speed I went back to Olympus yet again. Even though the E-P3 has a smaller sensor than the Sony NEX-5 I loved it for its style, its design, its new found performance all the way around, and most of all, the new lenses.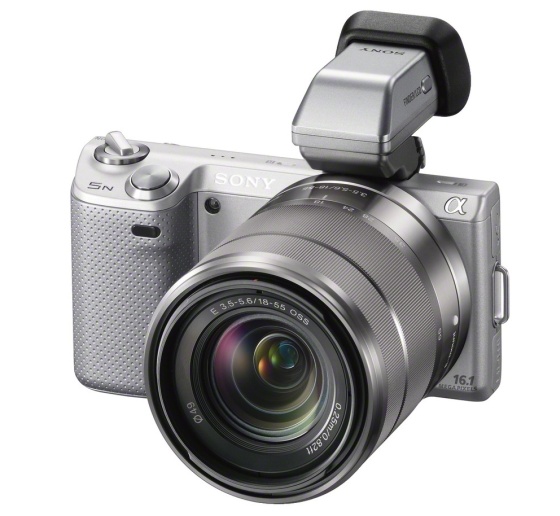 Back to the NEX, but my heart belongs to the 7
So here we go, not long after the E-P3 is in my hands and paid for I see Sony announce the NEX-C3, 5N and 7. The NEX-7 was the camera that REALLY tugged at my soul. There it was. 24 Megapixels, a built in OLED EVF, pro build but still compact, more dials for easy control…super HD video quality and even a new Zeiss 24 1.8 lens announcement. THIS is the camera I have been longing for…and for YEARS (THE NEX-7). Yes, I have my Leica M9 and will always have my M9 but as a take anywhere snapshot camera the Olympus E-P3 which is so quick and easy to use has taken over as my daily shooter. Lift and fire..so quick! I finally decided to save my Leica M9P for special moments or when I actually do paying photo jobs.
Oh yea, where was I? The NEX-7…that camera seems to have it all so when the 5N was announced along side of it I had no real interest. Why would I? The 7 had everything I wanted while the 5N seemed the same as  the old 5. Well, after getting a hold of the 5N I can say if this is any indication of what will come in the 7, "hold on to your britches"!
Sony has somehow taken the great performance of the NEX-5 and made it quite a bit better in many areas. The body style of the 5N is almost exactly the same as the old 5 with a few new snazzy cosmetic improvements like the dual colored on/off switch in silver and black and the shutter button seems to look and feel a little better as well. But as Sony said, the NEX-5N has improvements under the hood.
Check out two out of camera JPEGS at higher ISO below shot with the kit 18-55 Zoom. Yea, those are higher ISO images and you can click on them to see larger versions. Then I will get on to what is new with the NEX-5n.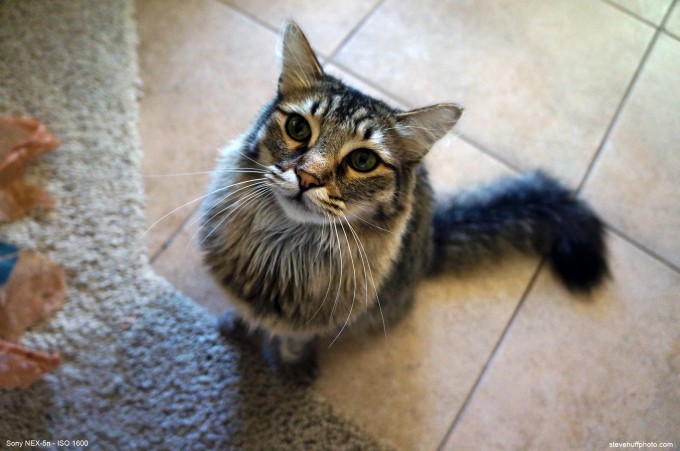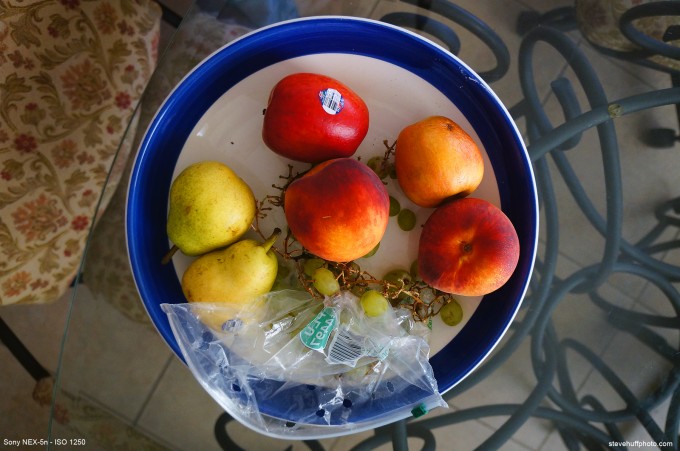 What is new in the 5N? Let's take a look:
The new 16.1 Megapixel Sensor – This sensor is all new and is shared in the new C3, but let me state RIGHT NOW…if you are in the market for a new NEX camera, do NOT buy the C3 unless you strongly prefer it's grip. For $100 more you can get the 5N which trounces it in many areas. With that said, the new sensor in these cameras is pretty astonishing. It gives us plenty of resolution with a 4912X3264 image size. This is plenty of resolution for almost ANY need. I used to know a guy who shot billboards with a 4MP camera. 16.1 MP is enough for almost anyone, and the target market of this camera is everyone from 100% amateur to enthusiastic photo nut. What do these people take photos of? Their kids, flowers, their pets, themselves, vacations, landscapes… Yep, 16.1 Megapixels is plenty!  What is really improved with this sensor though is the color rendition. Quite simply put, it is gorgeous. Look at the ISO 1250 shot above of the fruit bowl, which is an out of camera JPEG shot with the kit zoom. The high ISO capabilities of the 5n are ridiculous for  this size of a camera. ISO 25,600 can be used in a pinch of you absolutely need the shot. 12,800 even better and 6400, no problem. This is an improvement over the past NEX-5, no question. This new sensor is a WINNING even more than Charlie Sheen.
The new touch screen LCD Panel – Sony added a touch screen to the NEX-5N but they did NOT add it to the C3. Will I use the touch screen? Probably not while shooting as it does not work as slickly as the E-P3 touch screen. With the sony you have to do a double tap to take a photo, with the Olympus you touch once and it focuses super fast and snaps the shot. I may use the touch screen while reviewing photos as it works like my trusty iPhone. More from Sony: Sony's 3.0" Xtra Fine LCD™ monitor has 921K dots for superb resolution. The TruBlack™ screen includes a special resin layer to suppress internal reflections, increasing contrast compared to conventional LCDs. Sunny Weather mode boosts visibility even further in bright sunlight. Tilts down 45° and up 80° to frame high- and low-angle shots that would otherwise be hit-or-miss. Object Tracking AF can lock onto a specified object and maintain focus even as the subject moves. This hassle-free mode allows unpredictable subjects to stay in focus even while zooming. Letting you concentrate on the scene and composition without having to worry about focus. The subject on which to lock focus is easily selected via the touch screen or the center button of the control wheel.
Improved HD Movie mode – From Sonys Web Site: Record Full HD 1920×1080 video in a variety of frame rates from 60p for super smooth action to 24p for a more cinematic feel. The NEX-5N utilizes the AVCHD™ codec, the industry standard for high quality HD video capture, as well as the MP4 codec for easy upload to the web due to it's smaller file size.
Worlds shortest shutter lag – In photography, shutter lag, or release time, is the delay between triggering the shutter by fully depressing the shutter button and when the photograph is actually recorded. By initiating the exposure electronically instead of with the traditional shutter mechanism, release time on the NEX-5N is reduced to just 20 milliseconds – helping you to capture the decisive moment.
10 Frames Per Second – Capture the decisive moment in sports and get the ideal baby photo. Up to 10 fps continuous shooting at full 16.1 MP resolution. Standard continuous shooting speeds vary based upon shooting conditions and memory card speeds.
Ability to use the new OLED EVF (The C3 does not allow  this) – The optional FDA-EV1S OLED Tru-Finder? offers a large, bright and wide-view of the scene. With high resolution 2.395K dot, and unprecedented speed, contrast and color accuracy, the FDA-EV1S provides an extraordinary view.
New BIONZ Image Processing Power – The brain of the camera is a refined version of Sony's BIONZ® image processor. Its chroma noise reduction delivers high-resolution, low-noise photos even at ISO 25600 sensitivity. Also enables fast processing for up to 10 fps continuous shooting of data-intensive 16.1 megapixel images, 2D/3D Sweep Panorama™ modes and 6 image layering.
Manual Focus Peaking (Also in old Nex-5 via firmware update) – The Peaking AF display makes precise manual focusing much easier by highlighting the edges that are in focus in your choice of three colors ( white, red, or yellow). This is especially helpful during macro or portrait photography where your focal plane can make or break your shot.
So with all of these new additions the #1 thing to rave about (in case I did not already mention this) here is the new sensor. Even when shooting with the 18-55 Kit zoom, the output is wonderful. When shooting with my Leica 50 Summilux ASPH via an adapter, the quality I am seeing is better than what I used to get with the standard NEX-5, and it is breathtaking if the light is right.
To be honest, after shooting with this camera for a while I almost wish sony would have used this sensor for the NEX-7! I am a little worried that the 7 with its 24 megapixels will be more noise filled at higher ISO, but we will see, maybe it will be even better. Let's be real for a second…Super high ISO past 3200/6400 is over rated anyway and no one I know ever goes past 6400.
From what I am seeing in the 5N, it appears to be the new king of the "Bang for the Buck" digital cameras on the market. No it is not cheap at $699 but for what you get it IS really a deal. But the NEX-5N is NOT perfect. Read on to find out what I do not like about the NEX system.
–
Sony NEX-5n with 16mm – not bad huh?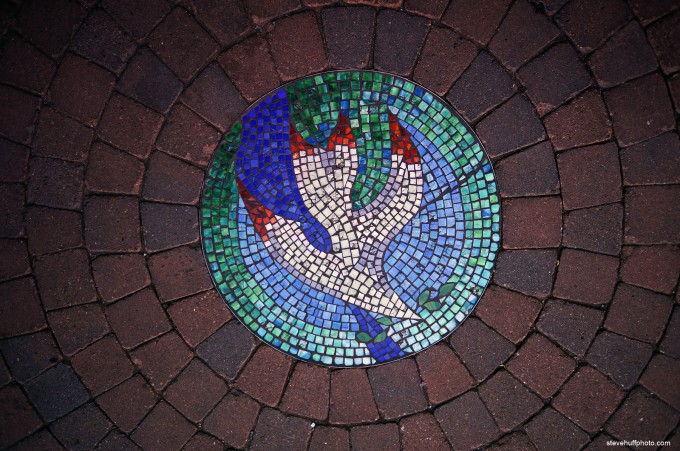 –
Kit Zoom – ISO 500 – Out of camera JPEG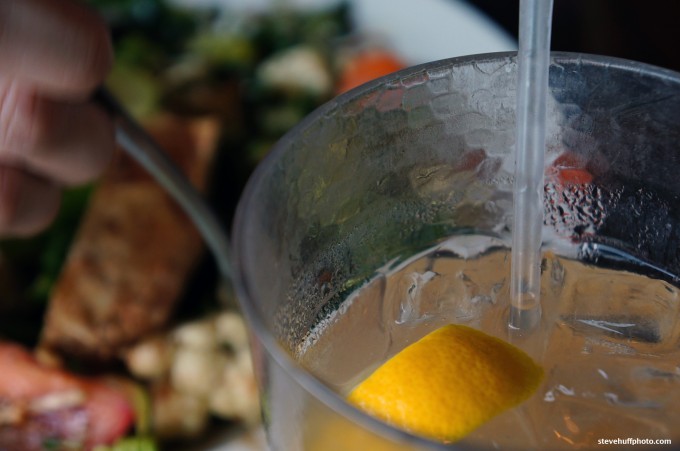 –
16mm – the colors are pretty close to what I saw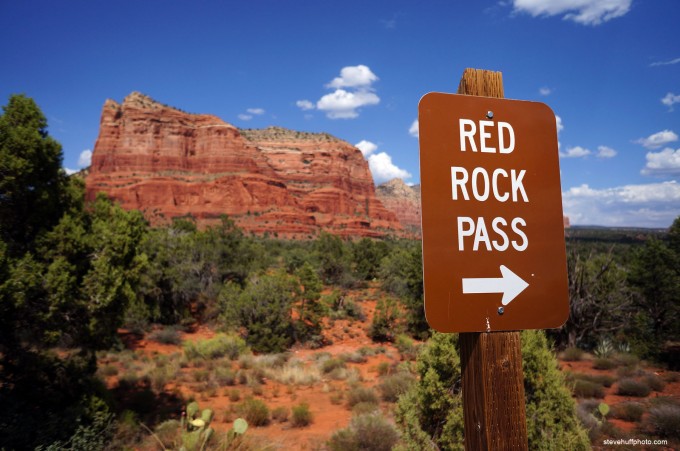 The NEX-5N is not perfect. What are the negatives with the NEX system?
So you thought this was going to be a 100% rave about the NEX-5N? Well, as a camera I have mostly great things to say about it. Then again, I ONLY review and write about cameras that I like as I hate negativity and I hate whining. Be assured if I write about a camera here with a full review then I have used it and really liked it. I liked it enough to write about it because if I hate a camera I am not inspired to write about it and why should I? Crap cameras should not get publicity 🙂
So seeing that the 5N's positives greatly outweighed it's problems I am now sitting here writing about it. The NEX system as a whole is still fairly new. Basically, it has only been about a year since the very 1st cameras were introduced and because of this the main problem with the NEX system is there are no really good lenses available! Well, there are lenses, but not many. You would think that Sony, a GIANT among GIANTS would be able to whip out 4-5 new lenses..like..right now. BUT they have been slow going. The 1st year all we had for native lenses was the 18-55 Kit Zoom, the 16mm Pancake Kit Lens, and the 18-200 super zoom. There were no fast primes and the 18-55 and 16mm were very soft on the NEX-3 and 5. That was the one drawback to many who wanted to step forward with a NEX purchase. The lenses.
How long has the Micro 4:3 format been out now? 2-3 years? They are JUST now starting to get some great lenses for that system so maybe it is just a matter of time for the NEX system. This year we will get the new 24 1.8 Zeiss prime which is AWESOME. We will also get the new 50 1.8 lens which will be affordable as well as useful. This is good news but still, as of this writing, these lenses are NOT available.
As of now all I have to use natively is the 16mm and the 18-55. The great news is that the NEX-5N seems to work better with these lenses than the previous "5". Maybe it is just my eyes playing tricks on me but the performance of these kit lenses seems to have gotten a little bit of a boost with the new sensor. So much so that I am now a fan of the 18-55 and I never thought I would say that about this lens. The 16mm still leaves a bit to be desired in the contrast/color/sharpness area.
The other negative of the NEX-5n is still all about the control. It has the same control scheme as the old 5, no added buttons. The buttons are customizable though so this is a step in the right direction (with the 7 being the ultimate NEX design). It is also VERY small and the lenses are a bit LARGE. Cameras like the Olympus E-P3 have SMALL lenses with a smallish body. The NEX-5N is about TINY body, LARGE lenses! Kind of odd but it is what it is due  to the larger sensor being used in the NEX system. Some will argue that the Leica M9 is a full frame and it uses small lenses. True, but the Leica lenses are MANUAL focus and aperture. They do not need AF motors or mechanisms inside the lenses, which in turn makes them bigger. Still, the NEX-5N and kit zoom or even the 24 1.8 is NOT as big or fat or bulky as a DSLR. Not even close.
Compared to the Olympus E-P3 the E-P3 feels more solid and better built and is also heavier. It also feels better and more comfortable in the hand than the NEX-5n and focuses quicker. The NEX-5n will hunt a bit in lower light when using Auto Focus. At least with the 18-55 kit lens it does. I am also getting more accurate focus with my E-P3 as it never seems to fail me. The NEX-5n did fail a few times when shooting in lower light scenarios, meaning the focus was off. But there are tradeoffs. The swivel LCD of the NEX and the better quality it is capable of may outweigh everything else for some.
There you go, those things are really about the only negative things I can say about this camera/system. The same things people have been saying for a year. What is interesting is the NEX-7 seems to have fixed almost all complaints. The body is a little larger, it has a built in EVF and control wheels up top and new lenses on the way. Mark my words.The 7 will be the superstar in the NEX line if the image quality is as good as it is in this NEX-5n, and on paper it appears it SHOULD surpass it. We shall see. I think the Zeiss 24 1.8 will be a GREAT pairing with the NEX-5N and 7.
–
Speaking of Image Quality
ISO 500 – NEX-5n and 18-55 – Click image for larger version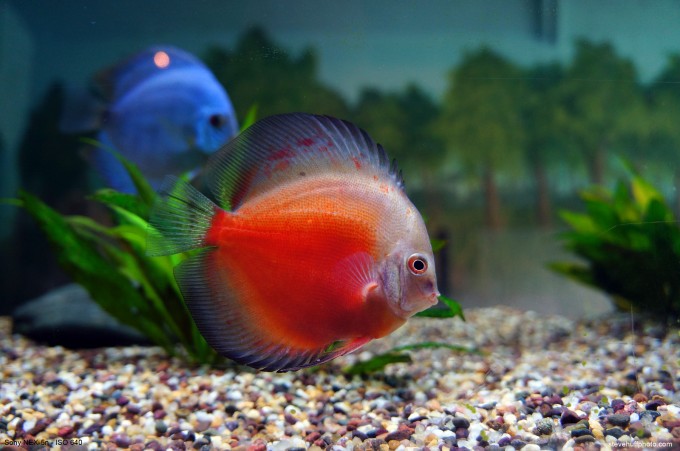 The image quality of the NEX-5 is absolutely killer and I have been using the cheap-o kit zoom lens and cheaper still 16mm! When I opened up my files I expected the somewhat dull, somewhat fuzzy results that I seemed to get from my old NEX-5 most of the time. Or even the sharper and more colorful results (but still a little "fuzzy") that I got from the C3. WRONG! When I opened up the JPEG files from the NEX-5N I rubbed my eyes and said "WTF"?? Gorgeous color. Smooth detail. No fuzziness or softness anywhere. Sure I still saw the distortion from the 18-55 when at 18mm (until I enabled in camera distortion correction) but the image quality POPPED off of my screen. Sony has really improved the color and out of camera JPEGS with this camera.
Again, I will say that if you are thinking of a new NEX and are in this price range, do NOT even consider the NEX-C3! The 5N is now $100 more and you get so much more for  that $100. I can NOT recommend the C3 but will highly recommend the 5N just due to its new sensor and performance. C3 with Kit lens is $549 – NEX-5n with kit zoom is $699
NEX-5n with the 16mm at 2.8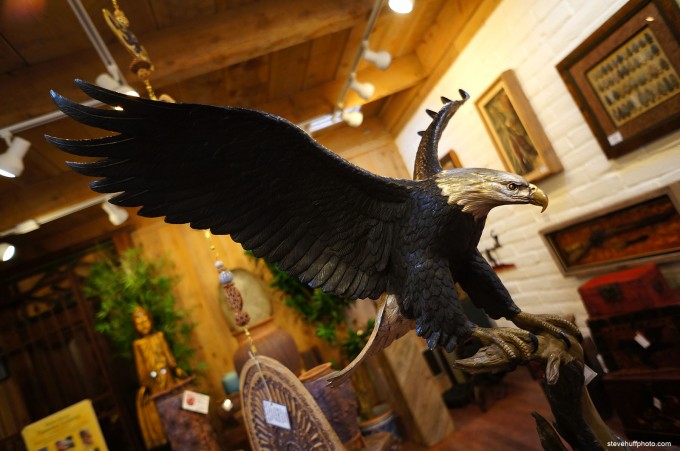 –
Another with the 16mm. Remember you can click image for larger view.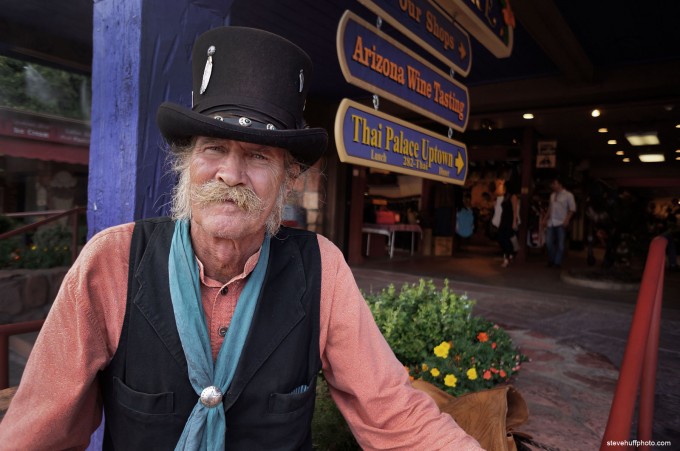 Keep in mind though that while the high ISO performance is the best yet in a NEX camera, when you get to lower light and past ISO 1250 you will start losing a bit of color fidelity and things will start getting a little more dull. Not really dull, but not as vibrant and nice as if you shot low ISO in good light. Also, the 5n seems to underexpose a little when using their evaluative metering. I found using center weighted helped. Speaking of low light…
–
Shooting the NEX 5n in Low Light – The true test of High ISO
I took the NEX-5n out with me one day to the local Aquarium because I knew it would be a challenge due to the very low light and funky lighting. As I stated at the top of this review ALL images in this review are out of camera JPEGS as at the time of this writing Adobe Lightroom and Photoshop do not convert NEX-5n files. So everything you see here is all JPEG. When Adobe updates Camera RAW I will update this review at the bottom with some RAW conversions.
So at the aquarium I also brought along my Olympus E-P3 and can say without a doubt that the Olympus focuses faster in good and low light. It's instant but the Sony hunts a bit when the lights go down. Still, both are fairly quick though the Sony has to use the assist lamp to nail it and I was not using the assist light with the E-P3. I also got quite a bit more image noise with the E-P3 files at LOWER ISO's than I did with the NEX-5n files at higher ISO's.  The NEX-5n's images were also "richer" and had a little more depth due to the larger sensor. With the new image processing in the 5n, the JPEGS are much nicer than those from the old 5. Sharper, more colorful and they seem to pop out at you.
ISO 1250, 18-55 kit zoom – click image for larger version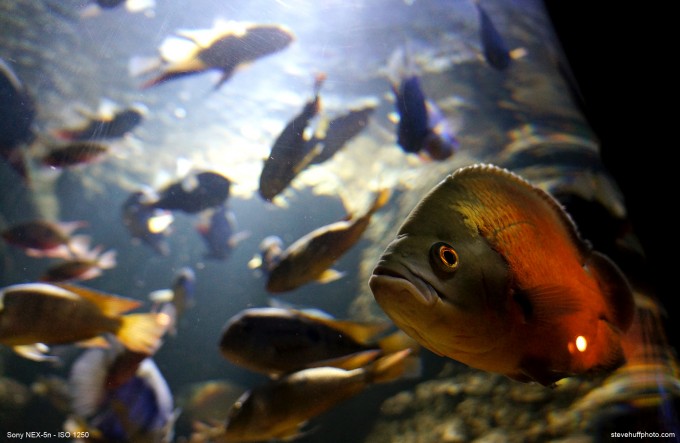 –
ISO 3200 in VERY low light. Low light is where you can see the real high ISO performance.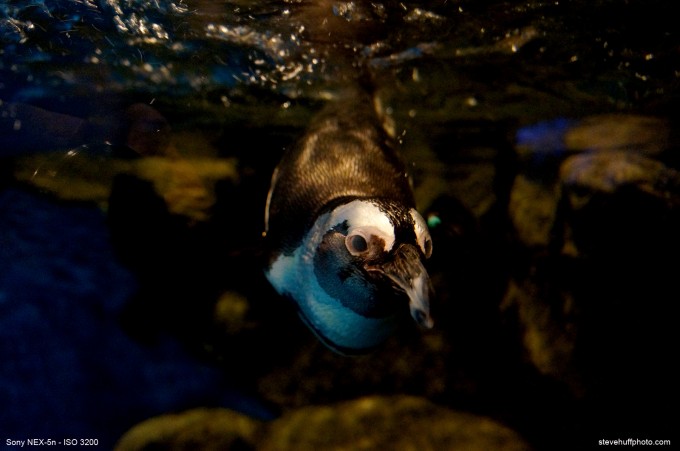 –
iso 3200 – click image for larger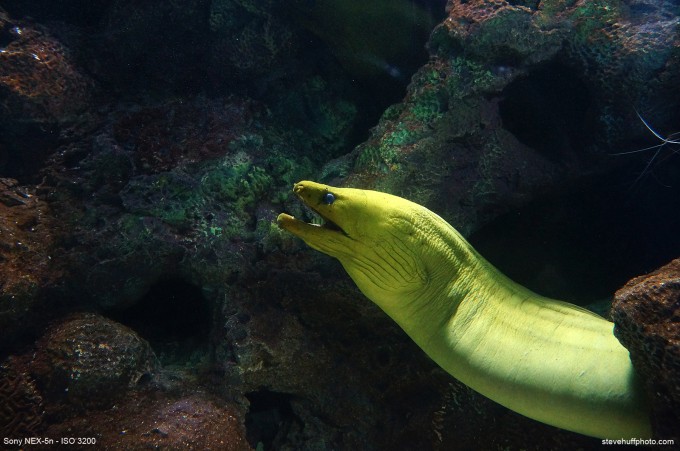 –
I can say with confidence that the quality in REALLY low light and higher ISO was pretty darn good. I left the camera on Auto White Balance and Auto Focus. I shot with the 18-55 wide open as I could get it and I hoped for the best. No, these are not noise free with perfect tone and color but no camera will give you this at high ISO's like 3200 IN super low light. For being handicapped with a slow zoom and not using any kind of flash, AND being in a dim and dark aquarium, this IS impressive.
Imagine if we had a time machine and went back to the days of the Nikon D2h and Canon D30 with a camera like the NEX-5n. ISO 25,600? CRAZY! We can get better quality today in a $700 camera set than we used to get from a $5000 camera body. Technology just keeps getting better and better. I wonder what digital will be like in 10 years from now? Hmmmm.
–
SUPER High ISO – Is it useable?
Yes, this camera goes up to ISO 25,600 (see the 1st shot below) but usually when you see this listed on a camera spec sheet you can laugh it off as a joke. The 5n at its maximum ISO, if taken in "decent" light, meaning, not bright but not dark, can yield pretty incredible results… and  the shots still hold detail which is pretty freaking cool. Take a look below at my SUPER HIGH ISO SHOTS and crops. You must click each image to see the lull size out of camera versions.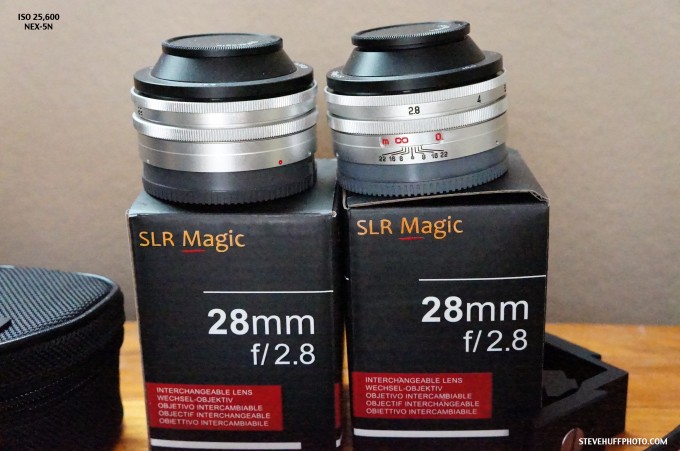 –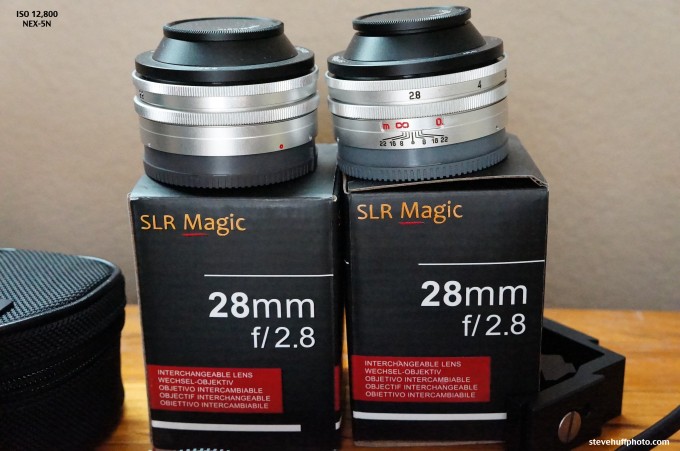 –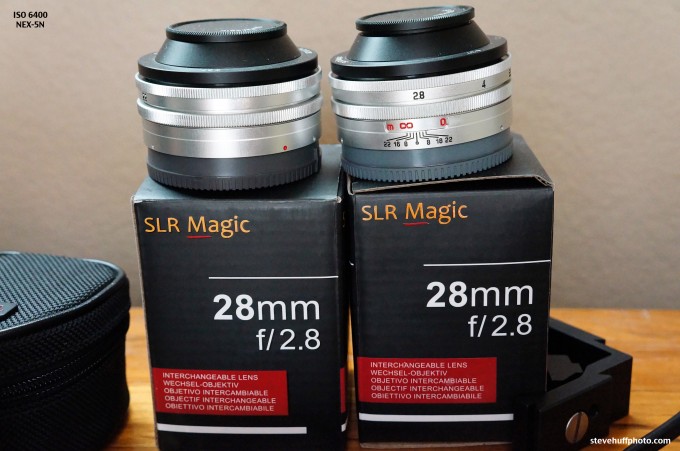 My conclusion? I have yet to see any camera beat this for high ISO..well, maybe the 100lb Nikon D3s, but maybe not? Still, the sweet spot for the 5n is between 100-1250 ISO.
–
Low Light HIGH HD Video
I also shot some low light and high ISO HD video at 3200 and even 6400 ISO. The results are below and I am impressed! Remember, this video was shot with the SLOW 18-55 and HIGH iso!
–
Shooting the NEX-5n with Leica glass – Let the focus peaking begin!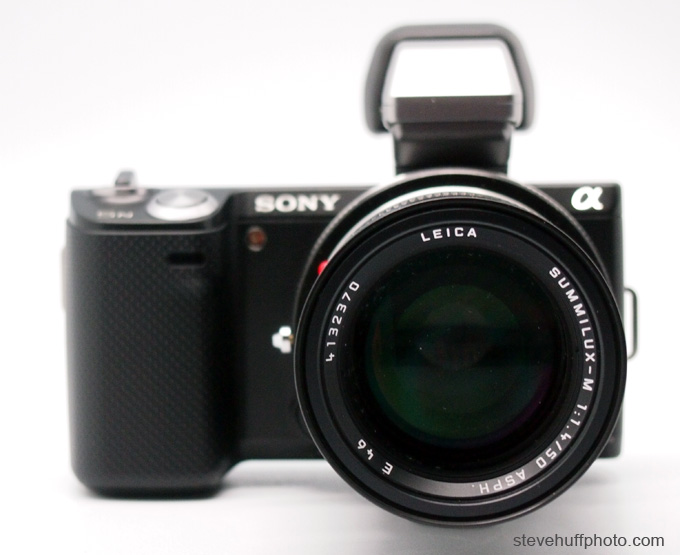 As 98% of you already know, you can shoot the NEX-5n with Leica glass just like  you did with the NEX-5. Just buy an adapter like THIS ONE
 and you are all set. Though if you want the BEST adapter I would buy THIS ONE. But why spend all of that cash when there are adapters available for 10X less? Well, I already have been through FOUR of the cheap M to NEX adapters and they all become loose over time and the lenses wobble. The higher priced model from Novoflex has not done that and it provides a very FIRM fit. Expensive but will last. I guess it is for those who like to buy one time and be done with it. There is a difference and after a year of use and four cheap adapters I decided it was time to bite the bullet for the Novoflex especially with my new found love for this system and manual glass with its EVF and focus peaking.
Old M mount glass, new M mount glass…they all work lovely on the NEX-5N and even better than they did on the old 5 it seems. The 5n comes loaded with the new Focus Peaking feature that allows us to easily shoot with our old manual lenses and get our shots IN FOCUS. I show an example of this in the video at the top of this page. When manually focusing using the rear LCD or the EVF you will see your in focus ares light up and that is when you know you are in focus. It's quick and easy and works pretty damn good. The EVF worlds AMAZINGLY well with manual focusing using peaking. Spot on every time for me. I had the camera set to  HIGH for peaking and used the RED color. In bright sun it is hard to see the rear LCD but the EVF saved the day and made it a breeze.
Below are a few shots taken with the 5n and the Leica 50 Summilux ASPH. In my opinion the results speak for themselves and the quality is gorgeous.
The next four shots were all with the NEX-5n and Leica 50 Summilux ASPH at 1.4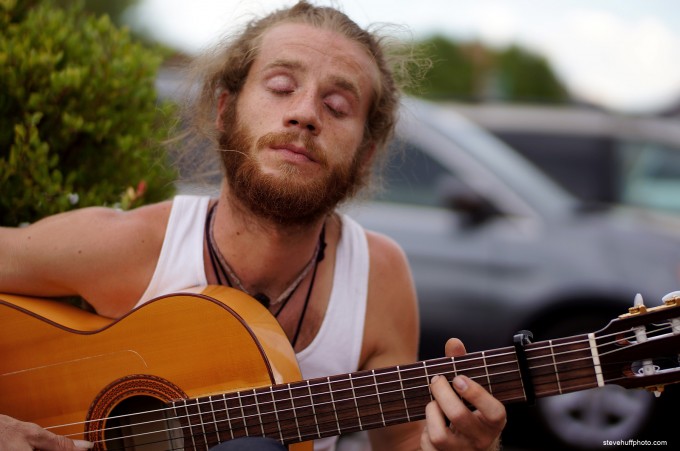 –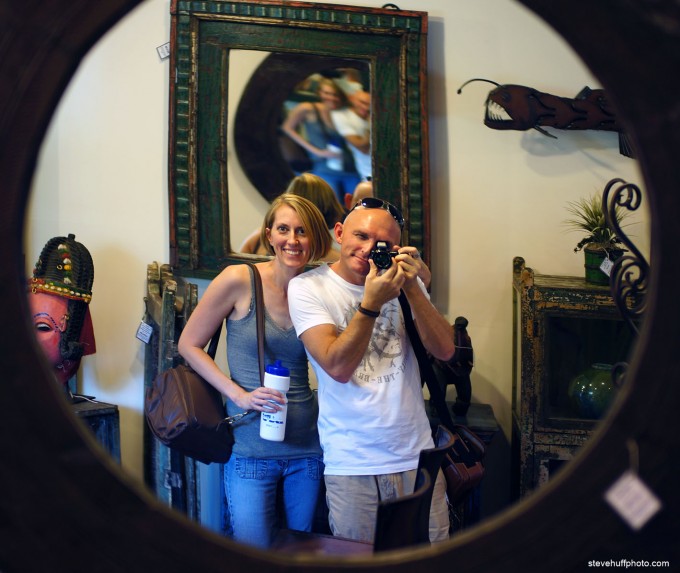 –
–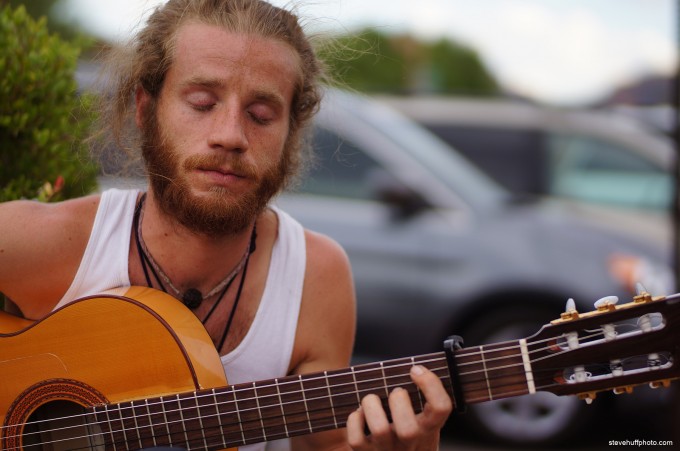 –
and the next two were shot with the 5n and 50 Summitar at f/2 in Dynamic B&W mode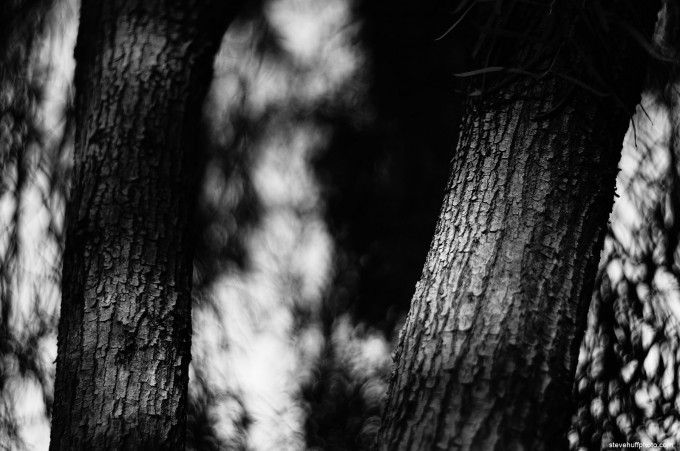 –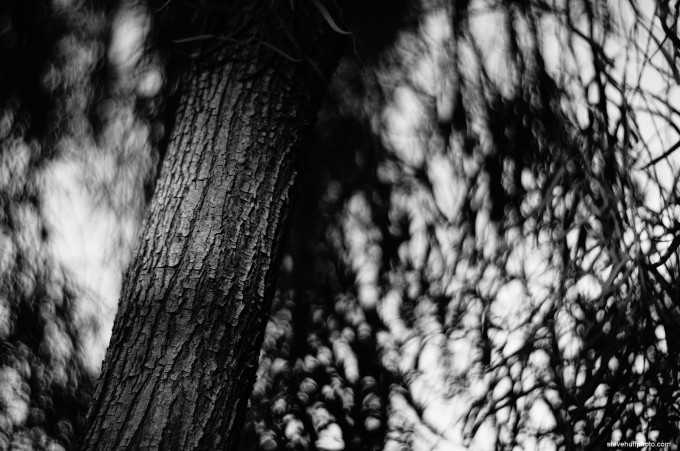 –
The NEX-5n Picture Effects & other fun features
Inside the "Brightness/Color" menu you will see the choice to choose a Picture Effect, if and only if you are shooting JPEG only. This area will be greyed out if shooting in RAW format, even RAW + JPEG. This seems to be Sony's attempt at creating Art Filters like Olympus does in their cameras. Inside the NEX menu you will find the following choices:
Toy Camera, Pop Color, Posterization, Retro Photo, Soft High Key, Partial Colors, High Contrast B&W, Soft Focus, HDR Painting, Rich B&W (like B&W HDR), Miniature
There is also the old standby options like Hand Held Twilight and Sweep Panorama which I spoke of in my NEX-5 review almost a year ago.
Sweep Panorama works great and is super easy to use.


The NEX-5n VS the others
I am already getting the question "Which camera should I buy"? Again, I can not answer that for you and all you can do is look at reviews on various sites and judge for yourself. I will give my thoughts on a few hot cameras right now and how they compare though.
NEX-5n vs Olympus E-P3 – The Olympus looks cooler, feels better built, and feels better in my hand. It's more expensive and has a smaller sensor that puts out more noise than the NEX-5n. The 5n is capable of higher resolution, more depth, and shallower depth of field to the photos but lenses are lacking for the NEX system at the time of this writing.
If you do not mind a smaller sensor, not as good low light performance, and paying a little more, the Olympus E-P3 will give you faster auto focus, super clean low light video (not sure how they pull it off but they do) and access to some cool lenses like the Olympus 12mm f/2, 45 1.8, Panasonic 20 1.7 and 25 1.4. BUT the image quality will be better with the 5n in lower light and high ISO. Also, the 5n has a swivel LCD which I used quite a bit and appreciated. The E-P3 has to be held level so you can see what you are doing (unless you have the EVF). Also, the Sony NEX 5n with the new OLED EVF is fantastic. Almost a must IMO.
E-P3 – Better build and feel but more expensive. Easier to control, faster AF, in body image stabilization and good HD video though lots of "Jello Effect" if IS is on. Noisy high ISO, less shallow depth of field.
NEX 5n – Better low light capability and cleaner high ISO images, better battery life, 24P and 60P manual control HD video, larger sensor and higher resolution with great color and more deoth. Also more HD video options (No Jello Problem) and swivel LCD screen. No in body IS.
–
NEX-5n vs The Fuji X100 – The Fuji X100 is a fantastic camera as well and is only hindered by it's slow and quirky operation. Slower AF, slow write times, slow feeling when compared to other similar cameras. BUT the Fuji has a great fast prime lens that delivers rich and nice colorful images. It is great to hold and feels super good in the hand, more like a traditional camera. The beauty of it is that it has a built in hybrid VF and there is no need to buy an external. The X100 can not change lenses though so you must be happy with a 35mm field of view. The NEX-5n is a totally different camera than the Fuji but beats it in the HD video department and speed department. Also, the Sony can change lenses and use a multitude of glass using adapters. In my opinion, the Fuji feels like a camera and the NEX more like an electronic gadget. Which you choose is all down to taste and preference.
Fuji X100 – Nice design, built in hybrid EVF/OVF, great fast prime 35mm equivalent lens, beautiful files and great low light performance. Also silent in operation.
NEX-5n – Faster in focusing and write times, even better high ISO capability, better battery life, better HD video, smaller body but bigger lenses and louder shutter.
–
NEX-5n vs Ricoh GXR System – The Ricoh GXR system is a great little camera system that uses "modules" with the lens and sensor all built into one "Cartridge" that slides on to the body of the GXR. I loved this system while I owned it but sold it off after acquiring the Fuji X100 and Olympus E-P3. Why? Because it had shutter speed limitations that I did not like. The Fuji has them too but its built in ND filter solves the issues. I still love the GXR and what it does because it is a fantastic everyday shooter that gives wonderful and rich quality. There are only two lenses for the GXR system worth owning IMO, the 28 and 50 APS-C A12 modules. Their new Leica M mount module is arriving any day now so that should be interesting though 1st samples I have seen have been underwhelming to me.
In real use, the NEX-5n beats the GXR in focus speed, high ISO, HD video but the GXR wins in usability and build and has better lenses. Also, the GXR LCD does not swivel though you can buy an external EVF for it. This one comes down to personal preference as the GXR is a camera you will either LOVE or HATE.
Ricoh GXR – Built very well, versatile with the superb 28 and 50mm f/2.5 modules, snap focus for street shooters works well, high ISO is good up to 3200.
NEX-5n – Swivel LCD, high ISO capability, awesome HD video but lack of lenses right now hurts the NEX system.
–
NEX-5n vs NEX C3 and older NEX-5 – NO CONTEST. If you are going to buy a new NEX camera right now and are not planning on buying the super NEX-7 at $1199, then go for the 5N. It is the biggest bang for the buck and it makes no sense to buy the C3 when the 5n is only $100 more. You gain metal build, better grip, touch screen, quieter shutter sound and possibly better high ISO and JPEG sharpness. Also, the 5n is a better buy than the old 5 unless you are getting a GREAT deal on the old 5. This one is easy, if buying new, go for the 5N, no contest.
–
NEX-5n vs NEX-7 – Hmmm. Well, no one has held or shot with a working NEX-7 as of this writing so this is tough but on paper, the camera to choose would be the 7 if you r budget allowed. It's the superman of the NEX series and I can not wait to get my hands on it. I am excited most about the OLED built in EVF and two control wheels on top. I am also happy that it is a little larger than the 5n. Finally, I can compose on a NEX, even with old manual glass and use the built in EVF to frame and focus AND use my fingers to control the Aperture without looking out of the EVF. Also, I won't have a huge wart sitting on top if I want to use the EVF. From a design standpoint, the NEX-7 is perfect. WIll it have as good of high ISO performance of the 5n. Unllikely, but who uses ISO 12,000 in real life anyway? Not me, I usually max out at 6400 no matter what, and even that is rare. Im sure the 7 will be fantastic at 3200. Me, I am buying the 7 for my personal use for the reasons I described. It even has a built in flash unlike the C3 and 5n.
BUT, if you do not have that kind of budget, or prefer the design of the 5n then the 5n is the best of the NEX series for  you. Even if you do not need the NEX 7 features you could save some money and buy a 5n (or keep your old 3 or 5) and buy a new lens like the upcoming Zeiss 24 1.8 or Sony 50 1.8. This would be a great addition as glass is always more of an investment than a body. A NEX-5n and 18-55 and EVF will cost you $1049. The NEX-7 with no lens is $1199, with the kit zoom $1349. So $300 more for the NEX-7 body, design, features and higher res sensor. In reality, not bad IMO as it looks like a long term keeper.
–
NEX-5n vs Leica M9 – Ok, I had to do this comparison as I know I would have been asked. Leica M9P with 50 Lux vs NEX-5n with 50 Lux. Same light, same aperture. We all know these are different cameras but Sony, with the new Focus peaking and EVF is starting to really bridge that gap with the quality and user experience. This is where the new EVF shines and where the NEX-7 will really show its stuff.
Here is a full out of camera JPEG from the Sony NEX-5n with the Summilux 50 at 1.4 – Click image to see the full size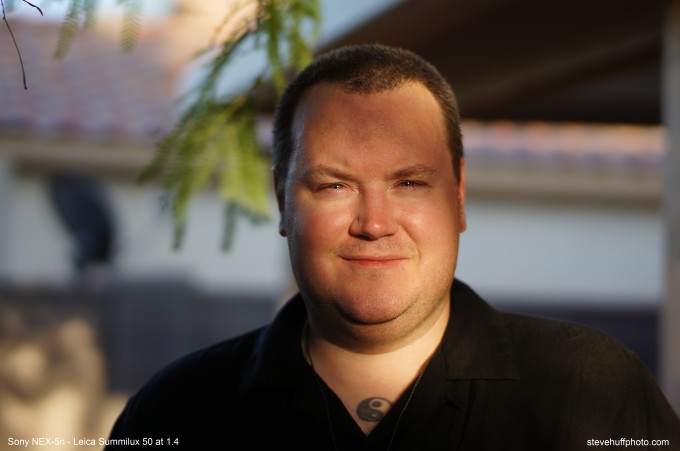 –
and now the same shot with the M9P and 50 Summilux, also at 1.4 – click to see the full size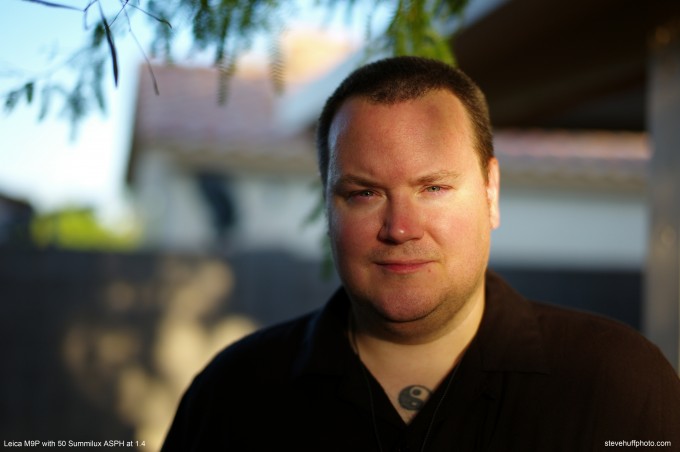 The new Sony OLED EVF for the NEX-5n
I also have been able to use and try out the new EVF for the 5n and have to say that it is fantastic, but expensive at half the price of the 5n itself. Even with that being so, the view is huge, wide, and crisp. NO it does not look like an optical VF, it looks like an electronic VF but let's face it, the EVF (Electronic View Finder) is the future of digital and I like seeing Sony push the quality up. This will be the same EVF that will be built in to the Sony NEX-7 and A-77 DSLR. Highly recommended for all NEX-5n shooters as this makes shooting the camera feel more natural and easier to compose for those of us who are more used to a viewfinder. Also, as I already hinted at, if you shoot with manual glass on your NEX I find this is a MUST own as the EVF combined with the Focus Peaking works SO well. I am sorry to say that this accessory is NOT compatible with the old NEX-5. Why? I have no idea but I think Sony should have supported the old 5 as well. Kind of crappy of them to do that.
This is the best EVF I have ever laid my hands on. Period. Not only in quality but also design and eye comfort. Below is a shot of the EVF on the black NEX-5n. Yea, it is a wart like all external EVF's but it works and works well.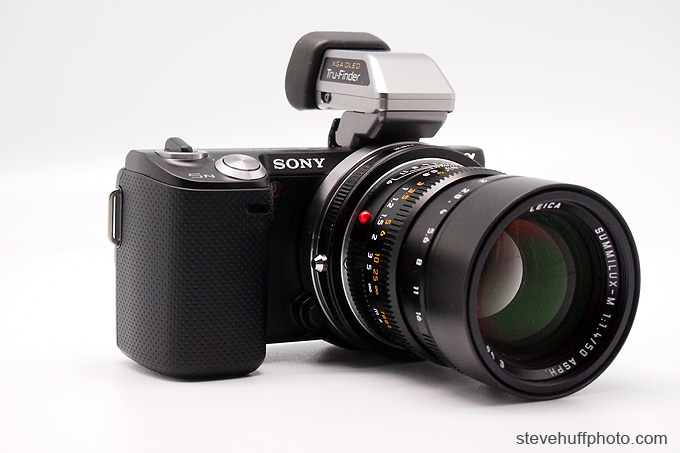 –
PROS and CONS of the Sony NEX-5n
PROS
Small size, improved sensor, super high ISO performance
Dynamic Range seems HIGH – dare I say better than a 5DII? Hmmm.
Longer battery life than the old 5
Faster AF than the previous 5 (but not by much)
Lovely color rendition when shot in good light, even good in lower light
Ability to shoot with third party lenses via adapter
Great quality HD 1080 Video with various options and manual control – no jello effect
New lenses finally on the way!
Price is right, great bang for the buck and beats the NEX-C3 easily.
Swivel LCD is great
OLED EVF is fantastic
10 frames per second shooting speed is crazy fast
Low light twilight mode works very well as it did with the previous 5
Sweep panorama still rocks!
Focus tracking works well
Shutter lag is virtually non existent at 20 milliseconds.
Focus Peaking and EVF are a perfect match for manual glass
CONS
Hunts to AF in low light, even with assist lamp which is pretty bright
Lack of lenses right now! (at the time of this writing)
Lenses will always be larger than Micro 4/3 lenses
Still wish it had a better navigation and control system, feels more like a gadget than camera sometimes
EVF sticks out quite a bit (but it does lock down) and makes the camera less portable
Should come with a lens rear cap and camera body cap in the box but it does not
Should have in body image stabilization!!!
Touch screen does not have a touch shutter like the E-P3
–
My Conclusion
When the new Sony NEX-C3 arrived to me a few weeks ago I yawned. It was not enough of an improvement over the normal NEX-3  to warrant an upgrade IMO. When the 5n arrived to my doorstep I looked at it and almost yawned. It looked the same as the old 5 that I had shot with for a year but I know that looks can be deceiving. Regardless, I charged up the battery to see what it was all about expecting to write about it and say its a minor jump up from the old 5.
When I looked over my initial test shots I was amazed at the image quality coming out of the camera. The JPEGs have been improved dramatically and whatever Sony has done to the in camera processing, they did it right. The new 16.1 Megapixel APS-C sized sensor rocks and it is a huge step in the right direction to improve the NEX series of cameras. I only wish that they had a better lens than the 18-55 at this time because I know the sensor is capable of way more than the kit lenses give (even though things have improved in that area with the new sensor) after seeing the Leica glass on the camera.
The 1080 HD video is great on the 5n as well, giving you a plethora of options to choose from. I still like the 24P setting and many are in love with the new 60P option. You also have all manual control over video, which is also very welcome and appreciated. The Dynamic Range is improved as well and to my eye seems better than a Canon 5DII in that dept. Much better than Micro 4/3 in DR here guys.
Is it worth an upgrade if you have a normal 3 or 5? Well, tough to say. If you want the new features then it is worth it to you. If you do not need the extra resolution and feel you are getting what you need from the 3 or 5 already then I'd spend my money on a new lens like the Zeiss 24 1.8. The 5n does indeed up the ante in the IQ department but it is not CRAZY drastic better (though it is pretty damn good) and the old 5 is still a perfectly good camera. In use the camera feels the same though the shutter sounds better than the old clunky clunk of the old 3 and 5. When shooting with the EVF and you hear that slick sounding shutter sound you feel like you are shooting with a pro camera.
This baby also shoots at 10 frames per second though I admit I am not an action shooter. I remember when 7 FPS was a big deal on the pro DSLR's. Now we have 10 FPS in a tiny camera that can fit into a coat pocket. Amazing. We also have some exciting new lenses on the way like the LONG awaited  Zeiss 24 1.8, also the Sony 50 1.8 and 35 Macro plus a zoom or two. S0 lenses are coming for those NEX'ers who have been patiently waiting.
I wish Sony would release a FAST pancake that is small, something like the 20 1.7 for Micro 4/3. THAT would be amazing but sadly I do not think they can do it due to the larger sensor, which is quite a bit bigger than the M4/3 sensor. The lenses have to cover the imaging sensor so I do not think we will see small AF lenses on the NEX. Manual lenses? Yes. AF lenses? No.
I like the NEX-5n and if it was not for  the NEX-7 coming out I would probably keep it. Hell, I may keep it anyway until the 7 arrives to do more Leica M glass experiments. I like what I see here so that just makes me even more excited to see the NEX-7 in action. The 5n is not perfect though as it could use better controls, a built in EVF, and a larger grip…WAIT, that sounds like the NEX-7, haha.
The bottom line is that Sony improved the 5 series and the 5n is an easy recommend as well as the best bang for the buck in the NEX line. At $699 with lens, I have to ask myself.." For the money does it get any better than this? The answer to that is NO!" 
–
Where to buy the Sony NEX-5N?
This camera is available just about everywhere. I buy my Sony gear from B&H Photo or Amazon. B&H has the Sony NEX-5n at the links below:
Buy at B&H Photo – STOCK ARRIVING ANY DAY NOW
Buy the Sony NEX-5n in black, with 18-55 lens at B&H Photo HERE
Buy the Sony NEX-5n in Black, body only, at B&H Photo HERE
Buy the Sony NEX-5n in Silver with kit lens at B&H Photo HERE
Buy At Amazon!
Buy the Sony NEX-5n – Body Only – AMAZON
Buy the Sony NEX-5n with 18-55 Kit Zoom in Black – Amazon
Below are a few more images all shot with the 5n. Enjoy!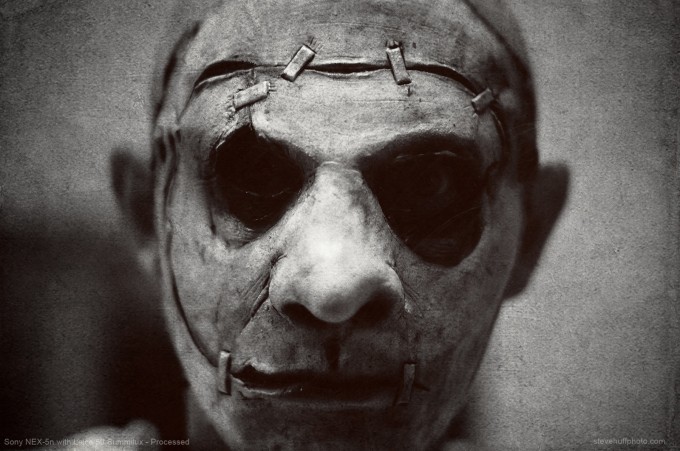 –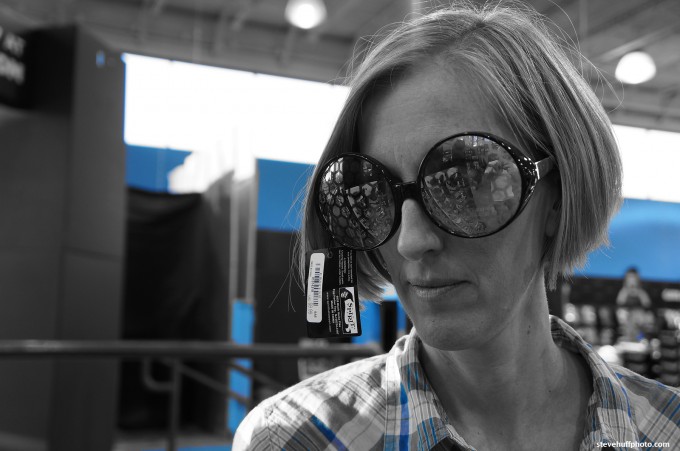 –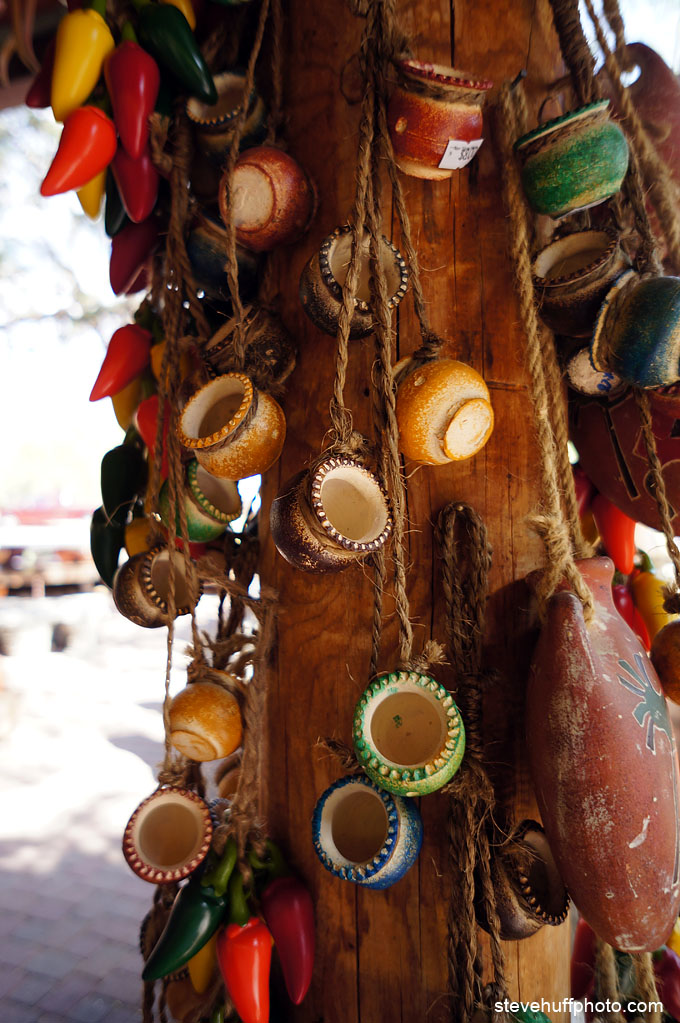 –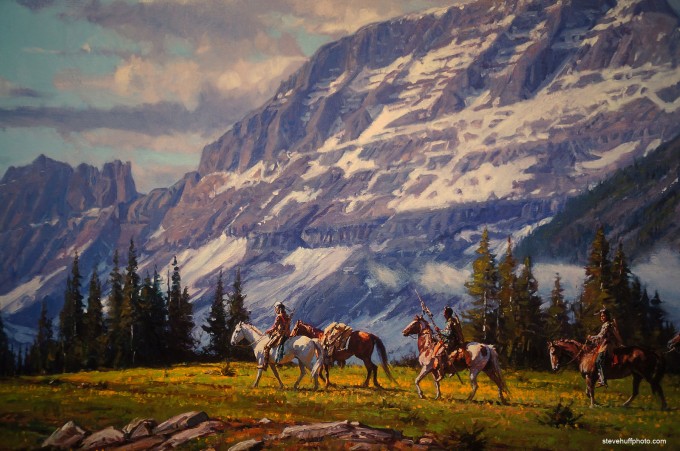 –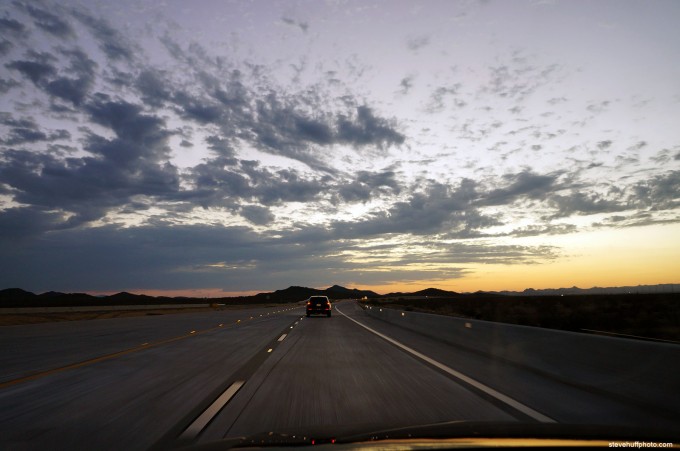 –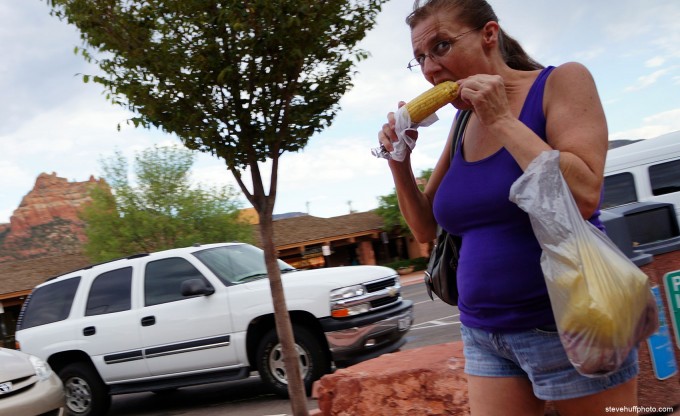 –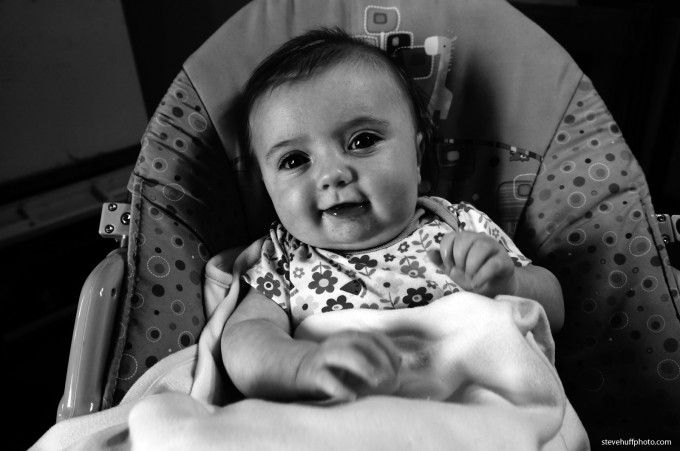 –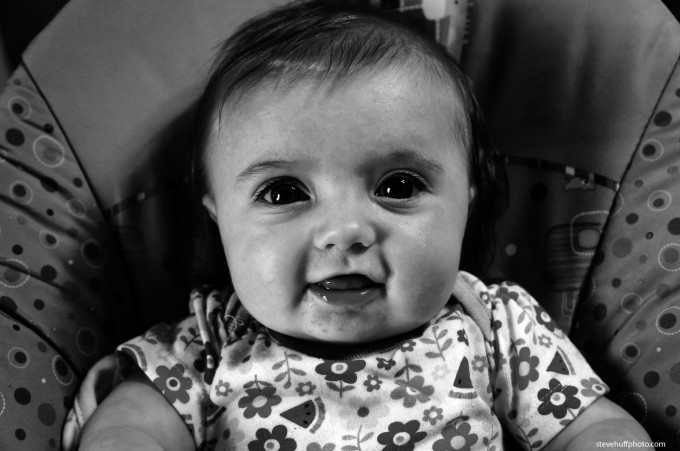 –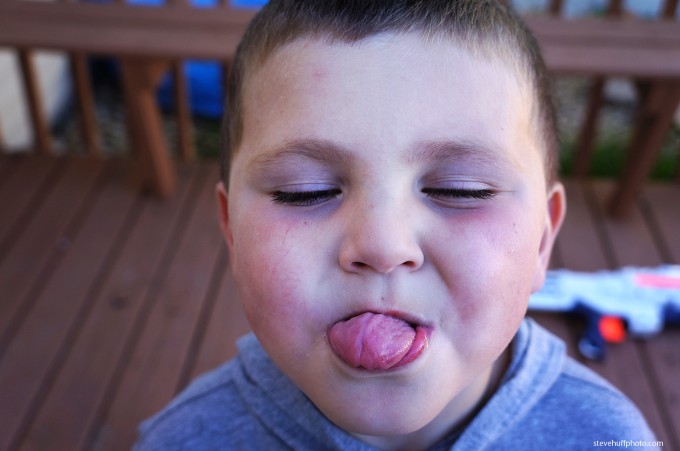 [ad#Adsense Blog Sq Embed Image]
HELP ME TO KEEP THIS SITE GOING AND GROWING!! IT'S EASY TO HELP OUT & I CAN USE ALL THE HELP I CAN GET!
Remember, anytime you follow my links here and buy from B&H or AMAZON,
 this helps to keep my site going. If it was not for these links, there would be no way to fund this site, so I thank you in advance if you visit these links. I thank you more if you make a purchase! I have nifty search bars at the upper right of each page so you easily search for something at either store! I currently spend 10-14 hours a day working on this site and the only way that I can pay for it is with your help, so thank you! Currently my traffic has been increasing but my funds to pay for the site has been decreasing, so any help would be GREATLY appreciated!
Even if  you buy baby food, napkins or toothpicks at amazon it helps this site, and you do not pay anything extra by using the links here. Again, you pay nothing extra by using my links, it is just a way to help support this site, so again, I thank you in advance 

If you enjoyed this article/review, feel free to leave a comment at the bottom of this page and also be sure to join me on twitter or my new facebook fan page! Also, you can subscribe to my feed at my subscribe page HERE and read these posts in your browser or news reader!