PRESS RELEASE
LOMOGRAPHY'S LOMOKINO LAUNCH
Make Movie Magic!
Launch of the Super 35 Movie Maker – The LomoKino!
Create LomoMovies to laugh, cry, or simultaneously do both over, with any type of 35mm film!
Lightweight, easy to use, and quick to develop, the LomoKino is designed to free movies, till now, stored in your mind!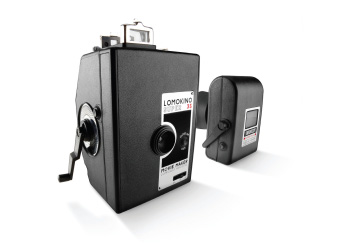 We at Lomography desire to see the world through your eyes and to inspire and be inspired by the creative genius inside each and every one of us. So, we created the LomoKino! And now, in your hands, this little light-weight is sure to capture your hearts and the attention of your friends at your movie screenings!
 "Lights, Camera, Action!"
You cried, as you began winding the crank on the right of the black box camera. In the back of your mind you can see each beautiful standalone frame – some of which you'd like to blowup and hang up – as well as the entirety of your piece in action surrounded by serene silence you can pair sounds and your favorite songs to later.
After the short, but seeming like forever, wait for your film to be developed, you begin screening your dailies and see your piece of art take form! And why keep this unique B/W portal into a romance trapped in time, or else a hyper intense color documentation of your running away with the circus, to yourself!
Upload your LomoMovies to www.lomography.com to share the stories you've been keeping inside for this long while at the same time enjoying other works from all across the globe!
Technical Details – Frame by Frame
Ladies and gentlemen, allow us to introduce you to the one, the only, "reel" deal, LomoKino!
Film Type: all kind of 135 roll film
Lens: 25mm
Exposure area: 24mm x 8.5mm: 144 images/film
Continuous Aperture: f/5.6 – f/11
Shutter: 1/100
Hand cranked: approx. 3-4 fps, 36-48 sec. movie per roll
Film counting: volume display
Focusing: (normal) 1m~infinity, (press button for) 0.6m close up
Tripod mount: yes
Retail price: tba
Visit the LomoKino Microsite and shop now!
About LOMOGRAPHY
The Lomographic Society International is a globally active organization dedicated to experimental and creative snapshot photography. Boasting over a half-million members across the world, the concept of Lomography encompasses an interactive, vivid, blurred and crazy way of life.
Through our constantly expanding selection of innovative cameras & photographic accessories, we promote analog photography as a creative approach to communicate, absorb, and capture the world.
Through the efforts and skill of our Lomographic Society members, we seek to document the incredible planet around us in a never-ending stream of snapshots – literally a global "Lomographic" portrait as seen through the eyes of countless individuals and cultures.