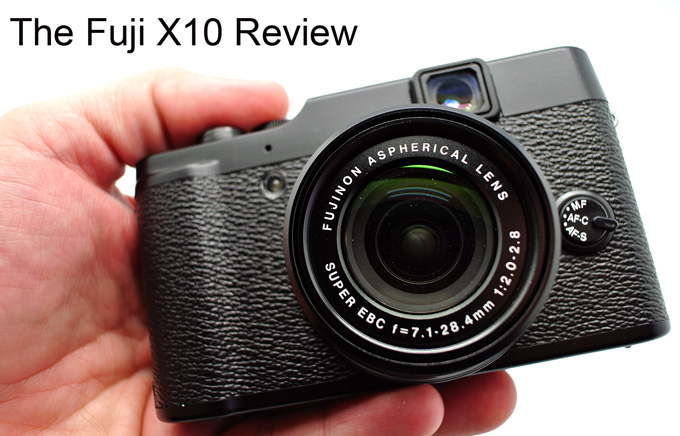 The Fuji X10 Digital Camera Review. A look at the Baby Brother of the Fuji X100. Real world USE review.
By Steve Huff
This has been the year of the digital camera. Man oh man. 2011 has brought us some amazing new cameras and Fuji in particular seemed to make the biggest splash with their APS-C large sized sensor X100 earlier in the year. That camera is JUST NOW starting to become available as supply finally catches up with demand. But before they were able to get the X100 out into the shops they were already hard at work on the "Mini Me" version of the X100 that they eventually named the X10. We also have the newly announced Panasonic GX1, which is finally the REAL follow up to their wildly successful GF1. Funny. First Sony grew some balls, and now Panasonic is growing them as well. I think Panaosnic realized they screwed the pooch with the GF2 and GF3 (cameras I was not a fan of when compared to the lovely GF1) so they remedied it with an all new line, the X series. Hmm. Fuji X100, X10, Leica X1…and now Panasonic joins in with the GX1. Maybe "X" is the magic letter that magically creates a great camera?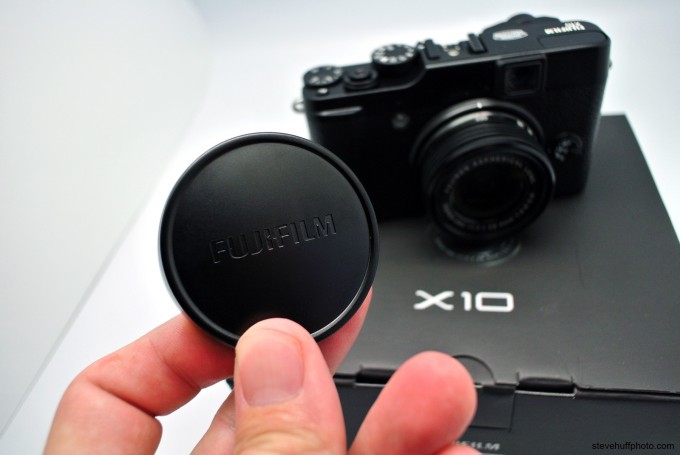 Anyway, the Fuji X10 is what I am talking about at this moment though and it is VERY similar in many ways to its bigger brother the X100, but also very different. Because of the similarities in the features and handling this review will be shorter and more about the usability, quirks and image quality. My X100 review can be seen HERE.
While the X100 has a larger APS-C sized sensor, best in class high ISO performance, a nice f/2 35mm equivalent prime lens, and a hybrid EVF/OVF that is superb, the X10 has a small sensor, not so great optical viewfinder, and a semi fast f/2-2.8 zoom lens built into the camera that is actually  quite good. It is more of an advanced point and shoot but the design and controls scream PHOTOGRAPHERS CAMERA!
The X10 – f/2/2 – JPEG – CLICK IMAGE FOR LARGER
–
Like most small sensor cameras, when Fuji announced the X10 I rolled my eyes! There was just no way I was going to like a smaller sensor body because I love my full frame and APS-C sensors for their ability to shoot in lower light, give shallow depth of field, and have superior Dynamic Range (ability to capture the light and dark areas of the image without blowing or blacking out)! So many smaller sensor digital cameras give you that "small sensor look" which is usually blown out highlights, grainy images, hard looking images, and they usually always have super huge depth of field. Some prefer to have this look to their images and others just take it and accept it because these cameras are small and can be put in a pocket. Usually its about portability but the X10 is not as small as other small sensor cameras so my thinking about the X10 was that it is going to have to be really good in the usability and image quality department to have a reason to buy it.
When B&H Photo sent me the X10 to check out I obliged and decided to just go ahead review it. How could I not? I mean, I LOVED the X100 so maybe this little X10 has some of that Fuji MOJO? I told myself that if this camera was fast, enjoyable to use, and had the Fuji Colors that I may just may be a believer. In the small sensor arena we have many cameras, most of which I am not a fan of. For example, I have never been a fan of the Canon or Nikon point and shoots. Cameras like Canon G12, Nikon P7100, Canon S95 never did it for me for one reason or another. Not that they were bad cameras, just that they either didn't feel right, or the controls lacked, or the color was off…something always made me stay away from them though I did try them. Maybe because I am an "enthusiast" and appreciate a good looking , feeling, and operating camera in addition to really great image quality. Those kind of cameras never held my attention for very long which is why I never reviewed them here. I write about what excites me and gets my creative juices flowing.
The only point and shoot type cameras that I really enjoyed have been the Panasonic LX and Leica D-Lux series as well as the Ricoh GRD series.. To me, these cameras had great quality in a nice small package. Did you read those two key words? SMALL PACKAGE. See, the Fuji X10 is NOT really small. It will NOT fit in your pocket, it will fit in a jacket pocket if it is a larger sized pocket but in reality, it is almost the same size as an X100 but not as long/wide. So if you want portability, the X10 will not be the camera you would want to go for. A Ricoh GRD III or IV is much more pocketable. A Pentax Q is much more pocketable.
Fuji X10 from the hip, using Auto Focus. JPEG – click image for larger.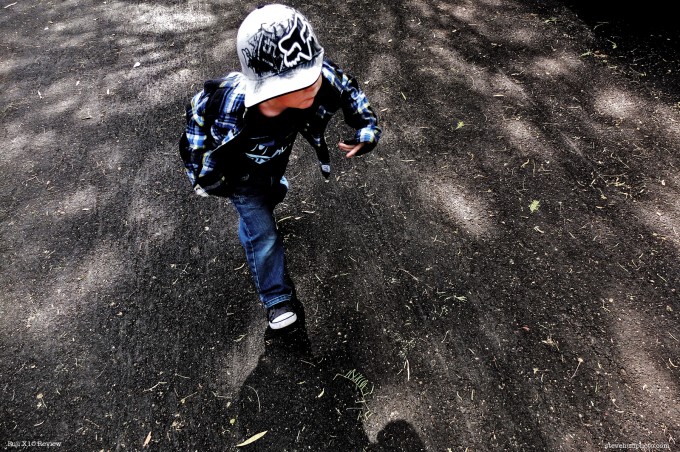 –
So in this review I am going to talk about the Fuji X10 and basically tell you that it is a new breed of camera. It is not quite a point and shoot as it is much too advanced in the control, build, and feature dept for that. It is not a camera like the micro 4/3's offerings as the sensor is smaller and does not give you quite the depth of field control that you would get from something like an Olympus E-P3 and decent lens. It is not equal to the X100 just due to the fact that the high ISO capability, sensor, and EVF/OVF of the X100 makes it the better camera. The X10 is kind of in a class by itself for now and at its price point of $599, it is priced JUST right IMO. About half the cost of the X100 but it can still give you the same color and feel as images shot with an X100. The same build and feel but in slick black 🙂 Those who think the X10 is overpriced, look at cameras like the Ricoh GRD's ($499), the Olympus E-P3 ($899), Nikon V1 ($900), NEX-5n ($600). Yea, the X10 is priced right for what it is and in reality, Fuji probably could have priced it at $699 and sold a ton.
I mean, at $599 you get a great feeling body, all black finish, manual control for aperture, exposure compensation, and optical VF (though it has only 85% coverage), HD video recording, 360 Pano shooting, a fast zoom lens that goes from 28-112 at f/2-f/2.8, a nice metal lens cap, faster AF than the X100 and even a super macro feature that allows you to get SUPER close to your subject. Even the high ISO capability is decent for the smaller sensor and could easily go up to 1600 in almost any situation. There are some extended dynamic range options as well and I found the DR of the X10 to be very good for this type of camera.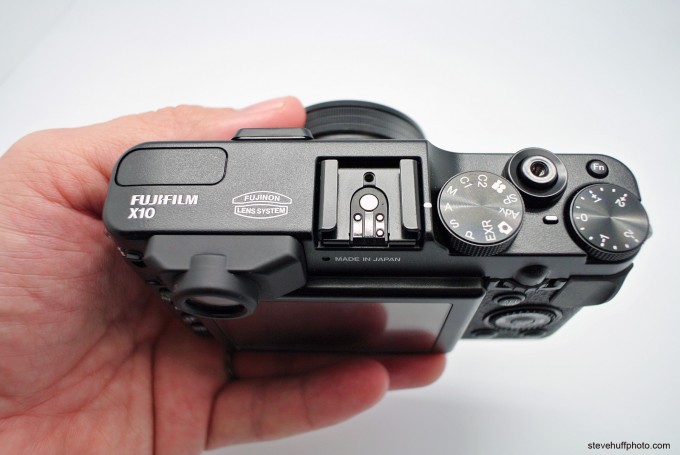 So as I said, even thought it is already getting long, this review will be shorter than usual and more to the point and with plenty of samples (ALL JPGS BTW) that have that signature Fuji color. I will state the facts and tell it like it is so I hope you enjoy this real world review of what appears to be a very cool camera. My only concern with the X10 is that at $599 you could get yourself into something like a Panasonic GF1, Olympus E-PL2 or similar micro 4/3 camera. Even a Sony NEX-5n (though with a kit lens that is average). These larger sensor cameras should, in theory, give you better results. What they won't give you though is those damn gorgeous Fuji colors, classic style, and viewfinder. In these areas, the X10 delivers the goods so it will all come down to what YOU want in a camera.
Things to ask yourself to find out what is most important to you… Portability? Image quality? Control? JPEG Quality? Build quality? Speed? Intended use? Is a VF important to you? Is shallow depth of field mandatory?
The lens on the X10 is fantastic. Sharp and with only a little distortion at the wide end that can be noticeable if shooting straight lines up close. The color…oh boy is it good!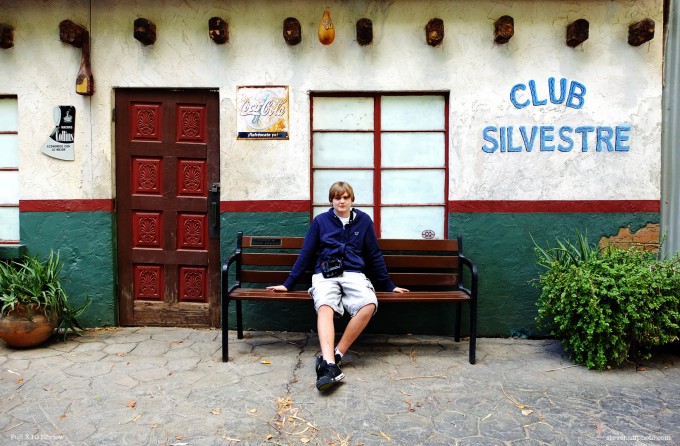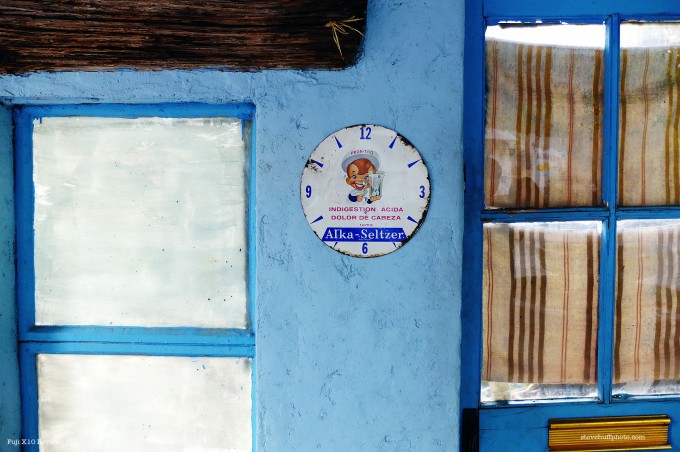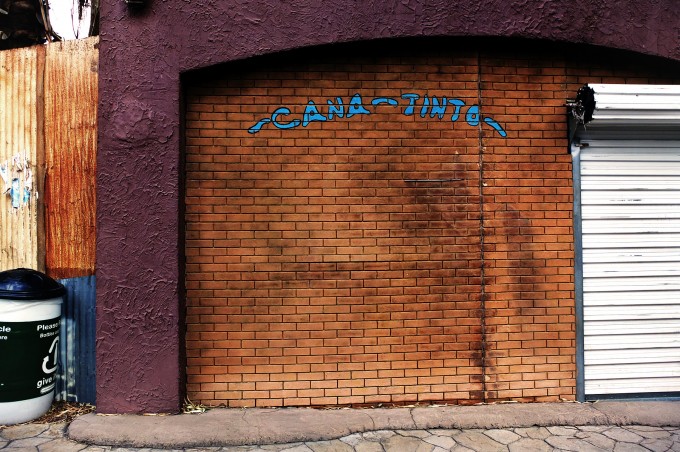 –
The Features of the Fuji X10 – What can this little guy do?
The X10 has loads of cool features and below is a list of the best things about the camera:
4x manual optical zoom featuring Fujifilm's Intelligent Digital Zoom technology that doubles telephoto capabilities and provides up to 8x zoom
Fast power start-up; the X10 is fully ready to shoot in approximately 0.8 seconds using the on/off power switch built into the lens ring (must be in Quick Start mode)
High-contrast and wide viewing-angle 2.8″ 460K dot high contrast LCD screen that provides excellent viewing even outdoors and in bright sunlight
Diverse manual shooting modes that can be selected according to scene type (Program / Aperture Priority / Shutter Speed Priority / Manual)
Four diverse auto bracketing functions for exposure, ISO sensitivity, dynamic range and film simulation
RAW shooting and in-camera RAW processing (SilkyPix RAW conversion software supplied in-box)
Best-in-class 1080p HD movie recording capabilities
Film Simulation Modes (eight setting are available, including Velvia / PROVIA / ASTIA)
Manual pop-up flash with a range of 7 meters (approximately 23 feet)
Electronic horizon leveling gauge to ensure that the camera is being held level, and histogram display to check image gradation
The X10 fully zoomed at 112mm and f/2.8 – straight from camera JPEG using the Velvia preset. The Fuji Greens are here!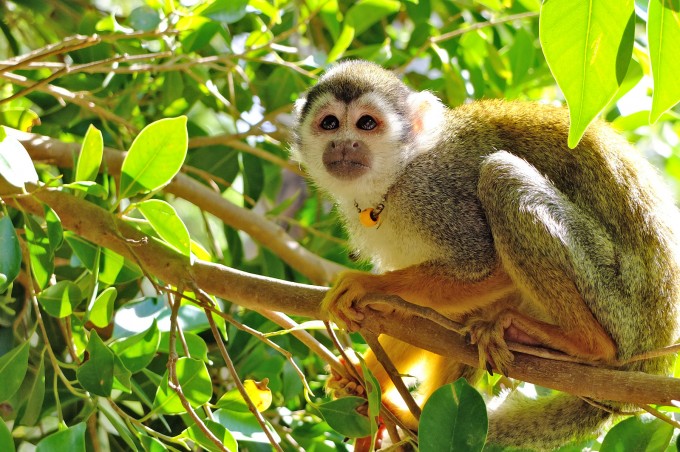 –
So what makes a point and shoot a point and shoot?
Many of us are calling the Fuji X10 a point and shoot, but to me… as I used the camera I felt that it was much more than a point and shoot. The X10 can be set in full auto and used like a point and shoot. In return you will get accurate and quick Auto Focus, great colors, good exposures and even damn good dynamic range. But the X10 is more than that. Set it into Aperture Priority mode or full manual using the dial on top of the camera and you have a fully featured camera that most photographers will love. The one thing that it has going against it is that it has no real manual focus mode. Much like the X100, the MF is awful on the camera and I would highly suggest to not ever use it. If you absolutely want to use manual focus you do so using a dial much like you do with the Leica X1 (though the X1 is superior in the MF area due to the scale and info it gives you). But you can not expect a great manual focus experience on a camera like this at $599. This is meant to be a camera more for the masses who want a sexy easy to use camera that puts out amazing JPEGS and is super versatile.
But to stress again, if it were me shooting the X10 every day I would only use the AF. I would never use manual. Period. This Fuji is sort of like a mix between a point and shoot and a more advanced camera. It's a new breed in my opinion and far surpasses the other cameras that many will compare this to. When compared to cameras like the Canon G12 and other advanced P&S cameras, the X10 wins on usability, image quality and build and feel. No contest. But then again, this is MY opinion. Yours may differ.
–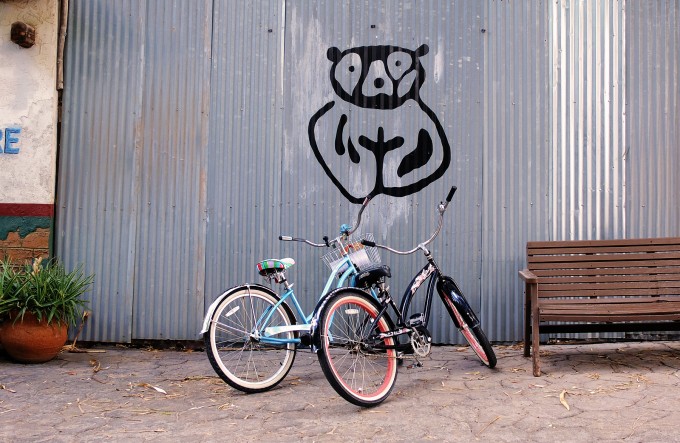 –
Macro and Super Macro – Included free of charge! 
The Fuji X10 has the same macro mode as the X100 but it also adds a new "Super Macro" mode much like the not so well received and lukewarm Olympus XZ-1 . The Super macro mode is pretty damn nice to have though as it allows you to get super close to your subject.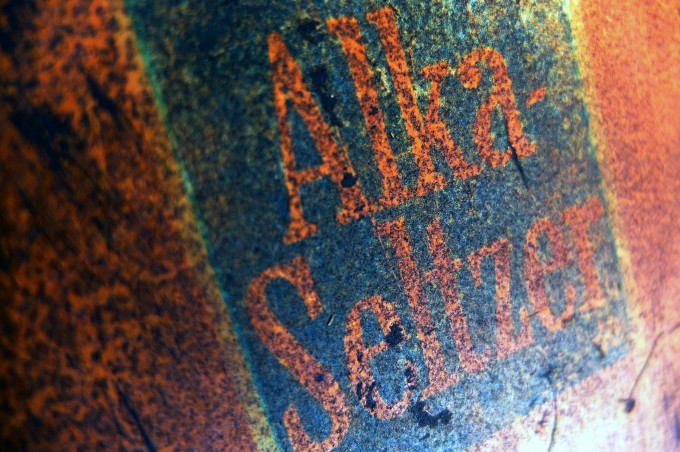 –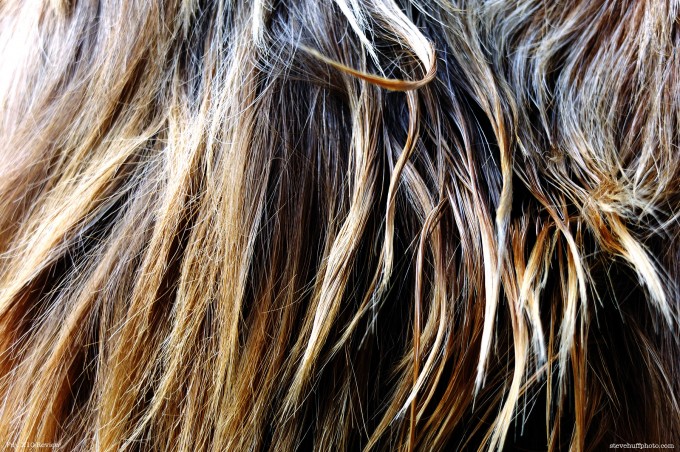 –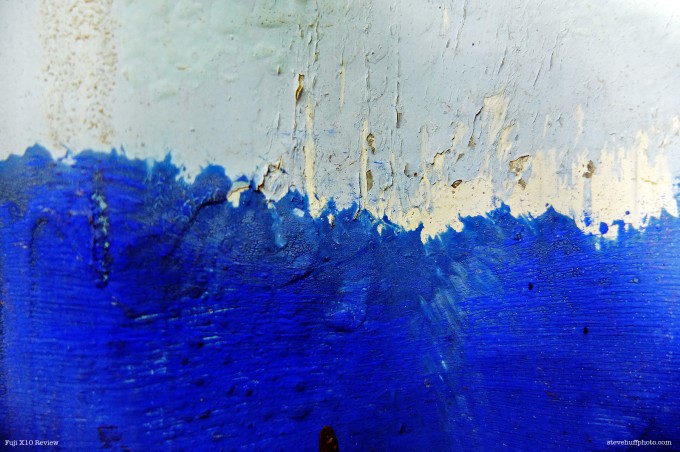 –
The lens quality – is the Zoom really any good?
The lens on the X10 is one that I did not want to like as I am not a fan of zoom lenses, especially those on cameras like this. But the Fuji lens intrigued me as it was still fast, even when zoomed out to it's maximum 112mm. With an aperture that goes from f/2 to 2.8, you have a usable range for lower light. Most cameras I have seen like this end up at f/5.6 at the long end which makes them pretty unusable for indoor use (like the 10-30 zoom included with the Nikon V1). The lens on the X10 does have some barrel distortion at the wide end but you will only see this if you are shooting straight lines up close. Other than that I had no complaints about this lens. I found it quite good actually throughout its range for real-world taking photos use 🙂
Shoot straight lines at the wide end and you will see some barrel distortion but this will not really be seen in normal every day photos. For example, if you shoot images of your kids this will not be evident. But straight lines up close at 28mm? Yes.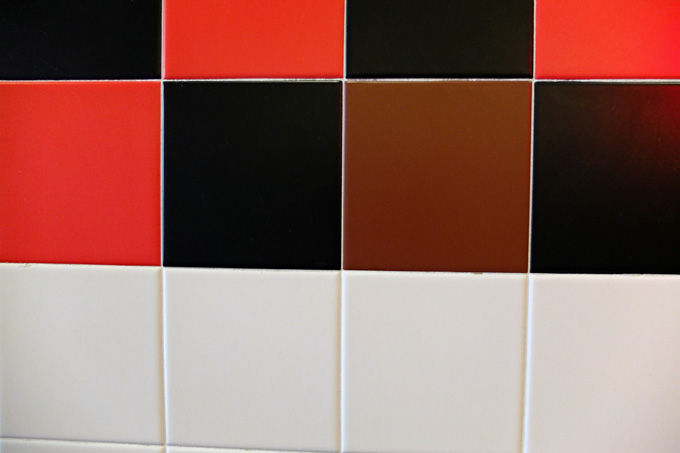 –
The lens on the X10 is very good though I found myself using it between 28-40mm most of the time.  I did zoom out all the way to 112 occasionally. As for shallow depth of field junkies, this is NOT your camera. With the super wide lens that is in reality a 7-28mm your depth of field will be huge, even at f/2. If you zoom out to 112mm and keep it at f/2.8 you can get some shallowness but nothing like you will get with a larger sensor camera and longer lens.
At 112mm from my car through my windshield. Had to get a shot of this little dog that escaped its yard and was sitting outside of a restaurant patiently waiting for someone to give him some food. Being a dog it must suck living right across the street from a fried Chicken place.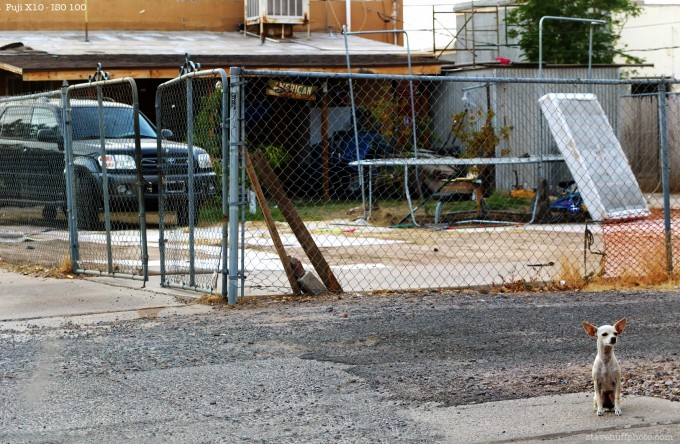 –
Just like it's bigger brother the X10 can excel in B&W images. This one has a rich film like quality…(click to see the large version)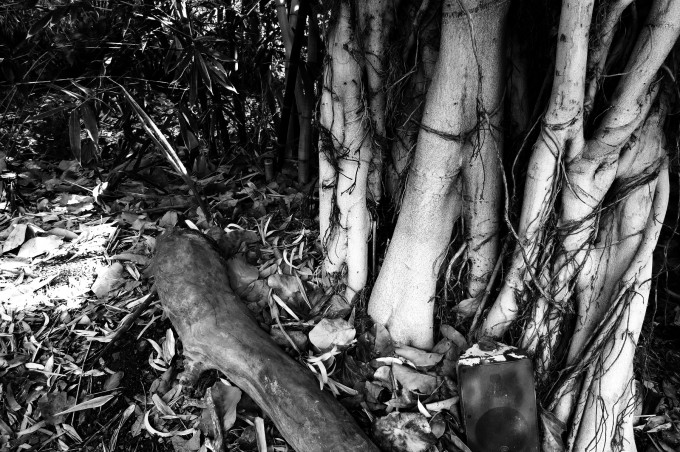 –
Fuji Blues are alway RICH and saturated, especially when in Velvia mode.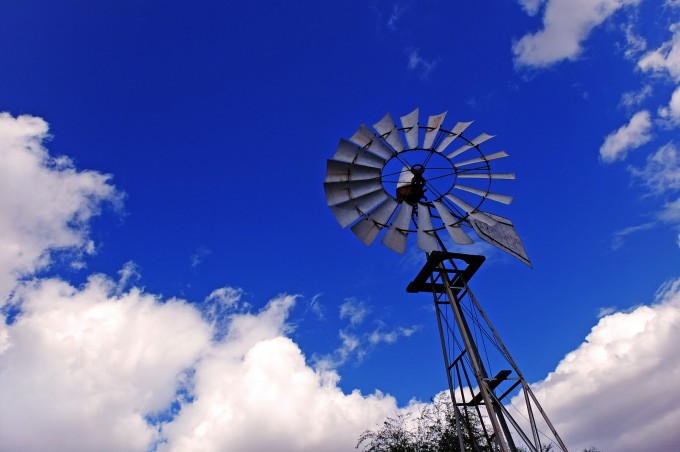 –
Shallow depth of field? Not too much but that is not what this camera is all about. What it will give you is super sharpness, a great looking file and JPEGS that are some of the best I have seen.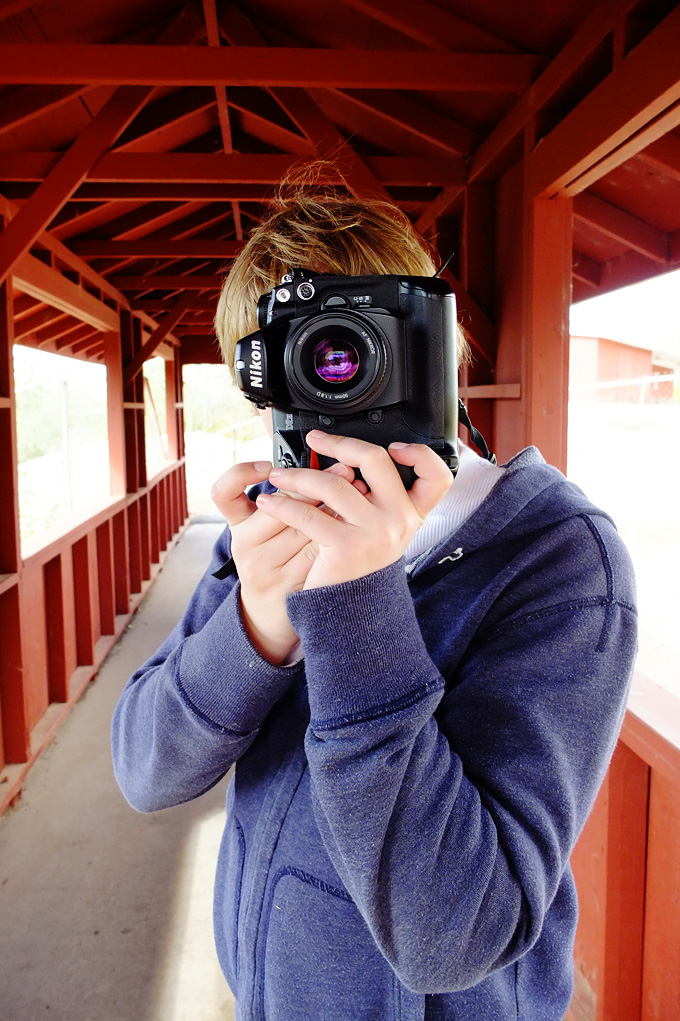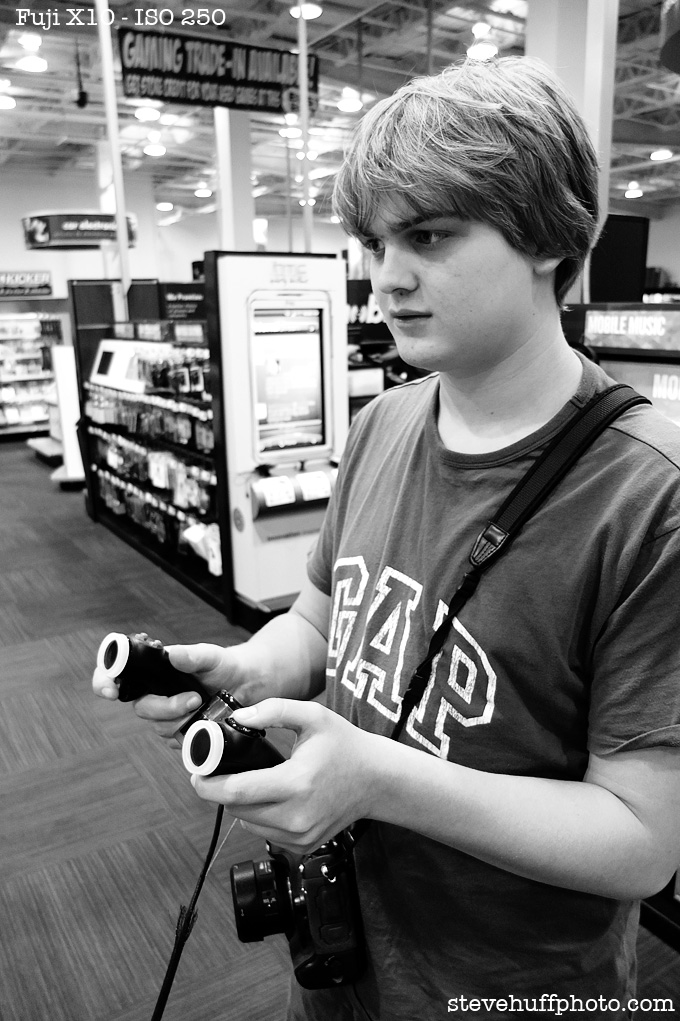 –
[ad#Adsense Blog Sq Embed Image]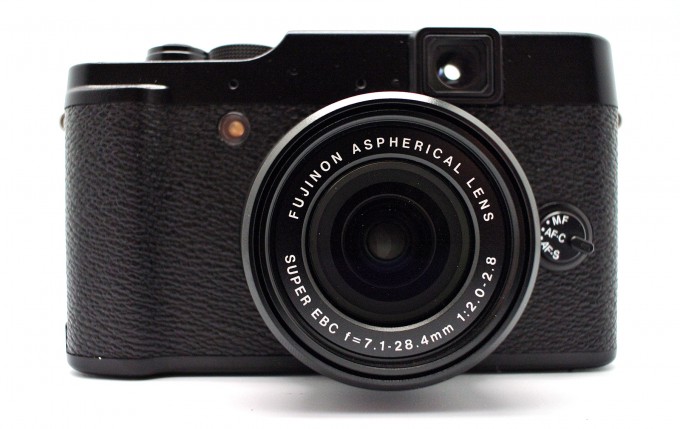 High ISO? Can the smaller sensor deliver the low light goods?
You would expect a smaller sensor camera to lag behind in high ISO when compared to a larger sensor camera right? Well, not with the X10. First of all, the larger and more expensive Fuji X100 is one of the best low light APS-C sensor cameras to date delivering super low noise and great color even at ISO 6400. Do NOT expect this with the X10, but you can expect superb performance when compared to other smaller sensor cameras and even something like the E-P3! The X10 is REALLY good for what it is. Below are a few samples at higher ISO as well as some crops from super high ISO images with comparisons to other cameras.
ISO 1600 as my sone was inside a fake tree stump. There was not much light inside but the camera made it appear that there was. ISO 1600 looks good here.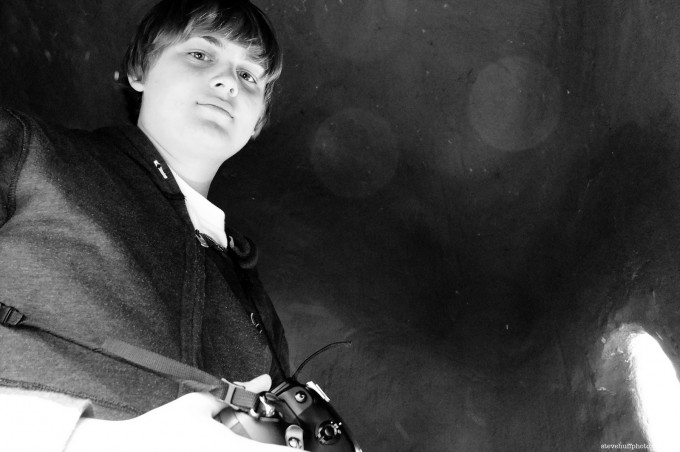 –
Another at ISO 1600 but in low light indoors – using the "Super Macro" mode again at 28mm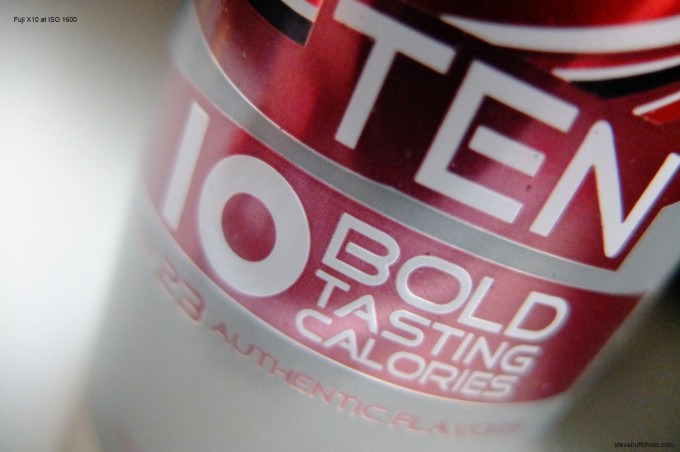 –
ISO 1600…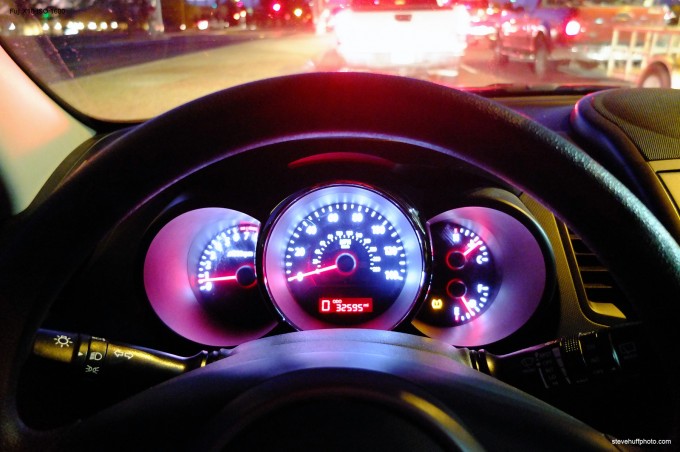 –
ISO 2000 – using the Macro Mode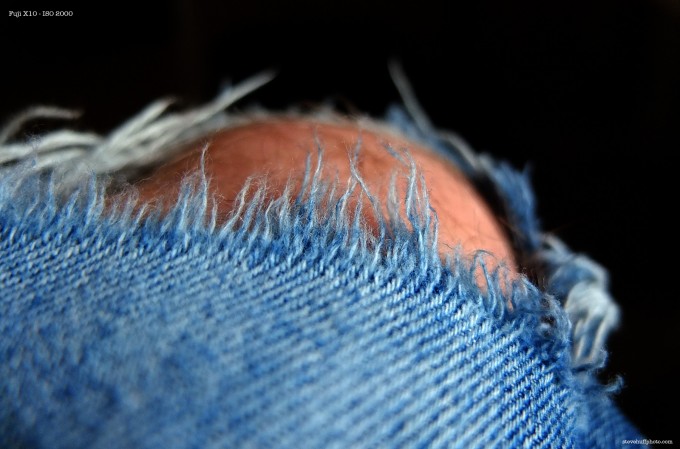 –
ISO Comparisons and 100% Crops
I decided to compare the X10 high ISO JPEG's to other cameras I had on hand ranging from the Ricoh GRD IV to the Olympus E-P3 and Nikon V1. What surprised me the most is how the X10 and V1 killed the bigger sensor E-P3! All files were JPEGS with default in camera Noise Reduction. The X10 and V1 did much better than I imagined with the GRD and E-P3 lagging behind, especially at ISO 3200. Take a look. The Nikon V1 is looking pretty nice in the ISO test. One thing to note is that if you shoot ISO 6400 and up on the X10 then the resolution goes down to medium size. You can NOT shoot full res at ISO 6400 and up.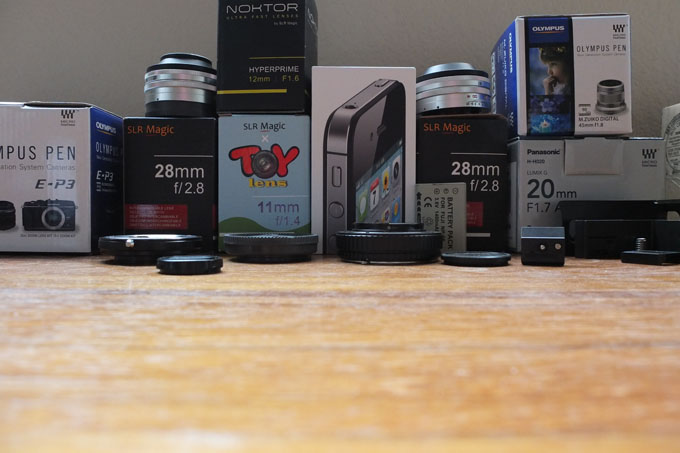 First the X10 ISO crops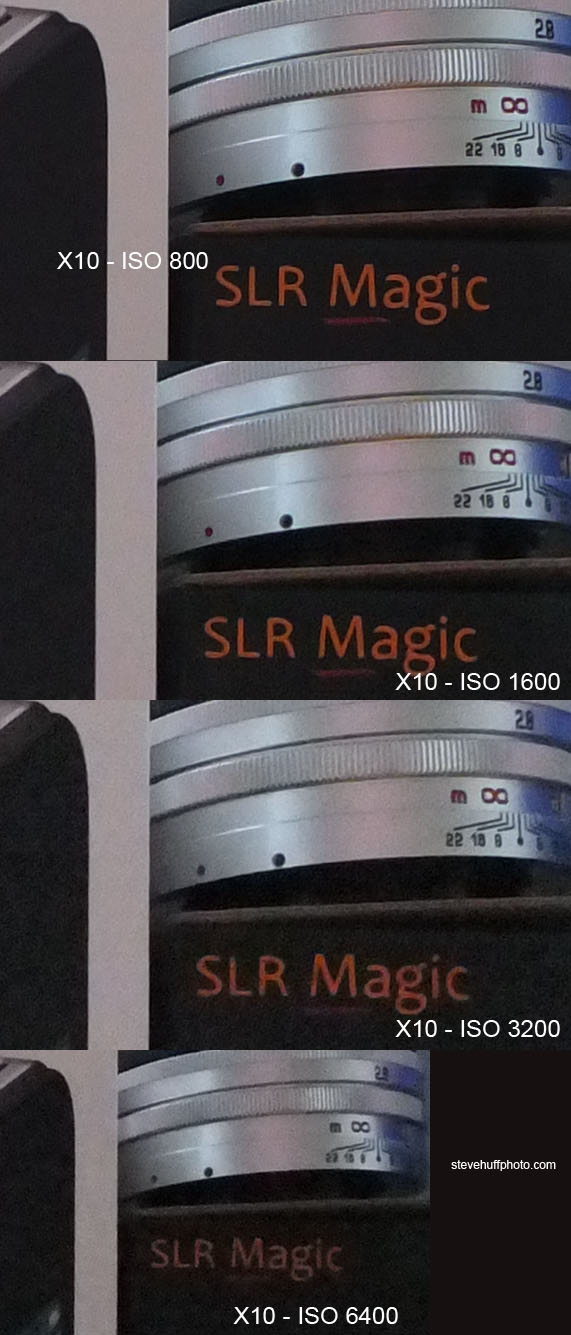 –
Now a comparison at ISO 1600

–
Now at ISO 3200…

–
What about the AF or the quirks that the X100 has/had? How is the X10?
While shooting with the X10 I soon discovered that the auto focus was a bit FASTER than that of the more expensive X100! This was a welcome change. I also found it a but quicker to start up BUT I also found the same quirk that after you shoot and put your SD card into your computer to get the files off, and then put that card back in the X10…the start up slows down until you format the card. For example lets say you shoot 20 shots on your 16GB SD card and you are using PHOTOSHOP/BRIDGE instead of Lightroom. If you open a file from your SD card into Photoshop and then eject the card and insert it back into the camera you will get a delayed start up, unless you format the card. The Fuji cameras are the only ones that I have ever seen do this. Many times I just use photoshop as I do not save EVERY review file I shoot, so for reviews I usually use bridge and photoshop opening the files I want to keep. This is a no no when using the Fuji X10 or X100.
Other than that scenario, the start up is very fast and I have no complaints. Other quirks pop up like if you are in Aperture Priority mode and trying to shoot wide open in daylight – your max shutter speed is 1/1000 when wide open and there is NOT an ND filter on the X10 so you will have to stop down your lens or move to MANUAL mode where you can choose any shutter speed up to 1.4000. Kind of quirky and I do not understand why it tops out at 1/1000 in A mode but 1/4000 in M mode.
So the bottom line on the AF is that it is speedy, not quite as fast as the Olympus E-P3 but faster than the X100 and about equal to any other camera out there today. No complaints.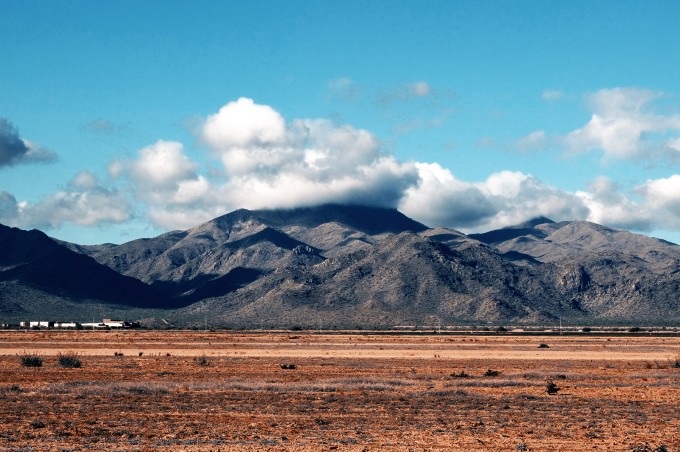 –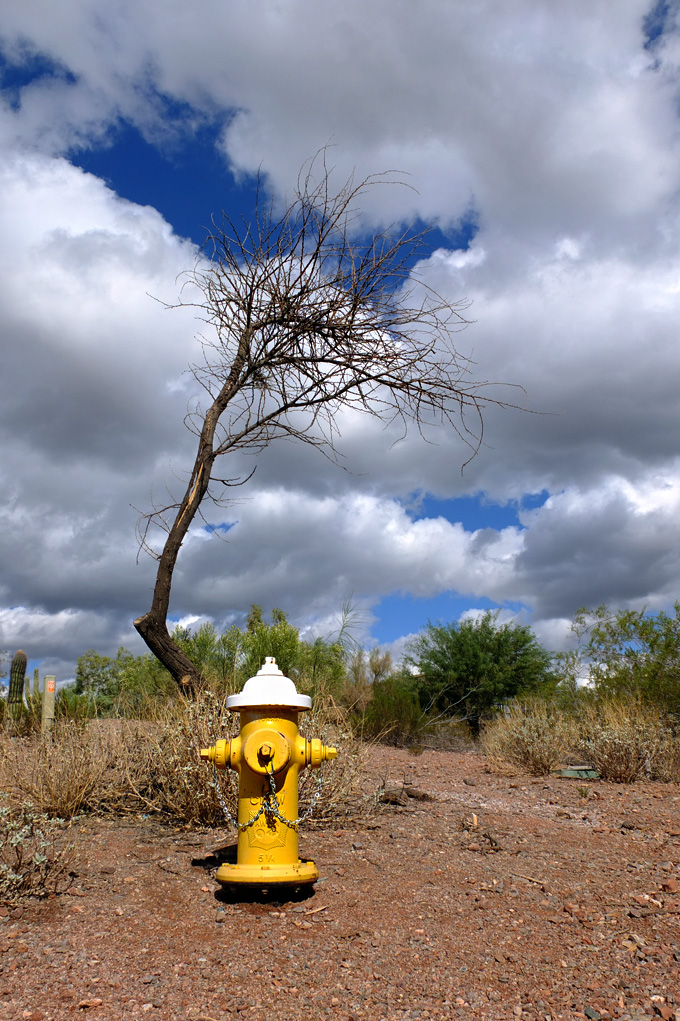 –
 The Viewfinder on the X10 – Any good?
The viewfinder on the back of the X10 is NOT the same as  the one in the X100! It is an optical finder that is nice and bright but it does not display ANY information. It is basically a window that zooms, and stays in the 4/3 format. It has 85% coverage so it will not cover the entire frame. Still, it is useful and I used it for many of the images here in this review. Just do not expect it to be accurate or an amazing experience.  I used the VF for the image below. The camera focused quickly and the photo came out great. I do use the center focus point only though. I like to know what the camera is focusing on so I always focus and recompose. I did this with the VF because I knew it was using the center point only.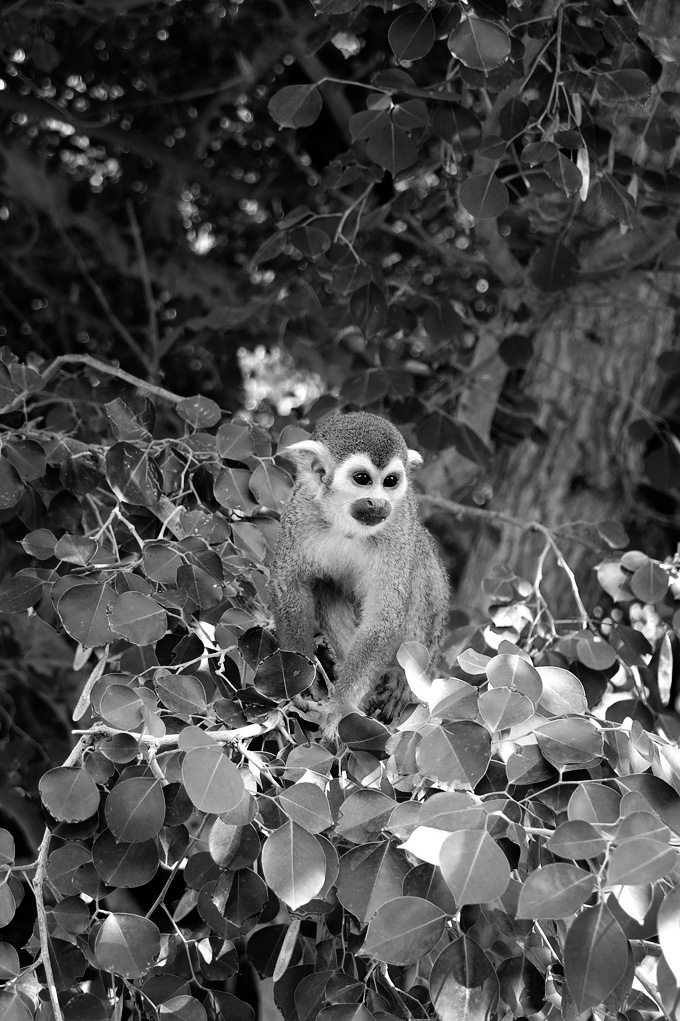 –
Compared to? What camera is the best for me?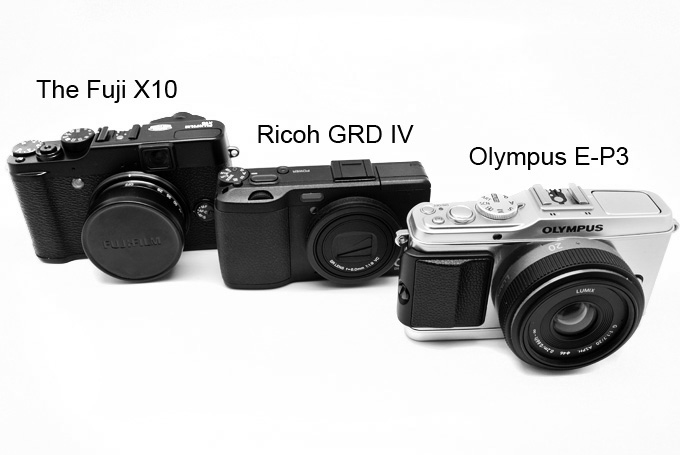 Well, I always get asked this but can not answer this question for everyone. I have been shooting so many cameras lately and honestly, they have all been wonderful in one way or another. The X10 is no different but it is geared towards those who want a more classic looking advanced point and shoot. The smaller sensor in the X10 is fantastic, possibly the best I have ever seen, but it is still a small sensor with small sensor limitations. The X10 is NOT a pro camera. In other words, I wouldn't be shooting weddings and portraits with it as there are other cameras that would be much better for these scenarios.
It is also bigger than most point and shoot cameras. It is not really a pocketable solution. If you want something that can slide in to your front pants pocket, look at something like a Ricoh GRD IV (though I prefer the IQ of the X10).
The X10 is also best in good light. It's a great vacation or travel camera. It looks amazing strapped around you, it feels good in your hand, the build is wonderful and the image quality rocks. The price of $599 is great. If you look at something like a Nikon V1 (which is a more slick and polished camera) with it's small sensor the X10 seems like a deal. I can say that of all of the small sensor cameras I have shot with, the X10 gave me the best overall IQ I have seen in regards to color, DR and detail with JPEGS. I am impressed and it keeps the feel of the X100, which many photographers adore. I'd go with an X100 before an X10 but if you are on a budget and just love the Fuji's and X10 would do nicely.
Quick JPEG Comparisons
Below is a quick comparison of full size out of camera JPEG images shot with the X10, E-P3, Nikon V1, Ricoh GRD IV and I there in a Sony NEX-7 file just because even though the NEX-7 has a large APS-C sensor. Why JPEG? Well, 1st of all there is no real support for the RAW files of the X10, V1 or the NEX-7 and most people looking at an X10 will end up shooting JPEG (I would). These are only posted so you can get an idea of the out of camera JPEGS of these cameras. They have not been touched at all, so what you see if what you get from exposure to color, etc. BTW, all were set to VIVID color modes, all taken at the same time (well, took 2 minutes to take them all).
 CLICK ON EACH IMAGE FOR THE FULL SIZE OUT OF CAMERA IMAGE. THESE WERE OPENED IN PHOTOSHOP AND SAVED AS A LEVEL 10 JPEG. The NEX file was saved as a level 8 due to file size issues. 
1st – X10 – f/4 at 28mm – out of camera JPEG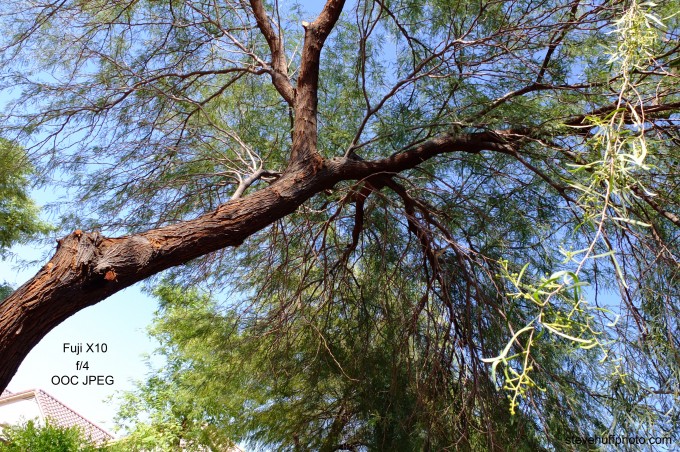 –
The Nikon V1 and 10mm prime at f/4 – Out of camera JPEG
–
Olympus E-P3 and Panasonic 20 1.7 at f/4 – Out of camera JPEG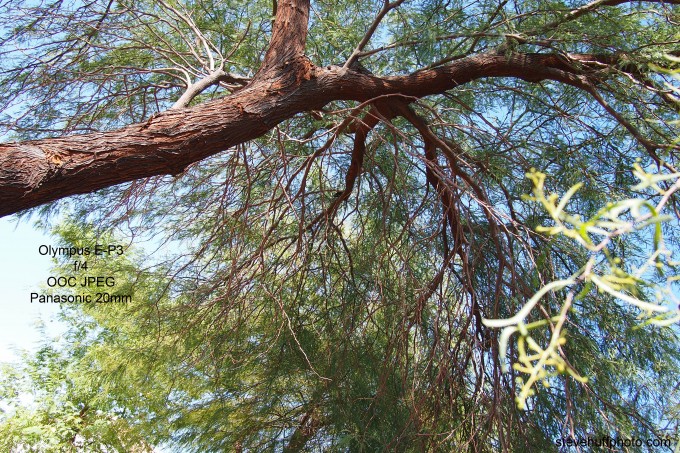 –
Ricoh GRD IV – Out of camera JPEG – f/4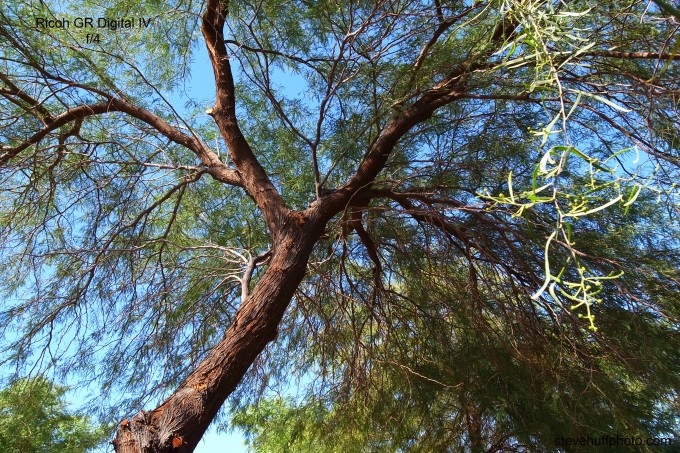 –
The Sony NEX-7 with Zeiss 24 at f/4 – Out of camera JPEG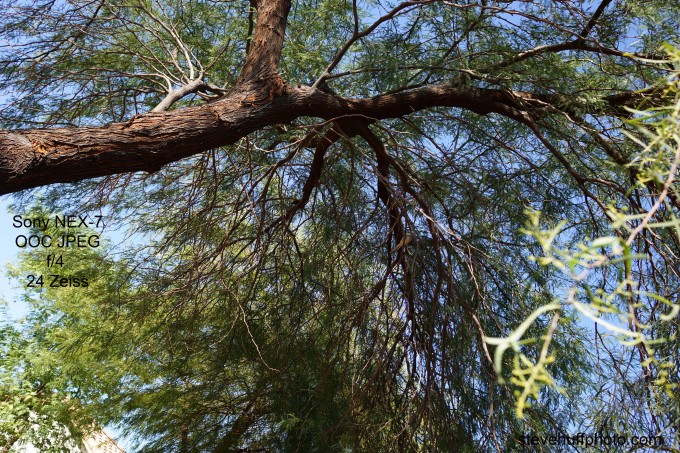 –
So if you look at the full size files above which do you prefer? There are three cameras with smaller sensors, one micro 4/3 sensor and one APS-C sensor. Not a scientific test by any means but hopefully will show you what you can get from each camera when shooting JPEG. One thing you can notice is that even at f/4 the E-P3 and NEX shot shows the shallow depth of field with the branch in the foreground being out of focus. On the other three it is in focus. This is due to the smaller sensor and the fact that wider lenses are really being used on these smaller sensor cameras. Wider lenses = more depth of field but wider lenses are necessary to give you the equivalent focal length due to the smaller sensor.
–
Other cool things about the Fuji X10
The X10 also has some other cool features. It shoots 1080 HD video, it has some cool gimmicky modes on the dial like "EXR" which lets you choose between "Resolution Priority", "High ISO & Low Noise" or "D-Range Priority" so for those who are not really sure what they are doing Fuji makes it foolproof. The EXR DR mode is supposed to give you enhanced Dynamic Range but slimming down your file to 6 megapixels. I did shoot two images, one using the EXR DR mode and one in normal mode and you can clearly see the Dynamic Range advantage. You lose resolution (6mp vs 12mp) but gain DR.
The 1st image is using the EXR mode and if you click on the pic below you will see the full out of camera 6MP file.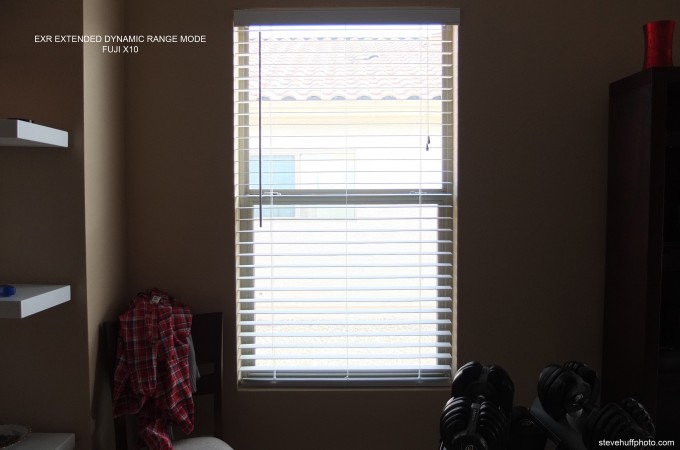 –
and this one is shot in normal 12MP mode…click it for a resized to 6MP image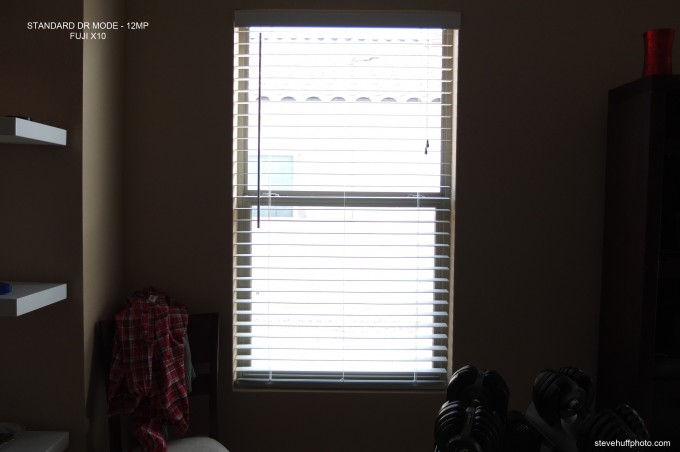 –
There is also a 360 Panorama mode that will shoot a complete 360 degree pano. It works much like the Sony cameras. Press the shutter button and start spinning around slowly. When you reach a complete 360 the camera will stop and stitch the files together automatically. Not sure I would ever use a 360 pano but maybe some of you would like this feature.
There is also a mode called "Pro Focus" which says it will give pin sharp focus with a soft background. Then we have "Pro Low-Light" which "enhances the clarity of still subjects in low light". These modes are kind of gimmicks but may be useful to some. There are also a huge variety of Scene modes for beginners. Fuji made sure that the X10 can be used by beginners and advanced users alike. There is also a built in flash, a digital zoom mode (though I wouldn't use it) and a level gauge to make sure you are shooting level if shooting a landscape.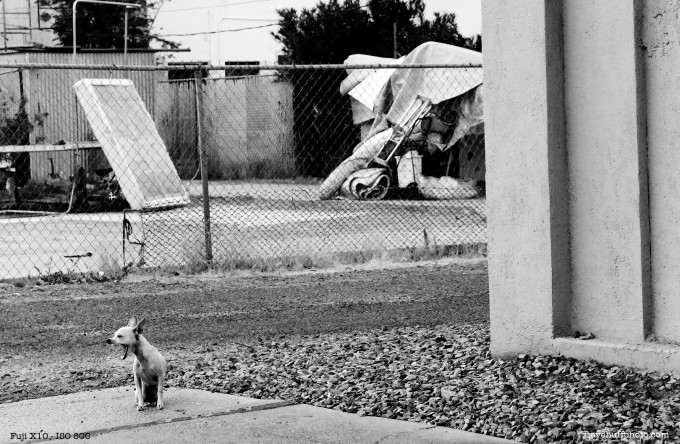 The Pros and Cons of the Fuji X10
Pros
Build is equal to the X100
Black color with no writing on the front is good
Fuji Color is here in full effect!
Fast autofocus, metering is really good as well
The film modes are here – Astia, Velvia, and Provia
I love the operation and how the camera is turned on and off via the lens barrel
Classic metal lens cap included
Great sharp files from the lens
High ISO very good for being a small sensor camera
Nice controls, much like the X100 – a photographers camera
Nice classic looks
Out of camera JPEGS are very good
AWB is very good, no complaints
HD Video is decent but not the best
Cons
Optical viewfinder is bright but only 85% coverage and not accurate
Slow startup at times unless you format your SD card (under certain circumstances)
No real shallow DOF control
Not really that small, only slightly smaller than the X100
Indoors at high ISO images can start to look a bit muddy
Max shutter speed of 1000 at f/2 in bright light when in Aperture Priority mode (In manual you can choose up to 1/4000)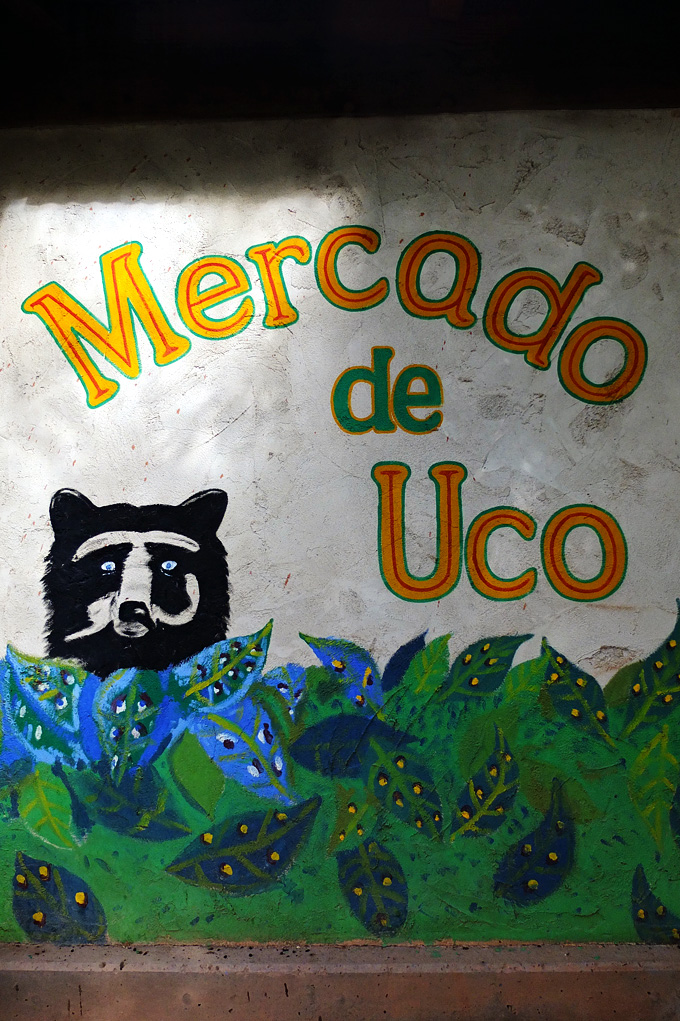 The Bottom line conclusion of the Fuji X10
This review was kept semi-short as there is not much more I can say about this camera. It is what it is. Much like its bigger brother, the Fuji X100, the X10 has the same style, the same build, the same gorgeous color output and the same feel. It is a classic looking retro camera that has point and shoot guts but due to it's control and body style it is more of an advanced point and shoot. It is just as good shooting full auto as it is manual. The auto focus is fast, the files are beautiful for being a small sensor camera and the high ISO is pretty damn good as well for this class of camera beating out my E-P3 in the JPEG test.
The only negative of the X10 may be its viewfinder, which is just a plain old optical finder. It has no info in the VF so you will not be able to see your settings, your exposure, or even get accurate framing. The VF covers 85% of the frame and it is stuck at the 4/3 format. Shoot in any other format and you really can't use the viewfinder. With that said, I did use it for about half of the shots in this review. I had the X10 set on the center focus point only so I knew where the AF would fire. I am a focus and recompose kind of guy instead of trusting a camera to choose where I want it to focus. So you can use the VF, and I did, so  I am glad Fuji included one. I suspect if they put in the awesome hybrid EVF/OVF of the X100 then it would have been an extra $200.
The X10 is a wonderful little camera with style, function and super image quality. The colors coming out of this little guy are pure Fuji so if you are into that look, you will not be disappointed in the X10. I had no problems with the camera during my time with it and at $599 I think it is priced just right. If you buy an X10 you will get a camera that delivers nice images, especially when you are in good light. Indoors is a different story but I have yet to find a small sensor camera that gives good indoor performance without using flash.
If you want to look cool and have a camera that delivers amazing and surprisingly rich quality in an affordable package then take a good long look at the X10. It's well worth the money. 
–
Where to buy?
You can order the X10 from B&H Photo or Amazon. Two shops I buy from all of the time.
Buy the X10 at Amazon
–
More images from the X10…
All of the images in this review were shot as JPEG! Here are a few more: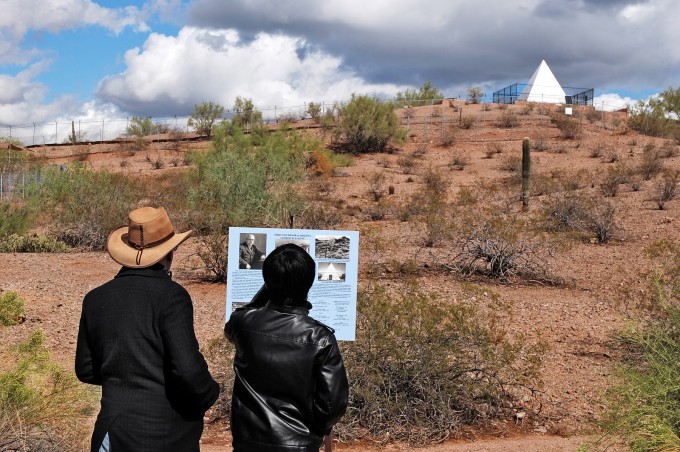 –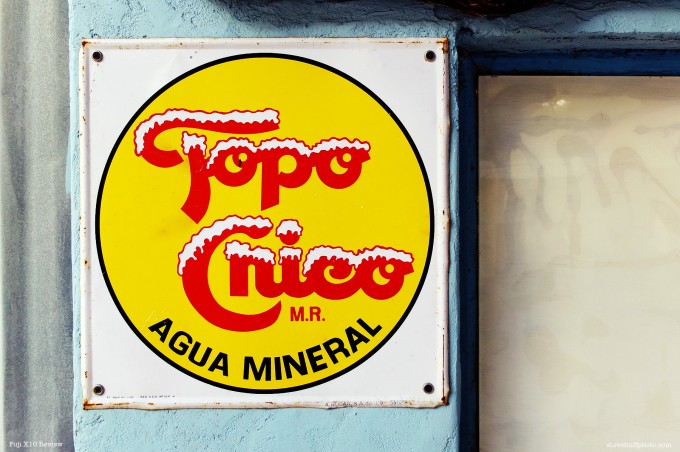 –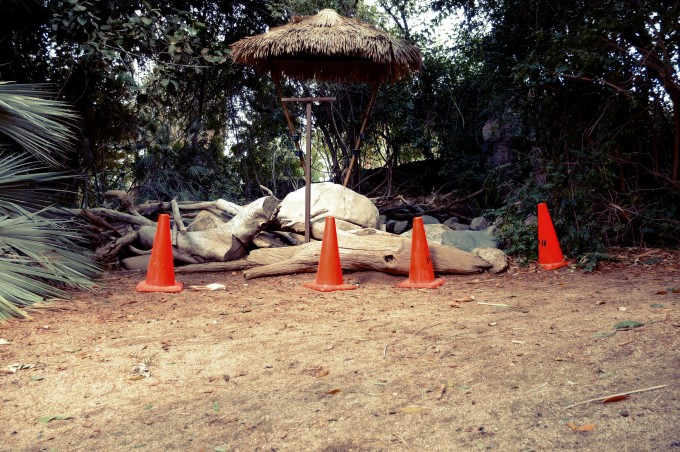 –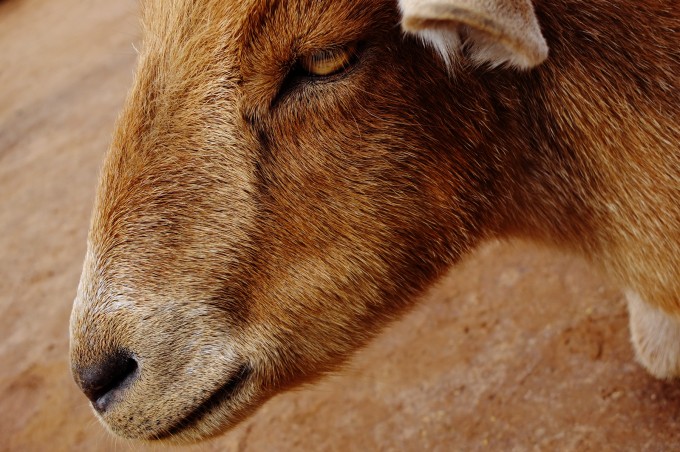 –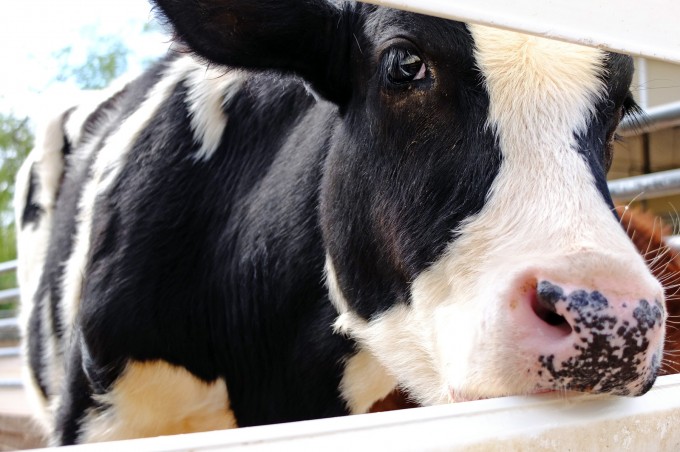 –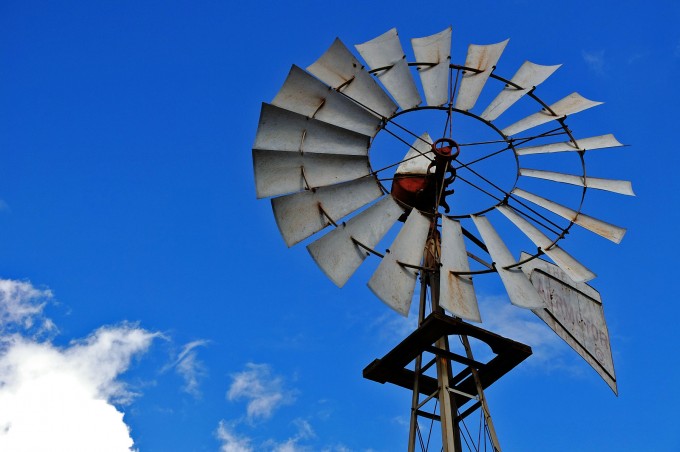 ALL I ASK! HELP ME TO KEEP THIS SITE GOING AND GROWING!! IT'S EASY TO HELP OUT & I CAN USE ALL THE HELP I CAN GET!
Remember, anytime you follow my links here and buy from B&H or AMAZON,
 this helps to keep my site going. If it was not for these links, there would be no way to fund this site, so I thank you in advance if you visit these links. I thank you more if you make a purchase! I have nifty search bars at the upper right of each page so you easily search for something at either store! I currently spend 10-14 hours a day working on this site and the only way that I can pay for it is with your help, so thank you! Currently my traffic has been increasing but my funds to pay for the site has been decreasing, so any help would be GREATLY appreciated!
Even if  you buy baby food, napkins or toothpicks at amazon it helps this site, and you do not pay anything extra by using the links here. Again, you pay nothing extra by using my links, it is just a way to help support this site, so again, I thank you in advance 

If you enjoyed this article/review, feel free to leave a comment at the bottom of this page and also be sure to join me on twitter or my new facebook fan page and Google +  page! Also, you can subscribe to my feed at my subscribe page HERE and read these posts in your browser or news reader!