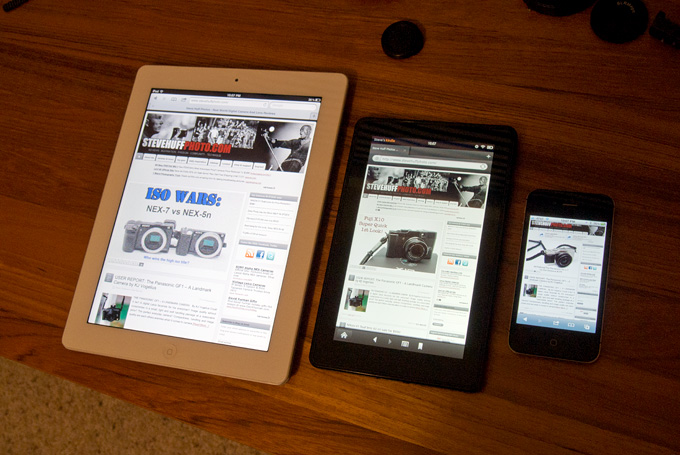 The Kindle Fire – iPad replacement? No, but still a great buy for $199
By Steve Huff
I have been an iPad fan since day one just as I have been an iPhone fan and overall Apple guy for many many years. Ever since switching from Windows back in the 90's I have never looked back, and never have had problems with my Macintosh computers or apple devices. No blue screen of death, no viruses, no issues. This is a good thing when you work daily for hours and hours on your computer, trust me. With that said, I will start out this little quick review by saying I am a huge fan of Apple, so I may have a little bias here, even if I try not to. Also, the Kindle Fire is not meant to be an iPad 2 replacement even though many of the reviews I have read on Amazon are saying it "destroys" the iPad 2 (which is untrue, except where price is concerned). The fact is, the iPad 2 can do much more and do it faster, smoother, and more effectively. BUT in regards to media delivery, the fire may have Apple beat for those of you who are Amazon Prime members.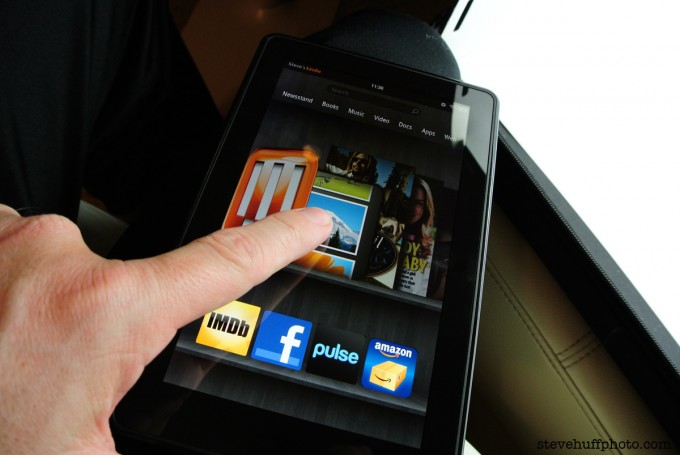 The Fire Ignited
When the Kindle Fire was announced from Amazon I pre-ordered on the 1st day. The way I read it was that for $199 you get a tablet device that will do much of what an iPad does, in a similar fashion, for $300 less. Sure it is much smaller with a 7″ screen, and being an Android device I just assumed it would be buggy and problematic. Still, $199 seemed like a deal and seeing that I recently signed up for Amazon Prime I figured this may be the perfect device for movies, books, magazines, and even the occasional game. The iPad 2 has been amazing. Fast, responsive, and never a glitch or freeze up. The iPad 2 also has a fast internet browser and is overall a real speed demon in the tablet world. The apps are a plenty and you can actually get work done an on iPad using various business and work related apps. You can hook it up to your HDTV and give presentations using Keynote. You can call your Mom who is 2000 miles away and SEE her while you talk to her. I can even smoothly update this blog using my iPad. So I was a little leary of  the Fire but with the hype Amazon laid out for it, I was confident it would be a keeper even knowing it could not do everything that the iPad 2 can do.
When the Fire arrived and I opened the brown box I was pleased to see the minimalist approach to packaging. A brown cardboard box that you zip open to immediately see the Kindle Fire inside with just a note and a charger. Simple.
I powered on the device using the only button I could see. This button is on the bottom next to the headphone jack. The front face of the Fire is clean. No camera, no home button as with the iPad 2. After a moment or so I found that this Kindle was already registered to me and had my account info pre-loaded! That was pretty cool because I did not have to sit there and enter in all of this information that I may have not even remembered. After connecting to my wifi network the Fire then downloaded a software update and I was ready to roll. I checkout out the various areas of the Fire such as "Newstand" for magazine subscriptions, Books, Music, Video, Docs, Apps and Web. I will go over some of these and give my thoughts as to how it compares with the $499 16GB iPad 2 in these areas.
Overall Usability of the Fire vs the iPad 2
Swiping and scrolling with the Fire is much more laggy than it is with the iPad 2. There is a choppiness you see and feel, especially with the web browser that is just not there with the iPad 2. Sometimes the fire did not register my "touch" and I had to hit it a few times to get moving. Other times it would lag and take a few moments to open one of the apps or email. The screen is much smaller than the iPad 2 as well so when reading web sites you do not get the same enjoyment as you do when reading it on the larger Apple device. But then again, this is a $199 tablet, not $499 so we can not expect miracles. Overall, the Fire is easy to use and I LOVE the way you navigate. The home button on the bottom left will always take you back to your home screen where you can then choose what area to go to next. The settings icon is at the top where you can change your overall settings of the tablet like brightness, volume, etc.
Uh oh! The fire feels better to me in my hand then the iPad 2! Due to the rubber backing grip and the smaller size I like the way the Kindle Fire feels but my iPad 2 screen looks better and is more vivid. Both the Fire and the iPad 2 are simple to use and understand.  A no brainer really but where the Fire shines is with media content, not so much content creation or using it for business or work. If you are a member of Amazon prime, which is well worth the $79 yearly fee, you can stream thousands of movies and TV shows direct to the device. No muss, no fuss. Just click on a movie and away it goes as long as you have a wifi connection. There is no 3G on the Fire so a wifi connection is a MUST for it to work. I think Amazon should have aded 3G capability as it would have made it just that much better for those of us who do not always have a wifi connection available.
The app store on the Fire feels and looks almost identical to the Apple App store, just not as plentiful. Lots of games and fun apps, not so many productive apps but we have to remember that the Kindle is all about MEDIA delivery.
[ad#Adsense Blog Sq Embed Image]
NEWSTAND and BOOKS – Books, Magazine, and Newspaper subscriptions – Viewing and page turns are smoother on the iPad 2 but the Fire feels more like a book in the hand due to its size.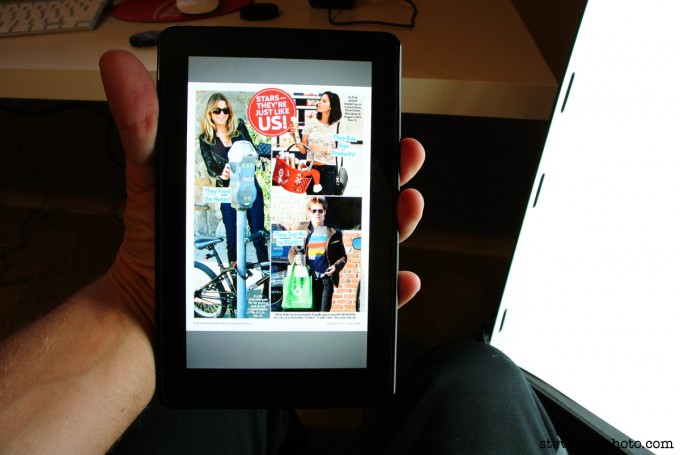 With the Amazon Newstand you can download and read your fave magazines. Just like you can on the iPad, the fire lets you buy a single issue or subscribe for a year. If you have an Amazon account you just click to buy and it starts to download the current issue, no need to enter your password or anything. It will just start downloading and your e-mail will come in with the receipt and charge. Browsing a magazine on the fire is pretty straightforward and just as simple as it is on the iPad but it is a but choppy and laggy when you turn the page.  The smaller screen makes it a little harder to read but overall, I had no issues reading a magazine on the Fire. Works as advertised. Same goes with books. A little choppy when turning pages but easy to read while laying in bed, and easier to hold as the Fire is about the size of a real book unlike the iPad 2. I would guess the original Kindle would be easier to read in the sunshine as the Fire screen can glare easily (just like the iPad)
MUSIC
You can also play your music on the Kindle Fire but I have yet to do so as all of my music is in iTunes and on my iPad and iPhone, so I will most likely not use the Fire for my music. My iPhone is perfect for this when I am out walking, or on the go so I really do not see the need for ME to use  the Fire for music though many will. Amazon lets you preview and buy music from their music store and your songs are stored on the Amazon "Cloud" instead of the device, which is nice as the music will not hog your little bit of storage. The speakers are a but wimpy on the fire as well and I would recommend headphones when listening to music or watching a movie. In a quiet room they are OK, but get into a loud place and the speakers are almost impossible to hear.
VIDEO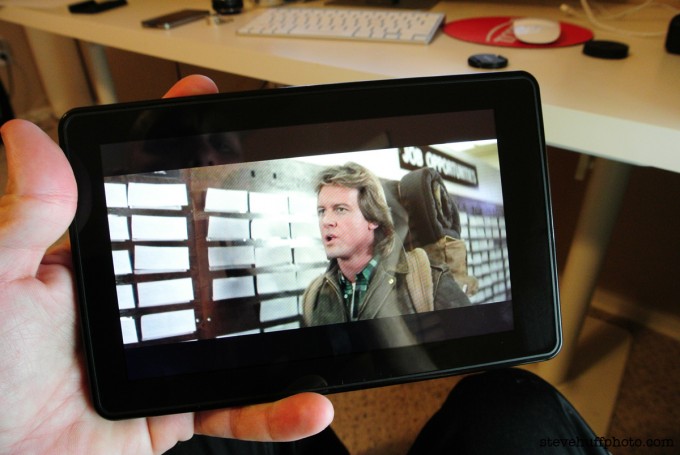 Now this is what I am really liking with the Fire. Not only can you choose from loads of TV shows and movies to watch for FREE if you are a PRIME member, you can also download the NETFLIX and HULU apps as well, and if you have accounts with them you are now tapped into tens of thousands of movies and shows that will stream instantly to your device. For streaming video media I feel the Kindle Fire is tough to beat just due to the freebies you get as a prime member. With the iPad you can download NETFLIX and HULU as well but if you want to watch anything through Apple it will cost you per movie or show, and that can add up. Amazon also charges for the more premium movies and many shows but you do get "thousands" to choose from for free (or so Amazon says). Browsing and watching videos is as simple as a couple of touches to the screen. Video loads fast and it is clear.
APPS
The Kindle Fire has apps you can buy just like you do on the iPad but it is still in the early stages so I expect this to grow over time. I did download Angry Birds and played it side by side with the iPad 2 version. Both ran smooth and exactly the same.
WEB BROWSING
The web browsing experience is the downfall of the Kindle Fire for me. When browsing the web you use Amazons own SILK web browser, the one that they touted as being blazing fast. Well, when I browse most sites it lags, and is VERY choppy. It also takes forever to load pages. In a side by side the iPad browsed and loaded pages at least 10X faster in some instances. Add to that the small size of the screen and it does not make for a very enjoyable web browsing experience. At one point I was browsing a photo website and the kindle just froze. It would not turn off, would not reset, or do anything. After 15 minutes I managed to get it to reset but it then happened again while using the web browser. This seems like a very buggy browser and the iPad is MUCH more enjoyable to use for surfing the web.
PHOTOS
Viewing photos on the Kindle Fire is almost like viewing them on an iPad. You can load up your photos by hooking up the Fire to your computer and just dragging them into the photos folder. Once on the kindle you open the "Gallery" App and you can browse your photos, scroll through them, zoom in and out, etc. Works well. Not as full featured as the iPad where you can work on and edit photos using photoshop and other photo editing apps but a good basic photo viewer.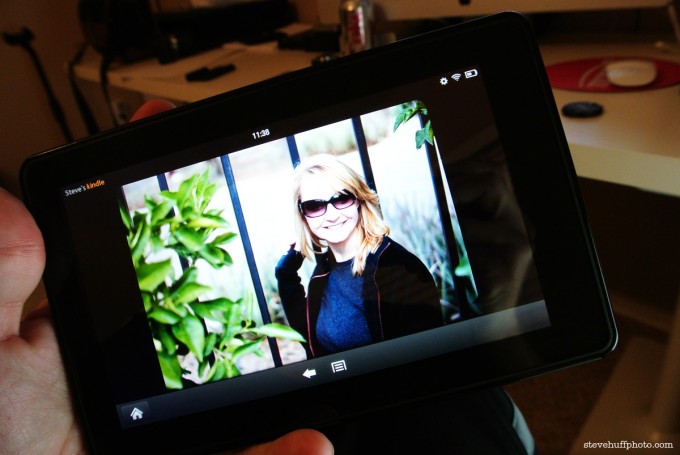 Overall Thoughts…
The Kindle Fire is a decent tablet device. It is NOT an iPad killer and it does not "destroy" the iPad in any way. It may be a bit more convenient due to its smaller size, and it does do the video streaming thing VERY well. I love the Fire mainly for the media streaming as I am an Amazon Prime member, and this seems to be the target audience for the Kindle. Want to read books, magazines and watch a movie or TV show? The Fire can do these things very well and in most ways I prefer doing these thing on the fire over the iPad 2. But when it comes to web surfing, e-mail and actual work, the iPad 2 easily beats the Fire. E-Mail on the fire is OK but not as intuitive as it is on the iPad though I hear there are a couple of great e-mail apps that will cost you in the App store.
The scrolling, web surfing, and other screens are a bit choppy and this is very noticeable to me as an iPad 2 user. Zooming in on a magazine page can be really choppy at times but it's not so bad that it makes it unusable. It only bothers me because I am so used to the silky smooth iPad 2.
As for the smaller size, I enjoy the Fire for the smallness. I can sit in bed and read a magazine or book and it is comfortable to hold and about the size of a real book (though it does get pretty warm in the hand). I watched a few shows on it already and I admit the iPad is a bit more enjoyable in this area due to the larger and more brilliant screen but I really had no complaints while watching video, other than the speakers being wimpy and tinny.
Battery life seems good so far, maybe 6-7 hours is what I got out of a charge and that was with me watching shows, browsing the web (or trying to) and checking my email, playing angry birds, and reading a magazine.
At $200 the fire is worth the cost, no question about it. Just do not expect it to be as smooth, fast, or productive as the iPad 2. Think of it as a device for your media and you will be happy. You will not have iMessage (text), FaceTime (video calls), Keynote, Video Mirroring or all of the snazzy extras that you get with the iPad 2 but you will have a nifty little device that does a lot for the money.
Amazon already has a hit with the Fire when almost every other tablet manufacturer has pretty much flopped out with their creations. In the tablet world, the  iPad 2 is king but the fire is a good buy it at $300 less if  you do not what or need everything that the iPad offers. For photographers though, the iPad 2 can do so much more for you but be prepared to pay the price!
You can buy the Kindle Fire from Amazon Here!