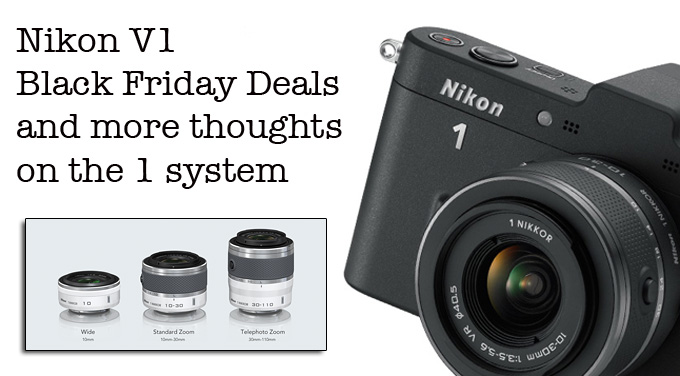 The Nikon V1 Black Friday Deals and more thoughts on this system…
By Steve Huff
Nikon seems to be picking up some steam with the The V1 which is now sold out at most online shops due to the special price reduction, which from what I understand is for a "Black Friday" special through November 26th. The dual lens kits sold out at Amazon (through Amazon) and B&H Photo but what many may not realize is that you can still get those special prices on the dual kit by ordering the V1 with the 10-30 and then adding one or both of the other lenses to your cart. This is possible at B&H anyway. The reduction will happen automatically when you add them to your cart at B&H which means you could get the V1 with all three lenses…the 10mm, 10-30 and 30-110 for $1140. Or even two lenses and the V1 for under a grand. I am not sure if Nikon is continuing this price reduction after the 26th but no one seems to know. It's the holiday season so…
Contrary to what some are saying about the Nikon 1 system, particularly the V1, it is a very versatile system with great IQ and super speedy operation. The V1 is a camera I have been liking more and more for so many reasons and I still see some bashing it, but others have come around once they shot with the V1 themselves. This has been an interesting camera release for sure causing happiness, anger, stress and craziness, all at the same time. A couple people I know that shot with it still hated it, but they never had an open mind about it in the first place so I figured as much. Others seem to think that this was designed as a pro camera. It was not! The V1 is really aimed at the advanced hobbyist, or advanced family man, not the enthusiast. Even so, this enthusiast (and others that I see online) seem to be really enjoying the camera. At under a grand for the V1 with the 10-30 and 30-110 the price is right for what you get as I have been getting wonderful results that beat the Olympus E-P3 in most situations, a camera I have been enjoying for months, and the E-P3 is $829 right now with one lens and no EVF though there is a cool "street shooters set" coming soon at a great price for what you get.
Another guy that seems to be liking it, and a guy whose opinion I respect is Kirk Tuck. I have been enjoying his site for the last year and he also picked up a V1 and has been shooting with it over the past couple of weeks or so. You can check out his site here if you want to see his V1 posts.
[ad#Adsense Blog Sq Embed Image]
Today I wanted to take a look at the V1 in a different way than I did in my review. I want to focus on one of the the negatives of this camera and see just how negative this is in real use. HIGH ISO/LOW LIGHT. Many have been complaining about low light performance, well… those who do not own the camera have anyway. But I have been finding that if you adjust your RAW files a bit even your low light high ISO shots can be great. The good thing with this system is that the V1 and all of the lenses available for it are incredibly sharp. Even at higher ISO you get a sharp detailed image, not a smeared image. This of course is if you turn off the Noise Reduction and shoot RAW. Check out this shot I took at 9:30PM at ISO 800 with the 10-30…
The image below was shot at ISO 800, at night with the V1 and 10-30 just to see how the noise would appear and to also see if the details were smeared. You can click on the image for the full size file. This was shot as RAW and converted with ACR. 10-30 at f/3.5.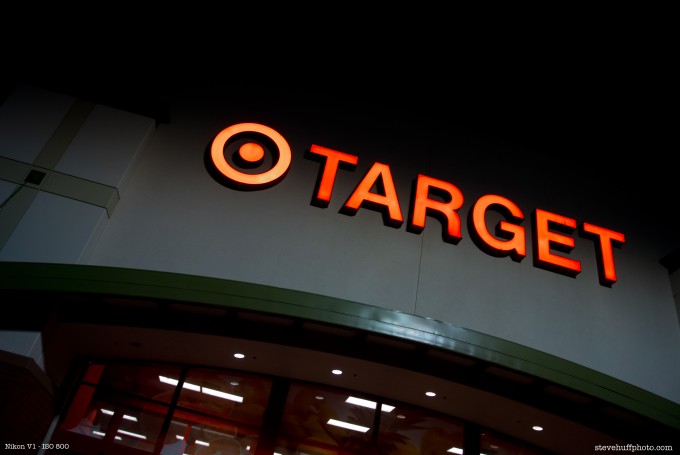 To me, that file above at ISO 800 at NIGHT is pretty damn nice. Detail is there, noise is minimal and I used ZERO noise reduction. So low light high ISO beats other cameras I have tried in similar situations, and the sensor is smaller with the V1. This tells me technology has come a long way since the early days of digital. No longer is a huge sensor needed to get decent low light performance.
Sometimes though what you see in your higher ISO images noise wise depends on the exposure, the available light and how you process the images. The V1 CAN be noisy when shooting indoors. What I do is use that to my advantage because the V1 noise that is there has a nice grain to it. I do not want to say "film like" because no digital file is film like. But the noise that is there is not really bad or ugly like some cameras can give you. I also love the way black and white conversions look at higher ISO's with this camera.
The next four images are ISO 400 (3rd image) – 560 (all the others), indoors with the 10-30. Getting in close will give you a teeny but of shallowness in the Depth of Field dept. Click the images for larger and better versions. I have no problem with the noise in these images and these were indoor. I used the light from his iPad to light his face.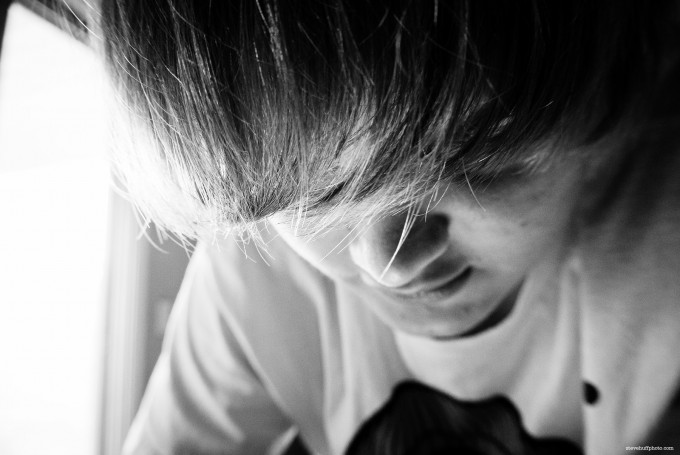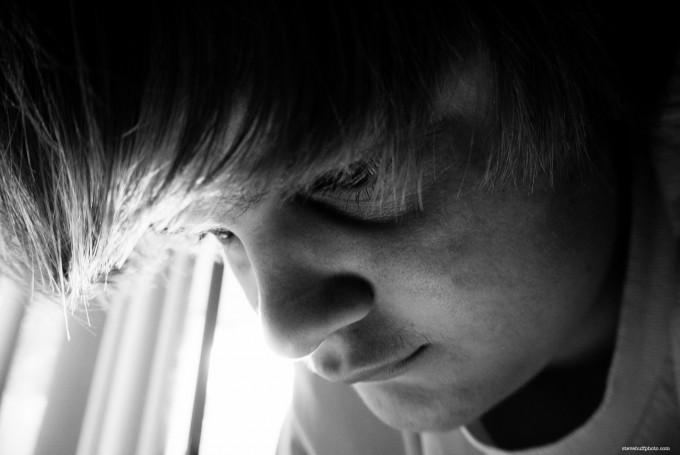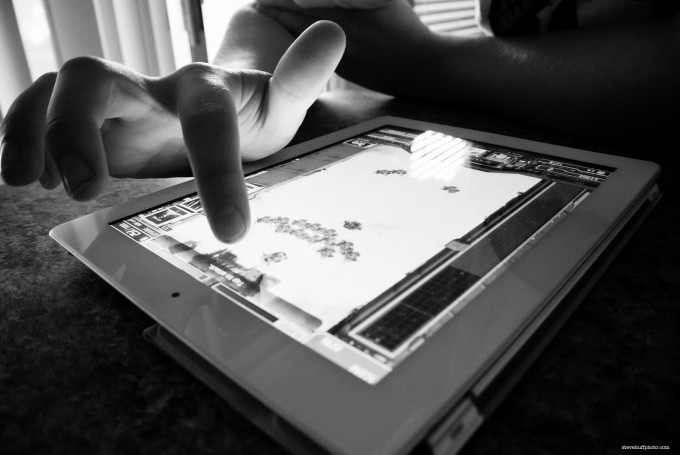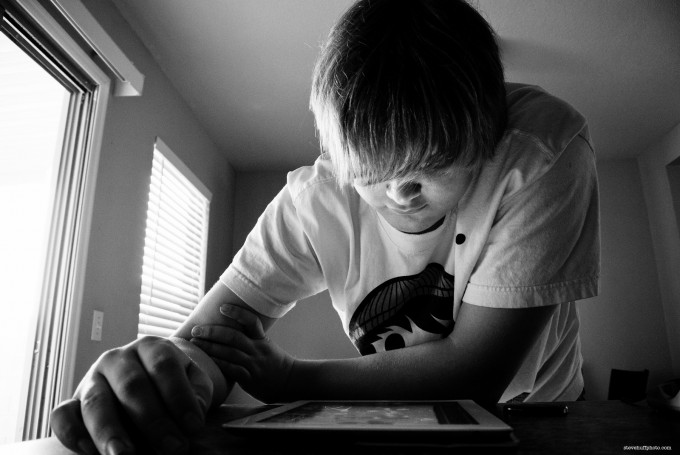 My son (in the above photos)  is a huge Nikon fan. He hates Leica because he says it is WAY too expensive for what it is, lol. He says I am silly for liking Leica and that I should buy a D3s. Yes, he LOVES Nikon. So much so that he was asking me for a V1 for Xmas this year so he can have a smaller camera system than his current D2h and lenses. He has shot with the V1 and he has gone back and forth on it. One day he liked it and the next he wasn't so sure sure due to the random out of focus shots he was getting. I spoke of this in my review HERE  but Nikon just released a firmware update to fix this issue, which stemmed from the VR. Well, the updates are for EACH lens, the 10-30, the 30-100 and the 10-100. I tested this with the 10-30 and the random OOF shots that stemmed from the VR are no longer happening. In fact, I can now shoot at really low shutter speeds as the VR is very good with all of the zooms. So my guess is it will be back on his Xmas list.
HIGHER ISO – 3200 and 6400
Here are a couple of shots I added to my review a few days ago. Taken at night in my kitchen at ISO 3200 and 6400, no direct light, just the overhead kitchen light that was to the left. Noise reduction OFF.
ISO 3200 – click image for full size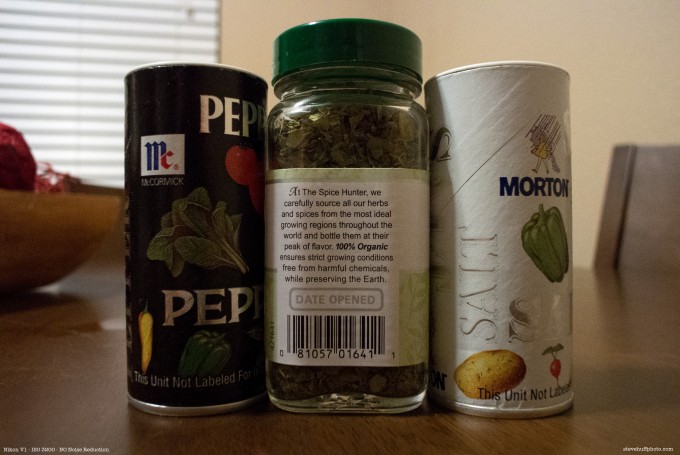 –
ISO 6400 – Click image for full size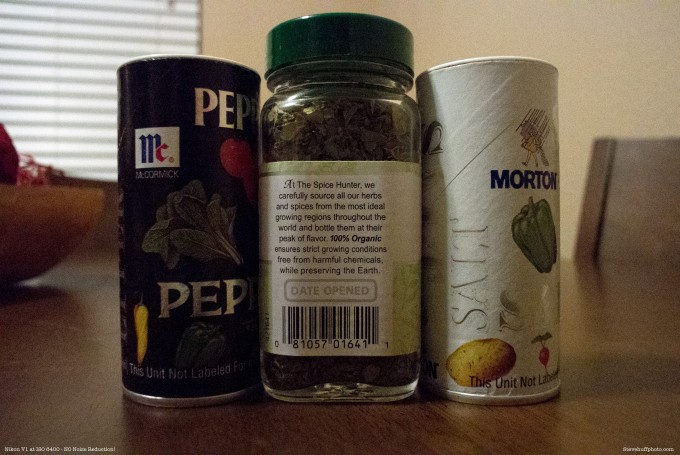 Future Lenses for the 1 System
Nikon has shown off some prototype lenses for the 1 system and two of these are rumored to be an 18 1.4 which would be a 50mm equivalent, and a 32 1.2, which would be an 85mm equivalent. There is also rumor that one is a 14mm 2.8 giving a 35mm equivalent. The 50 and 85 sound nice and should easily give the shallow depth of field many have been asking for. Hopefully Nikon releases these lenses soon as these cameras are in DESPERATE need of a fast prime! Even though they said this system was not designed for the serious enthusiast or pros, I see many of them shooting with the V1 due to the speed, accurate AF, EVF, and color. I think once the new fast primes arrive there will be more serious interest in the camera.
My five easy tips for V1 owners
1. Turn off the Active D-Lighting for better contrast. I always shoot with this off.
2. Turn off VR if you are shooting in good light or using a tripod
3. Turn off Noise Reduction in camera. In my opinion, the images look better with the noise than with smeared details.
4. Shoot in RAW for best quality
5. Don't be afraid to customize your color settings!
–
So that is about all I will be writing on the V1 until new lenses come out for it or I do some street shooting with it. I have said all I can say about the V1 itself but I am still enjoying the camera and shooting almost daily with it. It's solid, it's well made, it feels like quality (I did not feel this way with the J1), it is small(ish), it is sharp and it is fast. I'll be looking forward to the new lenses in 2012 for sure. Coming soon to the site – The Sony 50 1.8 lens review on the NEX-7, the Panasonic GX1 review and more including the Ricoh GRD IV and possibly a review of the Nikon 30-110 lens. As always, thanks for reading and stopping by!
–