For the newbies…RAW vs JPEG – Fixing your photo in under one minute!
So Christmas morning you woke up to find a shiny new digital camera under the tree. Ahhhh! Just what you wanted! You already took it out to shoot and maybe realized that your images look flat, washed out, or even really dull. This has happened as I received no less than 6 questions about this yesterday! All from people just getting started with photography and they were not too thrilled with their cameras output after viewing their results. If this sounds like you, then keep reading as there is a quick and easy way to improve the look of your pics!
I was at the Zoo yesterday and saw approximately 16 teenagers walking around with cameras they obviously received for X-mas. 90% were DSLR's which were obviously sold to their parents by some Best Buy employee who told them THE hottest camera to get was a Canon Rebel. The Rebel is a good camera, don't get me wrong, but if I were working at the best buy I would be pointing people to other choices. Regardless of that, as I already mentioned above,  I received a few e-mails in the past 24 hours asking me why photos come out looking flat, so this is in response to those e-mails.
Basically, for the newbies who are shooting their cameras in JPEG mode, turn it to RAW or RAW + JPEG. This way you can adjust your image settings after you take the photo. Now I know that 99.6% of the readers here already know this but believe it or not, there are quite a few who come here via google who have no idea what RAW even is. So THIS is for them!
I will keep it simple. I made a video that explains how you can take your flat dull lifeless photo and enhance it in about one minute just by adjusting your RAW file. Now most people who just bought a shiny new camera may not have Photoshop or Lightroom, but the tips in the following video will work with almost any RAW software. Usually, there is RAW software included with your camera. 🙂
I have included the two photos from the video below, under the video. Enjoy!
–
The files use in the video above:
BEFORE – OUT OF CAMERA JPEG – PANASONIC GX1 – 25 1.4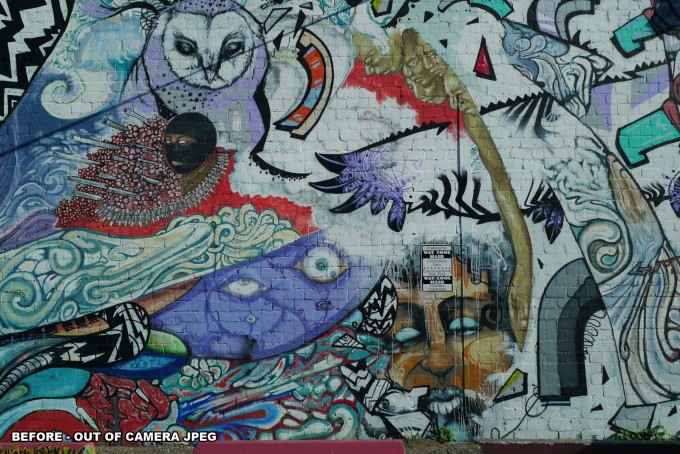 –
AFTER – Shot RAW and after a one minute adjustment