The new Pentax K-01 Mirrorless Camera – Bringing Sexy Back…NOT
SO this morning was the official announcement of the camera we already knew was coming thanks to the "rumor sites" where manufacturers leak their products. But now it is official, and Pentax has entered the mirrorless camera market with one funky looking camera. Coming in with a super quality APS-C sensor the Pentax K-01 promises superb image quality and the cool part is that you will be able to use your K mount lenses on this little beast.
B&H Photo is already taking pre-orders for the Black, Tonka Toy Yellow and White.
The sensor is the same sensor being used in the lovely K-5, Nikon D7000 and Sony NEX-5n. Basically, the best APS-C sensor made to date. 16 Megapixels and superb low light performance. This is awesome.
The mount is the new KAF2 mount and will launch with a line of new "SX" lenses. BUT you will be able to mount your fave K mount lenses WITHOUT an adapter. This is nice as we will not have to go around buying adapters for the camera to use those rocking lenses like the Pentax 77 limited or even better 31 limited. The camera also sports a pop up flash.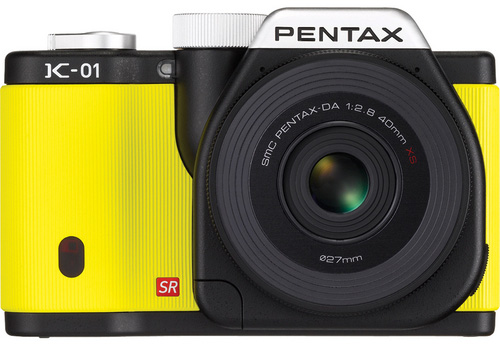 Some people on the web are going gaggagoogoo over the design. Me, I find it a little on the ugly side. It's fat and tonka toy like, especially the yellow one. Some are calling it vintage but I do not recall seeing a camera looking like this back in the day. The fatness of it from the top reminds me of the old Leica Digilux 1, but also more like something Fisher Price would design. Different strokes for different folks I guess. My only issue with the camera, besides its design, is the fact that there is no EVF. Pentax could have put one in quite easily but I guess they will do that in the K-02. The K-01, what we have right now, is selling for $749 for a body only and $899 with a 40mm f/2.8 kit lens. 
Ugly jokes aside, this appears to be a camera that will deliver beautiful files, especially for those who have some of those great Pentax lenses. Think of K-5 performance but without the viewfinder or weather sealing…then again…FOR $1199 you can buy a K-5, which is and will be the better camera, but it is a DSLR.
The sensor is fantastic, the lenses are fantastic, the video recording capabilities appear to be fantastic and the price is right so I am sure this will be a hit for Pentax. I also bet it will look better in person, and knowing Pentax this little bugger may hook me once I get a hold of one to try it. On one hand, the more I look at it the more I am interested in giving it a whirl. Still, wish it had an EVF! On the other hand, is Pentax giving this little guy an oddball design to make us think it's super cool? If it had a more normal design would there be less buzz about it? Probably. Only time will tell if it will be a hit or suffer the same fate as the Q.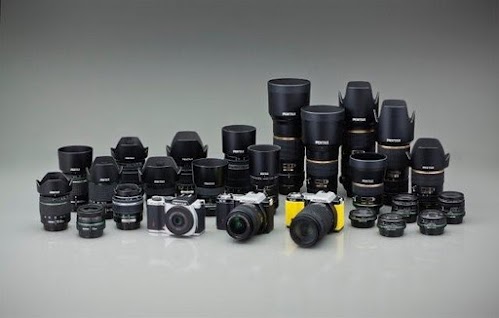 As soon as I get a hold of one I will do a complete review, hopefully with some limited lenses as well. Stay tuned!
The details….
Large 16 megapixel APS-C sized CMOS image sensor with low noise image capture and multiple aspect ratios.
Bright, high resolution 3 inch LCD with 920,000 dots.
Full HD 1080p video capture at 30 FPS with h.264 compression (60 FPS at 720p) features outstanding video capture flexibility.
Flexible ISO range of 100-25600 ensures gorgeous noise-free imaging in any lighting condition.
Mirrorless body design is compatible with 25+ million PENTAX K-mount lenses spanning decades.
Sensor-shift PENTAX Shake and Dust Reduction system is compatible with every mounted PENTAX lens.
Fast 6 FPS burst mode is ideal for fast-action photography.
Shutter speeds from 1/4000 to 30 seconds and bulb with a silent shutter action.
Shooting modes include P, Av, Tv, and M, as well as powerful automatic modes, creative filters, and finishing options.
Focus peaking mode provides fast and accurate manual focusing for critical focus applications.
Captures JPG still images as well as open standard DNG RAW.
In-camera HDR mode combines bracketed user-specified exposures into a single, perfectly blended still image.
Built-in popup flash and external hotshoe compatible with modern PENTAX digital flash units.
Durable machined aluminum frame.
Contemporary styling by world renowned designer Marc Newson.