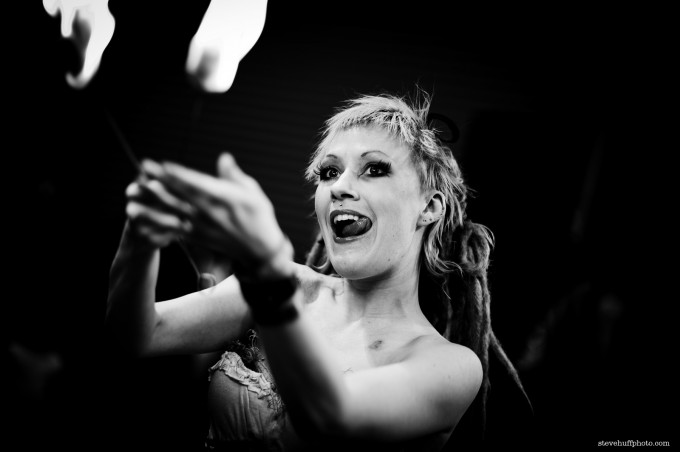 Shooting with the Leica 75 Summilux f/1.4 Lens on the Leica M9P
by Steve Huff
Hello to all! It's time for another Leica write up here at the site and I am pretty excited about it. Just recently I have been shooting my M9P more and more again as it is still the camera that gives me the image quality I love and crave. This is still my favorite digital camera EVER, even after almost three years and using "old" tech. I happen to be one of those who believe that shots from a Leica M9 and great fast lens provides a look that you just don't exactly see with other cameras. Take an M9 and pop on a lens like a 50 Summilux, 50 Noctilux or even the upcoming and pretty damn amazing SLR Magic offering and you will always get results that scream "UNIQUE".
Out of all the Leica lenses I have shot with, reviewed and wrote about the one lens I have always been curious about but have NEVER really used is the Leica 75 Summilux 1.4 lens. There was a guest article posted on this site a while ago about it by Kurt Kamka but me, I never really used it or even held it. Just recently a friend of mine offered to send me his so I could use it, test it, and shoot it. When it arrived it was much smaller than I thought but that may be due to the fact that I have been used to the SLR Magic 50 LM T0.95, which is a BEAST. The 75 IS indeed a large lens, but compared to a Noctilux, it is not so bad at all. It looks pretty nice on the chrome Leica M9P as well. See below…wow…there it is! I've been waiting YEARS to try this one out!
This post will be more about my experience shooting with the lens and the results I achieved with it. As most of you know, I don't mess with techie talk and I do not measure lenses as I personally feel that is ridiculous (no offense to those who like that sort of thing, just not my cup of tea). Sure you can look at measurements and get to know what to expect from a lens but until you get out there and shoot it, you really DO NOT know what to expect. Using a lens for what it is made for is really the only true way to test it in my opinion, but I am a photographer and not a scientist 🙂 Charts do not measure character and when dealing with Leica lenses I often find gobs of character.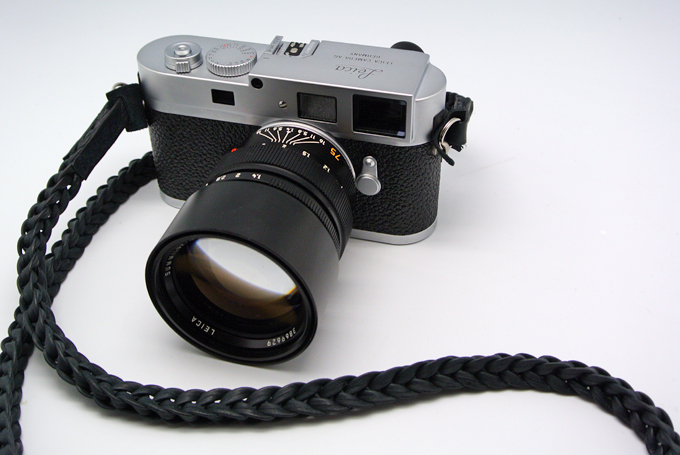 [ad#Adsense Blog Sq Embed Image]
Don't get excited just yet… this lens is NOW DISCONTINUED?!?!
Before you get excited about this beauty..and in case you did not already know this…sadly, the 75 Summilux is a lens that has been discontinued and is no longer in production. Not that it matters though because if it were available new, there would be a year-long wait to get one anyway, lol. This lens started life in 1980 and then its life was ended in 2007 by the powers that be at Leica HQ. The good news is that you CAN find these used if you are patient and lucky 🙂
Today this lens is in demand by those seeking a superb and beautiful portrait lens. Look at what this guy below did on a dare when he was offered a 75 Summilux….well, not really 🙂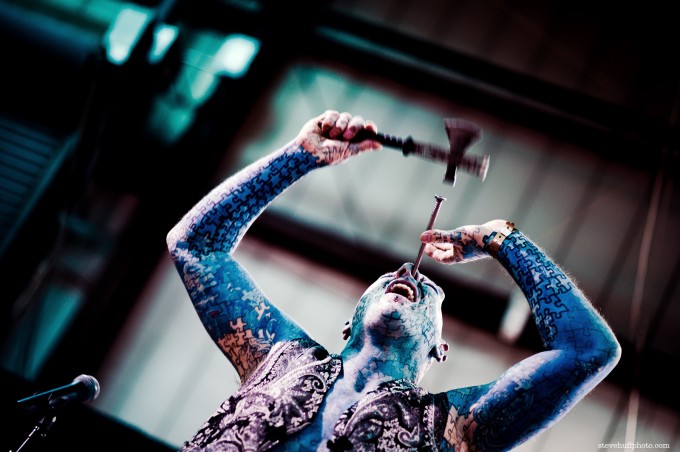 Back before the M8, this lens was NOT a popular lens. It had its believers and fans but for the most part the 90 Summicron outsold the 75 Summilux by a mile. I remember a few years back looking at the used section at B&H Photo and I counted 9 used 75 Summilux lenses available with prices ranging from $1100-$1500! WOW, I wish I had my crystal ball back then because I would have bought them all and saved them up until all of the M9 madness, and then I would have sold them all for $3k each! These days it is tough to find a 75 Summilux because most people who own it do not want to let it go. This lens has a reputation for being magical and similar to the F/1 Noctilux in its rendering but I feel it is sharper than the old Nocti by far, even wide open. But magic? It does indeed have some of that Leica magic and it is not as sterile as the newer and current production 75 Summicron. With that said, it may not be AS magical as the Legendary Noctilux f/1 but it is also about $5k cheaper on the used market, is lighter and focuses closer. Hmmmm.
The following image was shot wide open at f/1.4 – click it for a larger view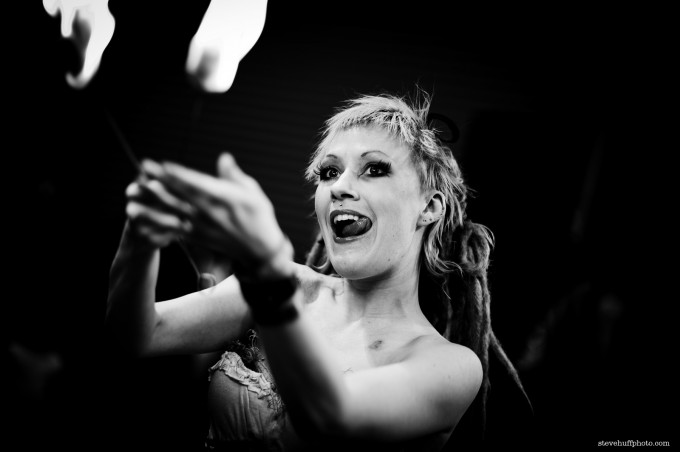 Using the lens – Build, feel and FLARE!
The 75 Summilux is a typical Leica lens when it comes to build quality. It is rock solid, beautiful, and feels amazingly smooth when you focus, change the aperture or even slide out the built-in hood. Yes, the version I have been shooting with has a silky smooth slide out hood which probably should be used as it does seem to flare a bit as you can see in the sample below…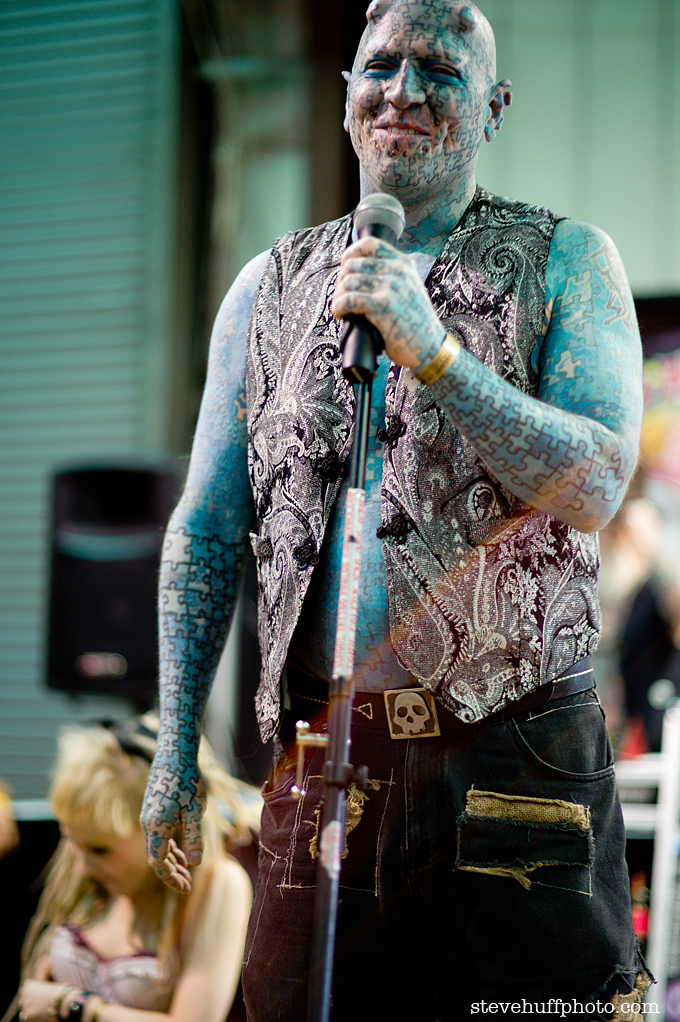 The 75 Summilux is a Mandler designed lens and it shows..I won't rehash what Kurt Kamka said in his review of the 75 Lux but I will quote him about the lens design when he spoke of three things that make this a magical and desirable lens…
"First, lineage. Dr. Walter Mandler, Leica's legendary lens designer responsible for the design of the Noctilux, based his design of the 75mm summilux on his design of the Noctilux. If that bit of DNA doesn't impress you, then maybe this will. In an early 1980's interview with Tom Abrahamsson, Dr. Mandler felt that the 75 summilux was the favorite of his designs based on its balance between performance and size.
Second, old school, pre-aspherical perfection. It's amazing how good Leica's latest lens designs are in providing sharp, wide-open performance. In the digital era, sharpness is the mantra, as digital shooters like to blow up their images at 100% and evaluate their results. This emphasis on sharpness, however, is sometimes achieved at the expense of harsher backgrounds and more abrupt transitions in and out of focus.
The 75mm summilux is certainly not as sharp wide-open as Leica's newest line-up of aspherical low-light superstars, but the lens should be prized for providing a brilliant combination of softness, sharpness, light gathering and color rendition. If you like to shoot with fast lenses, the 75mm summilux is a fine-art dream. Wide-open, it provides just the right amount of softness and shallow depth of field for portraits and painterly landscapes. Stop the lens down a few notches, and it'll perform at a level that is close to the newer aspherical designs."
Kurt knows what he is talking about and I agree with everything he had to say about the lens except I do find it incredibly sharp even wide open, if you want it to be. Which leads me to this…
Is this a sharp lens, soft lens or a dreamy lens? 
The Leica 75 Summilux is a special lens, no doubt. From the moment it arrived and I snapped my typical "quick test shots" around the house I knew it was going to be a lens I would end up lusting after. I have heard many say that this is a dreamy lens but when I started shooting it and seeing just how sharp it is, even wide open, I put that rumor to rest. It is NOT a soft or dreamy lens in any way. If you own a 75 Lux and get a soft image at 1.4, then something is in need of calibration. The best way I would describe the qualities of this lens is that it is more classic than modern for sure but at the same time, your focus point will be razor sharp while the background melts away into a blur of tasty bokeh. My buddy who owns this lens showed me some AMAZING portraits he took and there was unbelievable sharpness in the eyelashes. I was blown away by what I saw but hey, it IS a Leica lens. I shot most of my samples in a poorly fluorescent lit building but even so, the images are penny sharp for me, and I prefer this kind of rendering over the sometimes overly clinical ASPH designs.
Wide open at f/1.4 – focused on the mans face – click image for larger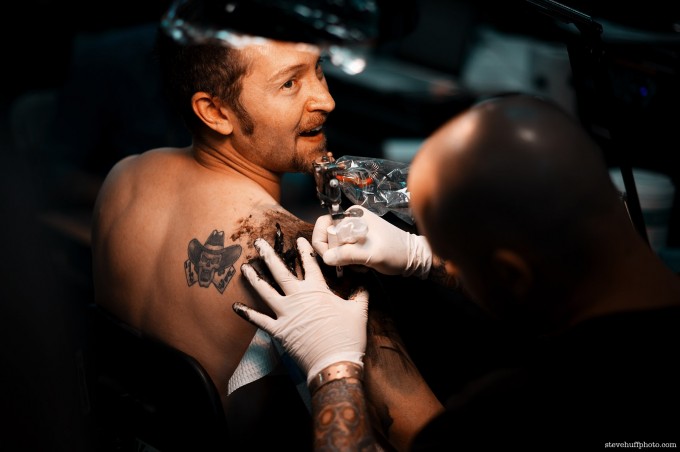 –
Below: The 1st test shot I snapped – click image for larger and yes this was wide open – The bokeh is not as smooth as the SLR Magic 50 T0.95 but it is pretty nice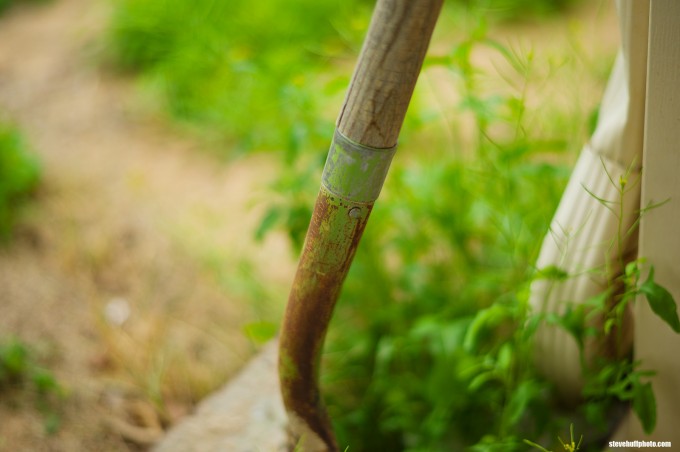 Not Quite a 50 or 90 – is this a useful focal length?
I used to own a 75 Summarit which I loved but I ended up selling it when I realized I never really used the 75mm focal length. For me it was always 35, 50 and 90. The 75 seemed to be in an odd area and was never used for me. If I wanted a portrait I pulled out the 90 and for my every day shooting it was the 35 and 50. I was always wondering where a 75 would fit in and after a while I realized it didn't! BUT this lens is a bit different. The way it renders is beautiful and not at all like the summarit or summicron. After a week or so with this lens i have already come to the conclusion that if I wanted a 75 again, TIHS would be the lens. My 2nd favorite would have to be the little 75 Summarit as it offers crazy good bang for the buck.
I think the way the 75 Summilux renders a scene is gorgeous. Sharp at the focal point and creamy smooth as the background melts away.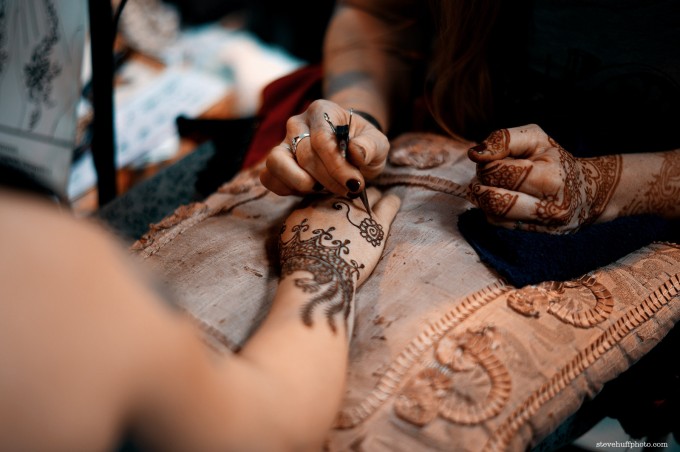 Two versions – Canadian-made and German-made – is there a difference?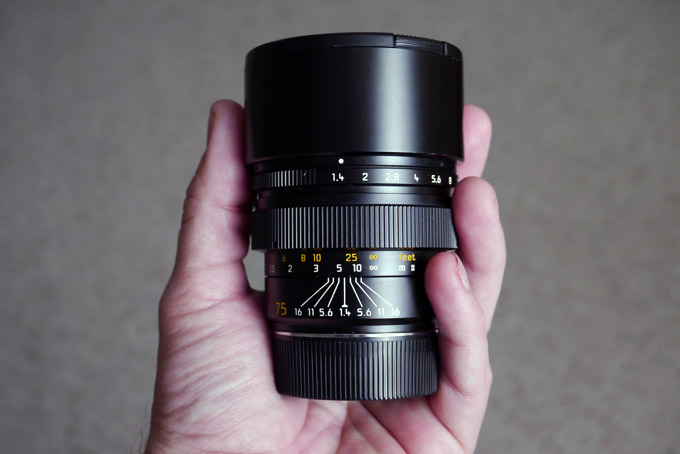 If you own this lens take a look at the lens barrel and you will either see a "MADE IN GERMANY" or a "MADE IN CANADA" stamped on the side. Leica transferred production of this lens later on to Canada but make no mistake, from everything I have seen and heard, the Canadian made version is every bit as good as the German version. In fact, the friend who loaned me the lens has one of each and the portraits he showed me that were so amazingly beautiful were done with the Canadian version. The one I have been using is the German-made lens. Both are the same in regards to quality but it appears the German-made lens is still the most desirable and usually sells on the used market for about $3800, with case and box. It seems the Canadian versions fetch a lower price (only a little) but both are the same lens.
Wide open indoors at 1.4 – click it for larger!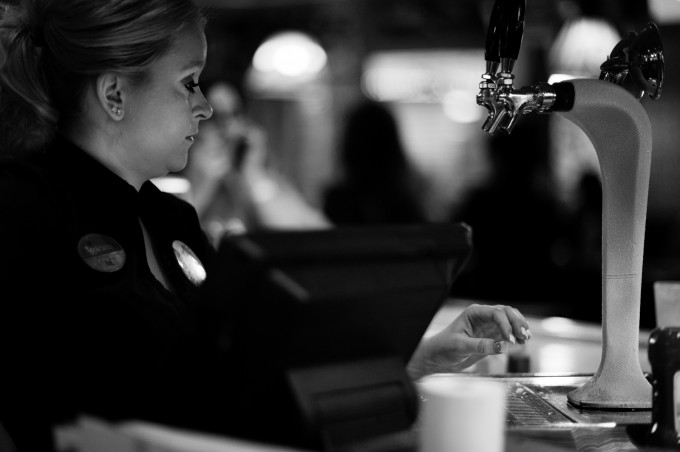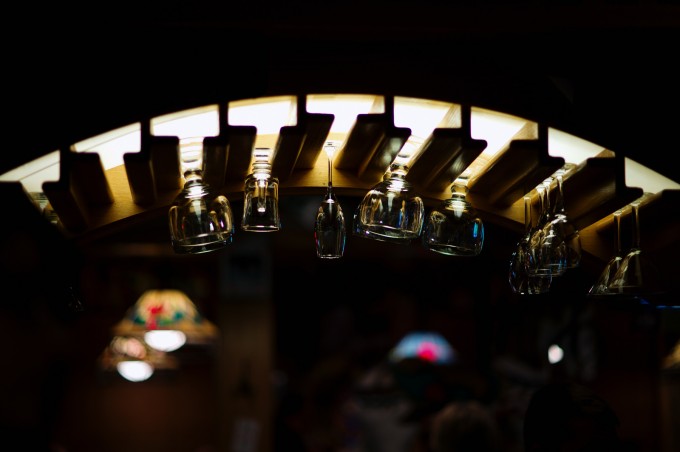 So what is my final word on this lens? 
Bottom line? This is one of the most beautiful lenses I have ever shot with. Even though I only have had it a short time the results I have been getting are beautiful and just what I always expected from this lens. On the Leica M9 it is magical and  I had ZERO focus issues with it. I was using the Leica 1.4 Magnifier though and HIGHLY recommend it for your fast 50's, 75 or 90's. It is not cheap, but I finally broke down and ordered one after all of these years. You can buy it at B&H Photo HERE. I also have found it useful when shooting the SLR Magic 50 T0.95. AT $299 it is insanely pricey but for aging eyes like mine it is well worth the investment, and besides…it has the LEICA name in it so the resale will be golden if you decide to part with it one day.
Do I recommend this lens? YES I do. If you come across a mint version, with box and case expect to pay anywhere between $3400-$3900 for it. If you find one without a box, case and it is made in Canada you may be able to score one for $3000. That is not chump change but in the Leica world, and for what this lens is all about, it is actually a good buy. But be careful! At f/1.4 the depth of field is TINY (see the last image below which was close up and at 1.4 creating a big NO for portraits) so when you shoot a portrait I recommend at least f/2.8. The  good news is that this lens is sharp wide open or stopped down some.
If you are in the market for a 75mm lens for your Leica M, I would say FIND A LUX. I have shot them all now and this is my fave 75 hands down. No contest. Not even close. If you want to save some money and have a mix of modern and classic then go for the small SUMMARIT. It is also fantastic but nothing like the creamy and magical 75 Lux. As time  goes on this one will be harder to find so if you see one, nab it! It belongs up there with the legendary status of the Noctilux f/1!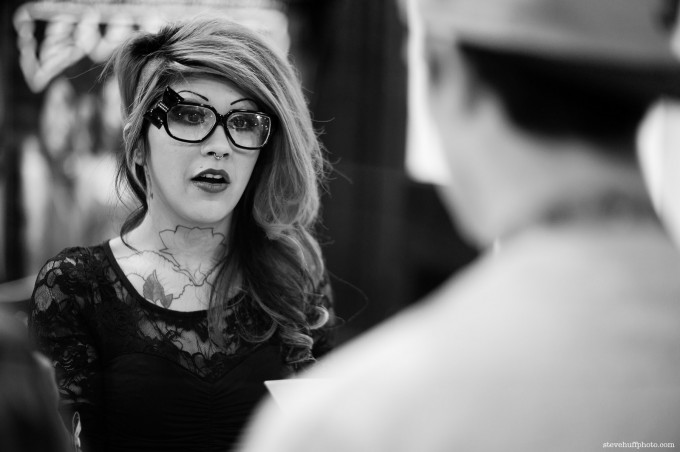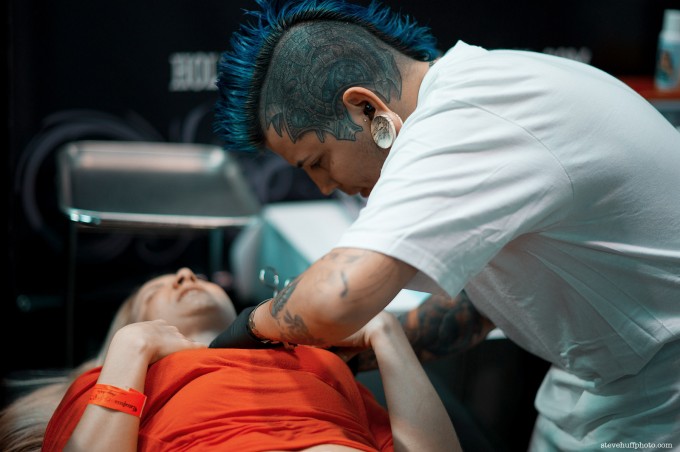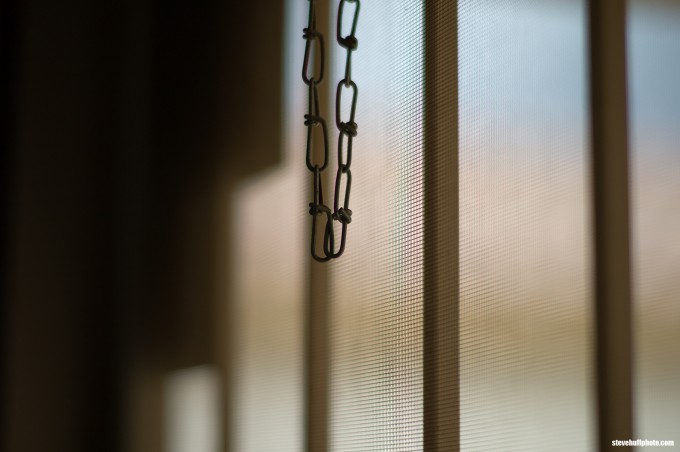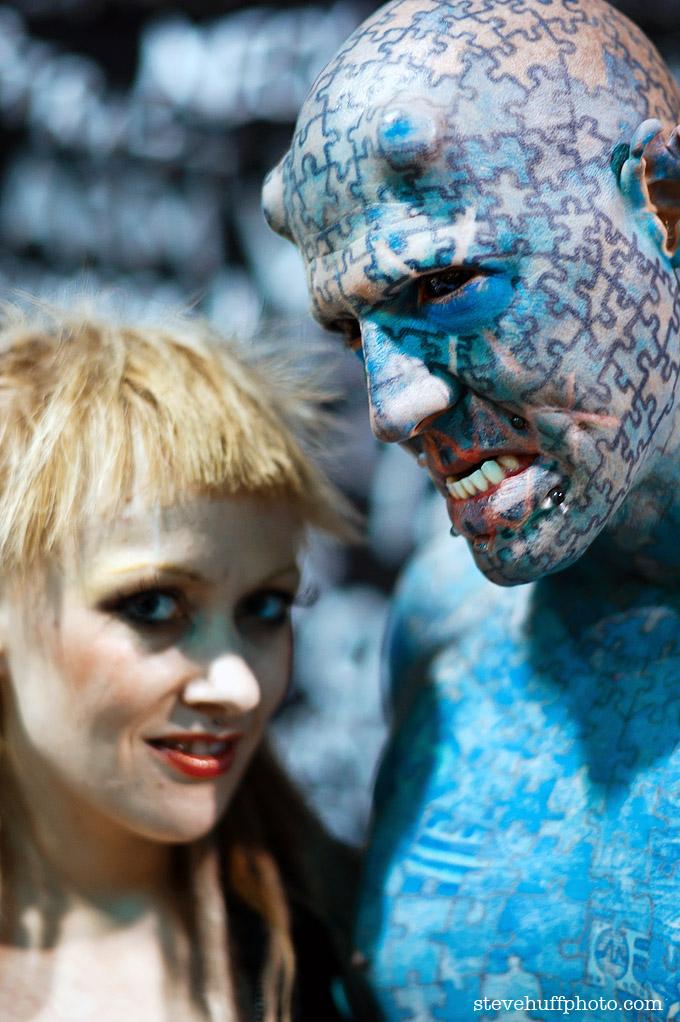 ALL I ASK! HELP ME TO KEEP THIS SITE GOING AND GROWING!! IT'S EASY TO HELP OUT & I CAN USE ALL THE HELP I CAN GET!
Remember, anytime you follow my links here and buy from B&H or AMAZON,
 this helps to keep my site going. If it was not for these links, there would be no way to fund this site, so I thank you in advance if you visit these links. I thank you more if you make a purchase! I have nifty search bars at the upper right of each page so you easily search for something at either store! I currently spend 10-14 hours a day working on this site and the only way that I can pay for it is with your help, so thank you! Currently my traffic has been increasing but my funds to pay for the site has been decreasing, so any help would be GREATLY appreciated!
Even if  you buy baby food, napkins or toothpicks at amazon it helps this site, and you do not pay anything extra by using the links here. Again, you pay nothing extra by using my links, it is just a way to help support this site, so again, I thank you in advance 

If you enjoyed this article/review, feel free to leave a comment at the bottom of this page and also be sure to join me on twitter or my new facebook fan page and Google +  page! Also, you can subscribe to my feed at my subscribe page HERE and read these posts in your browser or news reader!