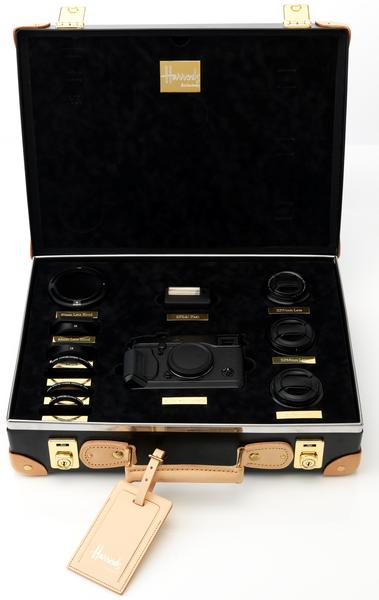 So later today I will finally have a 1st look video on the Fuji X-Pro 1 but what if you wanted the camera, all of the lenses, and even a set of filters AND the flash all neatly packaged in a Globe-Trotter briefcase? Well for about $9000 US you could! Seems like Fuji is not only copying the Leica body style, but also their business practices with this super high cost set. Fuji has teamed with Globe-Trotter and Harrods to bring you this special X-Pro 1 limited edition full set. Only 12 of these cases will be made available and only at Harrods in the UK.
Fuji's project manager David Bland said: "The X-Pro1 marries incredible photographic performance with classic design. We have long been a fan of Globe-Trotter's stunning range of cases so we are delighted to be collaborating with them for this worldwide exclusive for Harrods. The case has clearly been handcrafted with the same care and precision that we put into our own products. We are certain that the striking cases will appeal to Harrods' customers."
So why pay $3600 or so for a normal Fuji set when you can be one of 12 to own this special edition for a mere $9,000? Then again you can always just buy on of these
 and the normal set and you'd be in business with your own not-so-luxury version of this special elite set 🙂
Remember to check back later on for my first look X-Pro 1 video and hope you all had a great weekend!