Taking the Leica M9 Off the Streets and into the Wild by Louis Stevenson
Since sharing my experience with
the M9 on the Overland Track in Tasmania
, I was eager to take it out once again on an expedition, not only to gain confidence using a crazy expensive camera outdoors, but also to feed my soul with what I call "phototherapy". You know what I mean, just holding your fave cam to your eye, composing, focusing and… Release! The world is beautiful again.
Destination:  Kota Tinggi Waterfalls, Malaysia. This time I was pushing it. A friend called me insane. Another said, that was the last of it. Because I was trekking upriver where 70% of the track was wet and one slip would cause a heart attack not even a heart surgeon could survive.
Weapon of Choice:
Leica M9
+
35mm Summicron Asph
.
Wait the Cron??
Could have just brought the CV 35mm 1.4 or even the 28mm Ultrons since it proved mighty well in Tasmania. And its 5 times less expensive. Screw it, might as well go all the way! And as usual, the Panasonic FT3 waterproof cam for all-purpose shots. Read on to find out if the M9 made it out…
The terrain is uneven and slippery, with loose rocks covered with algae strewn all over the stream. They are not dangerous, but considering that I was carrying precious cargo, I was pretty nervous. 
–
Some areas, the water level could reach up to waist level with slippery loose rocks underneath. The slightest dip would be devastating!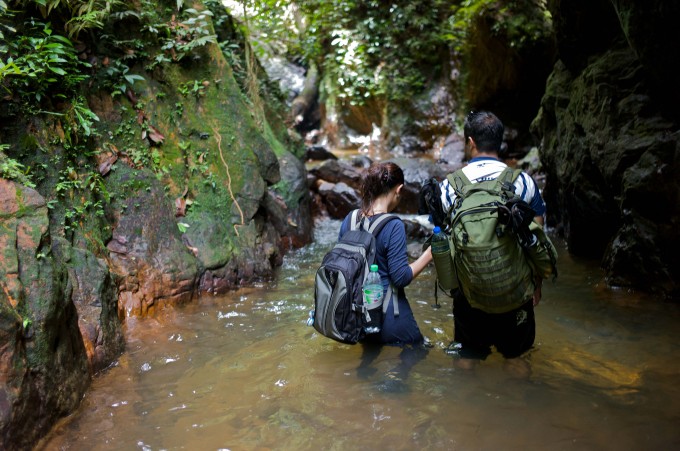 –
Sometimes a picture may seem mundane at first. But before you move on to the next one, try converting it to B+W, instant revival! This turned out to be my fave.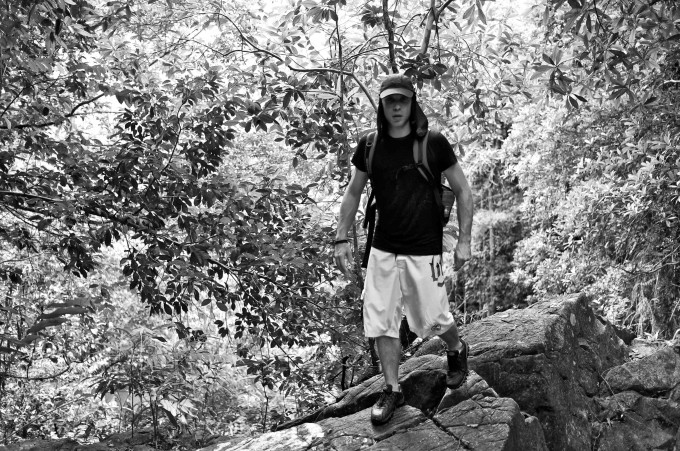 –
I opted for the 35mm over the wider 28mm because the sceneries were mostly flanked by forests. Not so much vast landscape to capture.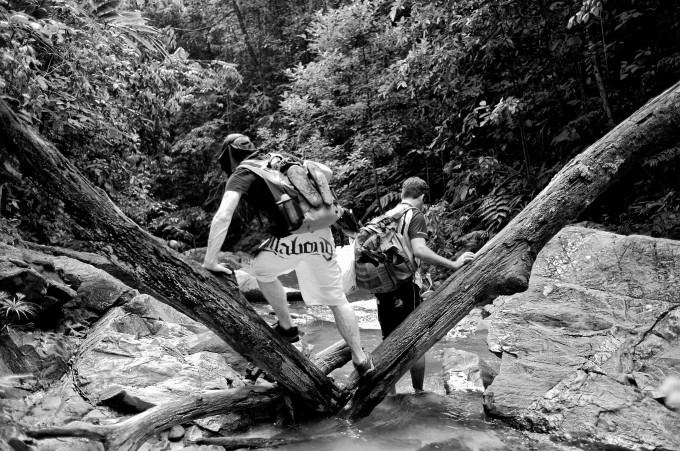 –
There's some pretty cool climbing involved. Not difficult but can be dangerous due to slippery rocks. Always had a firm footing before whipping out the M9!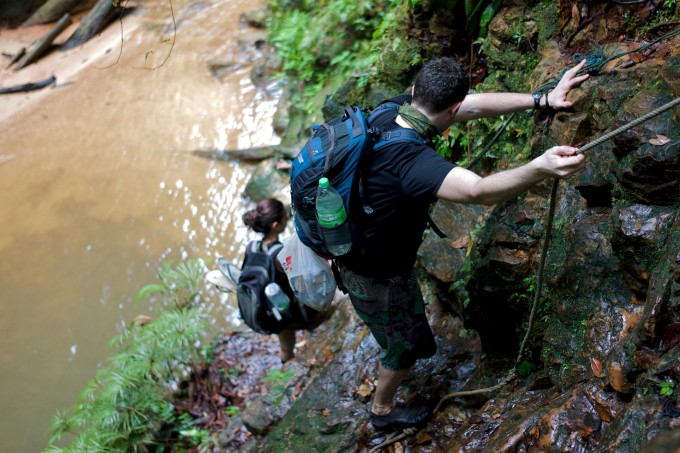 –
As for the Cron, I love the crisp and bright images that came out. I'm glad I made the choice to go ahead with the Cron.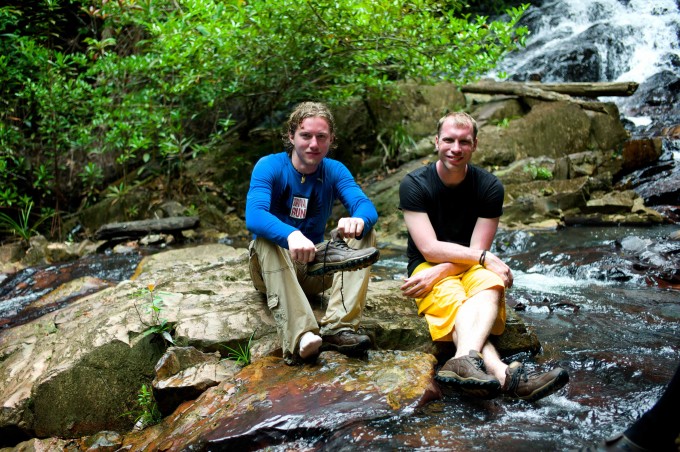 So did the M9 made it out unscathed? Or fell victim to every non-weather sealed camera's worst arch nemesis: water. Safe to say that there were no fatalities, In fact, not a single scratch! Here are some precautions I took to ensure a dry and happy M9. Its all common sense really.
Wrist Strap. This turned out to be safer option than a neck strap since the M9 was kept in the cam bag when not in use. Carrying the M9 on your neck exposes it to water spray, bumps and tangles.
Cam Bag
. Leave your Billinghams at home! I used the
Lowe Pro Apex 120
Aw sling bag which was actually more than enough to fit both the M9 and FT3. I would recommend something smaller, but it did work well for me. Slung it high and close to my body for passing through waist level water.
Leather Case. The Ciesta case which comes with grip was essential. Without it, the M9 could easily slip off my hands.
Usage. 3 Golden Rules:
1. Keep it! I kept it even if it means taking 3 steps to another shooting position across water.
2. Strap on! Secured it to my wrist before lifting it out of the cam bag!
3. Stop and shoot!
So here it is, my experience of taking the M9 off the streets and into the wild. The only gripe I had was that it did not have a
flash
for taking shots at night when we camped over. Yes, sometimes I secretly wish there was an in-built flash on the M9 which most purists might deem an unholy thought. Nonetheless, the M9 is a good digital full frame option for such treks, and I dream that Leica would introduce weather sealing into the M10, better ISO, and in-built flash. =)
And as always, thanks to Steve, for this great site!
More pictures available:
My other Outdoor experience with the M9: