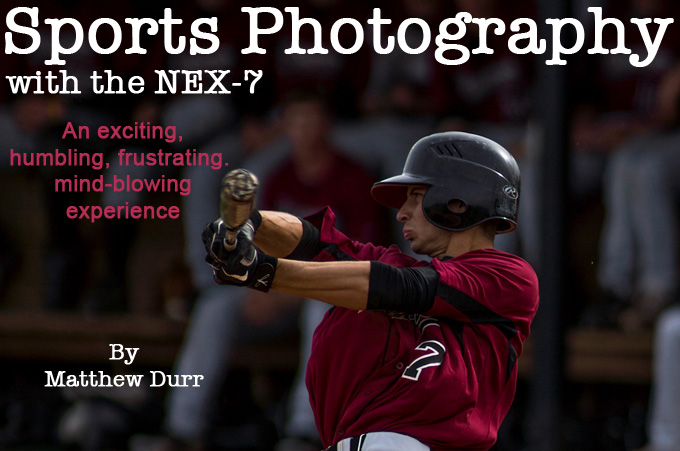 Sports Photography with the NEX-7:
An exciting, humbling, frustrating, mind-blowing experience.
By Matthew Durr – See his blog HERE
Just to get the formalities out-of-the-way, and to dispel or nail down any pre-conceived notions you may have of my experience, I am what you may call a retro-pioneer in the Sony NEX world. I first really started following Steve Huff's site back when the first whisperings of the NEX-7 were abuzz, and have been checking back in ever since for all the neat stories, articles, and daily inspirations. Ever since I learned the confirmed specifications for the camera, I was interested in it for my first non-point-and-shoot camera purchase, my past cameras consisting of a borrowed Nikon d40 and d300, among various compacts I had around.
Soon after this, I learned how upon purchasing an adapter, mounting any lens ever made with full metering was possible. Then, I became truly fixated on the camera, as I previously only used manual focus lenses with the two Nikon bodies: a 50mm f/2 AI, and 80-200 AT-X (Tokina). However, using these on the NEX-7 wouldn't really differentiate me from the crowd of the many that already use a multitude of legacy lenses on their NEX, so why would I call myself a retro pioneer? If the title of this article hasn't already given it away, as far as I know I'm the only person that uses manual lenses in today's world for…drum roll please…sports photography! My primary lenses now? The Nikon 300mm f/2.8 AI-s ED, and the Nikon 105mm f/1.8 AI-s, the whole small arsenal seen below in the poorly exposed cell-phone shot:
An air blower is a must for changing lenses so often to help ward off dust.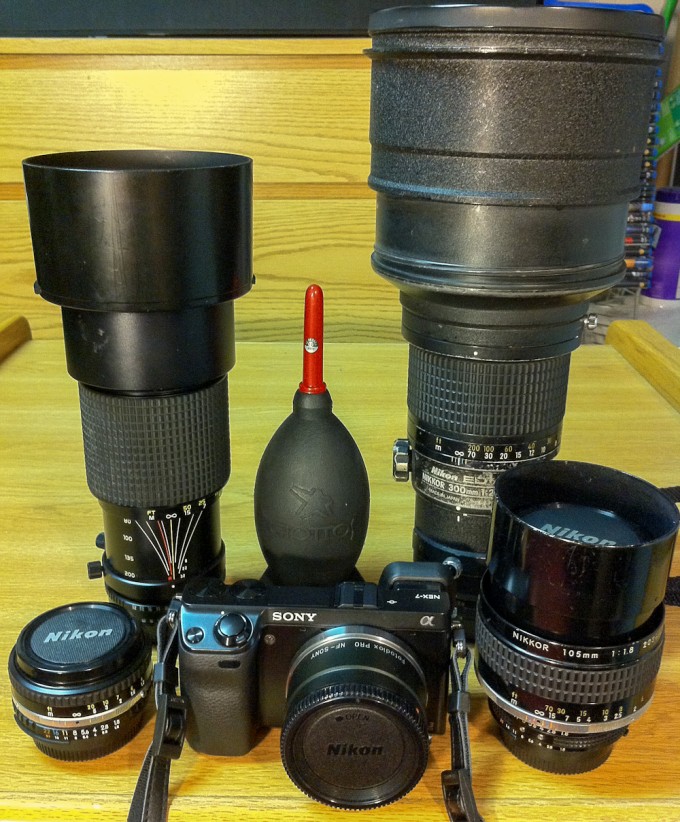 "Yeah, right, I call your bluff on this one…you can't do sports with manual focus!" I can hear many people probably thinking this already. So, before I go into much more detail, here are just some pictures to refute that opinion: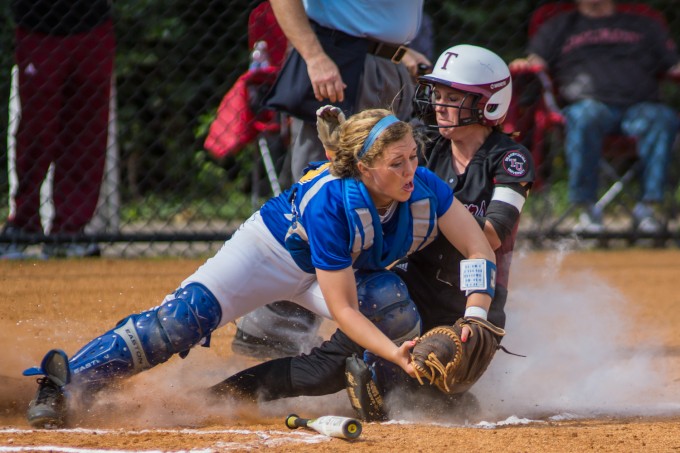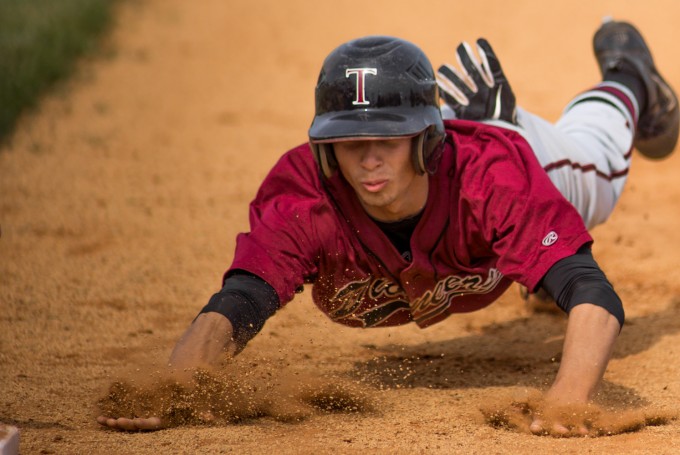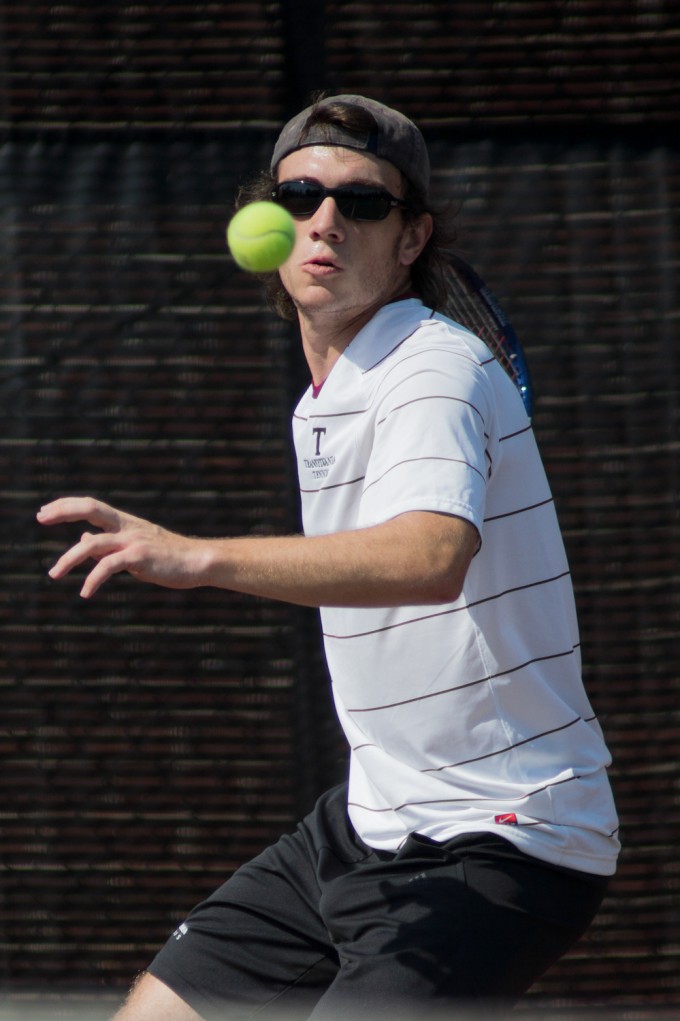 So, how are these possible? Focusing on static subjects is easy, but how can I track a moving subject, let alone one who is running and sliding around full speed, without using the crazy fast sonic autofocus motors that drive most pro lenses today?
It's simple. Practice, practice, practice (and peaking).
It may help to re-iterate that I already used manual focus lenses on a d300. This is a camera that has a very inaccurate single focus confirmation dot, rather than the precise 2 arrows and a dot of the upper-tier DSLRs. Focusing was always a challenge, as not only did I have to combat focus shift of my right eye seeing through the lens (where the eye makes a slightly out of focus image in focus), but even when the focus confirmation dot was lit up, I could still easily be well out of the critical focus range at large apertures.
Okay, so that means that these lenses would be even worse on the NEX-7, right? I'm looking through an EVF—essentially a tiny TV screen—to try to focus my images, and there is no focus confirmation dot, so how is this even doable? Well, besides the fact that the viewfinder image is quite large (with a 1.5 cm size and 1.09x magnification ratio), it provides live exposure feedback (will go into detail on that later), its refresh rate in normal light is real-time, AND that it is of a high 2.4MP resolution, it has focus peaking and magnification. For the uninitiated, focus peaking is a feature found in some of the more recent mirror-less cameras that outlines areas of contrast in real-time in a color of choice (for the NEX system, the choices are red, yellow, or white). Typically the areas of contrast, such as the edges of lettering on a player's jersey, are indicative of areas that are in focus. Focus magnification, which should be viewed as an accompanying feature, simply zooms in the image wherever I choose to in real-time. On the NEX-7 I can select to see the image at 5.9x or 11.7x magnification, the latter of which each pixel in the EVF corresponds to a pixel on the sensor. Focusing with this method ensures very critically accurate focus—only if the player is relatively still. For the most part, focusing with mainly peaking is the only method I have time for, and generally speaking, is very accurate when used with the high-resolution EVF.
Seen here in a not-so-action-shot, the depth of field markings are outlined in yellow, as well as the edges of the lens, indicating general focus confirmation.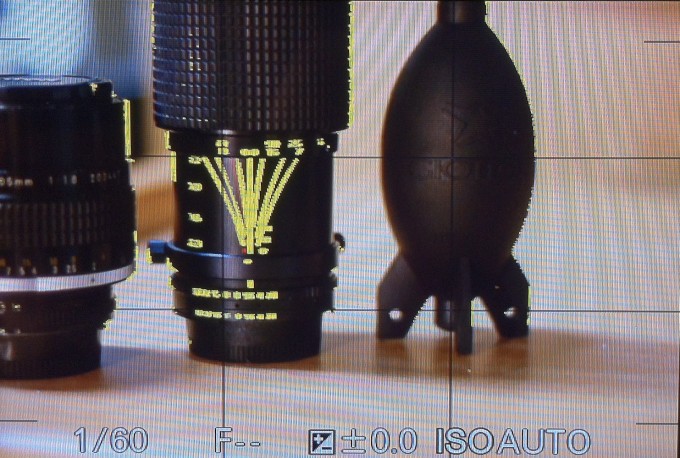 In practical use, by maintaining a colored outline on the players, focus is being tracked. With practice, tracking players moving perpendicular to the focal plane is possible (such as players running towards/from me), and snap-focusing from one point to the next becomes second nature—I just look for the color. Another trick that can help if I am having trouble finding the peaking color on the player is to watch the band of the depth of field move back and forth until it rests directly under the player, essentially zone focusing on the ground. Since I shoot in RAW, I also change the creative style to black and white. The RAW file is left…well…raw…while the peaking color stands out even more against the monochrome image.
Getting this shot was only possible due to following the line of the depth of field under the runner's feet.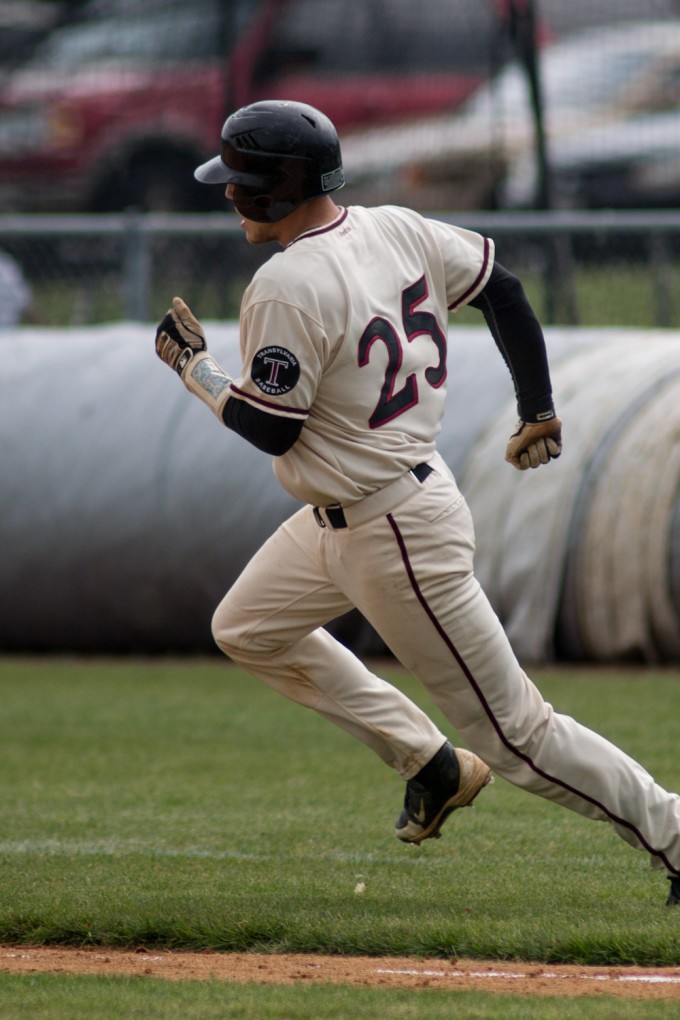 Then there is the live feedback display of the EVF. This is a feature I feel has not been lauded enough as a selling point for mirror-less cameras. When I have this turned on, what I see is what I get. Instead of an optical viewfinder, where no matter what setting I would change on the camera the view is the same, with the EVF, I always have a live depth of field preview, the overall exposure of the image, as well as what my white balance setting is compensating for. It should, however, be noted that in very low light, this becomes less accurate, as the frame rate of the EVF drops to compensate for the difference. In scenarios where there is a great deal of dynamic range, such as shadows under a tree on a sunny day, the shadows are usually quite crushed, and the highlights are usually blown. However, this rarely affects me in my shooting conditions, and this is an EVF-specific issue, as the actual picture, once taken, is unaffected.
So, let's get onto the sub-heading of this article:
Why is this exciting?
For one, I am "going against the grain" in the modern rules of sports photography. I am being different, and getting results that seem mostly indistinguishable from shots taken with more robust cameras. There is also nothing more satisfying at a game than getting that shot, those one or two moments where I know I have a winner. Capturing such action shots with the challenge of manually controlling all the aspects of my camera, just like photographers did decades ago, is an amazing feeling. Doing so while saving a lot of money, as my 300mm cost me about a 1/10th of its younger autofocus brother, sweetens the deal even further.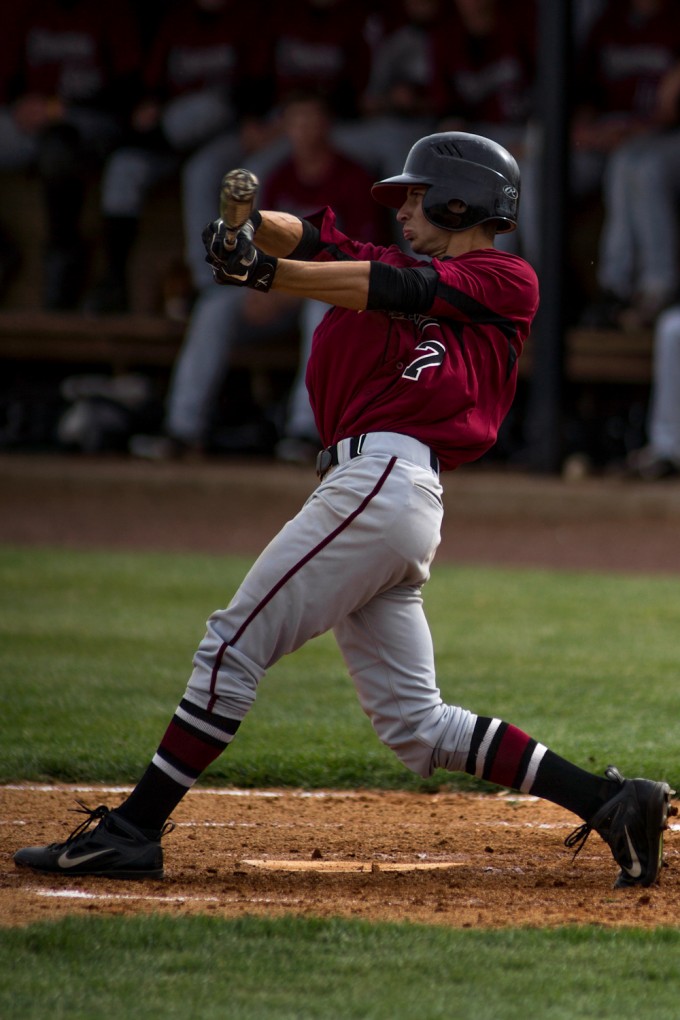 Why is this humbling?
Choosing to go this route was a thought process that spanned over a significant timeframe, I pondered many other options with possible autofocus set-ups with Nikon DSLRs. I then realized that when using those tools, my equipment would determine everything for me: the focus, the metering, the entire exposure. Even if I shot in full manual, the camera would still do the autofocus for me, and, as mentioned above, trying to manually focus would be very difficult with only a confirmation dot in the lower corner. I decided that the limiting factor in getting the shot should be ME, NOT my tools. If a shot was blurred or exposed improperly, I was the one who wanted to be held accountable. Gordon Laing made a great point in a recent broadcasted Google+ hangout on using manual focus lenses that I absolutely agree with and speaks to the concept, "It's actually quite liberating to shoot with old manual focus lenses…there's none of this slowing down while [the lens] searches back and forth. You just take the picture, if it's in focus or not, who cares?" I knew after starting out with the NEX-7, applying the lenses and camera this way would be humbling. I had a feeling that even with the peaking, I wouldn't exactly have a high success rate at first, but…
Frustrating?
…I had no idea just how hard it would be to get consistent results. The first few games, I would fire off about 600 shots, and after some sorting in Lightroom 4, come out with about 50 or so keepers—less than 10%—that ranged from acceptable (pictures that were in focus but had little character) to great (those that embodied the action and spirit of the game). A few times, I doubted myself on my decision. Sure, the NEX-7 would still make a great general camera—which it definitely is—but I wondered if I had chosen the wrong path to get started with sports photography. There were so many shots I had captured that were just barely out of focus enough to render them unusable, and I was so mad at knowing that if I had just nailed focus, a truly amazing shot would have resulted, such as the picture taken below.
Funny enough, the focus point in this shot is actually the tennis ball, you may be able to see the softness in the player's face.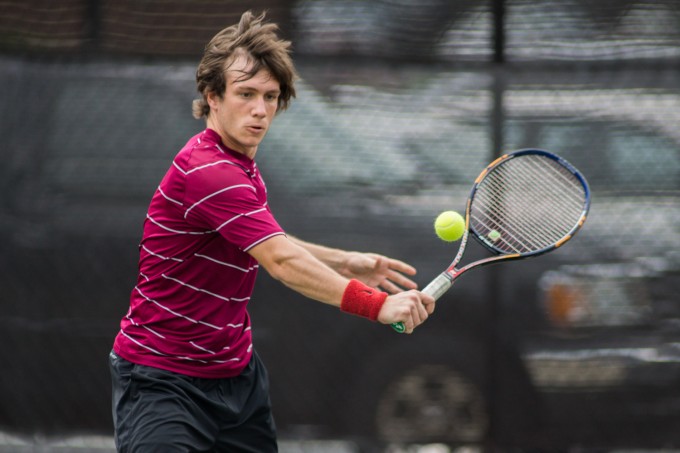 Mind-blowing?
There is indeed a happy end to this. Keeping the fact out of the equation that my keeper rate has improved (and continues to do so) to about 40% over the course of only ten games, the amazement of how some of the select few pictures turned out is truly beyond me. In most situations, not only does the large effective apertures on my lenses isolate the subject from the background and keep the shutter speed very high, but it also enables me to stay in the sweet spot of the NEX-7's sensor; the ISO range of 100 to 400. It is within these values that the amount of detail captured from the very high-resolution sensor can honestly make my jaw drop. In post, I can just keep zooming in and in on a picture with no loss in overall image detail, having the very real option to "shoot first, compose later". In the right situations, specifically when critical focus is nailed and at ISO 100, the image at the pixel level is something to marvel at: standing 50 meters away from baseball and at 100%, making out distinct facial features is common.
Take this series for example:
Here's the original: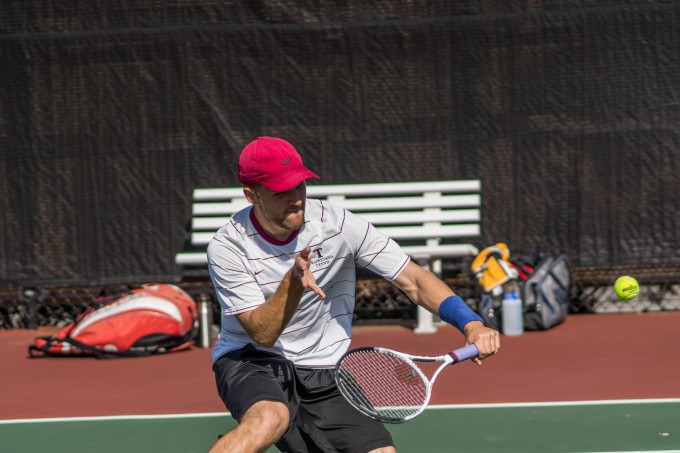 Here's the cropped final picture: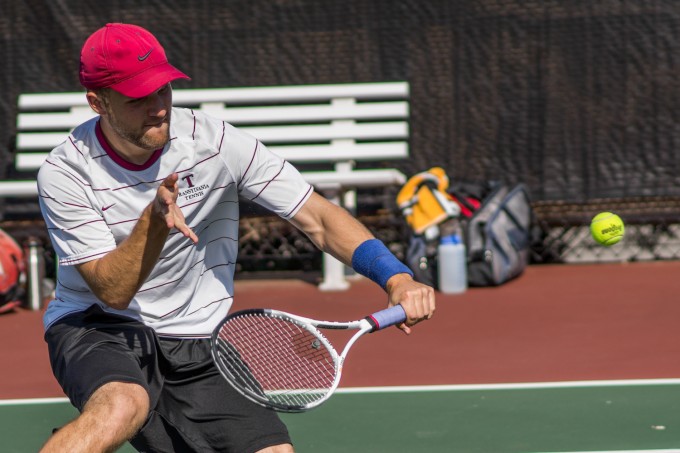 And here's a 100% crop of his face: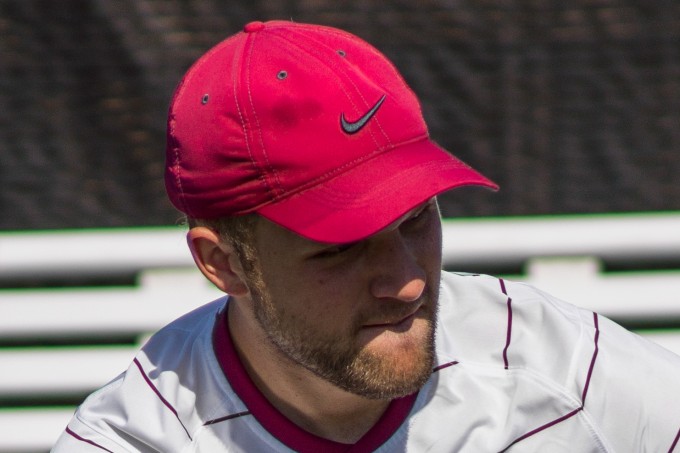 Looking towards the future
So, what I'm getting at here, the NEX-7 is the ideal sports camera for the budget-minded enthusiast (if there is such a thing), right? Not at all. Any DSLR with a good, large aperture, autofocus lens can probably outperform me. If shooting conditions go south, and I have to pump up the ISO to get a decent shutter speed, it shows in my photographs. If it rains, I might as well forget about it, neither the camera nor lens is weather-sealed.
However, going through with this is an adventure, a lesson of sorts in patience and skill. I am forced to get intimate with the limitations of my gear, and to still work through mis-focusing, mis-exposing, and mis-composing to get the shot in the end. As a result of the times of hardship and struggle, when I eventually do get a DSLR with an autofocus lens, the experience I am gaining here and now should ensure I will be a much more effective photographer. Instead of worrying about camera settings and exposure, which will be second nature by then, my mind will be focused on composition and, of course, fast reflexes!